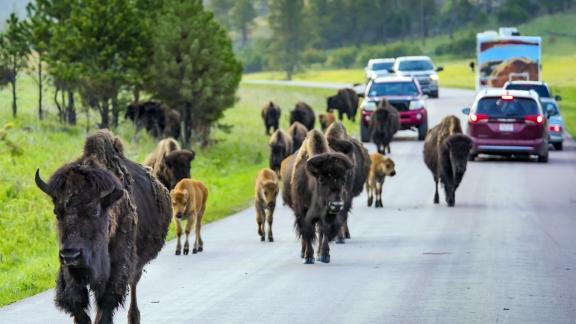 Custer: Explore the Landmarks of the Black Hills
When you visit Custer, you are sure to see some of South Dakota's most famous landmarks. Custer's location in the Black Hills means easy access to memorials, state parks and caves teeming with outdoor recreation possibilities. Crazy Horse Memorial is the largest in-progress sculpture in the world. The memorial is dedicated to the preservation of Native American culture and history. Observe this awe-inspiring structure and learn about Native American history through the different exhibits and programs at the site's museum and education center. Explore 71,000 acres at Custer State Park — from rock climbing and hiking to canoeing and boating, adventure awaits you here. You can even get prized views of wildlife via the 18-mile Wildlife Loop State Scenic Byway— visitors might see elk, pronghorn, bighorn sheep or some 1,300 bison roaming the park.
Play Video
Hidden Treasure: South Dakota's Custer State Park
For those interested in exploring caves, the Custer area boasts two of the world's longest caves. Jewel Cave National Monument, named for the crystals decorating its walls, is the third-longest cave in the world. Tour the depths of this national monument or hike the trails above ground at the 1,279-acre park. Explore Wind Cave National Park and observe the largest collection of boxwork formations in the world. Above the cave, the park features a 28,925-acre wildlife sanctuary.
SEE WHAT AMAZING THINGS ARE WAITING AT CUSTER STATE PARK
Check Out These Custer Businesses
Start Planning Your Next Trip to South Dakota