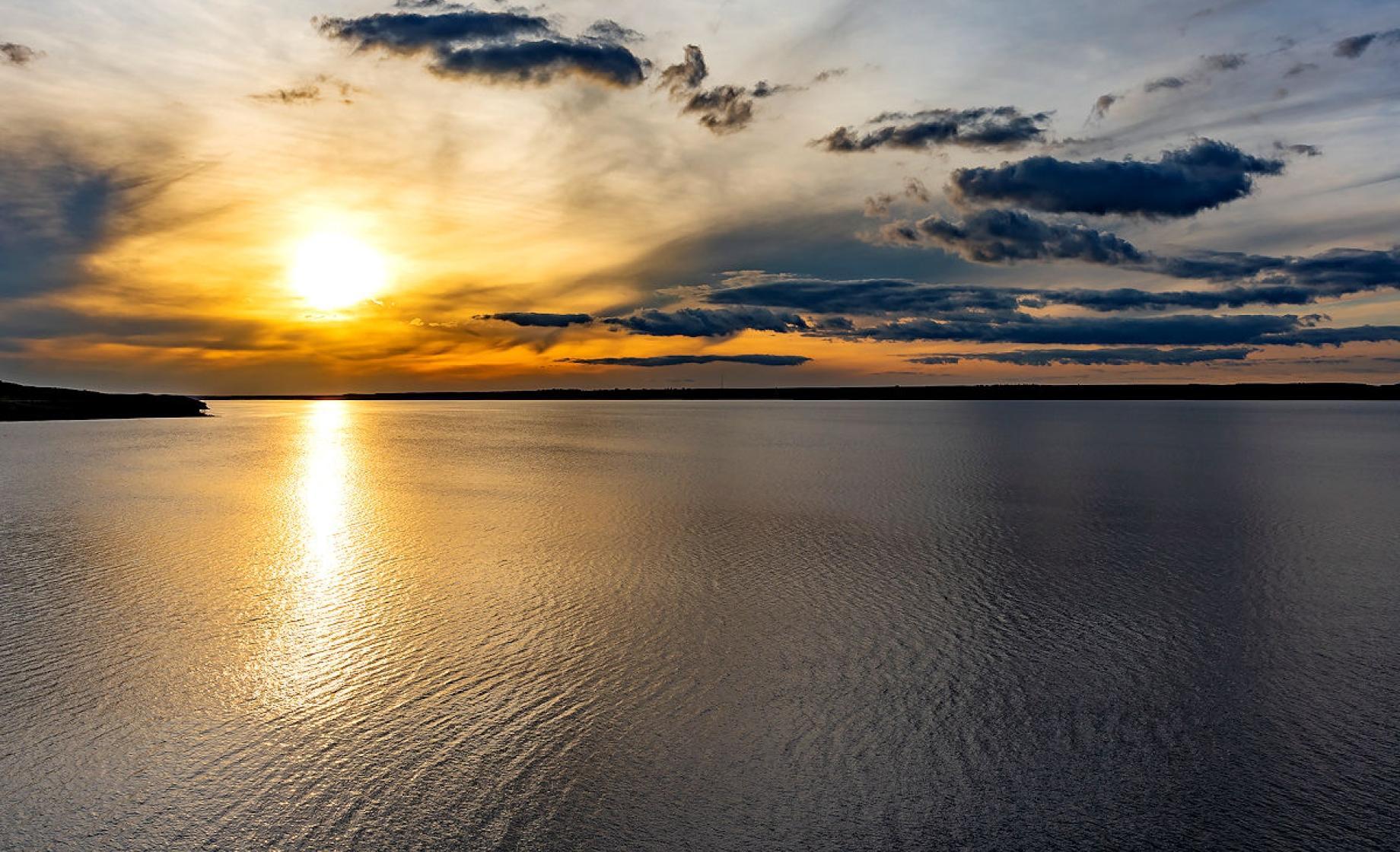 How many ways are there to get on the water in South Dakota? Find out on our lakes that stretch to the horizon or the streams & rivers that are perfect for kayaking or paddleboarding.
There's no limit to making a splash in South Dakota.  Start exploring our guide to lakes and rivers because beyond the water's edge is where the fun really begins.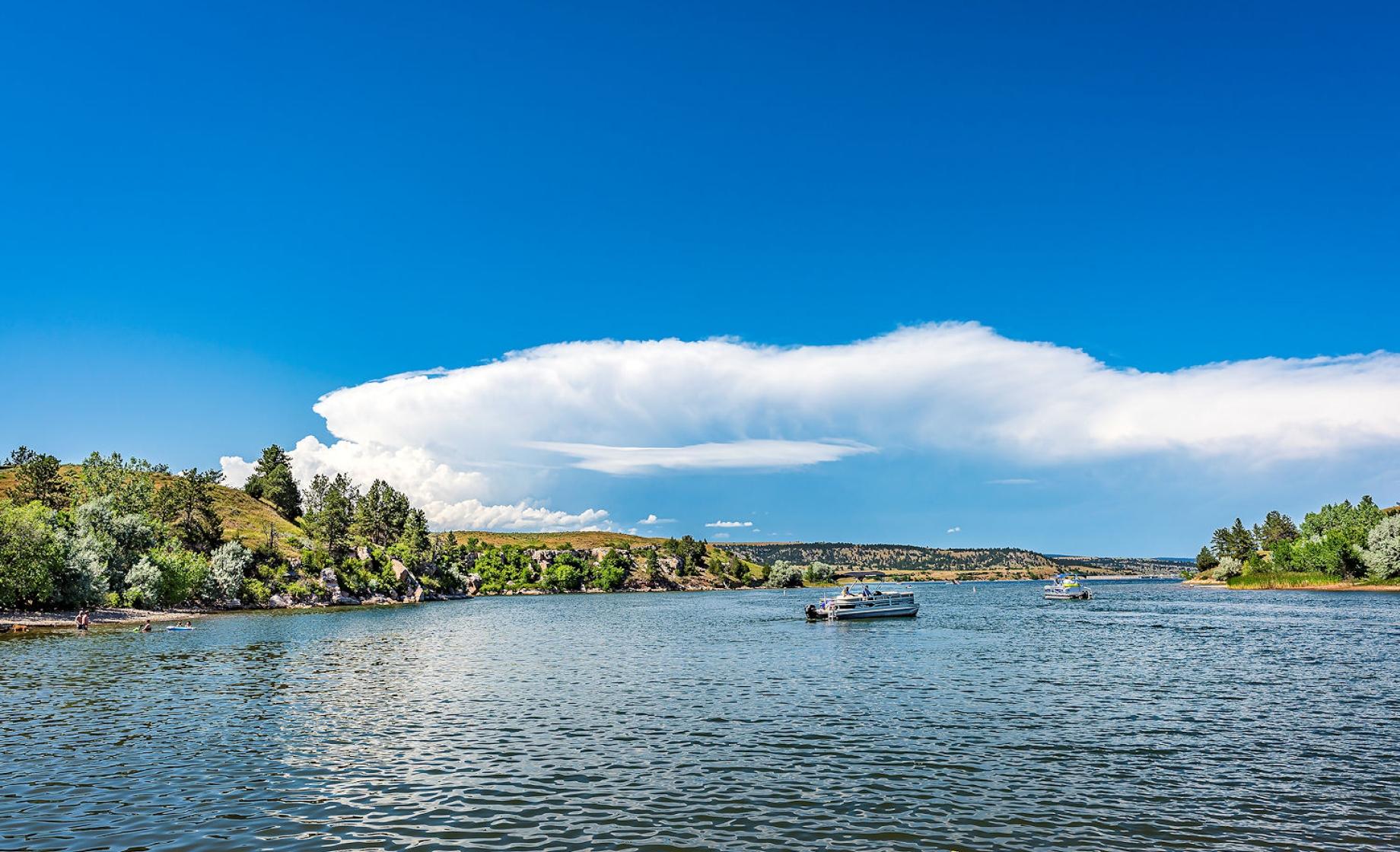 Our lakes aren't just big — they're great! Find the right craft for exploring. With the power of a motor behind you, you can take a leisurely cruise over placid waters or feel the thrill of water skiing. You can also make waves with sailboats, rowboats and jet skis.
Boat lovers find breathtaking and scenic views at Angostura Reservoir where crystal clear waters stretch along 36 miles of shoreline with soft, sandy beaches. You'll find another lake known for clear waters at Lake Vermillion Recreation Area. This 512-acre reservoir located 27 miles west of Sioux Falls is also popular for fishing and swimming. You'll find a storied history too – the waters were first noted by a French trapper in 1801.
Just above Fort Randall Dam at North Point Recreation Area, you can boat the same waters legendary explorers Lewis and Clark did in 1804. Abundant wildlife can be seen by boat, canoe, kayak or even by hiking trail.
Near Lemmon, Shadehill Recreation Area provides land and water-based activities on the shores of Shadehill Reservoir in western South Dakota. Explore 5,000 surface acres of water and even stay the night at a campsite, cabin or two-bedroom lodge. Don't miss the nearby monument to legendary frontiersman Hugh Glass, who survived a grizzly bear attack here in 1823 and is portrayed in the movie "The Revenant."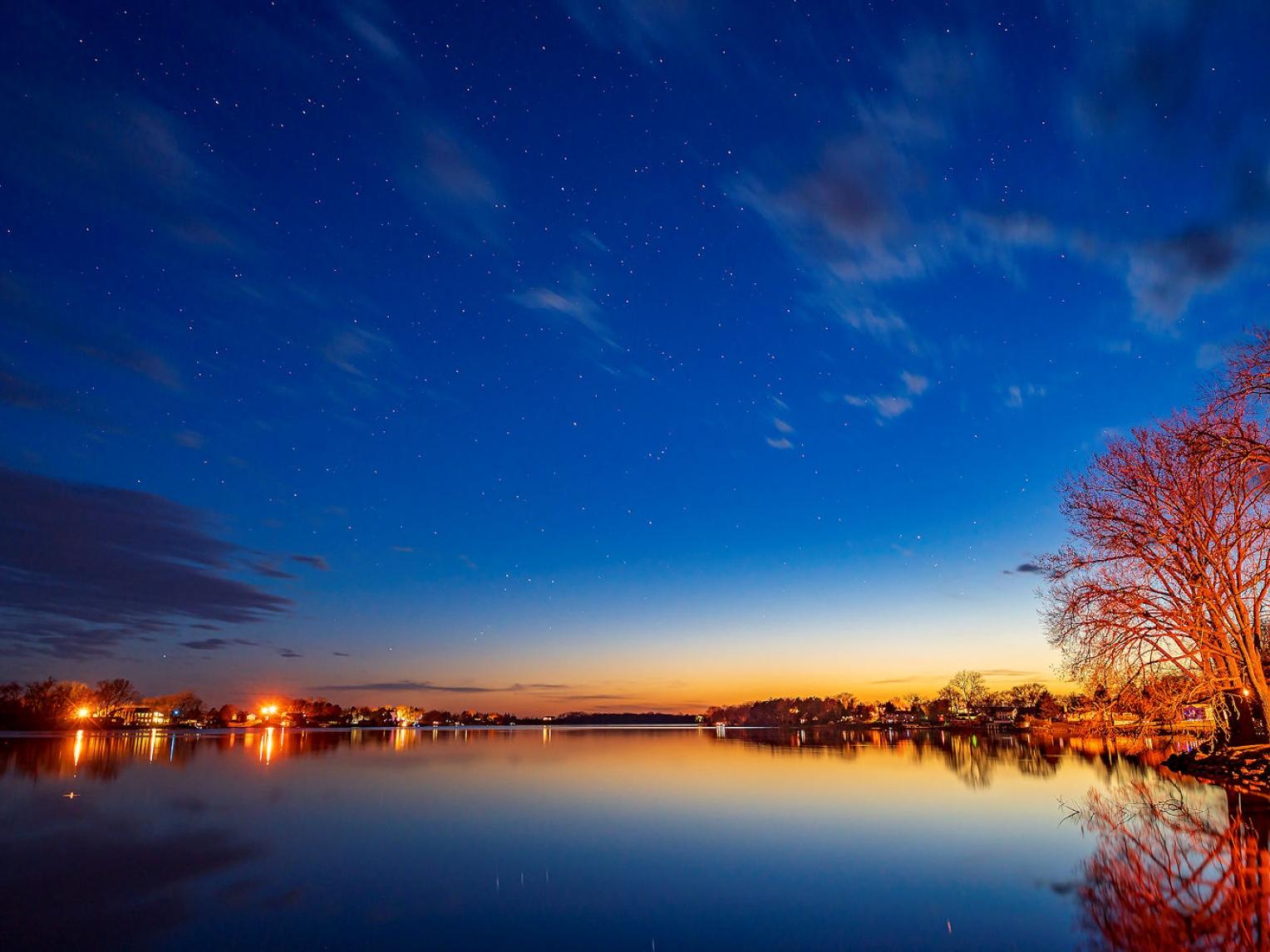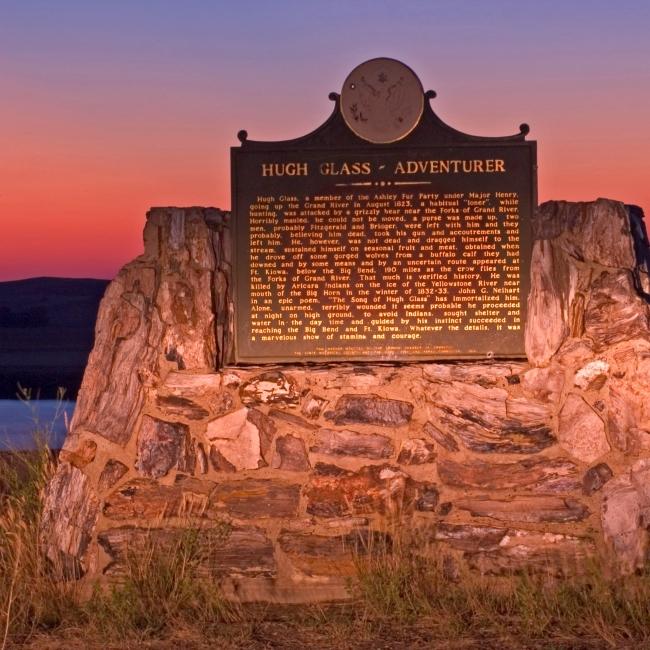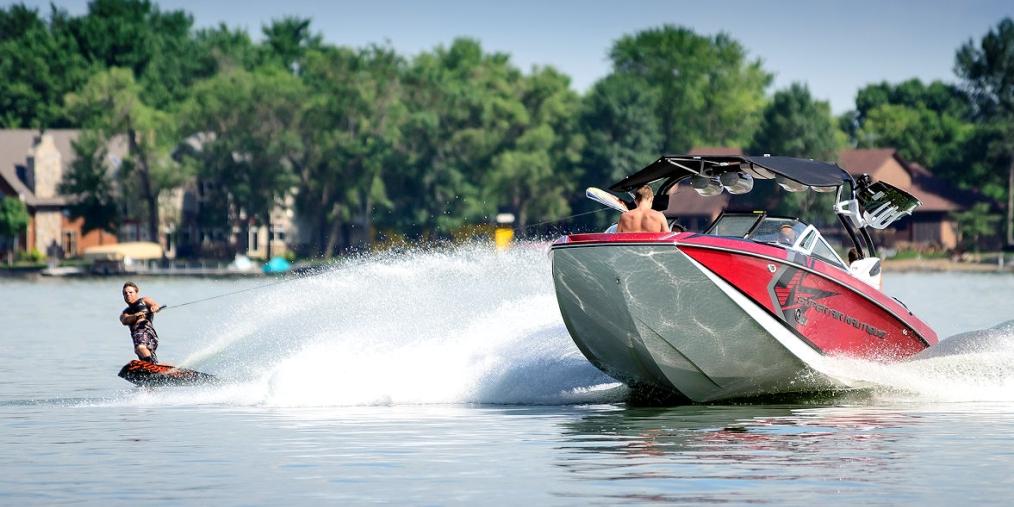 At Richmond Lake Recreation Area near Aberdeen, separate park units are set up for the needs of boaters, campers, swimmers and naturalists. Campers stay in the South Unit, while the 200-acre Forest Drive Unit is best for wildlife viewing. Of course, the Boat Ramp Unit is where your introduction to the 1,000-acre lake begins.
You'll find that lake fishing in South Dakota is always more thrilling by boat. In the northern part of the state, boat and then stay the night at West Pollock Recreation Area near Pollock. After a day on the water, choose from 29 campground sites and start dinner prep at the public fish cleaning station.
Near Madison, the 2,800 acres of glistening water at Lake Madison hold many species of fish, but you'll also find canoeing, kayaking, water skiing and swimming out of Walker's Point Recreation Area just as fun. Roy Lake State Park, near Lake City, is also popular for fishing by boat, but it's not just for anglers. Sandy beaches attract swimmers and sunbathers while campgrounds, picnic areas and hiking trails also keep the whole family entertained.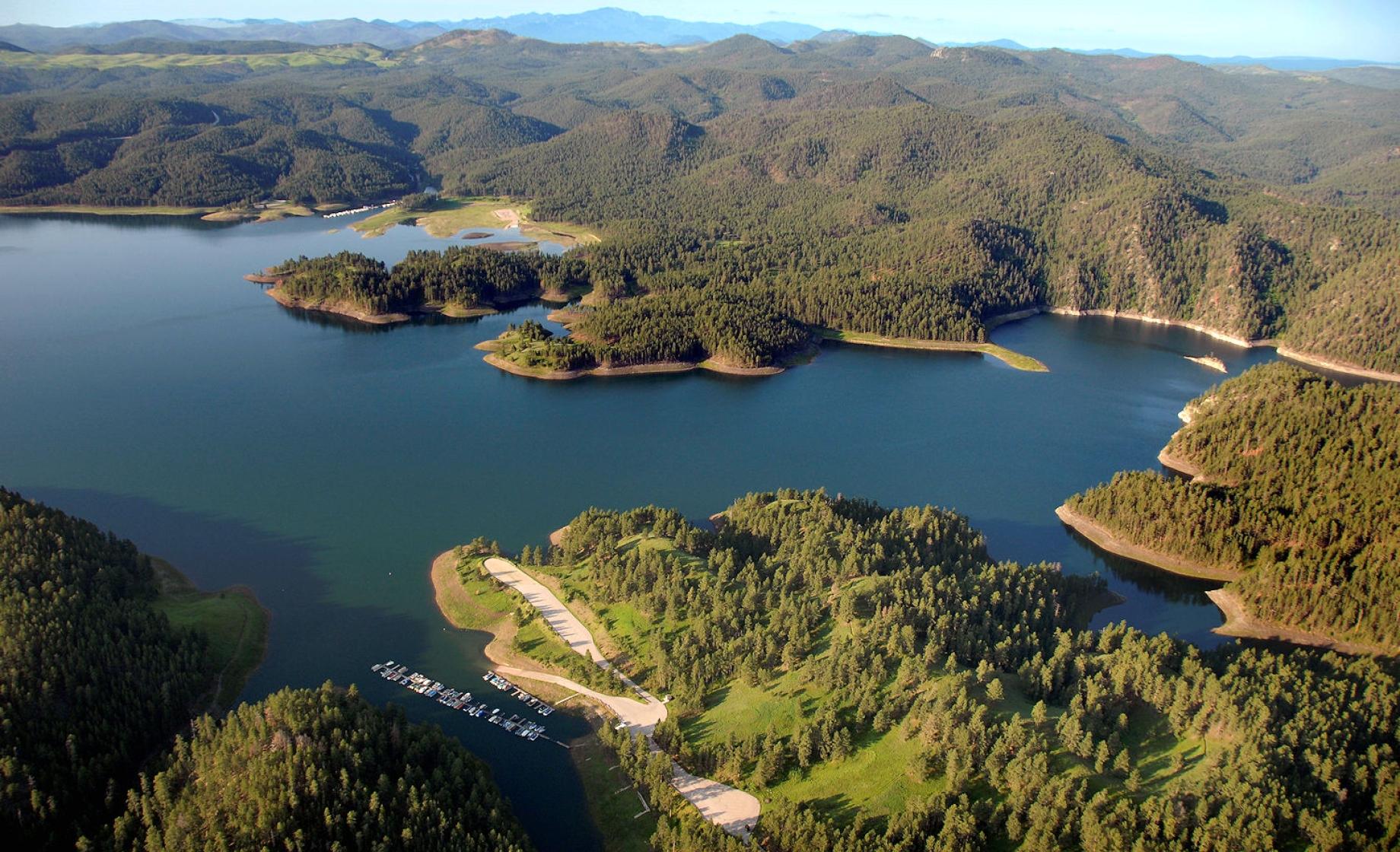 It's fair to say all of our waters hold great chances to reel in more than a few decent catches. But if fishing is your sole pursuit, then patrol the following bodies of water for experiences that go beyond the surface.
West of Rapid City is the largest and deepest reservoir in the Black Hills. Pactola Reservoir and its 14 miles of shoreline hold depths up to 150 feet, where record lake trout are caught each year. For more serene waters, Spearfish Creek boasts populations of wild brown trout or rainbow trout next to the steep limestone cliffs of Spearfish Canyon.
Near De Smet, Lake Thompson and its historic waters are mentioned in at least two of Laura Ingalls Wilder's books. This legendary water recreation area is swimming with walleye, northern pike, crappie, perch, and bass.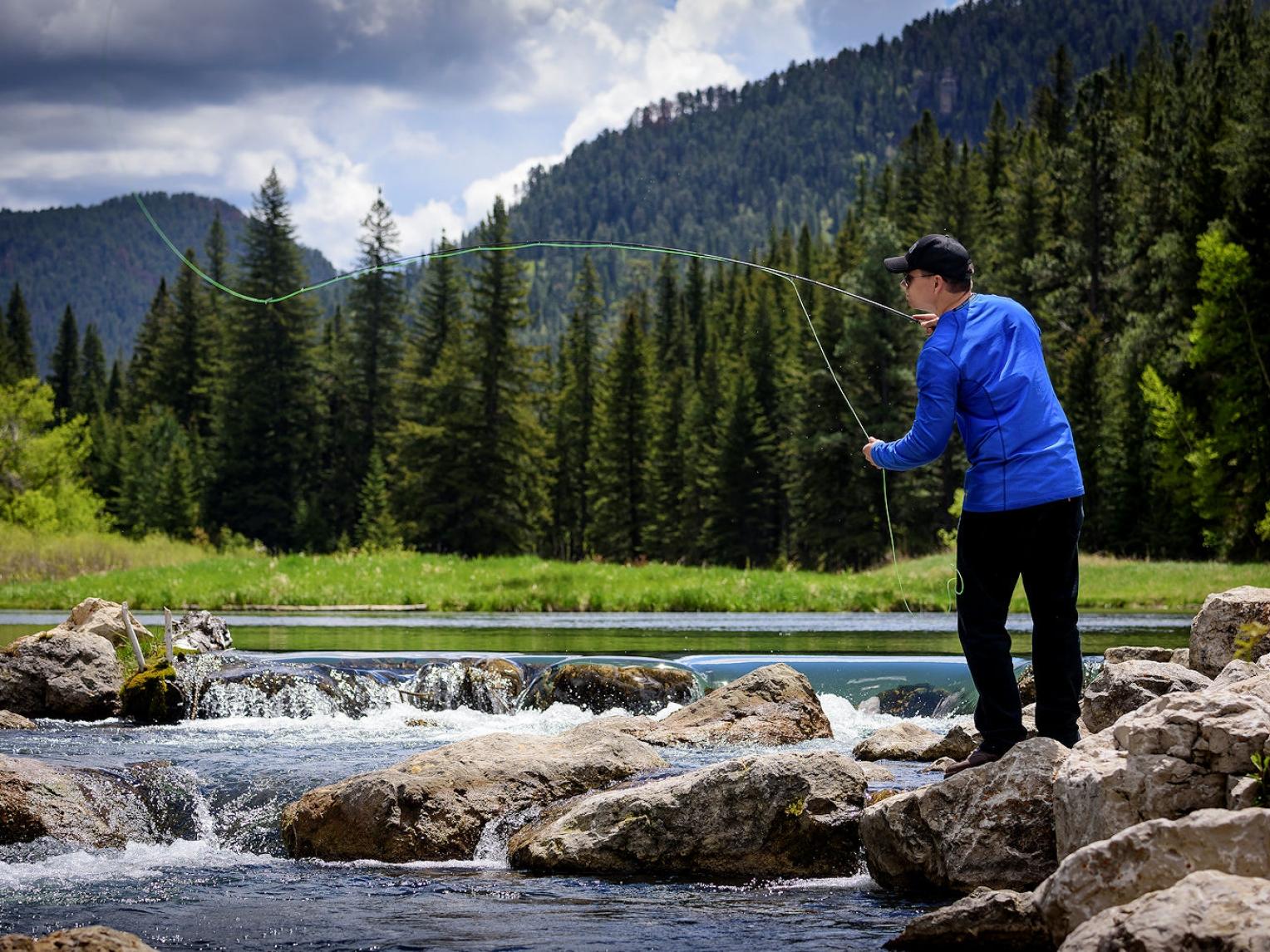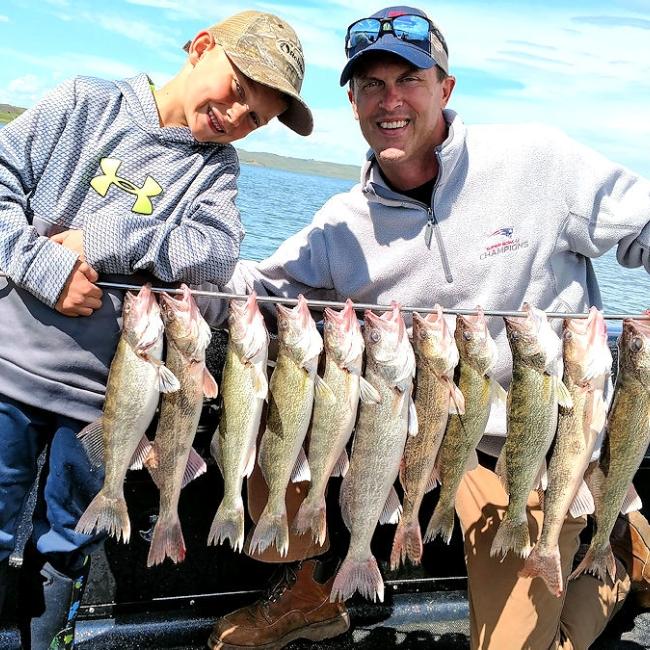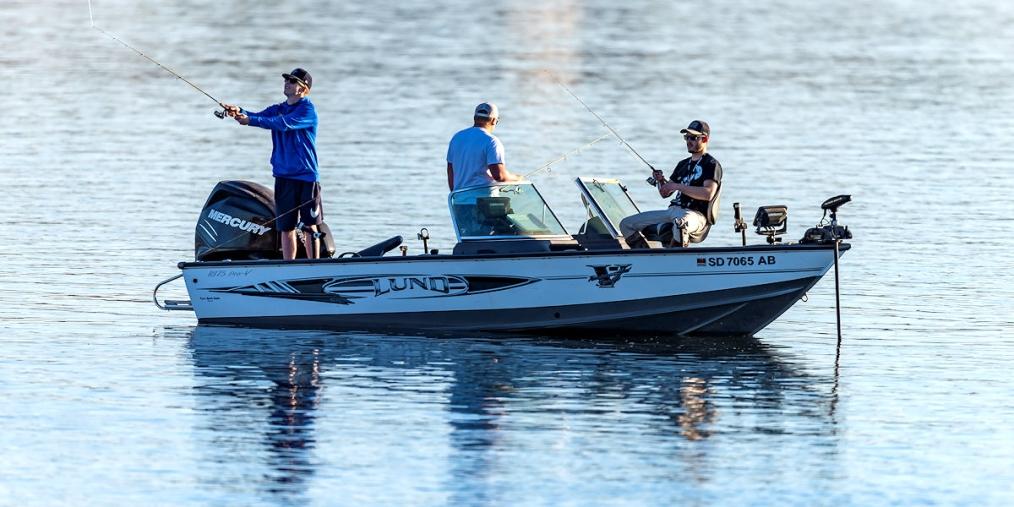 Pickerel Lake, near Roslyn, is a known hot spot for crappies both in open water and through ice holes during winter. It's the deepest natural lake in the state, so wet your line in 955 acres of cool, spring-fed waters. Just east of Belle Fourche, Rocky Point Recreation Area is a recent addition to South Dakota's park system and is popular for walleye, bass, perch, catfish and tiger muskie.
Last but not least, Lake Francis Case gently winds toward the horizon behind Fort Randall Dam on the Missouri River in south-central South Dakota. With an area of 102,000 acres and depths up to 140 feet, this unique body of water stretches just over 100 miles. The rolling prairie along the water surrounds anglers in a calm setting as they fish for walleye, northern pike, sauger, sunfish, yellow perch, common carp, black bullhead, channel catfish and smallmouth bass.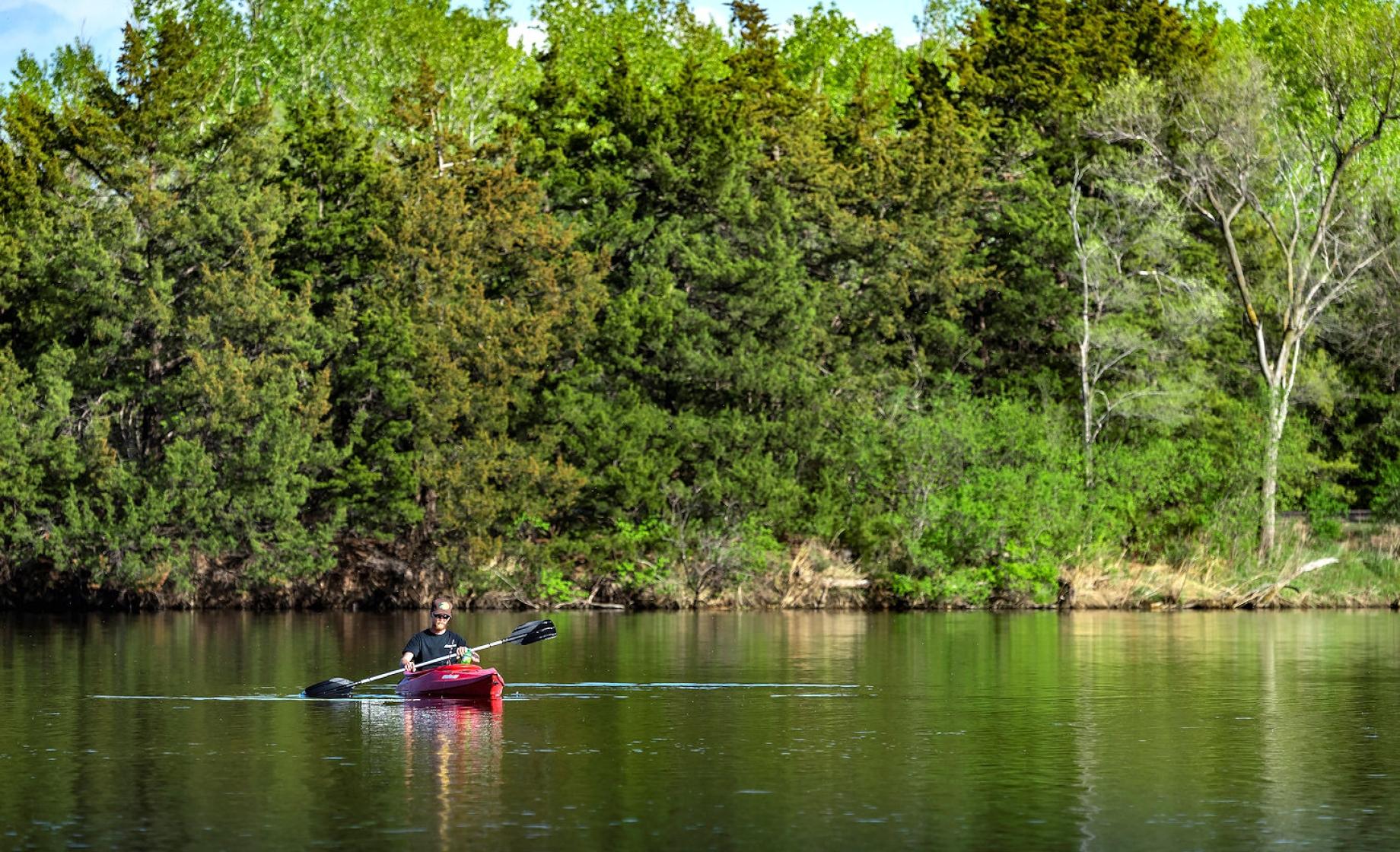 Spectacular views. Gentle waters. Peaceful moments connected by the sound of a paddle slicing through the ripples.
Glide through any of the following lakes, rivers and creeks for a chance to take your time and see the landscape the same way as South Dakota's early inhabitants.
Melting glacial ice formed Lake Herman thousands of years ago. Today, just west of Madison, you can explore the waters around the peninsula that holds the state park of the same name. Here, native oak woodlands and prairie grasses provide a home to a variety of birds and wildlife. Near Sioux Falls, the Jay Heath Canoe and Kayak Trail is a designated section of the Big Sioux River. Explore soothing nature scenes along this water trail that begins at the Big Sioux Recreation Area near Brandon and ends near Sioux City, Iowa.
One of South Dakota's best streams for whitewater paddlers is Split Rock Creek. During high spring waters and after a heavy summer rain, experienced paddlers can slice through 8 miles of foaming rapids between shear walls of red quartzite. Load in at Palisades State Park or McHardy Park in Brandon.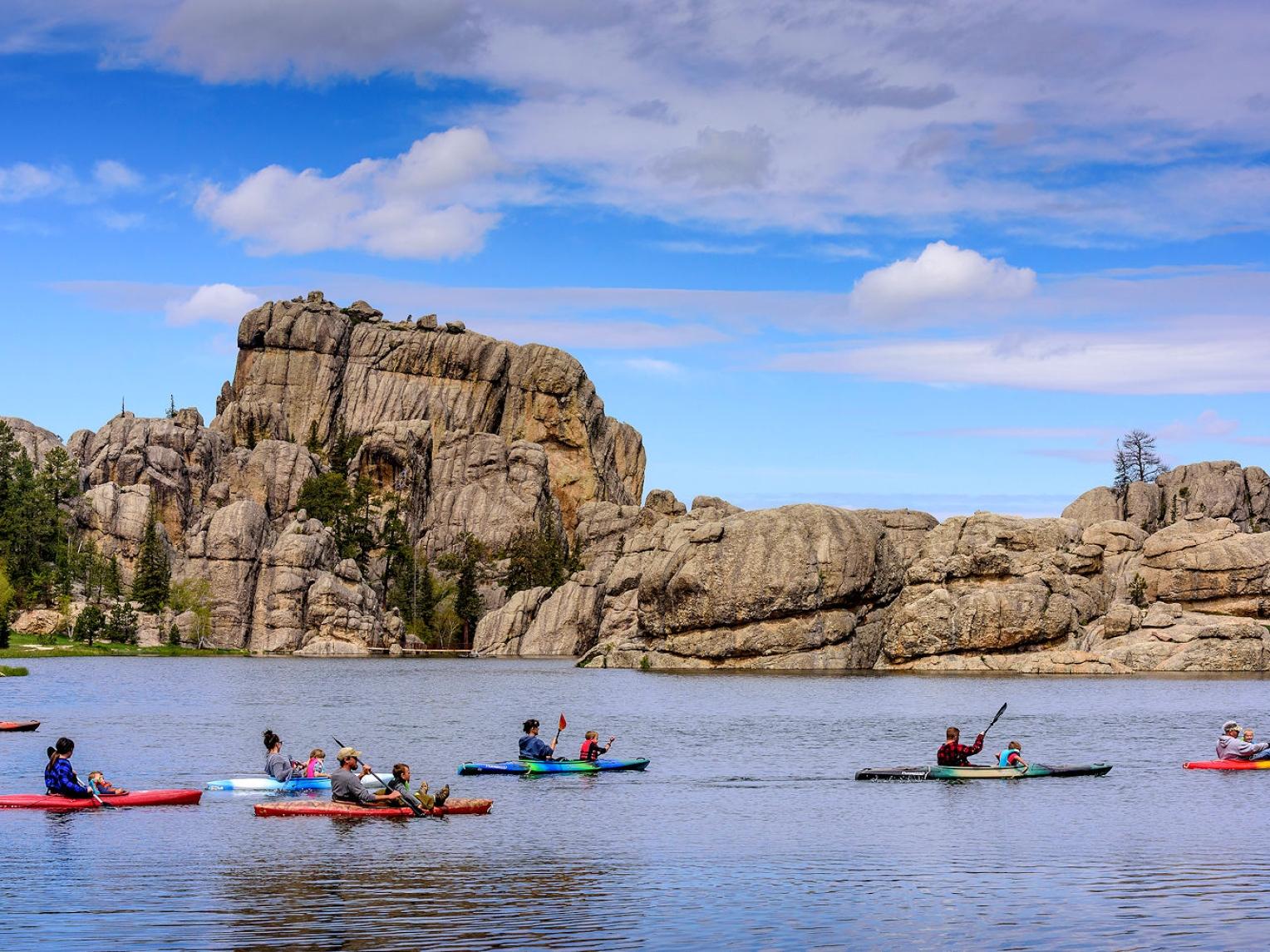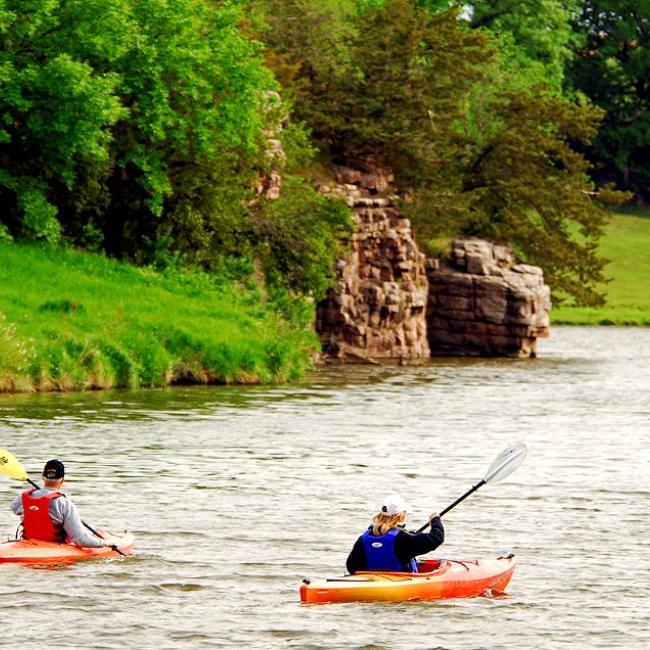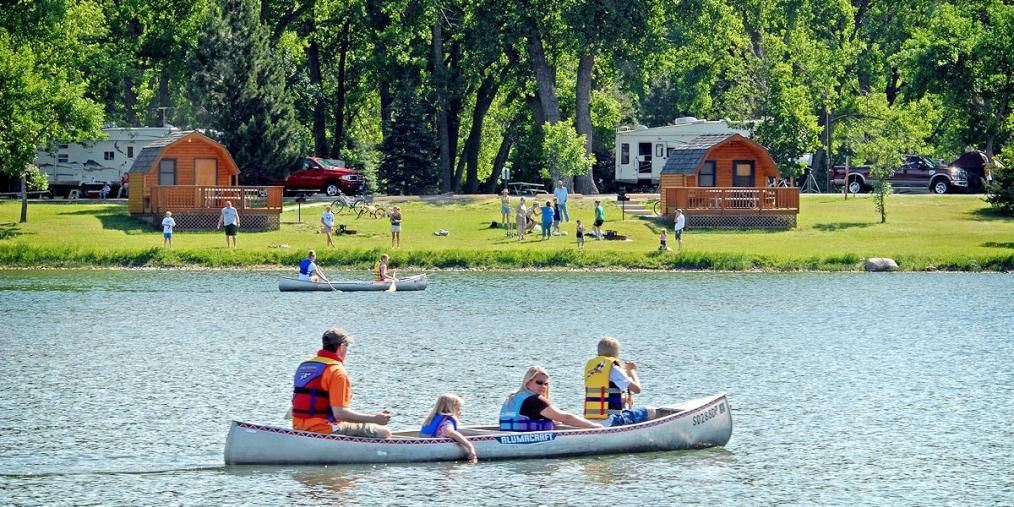 Sylvan Lake in Custer State Park is a favorite of photographers, artists and generally anyone who sets eyes on it. Beyond the swimming beach, visitors can rent paddle boats, canoes and other non-motorized watercraft to explore the lake's placid waters and venture closer to the hulking granite boulders along the lake's northern edge.
West of Hill City, Castle Creek feeds into the Deerfield Reservoir to create an easygoing paddling experience thanks to a "no wakeboarding" rule. Start your peaceful paddle from several boat launches. Along the Missouri National Recreational River, Lake Yankton is a small lake great for flatwater kayaking or canoeing. With a wake rule that prohibits gas motors, you'll find prime conditions for a peaceful paddle and abundant wildlife sightings.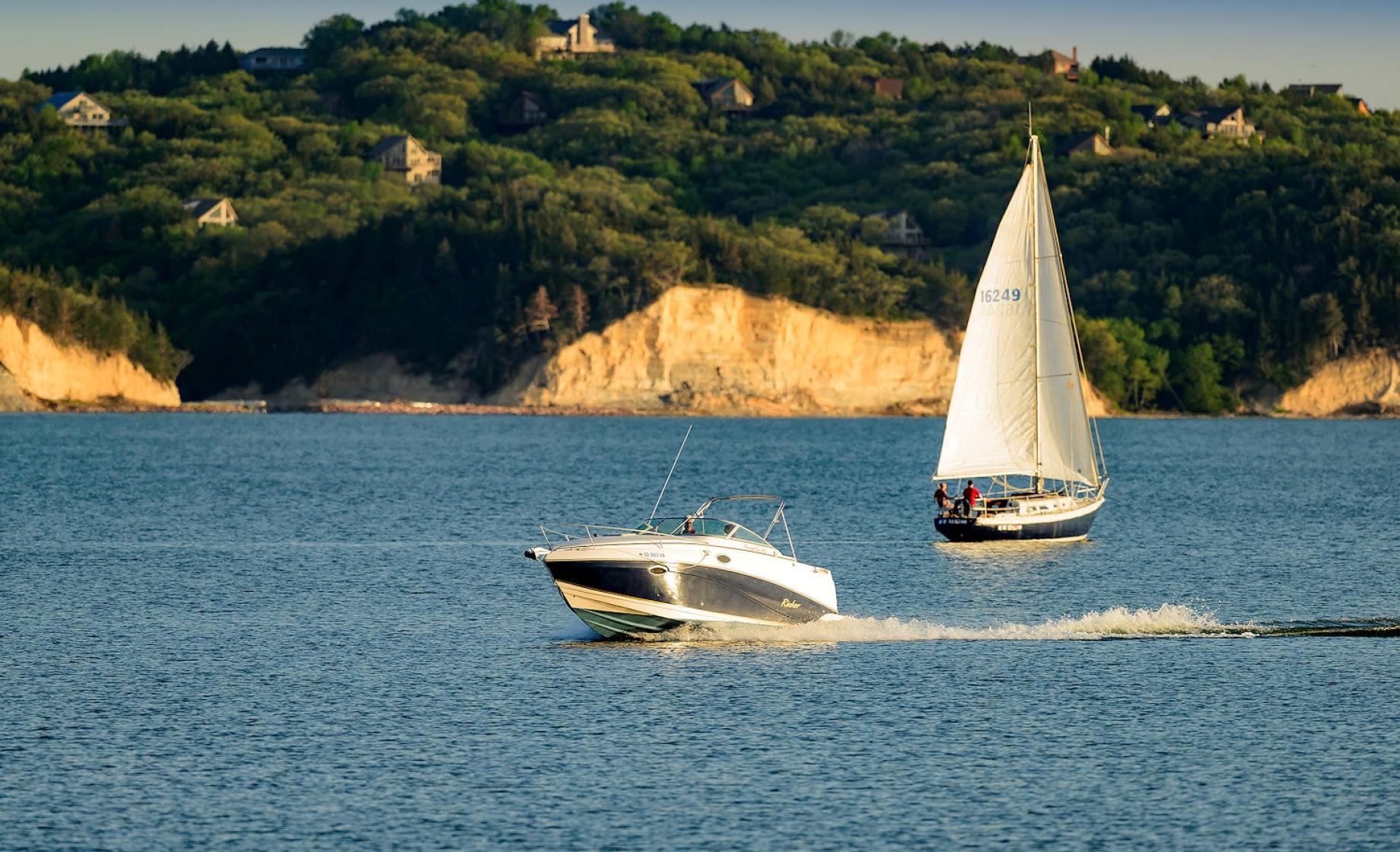 Great Places on the Water are Waiting
Start Planning Your Next Trip to South Dakota