Our Favorite Recipes 
A general rule of thumb for eating wild game is, "The more corn an animal eats, the better that animal is going to taste." Maybe that's why pheasant has been a staple on the tables of kings and royalty for centuries.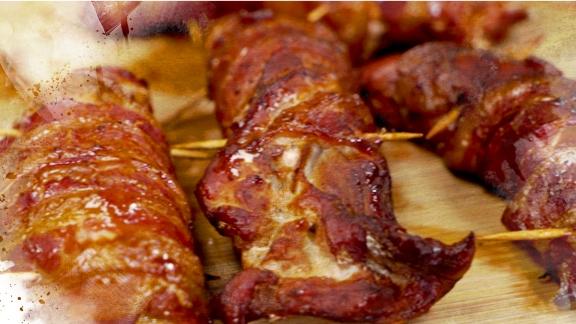 Bacon-Wrapped Stuffed Pheasant
How can you go wrong with cream cheese and bacon? Answer: you can't. Try this appetizing recipe that makes for an unbeatable halftime snack.
INGREDIENTS:
Cream cheese
Terrapin Ridge Farms jam
Excalibur Smokehouse BBQ Rub
EQUIPMENT NEEDED:
Tenderizing mallet
Plastic wrap
DIRECTIONS:
1) Lay pheasant out flat on a cutting board and cover with plastic wrap or flexible cutting board.
2) Pound breast until flat; to assist in this, make sure your strikes are angled towards the edges.
3) Mix cream cheese with Terrapin Ridge Farm jam or other seasoning/additive you have decided to use.
4) Place a dollop of the cream cheese in the middle of the pheasant breast and roll the breast around the cream cheese.
5) Sprinkle Excalibur Smokehouse BBQ all over the outside of the pheasant. (This can be done after wrapped in bacon if you choose.)
6) Wrap bacon around the breast and hold in place with a toothpick.
7) Smoke for 30 minutes at 225º with dampers open and no smoke or humidity.
8) Add smoke and humidity and smoke until internal temperature is 165º.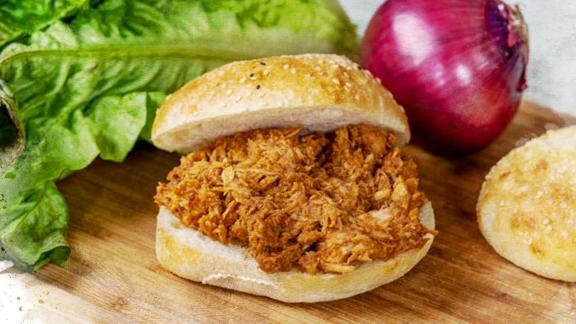 Pulled Pheasant Sandwiches
If you're looking for a rib-sticking recipe to feed everyone in your family, you must try pulled pheasant. It's simple, delicious and can be customized to fit anyone's tastes. 
INGREDIENTS:
Cleaned pheasant breast
Chipotle Ranch marinade
Excalibur's Sweet & Tangy BBQ Sauce
Sandwich bread/buns
Beer of Choice
DIRECTIONS:
1) Remove the skin from the pheasant breast; this should simply pull right off. There is also a tendon on the underside of the breast that should be removed.
2) Place all pheasant in a crockpot and cover with the chipotle ranch marinade.
3) Pour beer over everything and mix until all seasoning dissolves.
4) Cook on high for 3.5 hours.
5) Drain 90% of the water and use a pork puller or two forks to pull your pheasant. By now, the high temperatures and long cooking times should have broken down all the collagen and connective tissue so it should pull apart easily.
6) Add some Excalibur Sweet & Tangy BBQ Sauce and mix.
7) Cook on medium for 30 minutes.
8) Add in more BBQ sauce if desired.
9) Plate and enjoy!
Popcorn Pheasant
There are plenty of ways to cook pheasant to make it delicious and tender. This usually involves marinating or injecting the breasts with a seasoning that includes phosphates and then slowly cooking it over medium to low heat. Another easier way to get delicious tender pheasant is to cut it into small pieces and deep fry it in oil to make popcorn pheasant. 
INGREDIENTS:
3 cups of all-purpose flour
2 oz of Bloody Mary Wing Shake
4 whole eggs
1/3 cup of water
2 lbs of pheasant breast
8 cups of peanut oil (Can use other oils with high smoke points)
DIRECTIONS:
1) Mix Bloody Mary Wing Shake into 3 cups of all-purpose flour.
2) Thouroughly whisk 4 eggs and 1/3 cup of water to create egg wash.
3) Cut pheasant breast into small bite-size pieces.
4) Dip pheasant pieces into flour mixture first, then into the egg wash and then back into the flour. To increase coverage and thicken the breading put pheasant back into the egg wash again and then back into the flour.
5) Heat peanut oil (or other oil with high smoke point) to 350º on burner or stovetop.
6) Have a plate with layers of paper towel ready to hold the finished product.
7) Drop pheasant into oil, making sure it fully submerges in the oil and let it cook. With small pieces this should only take a few minutes. When pieces are close to done they will begin to float and the outside will be a nice golden brown.
8) Drip dry pieces over the oil and then transfer to plate with paper towel.
9) Squeeze some fresh lemon onto pheasant and enjoy with or without a dripping sauce.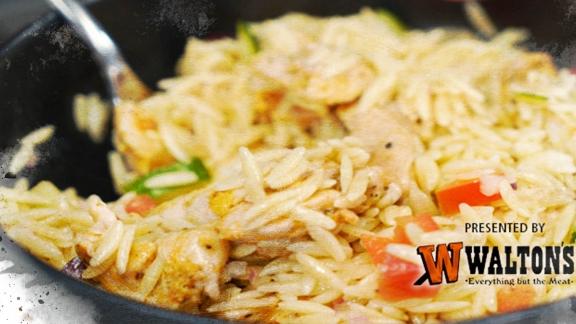 Pheasant Greek Orzo Salad
This recipe is perfect for any time of year. Make it with cold pheasant and pasta in the summer and warm pheasant in the winter! The light freshness of the salad lends itself to any type of poultry. 
For additional authenticity and flavor, try adding feta cheese for a salty creamy taste. You can also add pepperoni for a bit of spice. 
INGREDIENTS:
Cyclops Greek Marinade
8 oz of pheasant breast
8 oz of dry orzo
1/4 cup of olive oil
20 Kalamata olives
8 Roma tomatoes
1 English cucumber
1 lemon
DIRECTIONS:
1) Cut pheasant breast into small, bite-sized pieces. We like to cut the breast across the width of the breast instead of the length.
2) Measure out 1/2 oz of the Cyclops Greek Marinade and thoroughly dissolve it in 2 oz of cold water.
3) Place cup of pheasant breast in a vacuum bag, pour in marinade, vacuum seal and place in the refrigerator for 4 hours. If you do not have a vacuum sealer, simply marinate pheasant the night before and leave it in the refrigerator.
4) Cook 8 oz of orzo pasta al dente until it's just short of being fully soft. Remove from heat and run cool water over pasta to chill. (If desired, add Feta cheese to pasta once it has cooled.)
5) Slice up 20 Kalamata olives into slices as thin or thick as desired.
6) Slice your cucumber and Roma tomatoes into small pieces. Mix all vegetables and orzo pasta in a large bowl.
7) Mix 1/4 cup of olive oil with the juice of one freshly squeezed lemon and add salt and pepper to taste, then drizzle over the pasta and vegetables and mix thoroughly.
8) Heat up 2 tsp of olive in a cast iron or nonstick pan over medium heat and add your cut-up pheasant. Cook slowly — we want the pheasant to remain moist and prevent it from drying out, so take your time but make sure internal temperatures reach 165 degrees for food safety.
9) Once pheasant is fully cooked, you can either chill pheasant in the fridge or add it to your pasta hot. We like adding it hot as it creates a nice contrast with the cooled pasta.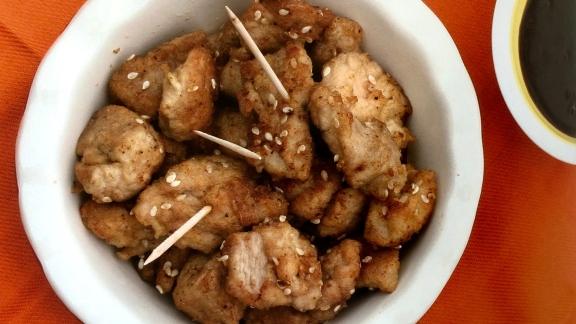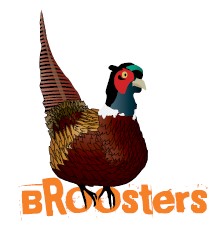 Brooster's Original Pheasant Nuggets
Makes 4-6 servings. Pheasant nuggets are a delicious treat right out of the skillet. Nuggets can be used in a variety of dishes including — but certainly not limited to — lasagna, chili, soups, pizza, flatbreads, and egg bakes. They're also great in the bacon-wrapped stuffed pheasant recipe that's right below this recipe!
Ingredients:
2 pheasant breasts, boned out
½ cup flour
1 tablespoon seasoning salt
2 teaspoons sesame seeds
3 tablespoons olive oil
½ onion, chopped
Salt and pepper to taste
Directions:
1) Pound pheasant lightly on both sides, then cut into bite-sized pieces.
2) Prepare flour mixture by combining flour, seasoning salt and pepper in a small bowl.
3) Heat oil in a skillet over medium-high heat. When oil is hot, add onion and sauté for 2-3 minutes.
4) Roll pheasant nuggets in flour and add to skillet. Stir-fry until pheasant is fully cooked (about 8-10 minutes).
5) Serve hot and enjoy.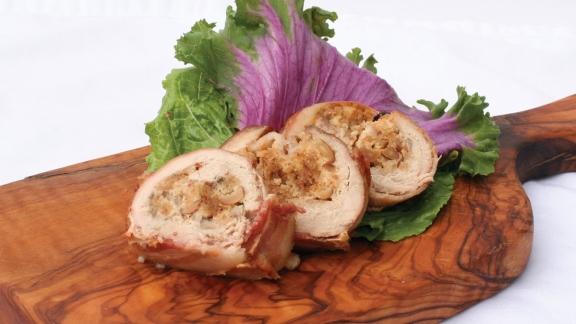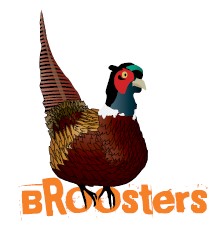 Bacon-Wrapped Stuffed Pheasant
Makes 4-6 servings. Decidedly decadent, double-smoked Bacon-Wrapped Stuffed Pheasant will be your favorite guilty pleasure. Serve whole or slice into bite-sized appetizers. 
INGREDIENTS:
2 pheasant breast, boned and pounded
½ cup dry bread crumbs
½ teaspoon seasoning salt
½ teaspoon pepper 
2 teaspoon butter 
½ cup onion, finely chopped
4 ounces pepper jack cheese
2 tablespoon sour cream
⅓  cup smoked almond, chopped
¼ cup finely chopped Brooster's Original Pheasant Nuggets
4 strips double-smoked bacon
½ cup chicken broth or water
DIRECTIONS:
1) Preheat oven to 350 to 375°.
2) Gently pound raw pheasant breasts on both sides.
3) Heat oil in pan. Brown onions for 3-4 minutes on medium.
4) Stir in pheasant nuggets and smoked almonds. Heat for one minute to combine flavors.
5) In a mixing bowl, combine sour cream, seasonings, breadcrumbs, browned onions and pheasant nuggets.
6) Melt butter and stir into stuffing mixture.
7) Spoon the stuffing mixture equally in the center of each breast and place pepper jack cheese on stuffing and roll it up. 
8) Wrap a slice of bacon around each rolled up stuffed breast. The back will hold it together. 
9) Place in backing pan and bake for 50 minutes, or until the meat is tender.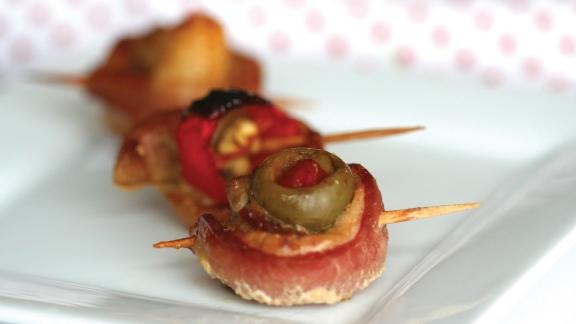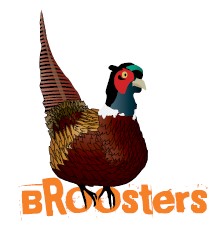 Pheasant Rooster Roll-Ups
Makes 20-24 roll-ups per pheasant.
INGREDIENTS:
1 pheasant breast, boned 
Thinly sliced bacon 
Whole water chestnuts
2 jalapeño peppers, 6-8 slices
6 large queen green olives
1 medium yellow onion, diced
1 cup chicken broth
Favorite seasonings (e.g. garlic salt, seasoned pepper)
Round wooden toothpicks
DIRECTIONS:
1. Preheat oven to 375°.
2. Slice pheasant breast into three-inch long strips (about the width of an index finger).
3. Stack bacon and cut in half, turn the slices lengthwise, then cut in half again.
4. Slice jalapeño peppers ½ inch wide and set aside.
5. To assemble, lay down a bacon strip and place a slice of pheasant on top. Add a water chestnut and roll it up. Use round toothpicks to keep ingredients secure and place roll-up in a glass pan. Alternate the process with green olives and jalapeños. If sensitive to heat, bake jalapeño roll-ups separately. 
6. After all of the rollups are assembled, add ½ can of chicken broth and ¼ cup of chopped onion in the pan. Do not place too many roll-ups in baking pan. Sprinkle with your favorite seasonings.
7. Bake for 50 minutes or until bacon begins to brown. Do not overcook.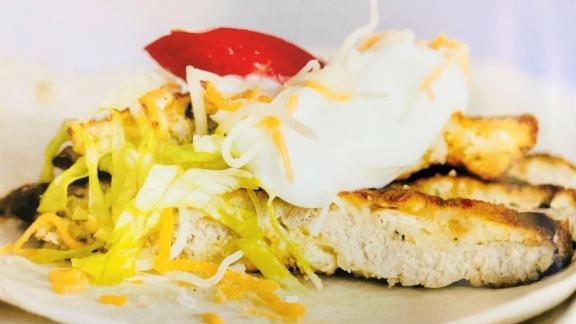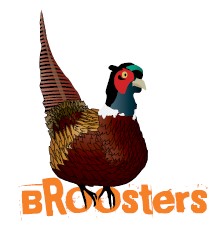 PHEASANT FAJITAS
Makes 8-10 servings. Pheasant Fajitas are sure to bring the heat even on the coldest of South Dakota nights.
INGREDIENTS:
2 tablespoons olive oil
2 raw pheasant breasts, boned, pounded lightly and cut into bite-sized pieces
Flour mixture
     1 cup flour
     1 teaspoon salt
     1 teaspoon garlic salt
     2 teaspoons cayenne powder
     1 teaspoon onion powder
     1 teaspoon paprika
Veggie mixture
     1 cup onion, sliced
     1 cup green pepper, sliced
     1 cup red pepper, sliced
     1 cup yellow or orange pepper, sliced
1 cup shredded cheddar cheese
12 soft shell tortillas
18 ounce container sour cream
3 tomatoes, diced
1 can black olives
Salt & pepper meat to taste
DIRECTIONS:
1) Heat olive oil in skillet over medium heat.
2) Dredge pheasant pieces in flour mixture.
3) Gently add to oil and fry until golden and cooked through.
4) Remove from oil and dry on a paper towels. Set aside.
5) Add veggie mixture to oil.
6) Fry over high heat until onions are tender.
7) Top tortillas with pheasant, veggie mixture, cheese, sour cream, tomatoes and black olives.
8) Enjoy!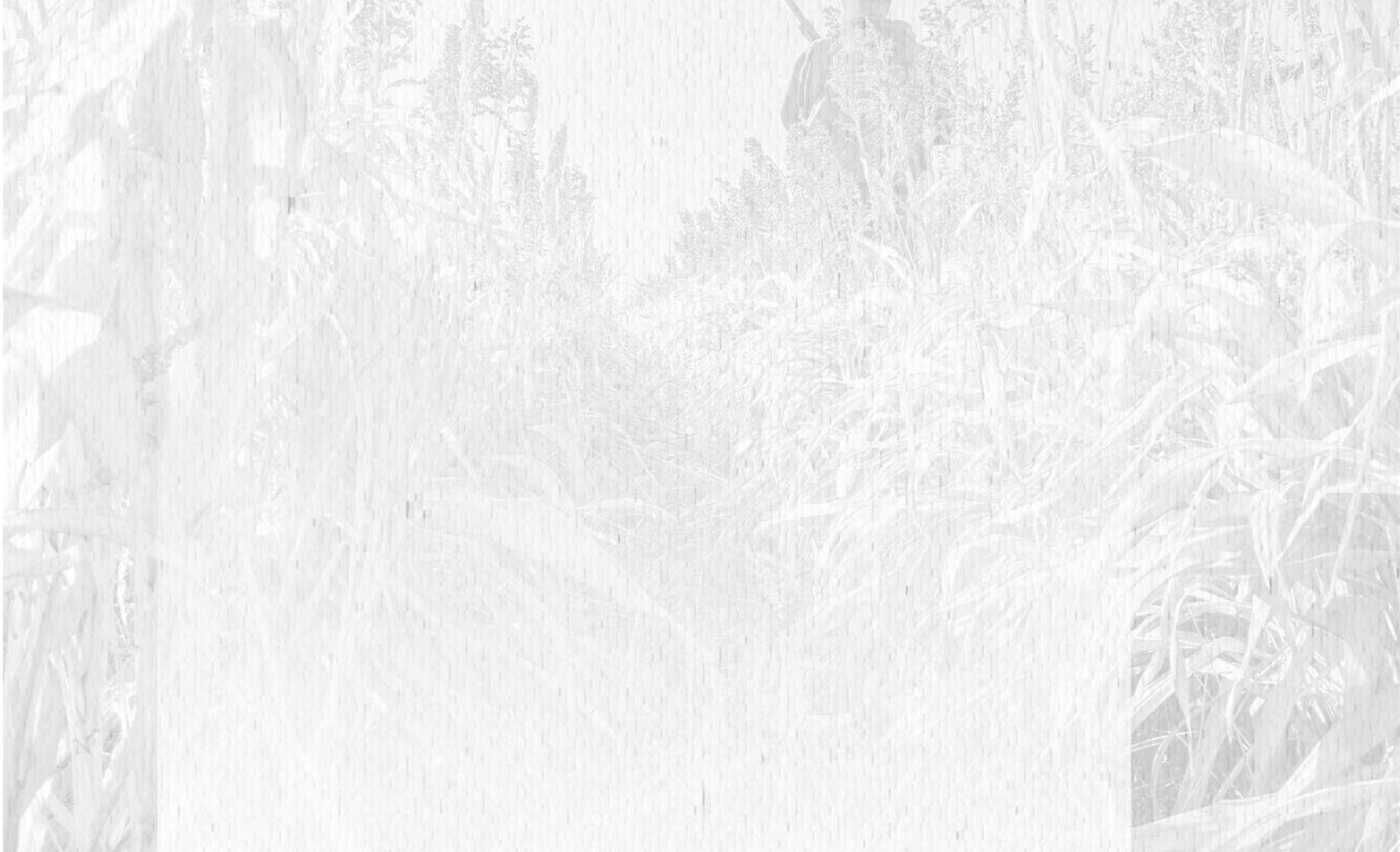 Planning Tools
Whether you're looking for a guided lodge experience or a public land adventure, we've got the resources to get you started.
What should you expect on a South Dakota Outdoor Adventure? See for yourself at #SDinthefield