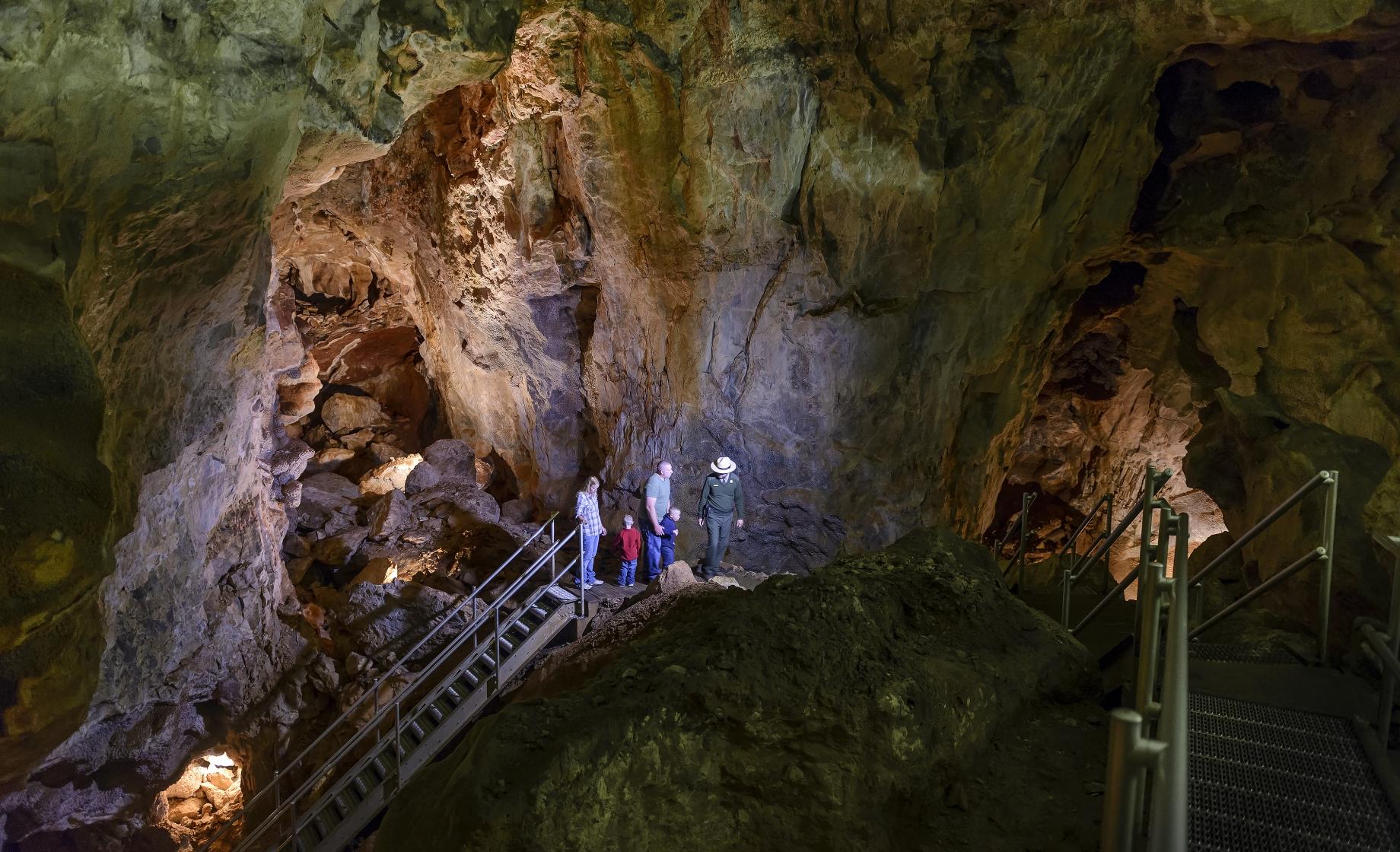 Deep below the surface of the Black Hills is a dark and sprawling world yet to be fully discovered. There you'll find the cave systems of western South Dakota, a must-visit destination for anyone in search of subterranean adventure. But before you strap on your headlamp and go spelunking into these complex chasms – here are a few things you might not know about Black Hills caves. 
1. THEY ARE ASTOUNDINGLY EXPANSIVE – YET SURPRISINGLY COMPACT
Located just west of Custer, Jewel Cave National Monument is the third-longest cave system on the planet. Although it has more than 200 miles of plotted passageways, the entire system lies beneath just under four square miles of land. Likewise, Wind Cave National Park has more than 150 miles of explored caverns and counting – yet it's so maze-like and intertwining that it's recognized as the densest cave system in the world. 
2. THEY ARE HOME TO SOME VERY RARE ROCKS
Wind Cave was the first cave to ever be designated as a national park. This may be part and parcel to the fact that it preserves the world's largest concentration of boxwork, a rare formation of thin calcite fins that resemble honeycombs. In fact, approximately 95% of the known boxwork formations in the world can be found in Wind Cave. 
3. THEY WERE DISCOVERED BY ACCIDENT
Despite the massive size and breadth of Black Hills caverns, most of them weren't uncovered by people looking for caves at all. Rushmore Cave remained hidden until 1876 when a log flume broke and spilled water onto a hillside. Loggers noticed the water rushing into a hole in the ground, revealing an entrance to the cave. That's not the only one to be discovered by accident. A local adventurer in the early 20th century encountered wind coming from a natural opening in the ground. A local doctor ended up owning the property, and after exploring the cave throughout the early 1930s, he opened Black Hills Caverns for tours in the summer of 1939. In 1929, two men looking for a lost dog discovered Wonderland Cave when their search led them into one of the cavern's upper rooms. After a short and futile search for gold within the rocky walls, the men decided to open the cave for commercial tours during the summer of 1930.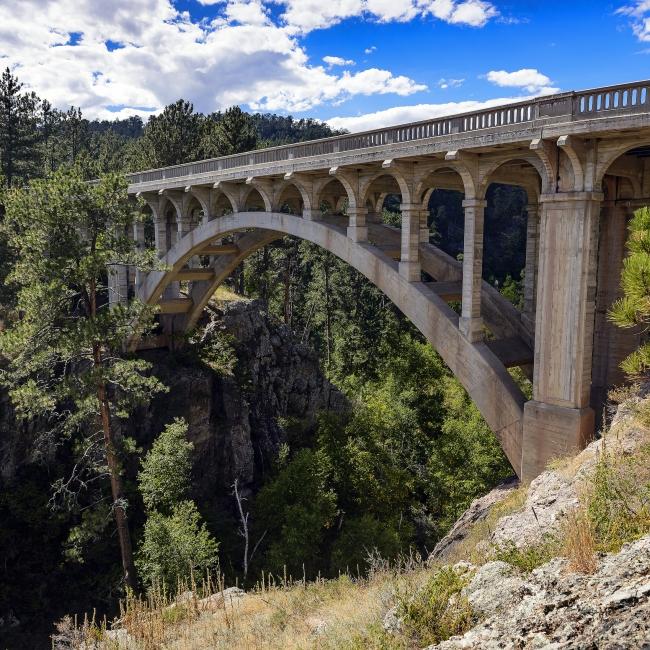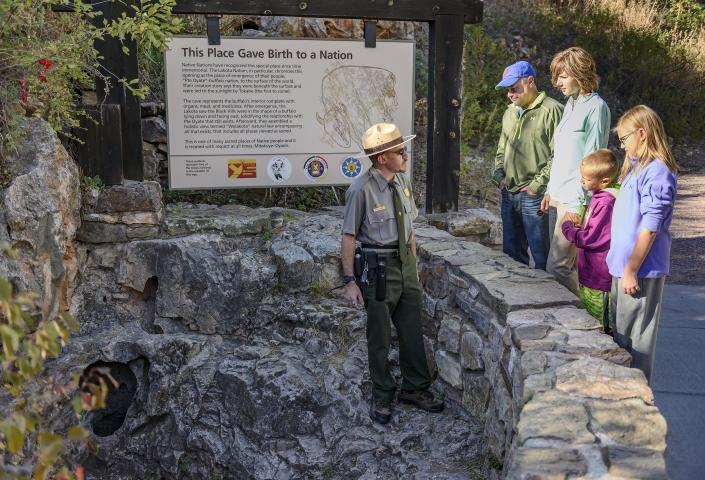 4. JEWEL CAVE IS ACTUALLY A MISNOMER
Ever wonder where Jewel Cave got its name? The "jewels" that line this labyrinth's walls aren't jewels at all, but rather calcite spar crystals. Calcite is about as hard as your fingernail but still much too soft to be considered a true jewel. 
5. WIND CAVE IS DEFINITELY NOT A MISNOMER
While Jewel Cave may be devoid of its namesake, Wind Cave's title does have a gust of truth to it. Two brothers, Tom and Jesse Bingham, discovered the cave in 1881 when they heard air blowing from a hole in the ground. This effect is caused by air expanding and escaping the cave due to pressure changes in the outside atmosphere. As the story goes, when Tom looked into the hole, the wind was so strong it blew the hat clean off his head.
6. WIND CAVE IS PART OF LOCAL LEGEND
Long before Tom and Jesse came along, the Lakota people -- the Indigenous inhabitants of the Black Hills -- considered the cave to be a sacred place. The Lakota believed that this mysterious hole was actually the site where their ancestors first emerged after the creation of the Earth.
7. THEY'RE JUST AS MAGNIFICENT ABOVE GROUND AS BELOW
Although the caves seem to get all the attention, there's just as much to be discovered above ground. Rushmore Cave features several attractions that draw in guests from far and wide. Some crowd favorites include the Soaring Eagle Zipline and the Gunslinger 7-D interactive ride. Or if you're looking for something a little more untamed, Wind Cave National Park includes a wildlife sanctuary spanning 28,000 acres where antelope, bison, elk, and prairie dogs roam the ponderosa pine forest. The park's rolling prairie is also one of the last remaining mixed grassland areas in existence. 
THE BLACK HILLS TOOK MORE THAN 75 MILLION YEARS TO BECOME WHAT THEY ARE. WHEN YOU'RE READY, SEE WHAT GREAT PLACES ARE WAITING.