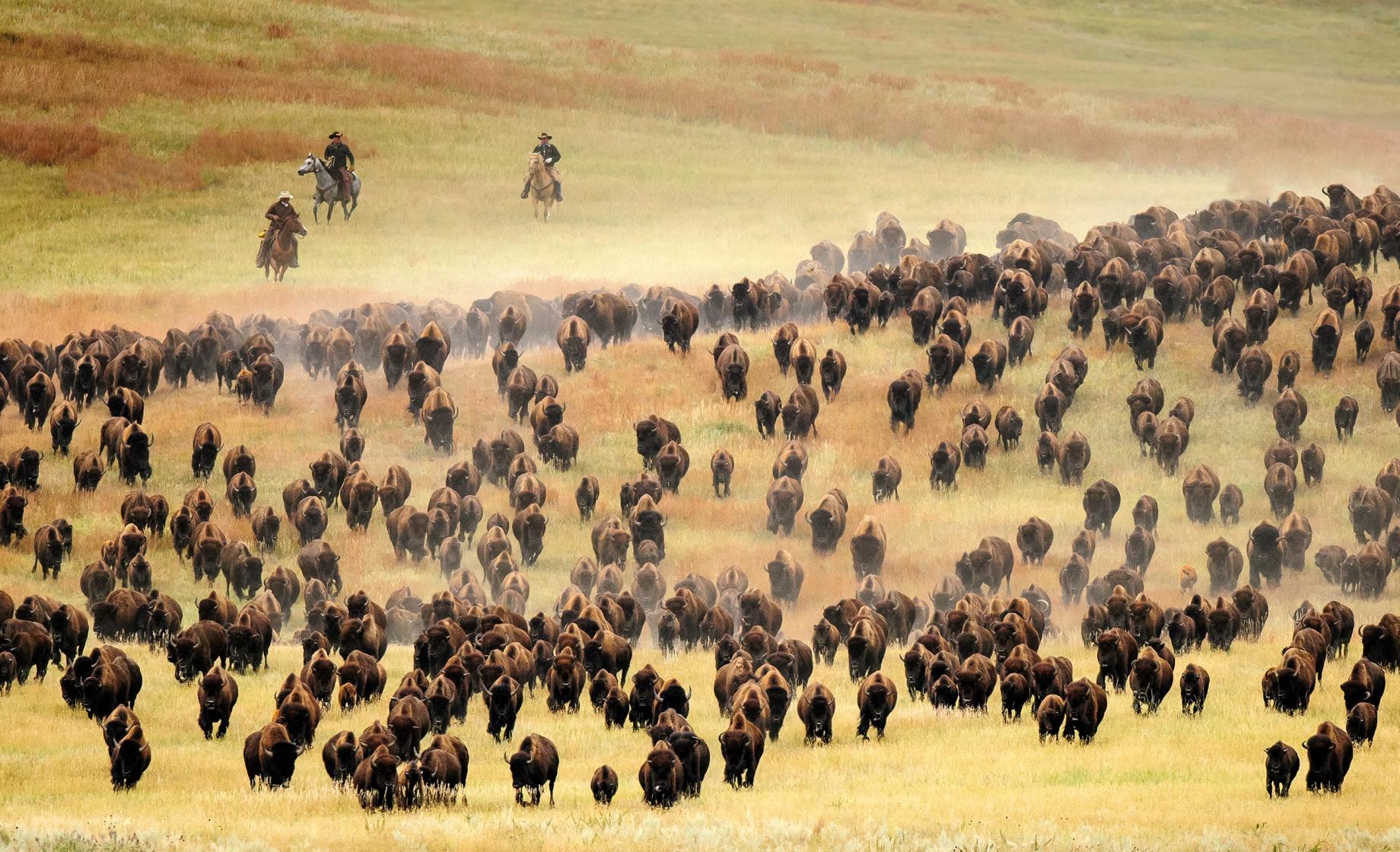 Once a year, you can see a herd of 1,300 bison thunder through Custer State Park
Custer State Park in the beautiful Black Hills of western South Dakota is full of lush forests, quiet and serene meadows, and majestic mountains. This 71,000-acre state park is also home to over a thousand bison—one of the world's largest publicly owned bison herds.
Each fall, the ground rumbles and the dust flies as cowboys, cowgirls and park crews saddle up to bring in the thundering herd. The annual Custer State Park Buffalo Roundup, held the last Friday every September, is open to the public. Adding to the weekend's festivities is the annual Arts Festival, held Thursday through Saturday, adjacent to the State Game Lodge. 
Here is everything you need to know to be prepared for the Buffalo Roundup—including how to livestream this year's event.
---
 
SEPTEMBER 27 DETAILS   |   LIVESTREAM   |   QUESTIONS & ANSWERS   |   PARK INFO
When and Where is the Event?
This is an annual event that happens the last Friday in September at Custer State Park, located near Custer in southwestern South Dakota. Be sure to to determine which viewing area you will be going to prior to arriving at the park on Friday morning. 
Friday, September 27, 2024 – 59th Anniversary
Gates Open at 6:15 a.m.
Round Up Begins at 9:30 a.m.
Branding and Sorting Begins at 1:00 p.m.
Viewing Locations
North Parking and Viewing: Head south from the State Game Lodge area on Wildlife Loop Road.
South Parking and Viewing: Head east on Wildlife Loop Road near Blue Bell campground.
*It is encouraged to leave pets at home. They will need to remain in a vehicle if you bring them.
Custer State Park's 58th Annual Buffalo Roundup
Relive the 58th annual roundup from Custer State Park on Friday, September 29, 2023, with South Dakota Public Broadcasting's livestream recording:
Stay in Touch With The Herd
Social Media Feeds
For photos and video from the day, follow along on Facebook (@TravelSouthDakota), Twitter (@SouthDakota) and Instagram (@TravelSouthDakota). Use and follow #BuffaloRoundup when sharing about the event.
 
Buffalo Roundup Videos
Watch videos from previous Custer State Park Buffalo Roundups to get a sense of this authentic western adventure. 
Also available on CriticalPast.com is a 42-second archival video of stock footage from a roundup held July 16, 1934.
FREQUENTLY ASKED QUESTIONS
No matter if it is you first Buffalo Roundup or if you are a repeat visitor, here are some helpful tips and answers to questions you may have about the event.
How many bison are there in the herd?
Herd numbers vary from year to year, but typically there are 1,350-1,450. Note: The big bull bison are not included in the Roundup because they are more aggressive and are simply hard to round up. Because of this, visitors may see them scattered throughout the park during the Roundup weekend.
Why are the bison rounded up?
The Buffalo Roundup is part of Custer State Park's management plan to maintain a healthy balance between the number of bison and the available rangeland forage. The park can only sustain a certain number of bison, based on the condition of the grassland and how much food is available. The Buffalo Roundup also allows for some of the animals to be sorted out of the herd. They are then sold at an auction in November.
What happens to the bison after they're in the corrals?
Once placed in the corrals, park staff sorts out 200-500 animals to be sold, vaccinates the new members of the herd, brands the new calves, and checks the cows for pregnancy. It takes about four days to work the entire herd.
How early should I get there?
Parking lots open at 6:15 a.m. the day of the Roundup (but be prepared to wait in line). Visitors who are in the park by 7:00 a.m. will have plenty of time to get to the viewing areas. The Roundup does not start until 9:30 a.m.
Are reservations required?
No.
Does it cost anything?
There is no admission fee for the event and a park entrance license is not required the day of the Buffalo Roundup.
Are food and drinks available?
Pancakes, sausages and beverages are available at 6:15 a.m., in both viewing areas. Lunch is served, until 2:00 p.m., at the corrals once the buffalo are rounded up. There is a fee for both meals.
What should I bring?
The weather can vary. Be prepared for sunny or rainy skies. Also, be sure to bring sun screen, layered clothing, folding chairs, binoculars, snacks and drinks/water. Custer State Park has compiled other information for visitors, so be sure to look it over.
Is there handicapped parking available?
Yes. Visitors should clearly display their parking emblem so they can be directed to the right area.
Are there shuttles?
Shuttles are available after the Roundup for those visitors wishing to go down to the corral area.
Which viewing area is best?
Both viewing areas have unique vantage points and visitors get great views from either location. Visitors may not move between viewing areas.
How long does the event take?
The Roundup is generally over by 11:30 a.m., but visitors need to be prepared to stay in the viewing areas until the bison are safely in the corrals.
How are the horseback riders chosen?
Some are Custer State Park staff, others have been long time riders. Up to 20 volunteer cowboys and cowgirls are selected each year through an application process. For more information, contact the Custer State Park Office at 605-255-4515.
Is there anything else going on?
Fun activities continue the entire weekend following the Roundup. The Buffalo Roundup Arts Festival, with up to 150 vendors, is held Thursday, Friday and Saturday near the Peter Norbeck Visitor Center. 
The Travel South Dakota Stories
Episode One: "The Rise and Fall of the Buffalo"
Feel the ground rumble and the dust fly as sixty cowboys and cowgirls saddle up to bring in a thundering herd of 1,300 buffalo at the 57th Annual Custer State Park Buffalo Roundup. But we're not just watching it. We are in the thick of it as we get thrown around on the back of a truck chasing the herd across the wide-open plains! Along the way, we discover that although the roundup harks back to a different time, the adventurous spirit of South Dakotans – which has been a way of life for centuries – still lives on. And that spirit is infectious.
Available now on Spotify, Apple, and Amazon.
About Custer State Park
Officially established in 1919, Custer State Park is South Dakota's first and largest state park. Its terrain of mountains, hills and prairies provides ideal habitat for a wealth of wildlife, including white-tailed and mule deer, prairie dogs, pronghorn antelope, elk, mountain goats, big horn sheep, and, of course, the park's herd of American Bison.
The bison herd roams freely throughout the park and is often found along the 18-mile Wildlife Loop Road in the southern part of the park. Bison seem docile, but can run very fast and turn on a dime. Weighing as much as 2,000 pounds, these animals are forces to be reckoned with. Visitors should stay inside their vehicles when viewing the bison, and not get too close.
In addition to wildlife, the park features several historic sites, including the State Game Lodge, the Badger Hole, the Gordon Stockade, the Peter Norbeck Visitor Center and the Mount Coolidge Fire Tower. The Black Hills Playhouse, which hosts performances each summer, is also located within the park, as are four resorts, each offering lodging, dining and activities. The park also has four mountain lakes. These lakes, along with several streams, offer many water recreation and fishing opportunities. Each year, more than 1.5 million visitors enjoy the numerous and varied activities, attractions and events found year-round within Custer State Park.
More information can be found on the Department of Game, Fish and Parks' Custer State Park website.