Deadwood: The Wildest Part of the West
Much to the relief of anyone left crushed by the premature end of HBO's Deadwood in 2006, Seth Bullock, Al Swearengen, Calamity Jane, and others returned in the 2019 movie. There's no better way to celebrate than to experience the actual Deadwood in western South Dakota. And, don't forget to order your Vacation Guide to discover even more South Dakota adventures.
To enter city limits is to be transported back in time. Walk the streets that began as muddy roads. See where Seth Bullock maintained his own brand of law and order. Take in the spot where Wild Bill Hickok met his demise, and play cards where Al Swearengen sold his, uh…wares. Real history can be felt with every step in a town whose Wild West antics inspired one of the greatest television shows of all time. Read on for a breakdown of the best places to celebrate all things Deadwood. In the words of Al Swearengen, "Welcome to <expletive> Deadwood!"
Get started at The Adams Museum
When Deadwood creators started work on the show, they went to the town's historical repository: The Adams Museum (150 Sherman St.). It's a must-visit spot for anyone looking for real pieces of history from some of Deadwood's most beloved characters. Located in the center of Deadwood, the number of artifacts contained the Adams Museum is almost incalculable. Exhibits rotate, but visitors can count on seeing personal belongings from Wild Bill Hickok, Calamity Jane and Charlie Utter. If you think Swearengen's name doesn't come up in the museum's Risky Business exhibit (dedicated to the history of gambling, prostitution and crime in Deadwood), Al himself would probably have some choice words for you.
The museum is open daily from 9 a.m. to 5 p.m. (May-Sept.) and Tuesday through Saturday from 10 a.m. to 4 p.m. (Oct.-April). Suggested donation is $5 for adults and $2 for children. Combination passes are available that include The Days of '76 Museum (which houses an amazing collection of firearms, artifacts, and carriages--including the original Deadwood Stagecoach complete with bullet holes) and The Historic Adams House. You can buy tickets here.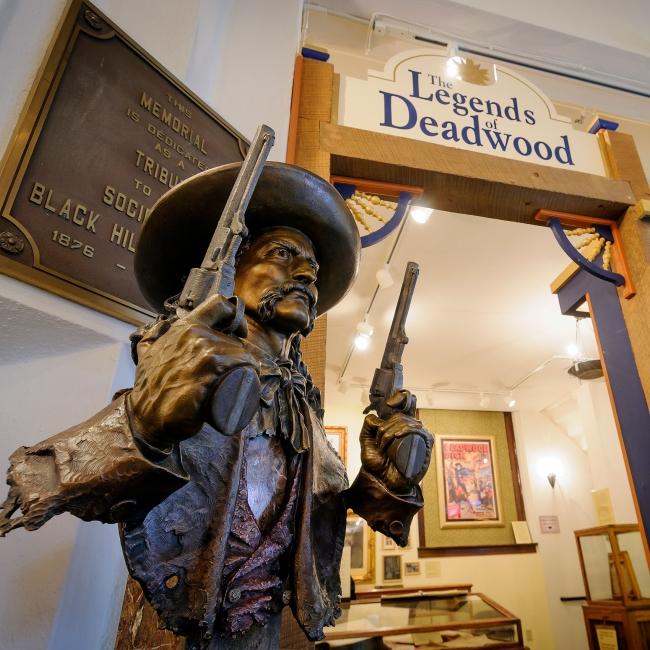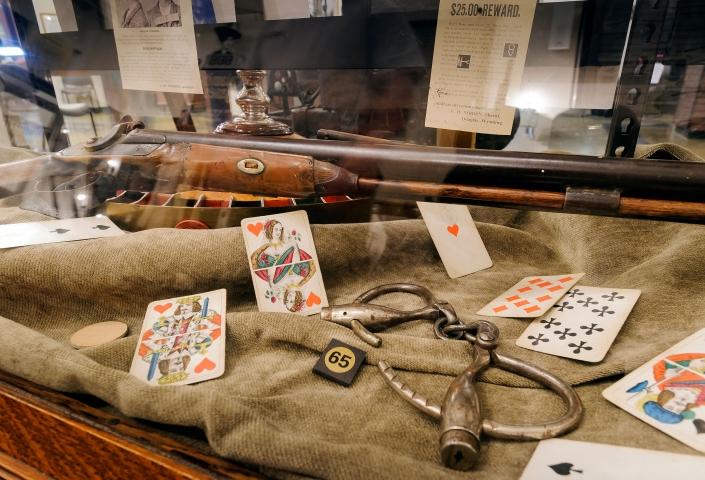 Al Swearengen - The Gem Theater/The Mineral Palace
"What did you know about me, Bullock, first we met? No concern for my feeling, huh?"
"That you were a killer."
"Certain facts show in the mug." – Al Swearengen (Ian McShane) and Seth Bullock (Timothy Olyphant) chatting in Deadwood
If there's one thing Deadwood viewers seem to have taken from the series, it's that no one could curse like Al Swearengen. Ian McShane's portrayal of Swearengen made an art form out of profanity and won the actor a Golden Globe in 2005. No fan of the show was surprised. McShane's performance embodied much of what the real Swearengen was: ruthless, violent and, for a while, seemingly unstoppable.
The town of Deadwood's own website described Swearengen as "one of Deadwood's most infamous and brutal citizens." Just as the "Gem Saloon" was in the HBO series, Swearengen's Gem Variety Theater was one of the first entertainment venues in town when it opened it 1877. Fire burned down the theater twice, but Al rebuilt both times, knowing there was still money to be made off the town's "hoopleheads" (a term used in the HBO show to describe someone foolish or ridiculous). Fire alone couldn't stop Swearengen. Enemies and fire, though? Different story. 
When the Gem caught fire again in 1899, it burned to the ground. Firefighters showed up on time, but they couldn't do anything to help because someone had stolen every hydrant wrench needed to put out the fire. It's likely that Swearengen crossed someone who made sure the hydrants would be useless while Al's business burned. Instead of rebuilding, the ruthless businessman left Deadwood for Colorado. He either made new enemies or ran into some old ones, as his dead body was found near a streetcar track in Denver. Police never determined if his death was accidental or not, but Swearengen's legend has remained intact, thanks to McShane's stunning portrayal of one of Deadwood's most notorious figures. 
You can see photos of the Gem in the Adams Museum. While fire has erased all three of the Gem buildings, visitors can eat, drink, and gamble on the original site at Mineral Palace Hotel & Gaming (601 Main Street). Just like in the early days of Deadwood, games of chance are everywhere. The Mineral Palace is no exception, but past the slot machines and card tables, the Gem Steakhouse and Saloon's menu celebrates the characters of Deadwood with options like "Bullock's Eggs Benedict" and "Charlie Utter's Campfire Breakfast." Eat up, but make sure to keep your cravat out of your bacon. 
When you're at the Mineral Palace, you're surrounded by history. Note that the Gem was on the north end of Wall Street, the street where Seth Bullock and Swearengen agreed to draw an imaginary line that separated the "Badlands" from the rest of the town. Bullock said anything in the Badlands was out of his jurisdiction, leaving it under the iron-fisted dominance of Swearengen. (It's also no coincidence that The Gem was just across the line from The Bullock Hotel.) 
Seth Bullock - The Bullock Hotel, Mount Moriah Cemetery, and Mount Roosevelt
"What kind of man have I become?" – Seth Bullock (Timothy Olyphant)
"I don't know. The day ain't <expletive> over yet." – Sol Star (John Hawkes)
"Seth Bullock is a true westerner, the finest type of frontiersman." – Theodore Roosevelt, 26th president of the United States
Bullock's legacy is immense. In addition to being the first Lawrence County Sheriff and U.S. Marshall in Dakota Territory, he was appointed the first Black Hills Forest Reserve superintendent. As a legislator, he's credited with introducing a resolution that helped establish Yellowstone National Park, the country's first national park. 
But before all of that, he came to Deadwood with Sol Star to build a hardware store. History says Bullock was mostly the man portrayed in the HBO show. Stoic, sturdy, and intent on doing the right thing, he entered Deadwood a hopeful entrepreneur and died with a legacy of honor. That honor includes his marriage to Martha. On the show, Seth and Martha married because of his deceased brother. In reality, Martha was Seth's childhood sweetheart, and it's unlikely Seth did anything unseemly to betray his marital vows. It's also unlikely that Bullock & Star ever met Wild Bill, since the industrious pair had only been in Deadwood for a day before Wild Bill was shot. Still, the legacies of all three men are felt so strongly throughout Deadwood that it's difficult to think of one without the others.
Today, Bullock's influence can be felt throughout the town, starting at The Bullock Hotel on the south side of Wall Street (the same place where Bullock drew that imaginary line). Built around 1895, The Historic Bullock Hotel is considered Deadwood's first and finest hotel, the jewel of downtown Deadwood. The hotel is built on the same lot where Star and Bullock set up their hardware store. (Interesting fact: The building was converted into a hardware store in 1976, but new owners converted it back into a hotel in the early 1990s.) Getting a room at the Bullock allows you to walk through the very same rooms and hallways that Bullock himself did (and still does, if hundreds of reports from visitors and employees are to be believed. More on that later in this article…)

Mount Moriah Cemetery
The hotel is only part of the Bullock experience in Deadwood. Check out some authentic Bullock memorabilia at the Adams Museum, and make a trip to Mount Moriah Cemetery to find Bullock's final resting place (as well as those of Wild Bill, Calamity Jane, and other favorites—keep reading for more info on Mount Moriah cemetery). Visitors to Mount Moriah Cemetery might not find Bullock's grave right away. That's because, per his wishes, it's on a hill 750 feet above the main cemetery. Before his death in 1919 at the age of 70, he had two final requests: First, he wanted his tombstone to feature only one word: "Pioneer." His other request was that his grave be high enough on the hill so that it had a clear view of Mount Roosevelt, the 31-foot tower that Bullock had erected to honor his deceased friend Theodore Roosevelt.
Roosevelt and Bullock met in 1892 when the former was crossing the Belle Fourche River on horseback with his companions. Looking "exactly like an outfit of tinhorn gamblers," according to Roosevelt himself, the group encountered a cautious Bullock, who likely suspected the men were up to no good. Being on the receiving end of Bullock's suspicion was uncomfortable for even the roughest of riders—Bullock's grandson once said that Seth could "outstare a mad cobra or rogue elephant"—but the tension broke once introductions were made. Bullock and Roosevelt were solid friends from that moment on. When Roosevelt died in 1919, Bullock arranged for the erection of the "Friendship Tower" as a memorial to his friend. Bullock died only months after the tower's dedication.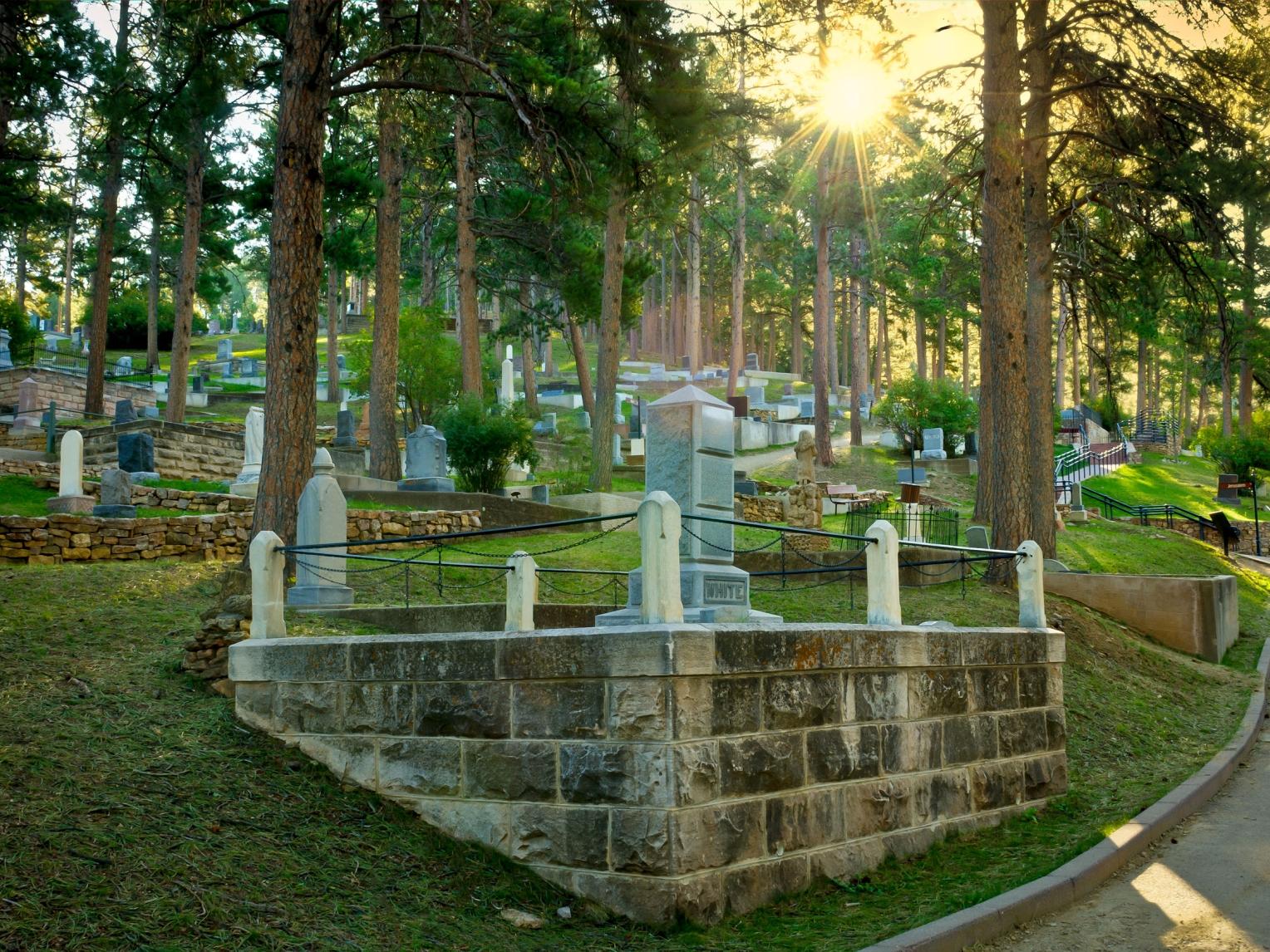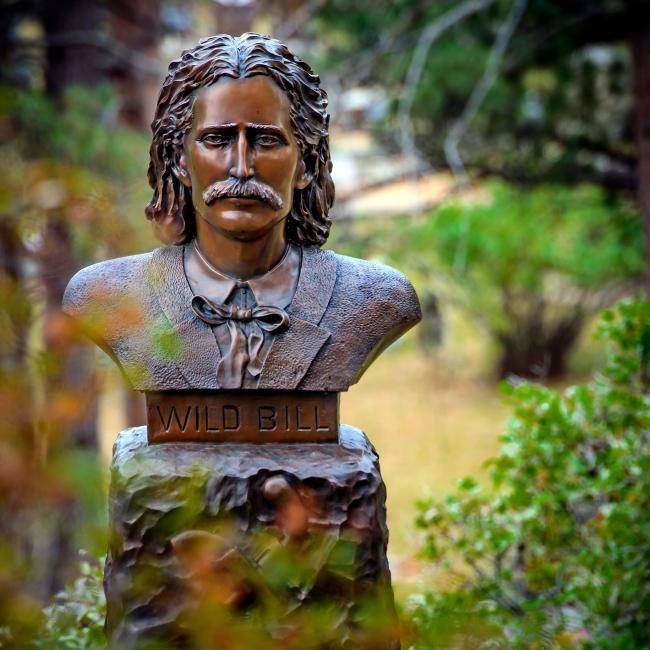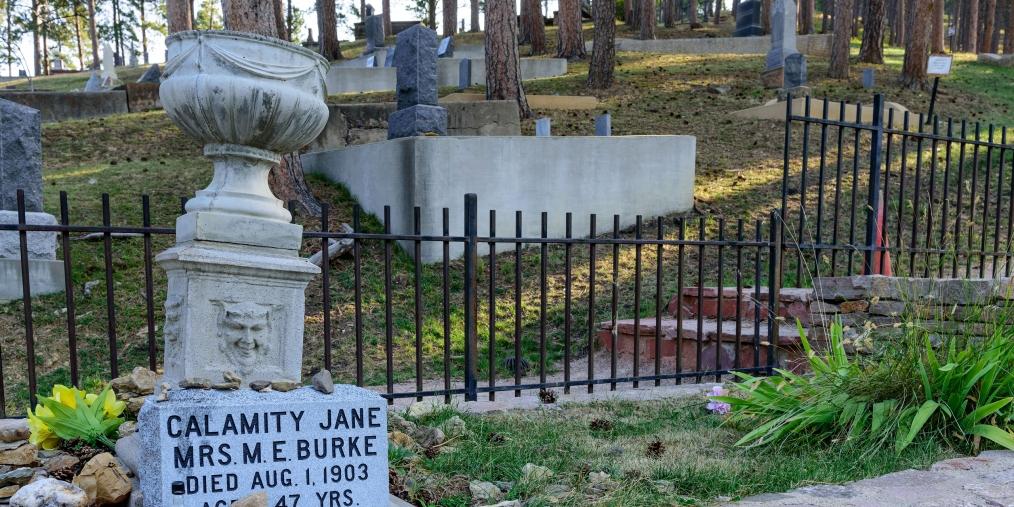 Mount Roosevelt
Mount Roosevelt is only 2.5 miles from downtown. Take Highway 85 north out of Deadwood and travel 1.5 miles before turning onto FSR 133. You'll see a 2-mile mark and a sign for the Mount Roosevelt picnic area at the trailhead. The hike to the tower is less than a mile from the trailhead (which also has bathroom facilities). Open every day from sunrise to sunset, most of the trail is uphill. However, it's relatively easy and absolutely beautiful. Once you arrive at the tower, take quick ascent up the stairs for a stunning view of the Black Hills.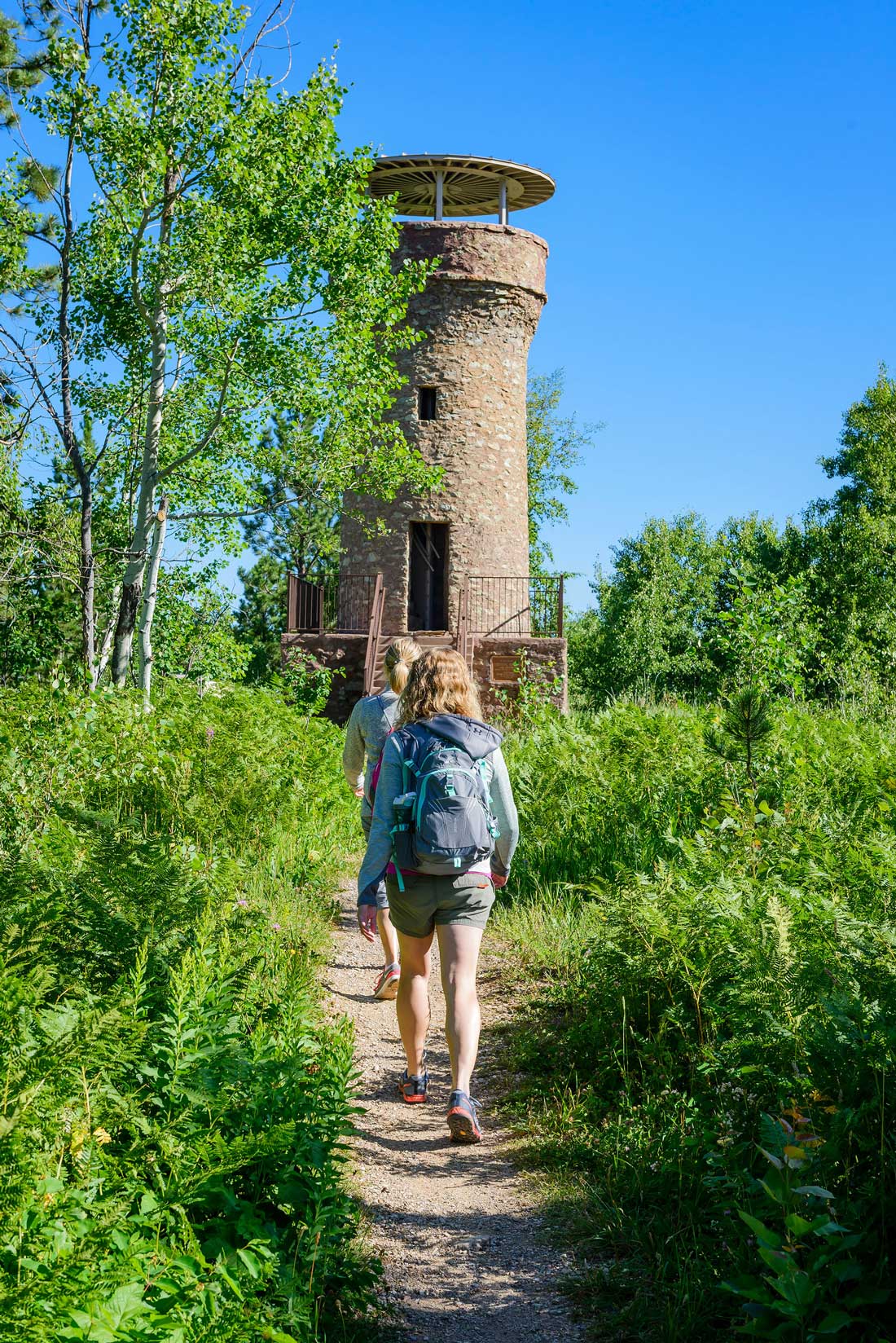 Wild Bill Hickok – Wild Bill Bar & Trading Post, Saloon #10, Main Street Shootouts, and The Trial of Jack McCall
"If irritating me's the jackpot, you've got the job done." Wild Bill (Keith Carradine) to Jack McCall (Garret Dillahunt)
He only lasted four episodes in the Deadwood series and is believed to have spent a few short weeks in Deadwood, but his presence and untimely death made James Butler "Wild Bill" Hickok the town's most famous resident. 
Hickok believed that he would meet his end in Deadwood. He was right. As any fan of the show or history knows, the handsome sharpshooter died at the hand of Jack McCall. After making an uncharacteristic decision to take a seat that left his back facing the entrance, Wild Bill was holding a pair of aces and eights when McCall snuck up behind him, shouted "Damn you! Take that!" and shot Wild Bill in the back of the head. Hickok was instantly killed. His cards became known as "The Dead Man's Hand."
Being such a legendary figure, Wild Bill's presence can be felt everywhere in Deadwood. The saloon in which he was killed was called Lewis, Nuttal & Mann's No. 10 Saloon, but it burned along with most of the town in a series of fires between 1879 and 1954. No worries. You can still get a full experience of one of the most legendary events in Wild West history at The Wild Bill Bar & Trading Post (622 Main Street) It's on the same lot where Wild Bill was killed and features an interpretive center with information about the shooting as well as—most importantly—a replica of the poker room where history was made. This family-friendly business allows kids to grab candy or ice cream and adults to order a beer before heading into the poker room. Many believe the spirit of Wild Bill still resides in the room. The crew of Ghost Hunters claim that they obtained a voice recording of Wild Bill saying, "Tell my wife I love her" in 2011. While you probably won't hear his voice, the man's presence looms as large as his legendary gun skills and personality.
There are plenty of other places to take in the history of Wild Bill in Deadwood. The bar now known as Saloon #10 (657 Main Street) bills itself as "the only museum in the world with a bar." Their ample selection of whiskey—a drink that should be quite familiar to any viewer of HBO's Deadwood—nicely complements the artifacts on display. Historical photos line the walls, but dedicated fans should be sure not to miss "Wild Bill's Death Chair" that's mounted above the front door. 
Perhaps best yet, the fateful poker game is reenacted for free (and for all ages) in the back of the bar at 1, 3, 5 and 7 p.m. Hang around and you might get a picture with Wild Bill himself.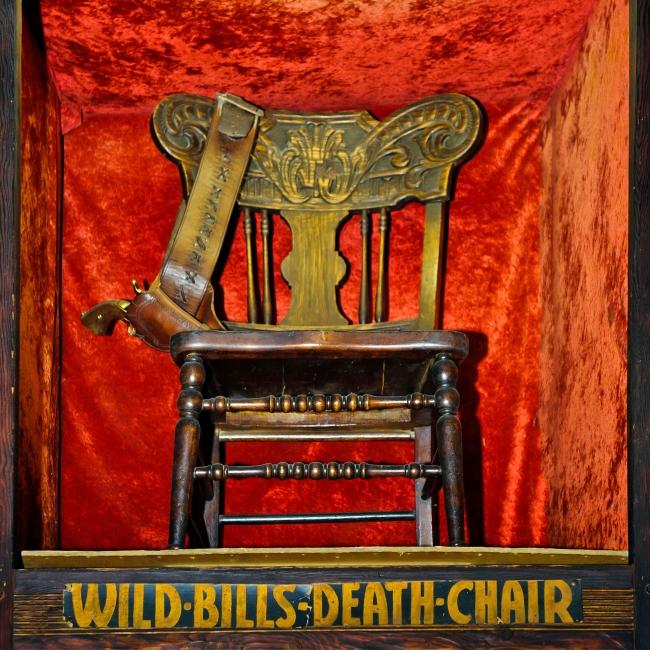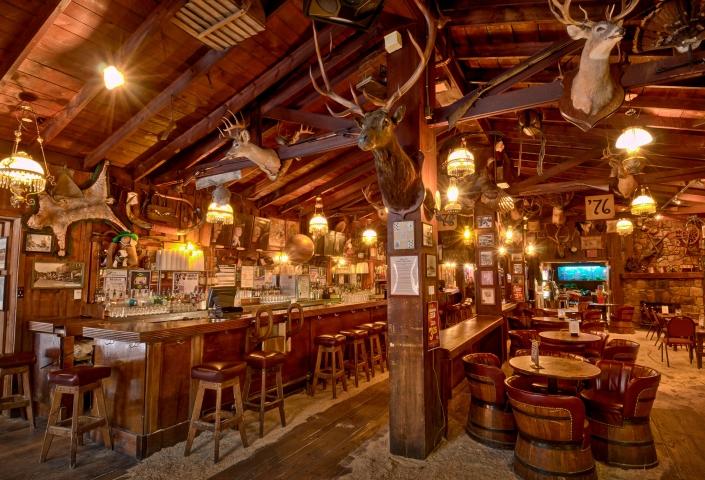 Don't miss the rest of the historical reenactments. Between May 25 and September 21, you can experience the Main Street Shootouts  and The Trial of Jack McCall. The Deadwood Alive Gunslingers perform outdoor shootouts three times a day. At 2 p.m. in front of Tin Lizzie Gaming Resort (531 Main Street), 4 p.m. in front of the Celebrity Hotel (629 Main Street), and 6 p.m. in front of the Silverado-Franklin Hotel & Gaming Complex (709 Main Street), The Deadwood Alive Gunslingers—in authentic Wild West gear—offer an exciting look into the same world that HBO's Deadwood made you fall in love with. 
But the show doesn't end there. The Trial of Jack McCall  is a family-friendly show that's been performed since the mid-1920s, making it one of the nation's longest-running plays. For a nominal fee ($6 for adults, $5 for seniors, and $3 for children), you can witness McCall's capture and possibly even be party of the jury! The show also includes a performance by The Blackpowder Pistols Band.  McCall's execution and burial sites may be on the other side of the state in Yankton, but fans should definitely make Yankton part of their trip if possible. McCall's hanging site is clearly marked, but his actual burial site is a mystery known only to a few locals.)
As with most of town's legends mentioned in this article, The Adams Museum features plenty of Wild Bill memorabilia, including his boot gun. However, Hickok's legacy grants him special status in the form of an annual celebration called Wild Bill Days . Once a year, a June weekend transforms Deadwood's Main Street into a celebration featuring live music, gold panning, and the National DockDogs Competition. The competition features dogs from across the world competing in events like Big Air, Extreme Vertical, and Speed Retrieve. Add some delicious beverages and you have an equation for fun that Wild Bill himself would certainly approve of.  
The best way to pay your respects to Hickok is to head up the hill from the Adams Museum and see Wild Bill's final resting place at Mount Moriah Cemetery.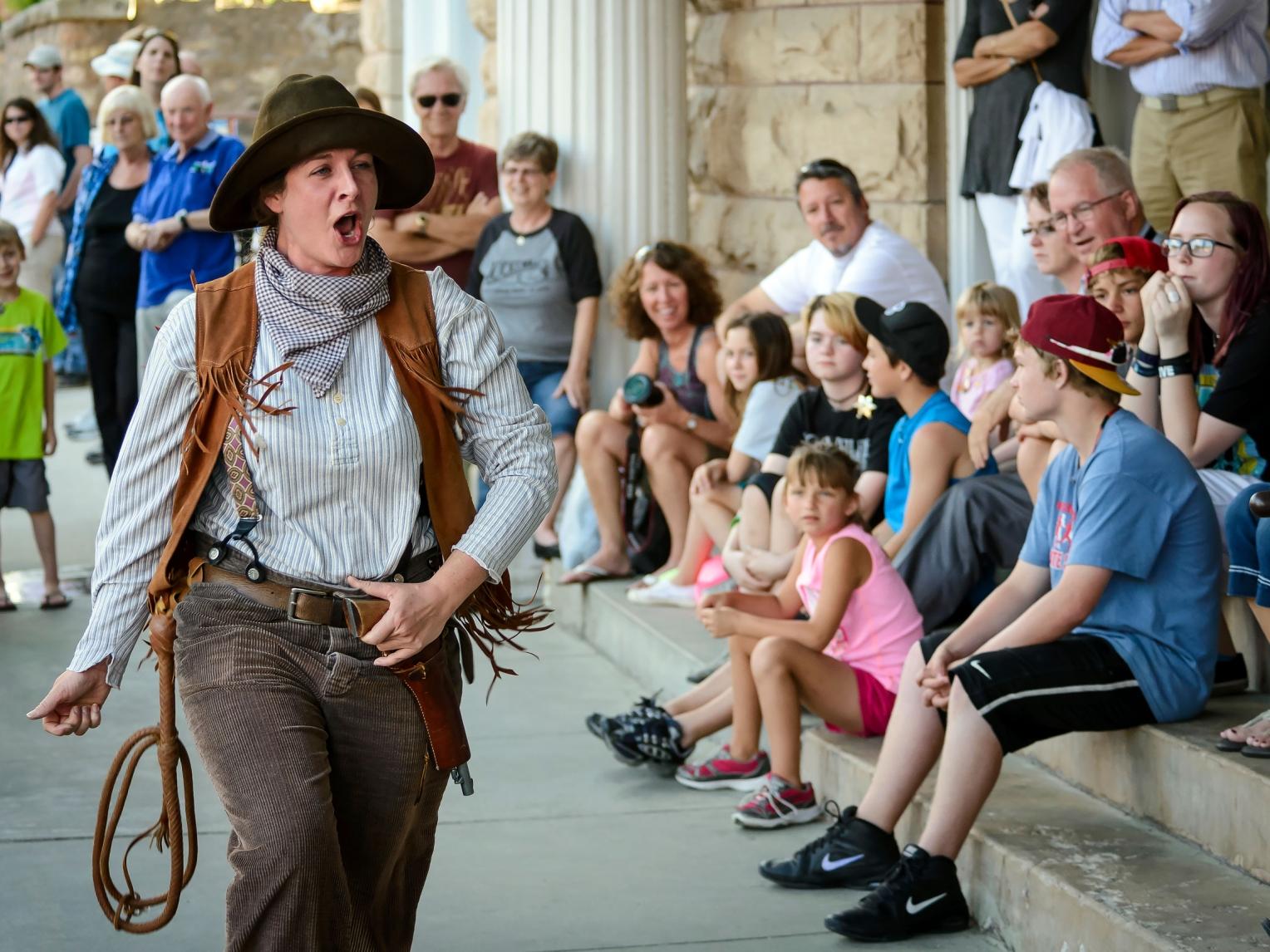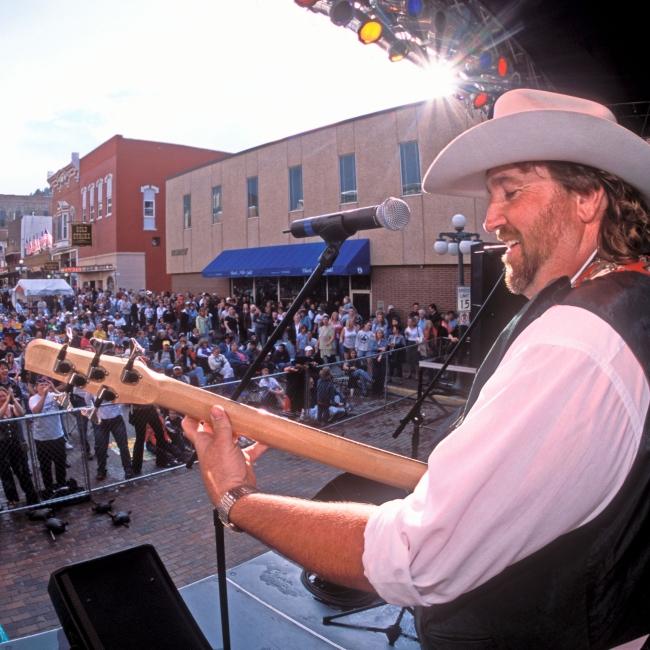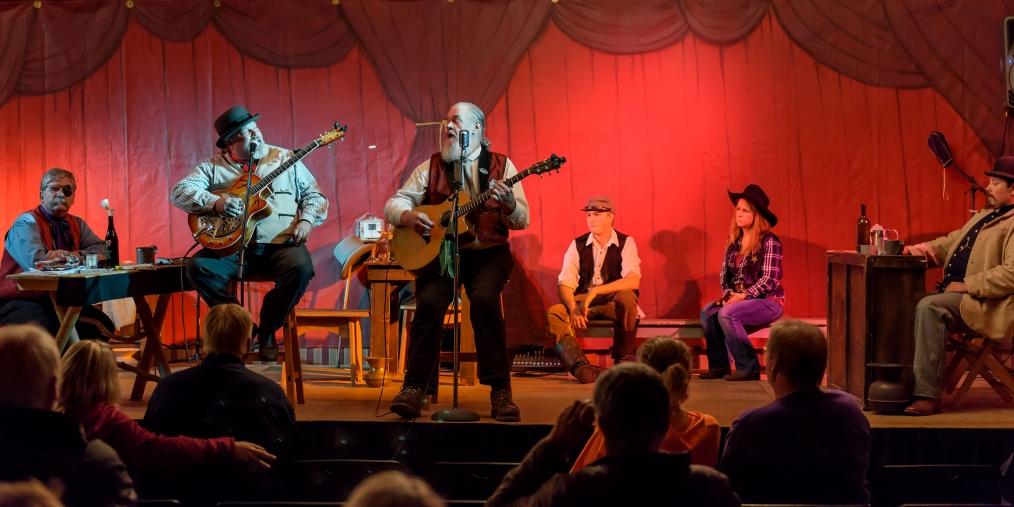 Jack McCall - Wild Bill Bar & Trading Post, Saloon #10, Main Street Shootouts, and The Trial of Jack McCall
 "…Jack McCall, a shifty drifter of no other distinction whatsoever" – Watson Parker, Deadwood: The Golden Years
"Jack McCall runs from no man!" – Jack McCall (Garret Dillahunt), right before he runs out of the bar
It's rare to find a description of Jack McCall that doesn't include the word "coward." The drifter's time in Deadwood was shortened by his remorseless murder of Wild Bill Hickok. Though the HBO show took a few liberties with McCall's story, it captured all the important parts. Hickock did indeed give Jack a little money to go and get a meal, which might have been the final straw for McCall. The "droop-eyed hooplehead" shot Hickok through the back of the head and then tried to flee. He was found not guilty in a sham of a trial that was so upsetting to Judge Kuykendall that the magistrate vowed never again to administer law in Deadwood. McCall fled to Wyoming, bragged about Hickok's death, and was arrested and transported to Yankton, SD, for trial. This time, he was found guilty and hanged at a site still marked in the southeastern South Dakota town today. McCall's remains are buried in an unmarked grave in a Yankton cemetery, but only a select number of officials know the exact spot. 
But as mentioned earlier, Deadwood visitors can see a replica of the room where McCall shot Hickok—located at 622 Main Street on the very lot where Wild Bill met his demise—and see reenactments of Hickok's murder and McCall's capture & trial. Some, including the producers of Ghost Adventures, believe that McCall's angry spirit still resides in The Fairmont Hotel (where McCall is believed to have stayed before murdering Wild Bill). Whether you believe that or not, McCall's legacy is definitely part of Deadwood's lawless history.
Sol Star – The Bullock Hotel
 "Even in an Eden like this, wrongs sometimes occur." – Sol Star (John Hawkes), Deadwood
"Star was the animating spirit and 'set the pace.' Without assuming superior wisdom or ability, he was spontaneously accorded a leadership, if not even a guiding hand. He never sought to use his popularity for his personal advantage, but for his friends he was a great power." – "The Great Northwest and its Men of Progress," published in 1901
Solomon Star came to Deadwood with Seth Bullock to open a hardware store, but his business savvy and quick mind led to bigger things. After the pair opened the Office of Star and Bullock, Auctioneers and Commission Merchants, they became livestock ranchers and went in with another man to create the Deadwood Flouring Mill. Their business interests stretched to the nearby towns of Spearfish, Sturgis, and Custer, and the pair were instrumental in creating the town of Belle Fourche. Star's political career took the same soaring trajectory, taking him from town council member to postmaster, mayor, state legislator and Lawrence County Clerk of Courts. Sure, some of his decisions were ethically questionable—his method of winning elections sometimes included giving away sacks of flour to cash-strapped customers he allowed to settle their accounts by the way of votes—but he was generally respected for his business acumen and public service.
Although the show gave Sol a happy relationship with Trixie, the real Star never married and died alone on his ranch in 1917. His funeral was so large that it was described as being suitable for a president, and his legacy (but not his ghostly presence) can be experienced at the Bullock Hotel, since it stands on the very lot where Bullock and Star built the hardware store that started it all. 
PHOTO
Calamity Jane – The Adams Museum, Mount Moriah Cemetery, and any place that sells whiskey
"You are not my target, but keep botherin' me and I'll add you to the list." – Calamity Jane (Robin Weigert), Deadwood
"Never go to bed sober, alone, or with a red cent left in your pocket." – Calamity Jane, as reported in South Dakota by T.D. Griffith
Perhaps no one in Deadwood's history earned her nickname more than Calamity Jane. Born Martha Jane Canary (or Cannary), this Wild West legend was accurately portrayed on television as a most interesting combination of qualities. She was a woman who could swear a blue streak with whiskey on her breath while taking care of the sick and needy. Just as she did on the show, Jane helped nurse gold miners back to health during a smallpox outbreak in Deadwood. She swore. She drank. She wore men's clothes and had a deep—and unrequited—love of Wild Bill. 
Much of her history, though, is questionable, since Jane was known to stretch the truth—or outright lie—about her exploits.  The information that Jane provided about her history, either in person or in autobiographical booklets she distributed around Deadwood in her later years, is all rightfully questioned, but history does tell us some definitive truths around the self-proclaimed "heroine of the plains." Beating smallpox as a child made her immune to the disease, and her care is credited for nursing five miners through the outbreak in 1876. Jane assisted Dr. Babcock, the Deadwood doctor that helped inspire the character of Doc Cochrane (Brad Dourif) in Deadwood. "Oh, she'd swear to beat hell at 'em," said Babcock. "But it was a tender kind of cussin'." She may have cursed at those in her care, but Jane got legitimate joy from helping people. It's all part of the complicated individual that was Calamity Jane.
While Jane hated Al Swearengen in Deadwood, she actually spent plenty of time at the Gem. History knows for sure that she was treated as a minor celebrity there. There's plenty of suspicion but no actual proof that she may have been, er…employed there. We'll leave the guessing up to you. Jane would likely find the entire mystery hilarious. (We hope.)
Archives contain a picture of an inebriated Jane standing in front of Wild Bill's grave in July 1903. Two weeks after the picture was taken, Jane died. Her funeral was the largest in Deadwood history. Today, visitors to Mount Moriah Cemetery can find Jane's grave right next to Wild Bill's. Pictures and memorabilia from perhaps the wildest woman in the West reside at the Adams Museum. And whiskey? Well, it's available at plenty of Deadwood watering holes. Who knows? Maybe there's still a bottle stashed by Jane herself hiding somewhere in the trees surrounding the gorgeous town of Deadwood.
 
Preacher Smith – The Preacher Smith Monument and The Adams Museum
"Gone to Crook City to preach, and if God is willing, will be back at three o'clock." – A note left on his front door by Smith before later being shot in the heart along a road to Crook City
"Ain't it a shame that the only man who came here to tell us how to live had to be killed … and we sure needed the telling." Calamity Jane, who helped to prepare Smith's body for burial
The first Christian minister of any denomination to settle in the Black Hills after the discovery of gold, the kind-hearted preacher Henry Weston Smith is remembered for his brave—and some would say crazy—attempts to spread Christian beliefs to a camp focused on gold, whiskey, and women. 
Smith held his first Deadwood services at the corner of Main and Gold streets on Sunday, July 9, 1876. Because most of his preaching was done in the open air, legend has it that it wasn't uncommon to see Smith preaching at one end of a crowd while a salesman or gambler barked at the same group from the other side. While the Deadwood series portrays Smith as a physically and mentally tormented figure, it's more likely that Smith was a well-centered man of God intent on spreading his Christian beliefs to the lawless communities of both Deadwood and nearby Crook City. (Deadwood creators may have borrowed some qualities from Smith's real-life replacement, Father Mackin, who had a spasmodic fit and later died from a "softening of the brain," according to the Black Hills Pioneer).
Only 17 days after conducting Wild Bill's funeral service, Preacher Smith left on foot carrying only his Bible on Aug. 20, 1876, to read a sermon at Crook City. Friends encouraged him to carry a gun, but Smith refused, insisting that the "Bible is my protection. It has never failed me yet." He soon died clutching that same Bible. Initially, his death was blamed on Indians, but most historians believe that some sort of lawless whites—perhaps some mix of casino, brothel, and/or saloon owners—were the ones to shoot Smith through the heart. 
His body was brought back to town on a wagonload of hay. Because of his unique position and legendarily caring reputation in the town, a monument was later erected for Smith at the approximate site where his body was found. When Highway 85 was upgraded to a four-lane road in 1994, the monument was relocated to its current and final location just off Highway 85 along the northeast entrance to Deadwood. 
A statue of Smith was created and erected in Mount Moriah Cemetery but, much like Wild Bill's, it was eventually destroyed by vandals. Today, Smith's grave is in the central part of the cemetery. At the Adams Museum, visitors can learn more about this unique resident and see a marriage certificate signed by Smith himself.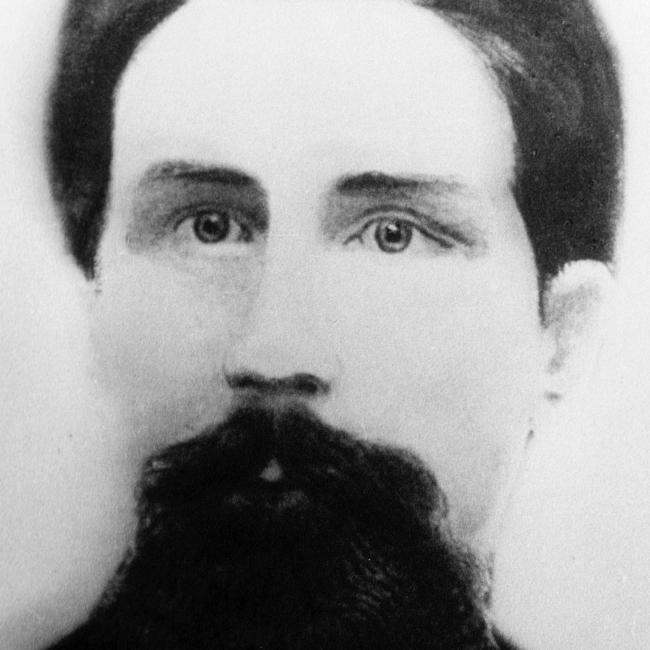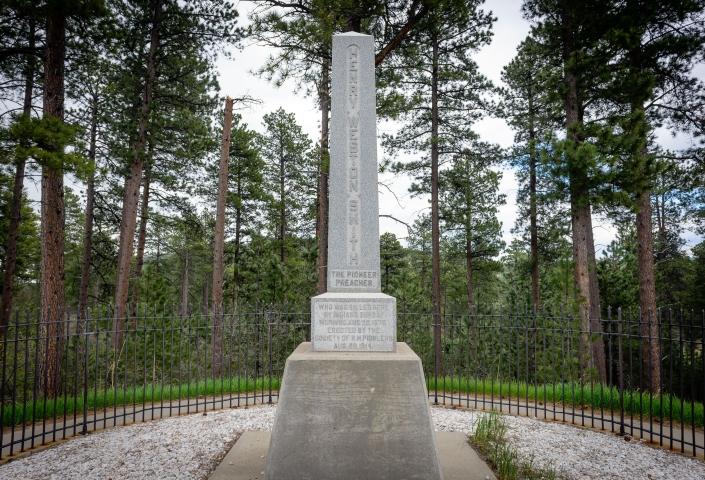 George Hearst – The Homestake Mine
"It seemed that everything Hearst touched literally turned to gold. Though he didn't fit the mold of a millionaire industrialist very well, there was no doubt that he was well on his way to becoming an even more powerful and successful man." – Legends of America
"Oh, affairs of that sort are not my interest, Mr. Bullock. My only passion is the color." – George Hearst (Gerald McRaney), Deadwood
In HBO's Deadwood, George Hearst is portrayed as a ruthless and demanding industrialist who sent the cruel and calm Francis Wolcott to secure claims in Deadwood. In reality, Hearst did send agents to inspect claims, but there's no evidence that he was the villain depicted onscreen. In real life, Hearst used his keen business mind to transform the $10,000 in debt he inherited from his father into a fortune that eventually led to the formation of a publishing empire. 
Although based on historical research, the characters of Brom and Alma Garrett never really existed. The Homestake Gold Mine, however, was very real. It produced more than 40 million troy ounces of gold until its closure in 2002. Today, the mine is home to the Sanford Underground Research Facility. According to the facility's website, the mine is being used for research that's "unlocking the secrets of the universe" through physics experiments that have attracted some high-profile visitors including Facebook creator Mark Zuckerberg.
The mine is in Lead, SD, a community just minutes away from Deadwood. Visitors to the Sanford Lab Homestake Visitor Center can experience free educational exhibits on current scientific experiments and the history of both Homestake Gold Mine and the town of Lead itself. See historic photographs, videos, science & mining artifacts, and a 3-D model of the underground mine. Perhaps the most fun part of the visit is the opportunity (for $5) to smack a golf ball into the 1,250-foot-deep Open Cut.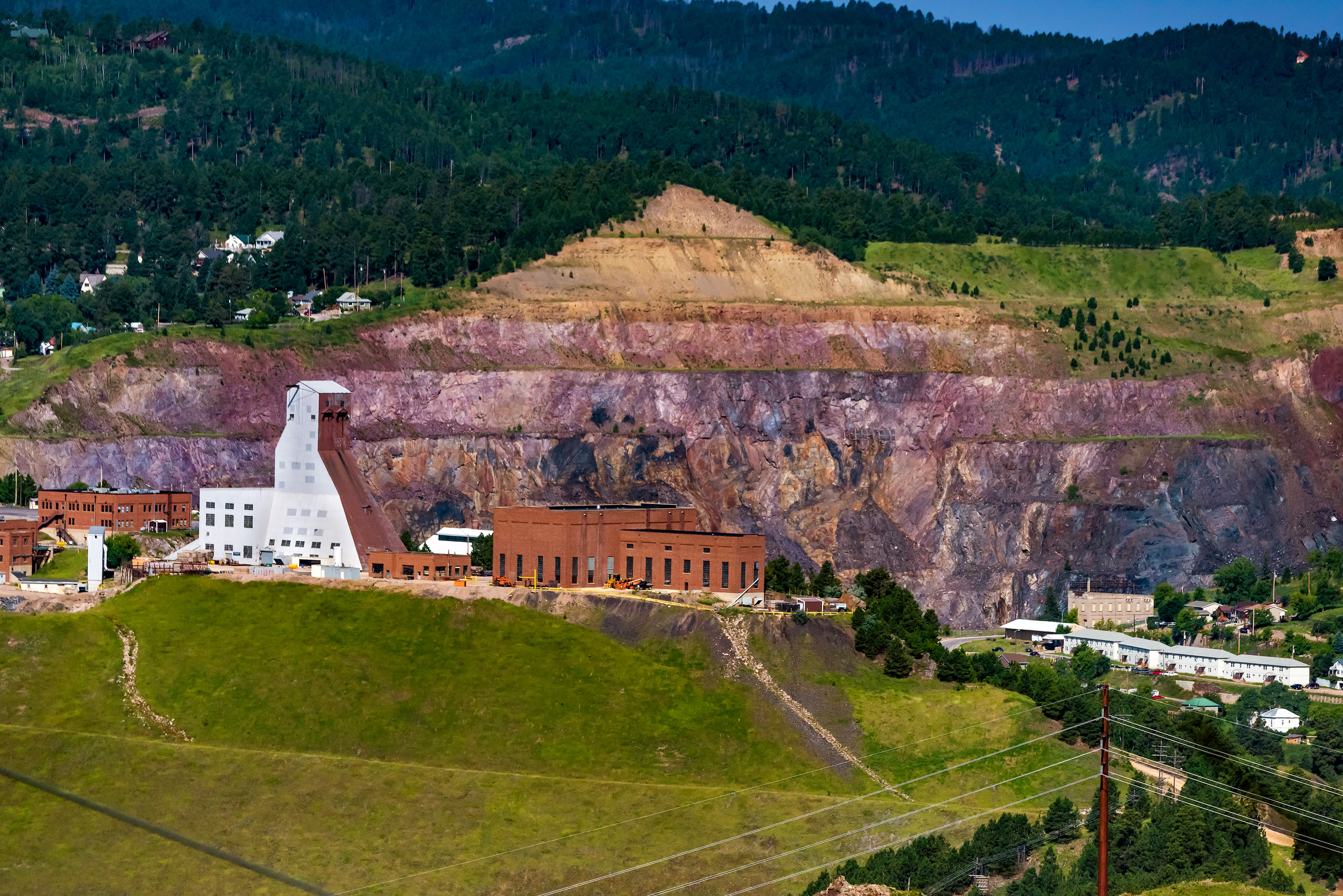 Tours provide an in-depth look at what it took to operate the gold mine during its heyday. Summer tours run daily from mid-May to the end of September at 10 & 11:30 a.m. and 1, 2:30, and 4 p.m. Rates for the tours are $5 per person for groups of 10 or more, $25 for a family of four or more, $8 for adults 22-54, $7 for students 7-21 (with ID), $7 for anyone over age 55, and free for children 5 and under. Winter tours are also available with tickets costing $5 each. To book a tour or arrange an educational field trip, call 605-584-3110. 
And whether you rent a bike from Homestake—half-day or full-day rentals are available—or just set out on foot, exploring Lead will also show you plenty of Hearst history. Hit the Black Hills Mining Museum to see mining artifacts, pan for gold, and head underground for a tour of a simulated mine created by more than 140 actual miners and employees of the Homestake Mine. The town's Hearst imprint includes contributions from Hearst's wife, Phoebe. She was a philanthropist who believed that Homestake's gold should benefit those who mined it. As a result, she founded a free library (315 W. Main Street) and gave Lead the Homestake Opera House and Recreation Building (313 W Main St.). Visitors can use their smartphones to take a self-guided tour of the opera house before perhaps catching a performance at the historical building that was reconstructed after a 1984 fire.
Joanie Stubbs, Trixie & the brothels of Deadwood - The Historic Pam's Purple Door, The Adams Museum, and Mount Moriah Cemetery
"For a new and remote camp such as Deadwood is, the number and quality of ladies is remarkable. True, there are many females of another set, and they ply their vocations with an assurance and audacity that is seldom seen elsewhere, but the proportion in which they stand to the noble, virtuous women of Deadwood will compare favorably with the average city, and is certainly very creditable to her." – "Cheyenne Leader," Black Hills Daily Times (May 1, 1877)
"Roll up your sleeves, Doris. Hard work dispels worry." – Maddie (Alice Krige), Deadwood
Prostitution wasn't so much a secret in Deadwood as it was an understanding. The same wagon train that brought Wild Bill and Calamity Jane to Deadwood also brought plenty of working girls, including the infamous Madams Mustache—a legendary card player whose legacy includes her growth of a full mustache—and Dirty Em. Miners welcomed the ladies (sometimes referred to as "soiled doves") to town by lining the streets and applauding. It's unknown if Calamity Jane thought the applause was for her, but given her penchant for pleasant delusion, one can assume she enjoyed the greeting as well.
The character of Trixie was based on a combination of several working girls in Deadwood, including a woman named "Tricksie" who shot a man at the Gem after he'd beaten her. As for Joanie Stubbs (played by Kim Dickens), the character was based on real-life madam Dora DuFran, although the legacies of both Madame Mustache and Dirty Em may have contributed. 
It's clear is that prostitution was big business in Deadwood. What might be surprising is that it lasted until 1980! Stories on the circumstances differ, but federal and state authorities definitely put an end to tolerated prostitution. Many Deadwood residents were unimpressed, and local supporters protested the closure with a Main Street parade. Pam Holliday of Pam's Purple Door embraced the spotlight, auctioning off brothel souvenirs like kitchen timers (you can guess what they were used for) and vibrating pillows. During the sale, Holliday mingled with the crowd and signed autographs.
Many Deadwood residents who (rightfully) believed that prostitution contributed to the city's economic base hoped that the closure wouldn't end the practice. One businessman was quoted as saying, "They're a public service, not a public nuisance." However, lawmen occupied the upstairs apartments for years to make sure prostitution did not return. It proved to be the final blow to an industry that was tolerated in Deadwood for a century, although residents still celebrate the history of the soiled doves in parades and other celebrations.
Today, visitors can see plenty of historical locations and artifacts from Deadwood's working-girl history. The Historic Pam's Purple Door  (614 ½ Main Street) has been transformed into a five-bedroom, four-bath suite that sleeps up to 12 people and features rooms themed around former working girls, including "Pam's Room." Are there rumors that the place is haunted? You bet.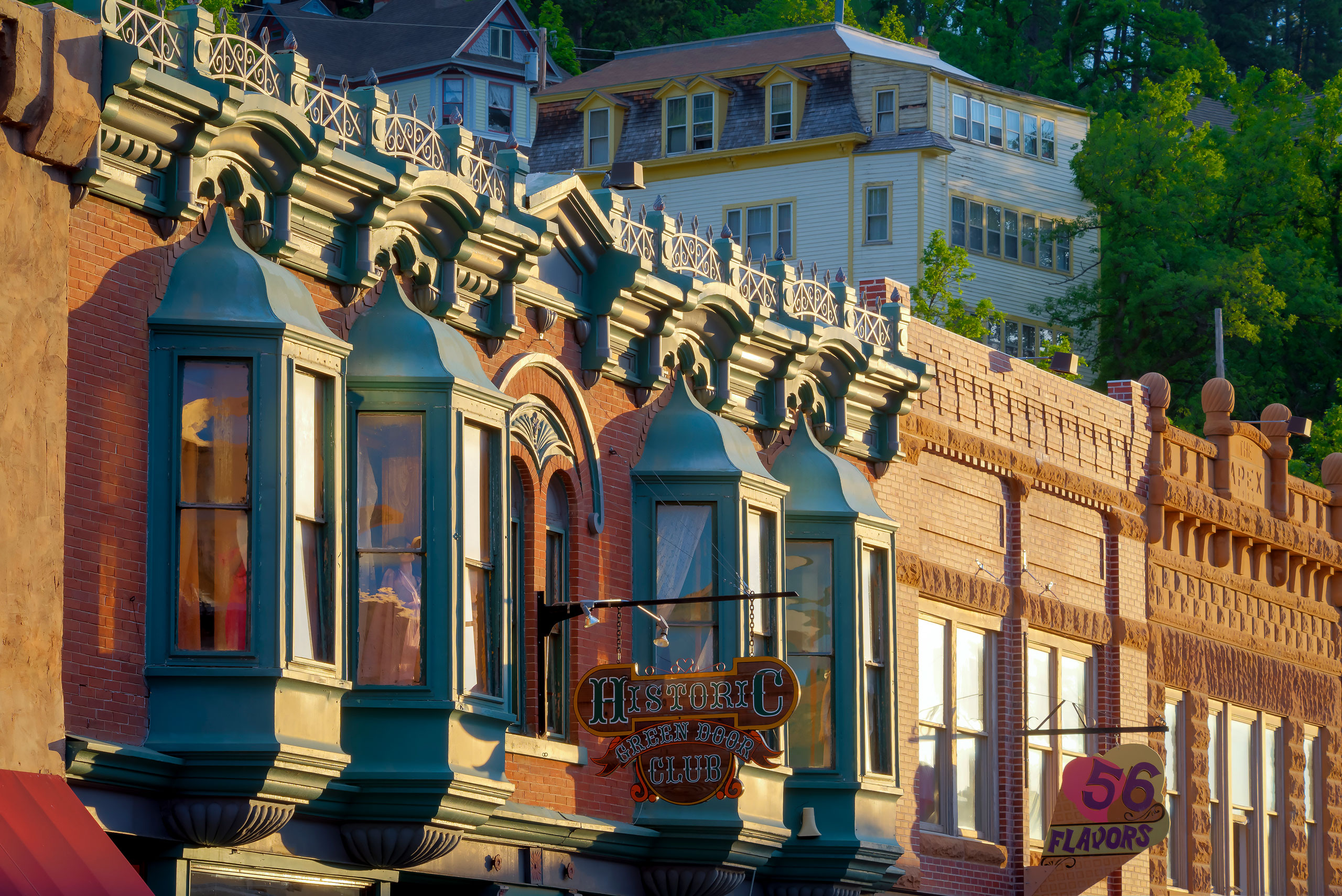 As with every entry in this list, the Adams Museum has plenty of historical artifacts from Deadwood's days of working girls. The museum's well-curated Risky Business exhibit breaks down the history of vice in Deadwood and features several artifacts from the days of Deadwood's beloved ladies of the night. When you head to Mount Moriah, make sure to see the grave of Dora DuFran. Not only was she one of the most legendary madams of Deadwood, but she's also the only person to be buried with her parrot. That's right. DuFran's pet parrot, Fred, shares final resting space with Dora and her husband, Joseph. 
The Ghosts of Deadwood - The Fairmont Hotel & Oyster Bay Bar, The Bullock Hotel, and ghost tours
"Are not all of us, Mr. Blazanov, tethered in some sense to our labors?" – A.W. Merrick (Jeffrey Jones), Deadwood
"There's more dead here than the dead here would like. (Deadwood is) like a city of the dead." – Amy Allan, psychic/co-host of Dead Files
Given the wild and sometimes tragic history of Deadwood's legendary personalities, it might not surprise you to know that some believe that ghosts of the Wild West remain in Deadwood today. Paranormal investigators Mark Shadley and Josh Wennes wrote in Haunted Deadwood that "the Bullock Hotel can arguably boast the most thoroughly documented claims of hauntings over the years." Reports of Bullock's ghost roaming the halls—or, in one case, returning a lost boy to his parents—aren't as spooky as they might initially sound. The ghost of Seth Bullock doesn't seem to be out to scare, but he does want to make sure his staff is working hard. The hotel reports that "paranormal events tend to increase when staff members stand idle, whistle, or hum a tune." Other people believe Bullock's ghost—dressed in Western attire with his jeans tucked into his boots—seems to be a friendly prankster who may be indulging his goofier impulses from the afterlife. For the full story, take the hotel's ghost tour ($10, hours vary). Contact the hotel at 605-578-1745 or 1-800-336-1876 for your chance to say "Howdy" to Seth himself. Even the most ardent disbeliever might leave with a changed mind.
When Ron Russo bought the Fairmont Hotel and Oyster Bay Bar in 1990, previous owners hinted that he might not be comfortable inside the building. "They said they would never tell me what they'd seen over the years," Russo said. That didn't deter Russo, nor did the paranormal experiences he'd go on to experience—even his assertion that the ghost of an angry man directly caused his heart attack. Today, visitors can hear Russo's amazing stories while taking a ghost tour on the building's second floor. Be prepared to run into the spirit of a heartbroken cowboy or a despondent working girl. As part of the tour, guests usually receive a copy of a brothel menu, whose graphic descriptions of options will come as a surprise only to those unfamiliar with the language used throughout Deadwood's television run. The approximately 80-minute tour happens every night at 8:30 p.m., and ghost hunters are encouraged to make reservations by calling 605-578-2205 or via Facebook here.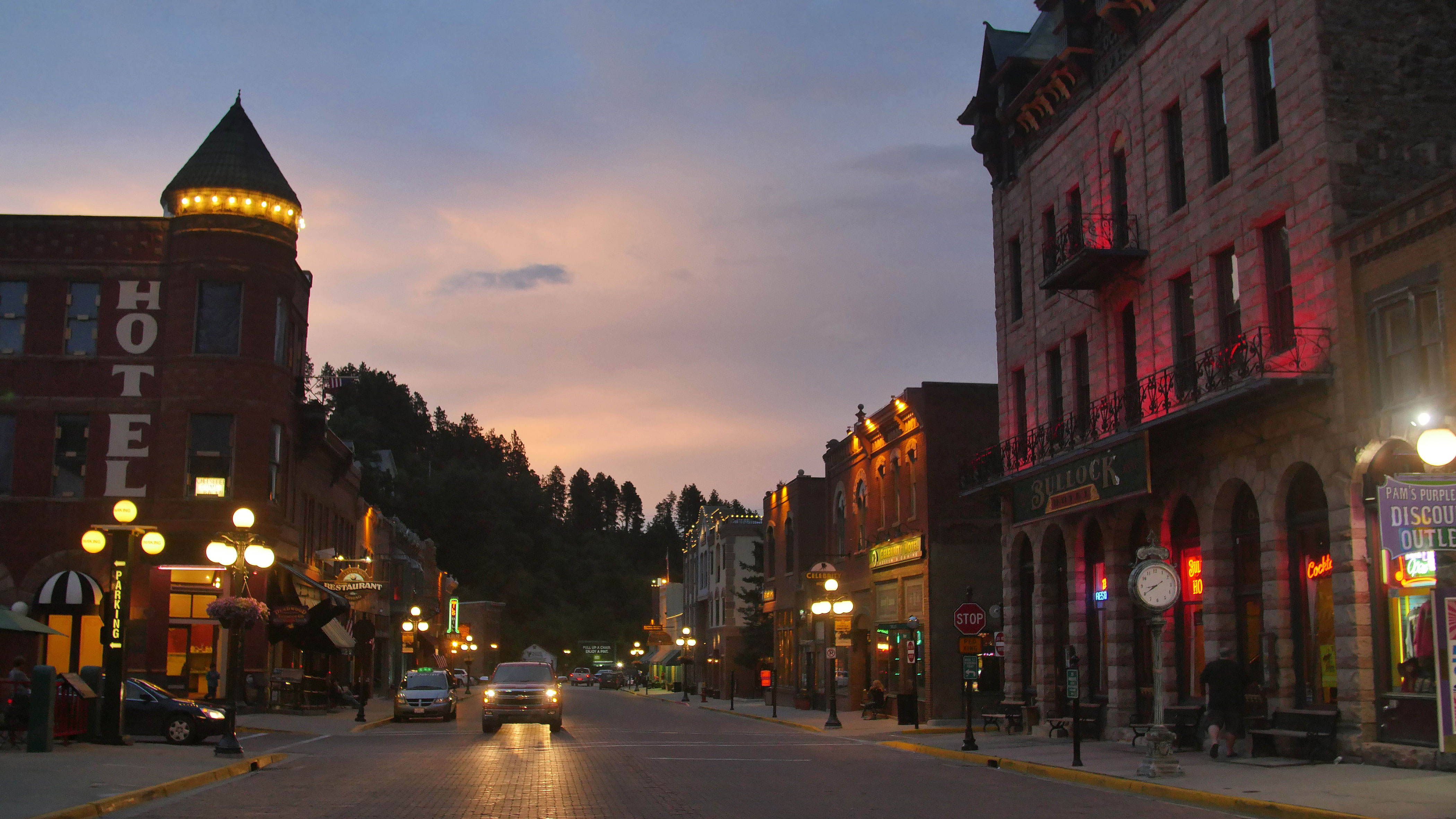 To cover more ground, consider the Haunted History Walking Tour (605-641-2299) or the Twisted History Tour. The latter is a nightly seasonal tour that takes curious souls on a 1½ hour tour of downtown Deadwood (including the Bullock Hotel), providing haunted history that's both informative and entertaining.  It's $15 for ages 17 and up, $10 for ages 9-16, and free for ages 8 and under (if they are accompanied by an adult with a ticket). For more info, call 888-921-6562, email [email protected] or reach out through the Twisted History website.
Based in nearby Rapid City, Black Hills Paranormal Investigations hosts Deadwood ghost tours throughout the year. For more information, email them at [email protected] or contact BHPI through their website or Facebook page.  
Historic Deadwood: No rules, no regrets since 1876
"Most towns are 95% solid citizens and 5% characters. In Deadwood, the reverse (was) true." – Rena Webb, local journalist
"And thus the uncharted journey continues." – A.W. Merrick (Jeffrey Jones), Deadwood
As you've read, today's Deadwood has changed a lot from its early days as the lawless, dirty camp viewers came to know and love in the HBO show. But the modernization of the historic town still honors its colorful past, making the community the ideal place to experience the wild history and legends that led to the creation of the hit television show. 
To wander Deadwood is to fully know so many of the characters and places featured in three seasons and (gratefully) a movie. Take one of Deadwood's guided tours , including the Heroes and Villains package ($468 for two people) that includes three nights lodging, entrance to the Trial of Jack McCall, Mount Moriah Cemetery, the Bullock Ghost Tour, the Broken Boot Gold Mine, The Days of 76 Museum, The Adams Museum, and the Adams House. You'll also get to ride on the Deadwood Stagecoach and take The Lawman's Walking Tour, where you'll patrol the town and learn about the town's brothels, bars, and unique architecture.  For more info on the Heroes & Villains package, click here. 
No matter what the means, enjoy your exploration. Walk Main Street, see the artifacts at the Adams Museum, and pay your respects to Wild Bill, Calamity Jane, and so many others whose real-life exploits provided inspiration for one of the greatest televisions shows of all time. 
"People have made good lives out of borrowed ones before." – Sol Starr (John Hawkes), Deadwood
"(N)ow, as in the past, there are a good many bearded faces on the narrow streets, there are laughing, youthful eyes behind the whiskers, eyes that look back upon a past well worth remembering, and forward to a future built in part upon that past, a future which, if fortune smiles, may yet be better still." – Watson Parker, Deadwood: The Golden Years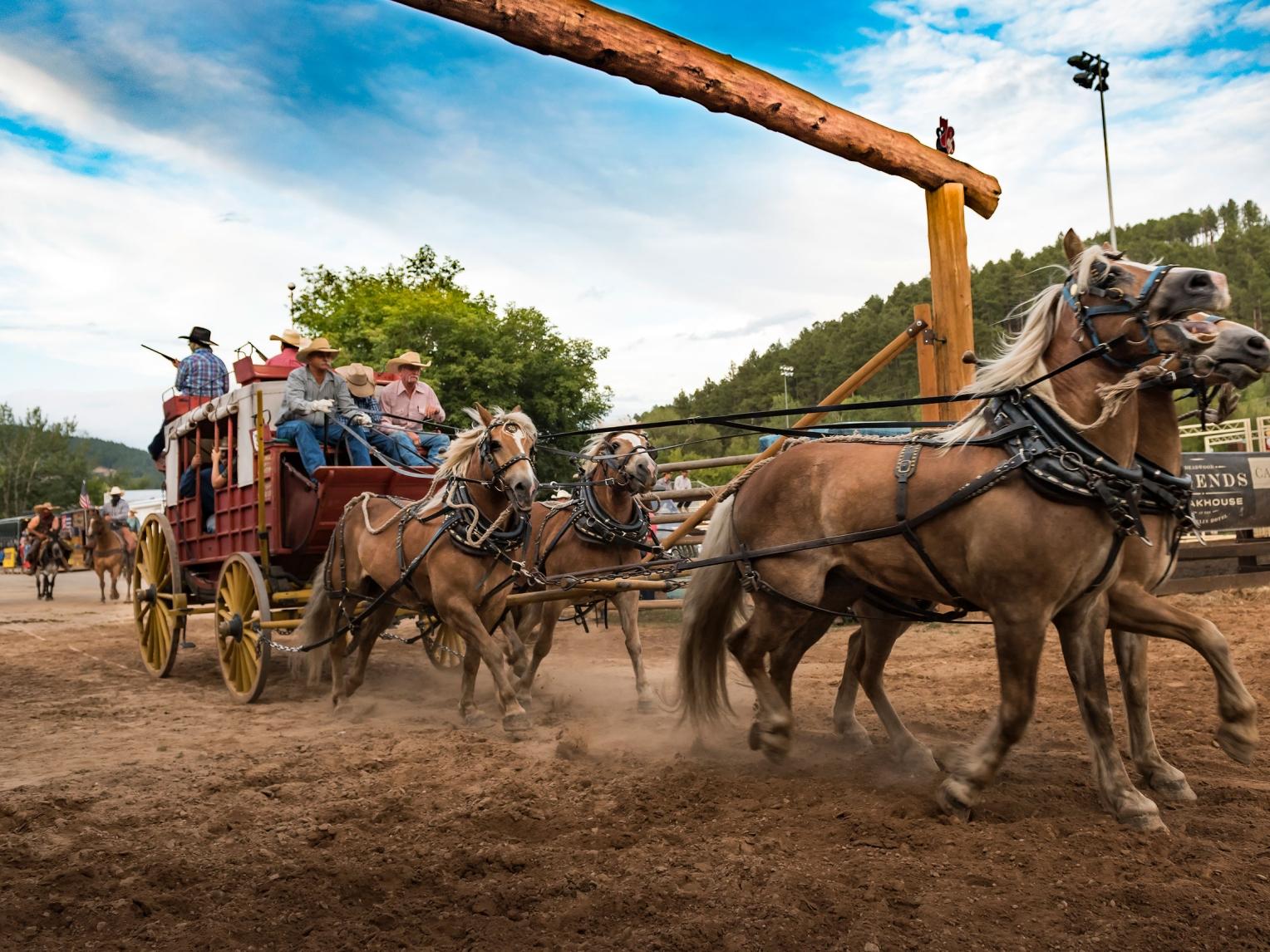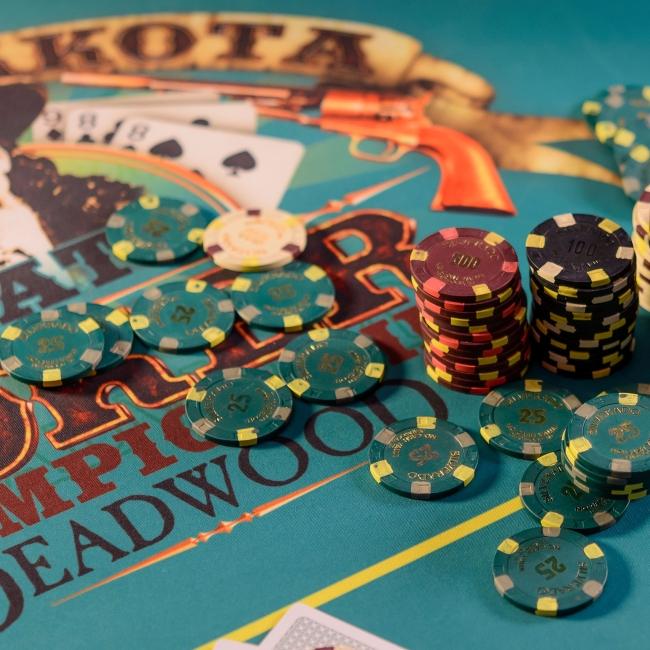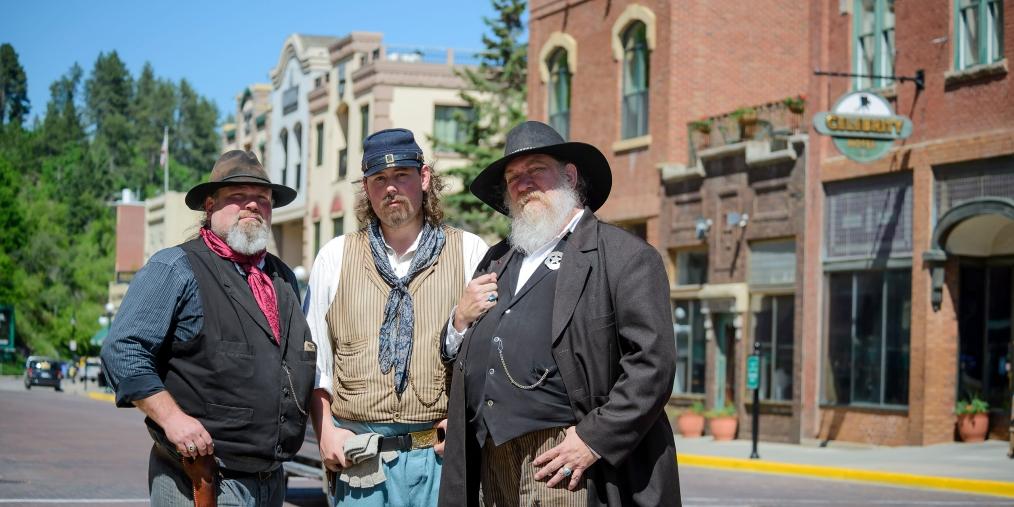 SEE WHAT WILL BE WAITING FOR YOU IN THE WILD WEST OF HISTORIC DEADWOOD