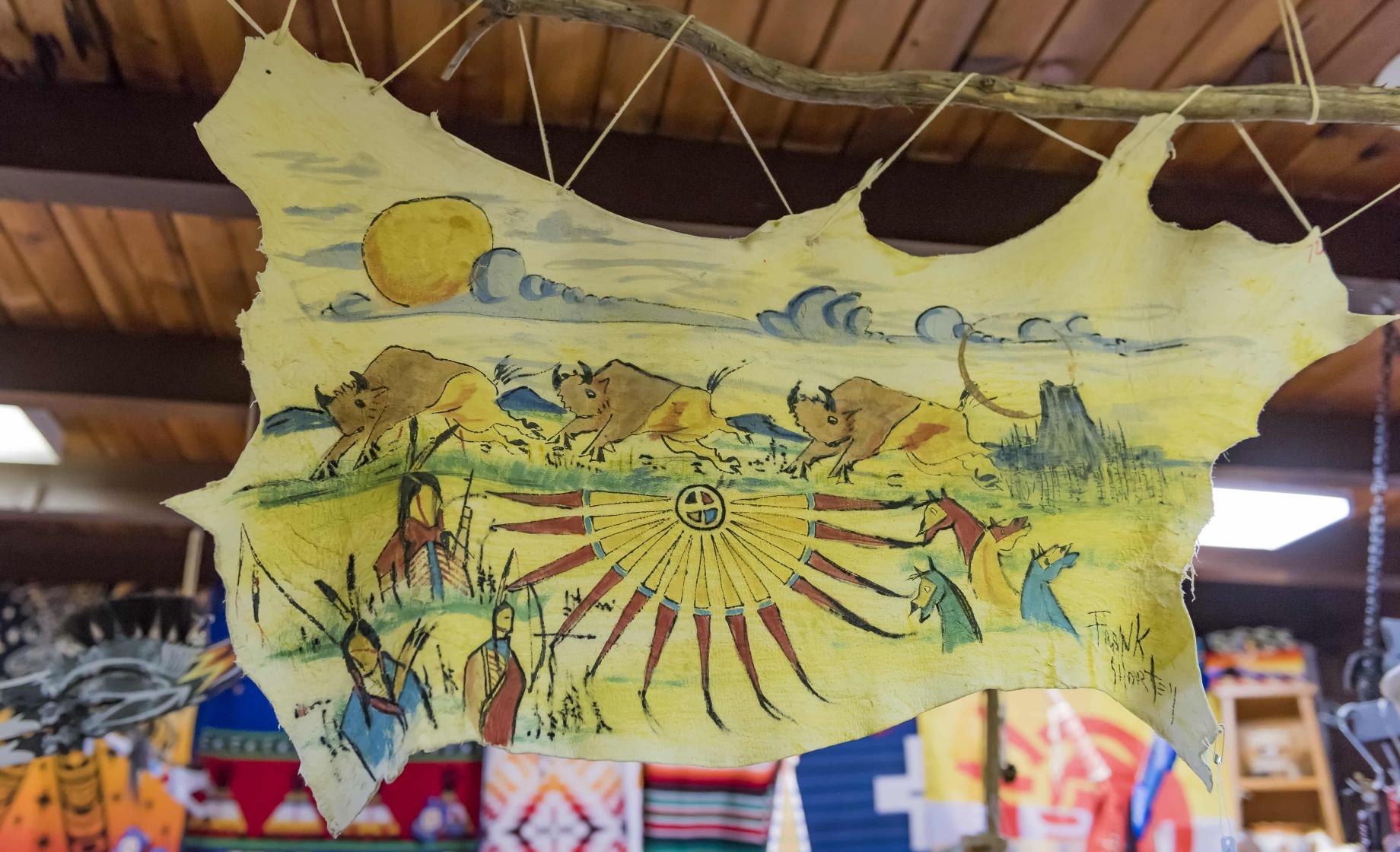 Experience the vibrant beauty of authentic Native American art at these businesses across the state.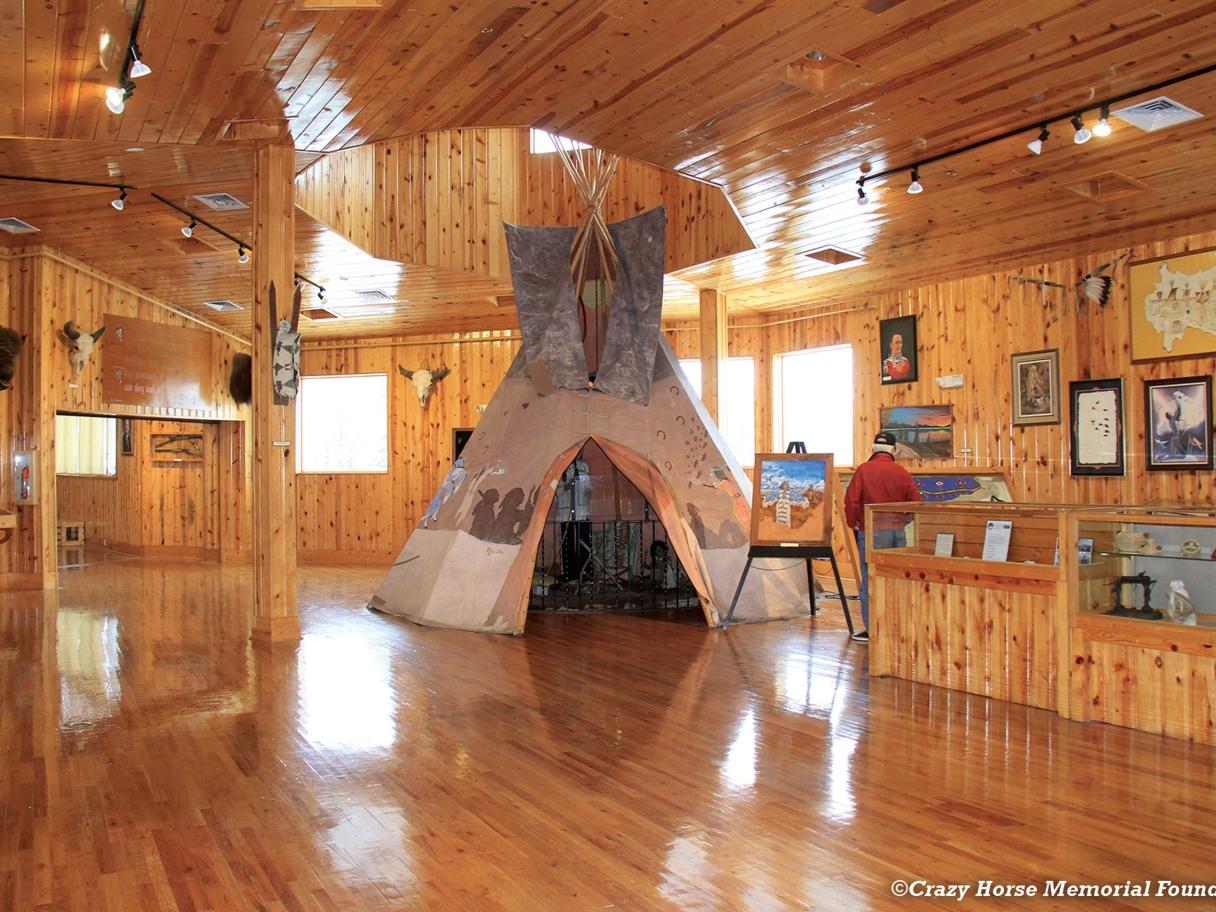 CRAZY HORSE MEMORIAL
It's hard to believe, but Crazy Horse Memorial is more than just the world's largest in-progress mountain carving. It's also home to several museums. The Indian Museum of North America features art and artifacts from more than 300 Native nations, while The Mountain Carving Gallery features historical items associated with the creation of the Crazy Horse Memorial.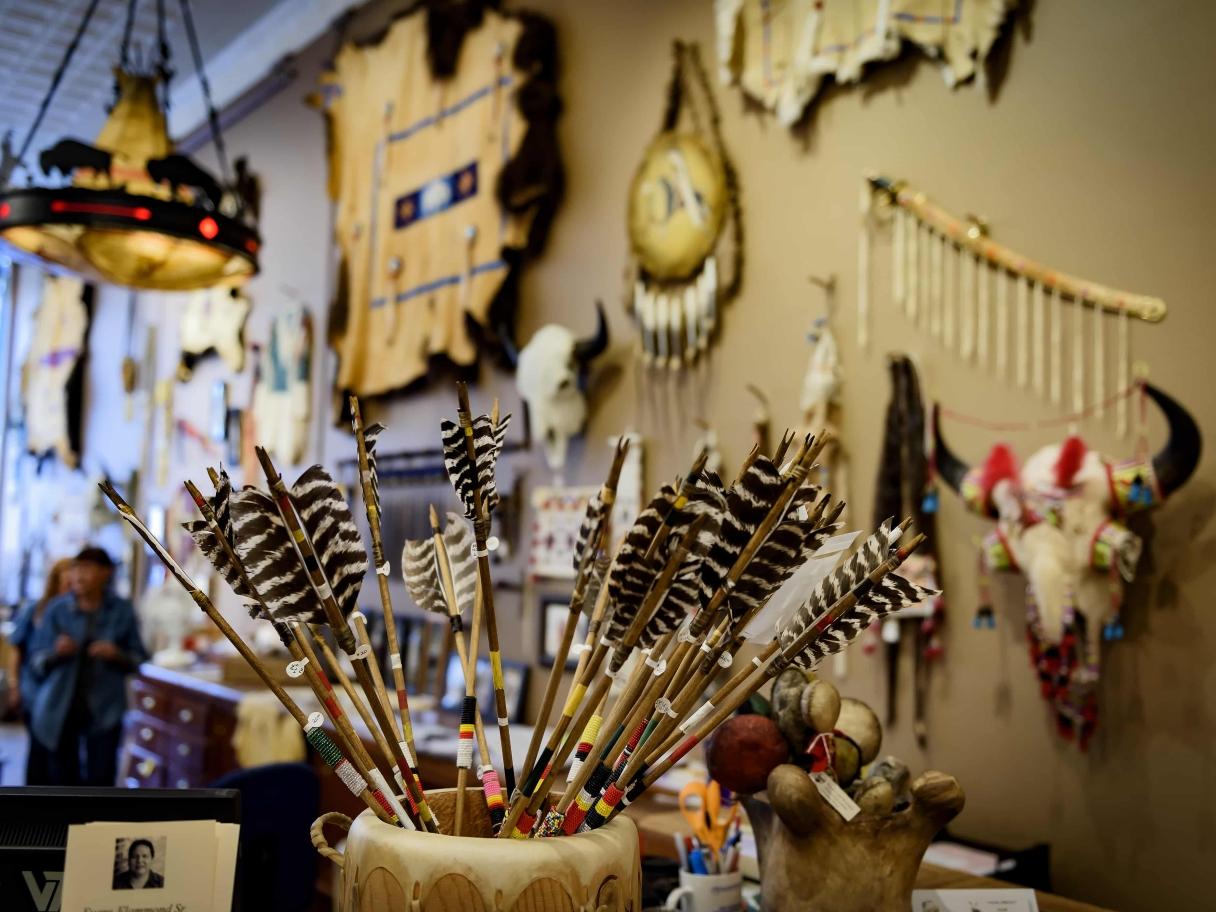 RAPID CITY
There may be no city in South Dakota richer with Native American artistic culture than Rapid City. Racing Magpie places a high priority on art, offering artistic programming, a Native gallery, and studio & creative community spaces.
Hand-painted buffalo rawhide drums are the main focus of Dakota Drum Company, but they also have hide paintings, traditional bead and quiltwork, robes, sage, and more. Bird Cage Book Store and Mercantile is one of the few Lakota-owned book stores in the state, specializing in Native American literature. Half a block wide and two stories tall, Prairie Edge Trading Co. & Galleries may be Rapid City's best known place to find Native art, crafts, music, supplies, herbs and more. Just down the street, two local Oglala Lakota artists create and share their art at Tusweca Gallery.
Consistently rated one of Rapid City's top museums, The Journey Museum & Learning Center offers visitors a chance to experience history and peruse a gift shop full of authentic Native American arts and crafts.
You can hit all of these in a single day in Rapid City, making it a rewarding and soulful exploration of Native life and art.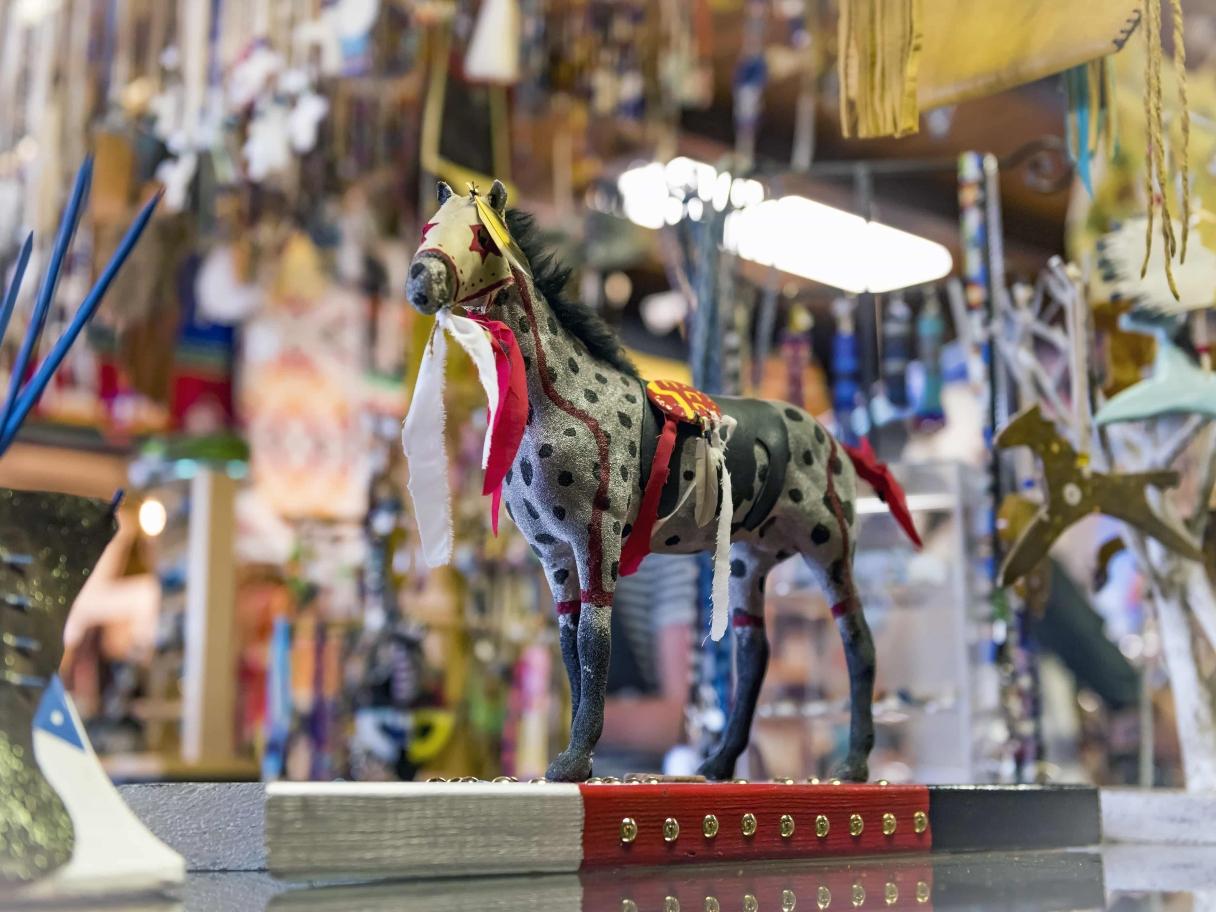 INTERIOR
On the edge of Badlands National Park is the small town of Interior, home to the Native West Trading Company. Staff strives to highlight and market work of local artists while educating visitors about the Great Plains Native Cultures.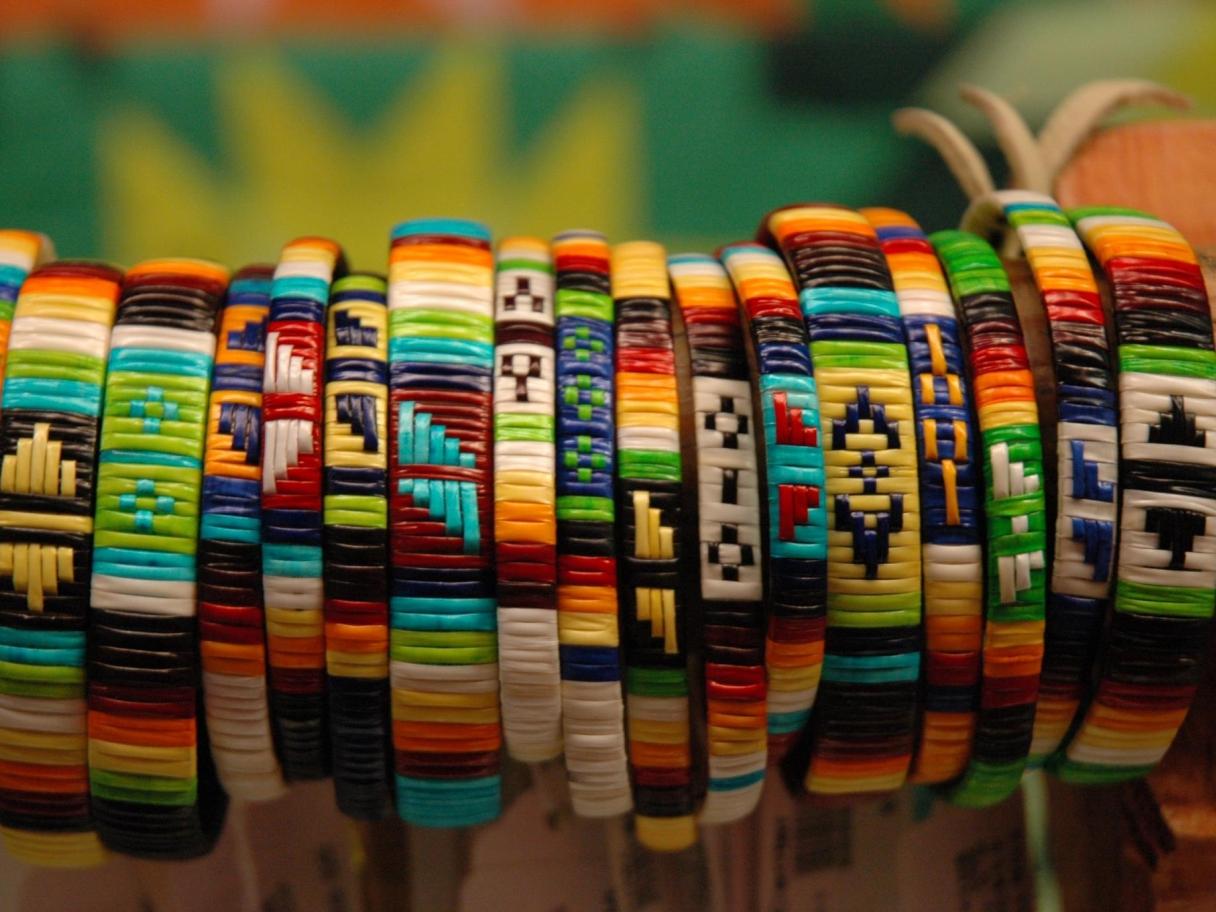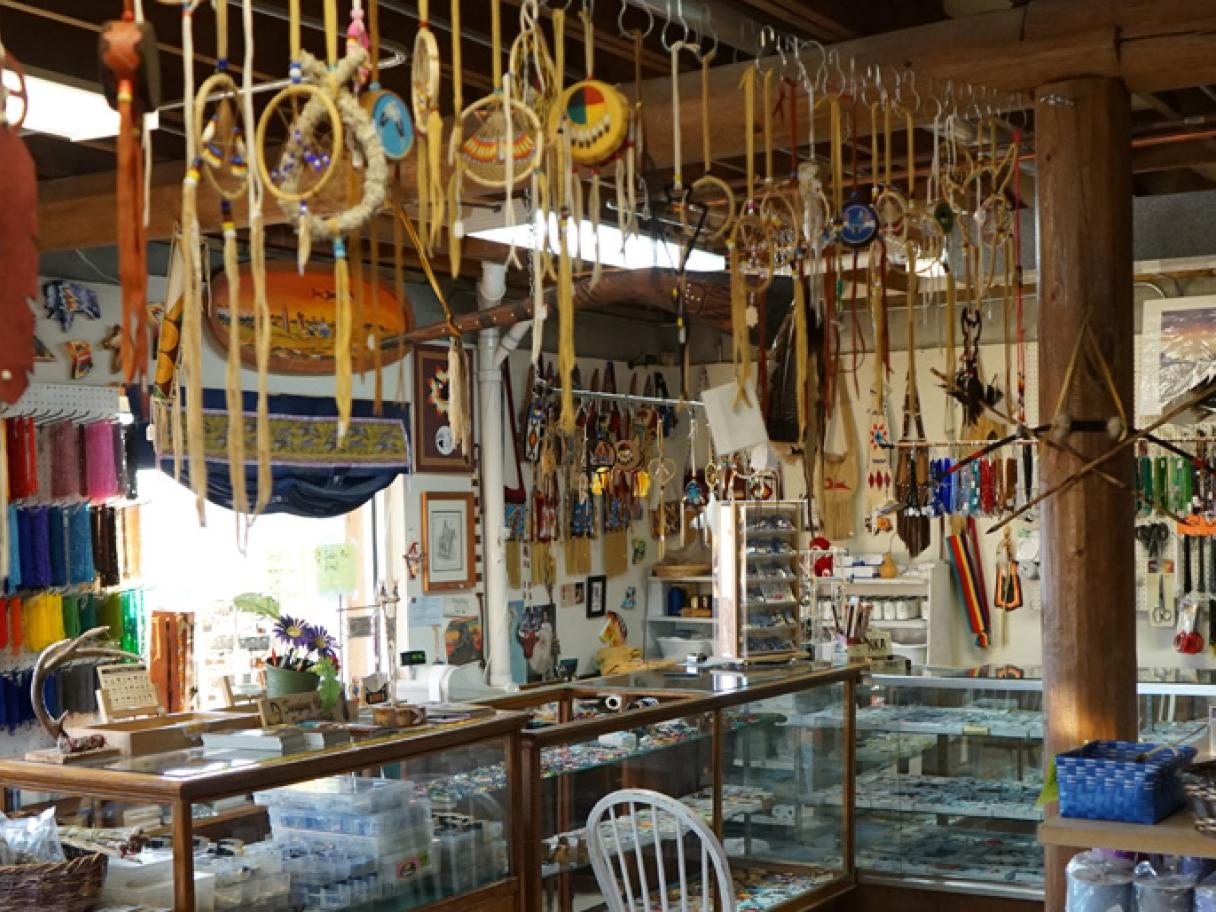 PORCUPINE
Only 25 miles from the town of Pine Ridge, the Singing Horse Trading Post & Bed and Breakfast offers a unique combination of art and accommodation. In a single visit, you can shop for handmade Lakota arts & crafts, attend a workshop and learn how to make your own drum, dreamcatcher, or beaded item, see the breathtaking landscape from horseback, and spend a relaxing night in the on-site accommodations that range from cozy cabins to your own mobile home. Plus, the meals are made with a focus on local and organic ingredients.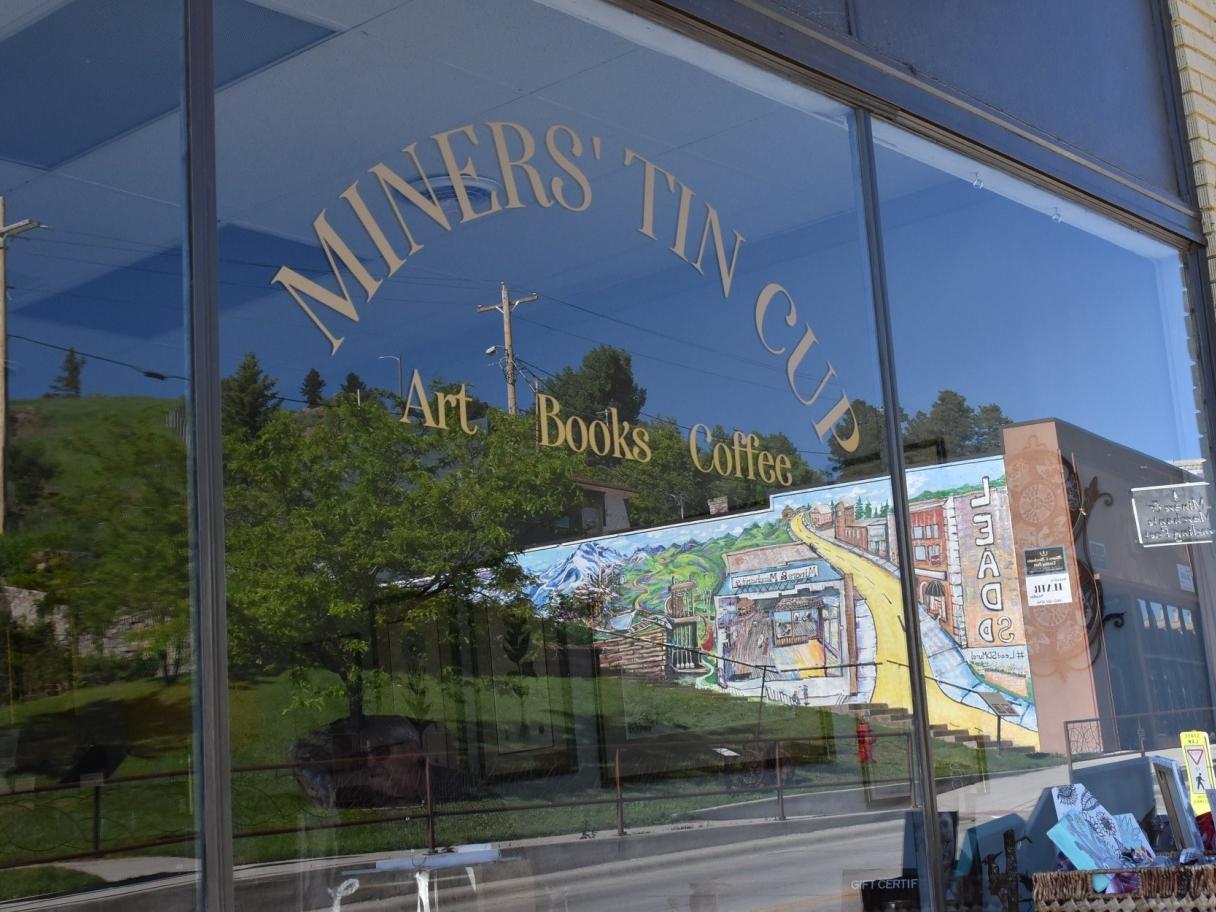 LEAD
Art gallery. Book store. Coffee shop. Miners' Tin Cup is a place to study, purchase, and even create art. Creativity is the name of the game at Miners', a place where it's hard not to find something of interest and inspiration.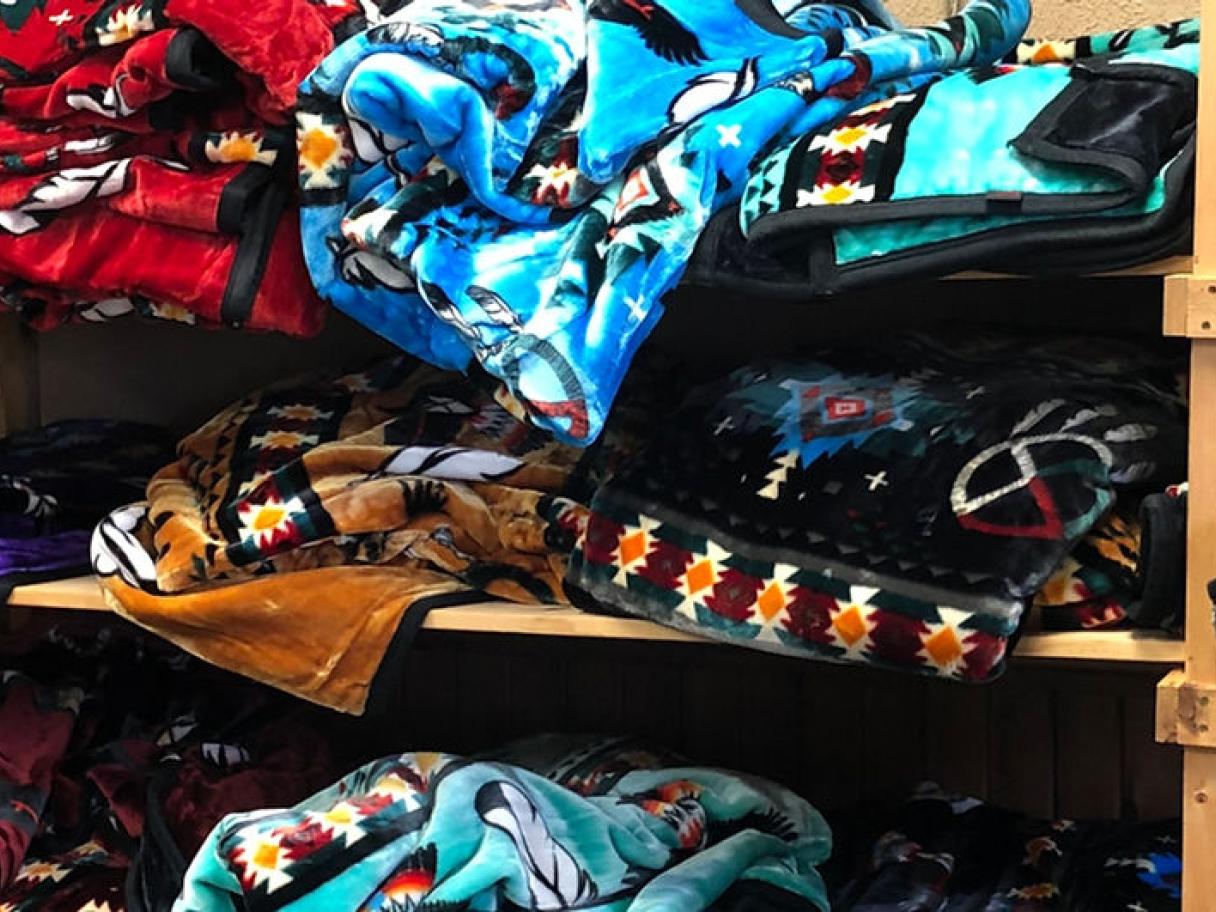 FORT PIERRE
The Dakota Emporium Trading Post not only features authentic Native American art, it also has plenty of supplies for creatives to make their own artistic magic. From beads to herbs and more, if you need it, it's probably here.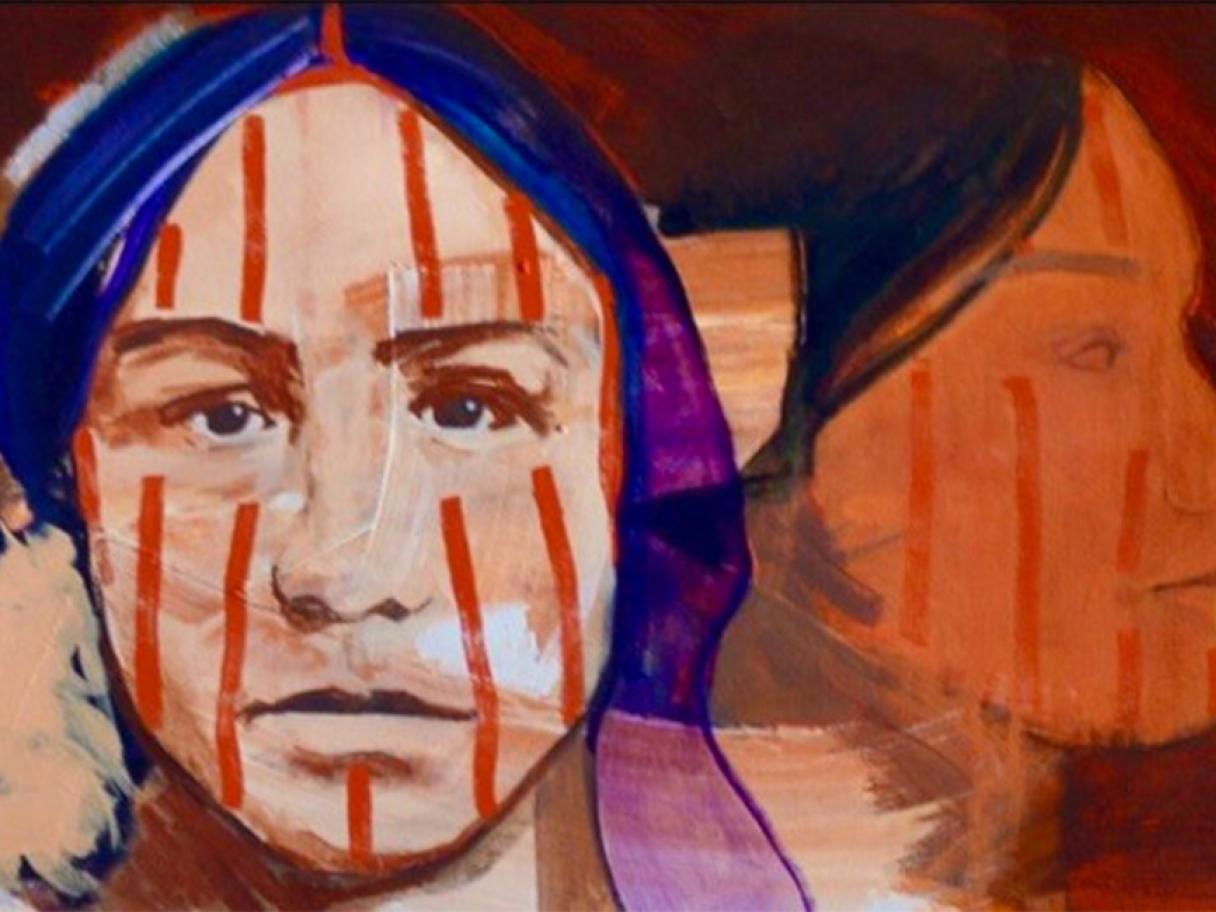 CHAMBERLAIN
The beautiful Dignity: of Earth & Sky sculpture looks out over the Missouri River near Chamberlain, the home of several unique homes for Native American art. For more than 30 years, the Akta Lakota Museum & Cultural Center has worked tirelessly to highlight the beauty and history of the Northern Plains Indian People. Absorb the power of rotating exhibits before taking in the intricate beadwork, star quilts, and more in the on-site gift shop. There's even a Medicine Wheel Garden where visitors can enjoy quiet mediation, something that's more important than ever these days.
Just two minutes away is the Dakota Plains Gallery & Gifts, where artists can show, market, and discuss their work. Every purchase is a donation to academic scholarships & grants designed to preserve Dakota culture.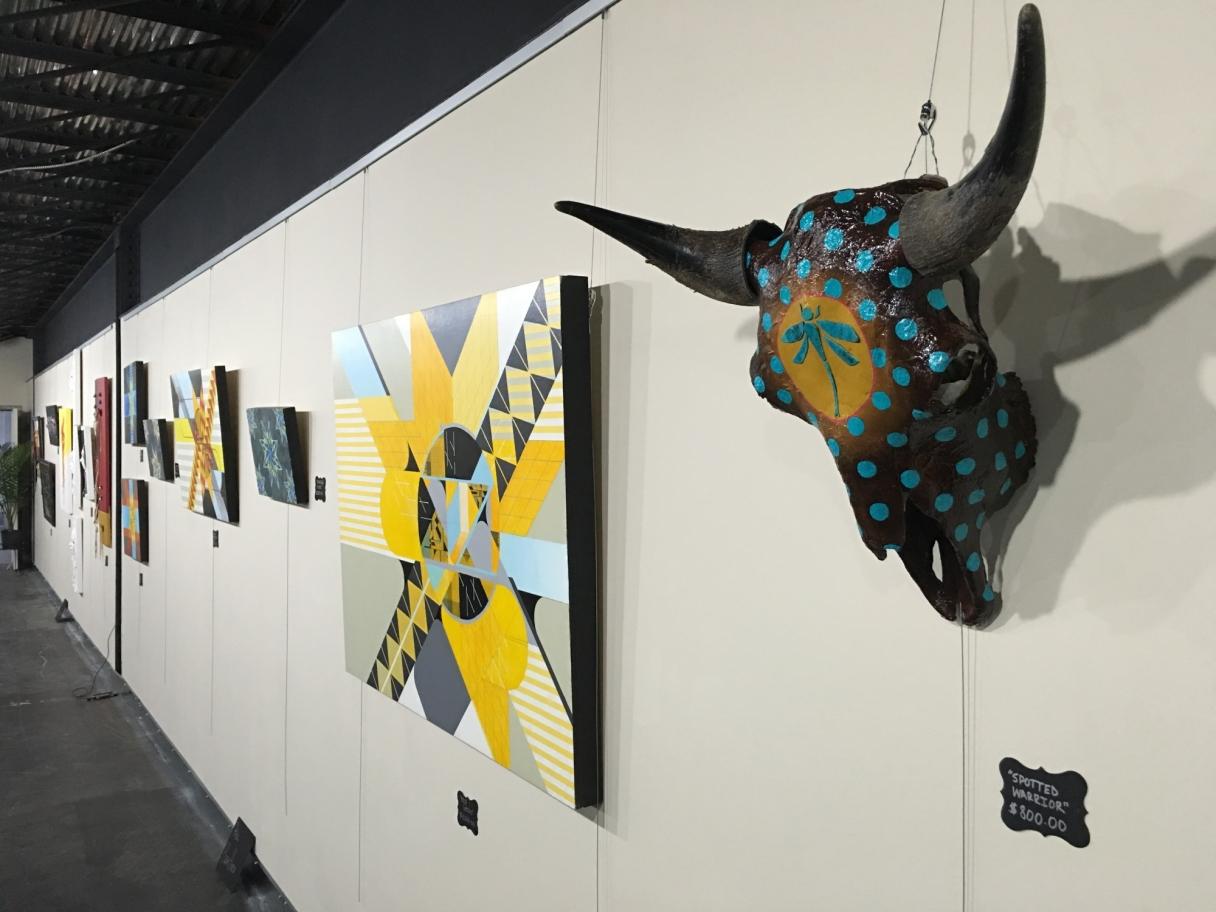 SIOUX FALLS
On the eastern side of the state, Post Pilgrim Gallery in Sioux Falls features works by artists focused on combining traditional tribal themes with exciting new mediums and interpretations. Located in the lower level of Last Stop CD Shop, this gallery's extensive exhibitions will immerse you in a world unlike anything you've experienced.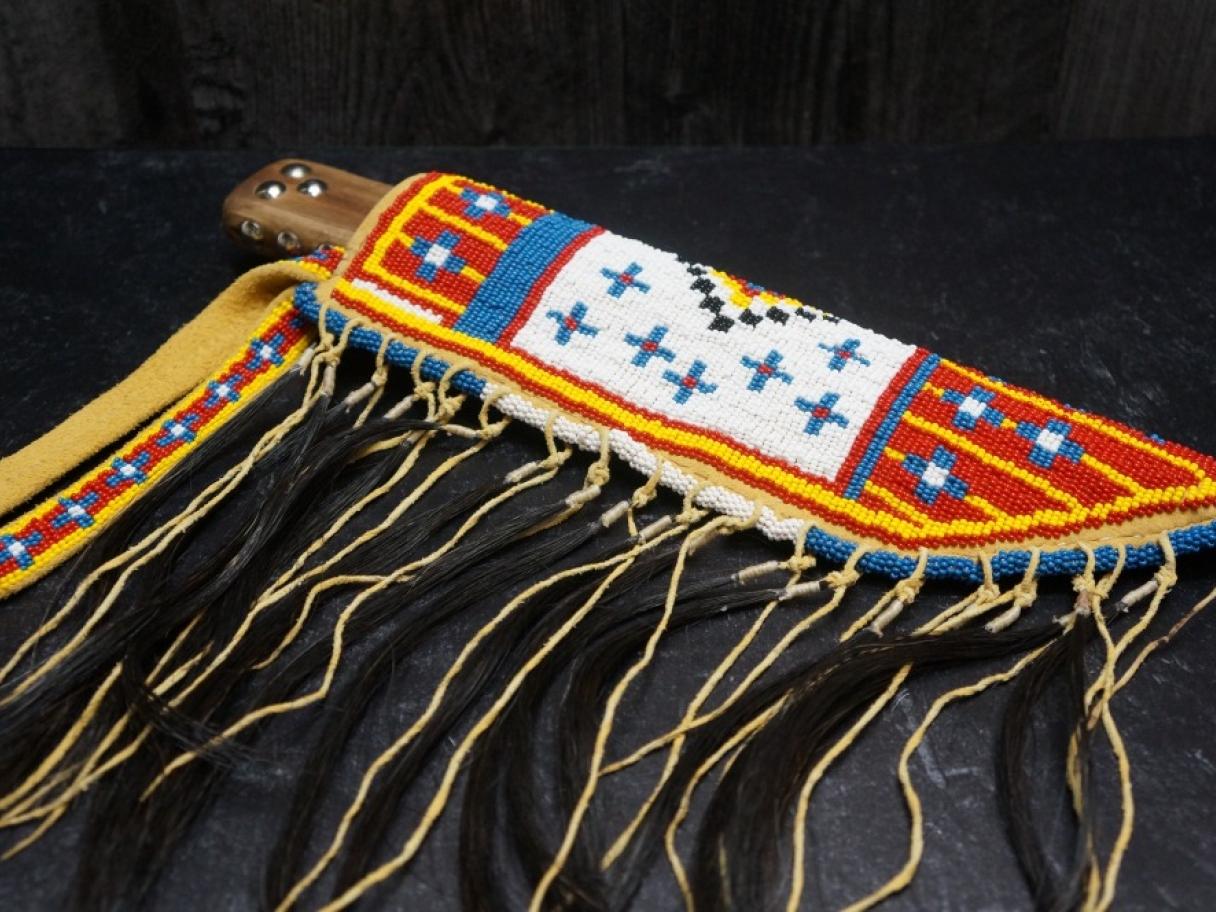 HARRISBURG
See Native American art and supplies at Native Art in Harrisburg, a town just 10 miles south of Sioux Falls in eastern South Dakota.
ONLINE
Browse authentic Indigenous art at Seven Council Fires Native Art, a nonprofit dedicated to the empowerment and promotion of Native American artists. Up to 1/3 of reservation residents depend on the sale of their artwork to survive, so each item literally changes a life and rewards the talents of folks across the state.
EVENTS ACROSS SOUTH DAKOTA
Art shows and more happen every year in South Dakota, offering a comprehensive artistic experience for visitors. For more information on these events, please click here.