For those in the know, those two words make mouths water and bellies rumble. But if you haven't had this delicious local delicacy, there are only two things you need to know — what they are and where to find them.
Legend has it that Indian Tacos were born from a combination of necessity and toppings. Fry bread—the flat, deep-fried, and crispy-yet-doughy foundation of this culinary masterpiece—came into existence in the late 1800s. American Indians are credited with creating the savory treat from government rations of flour, lard, baking powder, and salt. It didn't take long for fry bread to become a staple at powwows and in American Indian households across the country. The legendary flavor continues to attract new fans. In 2005, South Dakota lawmakers even declared it to be the state's official bread.
Fry bread is delicious on its own, but the potential for toppings is almost overwhelming. Unsurprisingly, a culinary genius somewhere decided to top fry bread with ground beef, refried beans, and a combination of lettuce, onions, and tomatoes. (Sour cream is optional, and plenty of places like to put their own unique spin on the types of toppings.) The traditional Indian Taco was born.
Attend one of South Dakota's powwows  and you're bound to find an Indian Taco stand. It's also common to see signs or stands advertising homemade Indian Tacos in communities across the state. If you're as hungry reading this as we got writing it, good news: South Dakota has some of the best places in the country to enjoy this unique delicacy.
Cedar Pass Lodge & Restaurant
20681 SD Highway 240, Interior
Located right next to the Badlands National Park visitor center, the only place to eat inside the park is also home to what many believe is the best Indian Taco in the state. The restaurant's chefs make fresh fry bread daily and then pile it so high with toppings that it's not uncommon for two people to share a single order.
Laughing Water Restaurant
1251 Avenue of The Chiefs, Crazy Horse Memorial
Only in South Dakota can you cure your hunger while taking in the majesty of the world's largest in-progress mountain carving. Located on the Crazy Horse Memorial campus, the Laughing Water Restaurant offers the Native American Taco with homemade fry bread, taco meat, refried beans, tomatoes, cheese, onions, salsa, and sour cream. Your topping options don't end there! Hungry customers have the option to get the taco with the restaurant's succulent Tatanka (buffalo) Stew or take a sweet route with cinnamon, honey, or a traditional warm berry sauce called wojapi (pronounced wo-zha-pee).
Red's Grill & Pub
2214 Junction Avenue, Sturgis
In a town best known for its annual celebration of all things motorcycle, there's at least one place where you can get a delicious Indian Taco. Red's also has authentic comfort food like chicken fried steak 'n eggs, so you can pretty much go on a culinary adventure in one spot (with or without a motorcycle).
Cheyenne Crossing
21415 US Highway 14-A, Lead
Cheyenne Crossing began as a stop for stagecoaches in 1878. Almost 150 years later, the Black Hills landmark attracts a steady flow of visitors eager to explore the unique building located at the south entrance to Spearfish Canyon National Scenic Byway. Hungry souls are satisfied in a big way at Cheyenne Crossing's legendary Stage Stop Café, which offers a variety of tasty morsels that includes a beef or vegetarian Indian Taco. The Indian Tacos are so good that they've been featured on Food Network TV and in Food Network Magazine. As you explore the Black Hills landmark, don't forget to check out Dave's Heifer Dust, a special blend of all-purpose seasoning that the store ships across the country.
Chasers Food & Spirits
8405 W 12th St., Sioux Falls
Salsa and sour cream come on the side, but jalapenos are a part of the Indian Taco experience at this bar and grill on the west edge of Sioux Falls. Of course, you can ask them to hold the spicy peppers. The question is: Should you?
South Dakota State Fair
1060 3rd St. SW, Huron
Once a year, the South Dakota State Fair transforms Huron into the site of one of the biggest parties in the state. Carnival rides, live entertainment, and celebrations of all things agriculture make this a must-see event, but it's the food that keeps some coming back year after year. If you think Indian Tacos aren't available, you might be confusing this with some other, less delicious event.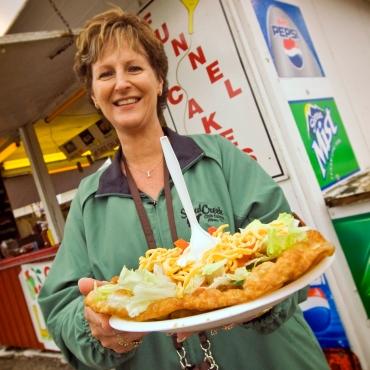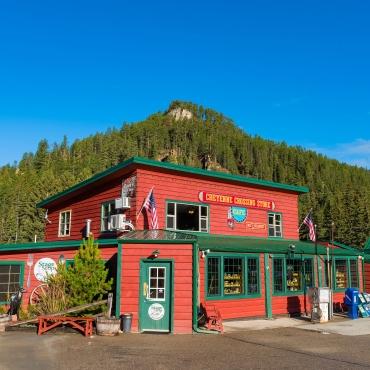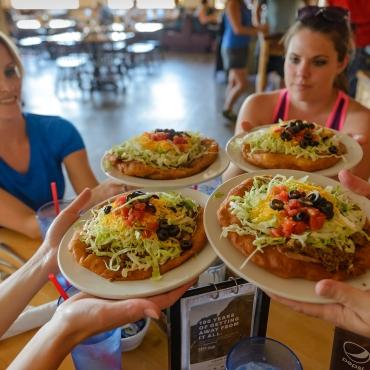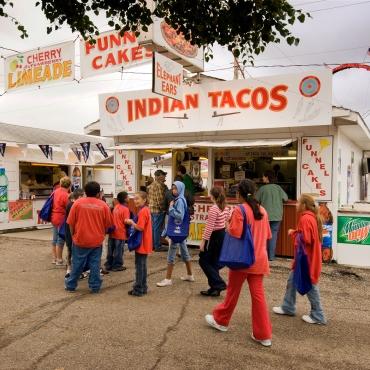 Where else can you get an Indian Taco in South Dakota?
Due to its popularity, Indian Tacos are often served as lunch or dinner specials, even though they're not listed on the menu. They also pop up at rummage sales, sidewalk stands, churches, schools, and cultural centers. It's highly recommended that you do a quick internet search to see if there will be a fresh fry-bread delicacy being served in the area you're visiting, but here are a few places that are known to keep the delicious meal in regular rotation.
Brass Kettle
322 S. Main St., Aberdeen
Open 11 a.m. to 2 p.m. and 5 p.m. to 9 p.m. Tuesday through Friday, 5 p.m. to 9 p.m. on Saturday, and closed Sunday and Monday.
Rosalie's Restaurant, Bakery and Lounge
98th Ave. E., Sisseton
Open 7 a.m. to 9 p.m. Monday through Thursday, 7 a.m. to 10 p.m. Friday & Saturday, and 8 a.m. to 2 p.m. on Sunday.
City Lights Bar and Event Center
316 S. 2nd St., Aberdeen
Business hours vary, so keep an eye on their Facebook page for delicious updates.
Silver Spur Restaurant
103 E. Main Avenue, Fort Pierre
Open 4 p.m. to 9 p.m. Tuesday through Thursday, 11 a.m. to 10:30 p.m. Friday & Saturday, and 4 p.m. to 9 p.m. on Sunday
Wakonda Hotel & Bar
101 Ohio St., Wakonda
Open Monday through Saturday from 4 p.m. to whenever they close
The YMCA Courtyard Café
815 Kansas City St., Rapid City
Open Monday through Friday from 7:30 a.m. to 2 p.m. You do not need to be a member of the YMCA to shop at the Courtyard Café.
Native American Cultural Center
409 E. Clark St., Vermillion
Open from 8 a.m. to 9 p.m. Monday through Friday. (Please note that this is a cultural center and not a restaurant, so food is only available during specified times.)