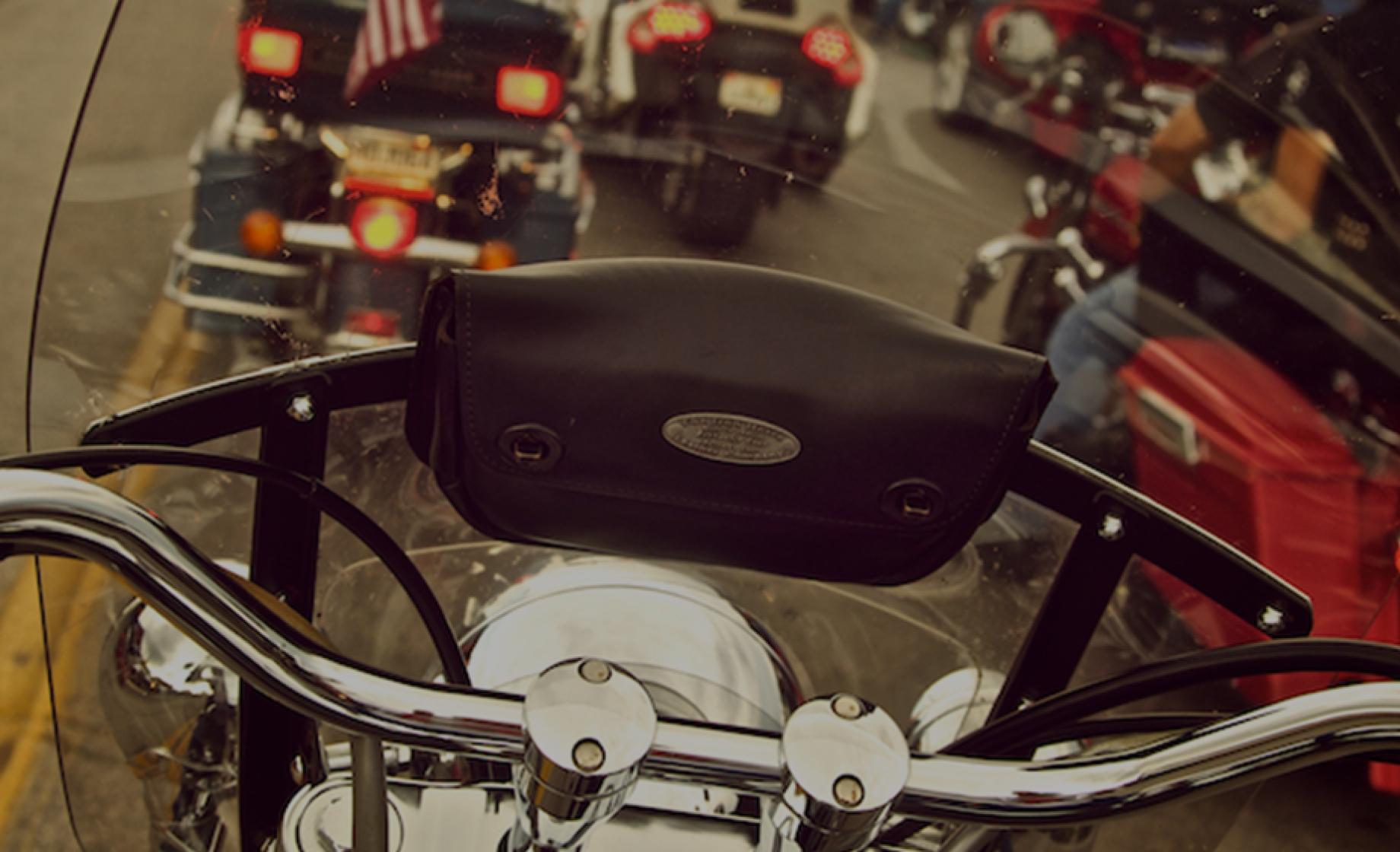 Equipment
Every motorcycle must be equipped with at least one but no more than two headlamps.
The handlebars of a motorcycle must be no higher than the shoulder height of the person operating the motorcycle.
All persons under the age of 18 must wear motorcycle safety helmets that are approved by the South Dakota Department of Transportation.
A person riding in an enclosed cab attached to a motorcycle does not have to wear a safety helmet.
A motorcycle operator must wear an eye protective device unless the motorcycle is equipped with a windscreen of sufficient height and design that protects the motorcycle operator. When headlights are required to be on, a motorcycle operator cannot wear protective eye devices that are tinted or shaded to reduce the light transmission of the device below 35 percent.
Motorcycles must have at least one tail lamp, which when lighted emits a red light visible for a distance of 500 feet.
Noise Limits
Every motorcycle must at all times be equipped with a muffler in good working order and in constant operation to prevent excessive or unusual noise.
Licensing
Anyone who operates a motor vehicle or motor-driven cycle on public roadways in South Dakota is required to have a driver license. You are required to have a South Dakota driver license if you live here for more than 90 days. If you are a commercial driver license holder, you must apply for a South Dakota license within 30 days. The following people can drive on a valid license from their home state, so long as they are at least 16 years old. South Dakota law (SDCL 32-12-39) states that every licensee shall have their Drivers License in their immediate possession at all times when operating a motor vehicle.
Military - Members of the Armed Forces on active duty or members of foreign military on temporary duty with the Armed Forces, as well as their spouse and children.
Student - Students who are here to further their education and who are considered a non-resident for tuition purposes.
Motorcycle License - To obtain a Motorcycle License, you must be at least 16 years of age and pass the vision, knowledge (car/truck and motorcycle), and motorcycle driving test. If a minor is at least 16 years of age, but under 18 years of age, they must complete the requirements of the Instruction Permit and have not been convicted of a traffic violation during the past six months prior to obtaining the Motorcycle License. The license is valid for 5 years, for a cost of $8.00 for car/truck test plus $8.00 for motorcycle test.
For complete licensing information and access to online driving manuals, visit the Driver Licensing Program's website.
For more detailed information on motorcycle rules and regulations see the South Dakota Codified Laws (Chapter 32-20).
South Dakota Rides
Launched in April 2012, SouthDakotaRides.com is part of a campaign by the South Dakota Office of Highway Safety to promote motorcycle education and safety. The site provides information about safety, state laws, rider training opportunities and other topics.
Sources: AAA Motor Law Digest, 68th (2002) Edition and South Dakota Department of Public Safety.
See What Scenic Drives Await!