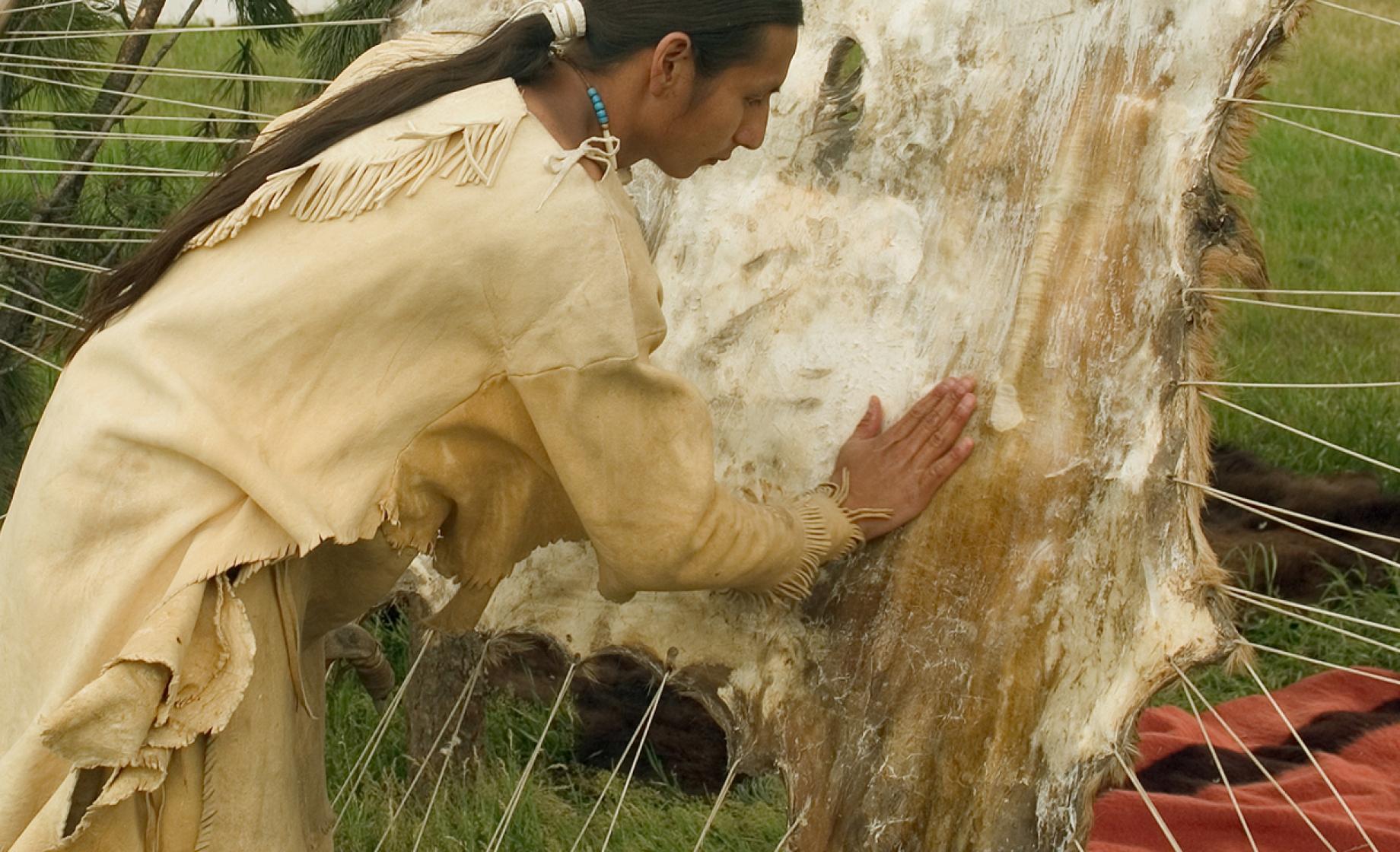 The Rosebud Indian Reservation has large areas of Ponderosa Pine forest scattered in its grasslands; and deep valleys are defined by steep hills and ravines, often with lakes dotting the deeper valleys. It's 922,759 acres include 20 communities. The tribal headquarters is located in the community of Rosebud.
The Rosebud Sioux Tribe, more properly known as Sicangu Lakota Oyate, or Burnt Thigh People, are descendants of the Sicangu Oyate of the Tetonwan Division of the Oceti Sakowin or Seven Council Fires. Historically, they were warriors and hunters and expert horsemen. Native plants and wildlife were very important to the Sicangu people and continue to be today.
Ben Reifel (1906-1990), a five-term U.S. Congressman, was born near Parmelee on the Rosebud Reservation in 1906. During his lifetime, he worked for the Bureau of Indian Affairs, served in the U.S. Army and received a doctoral degree from Harvard University. Reifel ran for office in 1960 and served until his retirement in 1971.
ATTRACTIONS
City parks in Mission and White River and Ghost Hawk Park in Crazy Horse Canyon offer rest and relaxation with camping and picnic facilities. Miles of rugged trails through the pine-covered hills and canyons of the reservation provide exceptional hiking. Enjoy an exciting rodeo or a colorful wacipi (powwow) or take in a weekend softball tournament or community celebration.
The Sicangu Heritage Center at Sinte Gleska University houses the official archives of the Rosebud Sioux Tribe, as well as artifacts collected by the University. It is located in the community of Antelope, just east of Mission. The University was established in 1971 to create an environment of learning centered on Lakota language and culture. Everything, down to the University's logo design, represents aspects of Sicangu Lakota beliefs, legends and history.
Sinte Gleska University is among the few tribal universities in the nation with its own bison ranch and herd. The University is leading the nation in research centering on bison, traditional Lakota buffalo ceremonies, curriculum development, and sustainable, culturally-appropriate and environmentally-safe economic development. The University welcomes visitors to tour the ranch and the campus by appointment.
The Buechel Memorial Lakota Museum in Saint Francis is named for Father Eugene Buechel. It features Lakota artifacts collected by the priest during his years of teaching at the St. Francis Mission. The impressive collection includes a child's fully-beaded vest, a cradleboard and a buffalo hide robe. A gift shop, located in the museum, provides beadwork, leather crafts, quilts and other fine items.
Tribally owned and operated, the Rosebud Casino, Quality Inn and Convention Center is located 22 miles south of Mission.
COMMUNITIES
Mission, Rosebud, Saint Francis, Parmelee, Okreek, Olsonville
CONTACT
Rosebud Sioux Tribe
Mission, South Dakota
(605) 747-2381
rosebudsiouxtribe-nsn.gov