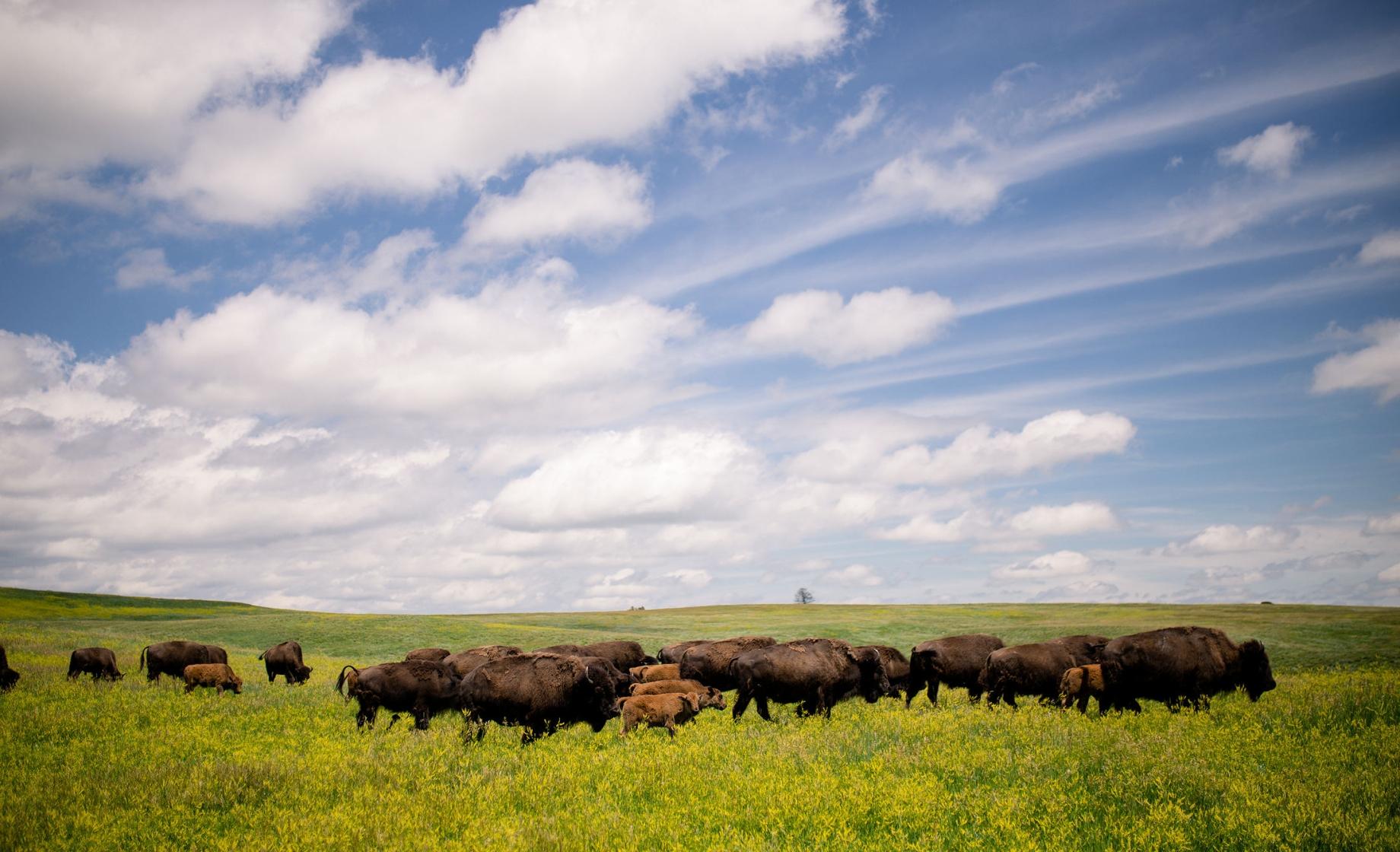 South Dakota has often been referred to as "the land of infinite variety." That variety is reflected in everything from our weather and scenery to our economy, state symbols and famous folks. South Dakota ranks 16th in size among the 50 states. It was the 40th state to join the Union in 1889 and encompasses 77,123 square miles, averaging 10 people per square mile. South Dakota boasts more miles of shoreline than the state of Florida and the highest point in the United States east of the Rocky Mountains. 
State Population: 909,824 according to the US Census Bureau's 2022 Population Estimate, with Sioux Falls ranked as the most populous city in the state
State Animal: Coyote
State Tree: Black Hills Spruce
Highest Point: Black Elk Peak (formerly Harney Peak) in the Black Hills - 7,242 feet
Tallest Building: CenturyLink Tower, Sioux Falls - 174 feet
State Capital: Pierre (pronounced "peer")
State Bird: Chinese ring-necked pheasant
State Mineral: Rose Quartz 
State Fish: Walleye
State Gemstone: Fairburn Agate
State Nickname: The Mount Rushmore State
State Insect: Honey Bee
State Fossil: Triceratops
Statehood: 1889
State Flower: Pasque
State Soil: Houdek
State Sport: Rodeo
State Nosh:Chislic
State Dessert: Kuchen
State Song: "Hail, South Dakota"
State Motto: "Under God, the people rule"
State Slogan: "Great Faces. Great Places."
Geography
Sprawling prairies, fertile farmland and glacial lakes dominate the landscape in eastern South Dakota. Prairies and ranchland are common in central South Dakota. Mountains grace the western skyline, and in the southwest, striking Badlands formations rise abruptly from the surrounding prairie. The Missouri River runs through the central and southeastern part of the state. Lakes formed by retreating glaciers thousands of years ago cover the northeastern corner of South Dakota. With so much nature, exploration and diverse terrain, find out 9 Unique Ways to Explore the Outdoors in South Dakota.
Climate/Weather
South Dakota has four distinct seasons: mild weather with showers in spring; sunshine, warm temperatures, and some humidity in summer; crisp, cool evenings in fall; and mild to extreme cold in winter. Like most places, the climate varies depending upon location. The state is divided by the Missouri River, with the eastern half typically seeing more regular humidity and precipitation, and the western half experiencing drier conditions.
Location
South Dakota is located in the upper middle of the United States. Our neighboring states include Minnesota and Iowa to the east, Nebraska to the south, Wyoming and Montana to the west, and North Dakota to the north. Interstate 90 runs east to west, from Minnesota to Wyoming, and Interstate 29 runs north to south on the eastern side of South Dakota, entering from North Dakota and exiting to Iowa.
Economy
The state has a strong Agricultural base, which remains the largest industry in the state. South Dakota routinely ranks among the top 10 states for the production of hay, sunflowers, rye, honey, soybeans, corn, wheat and cattle. Tourism is also a significant contributor, bringing in about $2 billion, annually. The service sector, retail trade and manufacturing industries account for the majority of the state's employment.
CULTURE
South Dakota was named after the Lakota and Dakota Sioux Native American tribes who have historically dominated the territory. Today, Native Americans comprise a large portion of the population—approximately 71,800, with nine tribal reservations currently in the state. To truly experience South Dakota, one must explore its deep-rooted Native American history and culture. To find out how, read The Great 8 Ways to Experience Native American Culture in South Dakota.
South Dakota Flag
The South Dakota flag features the state seal surrounded by a blazing sun in a field of sky blue. "South Dakota, The Mount Rushmore State" is arranged in a circle around the sun.
NATIONAL & STATE PARKS
There are currently six National Park Service sites throughout the state, many of which are included in The Great 8 places/attractions that put South Dakota on the map. In addition, there are 63 state parksand recreation areas that showcase the state's diverse terrain and landscapes. 
STATE-WIDE CELEBRATIONS
South Dakota is a state that loves its outdoor events and annual festivities. Any time of year, expect big ways to celebrate culture, history, the outdoors, long-standing traditions, cuisine and more—from the iconic Sturgis Motorcycle Rally, Native American powwows and the Custer Buffalo Roundup to rodeos, food festivals and the South Dakota State Fair. Discover more events for every season. 
Famous South Dakotans
 
Leaders and Politicians
Tom Daschle - former U.S. Senator and Senate Majority/Minority Leader
Joseph Foss - WWII fighter ace, South Dakota Governor (1955-59), commissioner of the American Football League
Hubert Humphrey - vice president under Lyndon Johnson
George McGovern - former U.S. Senator and 1972 Democratic presidential candidate
News & Entertainment
Bob Barker - former host of "The Price Is Right"
Tom Brokaw - former "NBC Nightly News" anchor
Mary Hart - former "Entertainment Tonight" co-host
Cheryl Ladd - actress, "Charlie's Angels"
Al Neuharth - founder of USA Today and the Freedom Forum
Pat O'Brien - former "Access Hollywood" co-host
Shawn Colvin - singer and songwriter
January Jones - actress, "Mad Men" and "X-Men: First Class"
Native Americans
Crazy Horse - Native American chief (Oglala Lakota)
Sitting Bull - Native American chief (Hunkpapa Lakota)
Kevin Locke - hoop dancer and flute player (Standing Rock Lakota)
Billy Mills - Olympic athlete and humanitarian (Oglala Lakota)
Benjamin Reifel - former U.S. Congressman and U.S. Commissioner of Indian Affairs (Rosebud Lakota)
Russell Means - actor and activist (Oglala Lakota)
Oscar Howe - artist (Yanktonai Dakota)
Dr. Jacob Weasel - first Native American to summit Mount Everest (Cheyenne River)
Artists and Authors
Harvey Dunn - famed prairie artist
Terry Redlin - popular American artist
L. Frank Baum - author, The Wizard of Oz
Laura Ingalls Wilder - author, Little House on the Prairie books
Athletes and Sports Figures
Sparky Anderson - former baseball manager
Casey Tibbs - professional rodeo, bronc rider
Adam Vinatieri - professional football
Chad Greenway - professional football
Mike Miller - professional basketball
Becky Hammon - professional basketball
Brock Lesnar - professional wrestling