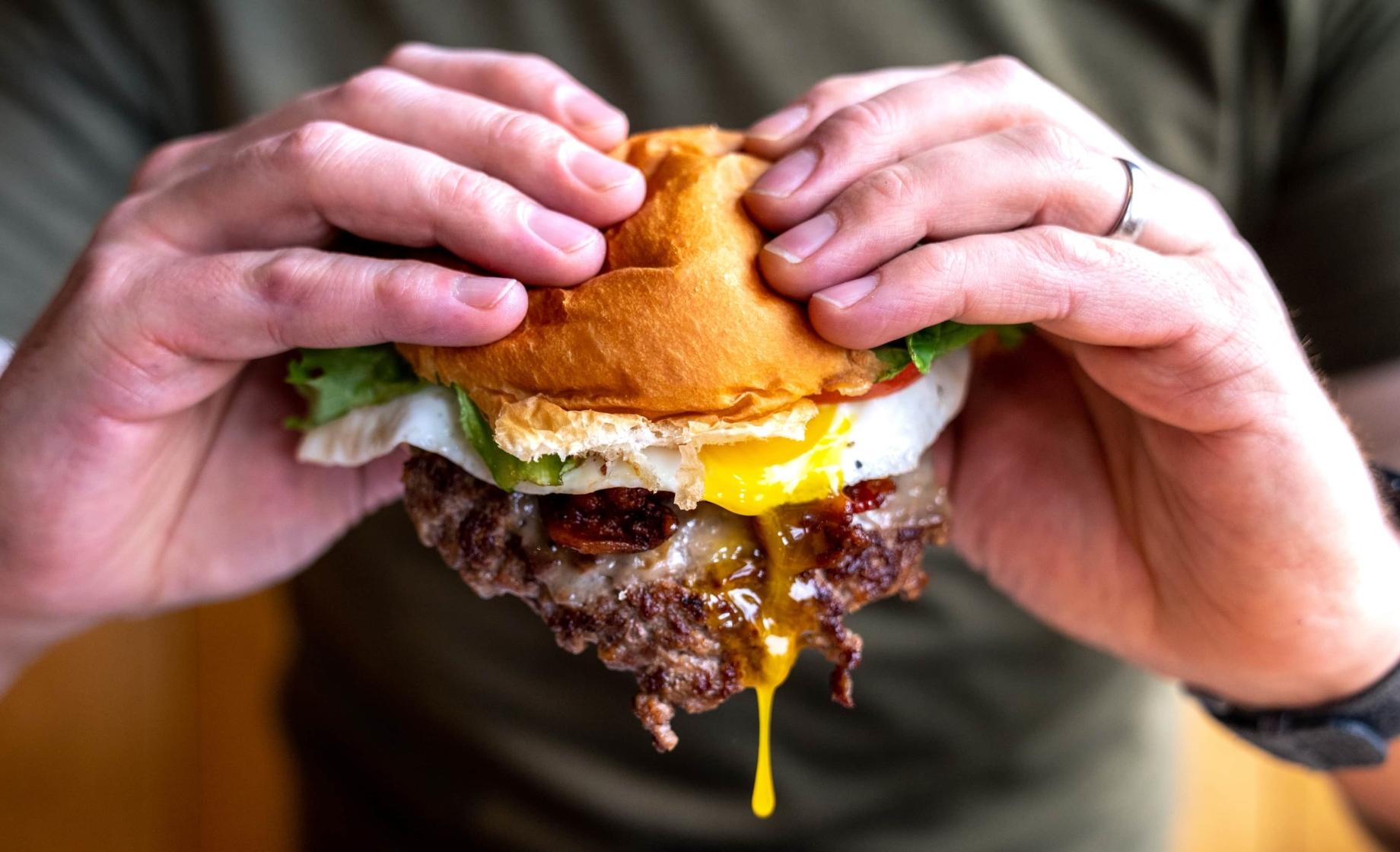 Claude Smith has cooked every burger served at Black Hills Burger and Bun Co. since 2012. Every. Single. Burger.
"He'd never be able to stand on the sidelines and watch someone cook his burgers," says his wife, Christie.
Ten years, a building, and one TripAdvisor "Best Burger Restaurant in the Nation" award since they opened the place, Claude and Christie appreciate that their little bit of heaven in downtown Custer is known for its consistently crafted, juicy burgers, even if they're pretty modest about it.
But the customer raves tell a clearer story. Exclamations of "Oh my god, this is the best burger I've ever had" and "How do you get it so juicy?!?!" are common. All it takes is one bite to see why.
With 10 burgers to choose from – plus the Burger of the Week in the off-season – it's hard to know where to start.  "The Hot Granny" (bacon, cream cheese, fresh jalapenos, and sweet-spicy jalapeno sauce) is a go-to for lots of regulars. "The Fat Smitty" adds egg, bacon, and garlic aioli to the classic burger formula, while "The Western" channels the area's pioneer legacy with bacon, grilled onions, and BBQ sauce. Ketchup and mustard are on each table, but it's rare to see anyone use it. These burgers come out perfect on the plate time after time.
Claude mixes the burger himself, maintaining a specific meat-to-fat ratio that's never changed. Every sauce is house-made, adding to creative burgers that make it hard to pick a favorite, but very easy to keep finding new ones.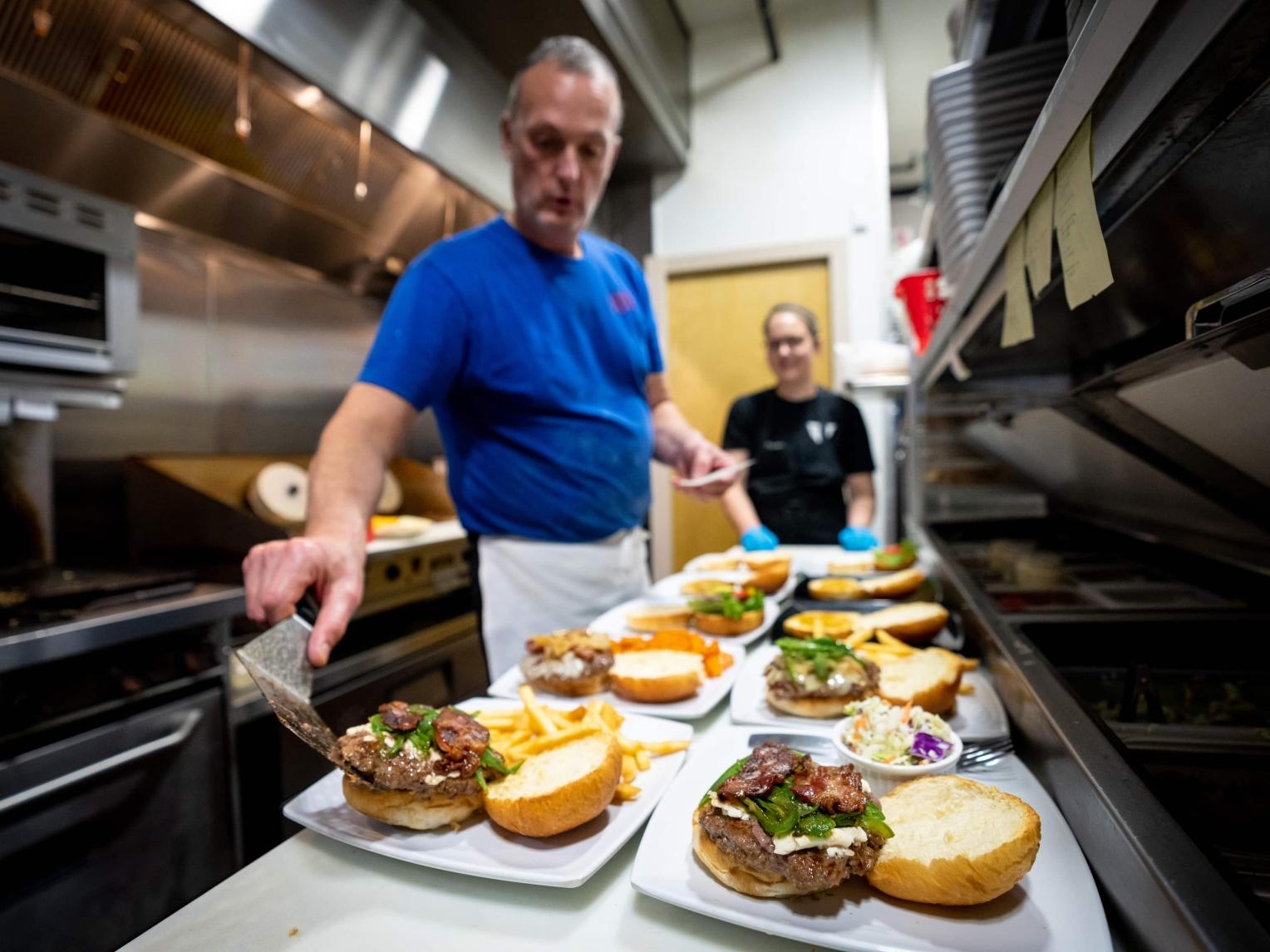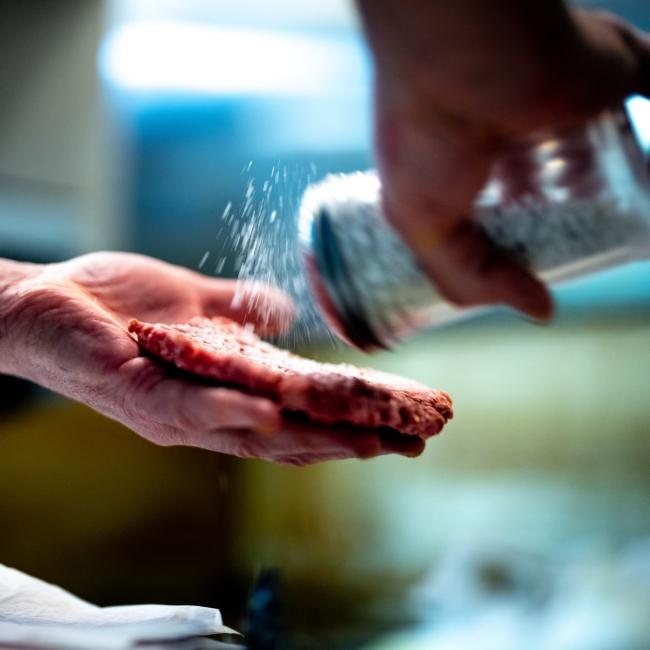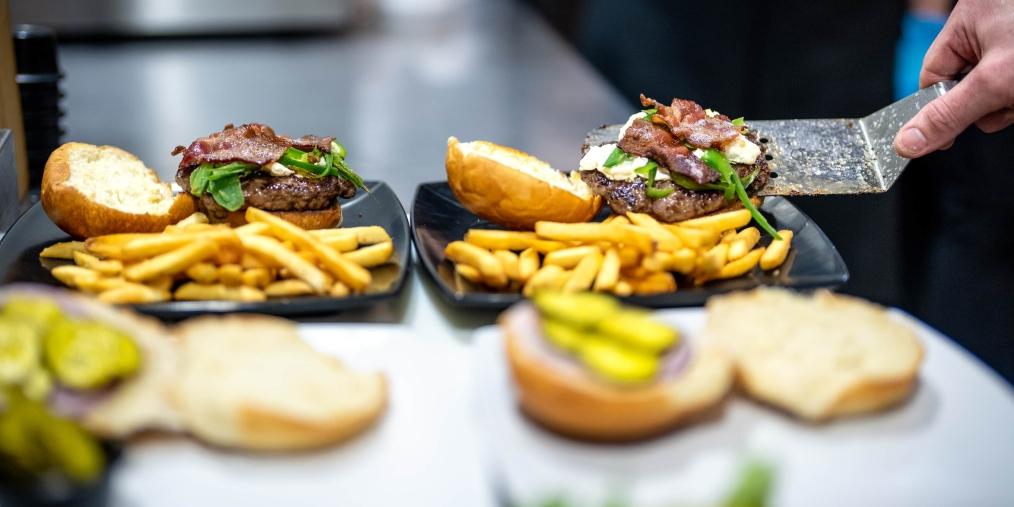 "We had some different burgers we weren't sure if they liked, but they loved."
Claude and Christie used to own a grocery store in Custer. After they sold it and went to Iowa for six months, their thoughts turned to buying a little building just off Main Street back in Custer. "In 2012, gourmet burgers were getting to be a thing," Christie said, "but no one in Custer was doing that." With his skills as a butcher & chef and hers as a baker, they created Black Hills Burger & Bun Co.
The building barely held 30 people. They opened the week of the Sturgis Motorcycle Rally, figuring they'd kick off right before closing down for the winter. They never got the chance. It didn't take long for lines to start developing outside the business … and that was before the national recognition.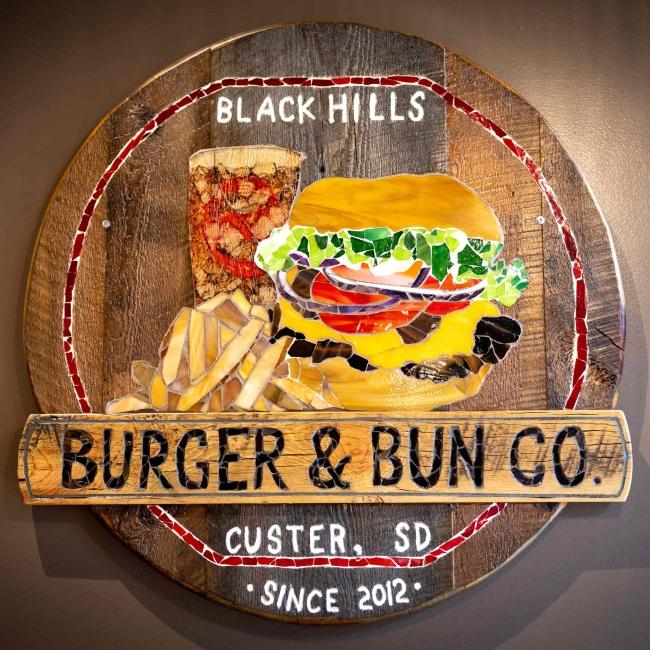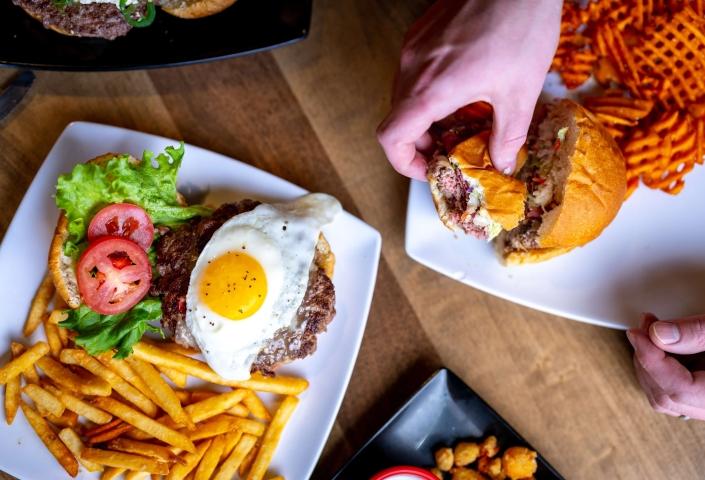 Best in the country
A news station was calling Christie on her phone.
"How does it feel to have the best burger in the nation?" asked the voice on the other end.
Christie's response?
"Are you calling the right place?"
They were. TripAdvisor had named Black Hills Burger & Bun Co. the best burger joint in the United States. After calling her mom, Christie closed the restaurant as usual at 2 p.m. When she came back at 4:30, there was a line. To the corner of the block.
"It was like that every day that summer," she said.
Things have never really slowed down. When the pandemic hit, they did record take-out numbers, using some of the precious down time to replace a large table in the center of the restaurant with partially enclosed booths. A worker shortage has left them stopping dinner for now, but private parties are now available for a group up to 60. A delicious party, reunion or any other kind of gathering certainly awaits anyone that takes advantage of the new option.
The Smiths also used their grocery and organic experience to open Wild Spruce Market next door, a place that smells amazing from the moment you enter. Featuring specialty foods with a focus on organic and gluten-free, it has a bar with local beer & kombucha, the perfect place to wait for your Black Hills Burger & Bun table. Sit down for a drink, and Christie will text you when your table is ready.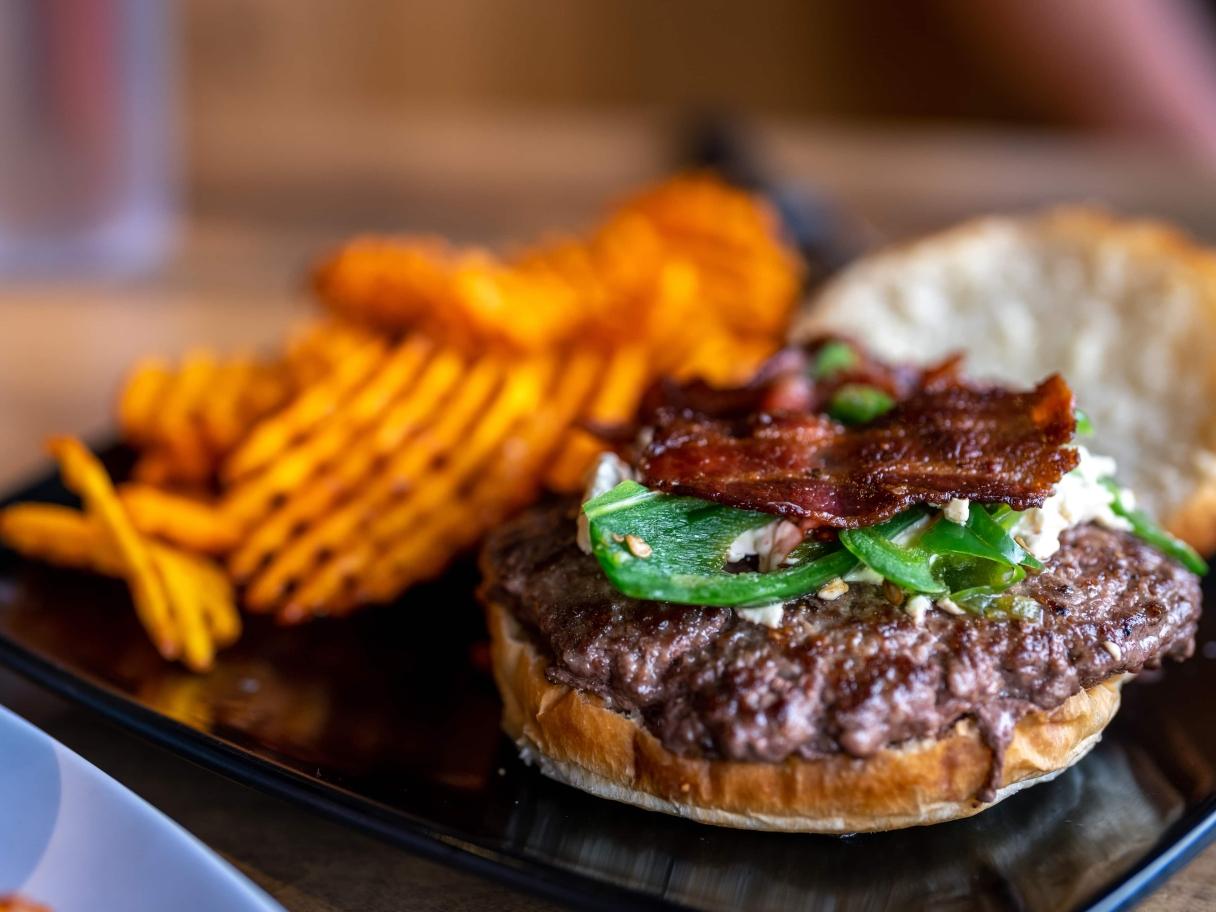 As the snow started to sprinkle in Custer, Black Hills Burger and Bun Co. was almost full. It was a Wednesday afternoon. In February.
"I'll have the 'Granny,'" says a woman, either uncomfortable with saying "The Hot Granny" or just unconcerned. A few booths over, a couple stops Christie. "We're from North Carolina, and this is one of the reasons we're changing our residency." That's right. These burgers are so good that they make people move 1,600 miles.
There's a level of comfort in this place that can be felt even before the burger shows up. The giant "Pay It Forward Board" is attached to the north wall. In chalk letters are the names of folks that someone bought a burger for. Some of the entries aren't even names, just descriptions. "Snow Plow Driver." "Anyone in uniform." A pair of unnamed teachers each have a Classic with Cheese waiting for them. They just don't know it yet.