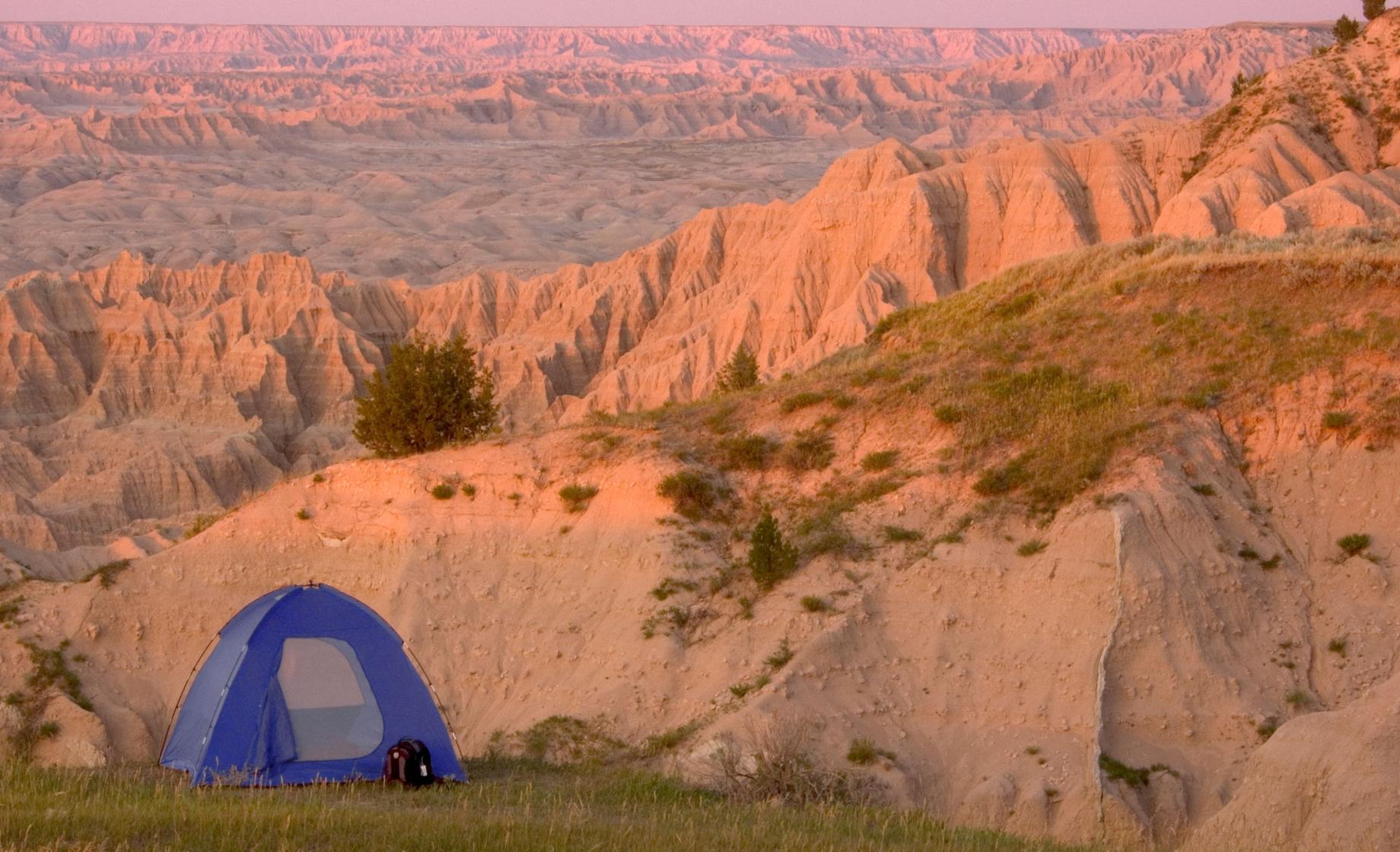 Take your tent to the next level, leave with memories that will last forever.
Bear Mountain Hill Top
Camping on the third-highest mountain in the Black Hills guarantees a pretty great view. This free campsite offers a streamside trail, wildflowers and wildlife, including elk, fox, marmots and more. Beyond the views of Black Elk Peak, the Cathedral Spires, and other natural beauty, the summit is also home to the Bear Mountain Fire Tower. Being only 20 minutes from Crazy Horse Memorial, 40 minutes from Mount Rushmore, and 12 miles northwest of Custer leaves you with plenty of iconic entertainment options before or after your sky-high camping adventure.
Picnic Spring Campground
Near Camp Crook
There are no reservations, so it's first-come, first-served at this little known 8-site campground in the northern part of Custer State Park not far from the North Dakota border.
Badlands National Park
Traditional camping spots at Cedar Pass Campground and Sage Creek Campground offer great views of the Badlands' rocky crags, but if dispersed camping sounds fun, a hike will allow you to surround yourself with open beauty. Get yourself at least a ½ mile away from a road or trail (and make sure to not be visible from a roadway) and the otherworldly world is yours for the camping. Permits aren't required, but it's best to register before you head out. For more on how to best prepare for a night (or more) of Badlands camping, click the link below.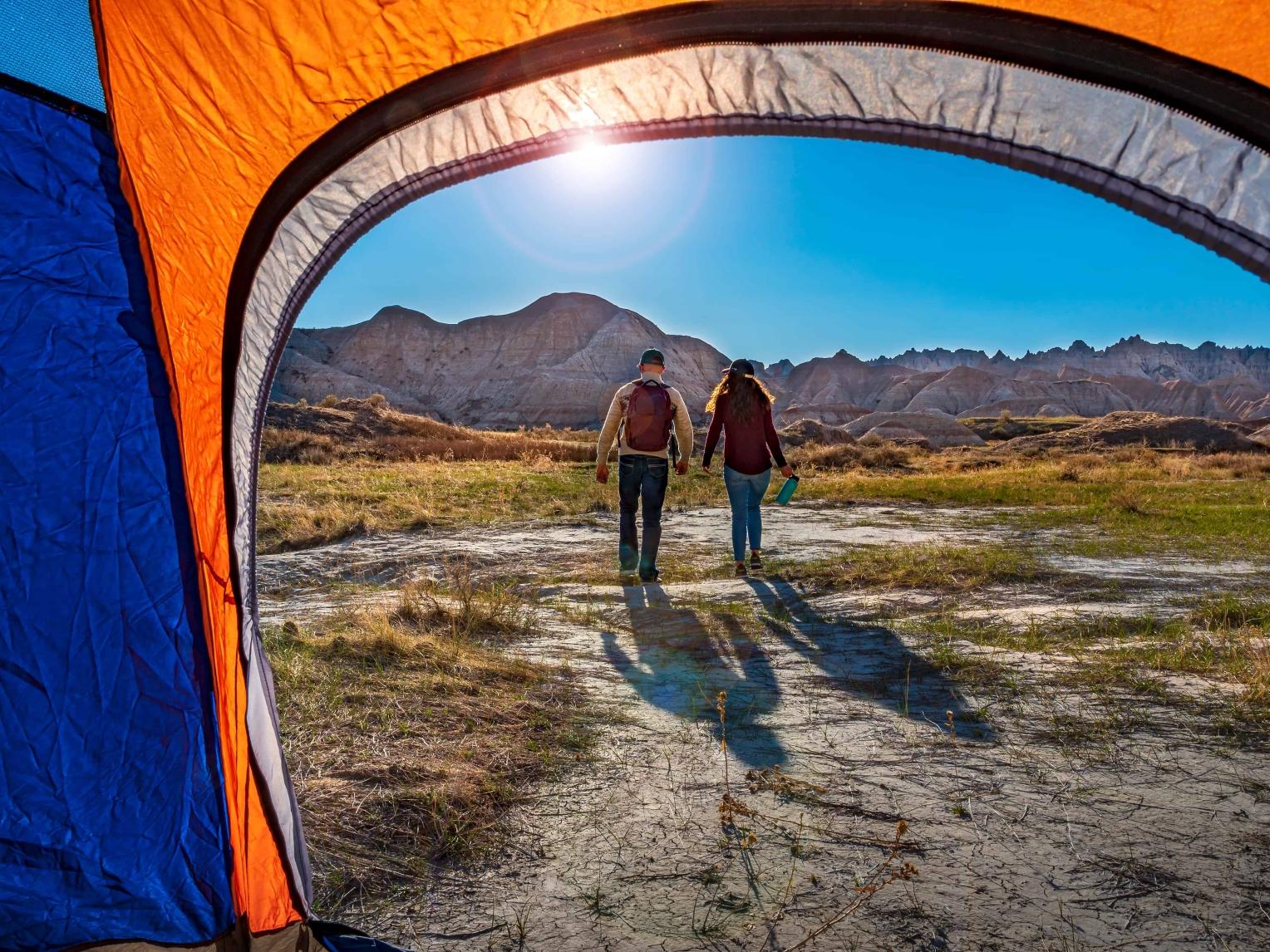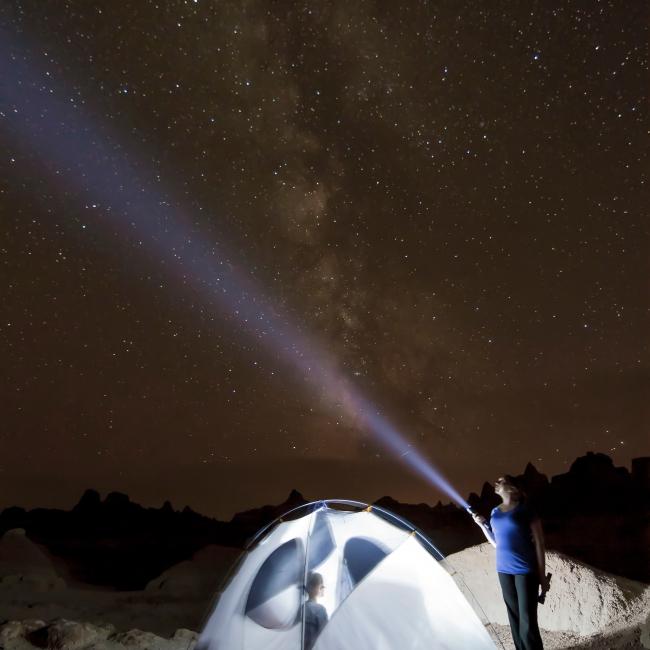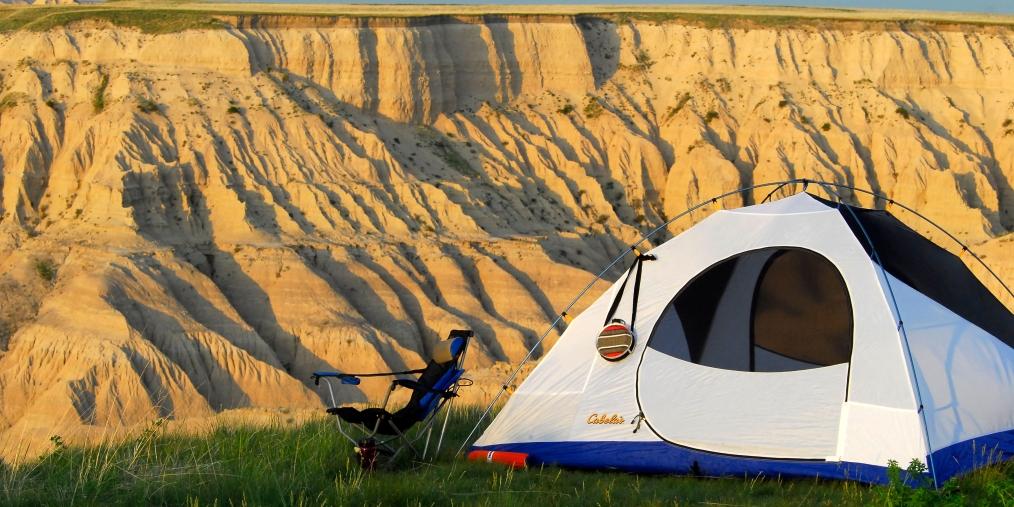 Yogi Bear's Jellystone Park of Sioux Falls
The opposite of "dispersed camping in the Badlands" is "campground with pool, laser tag, a corn maze…oh, and Yogi Bear might show up." So if you want a place for hands-on fun, theme weekends, and daily activities (in season), Jellystone Park is for you. Bring your tent and crew, but keep an eye on your pic-a-nic basket.
Lake Vermillion Recreation Area
Like water? Us too. Securing a spot at Lake Vermillion Rec Area provides you access to swimming, fishing, boating, and other recreation in the 512-acre reservoir. More than 90 electric tent sites are spread out over three different campgrounds, and it's easy to rent a canoe or kayak to get you on the water. Begin or end your day by hiking the 1.25-mile Otter Stream Trail. No matter what, you'll see why this southeastern SoDak campground is a fine place to pitch a tent and enjoy nature just 27 miles from South Dakota's biggest city.
Dude Ranch Lakeside Use Area
Oacoma (Exit 260)
Do you hear the season calling? Experienced campers are shocked to find out that a place like Dude Ranch is free. The basic amenities (trash receptacle, vault toilet) are nice, but the view and access to the Missouri River? Well, that's something special. While the road is dirt, access is close to Interstate 90 – but not so close that you can't enjoy a quiet night under the stars along the shores of the Missouri River.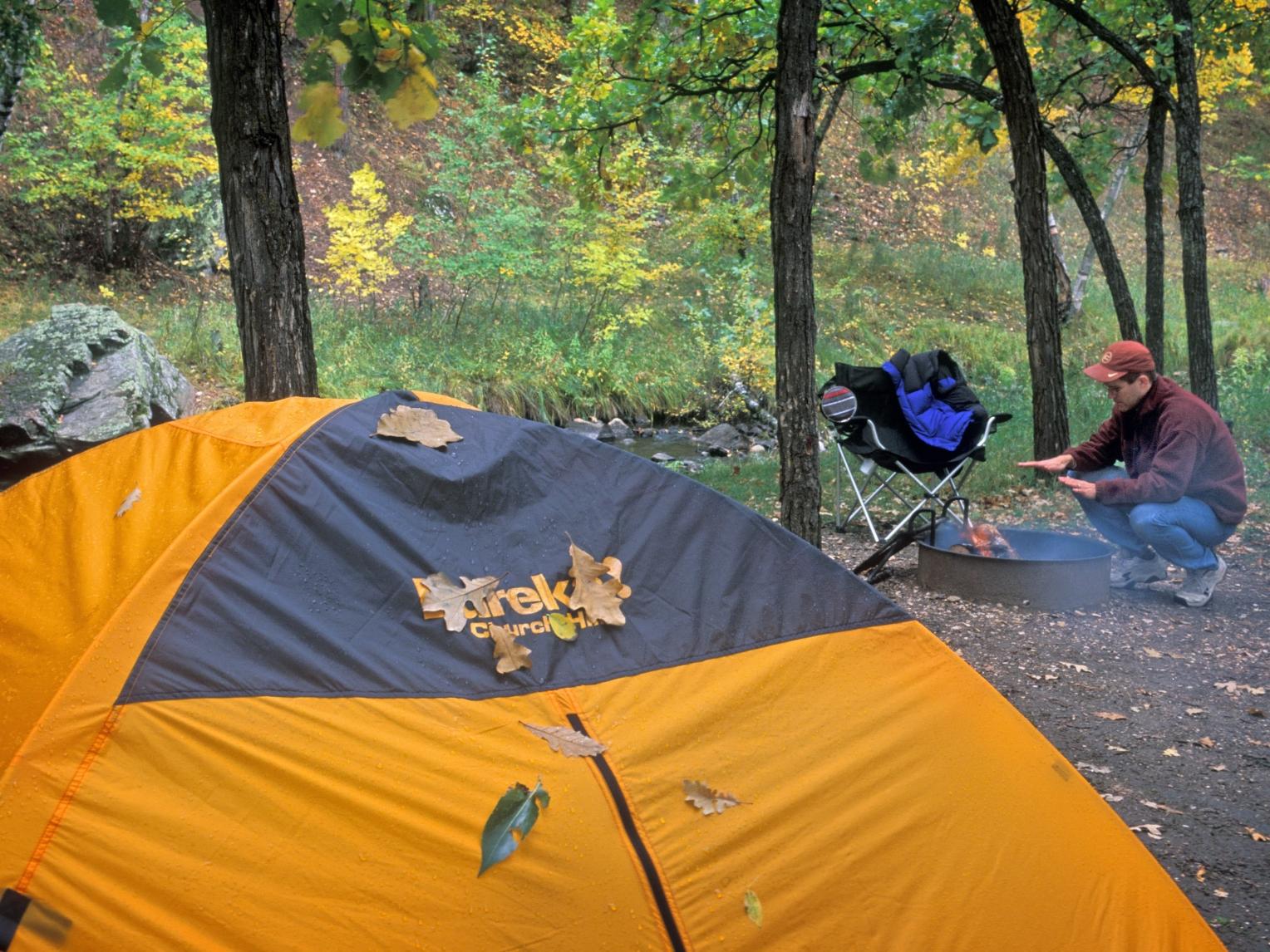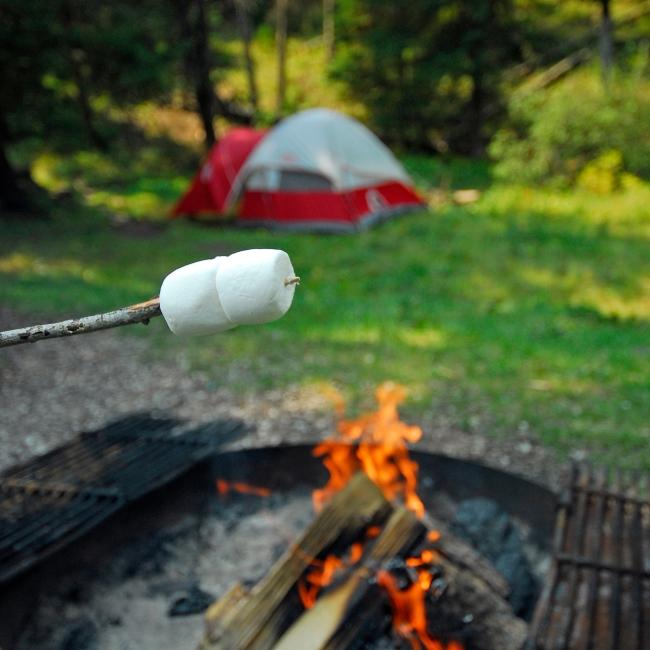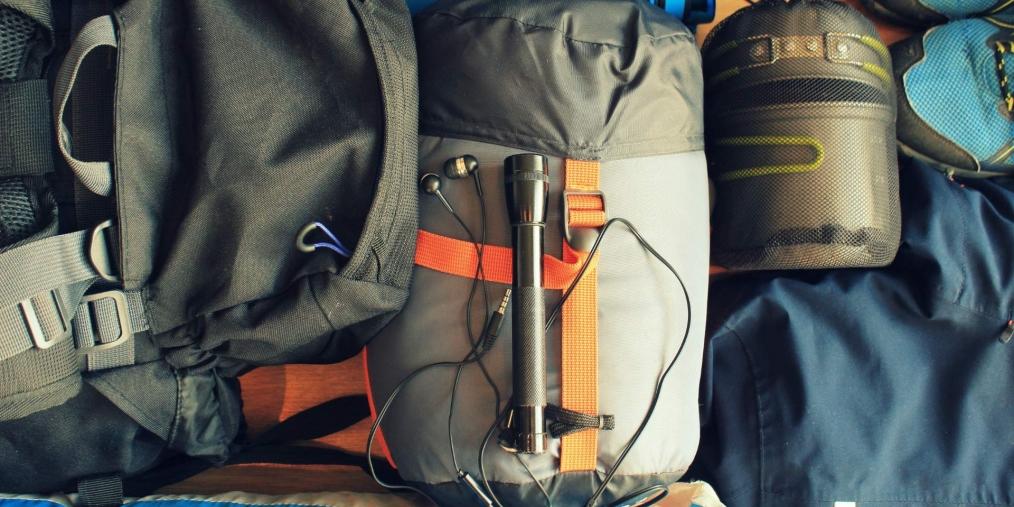 Hanna Campground
Black Hills National Forest
Get well off the beaten path at Hanna Campground. Located two miles south of Cheyenne Crossing, setting up at one of these 13 primitive sites makes camping a true getaway. Show up, put $7 in the box, and enjoy a remote experience. There are two outhouses, but no running water, so pack accordingly. Bonus: The campground is near a convent, so there's a chance you might see nuns zipping by on 4-wheelers.
Pactola Reservoir Campground
Black Hills
Not many places can offer the chance to camp along the shores of an underwater town, but this Black Hills lake is different. It's beautiful, offering some of the best swimming and fishing in the state, and also contains an abandoned town that scuba divers can still explore to this day. You can rent scuba gear in nearby Rapid City, so the exploration possibilities are up to you. No matter what, your day will end with lake views from a sweet campground.