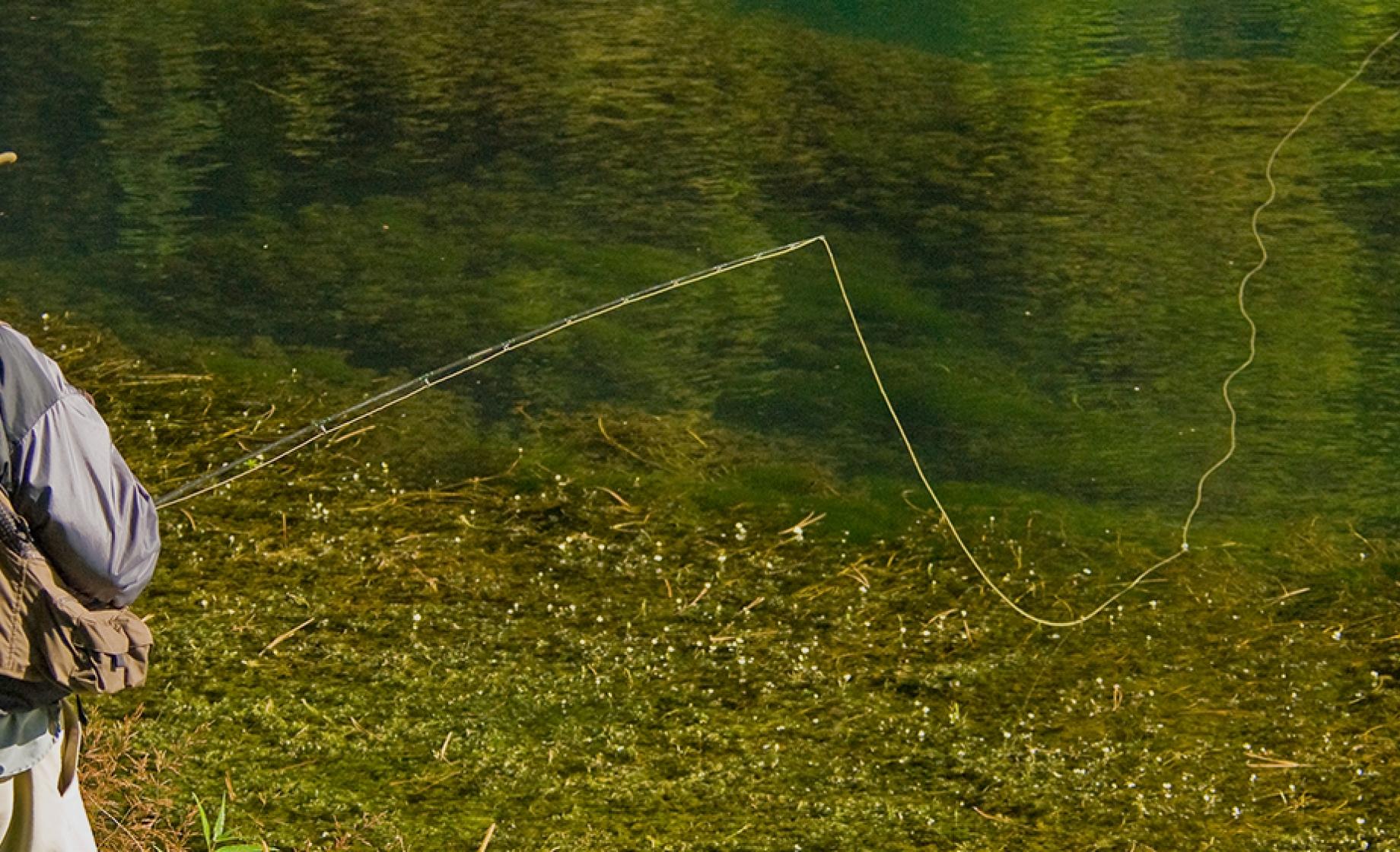 Black Hills, Badlands and Lakes Region
Comprising nearly a third of the state, this region features the famous Black Hills. Named by the Lakota, the mountainous Black Hills extend 100 miles, are 50 miles wide, and reach heights of more than 7,000 feet.
Within the Black Hills are 14 mountain lakes and more than 400 miles of meandering streams containing brook, brown and rainbow trout. On the surrounding prairie, reservoirs and ranch stock dams also provide angling fun. More than 50,000 stock dams, brimming with largemouth bass, northern pike and a variety of panfish, dot the western half of the state. Since many are found on private land, permission is needed before fishing. 
Fishing Techniques
Rainbow Trout
For the Black Hills angler, trout is the main quarry and are found in two primary habitats: small streams and mountain lakes. Rainbow trout are the most abundant and can be found throughout the Black Hills. Most waters are regularly stocked, but in about half of the streams, quality habitat has allowed wild trout to thrive. Refer to the Fishing Handbook for these management areas.
A slow and stealthy approach is needed for fishing small stream trout. Keeping a low profile and using brush and boulders to conceal your approach assists in success. A life-like presentation is also key when fishing for these wild Black Hills trout. Local fly fishing shops and country stores can be helpful to determine which flies and baits are working during a particular season.
Ice Fishing
Ice fishing has become very popular in western South Dakota in recent years. The amazing scenery, abundant wildlife and fantastic fishing have fisherman flocking to western South Dakota during the winter months. Unlike other popular game fish like perch, which are often found directly on the bottom of a lake, or bluegills, which can be found suspended over cover in shallow water, trout are scavengers and can be found at a variety of depths. Even when fishing in 25 feet of water, there may be trout swimming just a few feet below the ice. In order to increase your chances of catching fish, put out multiple rods at varying depths.
Small jigs, ice flies and jigging spoons tipped with wax/meal worms are the most commonly used baits while ice fishing in the Black Hills. Night crawlers are also popular, but keep in mind that trout are more prone to swallowing night crawlers whole, making them difficult to release. If you practice catch and release, do not use night crawlers.
More Information and Tips
Black Hills Map and Chart (PDF - from Tourism Fishing & Hunting Guide)
Western South Dakota Lake and Stream Survey Summaries (GFP)
View and Order Maps of South Dakota Lakes (GFP)
Fly Fishing: Elk hair caddis, adams, blue wing olive, hare's ear nymph, flashback scud nymph in sizes 16-20 or streamers in sizes 4-10
Spin Casting: Small spinners, crankbaits, spoons and plugs
Bait Fishing: Salmon eggs, marshmallows, night crawlers, corn and grasshoppers (in season)
Most Fished Species: Brown trout, brook trout, rainbow trout, and largemouth bass
Popular Waters: Deerfield Reservoir, Sylvan Lake, Pactola Reservoir, Stockade Lake, Sheridan Lake, Rapid Creek, French Creek, Spearfish Creek, Spring Creek, and Castle Creek  
SEE WHAT OTHERS ARE CATCHING IN SOUTH DAKOTA
START PLANNING YOUR NEXT TRIP TO SOUTH DAKOTA