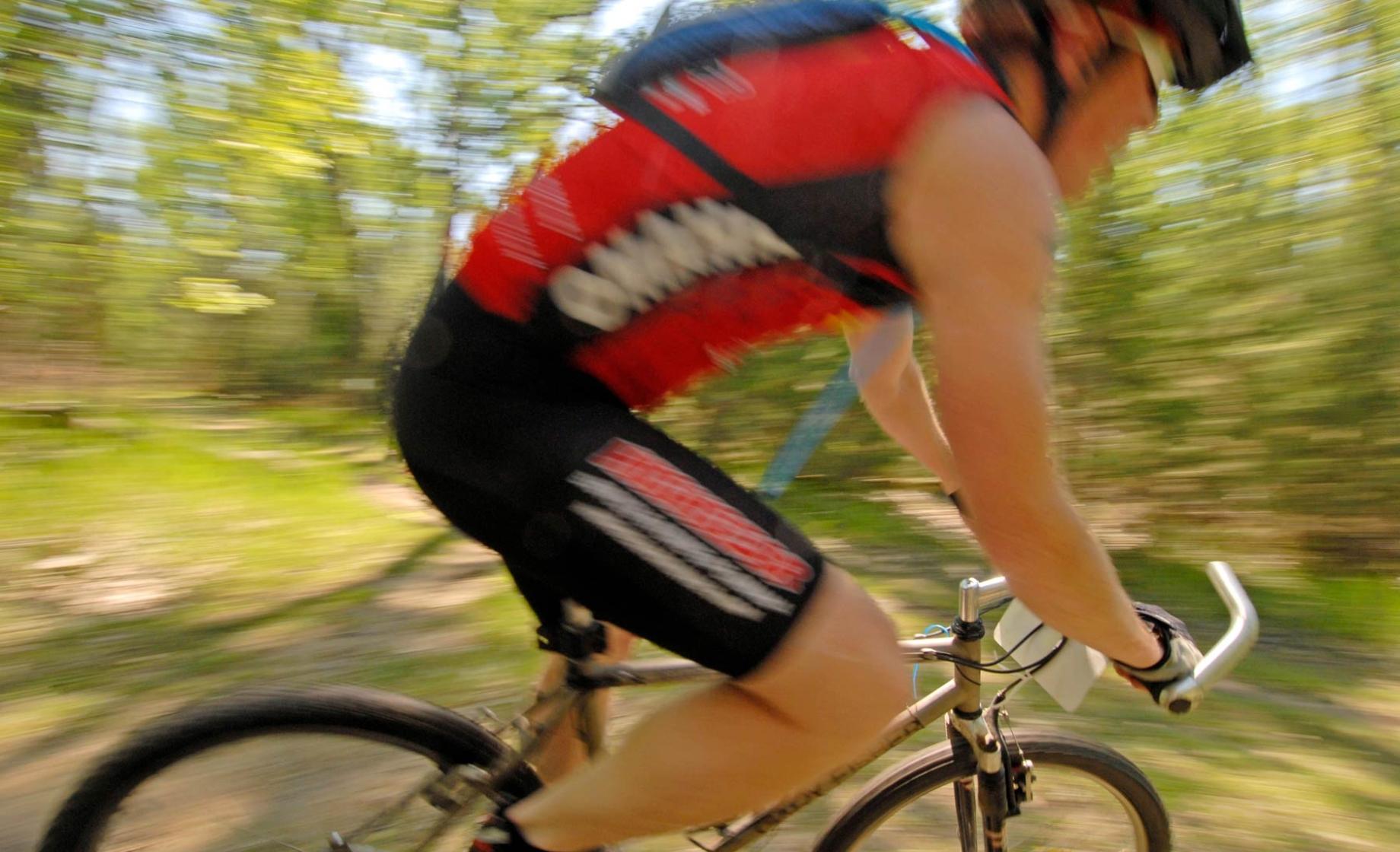 From easy to brutal, there are plenty of unique events where you can get your pedal on
Ready to take your pedaling to the next level? Ranging from relaxed to intense, these biking/cycling events in South Dakota offer perfect opportunities to combine exploration with accomplishment.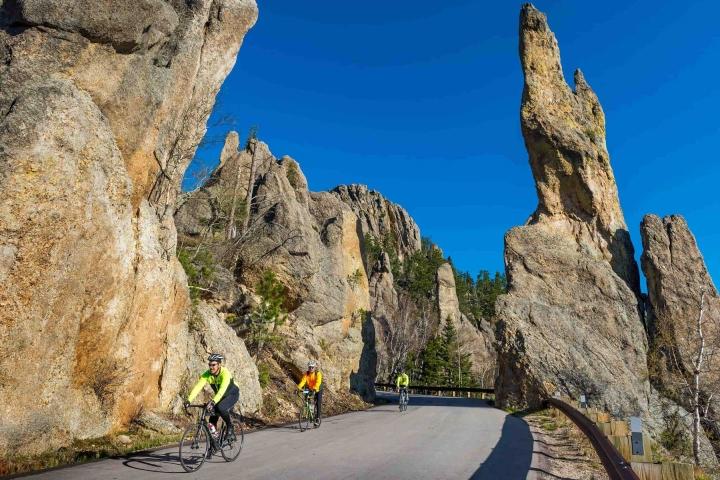 RASDak
The Ride Across South Dakota (RASDak) is one of the biggest cycling events in South Dakota. Routes can change from year to year, but the spirit of the event – "The Best Way to Experience South Dakota" – remains. Rest stops and meals are provided by local organizations along the way, making this ride a healthy and beautiful way to become better acquainted with both South Dakota and its people. Bonus: The route varies every year, so repeat rides introduce you to new sights and people every year.
TIME TO RIDE: Six days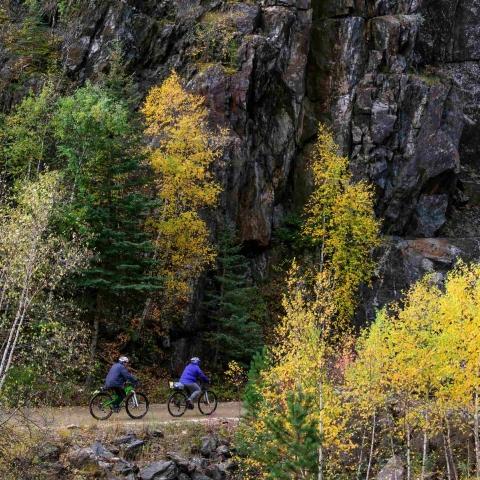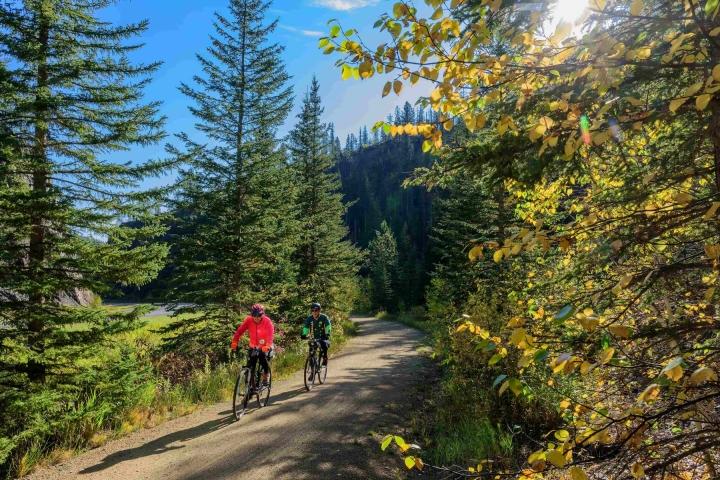 Mickelson Trail Trek (Custer/Deadwood)
South Dakota's premier bike trail will take you through the heart of the Black Hills, including scenic valleys, old railroad tunnels, historic mining towns, and plenty of open country. Registration includes a trail pass, shuttle service, refreshments, six snacks, three meals, and a voucher for dinner in Hill City or Custer. 
DATE: Third weekend in September
LENGTH: 109 miles
TIME TO RIDE: 3 days
DIFFICULTY: Mostly moderate, but parts of the trail are considered strenuous.
ROAD CHARACTERISTICS: Primarily crushed limestone and gravel
TOWNS ON ROUTE: Custer, Rochford, Edgemont, Lead and Deadwood
ACCOMMODATIONS: Choose from your choice of lodging in Custer, Deadwood and many surrounding communities
Tour de Corn (Mitchell)
Fun and cycling are the names of the game for the Tour de Corn. Named after the World's Only Corn Palace in Mitchell (the host city), this tour allows you to pick from four route lengths (15, 35, 62 and 100 miles) that all take you around Lake Mitchell and through the open prairie of central South Dakota. 
LENGTH: Up to 100 miles
TIME TO RIDE: The main ride takes up to one day, but the Tour De Corn is three days of bicycle events that include pump track competition and a moonlight ride.
DIFFICULTY: Varies
ROAD CHARACTERISTICS: Mostly flat on well-marked rural highways
TOWNS ON ROUTE: Mitchell and Letcher
CAMPING: RV and tent sites available at Lake Mitchell Campground in Mitchell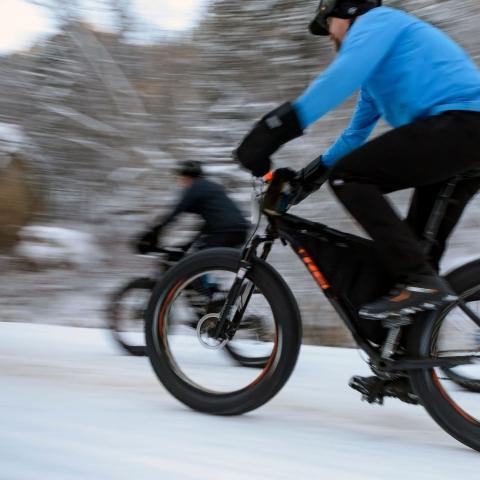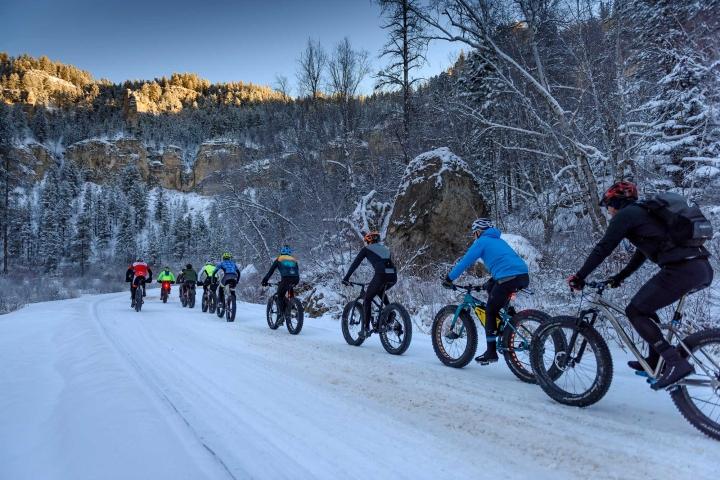 28 Below Fat Tire (Spearfish area)
Celebrate the last week of winter with the Black Hills' premier fat bike race/ride/tour. The only race in the Black Hills permitted to take place on groomed snowmobile trail, this ride is best for experienced fatbikers. It's also mighty rewarding, taking you to the Cement Ridge Fire Lookout and through Black Hills forest that's particularly beautiful in the winter.
LENGTH: 31 miles
TIME TO RIDE: 1 day
DIFFICULTY: Intense, with elevation ranging from 5,026 to 6,463 feet.
ROAD CHARACTERISTICS: Groomed snowmobile trails likely to have snow on them
ACCOMMODATIONS: You start and end your race at Spearfish Canyon Lodge, which offers a reduced rate for all race participants.
MAP: Click here
Gold Rush Gravel Grinder (Spearfish)
Race options include the Fools Gold (45 miles), Gold Dust (70 miles), Gold Rush (110 miles) and the punishing Motherlode (210 miles). Participants ride no matter what the weather, a small price to pay for the gorgeous views of Spearfish Canyon and other Black Hills scenery.
LENGTH: Varies from 45-210 miles
TIME TO RIDE: Races start between 6:30 and 7 a.m. The awards ceremony starts at 4 p.m.
DIFFICULTY: That's up to you. Elevation ranges from 4,000 to nearly 7,000 feet, depending on which race you choose.
ROAD CHARACTERISTICS: Mostly dirt or gravel with some pavement scattered in
CAMPING: Spearfish has a variety of lodging options, but Best Western offers special rates to riders.
MAP: MORE INFO>>>
Winter's Fat Classic (Deadwood)
A rare night race, this annual fat bike winter race begins on Deadwood's storied Main Street – don't be surprised if Wild Bill, Calamity Jane and others show up before kickoff – and takes place entirely on the Mickelson Trail system. Riders in any of the eight divisions can race either 15 or 24 miles and should be prepared for a chilly and exhilarating ride complete with two hot chocolate "aid" stations along the way.
LENGTH: 15 or 25 miles
TIME TO RIDE: Four hours or less
DIFFICULTY: Expect winter riding conditions including snow
ACCOMMODATIONS: You have plenty of options in both Deadwood and Lead, but the Comfort Inn & Suites in Deadwood offers discounts to riders.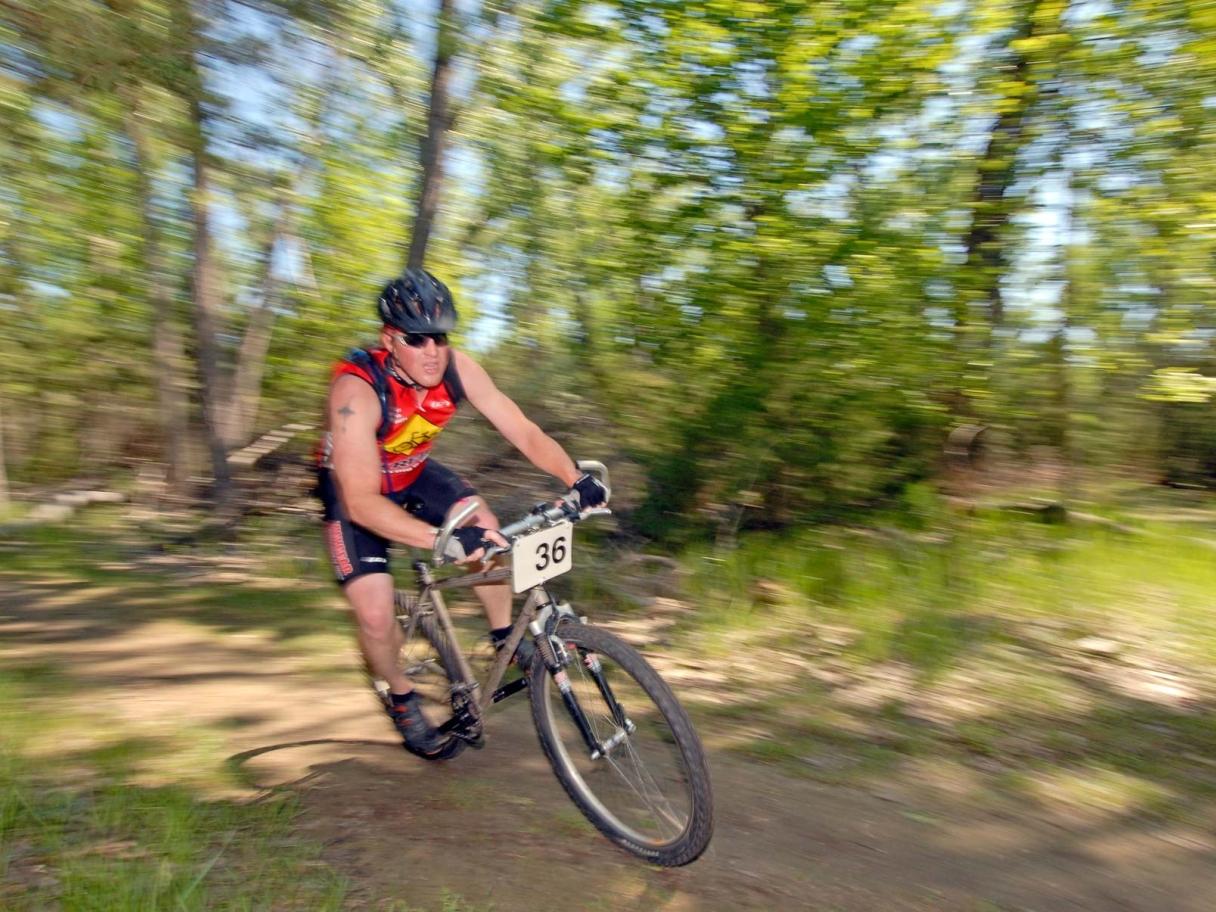 LaFramboise Island Bike Race (Pierre)
Choose from nine different race lengths as you knock out laps on your mountain bike on the LaFramboise Island Nature Area's trail system near Pierre. With views that include the Missouri River, you won't tire of the area's peaceful and pretty scenery.
LENGTH: The trail is seven miles total, but laps are a part of the race.
DIFFICULTY: Easy
ROAD CHARACTERISTICS: Gravel/dirt/sand
TOWNS ON ROUTE: The island is between Pierre and Fort Pierre.
ACCOMMODATIONS: Camping and hotels are available in both Pierre and Fort Pierre.
Black Hills SUPER 6 (Spearfish)
Anyone from beginners to advanced riders can participate in this race on Big Hill Trails in Spearfish. Complete as many laps as possible during either of the time periods (3 or 6 hours) individually or as part of a team. 
LENGTH: Pick from either a 3 or 6-mile loop
TIME TO RIDE: Get as many laps as you can in either the 3 or 6-hour duration.
DIFFICULTY: Depends on how many laps you'd like to knock out
ROAD CHARACTERISTICS: Groomed single and double-track 
ACCOMMODATIONS: Spearfish has plenty of options, but the Spearfish Holiday Inn offers a special rate for racers.
Black Hills Expedition (Spearfish)
"You are on your own. Enjoy it." That's the motto for the Black Hills Expedition, a 460-mile bikepacking race through the Black Hills of South Dakota and Wyoming. No registration. No entry fee. No support. Organizers provide a route description, a GPX file, and a suggested start time. You're on a self-supported, self-timed journey designed to reveal the most glorious feelings of accomplishment. 
LENGTH: 460 miles
TIME TO RIDE: That's up to you.
DIFFICULTY: This one is a beast, but we believe in you.
ROAD CHARACTERISTICS: Most of it is Black Hills singletrack, but expect some blacktop, gravel, and grass-covered fields along the way. There are also more than 50 stream crossings.
ACCOMMODATIONS: Spearfish has plenty of options. Wherever you finally rest your head, expect a very good sleep.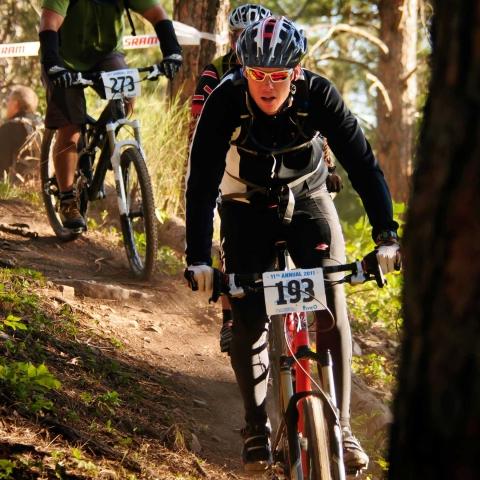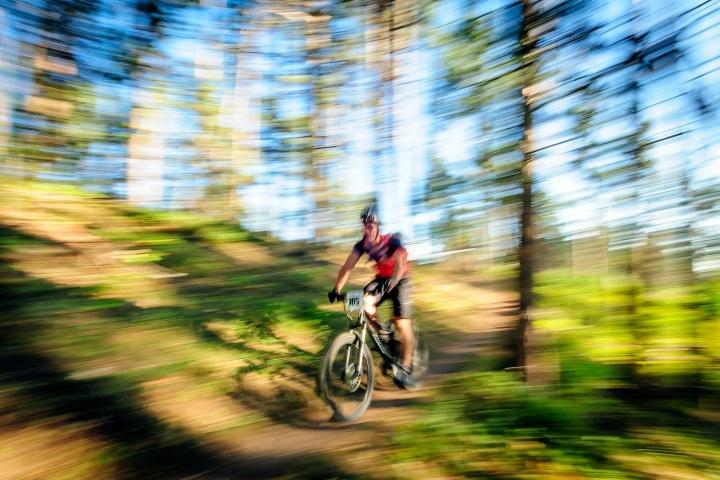 Dakota Five-O (Spearfish)
Pedal this annual mountain bike race correctly and there could be prize money waiting for you at the end. Unleash your competitive side through 50 miles of beautiful northern Black Hills country. Riders come from across the country to tear through this race held every September. The beer-and-bacon station along the way doesn't hurt attendance or morale.
LENGTH: 50 miles
TIME TO RIDE: 1 day
DIFFICULTY: Intense, thanks to long climbs and choppy descents. Elevation gets over 6,000 feet in parts. 
TRAIL CHARACTERISTICS: Groomed dirt 
TOWNS ON ROUTE: The race starts and finishes in Spearfish.
ACCOMMODATIONS: With a population of 12,000, Spearfish offers a variety of lodging options. 
Wheelin' To Wall (Wall)
If you want a great (and flexible) ride that takes you through Badlands National Park, this one is for you. Choose from one of four options: Thirty Something (31 miles), Short Course (35 miles), Full Forty (38 miles), and Long Course (68 miles). Bonus: This event raises funds to improve the infrastructure and safety for walking & biking in the Wall-Badlands area.
LENGTH: Options range from 31 and 38 miles (paved) to 35 and 58 miles (gravel). Click here for full descriptions.
TIME TO RIDE: 2-6 hours
DIFFICULTY: Varies depending on route chosen
ROAD CHARACTERISTICS: Paved or gravel
TOWNS ON ROUTE: Wall
CAMPING: If you don't want to leave the Badlands after the ride, you can camp at Cedar Pass Campground (96 paid sites) or Sage Creek Campground (22 free first-come, first-served sites). Backcountry camping is also available across the entire park. 
Trans South Dakota
If pushing things to the limit is what you're looking for, welcome to Trans South Dakota. The 740-mile event starts on the 3rd Saturday of July in Wyoming and ends in Iowa, taking you across the entire state of South Dakota. Does that include the Missouri River? You bet, but the bridge isn't an option. Instead, you'll packraft you (and your bike) five miles down the Missouri River before hopping back on your bike to pedal across eastern South Dakota. The course changes every year, but only registered racers can see the route, since it includes access to private land given only on the day of the race. There are also shorter versions available: the Lakota Race (Beulah, WY, to Pierre, SD/ 340 miles) and Prospector Race (Beulah, WY, to Lead, SD/ 60 miles).
LENGTH: 696 miles of South Dakota, 740 miles total
TIME TO RIDE: One day. Believe and achieve.
DIFFICULTY: Intense. You're covering the entire state, and elevation ranges from 6,155 feet on the western side of the state to 1,200 feet in the east. 
ROAD CHARACTERISTICS: Mostly dirt with occasional water (especially the Missouri River part)
TOWNS ON ROUTE: Iron Lake, Central City, Lead, Rochford, Hill City, Hermosa, Wall, Philip, Fort Pierre, Blunt, Wessington Springs, Letcher, Mitchell, Ethan, Menno, Viborg, Centerville, Beresford, Jefferson and North Sioux City, Iowa
CAMPING: There are campsites and motels planned for the entire route. For specific info, head here.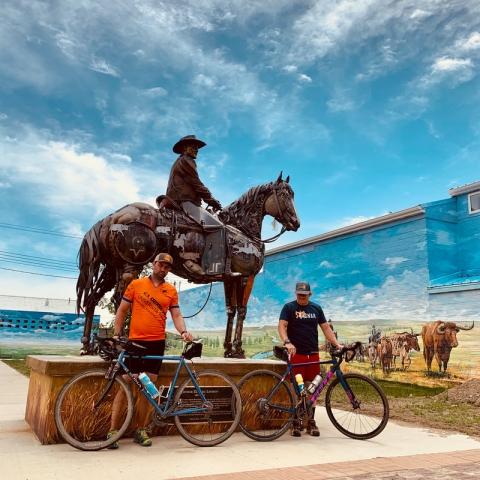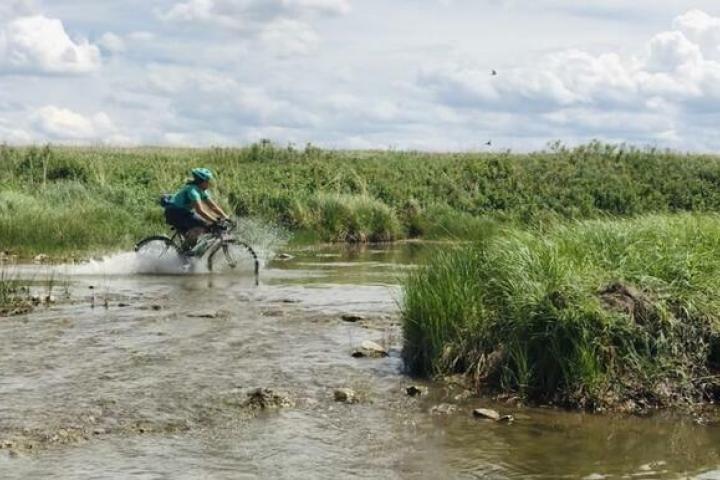 T.W.O. (Thunderhawk Wide Open) (Lemmon)
Starting on the northern edge of the state in Lemmon, any of this race's three routes will take you through scenic beauty of both South and North Dakota. Keep it simple with the 25-mile route or choose the 50-mile or 115-mile route. Both of the latter will take you through the Standing Rock Reservation. All three rides finish at the Kokomo Gallery, the studio and display area of legendary artist John Lopez. Sip a complimentary beer, relax, and enjoy some local food and music after a ride well done. Hitting this race just once might leave you T.W.O. for life. 
LENGTH: 25, 50, or 115 miles
TIME TO RIDE: One day
DIFFICULTY: Varies based on course
ROAD CHARACTERISTICS: Gravel and rolling hills
TOWNS ON ROUTE: Lemmon
CAMPING: Shadehill Recreation Area is 12 miles from Lemmon and features 85 campsites and 7 camping cabins.
SEE WHAT ADVENTURES OTHER RIDERS HAVE DISCOVERED AND ARE WAITING FOR YOU
Start Planning Your Next Trip to South Dakota