I absolutely love to hike. It doesn't matter what time of year or how cold the temperature may be — I find hiking to be very therapeutic and one of the simplest ways to get the benefits of nature.
During the summer months, our family spends a lot of time in the Yankton area, specifically the Lewis & Clark Recreation Area. We absolutely love this community and all it has to offer.  So naturally, I've spent some time finding a few hiking spots that are within a short drive from Yankton. For different reasons I'll share, this list includes my top 4 favorite hikes. There is sure to be something for everyone!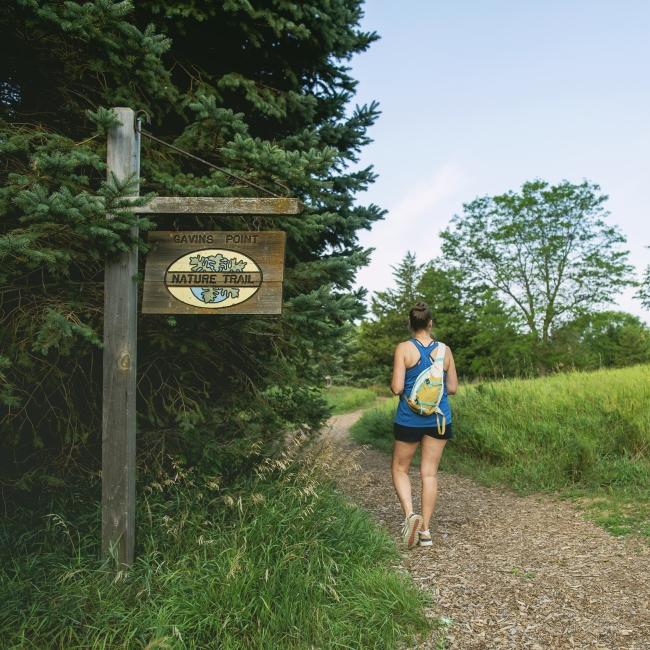 1. Gavins Point Nature Trail
Length: 1.2 Miles
Type: Loop
Travel Time from Yankton: ~13 minutes
The Gavins Point Nature Trail is one of my favorite hiking locations due to how easy the path is to navigate, making it great for families with kids of all ages. Its proximity to the Lewis & Clark State Recreation Area makes this trail a popular one. The woodchip-covered path includes 2 different lookout points and bridges, benches for resting, and loads of tree cover to shade you from those hot summer days! Along the trail you will get glimpses of the lake, a stream, and various wildlife, including a beaver if you are lucky (or a glimpse of the beaver's work, if nothing else).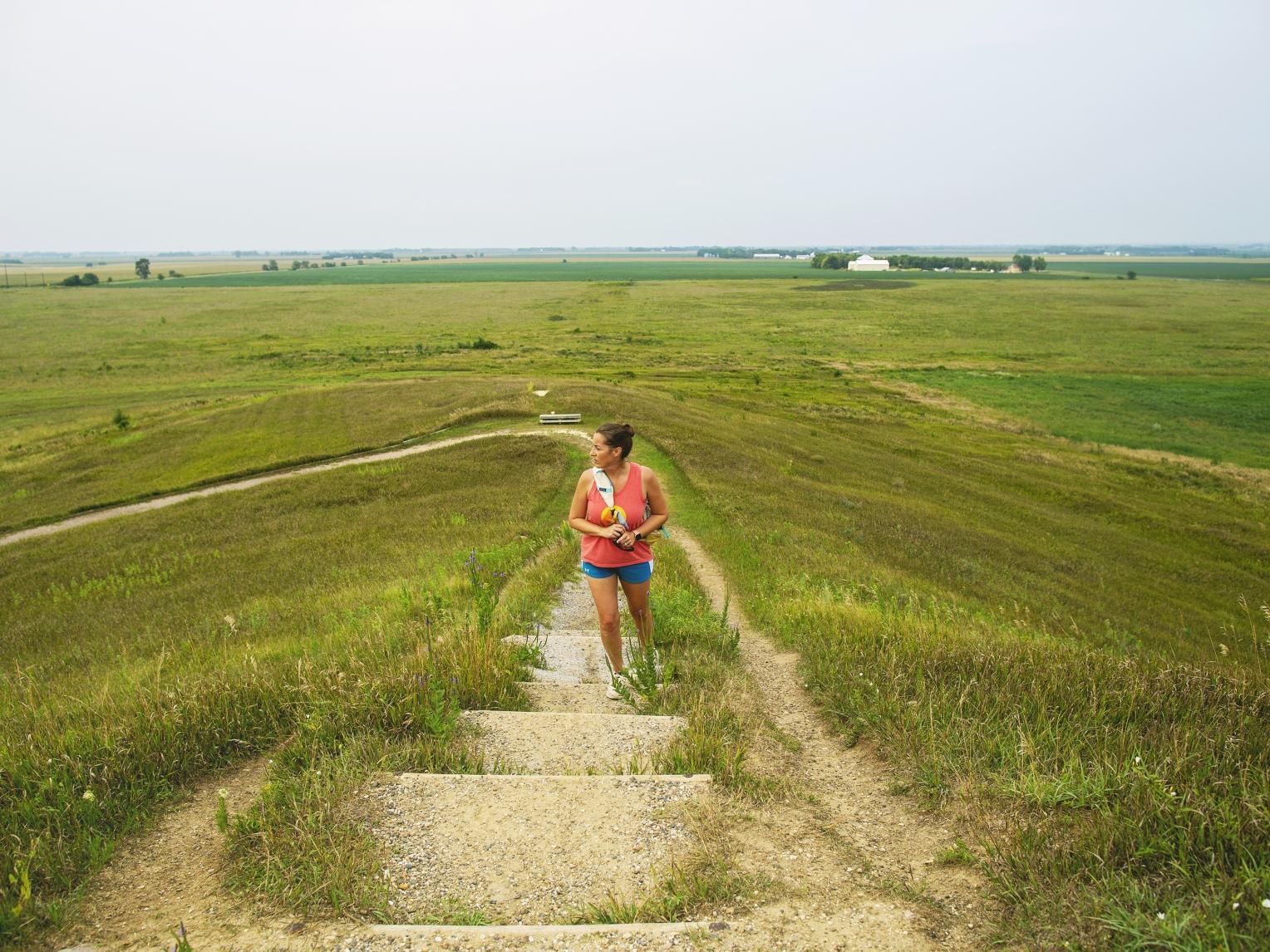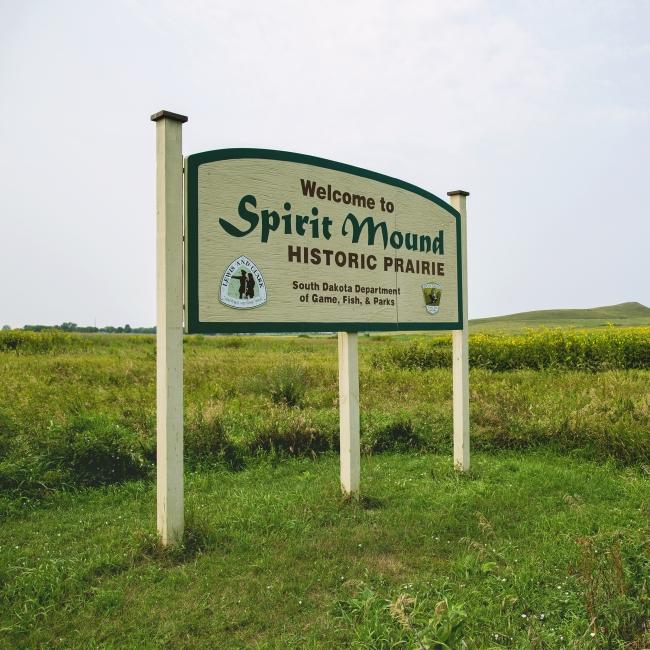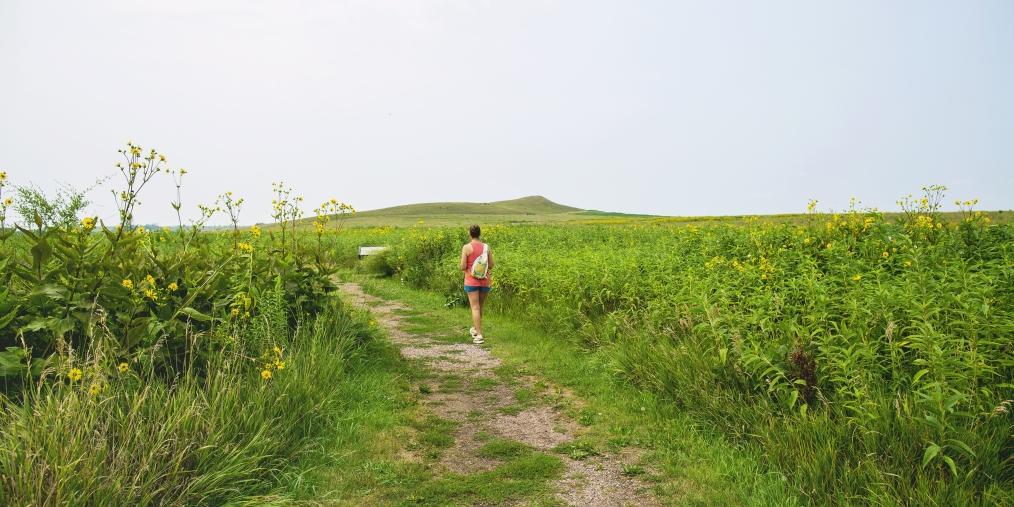 2. Spirit Mound Historic Prairie
Length: 1.5 Miles
Type: Out-and-Back
Travel Time from Yankton: ~29 minutes
The Spirit Mound Historic Prairie Trail was selected due to its spiritual and historic significance. The first third of the trail is a flat prairie land with many different native grasses and flowers. During the summer months these plants can become taller than me, making it feel as if you are walking through a nature tunnel! The trail includes information markers that give insight into the history of Spirit Mound.
Once you make it through the grassland portion, you begin the spiral ascent up the mound. Along this path you will find benches for resting if necessary. (There is absolutely no shade found along this trail, so plan accordingly.) The last climb includes makeshift stairs, although I found the trail beside the stairs to be a bit easier to navigate. Once you reach the top, you are able to see all the way to the Big Sioux River on one side and the James River on the other (on clear days)! It is quite a view of the prairie and a connection to the experiences that still take place on this sacred land today.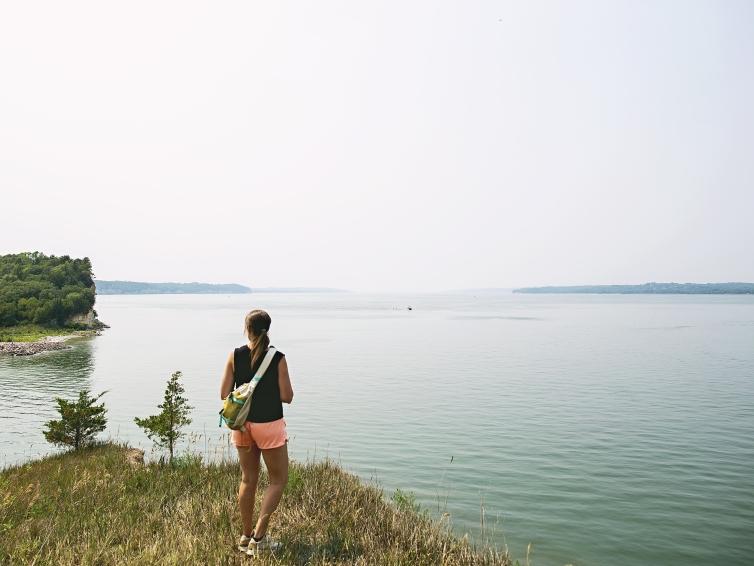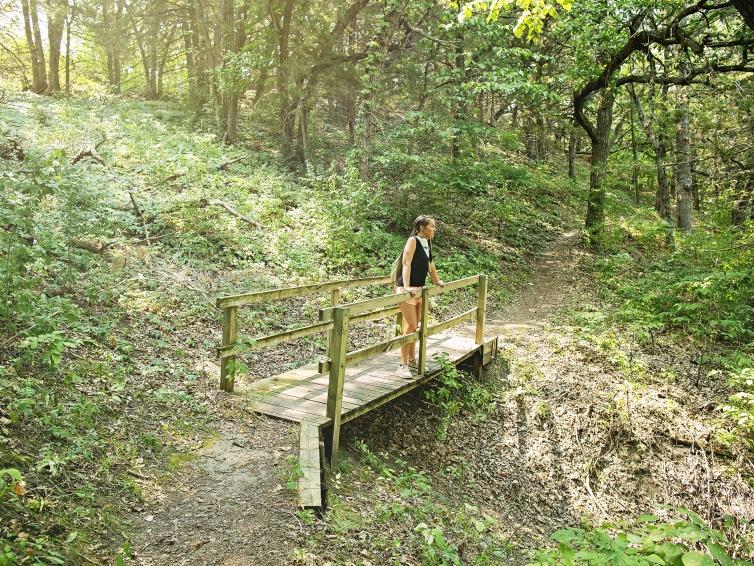 3. Calumet Bluff Trail
Length: 1.75 Miles
Type: Out-and-Back
Travel Time from Yankton: ~10 minutes
The Calumet Bluff Trail is located on the Nebraska side of Lewis & Clark Lake. I decided to include this trail because it is just on the other side of the dam and doesn't require a Nebraska State Park Pass, making it easily accessible from Yankton, SD. The parking area is unassuming, but don't let that fool you! This lightly trafficked trail begins with a descent down stairs onto the forest floor. The Calumet Bluff Trail includes a few steep inclines and descents with plenty of flat runs between to get your heart rate back to normal. This makes it a great trail for families with older kids! This trail is in the woods right next to a golf course, but you would never know that until the end. (With that in mind, keeping your eyes focused will likely lead to discovering a few stray golf balls along the hike!) 
After winding through the trees, you will reach the summit that opens up with the golf course on your left. Continue to proceed forward to stand on the bluff overlooking Lewis & Clark Lake! Be sure to keep an eye on any younger children, as the bluff overlook does not offer any railing protection. If you are lucky, you'll see sailboat races happening right on the lake in front of you!
4. Chalk Bluffs Multi-Use Trail
Length: ~6 Miles
Type: Loop
Travel Time from Yankton: ~14 minutes
Chalk Bluffs Multi-Use Trail starts right next to the equestrian campsites in the Lewis & Clark State Recreation Area. The majority of this trail is made up of multiple steep inclines and declines, with very few portions of the trail remaining flat for any great length. The trail is mostly made of dirt and sand, which adds to the difficulty of the trail at times. There is plenty of shade and breeze that make the hill climbs a bit more bearable. Approximately half of the trail follows along the bluff, offering incredible views of the lake as you hike. There is even a point where the trail opens up and you can walk down to the lakeshore for a break!
One of the unique things about this trail are the many detours you could take to change the direction and length of your hike if desired. This feature allows you to create a new adventure each time you hike the Chalk Bluffs Trail! If you'd like to see more about this hike, you can head over to my YouTube channel for a video of my time on this trail!
DISCOVER WHAT OTHER VISITORS LOVE ABOUT YANKTON
Start Planning Your Next Trip to South Dakota