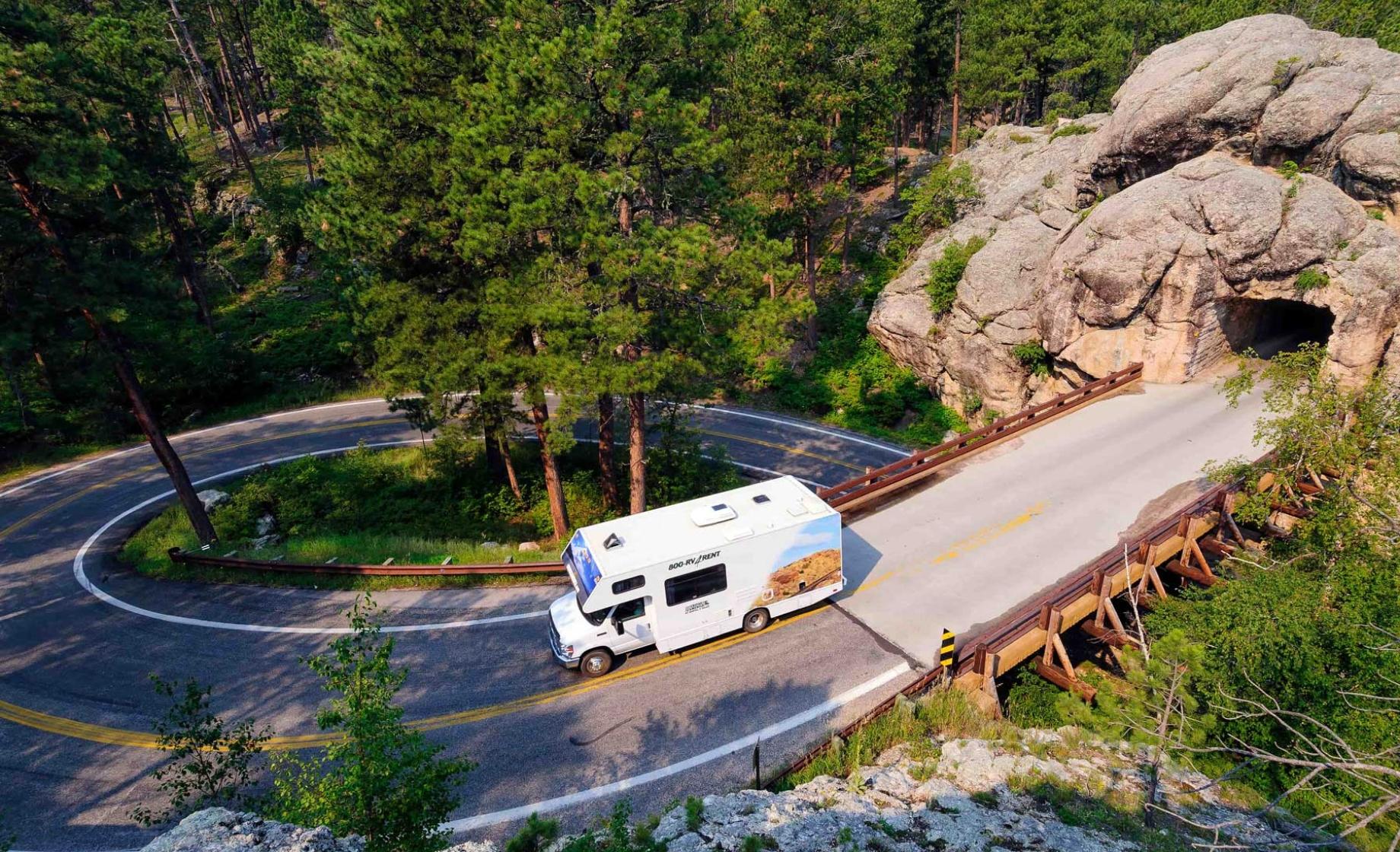 Enjoy these and other Black Hills spots as you travel in the comfort of your RV
Mount Rushmore National Memorial
It should be no surprise that the iconic faces of Washington, Jefferson, Roosevelt, and Lincoln made this list. These 60-foot-faces of Mount Rushmore are recognized internationally and should definitely be a stop as you cruise the Black Hills in your RV.
Entry fee: Entrance is free, but parking for RVs is $10 per vehicle, $5 for seniors 62 and older, or free for active duty military. For more info, click here.
Best nearby RV sites: Top sites include Mount Rushmore Resort at Palmer Gulch KOA and Rafter J Bar Ranch.
Crazy Horse Memorial
Less than 20 miles away from Mount Rushmore is Crazy Horse Memorial, the largest in-progress mountain carving. See the completed 87-foot face of this legendary Lakota warrior, and explore the many cultural offerings on the memorial's campus, including the Indian Museum of North American, the Laughing Water Restaurant, and the Native American Educational & Cultural Center.
Entry fee: Admission to Crazy Horse Memorial varies by time of visit and is $30 or $35 per car (with more than 2 people), $12 or $15 per person, and $7 or $10 per person on motorcycle, bicycle, or foot. Group rates are available. Click here for more info.
Best nearby RV sites: Top sites include Mount Rushmore Resort at Palmer Gulch KOA and Rafter J Bar Ranch.
Custer State Park
Also located in the Black Hills National Forest, this 71,000-acre park is the crown jewel of South Dakota. Enjoy a number of hikes, including one to Black Elk Peak (the highest point between the Colorado's Rocky Mountains and the Pyrenees Mountains in France) and stroll around one of the park's five lakes. 
Entry fee: An annual park license is $36. This covers entrance into all state parks, recreation areas, and lakeside use areas. You can purchase one online here.
Best nearby RV sites: Custer State Park contains 10 campgrounds that offer something for everyone. Click here for more info.
Wall Drug/Badlands
Can you explore western South Dakota without "digging" Wall Drug? It's possible, but why would you want to? This legendary stop covers a city block. Inside, you can explore numerous shops or dine on the restaurant's legendary donuts and hot beef sandwiches amidst a multi-million dollar collection of western art work. Don't miss the Wall Drug Backyard, where millions come every year to take their picture on top of a mythical jackalope.
Only a few miles from Wall, SD, is the entrance to Badlands National Park. Home to otherworldly spires, peaks, and colorful walls, this park's 244,000 acres offer a seemingly unlimited number of places to pull over and wander. If enjoying the comfort of your RV is top priority, you can spend a leisurely hour cruising the Badlands Loop State Scenic Byway's 39 miles for memorable views and the chance to spot some of the park's wildlife, including pronghorn antelope, buffalo, and prairie dogs.
Entry fee: It's $30 for any private vehicle, and the pass is good for one week. An annual pass is $50. Click here for more info.
Best nearby RV sites: You can bask in the Badlands' spires and buttes from Cedar Pass Campground. Click here for other Badlands camping spots. Inside the city of Wall, you can also find plenty of options.
Hidden Gems
Driving your home around means you can go wherever you want! So, what's your pleasure? The crazy sculptures of Porter Sculpture Park? The site of Jesse James' legendary jump at Devil's Gulch? The home of South Dakota's only thatched roof? These and more are all ready to be explored. Fire up the RV and find your kind of magic in South Dakota.
Great places are waiting, so hop in your RV!
Start Planning Your Next Trip to South Dakota