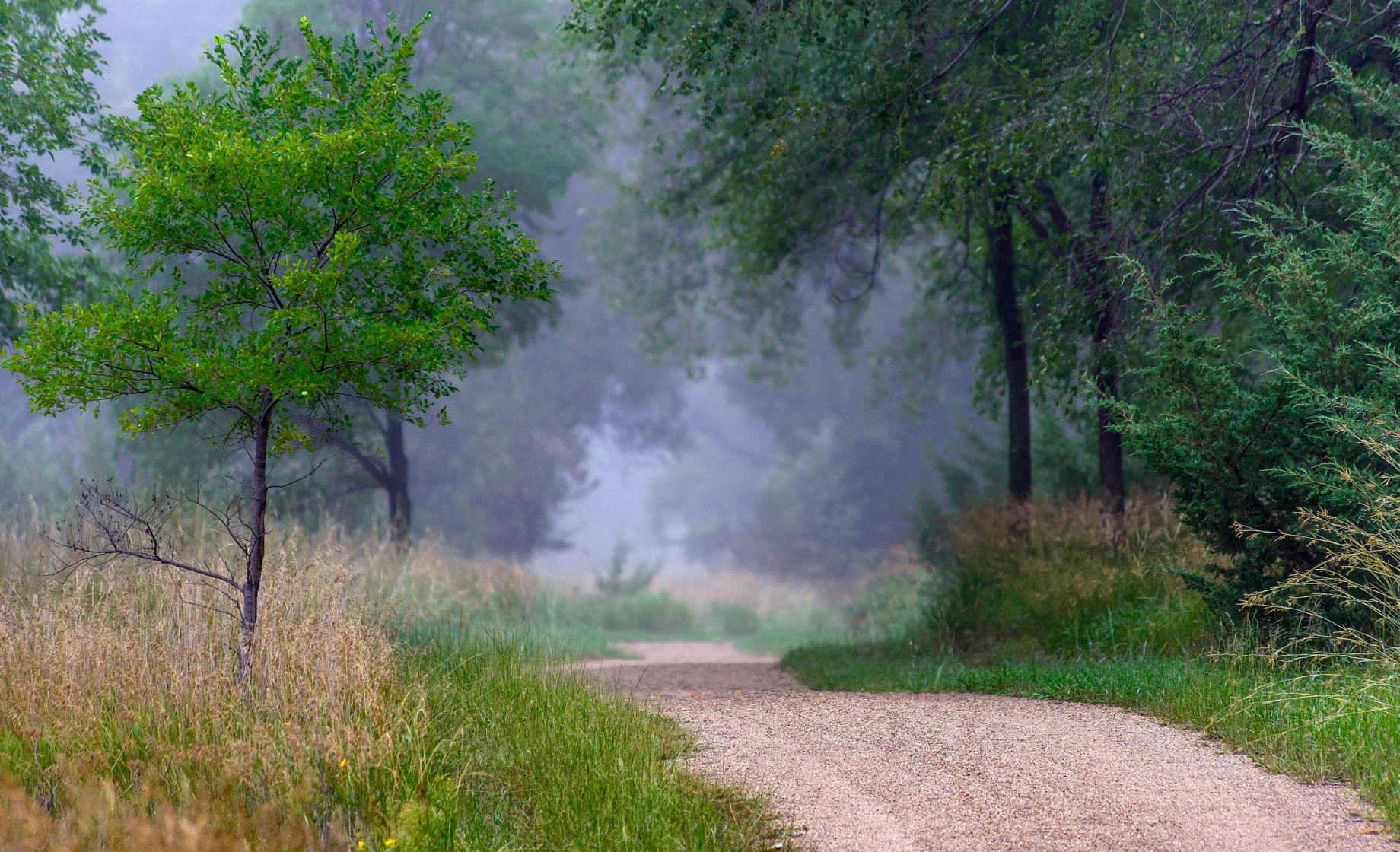 October might be the best. It's the perfect excuse for decorating the house, watching cheesy horror movies that make a significant other question your relationship and, of course, seeing South Dakota change colors. Sometimes it's fun to get outdoors and be a little scared. Here are 8 great ways to take your Halloween spirit on an outdoor adventure in South Dakota.
Absorb the mystery of Sica Hollow State Park (15 miles northwest of Sisseton)
Legend has it that the Native Americans named this area "Sica" (prounounced she-cha) which means "evil" or "bad" and probably "not a place we should hang out for very long." There are a few reasons why early visitors may have been on edge. Streams appear to be flowing "blood red" because of iron deposits, which led some to believe they were seeing the flesh and blood of their ancestors. The phosphorous in the rotting tree stumps allegedly made the wood appear to be glowing green. 
In recent years, visitors have reported hearing drums or war whoops, spotting distant campfires that can never be found, or seeing a bear/Bigfoot type creature or ghosts of Indian braves. The history and legends of Sica Hollow make it a must-camp space for those looking for intrigue and adventure. It's also an amazing place to experience fall colors. If you're looking for a South Dakota outdoors spot to get in the Halloween mood, there may be no better place.
Cost: A park pass ($8 per vehicle daily or $36 per vehicle annually)
Camping? Yes. A non-electrical campsite costs $18 per night.
Directions: From Sisseton, drive west on Highway 10/119th St. Turn right (north) on Sica Hollow Road/447th Ave. It'll curve to the left before you turn north on County Highway 10 and drive into Sica Hollow State Park.
Fish for a ghost at Pactola Reservoir in the Black Hills
The town of Pactola became Pactola Lake in the 1950s when the mining town was submerged in water. That makes it a ghost town, but one report says there is a ghost on the lake as well…and he likes to fish.
According to a story by Bob Willis in the Jan 20, 1984 issue of the Rapid City Journal, there was once a man who fished Rapid Creek almost every day. He went mad for reasons unknown (South Dakota winters aren't for the weak) and died one day after falling through the ice. His body was recovered in the spring and buried properly, but reports started coming in of the "mad Pactola fisherman" who was always fishing with a smile on his face. People spotted the ghost fishing for trout up and down Rapid Creek. He reportedly looked so lifelike that one might not even know he was a ghost, However, if he caught a fish, it mysteriously never had a hook mark in the lip.
Things got weirder. Fisherman started reporting that their ice fishing lines would be torn away before suddenly going limp. Also, people would report cracking on the lake "almost as if something or someone were down there trying to get out." Skeptics could easily dismiss the cracking and line pulls as part of ice fishing, but the legend says that if someone bores a hole in the ice that's large enough for a man to fit through, the cracking stops. When the hole freezes over, the cracking begins again as the "Pactola fisherman" starts trying to escape from under the ice.
Are the legends of the Pactola Fisherman true? There's only one way to find out.
Cost: $7 per vehicle/day or $25 for a standard Black Hills National Forest Annual Recreation Pass. Pick up your fishing license online here.
Camping?: Yes. Standard and RV non-electrical site rate is $28/daily.
Directions: Drive 15 miles west from Rapid City on Highway 44. Turn left/south on Highway 385 and travel 2 miles to the dam.
Take a tour of the "haunted" Fort Sisseton
The site of this 1864 fort was chosen because of its location, ample supply of lime and clay (for making bricks), abundant drinking water, and a thick stand of trees used for timber and fuel. While the fort was decommissioned in 1889 and designated as a state historical park in 1959, previous occupants still hang around, if some reports are to be believed.
Some visitors have heard footsteps behind locked doors where no human can be found. Others report feeling watched or followed. Mysterious lights are the most commonly reported phenomena at Fort Sisseton, but others have had specific encounters with specters. While working alone in the fort late one night, a worker spotted a woman—known around the area as the "Lady in White"—walking from window to window in the old officers' quarters. Another visitor to the quarters swears she had a physical encounter with a ghostly spirit. Meanwhile on the grounds, the spirit of a little boy has been known to appear for children in an attempt to play. He also will show up to escort guests around during late-night strolls.
Travelers can try for their own supernatural experience during a visit, but things get especially spooky during October's Haunted Fort events and Lantern Tour. Keep reading for more information…IF YOU DARE.
Hours: The park is open year-round, but showers, flush toilets, and other water systems may be closed between Oct. 1 and April 30. (Vault toilets usually remain year-round.) A visitor center with interpretive displays and gift shop is open daily from Open House Weekend (May) through September. Guided tours are available. To schedule one, call 605-448-5474 or email [email protected].
Cost: A state park pass ($8 per vehicle daily or $36 per vehicle annually) is the only thing required for entry. Some special events do charge admission to raise funds for building restoration. Check our Events page or the Fort Sisseton page for specific event information.
Camping: Electrical campsites are $26/night, non-electrical sites are $22/night, and cabins are $55/night. To make an online reservation, click here.
Directions: Take Highway 10 west from Lake City for approximately 6 miles. Turn left/south on 434th Ave./ County Highway 5 and drive just under 7 miles. (Lake City is 20 miles west of Sisseton on Highway 10.)
Meet some ghostly residents at Mount Moriah Cemetery in Deadwood
Wild Bill Hickock, Calamity Jane, and Seth Bullock are all buried in Mount Moriah Cemetery, one of South Dakota's most beautiful and mystical graveyards. The hillside place of rest is also home to, according to the cemetery's website, "western legends, murderers, madams and pillars of Deadwood's early economic development." Some believe that the graveyard's spirits aren't interested in rest. Staff members closing up for the night have seen shadowy figures moving around and locked gates suddenly open.
Will you see a ghost during your visit? No guarantees. However, the eerie feeling once you set foot in the cemetery is undeniable. Bonus: Seth Bullock's grave is more than 750 feet away from the main grounds, so you can get a nice short hike in during your visit. Just remember, Mount Moriah Cemetery is a sacred place and should be treated with respect. Please take only photographs and leave nothing but memories.
Hours: Open seven days/week from Memorial Day to mid-October, from 9 a.m. to 65 p.m. Winter schedule open but with limited hours.
Cost: $2 entrance fee
Address: 10 Mt. Moriah Drive, Deadwood
Feel a ghostly presence at LaFramboise Island Nature Area outside of Pierre
As a unique collection of trees and meadows along the Missouri River, the two-mile long LaFramboise Island is a favorite for locals looking for a peaceful place to walk, ride bike, snowshoe, or just take in the great outdoors. But some believe the beautiful area has been home to spirits ever since the time of Lewis & Clark's visit in 1804.
Recent explorers have reported feeling extreme temperature changes on certain parts of the trails. Some have heard strange noises while others claim to have captured strange balls of light on film, but the scariest rumor may be that the ghost of a young child appears at dusk near the river and leads the willing into a forested part of the island before disappearing.
Cost: Free
Camping: Nope, but there are plenty of popular hiking trails and fishing opportunities.
Directions: Drive south on Poplar Avenue in Pierre.
Investigate the mysteries of Badlands National Park
To explore the South Unit of Badlands National Park is to discover a spectacular area of a park that many travelers don't often include in their visit. Park at the White River Visitor Center at the southeast corner of the unit and hike west to find Coffin Butte. It's believed to be named for its shape. If so, the title became a prophetic one after a skeleton was discovered in 1936 by a pastor and an intrepid group of Boy Scouts. The story behind the skeleton isn't clear—some think it's Ezra Kind, the last surviving member of a gold expedition, and others believe it was a Native American who ascended the butte to escape a pursuing posse—but questions like this only inspire fascination among intrepid explorers.
If you're not looking for this specific journey, just go for a wander (responsibly) in the Badlands at night. You might hear wailing spirits or spot long-dead Native American warriors riding horses into the night before vanishing. If a spirit reveals the identity of the mysterious Coffin Butte skeleton, please let us know. We're just as curious as you are.
Cost: For up to 7 days, it is $15 for an individual visitor (hiking or biking), $25 entry for a motorcycle, and $30 for a single private vehicle and its occupants. For an annual pass, it's $55 for a single, non-commercial vehicle and its occupants. Entrance fees for commercial sedans, vans, minibuses, and motorcoaches vary.
Camping: Cold running water, flush toilets, and covered picnic tables are available at the Cedar Pass Campground, and a limited section of the campground is open during the winter months. Pit toilets and covered picnic tables are available at Sage Creek Campground.
Directions: The northeast entrance is at Exit 131 on Interstate 90. The Pinnacles entrance is at Exit 110 on Interstate 90. From Interior, take Highway 44 to Highway 377 for a very short drive into the park.
Explore the mysteries of Devil's Gulch in Split Rock Park near Garretson
What is it that makes the Devil's Gulch area so spooky?
Is it the legend that Jesse James jumped his horse over the park's 18-foot gorge to escape a posse? Is it the spirit of Iktomi, credited for creating the canyon itself by throwing his tomahawk at the heels of a retreating warrior? Or is it the legend of Nellie Harding, a kidnapped woman found by her boyfriend (thanks to a clairvoyant dream) only to get accidentally shot by that same savior (who would end up dying while holding her in his arms)? Maybe it's the Devil himself, who some people believe the Dark One wanders the grounds at night?
Whatever it is, Devil's Gulch is a popular spot for people looking for spooky experiences, beautiful outdoor scenery or both.
Cost: There is no charge to visit Split Rock Park, but a box is available for donations.
Camping: You can camp at nearby Split Rock Park (featuring 11 primitive electrical sites) or at a modern camping site or cabin at Palisades State Park.
Directions: Take Interstate 90 to Exit 406 and drive north for 9 miles on Highway 11.
Look for the little monsters of Spirit Mound
When Lewis & Clark came through what is now southeastern South Dakota in 1804, Native Americans warned them against ascending Paha Wakan ("Sacred Mountain") because of the little "deveals," 18-inch tall humanoid monsters with large heads and armed with razor-sharp arrows used to defend the land against any outsiders. The traveling expedition ascended Spirit Mound without mystical resistance, but they did take in a view that visitors can enjoy today. Since the 1804 warning, no one has reported spotting any monsters or dangerous spirits, but some have heard sounds of people running through the area.
Cost: Free!
Directions: Take Highway 19 north of Vermillion for approximately 6 miles to Spirit Mound Historic Prairie State Park.