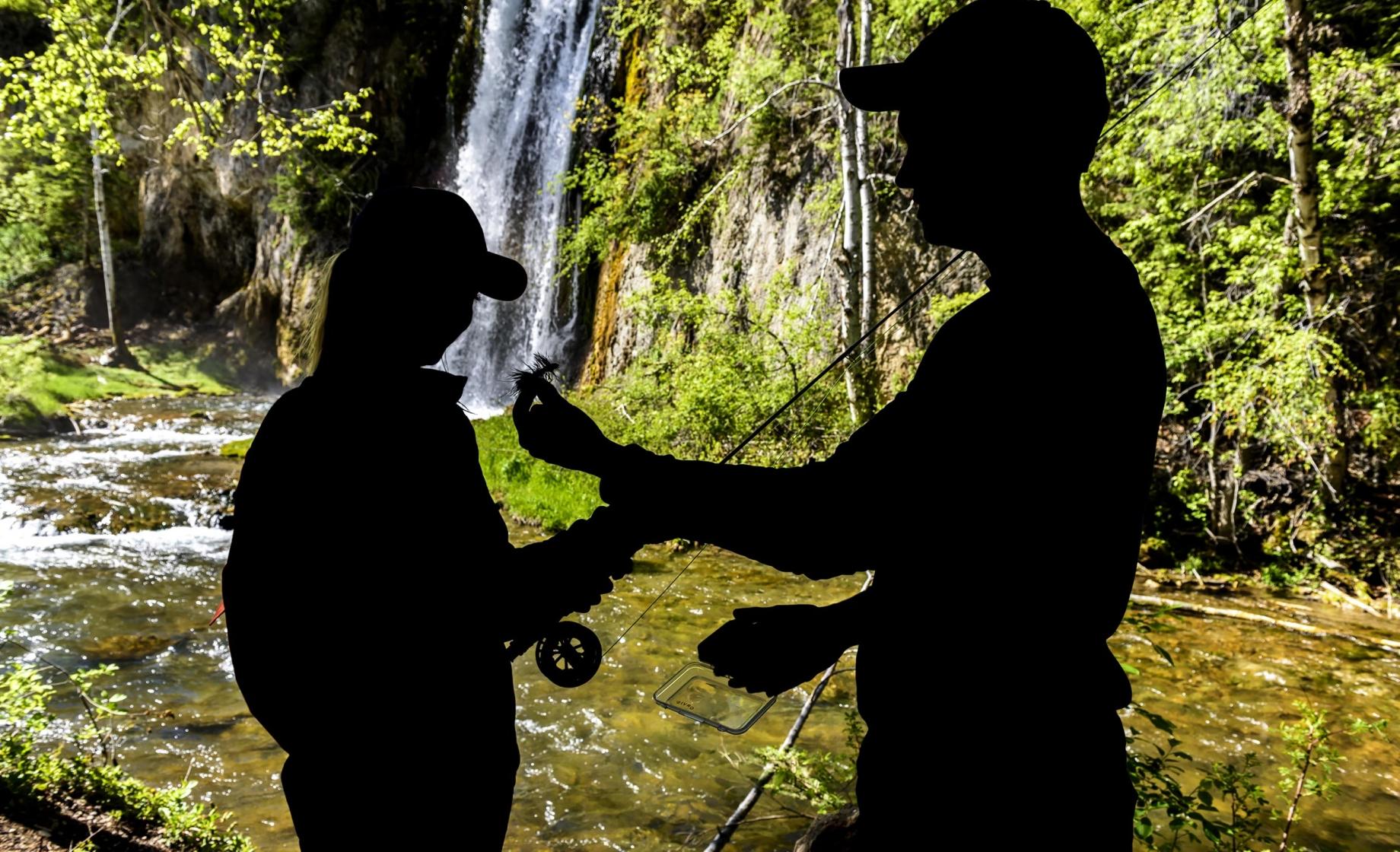 Minnesota fly angler Abigail and her husband, Micah, venture west to South Dakota for an unforgettable adventure. 
Day 1
I remember taking a family vacation to South Dakota when I was little. Although I don't recall many of the details, I still know it was one of my favorite family trips. Once I met my husband, Micah, and realized he'd never been to South Dakota—in fact, he'd never even been west of Minnesota—I knew I needed to get him out there.
One of my best friends from college grew up and lived in South Dakota, so it was pretty much a no-brainer—we would make the drive out there happen while she put together the rest of the trip for us, complete with both hiking and fly fishing stops!
We got to our rustic little cabin in the hills of Hill City late on a Wednesday night after making a stop at the Dakota Angler Fly Shop in Rapid City, SD. The evening included a quick sunset tour of the classic Mount Rushmore and some hand-tying of flies back at the cabin that we'd use to fish during the rest of our time there.  
 

Day 2
On Thursday we got up bright and early for a quick fishing fix at a stream only five minutes from our cabin. In less than two hours, we had hooked into about a dozen wild brook trout.
Around midday, we headed over to Custer State Park and explored Sylvan Lake, hiked Sunday Gulch Trail and made the trek to the top of Little Devil's Tower for beautiful views of the Needles and the rest of the Black Hills. 
The highlight of the day, however, was meeting up for some fly fishing with Game Warden Ron, who was going to guide us in the park. We had to push back our meeting with him until mid-afternoon so he could serve a search warrant first, but at 3 p.m. he was ready to get his line wet! Not only is Ron the game warden at Custer State Park and an avid fly fisherman, but he also rides in the Custer State Park Buffalo Roundup every year, corralling approximately 1,300 buffalo with only the best cowboys and cowgirls around.
Ron spent most of the time driving us up and down the banks of the rivers and less time fishing. Although we felt a little bad that we were doing all the fishing, he informed us that he lives right in Custer State Park and gets to fish it all the time—this amazing park is literally his backyard. I was able to hook into several decent brown trout while Micah landed a nice rainbow pretty early on. The views were unbelievable down in the canyon we were fishing in and the weather was perfect so, naturally, Micah kept walking farther and farther in hopes to catch more fish. The group agreed to let him hit one more hole, and Ron directed us to "good one." Sure enough, after a couple casts, Micah pulled out a 16-inch rainbow trout.
By then, the sun was setting and we were all hungry, so we headed back up to the top of the canyon and grabbed dinner at the Blue Bell Lodge where we sat on saddle stools and met the bartender, Mark. Mark was also an avid fly angler and spent quite a bit of time chatting with us and filling us in on his favorite South Dakota fishing spots while we ate. The food was amazing, as was the company!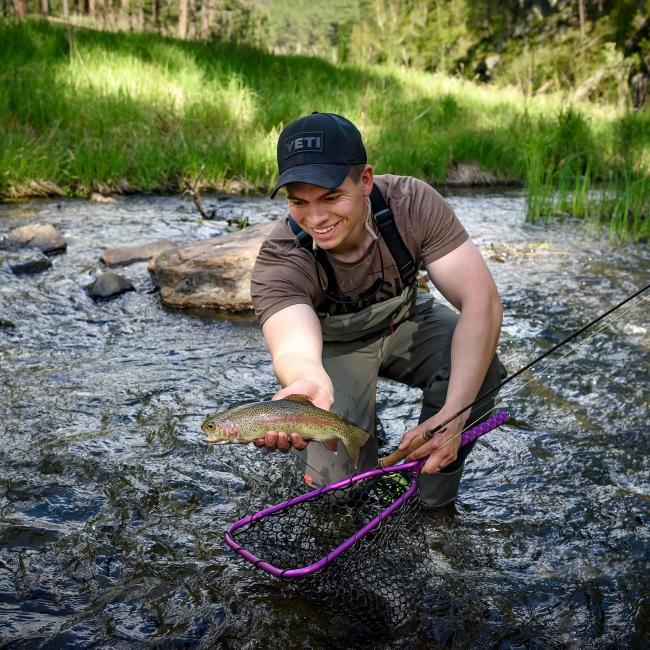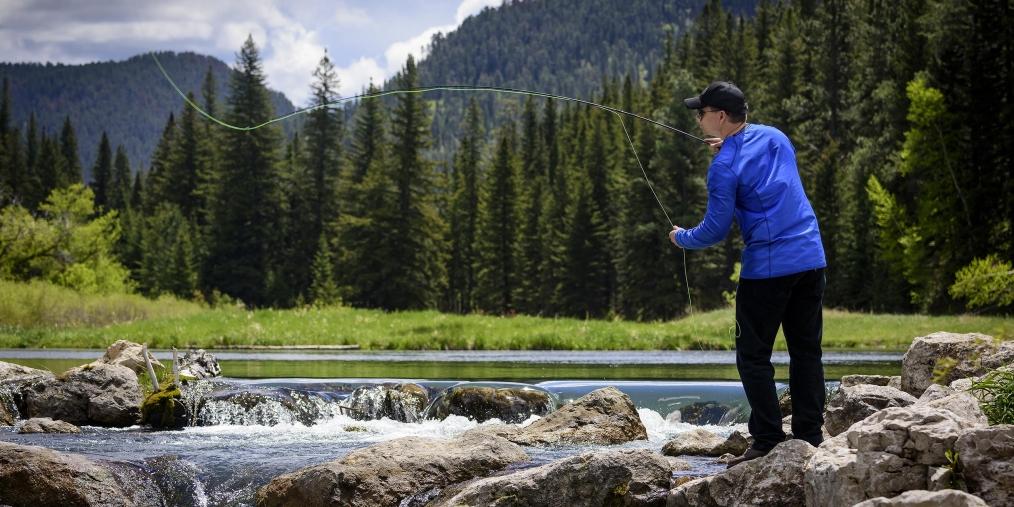 Day 3
The weather was a little less predictable on Friday. We drove the Wildlife Loop Road at Custer in the morning because I insisted on seeing the begging burros. My friend, who played tour guide for the week, promised me we would see buffalo, burros, and prairie dogs. The drive did not disappoint! The adorable little prairie dogs yipped at our car, the herds of buffalo scattered the prairie lands as we drove and, of course, the burros stuck their heads in our car windows to say hello.
After that, we hit Stockade Lake (also in the park) for some more fishing in the rain. I took pride in the sole brown trout we caught there because after Micah had cast the hole for about 20 minutes with no hits, I told him to hit a specific hole and he immediately had a fish! 
We wrapped up the evening grilling out at our cabin and avoiding the rain before heading over to Prairie Berry Winery for a quick wine tasting at their tasting room. This winery is Hill City's only working winery and Sandi Vojta, the fifth generation winemaker, handcrafts each wine right there on site. While their Red Ass Rhubarb wine is their most popular and very delicious, they have so many other unique options ranging from pear-pineapple to buffaloberry. This winery is a must-stop if you are in Hill City!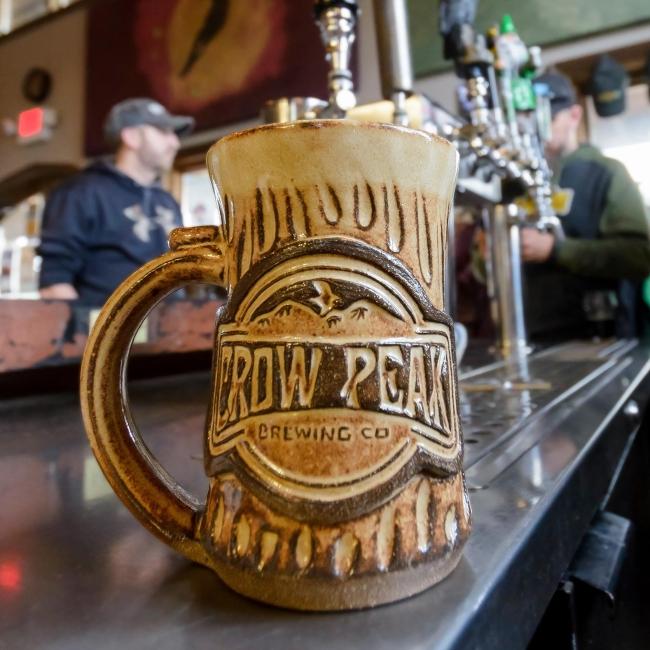 Day 4
On Saturday morning we drove up to Spearfish Canyon. We did a quick waterfall tour that began with a quick hike and hammock at Spearfish Falls in North Lawrence. We then drove down Roughlock Falls Road where we stopped at the site of closing scene of the film "Dances with Wolves" and checked out Roughlock Falls Nature Area. 
Since we can't go more than a day without fishing, we began the Spearfish Canyon Scenic Byway drive around noon. This drive started at the beginning of the canyon at Lead and meandered towards downtown Spearfish. We stopped regularly to hop out and fish and were able to land quite a few more brown and rainbow trout. 
By afternoon, it was time for a snack break. We stopped at Leones' Creamery in downtown Spearfish. This unique shop serves amazing ice cream made on site with the highest quality ingredients and featuring flavors from avocado to rhubarb. 
We then drove over to Crow Peak Brewing for a taste of the local brews. At this point, Micah realized we were only a few miles from the Wyoming border. Realizing he was currently physically sitting the farthest west he had ever been in the United States, we decided we should get him across the Wyoming border.
We looped through Wyoming for a hot second, checked out the visitor's center and headed off to our next stop: Historic Deadwood. This city's slogan is "Entertaining guests since 1876" and they're not lying! In this city, entertainment collides with crazy Wild West history for a boot-stomping good time. We stumbled upon the first shootout of the year on Main Street and watched Wild Bill, Calamity Jane and friends participate in a wild (but safe) shootout.
We finished off our evening at Cheyenne Crossing in Lead to try our first Indian Tacos. For those who haven't heard of Indian Tacos, this delicious meal consists of flat, fried dough topped with taco meat, fried beans, salsa, lettuce and any other taco toppings you would normally enjoy! We were full and exhausted by the time we got back to the cabin that night.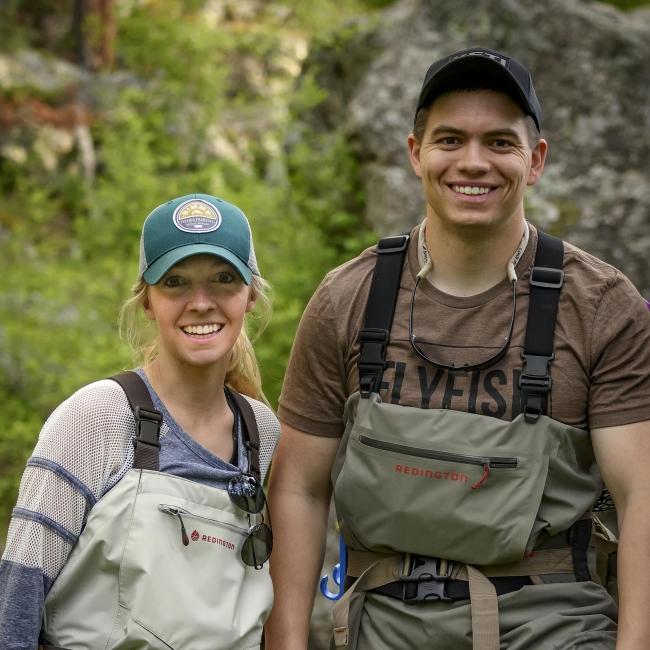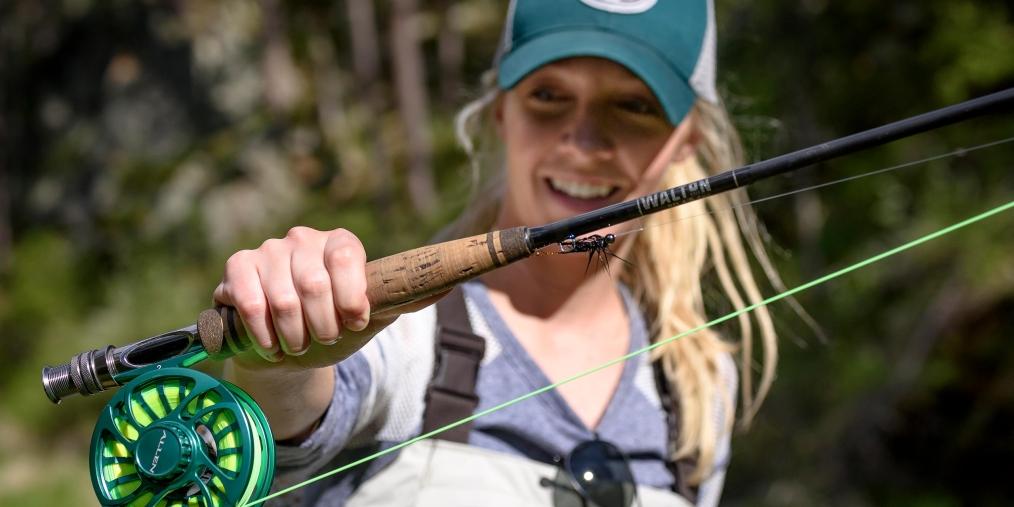 Day 5
We headed back to Custer State Park for a bit on Sunday morning because, honestly, there was so much to do in this park that it was hard to squeeze it all in. We spent some more time hiking around Sylvan Lake and then drove the Needles Highway. 
For the second half of the day, we spent time fishing near Pactola Lake and in the rivers that flow through downtown Rapid City. 
Random thunderstorms forced us to stop for an early dinner, so we headed over to Independent Ale House. This pub has over 30 rotating beers and 100 varieties in bottles as well as some amazing flatbread pizzas. The Baked Potato and Chicken Bacon Ranch pizzas are both absolute must-tries if you visit this ale house! 
Feeling a little heavy from our dinner, we found a hiking trail off of Highway 44 past Rapid City to squeeze in a quick hike and catch the sunset. The views were unreal! 
To wrap up the night, we planned to do some night fishing back near Pactola Lake. This is one of our favorite methods of fishing in which we use flies that look like "mice" and skate them across the top of the water. This method often attracts much bigger trout that wait until the evening to come out and feed. Sure enough, Micah landed a 20-inch brown trout just after sunset that slurped up his fake mouse. 
Final Day
On Monday we woke up a little disappointed to remember it was time to head home. We left Hill City fairly early with plans to make the drive through the Badlands National Park on our way back across the state. 
This park was a perfect way to end our trip. Despite it being Memorial Day, we arrived at the park early enough to see the sunrise and beat the crowds. We saw buffalo, mountain goats and prairie dogs throughout the park and stopped at almost every pullover because the views seemed to get better as we drove. 
Our favorite stops were the Door and Window Trailheads close to the east entrance to the park. As we left the park and headed back east towards Minnesota, we watched the rugged rocks slowly fade into the horizon and knew we would be coming back to this beautiful state soon.