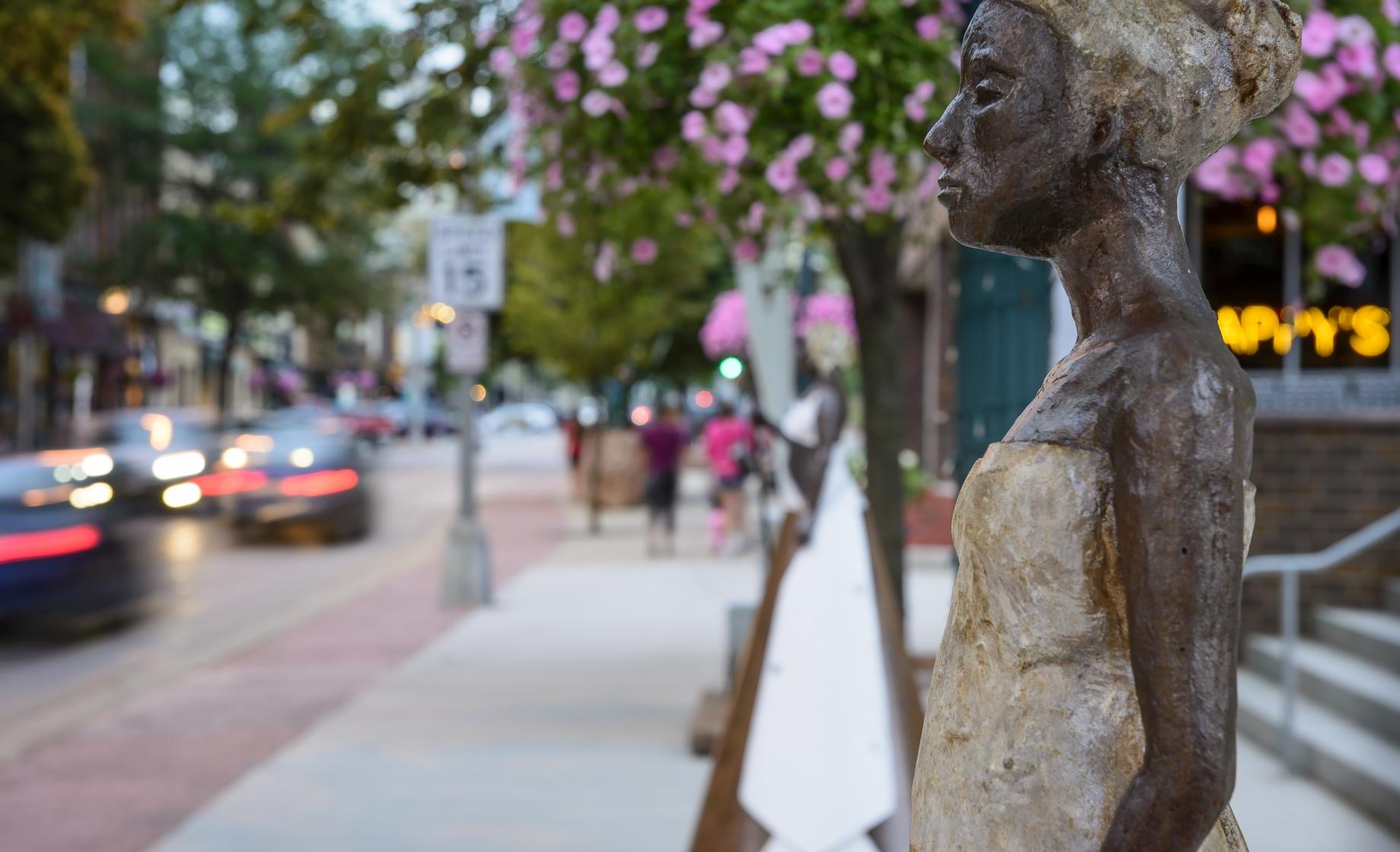 downtown hotels
Hotel on Phillips
Step into the lobby and go back to the era of the early 1900s with its original historical designs. Stay in one of the Stylishly Superior guest rooms like Pretty in Pink, a local favorite!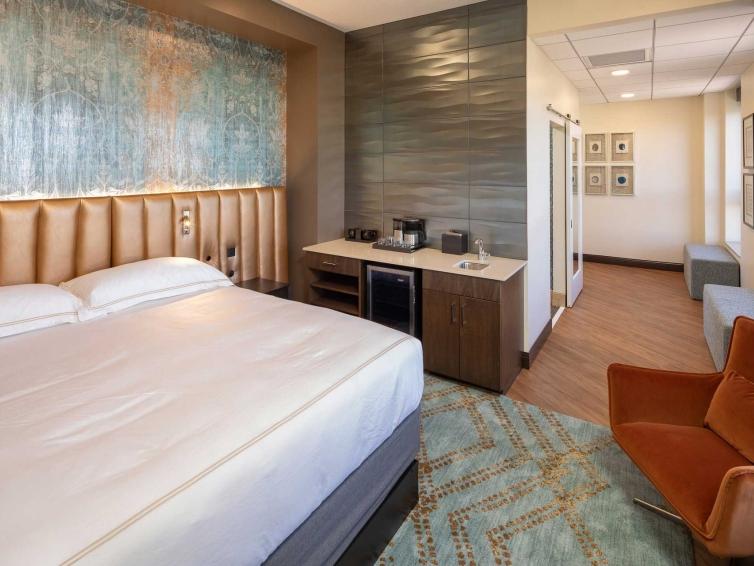 Hilton Garden Inn
Discover downtown delights from this beautiful hotel by the Big Sioux Falls River. Wake up and hit the trails just outside your doorstep!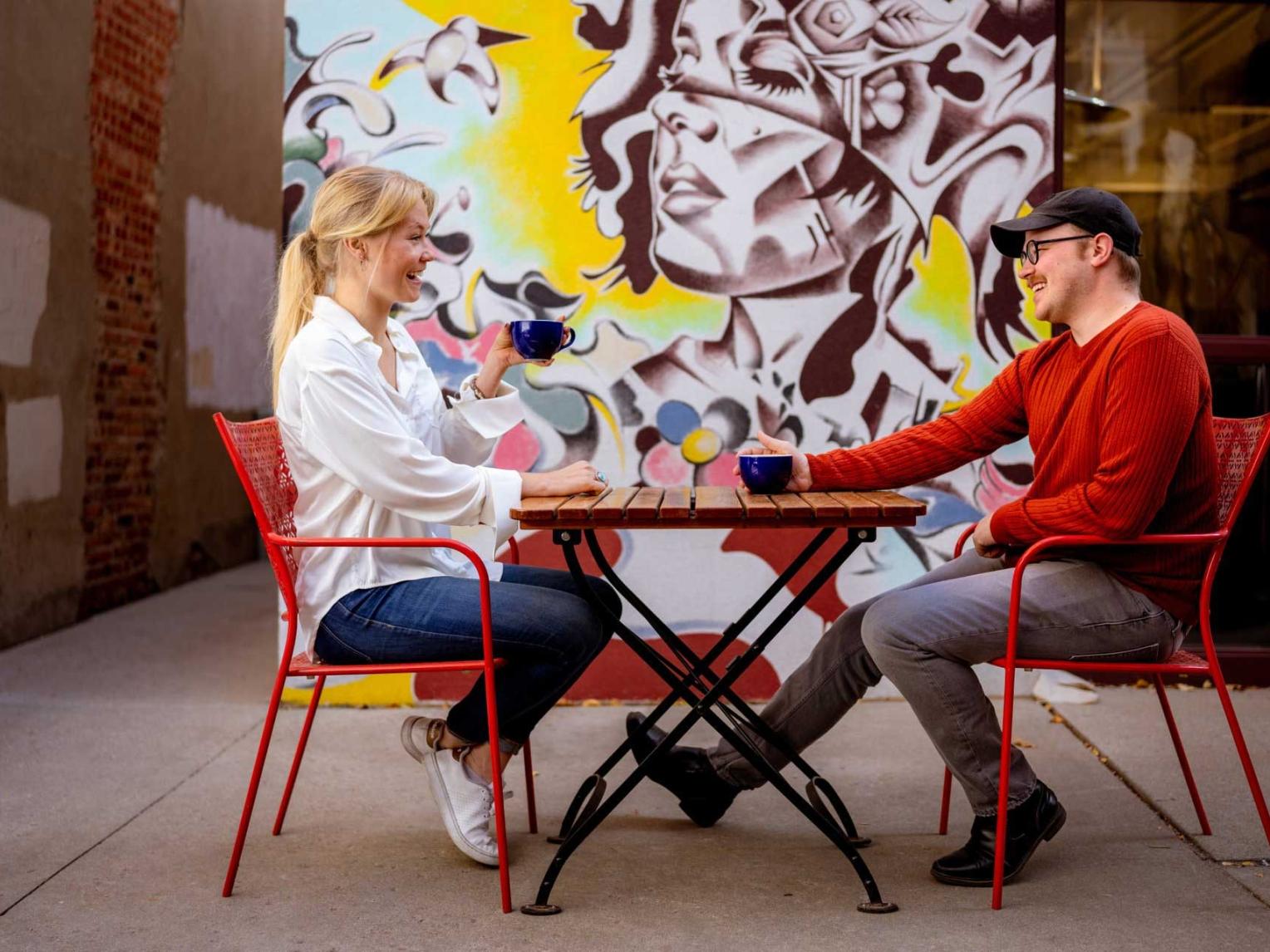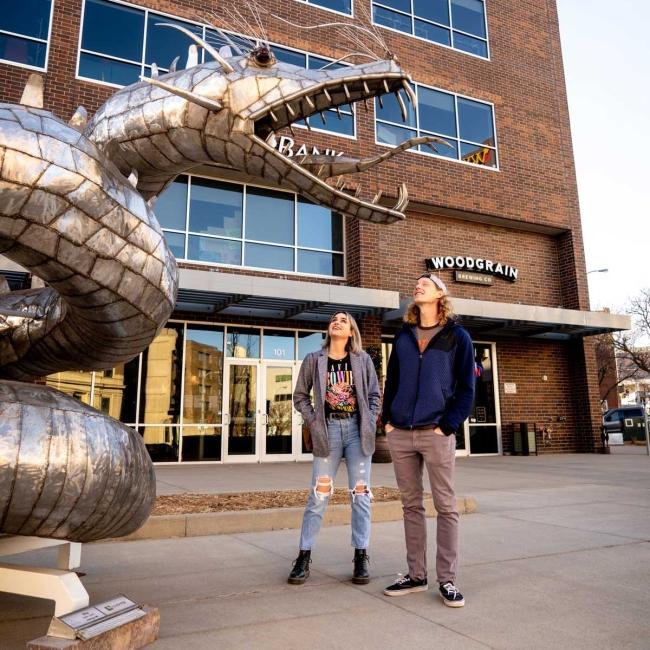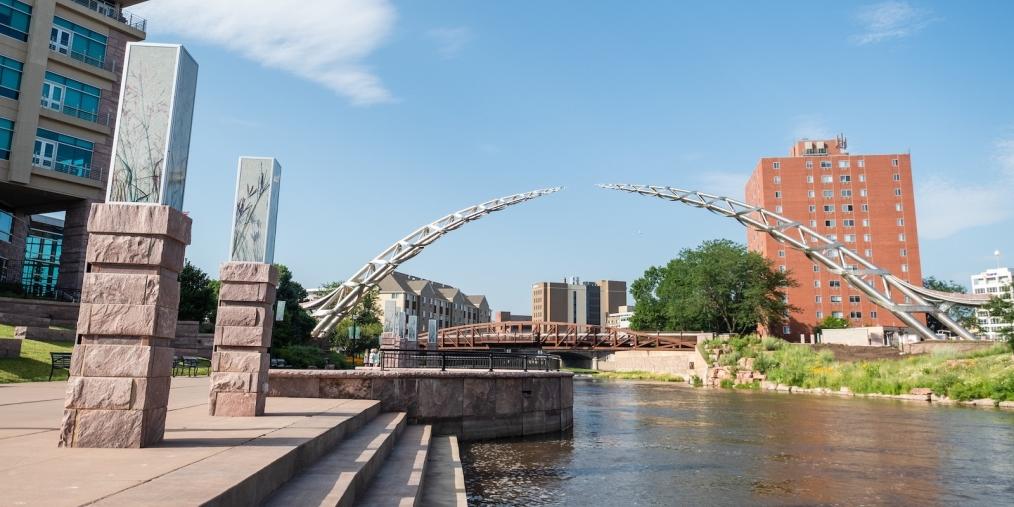 MORNING COFFEE
The Breaks Coffee
The Breaks is a locally owned coffee roasting company & café based in Sioux Falls. Experience the artful science of roasting and, of course, taste the delicious results! the craft of brewing and experience of tasting. Visit the restroom's "Occupied Art Gallery" to find local artwork for sale!
BREAKFAST
M.B. Haskett
Enjoy a delicious mission of creative inspiration and connectivity through seasonally focused scratch-cooking intended to improve the common good. Check out the murals outside on the back patio while you feast on savory crepes and other spectacular taste sensations.
AFTERNOON ARTFUL STROLL THROUGH DOWNTOWN
ArtBox
The ArtBox gallery is a collection of 26 utility boxes wrapped with vinyl artwork from artists of all abilities from the area. The wrapped boxes are located in downtown Sioux Falls between Minnesota Avenue and the Big Sioux River, and 6th & 14th Streets.
Download the DTSF Digital Passport here and use it to scan the markers posted on each ArtBox to learn more about the artists and their work.
SculptureWalk Sioux Falls
The 2022 season featured a record 69 sculptures and several by artists new to SculptureWalk. Wander around downtown to see the new sculptures in person!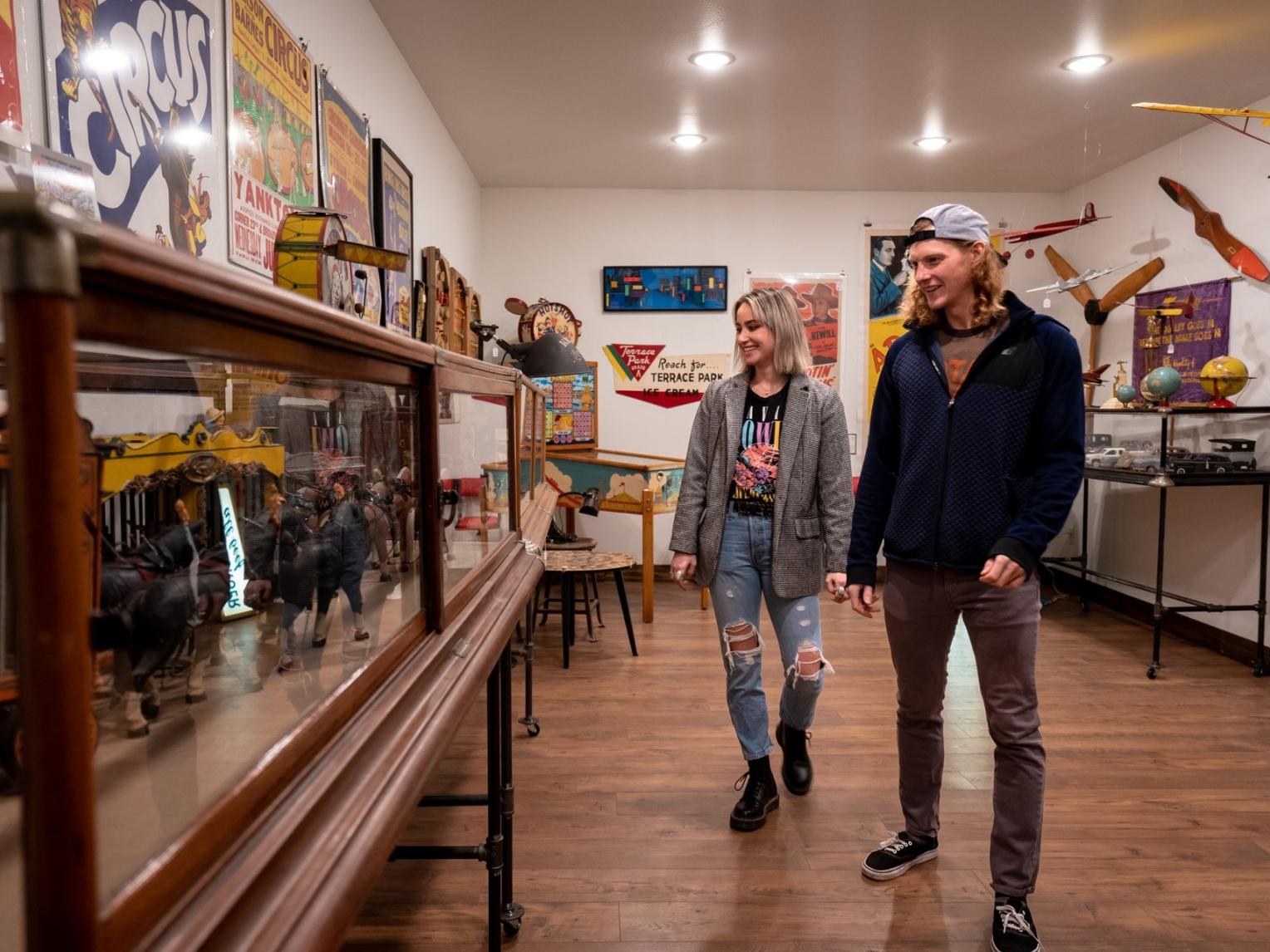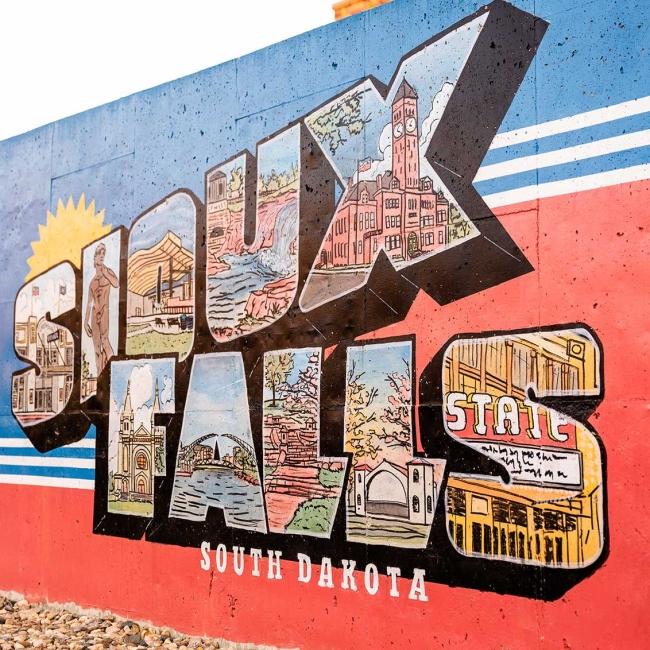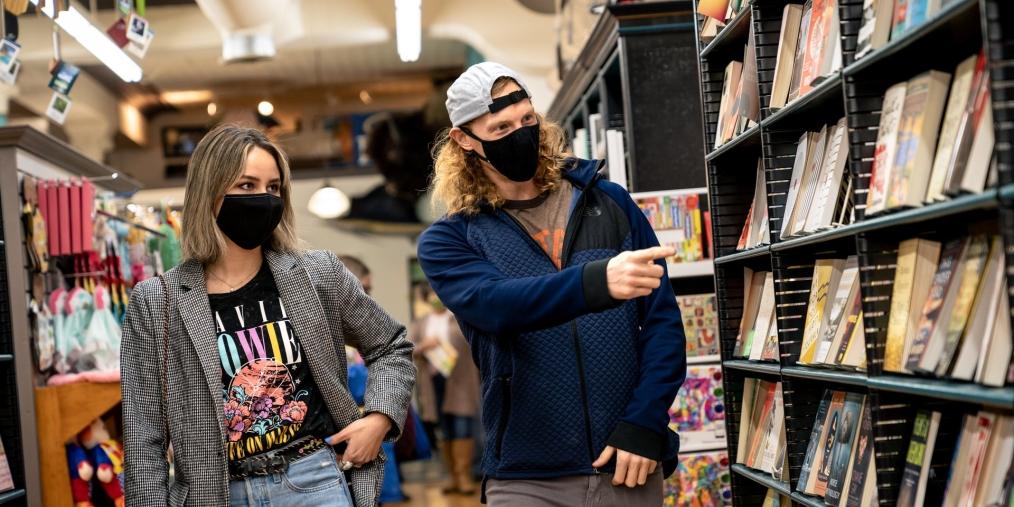 Sioux Falls selfie murals
Does your Instagram feed need a little TLC? If so, downtown Sioux Falls is just the place for you! Downtown Sioux Falls is home to over 15 different murals in more than 10 locations.
Take part in the arts and share with your community! #CaptureDTSF #StateOfCreate#HiFromSD
Terra Shepard Boutique
This is the place to find thoughtfully curated fashion, beauty, and lifestyle products that are good for you, the environment, and the people that produce them. Pick up your new favorite jewelryor other one-of-a-kind items.
Zandbroz Variety
Zandbroz is built on creativity and the belief that retail should indulge all the senses. Sustained by curiosity and community, Zandbroz endures as it evolves. They don't cater to the masses or give too much credit to the latest trends. Instead, Zanbroz empowers individuality by embracing each customer's creative potential. Don't miss the vintage area in the back of the store, lovingly called "The Museum."
Urban Archaeology
Antiques. Curiosities. Vintage, industrial, and repurposed architectural items — enjoy a wide range of original art, pottery, textiles, jewelry ephemera, and advertising. Mid-century modern history is alive at Urban Archaeology.
Full Circle Book Coop
One of the most beloved spots in downtown Sioux Falls offers a varied and curated selection of new and used books, plus an extensive collection of works by local and regional authors and artists.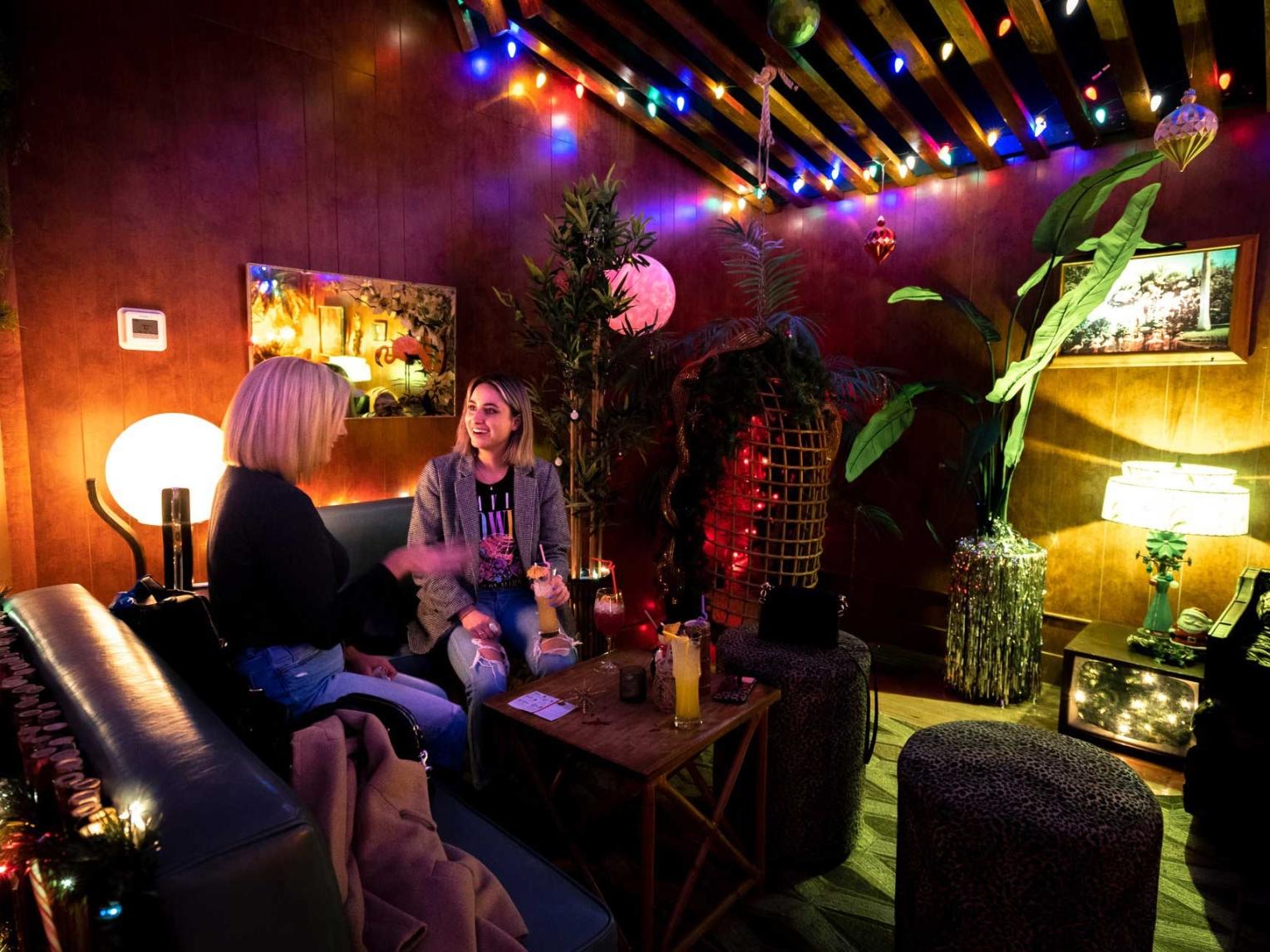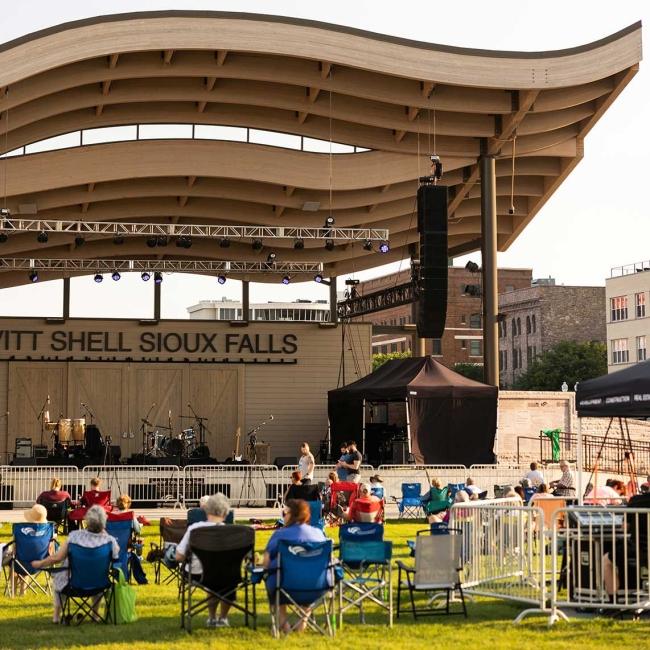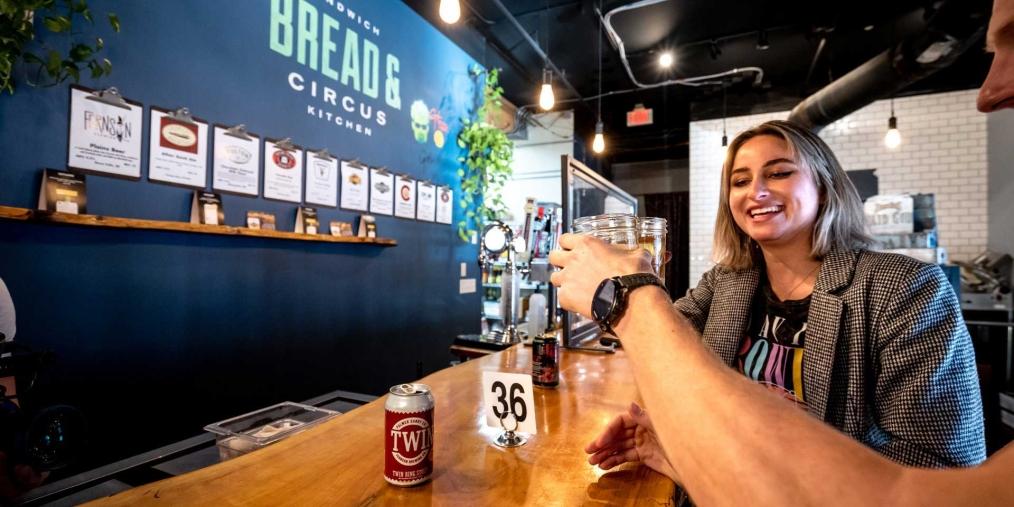 DINNER
Bread & Circus Sandwich Kitchen
Locally owned & operated since 2017, Bread & Circus offers tasty food and beer options you can enjoy amongst artful walls. Don't miss the house-made hot sauce!
EVENING ENTERTAINMENT
Levitt at the Falls
With a mission to build community through music, the Levitt serves as a gathering place for Sioux Falls' diverse community, fostering social interactions among people of all ages & backgrounds while ensuring access for everyone to enjoy professional performing arts to everyone through a season of free concerts every summer!
Catch one of the 50+ free, live, professional concerts in the summer featuring acclaimed artists in a wide range of music genres!
NIGHTCAP
The Hello Hi
The Hello Hi is the perfect combination of classy cocktail bar and Tiki magic. Enjoy tropical moods and legendary made-from-scratch Tiki cocktails. Kick back, sip easy, and soak in the endless summer vibes at The Hello Hi, where paradise is made.
MORNING COFFEE & BREAKFAST
Queen City Bakery
Owners Mitch and Kristine go out of their way to produce the highest quality baked goods, all made from scratch daily, with as much local fruit and produce we can get our hands on.
Make sure to try the delicious chocolate cake, and when you head toward the restroom, check out the art gallery across the hall!
ARTFUL GALLERY STROLL THROUGH DOWNTOWN
Eastbank Art Gallery
This gallery co-op works closely with both local and regional artists to showcase a wide variety of quality and original fine art. 
Ipso Gallery
Ipso Gallery at Fresh Produce is a unique art space. Supported by an advertising agency, it's strongly based on celebrating ideas and pursuing projects of interest for fun or challenge. Visit the ever-changing inspirational gallery shows to enjoy the latest in locally made art.
Rehfeld's Art & Framing
This art gallery also represents local and regional artists of Sioux Falls who demonstrate superb creativity, craftsmanship, and presentation. Visit both the upstairs and downstairs gallery spaces and chat with the incredibly knowledgeable staff!
The Deku Tree
Bask in the wonder at this exotic plant shop that specializes in rare cacti, succulents, tropicals, bonsai and plant education. It's a beautiful plant art installation and experience!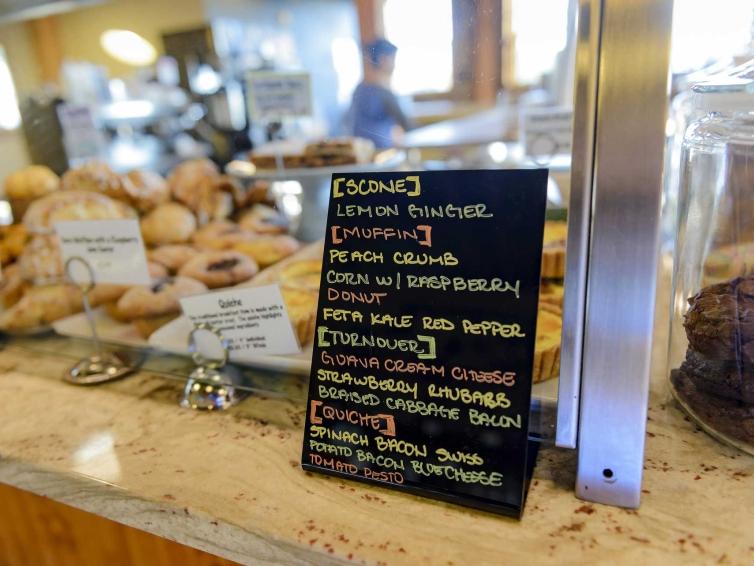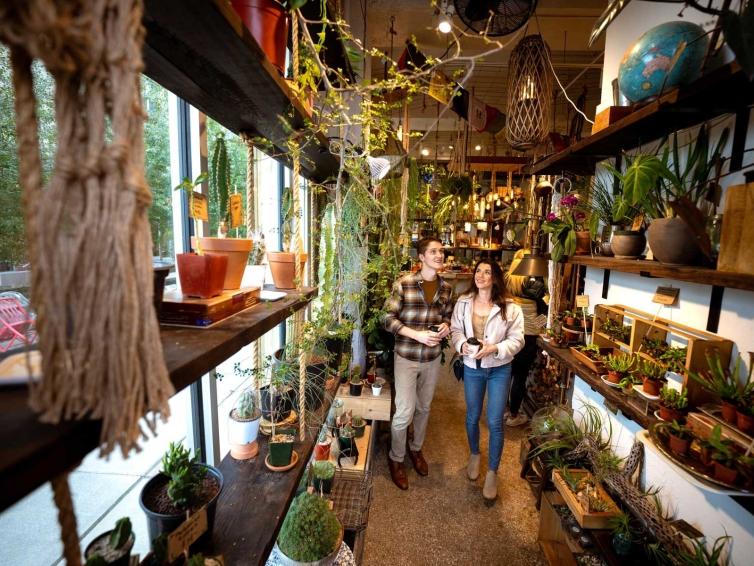 LUNCH
Swamp Daddy's Cajun Kitchen
Just a few shops down from The Deku Tree sits Swamp Daddy's, home to the most authentic Southern tastes in the Midwest. Enjoy a southern-style restaurant with a big-city feel and some truly tasty eats!
AFTERNOON COFFEE
The Source Coffee Roastery + Taproom
Deeply rooted in the local community, The Source is a place of gathering. Customers quickly become friends at this oasis of deliciousness, an independent and locally owned specialty coffee roaster & taproom focused on providing world-class coffee.
AFTERNOON ENTERTAINMENT
The Visual Arts Center
The Visual Arts Center brings exhibitions of leading regional, national and international artists to its eight spacious galleries, including the gallery jointly run by the Sioux Falls Arts Council. Spend time gathering, embracing and filling your heart with art!
AFTERNOON SWEET TREAT
Parlour Ice Cream House
Yummy ice cream, enlightening interior and design space! At Parlour, you can pick from 18 of the 75 rotating flavors. Repeat trips make it easy to try something new every visit!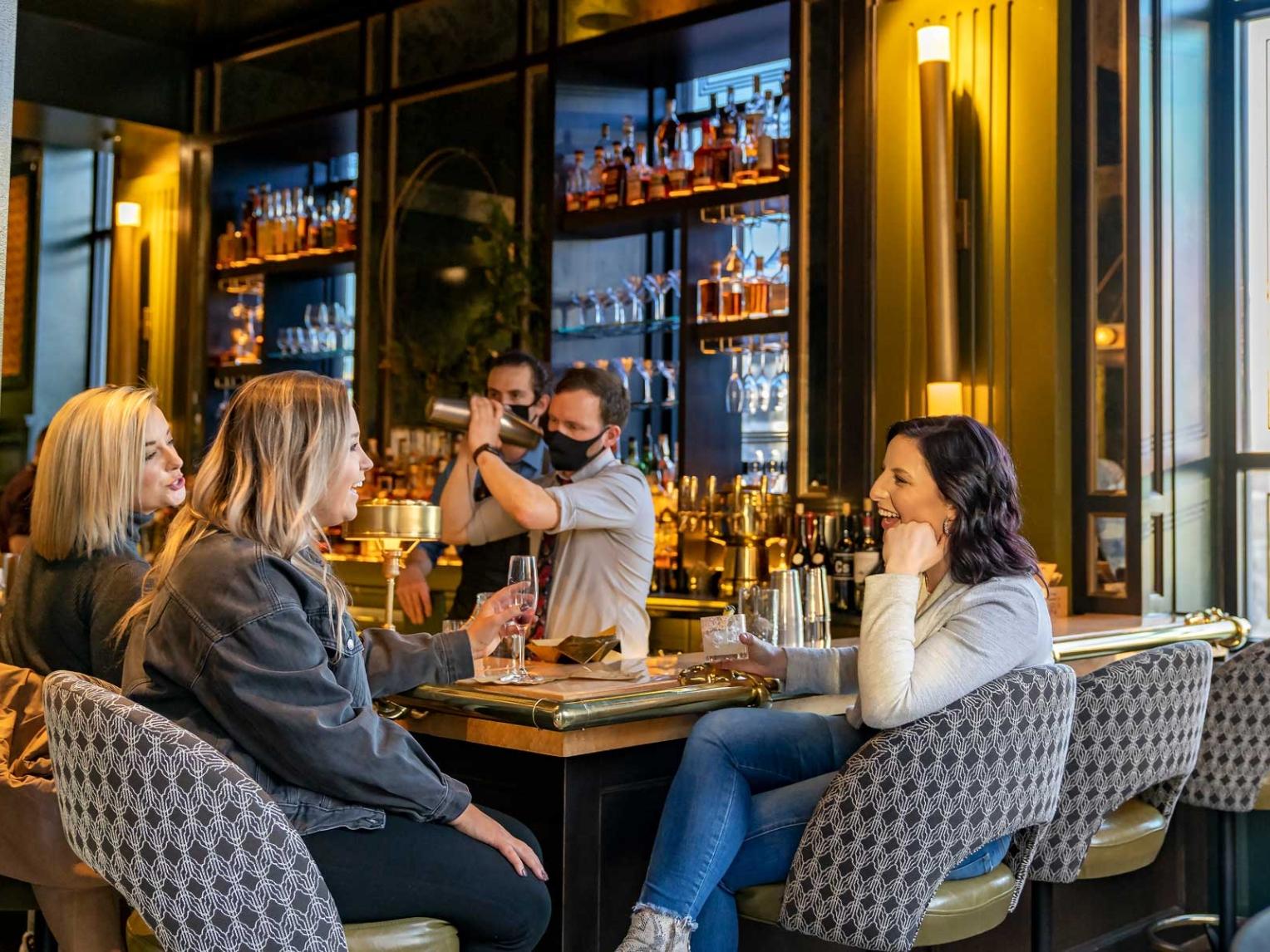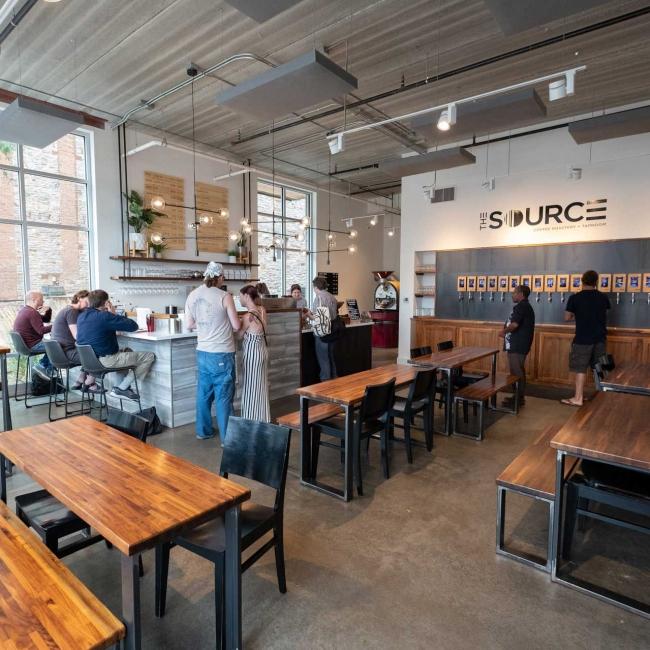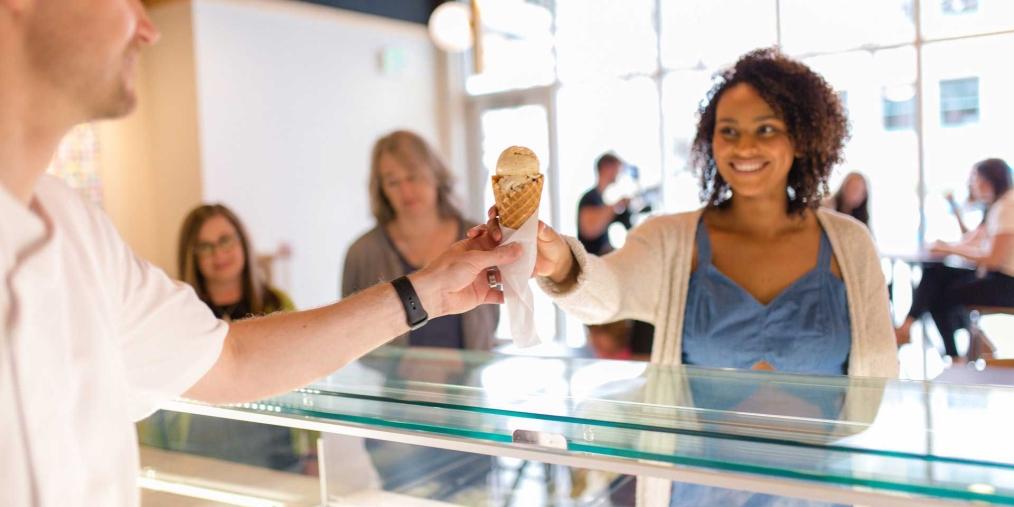 DINNER/EVENING ENTERTAINMENT
R Wine Bar
Check out this downtown Italian eatery that features live music Thursday, Friday and Saturday. Walk by Dale Lamphere's Arc of Dreams on your way to or from the restaurant!
NIGHTCAP
The Treasury at Hotel on Phillips
A beautiful and imaginative cocktail lounge in historic downtown Sioux Falls, The Treasury takes elements from the 1920s era and creates a unique space that feels modern & timeless all at once.
TAKE A DRIVE OUTSIDE OF DOWNTOWN
Art Post Gallery 605
After Jana Anderson moved back to South Dakota from the East Coast, she was inspired to create a miniature art gallery outside her home studio at 1032 N. Dakota Ave. in Uptown Sioux Falls. Exhibitions are consistently rotated, creating fresh experiences that are easy to view from your vehicle. See previous exhibitions on the gallery's official Instagram account.
Eide/Dalrymple Gallery - Augustana University
This impressive university gallery showcases an average of nine exhibits per year while also housing Augustana's permanent art collection. If you have the chance, catch a reception to hear professional artists discuss their careers & artistic process.
Discover what others love about Sioux Falls