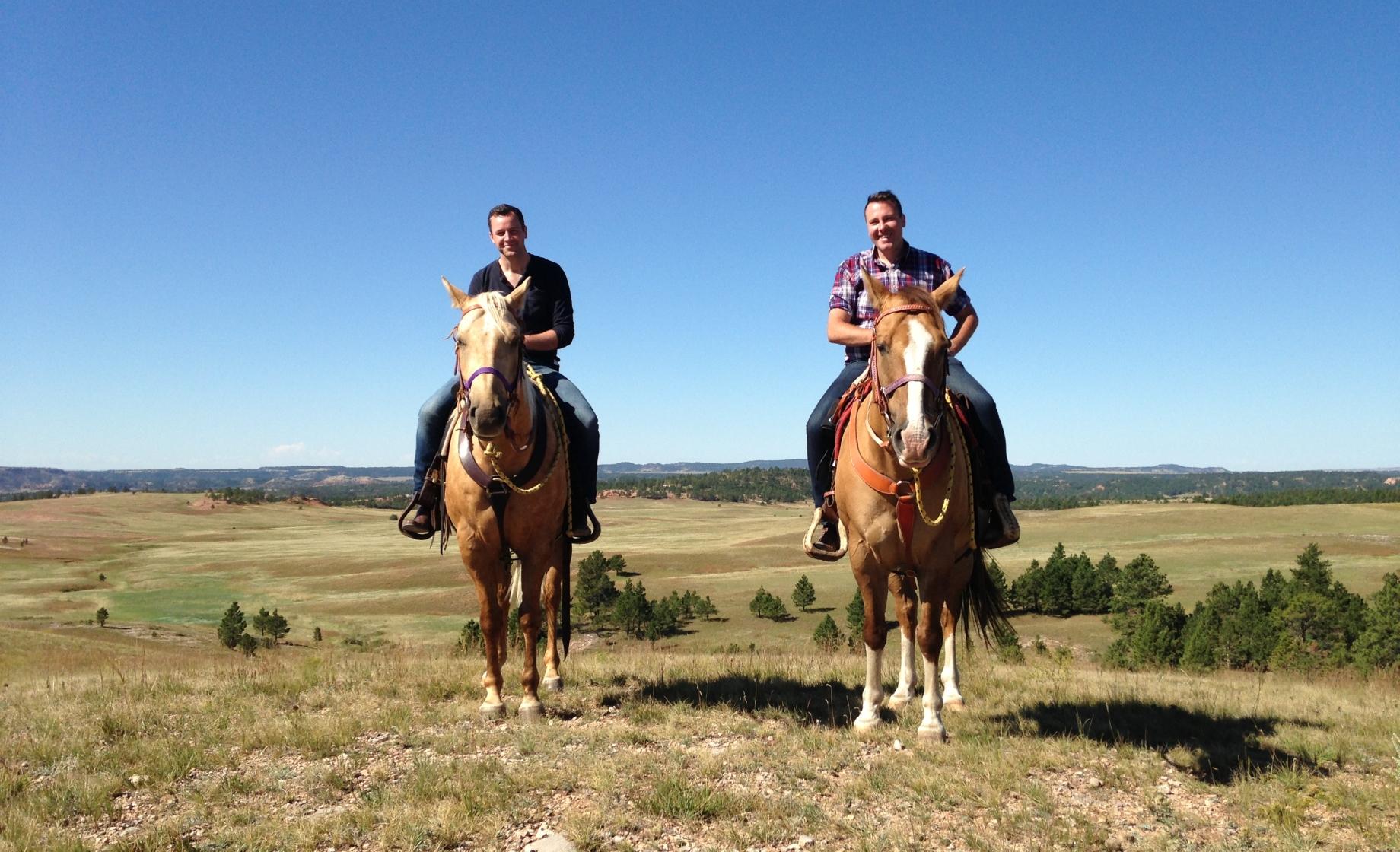 From east to west and back again, Stewart and Joe squeeze everything they can into their RV road trip.
THE PROLOGUE
"Jumping off." That's what they used to call it back in the Old West. The term conveys the excitement of entering a world unknown, new adventure. That's what I feel about my forthcoming trip to South Dakota. When I was 18 years old, I read Dances with Wolves and watched the movie and loved both. The film was shot in South Dakota, and I developed a thirsty interest in the state and in Plains Indians. I knew I just had to visit. I'm traveling with my good friend Joe, who's also up for the challenge.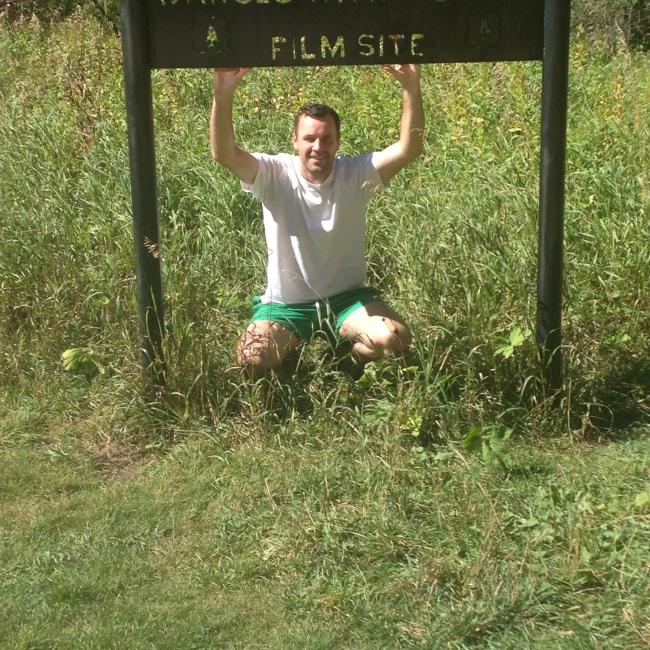 Sage Meadow Ranch on the Trail
DAY 1
Touchdown in Minneapolis. THE TRIP HAS BEGUN! 
Following an international flight, you can't collect your RV the same day you land. So, Joe and I headed downtown. It was 7 pm US time, 2 am UK. 
The attendant at our hotel was curious if a Brit bar down the road was authentic or not. We had to investigate. The bar originally called Brit's Pub was great. Aesthetically slightly Americanized but it had authentic beers and a bowling green on the roof. This was a great place to start.
After a bar crawl and meeting some great and friendly peeps we staggered home, rather jingled (it won't be the last time I'm sure).
DAY 2
After picking up our RV we hit the road, jumping onto Interstate 90. Four hours to South Dakota. Touching distance now! 
Sometime later we passed the sign "South Dakota, Great Faces. Great Places." A polite honk on the horn was required. I've waited so long!
It was late and dark when we hit Sioux Falls. We pulled into a car park and headed across the road for a pint at the Red Eye to relax. This bar was the epitome of an American roadie-type bar. Pool tables, red lighting, bad karaoke. An interesting end to the day. Kept it civilized this time. Home for 12. Oh, and won $20 from Joe on the pool table. It doesn't happen often.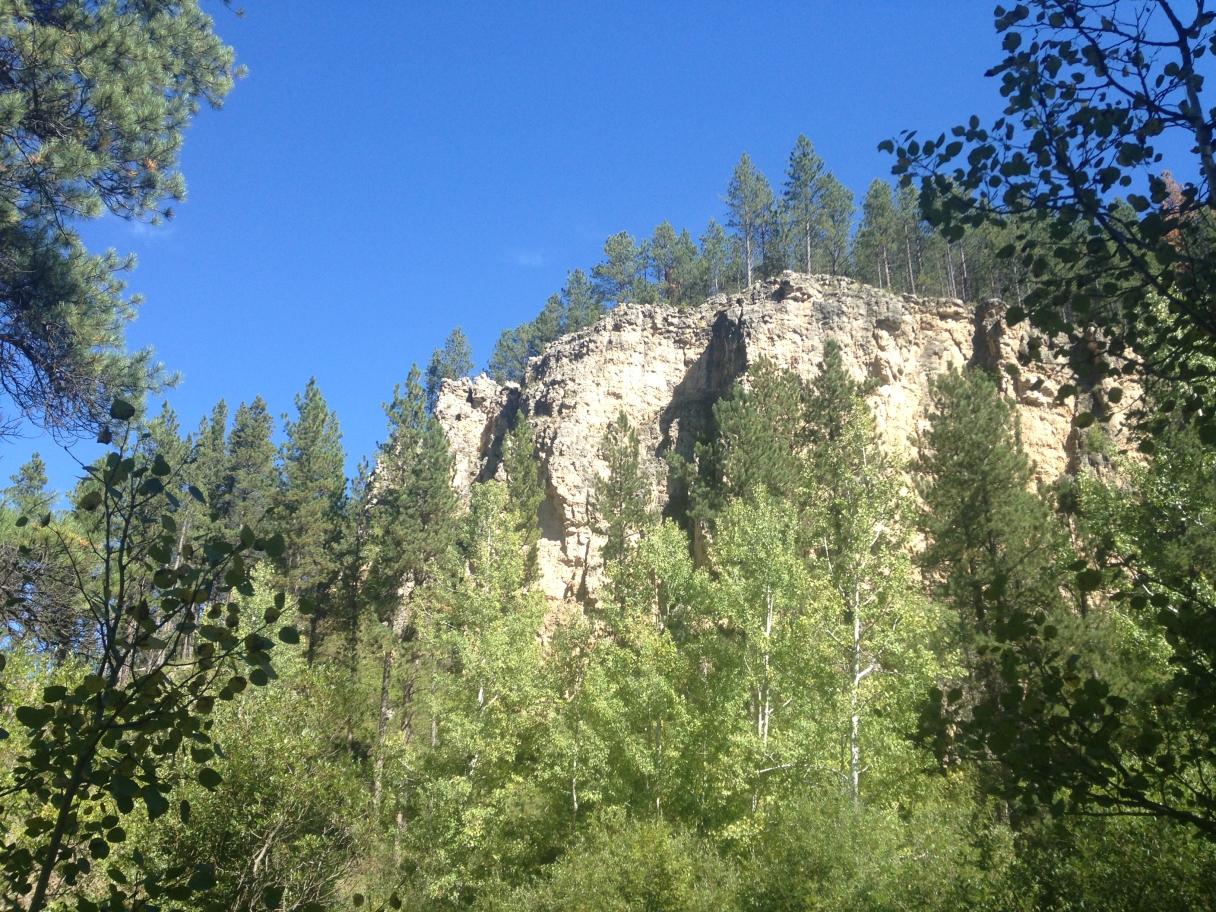 DAY 3
We have decided to first head for the Badlands and the Black Hills. There is so much to do in the southeast; if we have time on the way back I'd love to visit the Missouri National Recreational River and any one of the state parks.
We took I-90 all the way to the Badlands. Hundreds of billboards along the way advertise things to do in the area, something for everyone. Many were for Wall Drug. I must have seen 100 billboards for this place all the way from Sioux Falls. Not quite what I expected, but it makes a great break from the journey and, if there isn't something for you, then you can get a 5-cent coffee!
I-90 is the epitome of road for an American road trip. Vastness on either side, long clear tarmac stretching into the distance, immense trucks piling down the interstate. We're "hauling ass" now; driving tunes blasting, the gentle rattling of the RV is actually soothing.
And then, the first site of the Badlands. INCREDIBLE! Camera going like crazy now from the RV window. At every turn, every bend, we're stopping to take photo after photo. We're heading for the RV campsite and not making much progress. 
Once we reach the KOA campground we chill out and take some more pics. We're nestled in amongst inspiring views. We cooked steaks and had a few beers under the stars. Very relaxed and chilled, crickets cricketing. (FYI: we don't have crickets in the UK.)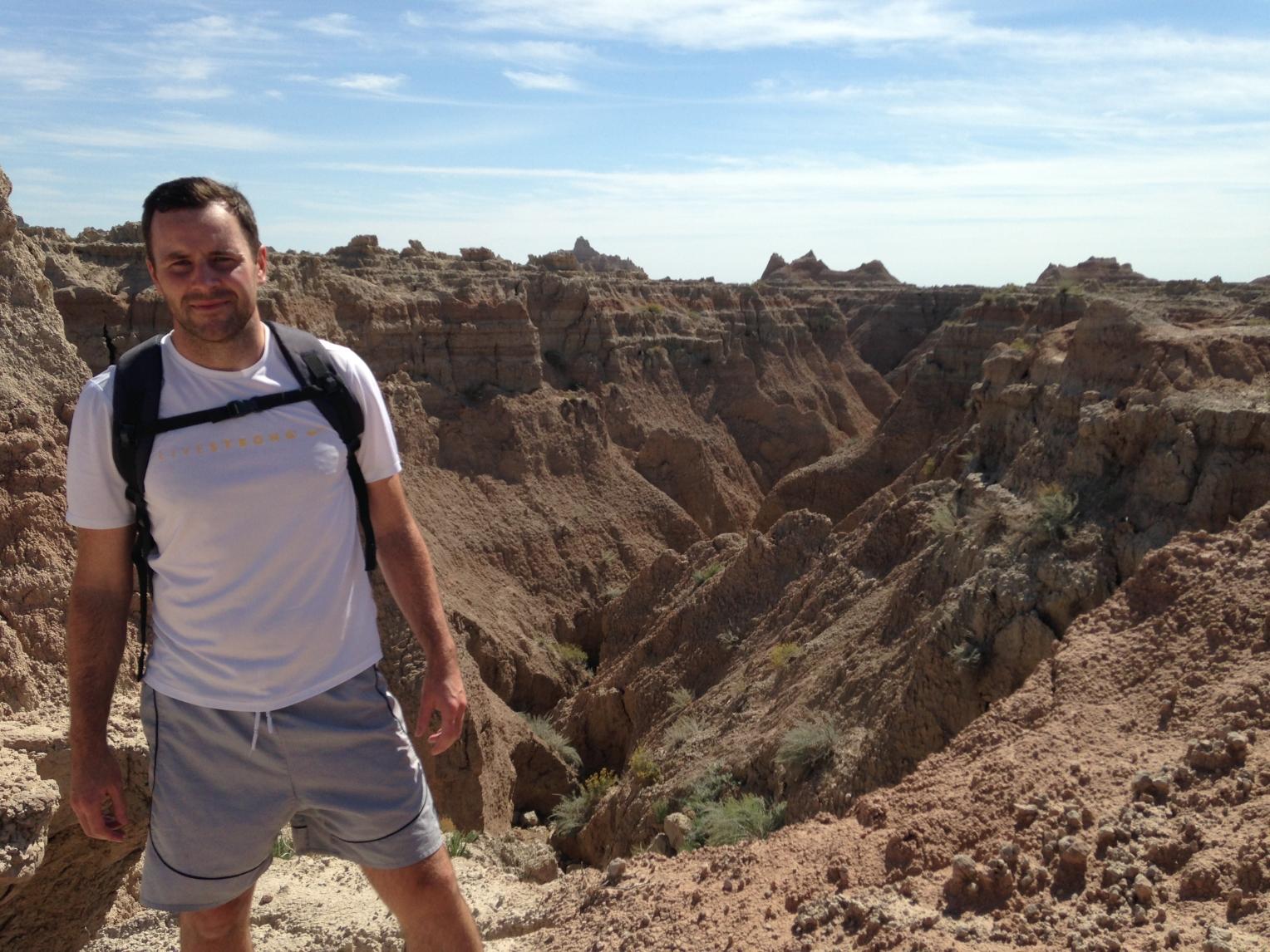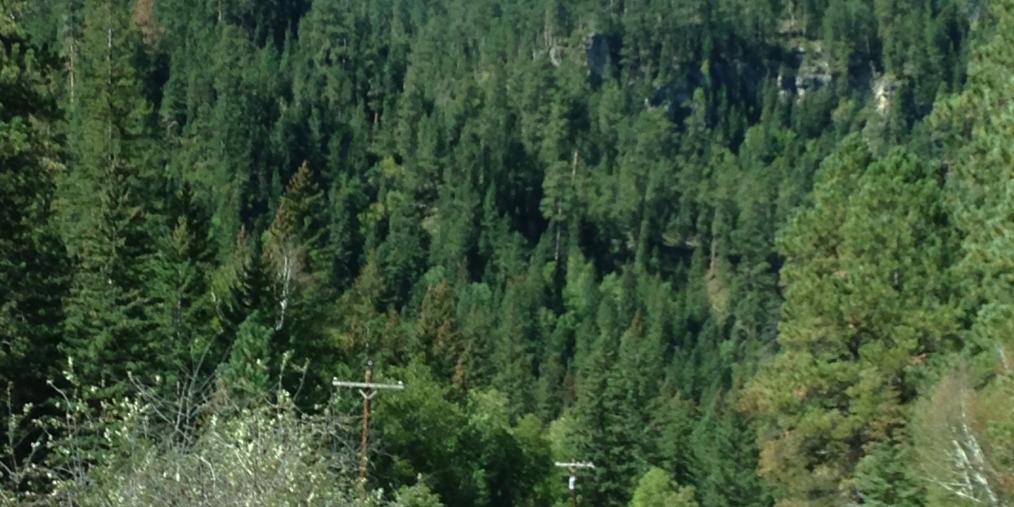 DAY 4
I'm up early, desperate to get out on the hiking trails. First up is the Medicine Loop Trail, a mixture of prairie and rugged Badlands scenery.
The endless green rolling prairie and the amazing blue sky blow me away. A perfect visual, the sky seems so big. The prairie grass (there are over 40 types) gently roll back and forth with the gentle breeze. This place is awe-inspiring. 
Deeper into the trail we enter the rocky mounds. Many colors here too: reds, yellows, browns and beiges. Imperious, rugged peaks and deep, deep crevices. It's so quiet. No cars to be heard and we only passed two other hikers. 
After finishing the Medicine Loop, we went straight onto the next trail – Saddle Pass. A steeper climb in the crevices and up a rickety ladder. The path ends abruptly. Now, bloody hell, that's a view. A cliff edge looks out over the distant prairie, no signs of civilization, just ancient natural rolling prairie and dark green trees over the Buffalo Gap National Grassland. I've got to sit for a while and take this in. It's top draw! 
We're off to the Black Hills now. I tell you what though, the Badlands are going to take some beating. 
We start to see the darkened peaks of the hills. Paha Sapa as they were called by the Lakota. The hills are black on account of the pine-covered slopes that dominate the landscape. Majestic, imposing from afar, and just the same as we get closer. 
We're staying a little out of downtown Rapid City, so we grab a taxi from the campground. The taxi driver was from Ohio and moved to "the Hills" — as they are called locally — as he fell in love with the place. 
It's evening and the small downtown square is busy. In the summer months there are bands and entertainment every Thursday. A great vibe and a bloody good Beatles tribute band entertain the crowd.
We try a few local bars: The Firehouse Brewing Company (the microbrews are outstanding) and the Wobbly Bobby (another Brit bar, which was great). We have good banter with the very friendly locals. It's a late one.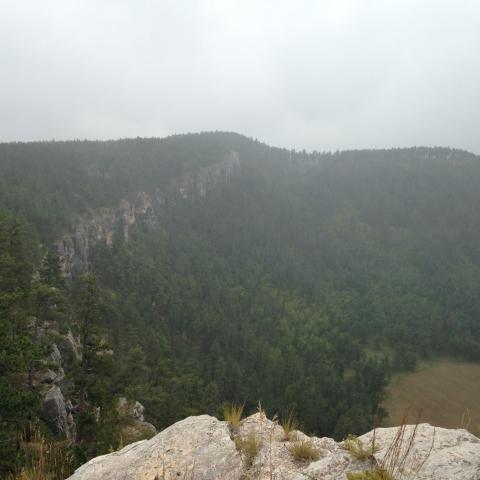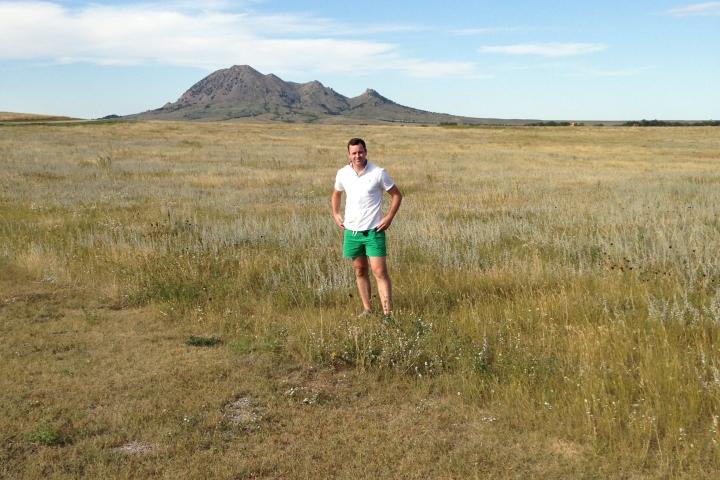 DAY 5
We rise slowly and decide on one small local walk recommended by, yes, a local. Only three miles, the Stratosphere Trail has great views. Breathing in the clean forest spruce-scented air is good for a hangover, by the way. Camera's been busy again.
We drive up to Deadwood in the northern hills. A historic town, foundations made on gold, layered with gunpowder, gambling and saloons. I'm not much of a gambler – I'll leave that to Joe – but as you may have guessed, I do like to enjoy a few drinks and party. 
We arrive at Deadwood's handsome Main Street. Bright lights, gaming halls, saloons and restaurants provide entertainment for everyone. I remind myself of all the history that's been absorbed into this very street – cowboys, laborers, gamblers, prospectors and madams! 
We do the touristy thing and head for Saloon #10. Sawdust covers the floor. I resist the temptation to slam my fist on the bar and shout "Hit me!" A great atmosphere. It's a little tailor-made for the tourists but what do you expect? 
Here we go again – party time. Am I getting too old for this? No, that ain't the Deadwood way. It's bold and rowdy and I love it! We hit the other bars, absorb the atmosphere and head for the Deadwood Jam. 
Held annually, this music festival is a must. All the locals get involved and top bands play there live. A great party in the street, people dancing and great bands, especially the Little Dubliners – an American rock band that play some quality Irish, folk and hard rock. I bought their album and they became the soundtrack to the trip. 
DAY 6
We check out Mount Moriah Cemetery, the final resting place of Wild Bill, Calamity Jane and Seth Bullock. 
Routes to any of the main cities or towns are on beautiful scenic byways and beautifully maintained roads. We take the steep and winding 14A through the town of Lead. Lead is an old mining town with old-fashioned shop fronts, galleries and museums. The now-closed Homestake Gold Mine was recognized as the deepest mine in the western hemisphere – 8,000 feet below the town. 
I ask a lady in the tourist info center how to find the location where the final scene of Dances with Wolves was filmed. I'm told it's past Roughlock Falls on the 222. I'm also informed that Roughlock is the most beautiful place in all the Hills.
Spearfish Canyon is special. The scenic byway twists through it; imperiously steep cliffs flank the byway. Oak, elm, aspen and birch trees blanket the canyon. Waterfalls of crisp clear water snake through.
We stop at the start of the Roughlock Falls trail. The sky is so blue I even take a picture of it. Unfortunately my camera phone doesn't do it justice. The walk is on a small track along a winding stream, home to bright green foliage and wildflowers. I'm snapping all the time – so much to see. 
At the end of the trail we arrive at Roughlock Falls, a small but impressive falls crashing down the canyon. Joe and I continue on past the falls looking for the Dances with Wolves filming location. We're on foot and it's further than I thought. Will I recognize it when I see it?
Not sure how far it is but I keep going and then I see the wooden road sign: "Dances with Wolves Film Site." I would have missed it. I head past the sign on a faint trail I can just make out. I enter an oasis amongst the trees; tall grasses grow wild. This is it, this is where the camp was, and now through the trees I make out the bluff. It's great to see, to know I'm in the exact spot.
Do you know the scene from the movie? Kevin Costner joins the Sioux at their winter camp. The camp is sad as he has to leave. The U.S. Army is desperate to find the treacherous turncoat, Costner/Dances with Wolves. He must leave to save the people so as not to draw the might of the U.S. Cavalry onto the Sioux. The warrior Wind In His Hair stands on the bluff high above the camp. As Dances with Wolves and his wife are leaving, Wind In His Hair shouts "sum any tatanka n obiwache" (I have no idea how it's spelled, so this is my phonetic translation). The sound echos throughout the canyons to the village below. "Dances with Wolves, I am Wind In His Hair. Can you not see that I am your friend? Can you not see that you will always be my friend?" Dances with Wolves stops, looking up, almost at breaking point, he pauses before nudging his horse on the trail leading away from the camp. Wind In His Hair repeats "sum any tatanka n obiwache," but more urgently this time. He looks a fine warrior. Head bowed, with great reluctance, Dances with Wolves leaves.
I'd always thought that I'd be able to stand on the bluff but there is no path. Off the gravelly 222 I find a steep bank. "Joe, give me 5 minutes." 30 minutes later I'm flat against a steep bank, slowly crawling upwards. It's treacherous but I'm going to find a way to the bluff. I'm way off the beaten track, but I love that. 45 minutes later I find the bluff. I can just make out the 222 and the RV a small dot. "Go on Stew," I tell myself. "Sum any tatanka n obiwache," I shout. Embarrassing, I know. But I had to.
Evening approaches. We decide to head towards Devils Tower, just over the border in Wyoming. The tower, a geologic wonder steeped in Indian legend is a must. We head west on Interstate 90 turning onto Highway 14. You can make the trip a circular 121-mile Devils Tower road trip, which is what I'd recommend. 
The scenery on the way is beautiful. As we get closer, we see it. A huge rock protruding out of the rolling prairie – its shape appears unnatural. 
The tower is the first-ever national monument in the USA. It just comes from nowhere. We camp at the KOA. We are parked up with a clear view of the tower. We head to Aladdin's store that has a restaurant just down the road and get a bite to eat. It's deep-fried and delicious and of course the friendly staff makes us feel very welcome. "We really appreciate you came out to see us." It really is my pleasure. We buy a couple of beers from the store and head back to the campground.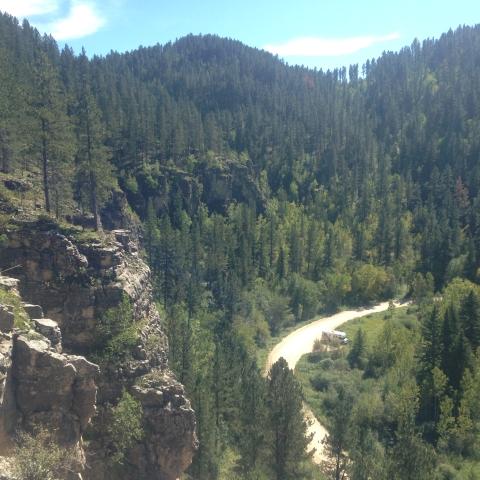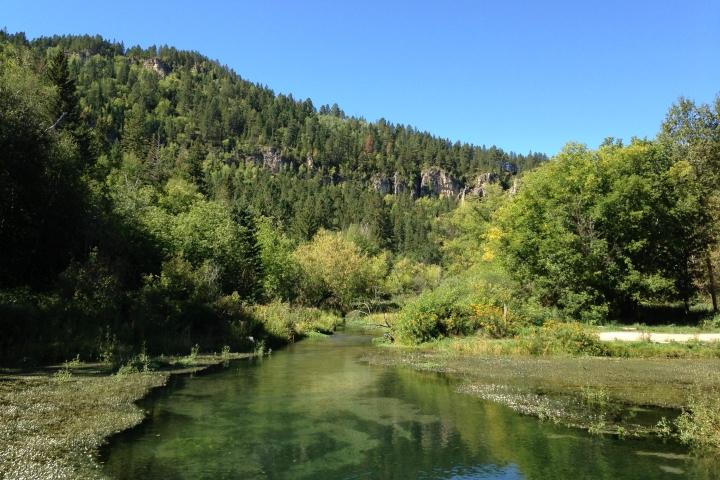 DAY 7
In the morning we take the 5-mile Red Beds Trail around the base of the tower. Fantastic prairie landscape and red cliffs remind me of Australia. A little like Ayers Rock, though I've never been. Another blue-sky day. The camera doesn't get much rest on this trail either. 
We finish the hike and continue on the loop on Highway 24. We've got a bit of a drive now down to Hot Springs. I've booked a trail ride at the Sage Meadow Ranch for tomorrow. We get onto Interstate 90 and head past Sturgis. I want to take a look at Bear Butte. We haven't got time to climb, sadly, but it's a magnificent site and well worth a stop.
We arrive at Hot Springs late and park in a car park near what appears to be the main strip. We head to a bar for a couple of drinks and a bite to eat and a few games of pool.
DAY 8
Up early, I'm looking forward to our trail ride. After traveling along a dusty road we arrive at a magnificent ranch house. We follow a sign and make for the stables and spot three of the finest looking horses tethered up ready to roll. 
Our guide, Holly, suddenly appears. I already explained that we have no horse riding experience but by giving our height and weight Holly has picked her horses most suited to us. My horse is called Rizzo. 
After being shown the ropes Holly is happy for us to head off. Straight away I'm loving this. Perfect blue sky, open prairie dotted with woodland, amazing views, nothing man-made to be seen in any direction. Rizzo was awesome sensing my lack of technique. He made me feel like a pro. 
Another thing that strikes me is the quiet and peace. That's a pretty rare thing these days. The terrain is great too. Climbing up steep banks and down into wooded ravines. The trail has everything. After a while, me and Rizzo are the best of pals. 
There's one more thing: I must gallop. That's how I dreamed it. 
With Holly's permission, Rizzo and I take off. Yeehaw! Wind in my hair now and it's bloody awesome. I look round and Joe is gaining on me. I can't have that. I dig in once again, Rizzo ups it a gear, and then my phone flies out my pocket. Whoaa!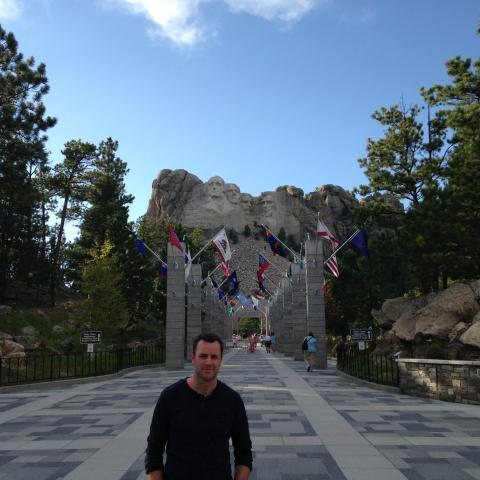 After retrieving my phone we head back to the stables. I thank Rizzo for taking care of me. Joe appears a daze. He tells Holly that the ride has just made his trip. We say our farewells and head off. I'll never forget that ride.
Holly tells us to stop off at the Hitchrail Bar for a bite to eat. It's in the small town of Pringle, population 137. This is the type of bar synonymous with the Old West. The ribs blew my mind, washed down with a beer. Shame we're on the move, as I could have stayed a while longer.
Highway 89 takes us straight up to the Crazy Horse Memorial. It's a work in progress, but the face of Crazy Horse is completed and it looks magnificent. I might be an old man by the time it's finished, but it's still a spectacle to look at now. The face commands! I'll be able to show I was there in the early days when my grandkids can see the fully complete version. 
I take some photos from the viewing deck and watch a short film about sculptor Korczak Ziolkowski, if you visit you must watch this. He's a great character and his charisma makes the short documentary well worth it.
There is a Native American educational and cultural center next to the viewing deck that is top of the line. I couldn't resist a buffalo skin and rabbit fur arrow quiver complete with arrows made by Shannon Yellowhorse of the Sioux. Another memento that will take pride of place in my living room at home.
Just 17 miles away, our next stop is Mount Rushmore. I remember seeing it in Superman 3. It looked impressive on the big screen but it's more impressive in real life. The four great faces, a display of American patriotism at its imperious best. We glide down the Avenue of Flags and take some photos.
Thoroughly satisfied at the day's achievements we park up for the night in Keystone and take ourselves to the Red Garter Saloon for a bite and some drinks.
DAY 9
Now a word of warning for those taking an RV around the state. Pay attention to the signs for road tunnels in the Black Hills. Making our way to Sylvan Lake and Black Elk Peak (formerly known as Harney Peak), we ended up reversing down a precarious mountain road, embarrassingly holding up the traffic. In our RV, we couldn't actually get to Sylvan Lake nor the start of the climb to Harney Peak. This left me in some despair, but perhaps I'll have to come back.
Custer State Park was next on the hit list. Synonymous with South Dakota are the buffalo, and this is the place to see them. I want to get up close to the wild majestic animals, icons of the American west. 
The park at 71,000 acres is home to an abundance of wildlife. The Wildlife Loop Road is amazing. It's a small fee to get in but well worth it. 
We stop to look at burros which are similar to donkeys. Very friendly, they stick their head in the window. It's hard to tell Joe and the burro apart in close quarters. 
A tourist traveling past tells us a large herd of buffalo are only a mile down the road. As we approach there are hundreds of them. They are huge powerful creatures. They are definitely in charge. We watch a guy get chased by one as he drove past too close on his motorbike. Lesson learned. I'll not be taking any chances.
We decide on a hike along French Creek, a 12-mile trek. This was the creek where gold was discovered on Custer's expedition. It's a shame when we have to head back. I'd do the 12 miles in a heartbeat but our time here is running out.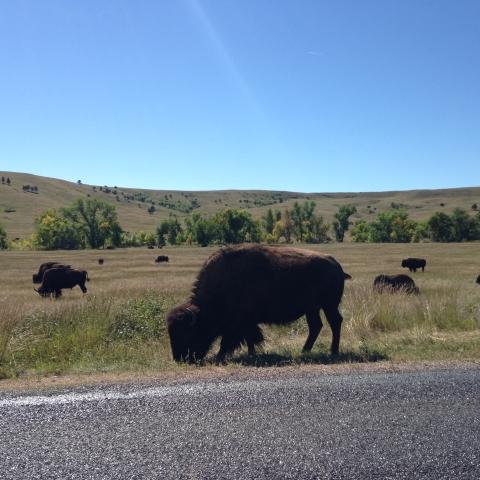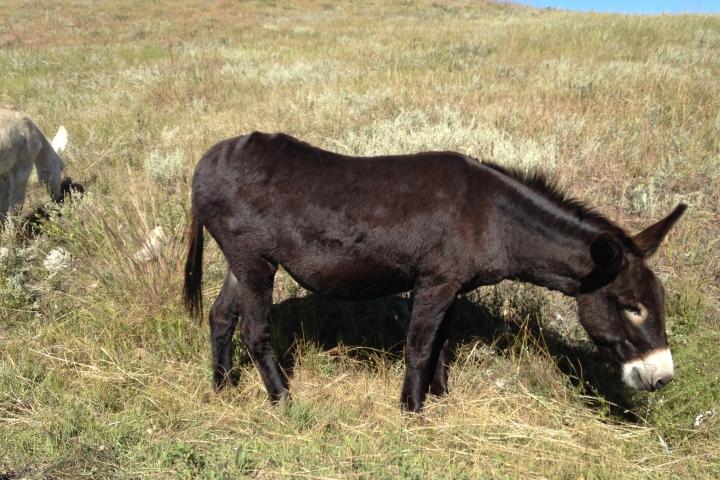 Time to head back to Minneapolis. Tough times.
Tunes on in the RV, we start the long road back and make it to Sioux Falls later this evening. 
It's Saturday night, so what else to do but head out. We hit a few bars and meet some interesting people: A lady who was a backing singer for Dolly Parton many years ago. I believe her too when she sings a song for us. That girl could definitely sing. We join a group of people celebrating a 40th birthday. They're a good group who drag me and Joe up onto the dance floor, and not for the first time either during this trip. It's all good fun and we exchange Facebook details and the rest of it. Well, I'm not on Facebook, but I know Joe seems a lot more popular now than when we left.
To break up the journey, we stop off at the Big Sioux Recreation Area and take a couple of 3-mile trails. Prairie grass and woodland make it a good stop off before the 4-hour journey back to Minneapolis.