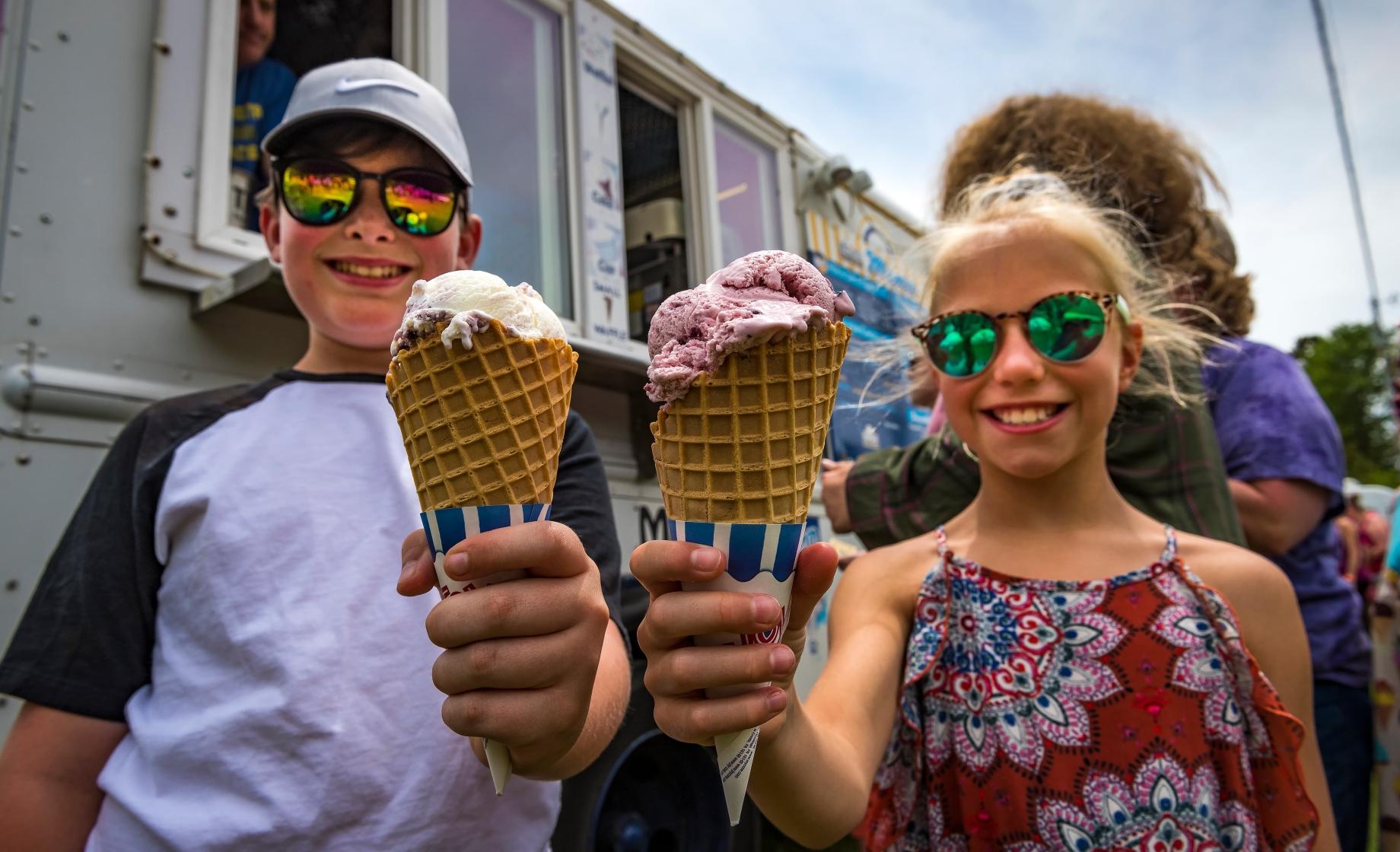 It's like the phrase says: we all scream for ice cream. Here's our recommended sweet-treat spots for a warm summer day!  
When in South Dakota, don't settle for some generic bucket from the grocery store. Get your ice cream fix where the locals do. Your taste buds will thank you.
The Purple Cow Ice Cream Parlor - Waubay
This purple ice cream oasis in northern South Dakota is just a stone's throw away from three lakes. That makes it an ideal component of a perfect summer day. Rotating flavors range from the traditional to the strange (Bacon Butterscotch Frozen Custard!) and every bit is delicious. The parlor also has a tremendous meat selection, so you can find something for your grill as you enjoy the finest ice cream in the area.
TJ's Ice Cream - Mount Rushmore National Memorial
You probably know Thomas Jefferson for his historic work as president and the writer of the Declaration of Independence, but did you know he also authored the first ice cream recipe in the country?  Visitors to Mount Rushmore National Memorial can treat themselves with a bowl of vanilla ice cream made according to Jefferson's original recipe. History never tasted so good.
Armadillo's Ice Cream Shoppe - Rapid City
If you like picking from a wide variety of flavors, Armadillo's has you covered. This Rapid City institution has a stunning number of milkshake and sundae combinations. There are also slushies, smoothies and iced coffees available. Some regulars plan their visits around the rotating Flavor of the Day. One taste is all it will take to understand why.
Dairy Dock - Yankton
Dairy Dock's motto is, "There is always room for ice cream!" They're good words to live by. Check out their rotating sherbet schedule, delicious sundaes and the occasional surprise. (Three words: fried Twinkie sundaes.)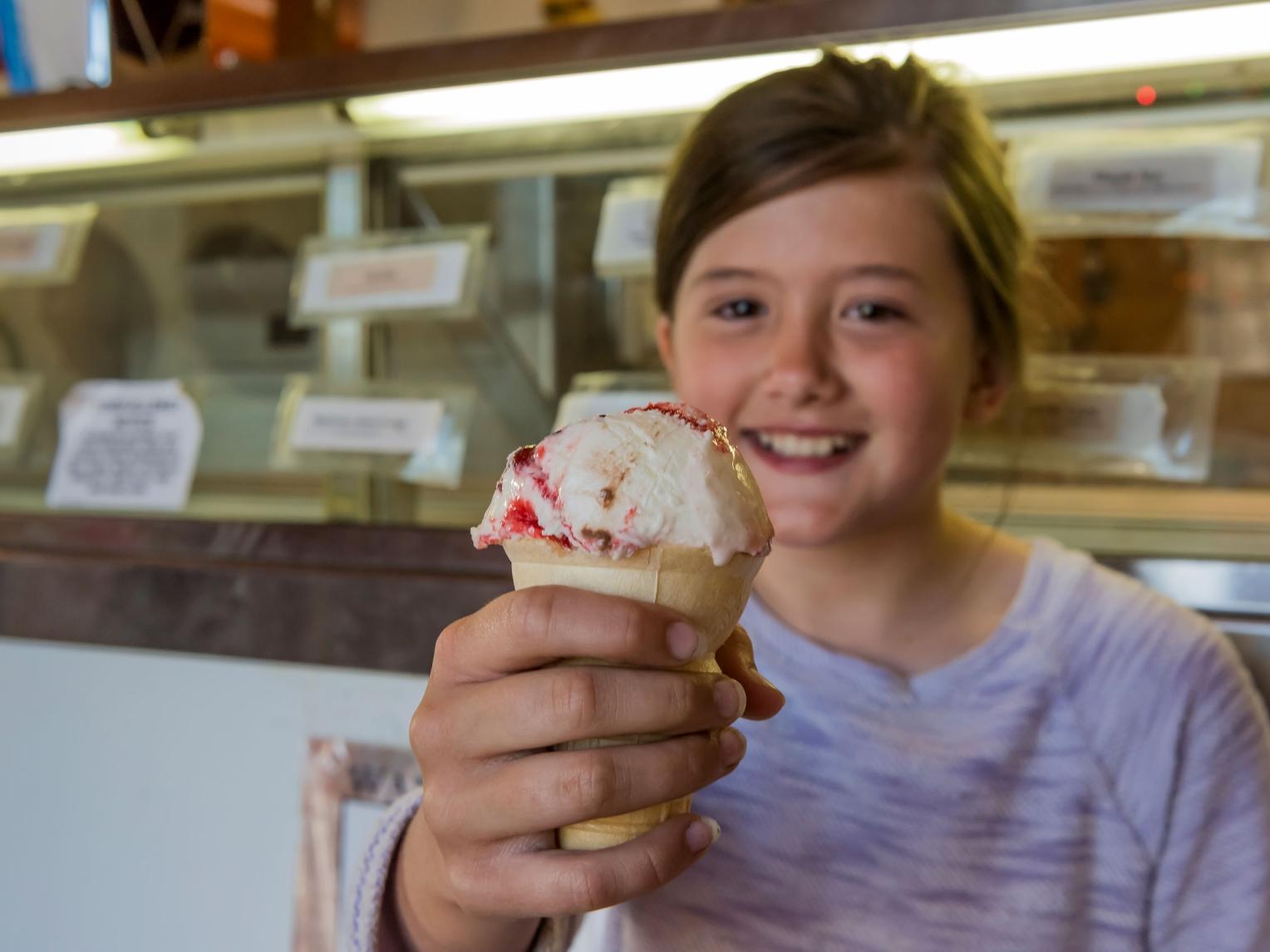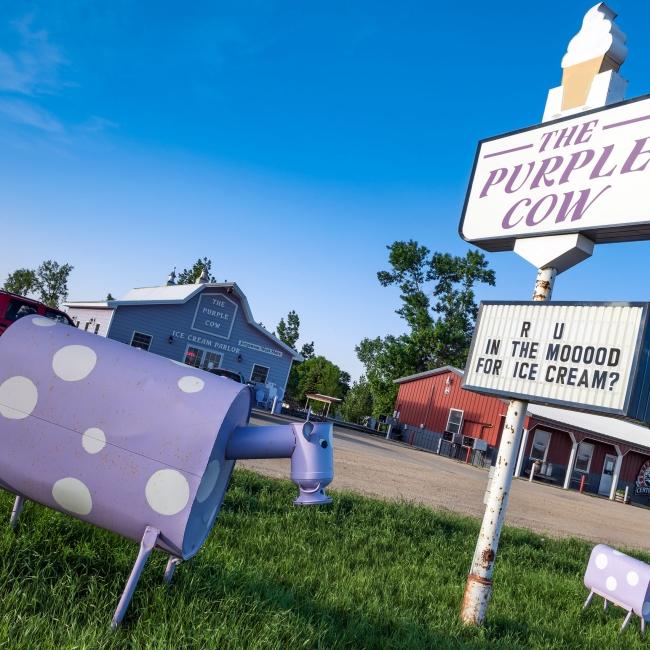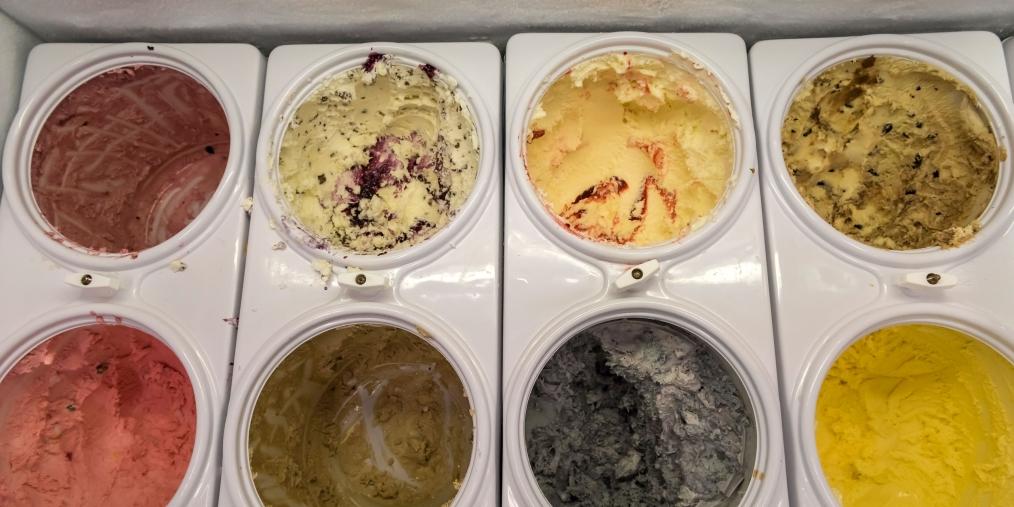 Zesto - Mitchell, Watertown, Brookings and Pierre
South Dakotans are a hearty people. There's no better example of this than when you see a group of people lined up in winter coats each year for the opening day of Zesto. It's happened before and it will happen again, thanks to the delicious ice cream, milkshake and other treat options available at four locations on the eastern side of state. Rotating sherbet flavors keep people marking their calendars. Become a true South Dakotan by arguing which location is the best…between mouthfuls of ice cream, of course.
Parlour Ice Cream House - Sioux Falls
This specialty ice cream parlor wants your visit to be an experience. That's why Parlour offer up to 18 flavors of ice cream, sorbet and gelato. Everything from the ice cream sandwiches to the waffle cones are made fresh daily. Not only does Parlour offer unique creations like the "Play Ball"—an ice cream creation that includes popcorn, salted caramel, chocolate and peanuts—but it also welcomes those with a late night sweet tooth by staying open until 10 p.m. on Saturdays.
South Dakota State University Dairy Bar - Brookings
The rivalry between this school and the University of South Dakota is real, but when it comes to ice cream, even the most devoted USD  'Yote has to admit that SDSU wins. Students make more than 60 flavors of rich, delicious ice cream and sherbet on campus "cow-to-cone," earning national accolades (Food Network Magazine said the bar's Cookies 'n Cream was the best ice cream treat in the state) and respect from even the most stubborn university rival.
Stensland Family Farms Ice Cream & Country Store
Okay, so the ice cream is technically made in Iowa. However, it's so good that we don't mind loading up on their farm-fresh treats at their Sioux Falls location or in grocery stores across southeastern South Dakota. Come for the ice cream, stay for …well, more ice cream plus freshly bottled milk, aged cheese and some of the best cheese curds you'll ever eat. If you're not sure what to start with, start with the Blueberry Cheesecake. Trust us. We love this kind of research.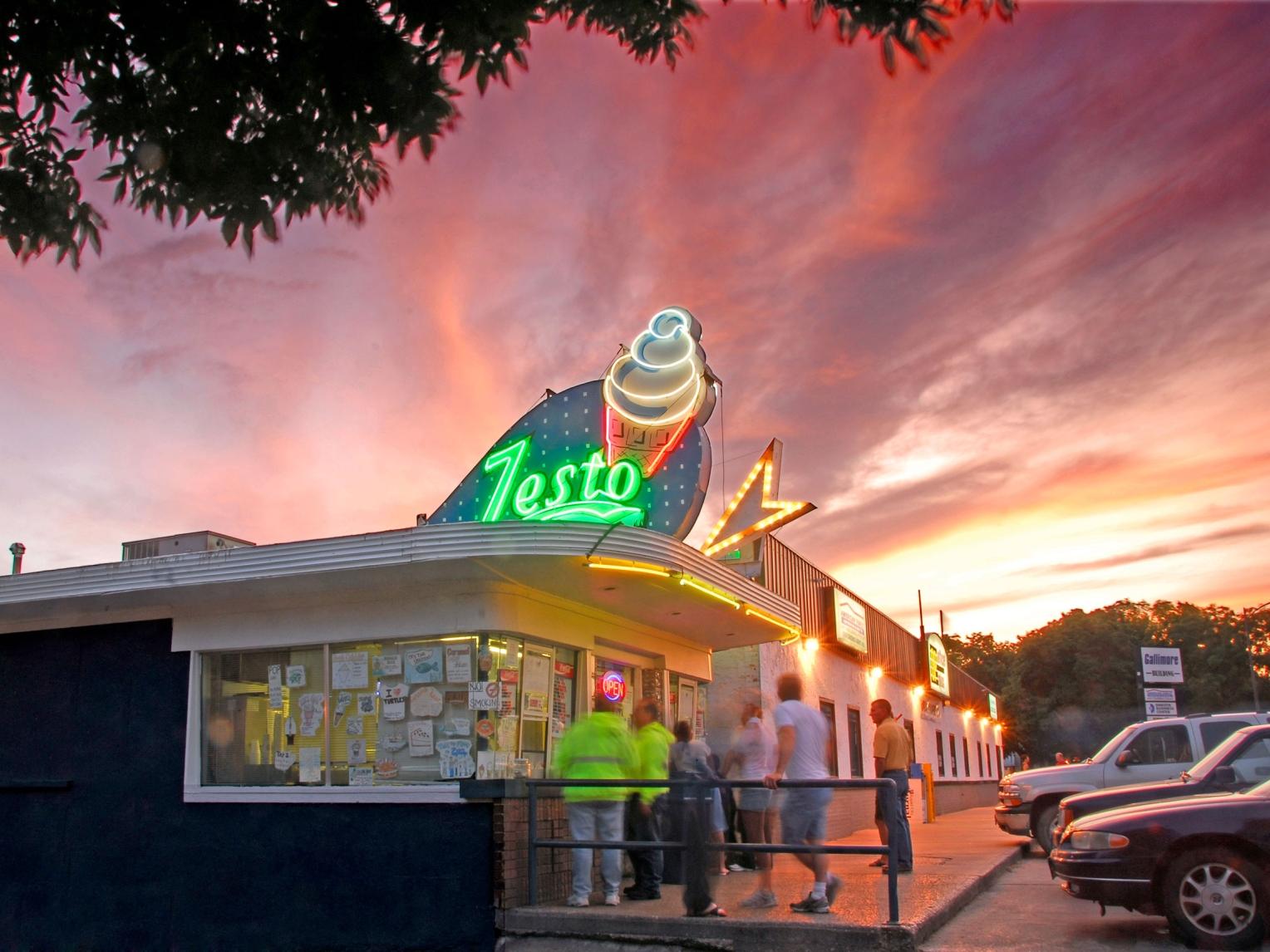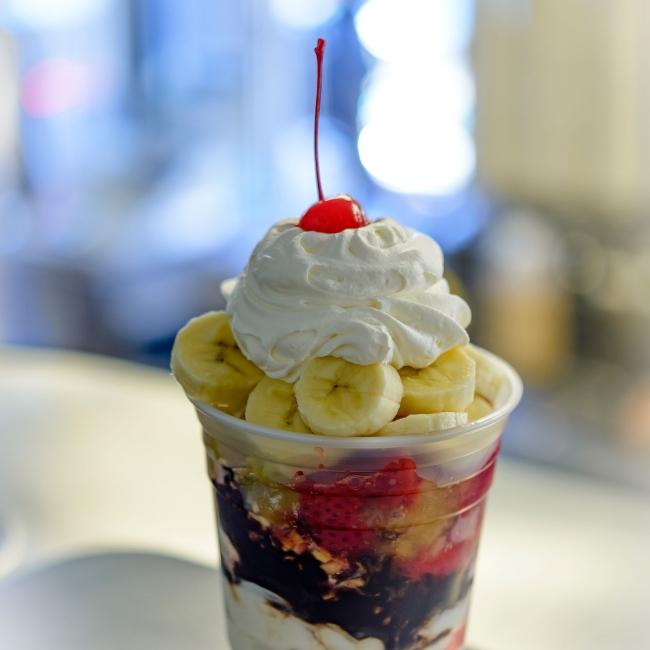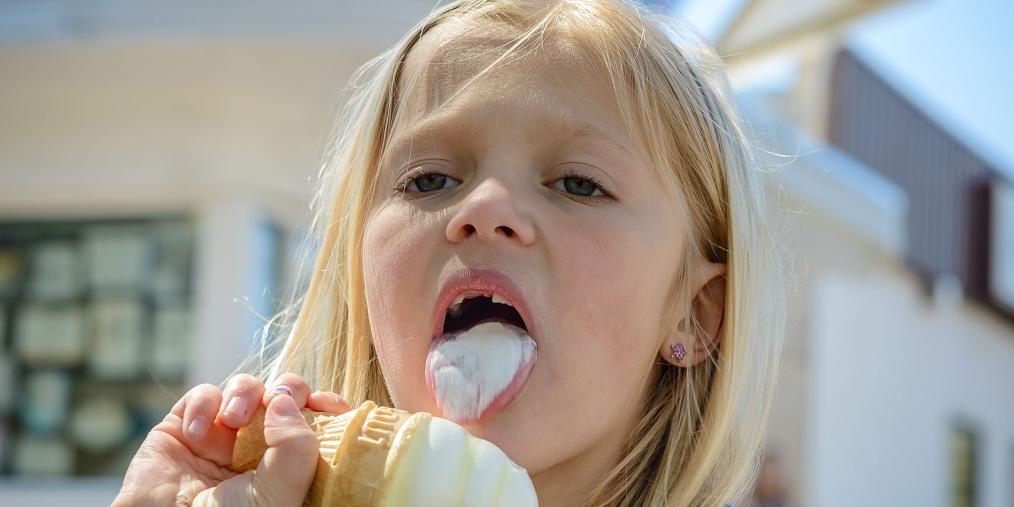 Twist Cone - Aberdeen
Like most good ice cream shops, this city institution offers a variety of flavors to make a cone or "Twister" (their version of Dairy Queen's Blizzard) extra delicious. What makes Twist Cone stand out are a) the rotating Italian Ice flavors and b) the option to get candy eyeballs on your cone. Ask for "eyes" and you'll see—pun intended—what we mean.
B&G Milkyway - Sioux Falls, Tea and Brandon
Not much has changed since the first B&G Milkyway opened as a drive-in restaurant in 1954. That's just the way customers like it. The oldest still-operating restaurant in Sioux Falls serves ice cream—now available at three locations in southwestern South Dakota—that's still made according to the original owners' recipe, so anyone with a taste for old-fashioned ice cream is likely to leave a B&G very, very happy.
Leones' Creamery - Spearfish
Located in a beautiful sandstone building along the Historic Commercial District Walking Tour, this place is all about happy hearts and tummies. Missions accomplished. The flavors rotate and the customer smiles never waver.  In the owners' own words, "ride yo' bike, use yo' feet…to Old City Hall on Main Street!"
Silver Lining Creamery - Rapid City
Thrillist believes this small-batch creamery is one of the best ice cream shops in the Midwest. It's easy to understand why. Using local honey and dairy products, this premium spot creates ice cream by hand in 2.5 gallon batches. This means that every flavor—ranging from huckleberry to root beer—is consistently fresh and delicious.
Boki Gelato - Sioux Falls
Mall food courts aren't always known for high-quality offerings, but Boki Gelato disputes any potential stereotype by offering customers an authentic and delicious gelato experience in South Dakota. With more than 16 flavors, Boki Gelato has gourmet ice cream for every palate. Molto delizioso!
Sweet Cheeks - Sioux Falls
Sweet Cheeks is the latest addition to the ice cream scene, offering a self-serve format and toppings bar with 10 rotating flavors of ice cream, frozen yogurt and dairy-free options. Load up with toppings from fruit to candy to sauce, and pay based on the weight of your delicious creation.