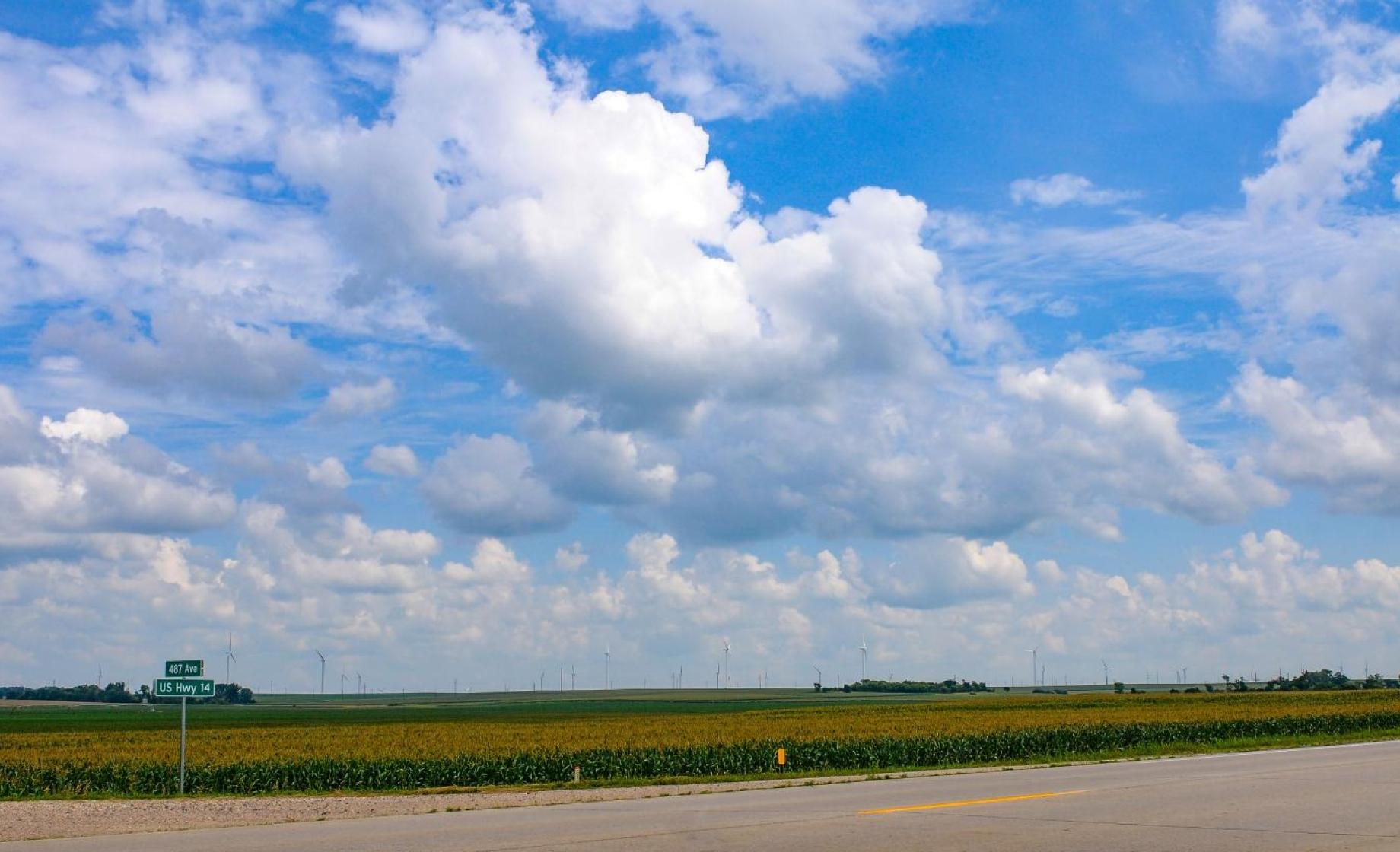 Austin Kaus spends a lot of time traveling South Dakota in search of the beautiful, delicious and odd. His explorations of Highway 14 have never let him down. Check out his recommendations for fun, food, selfie spots and ways to make a date night SoDak-special.
"Thanks to the Interstate Highway System, it is now possible to travel across the country from coast to coast without seeing anything." – Charles Kuralt
"<Can't respond because my mouth is full of raspberries>" – Me
While a paved two-lane road may have been high-tech decades ago, highways are today the place for people who want to explore without billboards or traffic. With this modern pioneer spirit in mind, I've cruised Highway 14 several times in search of unique sites, entertainment and, of course, food. Here's what I've discovered to be the best of the "Black and Yellow Trail."
My favorite Highway 14 adventure started at the Minnesota border as I prepared for an east-to-west adventure. The South Dakota welcome sign gave me a sense of impending discovery while the open fields conveyed a strong sense of peace. It didn't take long before I found my first Highway 14 gem.
Sanderson Gardens
If you're not paying attention, the sign for Sanderson Gardens might be easy to miss. But I'd already heard about this place from a friend, so I was keeping a careful (and hungry) eye out. I was not disappointed.
When the first thing you see is an unmonitored payment box, you know you're someplace special. Another sign invited me to pick, weigh and pay for the berries I was about to pick. I'm a raspberry lover, so I checked my wallet, nodded with approval at the green that (amazingly) was there, and hoped there would be enough berries to satiate my raspberry love. I looked to my left and saw…well, I'm not sure if "forest" is the right term, but it's the one that came to mind. I was going to be fine.
It only took a few minutes of me picking ripe raspberries before Josie Sanderson came out to join me. She happily volunteered to help me pick, so there were four hands snagging berry after berry before owner Jan Sanderson joined us. Unsurprisingly, he started helping too. People use the word "enable" like it's a bad thing. It's definitely not at Sanderson Gardens.
After some friendly chatting, I dropped some money (plus a couple extra bucks for their efforts) in the box and drove away overjoyed at what had just happened. I tried to keep track of how many berries I ate before my next stop. Because I'm not great at impulse control, I lost count at 20. It's a good thing we picked as many as we did.
Brookings
Home to South Dakota State University, the fourth-largest city in South Dakota makes an ideal spot for exploration day or night. This wasn't my first trip to Brookings (and it definitely won't be my last), so I'm happy and qualified to report on the best things to seek out in the city.
So, what is there to do? A lot. The Children's Museum of South Dakota is a blast for all ages. You don't have to be a kid to appreciate giant, animatronic Tyrannosaurus rex named Mama and Max, but children of all ages will definitely dig all of the hands-on exhibits at this award-winning museum. I'm excited to take the young ones in my family here someday, if only to have an excuse to play with the Airway Adventure…and the Market Fresh Grocery store, the Climb-a-Cloud, the Splash Table, the art studio…well, you get the idea.
On a beautiful summer day, I made sure to take a stroll around McCrory Gardens. Einstein once said, "Look deep into nature, and then you will understand everything better." Wise advice. I suggest travelers stretch their legs over the 25-plus acres of outdoor gardens (and 45 acres of arboretum). If you want to continue your exploration of the SDSU campus, check out the South Dakota Art Museum, the South Dakota Agricultural Heritage Museum, and a 165-foot tall chimes tower known as the Coughlin Campanile. If you're on campus when the Dairy Bar—SDSU is known for their ice cream—is open, try some.  If this University of South Dakota alumnus (the rivalry is real) can admit that it's delicious, then that is indeed some tasty ice cream.
Hungry? Locals and SDSU alumni agree that a breakfast at Cook's Kitchen is the best way to start a day. The place is a greasy spoon in all of the best ways. Platter-sized pancakes, unlimited coffee refills, and an option to put sausage gravy on everything make Cook's an ideal location to celebrate the morning.
A trip to Brookings wouldn't be complete without some burgers from Nick's Hamburger Shop. This locally owned restaurant has been selling burgers by the bag since 1929. With fresh patties and homemade buns, Nickburgers are known to leave a lasting impression on hungry patrons. Former residents experiencing a layover at the Sioux Falls airport have been known to rent a car and make a two-hour roundtrip just to pick up some of legendary hamburgers. Seriously. This has happened multiple times.
Thirsty? Wooden Legs Brewing makes delicious beer under the careful watch of one of the state's few certified cicerones (a term for those with proven beer knowledge), but you don't need an official title to know that pairing a fresh beer with the brewery's delicious cracker crust pizza is a sure winner.
Being a college town, Brookings has plenty of watering holes, but the medieval weapons displayed in Jim's Tap make it the spot in town. Come for the battle axes, stay for the Backpacker, a specialty drink that's influenced many a homecoming celebration.
Pop culture connections? Brookings is the hometown of both Gus Cruikshank (Paul Rust)—the main character in Netflix's series Love—and Charles Percy (Robert Baker) in Grey's Anatomy. But in real life, the town's most famous resident might have been Jimmy Buffett. That's right. The King of the Parrotheads lived and played music in Brookings for a year in 1969.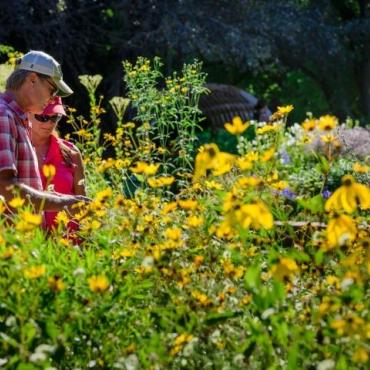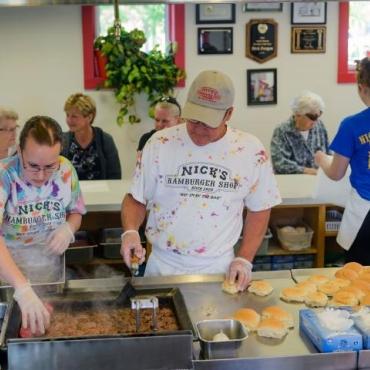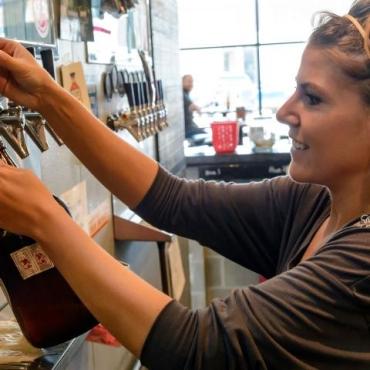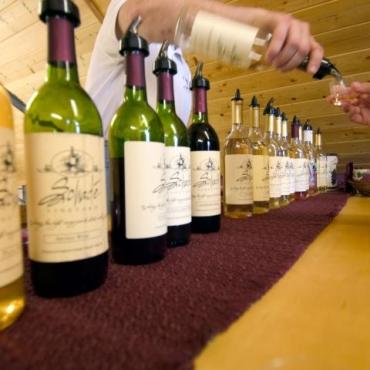 Volga
Thirsty? Jim and Nancy Schade started off making wine as a hobby. Today, their love of fermented grapes has materialized into Schade Vineyard and Winery, one of the most popular wineries in the state. Head just west of Volga for a taste (or several) of truly authentic South Dakota wine.
Best museum find? It's a tie between a couple of German/Prussian World War I spiked helmets and a wooden clock handcrafted by Brookings resident Milo Potas. The Brookings County Museum is home to these and other interesting pieces of local and world history.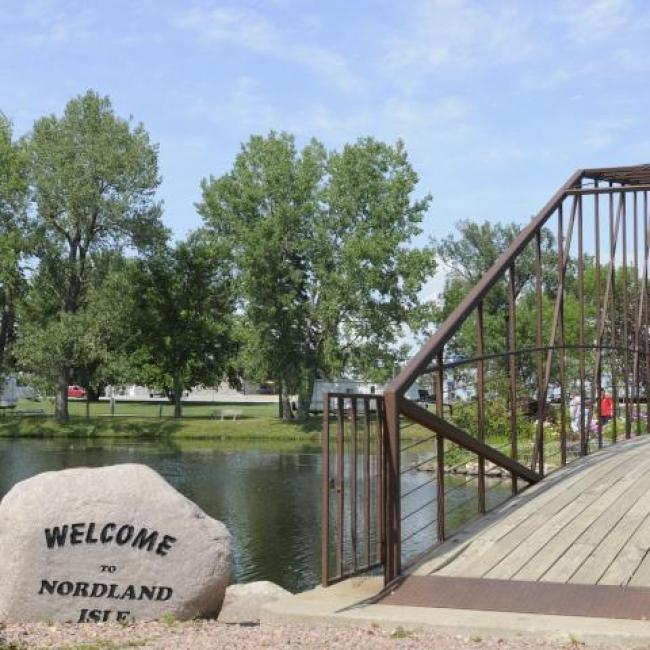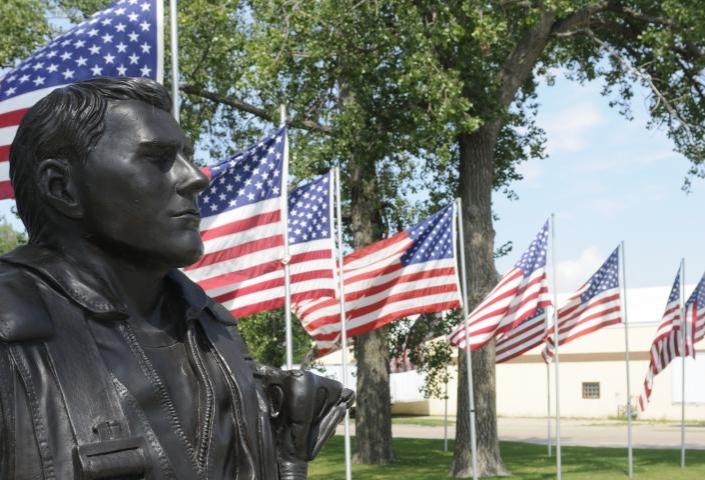 Arlington
You can't drive through this town without seeing that South Dakota's Arlington channels the reverence of Arlington National Cemetery in Virginia.  It's easy to spot the Arlington Veterans Memorial, featuring statues that honor all branches of the United States Military. After paying respects, travelers can take an easy stroll over a footbridge to Nordland Isle, an immaculately maintained flower garden in the middle of the town's lake.  
Most famous resident? Theodore Shultz was born in Arlington in 1902. He went on to co-win the Nobel Prize in economics in 1979.
Lake Preston
Best museum find? Even if you've never ordered Braunschweiger from a restaurant, it's hard not to be charmed by the Susie's Café display. Complete with chairs, booth, and a cutout of the diner's mascot, Oscar, the recreation takes you back in time and offers a nostalgic look at the days when dating involved milkshakes and a hamburger cost 35 cents. Take a seat at Susie's and check out the rest of area history at the Lake Preston Museum.
De Smet
If you've read any of Laura Ingalls Wilder's Little House on the Prairie books or watched the long-running syndicated television show, your imagination has already gone on adventures with Ma, Pa, and the rest of the Ingalls family. But even those that have never turned a page of her books are likely to fall for the charm and history of the Ingalls Homestead in De Smet. Experience a one-room school lesson, make your own corn cob doll, and take a covered wagon ride across the prairie to immerse yourself in a world made famous by some of the most celebrated books of all time.
Visitors to the Laura Ingalls Wilder Historic Homes can tour the original Ingalls home built by Charles "Pa" Ingalls from 1887-1889, the original Surveyors' House (as featured in By The Shores Of Silver Lake) and De Smet's first school, which was attended by both Laura and her sister Carrie. Admission is by guided tour only, so make sure to give yourself a couple of hours for the experience plus an additional hour for a self-guided tour. Tours fill up fast from June to August, so please plan properly to maximize your fun.
For the ultimate Little House on the Prairie experience, hit De Smet during the Laura Ingalls Wilder Pageant. Held during the middle of each summer, the pageant features more than 100 volunteers combining talents to perform a family-friendly drama based on Wilder's writings.
Whether you experience the pageant or spend a couple hours touring the grounds, there are some dedicated folks in De Smet ready to make you feel, in Laura's own words, "sweet and good inside."
Most famous resident? That would be Big Trent, a man famous for juggling gravel at all hours of the night. Just kidding. It's definitely Laura Ingalls Wilder.
Manchester
"Where is the claim?" Pa inquired.
"It is some little distance north of Manchester," said Ma. Manchester was a new little town, west of De Smet. – These Happy Golden Years by Laura Ingalls Wilder
Established in 1881, the rail town of Manchester grew rapidly throughout the 19th century before a dwindling population reduced it to a small group of aging buildings that were all wiped out by a F4 tornado on June 24, 2003. The community's memory remains, though, thanks to a granite monument erected to honor the town's residents, whose population included Laura Ingalls Wilder's sister. Grace Ingalls Dow spent a significant part of her life in Manchester, working as a teacher for many years before her death in 1941.
One of the great parts of a highway adventure is finding surprising bits of history. While checking out the Manchester site, I noticed a historic marker beside an open field across the highway. It turns out that the field was the site of the KELOland Gold Rush. I'm a lifelong South Dakota resident, but I'd never heard of this. It didn't take long to learn that the contest was a very big deal, especially for a woman named Lola Carlon.
Carlon was one of 1,439 people who won gold shovels from local merchants in 1961 and, as a result, were granted a chance to dig in the 200-foot by 300-foot "gold field" where capsules had been buried. When a digger found a capsule, they would bring it back and claim their prizes. Carlon was one of the last to dig up a capsule—she had initially planned to skip the event—and ended up winning the $10,000 prize.
More than 150,000 showed up to celebrate the two-day event, the biggest promotion ever held by KELO television and radio stations. A number of celebrities showed up to help promote the event, including a young actor named Clint Eastwood from the hit television series Rawhide. We know what happened to him, but what about Carlon? Despite temptations to spend the money on some luxury items, she ended up using the prize to put her five children through college. Who knew a field could have so much history?
Most famous resident? Harvey Dunn is considered one of the greatest artists to ever come out of South Dakota. Born on a homestead three miles south and one east of Manchester, Dunn went on to become a nationally recognized illustrator, teacher, Army artist, and painter of the South Dakota prairie. As the historic marker along Highway 14 says, Dunn preferred painting early South Dakota life to anything else, saying "my search for other horizons led me around to my first."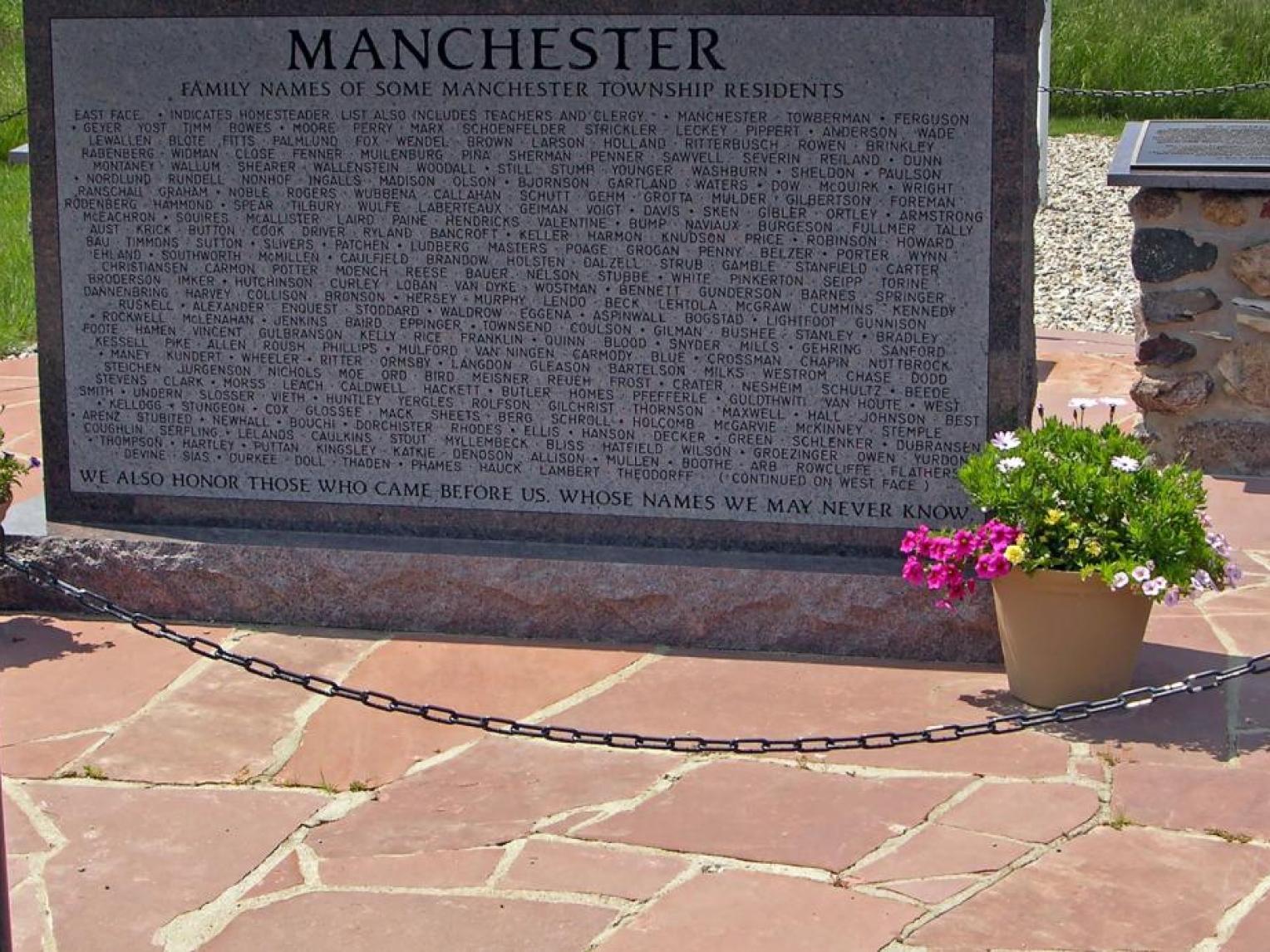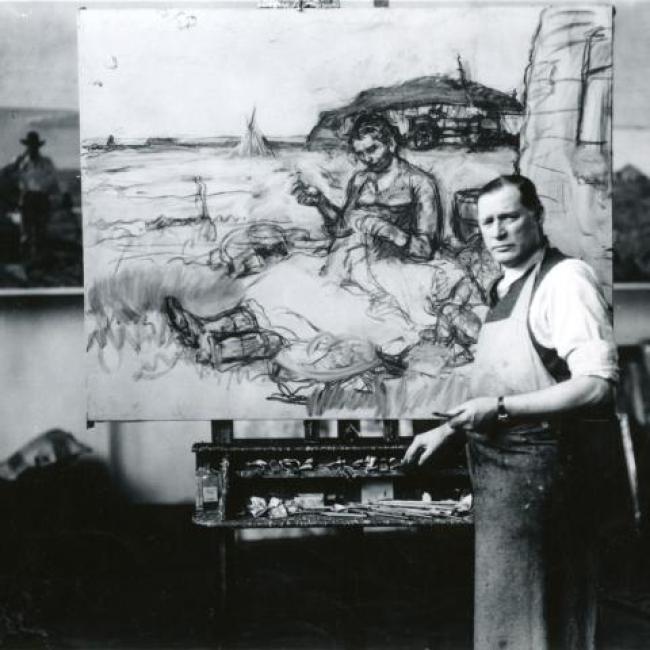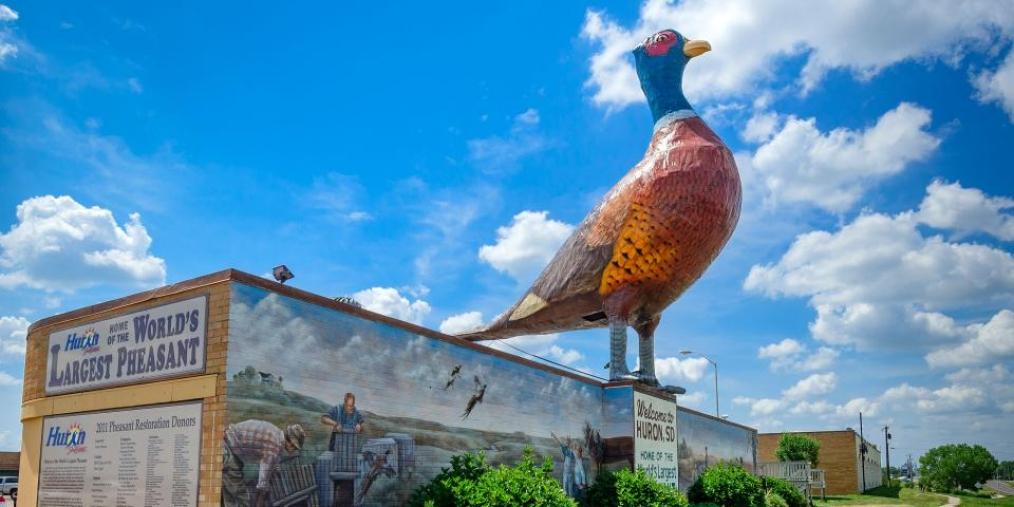 Huron
Once a year, Huron fills with visitors that come from all over for the South Dakota State Fair. But even if you can't hit the fair, you can find some magical spots in Huron any time of the year. 
Hungry? I'm no nutritionist, so I can say without remorse that the donuts from Donut Shoppe are a delicious and a perfectly fine way to start the day. Tucked away just off Dakota Avenue, the Coney Island Café has never let me down, whether it's with the homemade daily special or the Coney Dog, which features homemade relish that dreams are made of. Also, no trip to Huron would be complete without a sandwich from Manolis Grocery. It's not only one of the oldest family-owned grocery stores in the state. It's also the place where the meat and cheese are cut so thick that a single sandwich could feed two people (or, if you're me, just one hungry and happy dude).
Most Famous Resident? Former Vice President Hubert Humphrey worked as a pharmacist in the family's drug store before he went to Washington. Humphrey Drug Store (only a few buildings down from the Coney Island Café) is still run by the family today and features memorabilia from Humphrey's political career. Because it's South Dakota, you can also just ask the clerk about Humphrey and she'll happily share some stories of her beloved relative.
Best Museum Find? The Dakotaland Museum is home to the usual Midwestern historical artifacts—tools, guns, a two-headed calf (seriously)—but it stands apart from its peers with a fascinating and rare collection of nearly 100 stuffed birds including owls, eagles, hawks and pelicans. 
Best Selfie Spot? Huron is home to the World's Largest Pheasant. It seems made for social media posts.
Date night? You'd better include a selfie with that pheasant (and, of course, tag it with #HiFromSD). The adjacent Plains Dining and Recreation Center can take care of all your date night needs with a restaurant, a bowling alley, and occasional comedy show.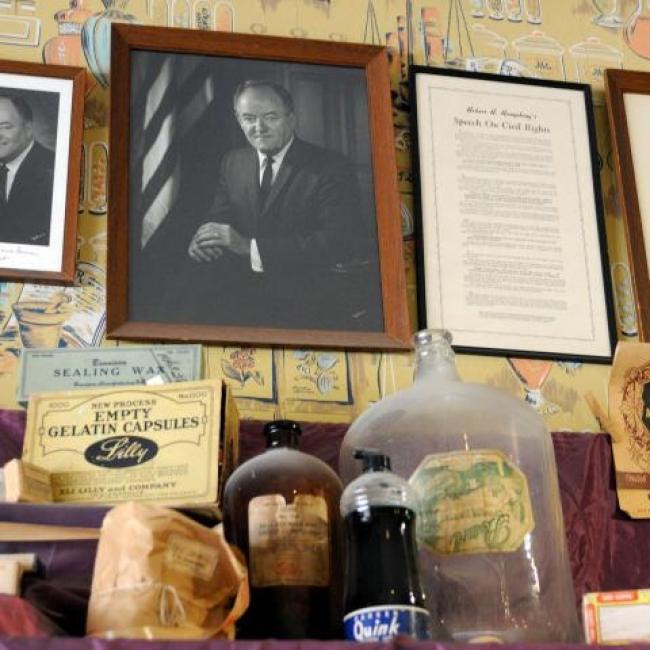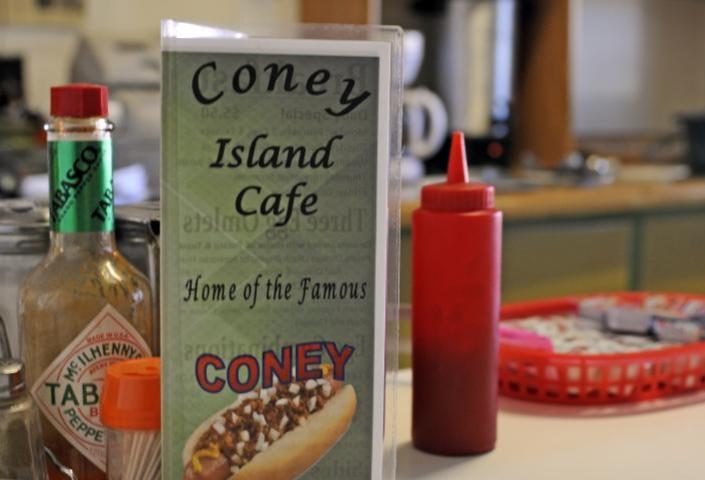 Wessington
This small town along Highway 14 doesn't have a lot of businesses, but it is home to the Sunset Bar & Grill where friendly faces will serve you pig wings and burgers until you can't move. It's an ideal place to erase hunger and probably make a few new friends.
St. Lawrence
If you're coming from the east, keep your eyes open to the north as you approach St. Lawrence. You'll see that someone built a giant arrow that appears to be shot from the sky. That prepares you for the unique history that awaits.
Most famous resident? Wayne Porter was only 10 years old when he made his first sculpture in his father's St. Lawrence blacksmith shop. The small bull's head he created foreshadowed one of his biggest sculptures to date, a 60-foot, 15-ton version that's one of the most popular attractions at his Porter Sculpture Park just off I-90 near Sioux Falls. Porter admits he built the giant head without practicality in mind.
"Fella, this is about Highway 14," you say. "What does this have to do with St. Lawrence?" Well, not only is this where Porter grew up and built his creations. It's also where he'll spend the winter working on transforming an old cement truck mixer drum into a giant rabbit.
 "I don't really know what I am doing. I build things so big and I am so close up to them that all I can see is directly what's in front of me," Porter modestly admits. "Apparently, I like to do big things. I swore to God I'd never do anything big again. But, no. The rabbit won. The rabbit wanted to be born, so I guess the rabbit is going to be born."
Best Selfie Spot? Uh, see above. From May until October, Porter and his trusty dog, Bambino, live on-site at the Porter Sculpture Garden, but once the summer is over, you can find him in St. Lawrence. He's happy to receive visitors at his shop, which Porter admits may be "the only tourist attraction in St. Lawrence." The technical address is the corner of North Commercial Avenue and 1st Street NW, but there aren't many street signs left in the little town. Not a problem. St. Lawrence is tiny, so follow Main Street to the elevator. Porter's shop is on the first street north of the elevator behind the tree strip.
Hungry? You're cruising through beef country, so don't be surprised when steakhouses appear—and thrive—in small towns. St. Lawrence is no exception. Residents regularly flock to Willie's Bar & Grill for steak and smiles.
Miller
Date night? My first few years were spent on a farm outside of Miller, which means my first movie memories came from Midway Drive-In Theatre. (It was Return of the Jedi, in case you were wondering. I didn't choose the nerd life. It chose me.) The Midway is one of the few remaining drive-in theatres in the state and, for reasons both obvious and recent, one of my favorites. So, it's basically non-negotiable that your date night should include the Midway. There's nothing quite like the feeling of watching a film under the stars, and the collective happiness that you feel sharing a film with area movie-lovers is irresistible.
But you also need food (unless movie popcorn is a meal for you, which is a sentiment I understand and endorse). A town this size is designed for diner cooking, so grab a hot beef sandwich (South Dakota's unofficial meal) and some homemade pie at the Ranch Café or grab a steak from the aforementioned Willie's.
Pierre
Welcome to the state capitol! In addition to being the place where South Dakota's laws are created, Pierre is also home to military history (South Dakota National Guard Museum, World War II Memorial, Soldiers & Sailors World War Memorial), politics (the Trail of Governors features 20+ statues of past South Dakota governors), and fun stuff for kids and adults that don't want to grow up (South Dakota Discovery Center).
Hungry? I'm not the only person that considers Cattleman's Club Steakhouse one of—if not the—best in the state. It's home to a great backstory and even better beef. Deeper in town, I've left full and happy from Mancuso's La Minestra (Great Italian food exists in the middle of South Dakota? You bet.), CHOPS Fine Meats & Fare, Richie Z's BBQ & Grill, and the authentic Mexican food of Gallo's. Wingheads should make sure to taste the tender, smoky flavors of Richie Z's or hit up Jake's Good Times Place and ask for the "awesome sauce." It's a mix of sweet chili and traditional wing sauces that I can't stop eating. For a true mom-and-pop grocery store experience, grab some grub at Korner Grocery. (Note: Author is not responsible for the addictive nature of the frosting on the cinnamon rolls.) 
Also, if you've ever enjoyed the experience of eating a donut, you must, must, MUST get something from The Donut Shop. Tucked behind some trees in northern Pierre, the place is legendary for its baked goods that include donut cakes and homemade filling. I don't know what magic they put in there. I just know that I—someone who is definitely not a morning person—have set an alarm multiple times to get in line for this deliciousness. If you take the last coconut crunch donut, we're going to have a talk.
Thirsty? You will not find a tastier cocktail in the area than those carefully crafted at St. Charles Lounge. Those wanting to grab a cheap beer where the locals drink should head to Bob's Lounge, where the waitresses are friendly and the popcorn is free.  If you're looking for a riverside cocktail, grab a deck seat at the American Legion bar on the southern end of Main Street. 
Best selfie spots? It's hard to beat the exterior of the South Dakota State Capitol, but those looking for a more natural setting should just find a spot by the Missouri River and enjoy. If you're a fan of military history, the tank, fighter jet, and other equipment outside the National Guard Museum are likely to make for one heck of a backdrop.
Best museum find? It's a tie, but they both can be found at the Cultural Heritage Center. From 1955 to 1966, South Dakota kids (especially those on the east side of the state) grew up with Captain 11. KELO weatherman Dave Dedrick donned a pilot's uniform and introduced generations to cartoons, toy chests, and friendly commands to "wave both hands and both feet". Today, nostalgia lives on with a Captain 11 display at the Cultural Heritage Center. If that's too specific for you, know that everyone loves to test their milking abilities with the interactive cow. Yes. You read that sentence correctly.
Date night? Burn some calories and explore the capitol building by searching for the elusive blue stones hidden in the terrazzo floor. In the winter, the Capitol becomes a glowing home of pine scents once area groups fill the building with holiday trees for the annual Christmas at the Capitol. If you're there during the warmer months, take a stroll around Capitol Lake before hitting one of the aforementioned restaurants. During the summer months, Zesto is the place for delicious ice cream (note: the birthday cake shake is amazing). It's also very close to the movie theatre (where popcorn seasoning is free!) as well as the Grand Opera House where talented residents donate their talents to community theatre productions throughout the year.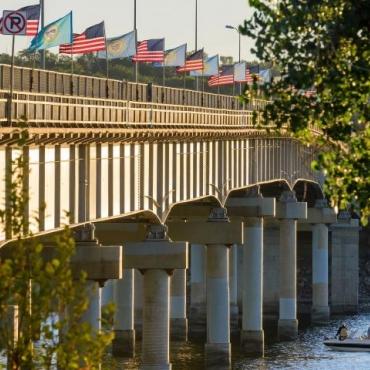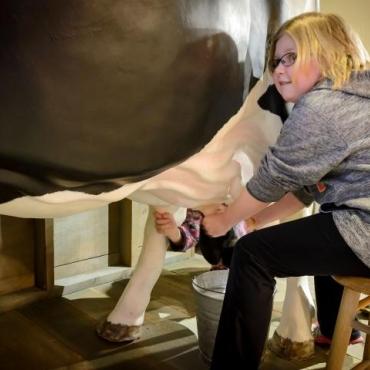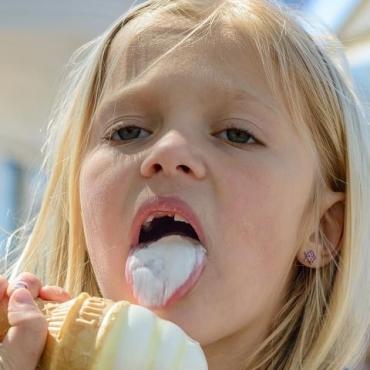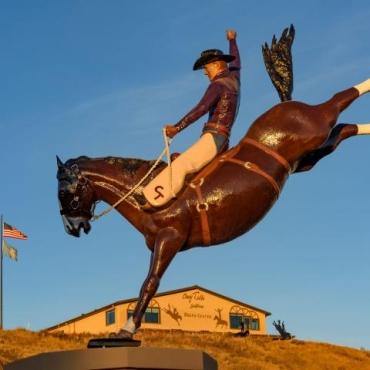 Fort Pierre
Just across the river sits a different town in a different time zone: Fort Pierre. It's been the home of a variety of folks since the 1400s, including the Ree and Arikara people as well as the Lewis & Clark expedition in 1804. If you bop off of Highway 14 for some exploration, you'll easily find some history and fun.
Most famous resident? With his trademark purple clothing and unbelievable saddle bronc-riding talent,  Casey Tibbs became known as being to rodeo what Babe Ruth was to baseball. Take a stroll through the Casey Tibbs South Dakota Rodeo Center and learn more about this legendary cowboy while also getting a gorgeous view of Fort Pierre. You can grab a picture with his statue bronze statue on-site or at a rotating, fiberglass version—referred to as "South Dakota's weather vane"—along 1st Street, the main road into Fort Pierre.
Thirsty? Drifters Bar & Grille offers dining and drinking options along a bank of the Missouri River. With an ever-rotating selection of tap beer, I can easily find something for my picky palate every time I walk through the doors. If you want to feel like a cowpoke, belly up to the bar at the Silver Spur restaurant.
Best selfie spot? Hop on The Sunset, a restored paddleboat that's available for cruises and private, reserved charters. It's one thing to look at the Missouri River from its shores, but it's far better to see it when you're actually on the water.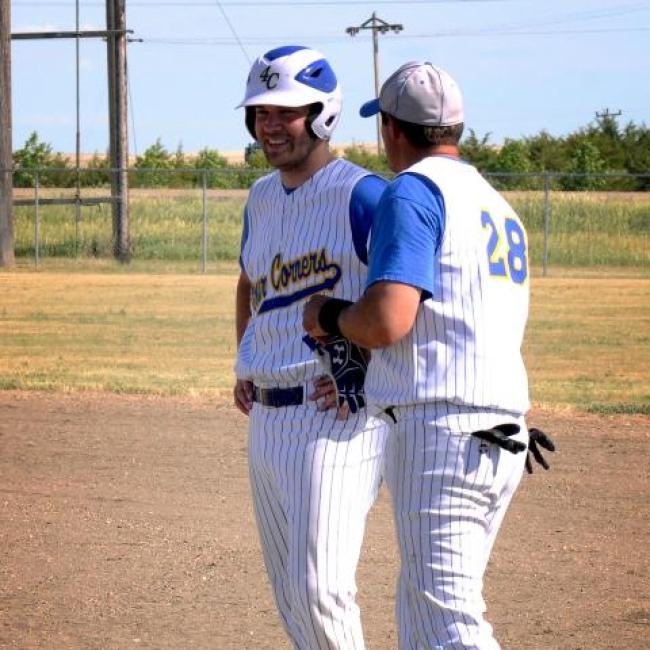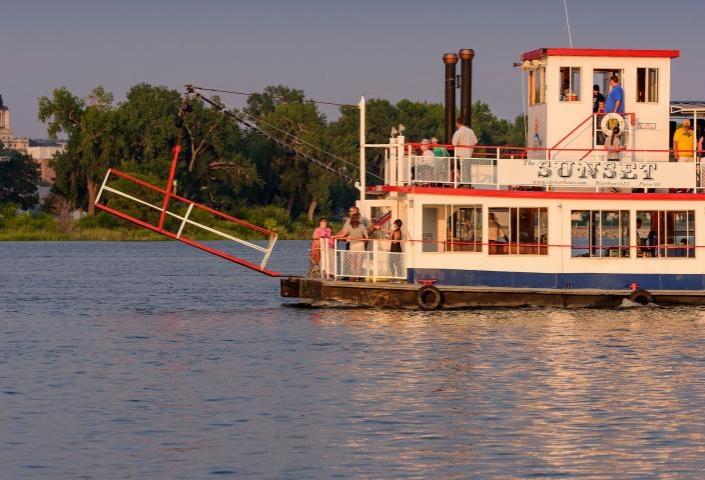 Four Corners Field
Onward! If you're planning your trip ahead of time and looking for a unique baseball experience, make sure you time your trip to coincide with a Four Corners baseball game. I've seen a lot of baseball, but this field is the only one place I've ever found where you can eat a hot dog and enjoy a game in a baseball field surrounded by pasture. It's a field of prairie dreams and part of the amazing journey along Highway 14.
Midland
If you're not paying attention, you might drive by Midland without seeing the Stroppel Hotel. Don't make that mistake. This unassuming place is home to world-famous mineral baths that customers swear contain curative properties. According to South Dakota Magazine, a local drunk who suffered from arthritis helped discover the town's curative properties when he passed out in a ditch full of the warm water. "They say when he came to, he didn't ache anymore," said George Stroppel, the inn's proprietor and chief masseuse.
Cottonwood
"At one time, Cottonwood was probably the largest and most thriving town between Fort Pierre and Rapid City," wrote Leona Cook in 1966. Today, the population is around 10. An almost-deserted town might not be everyone's idea of fun, but there's a certain fascinating charm that comes from stretching your legs in Cottonwood. History buffs and photographers of all skill levels seem to be drawn to the town's ancient church and other buildings that can cause the imagination to wander about times long gone.
Wall
Roadside signs advertising free ice water transformed Wall Drug from a tiny drug store to one of the most famous tourist stops in the world. It's where I've eaten some legendary donuts while surrounded by the largest privately owned western art collection in the country. (It's valued in the millions.) I've walked off a hot beef sandwich in a mall with camping supplies, books and homemade fudge. I've played arcade games and watched a giant animatronic dinosaur roar at families, and I've sat on a jackalope and watched a gorilla play piano. It was all awesome and it all happened at Wall Drug.
"A journey down Highway 14 forces us to slow down, stop for a cup of coffee, and take a moment to listen and reflect." –Looking for History on Highway 14 by John E. Miller
Our beloved road merges with Interstate 90 at Wall in what I consider the traditional end to the Highway 14 adventure. From Wall, beauty awaits in many directions. Badlands National Park sits to the south (Wall was named because it was "the wall of the Badlands") and the stunning sights and sites of the Black Hills—including Mount Rushmore, Crazy Horse Memorial and Custer State Park—await you to the west.
Here's hoping you find the same joy I did while traversing up and down Highway 14 in search of adventure, food and unique spots. There's a whole world of exploration awaiting you on the historic highway. Follow the road in either direction and find your great place along Highway 14.
SEE WHAT DISCOVERIES ALONG HWY 14 WILL BE WAITING FOR YOU
Start Planning Your Next Trip to South Dakota