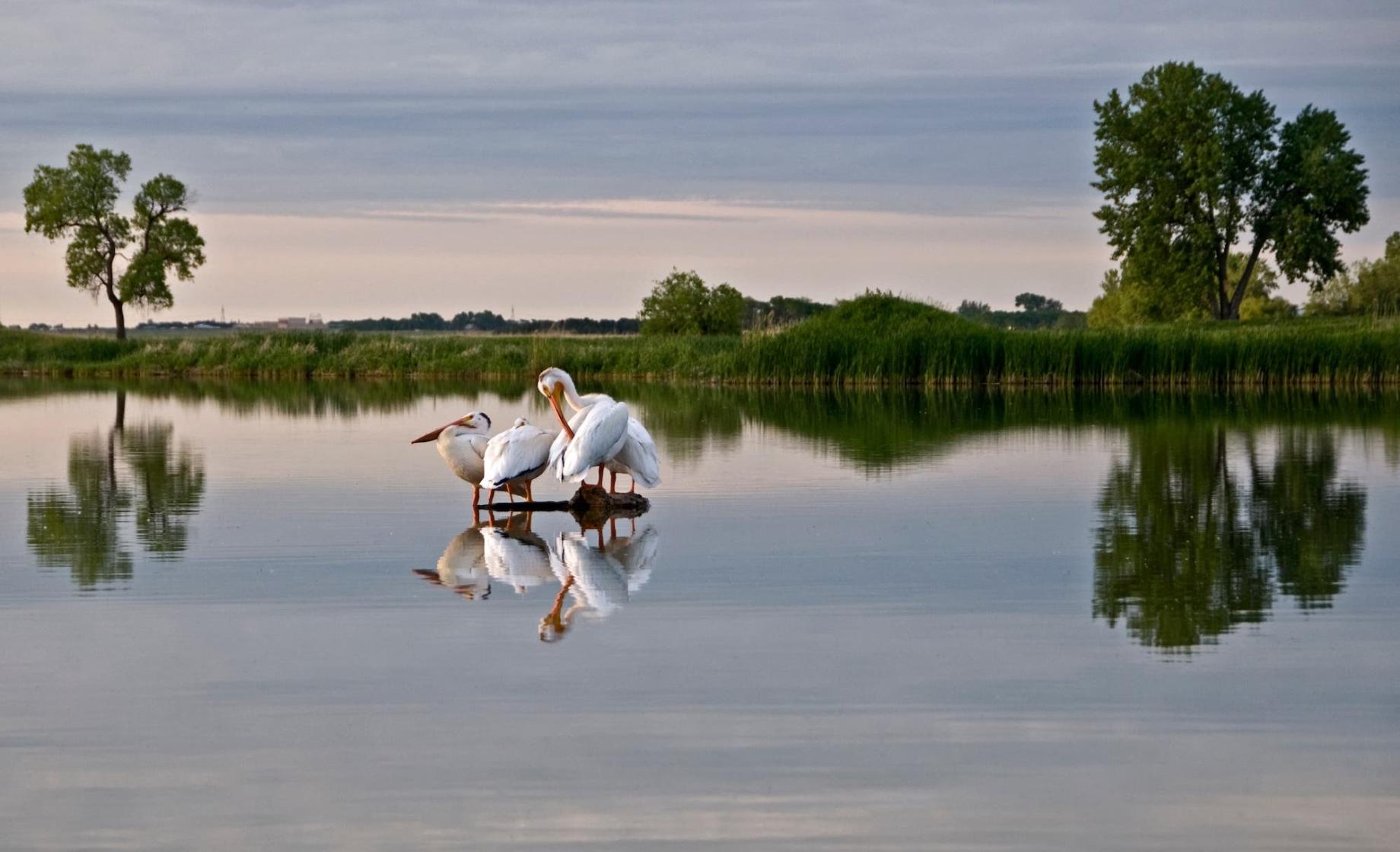 Take the classic Yellowstone Trail on Highway 12 to enjoy art, nature and all sorts of fun in northern South Dakota
People thought J.K. Parmley was crazy.
Ever since the successful Ipswich businessman purchased his first car in 1905, Parmley had been dedicated to roadbuilding. His idea started as a good road from Ipswich to Aberdeen but soon expanded into the idea of the Yellowstone Trail, a single path that would serve as "a good road from Plymouth Rock to Puget Sound."
Today, his vision is now U.S. Highway 12. The South Dakota section of this road continues to take explorers from the eastern border of South Dakota to Lemmon, offering a unique perspective on the state. Take a look at the wide variety of fun awaiting you on the Yellowstone Trail.
Milbank
Welcome to South Dakota! Start your journey at Milbank just a few miles in from the SD/Minn. border. This town of 3,000 has a few claims to fame. The Valley Queen Cheese Factory (200 E Railway Ave.) has been producing delicious cheese for nearly a century. You can learn more – and get some cheese, of course – at the Valley Queen Heritage Center (106 S. Main St.), which features exhibits, including a replica of a cozy Swiss chalet as well as Daisy the full-size (replica) cow.
Before leaving town, don't miss the restored Milbank Grist Mill and Mill Park (4th Ave. and Flynn Drive). This piece of history stands 44 feet high, 30 feet long, and is fitted with four seven-foot-wide sails. A small museum and restrooms are available, and tours & live demonstrations are available several times a year. For more information on the mill, call 605-432-6656.
Fun fact: The Milbank area is home of Dakota granite, some of the universe's hardest and oldest rocks. A high quartz content gives the stone a light-red color. Customers come from around the world to purchase the rock.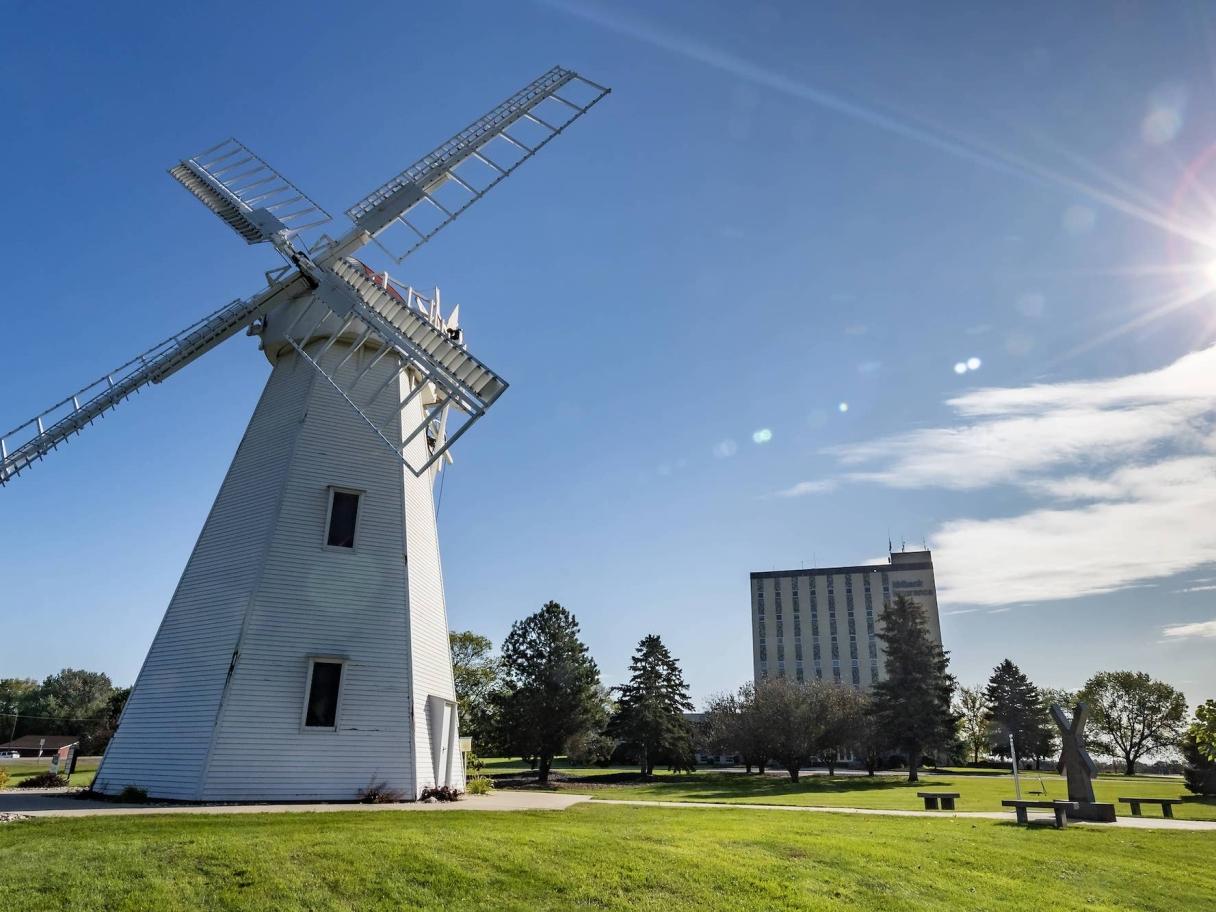 Marvin
This tiny town is home to Abbey of the Hills Inn & Retreat Center, a former monastery that now hosts retreats for individuals and groups of any faith. If you're looking for a little peace along your journey, The Abbey is the place to relax and enjoy the peace of the prairie.
Fun fact: When Benedictine monks were first looking to build the Abbey, they took it as a sign that their banker's name was Effner Benedict.
Waubay National Wildlife Refuge
Follow Highway 12 west until you can turn north on 453rd Ave and follow the signs to Waubay National Wildlife Refuge (44401 134A St., Waubay). "Waubay" is a Dakota word for "a place where numbers of birds make their nests," so it's a completely accurate name for this 4,650-acre mix of wetlands, native prairie, and forest that provides a nesting habitat for more than 100 species of waterfowl, songbirds and upland game birds. More than 140 other bird species make their temporary home here during migrations, and a variety of deer, fox, coyotes, frogs, turtles and other wildlife also frequent the area. Start your visit at the visitor center but don't miss the observation tower during your peaceful wandering.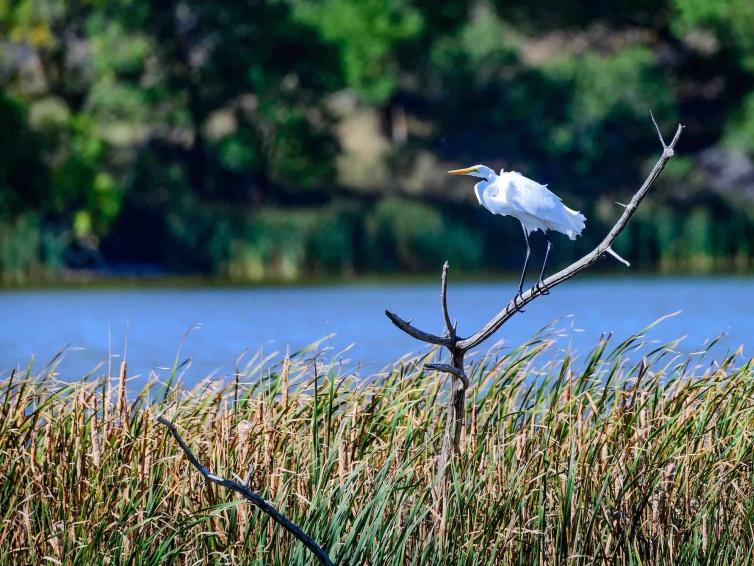 Waubay
As you make your way back to Highway 12 and cruise west, satisfy your sweet tooth with some ice cream from the Purple Cow Ice Cream Parlor (30 E Highway 12). This hidden gem is open seasonally. For current hours, check out their Facebook page.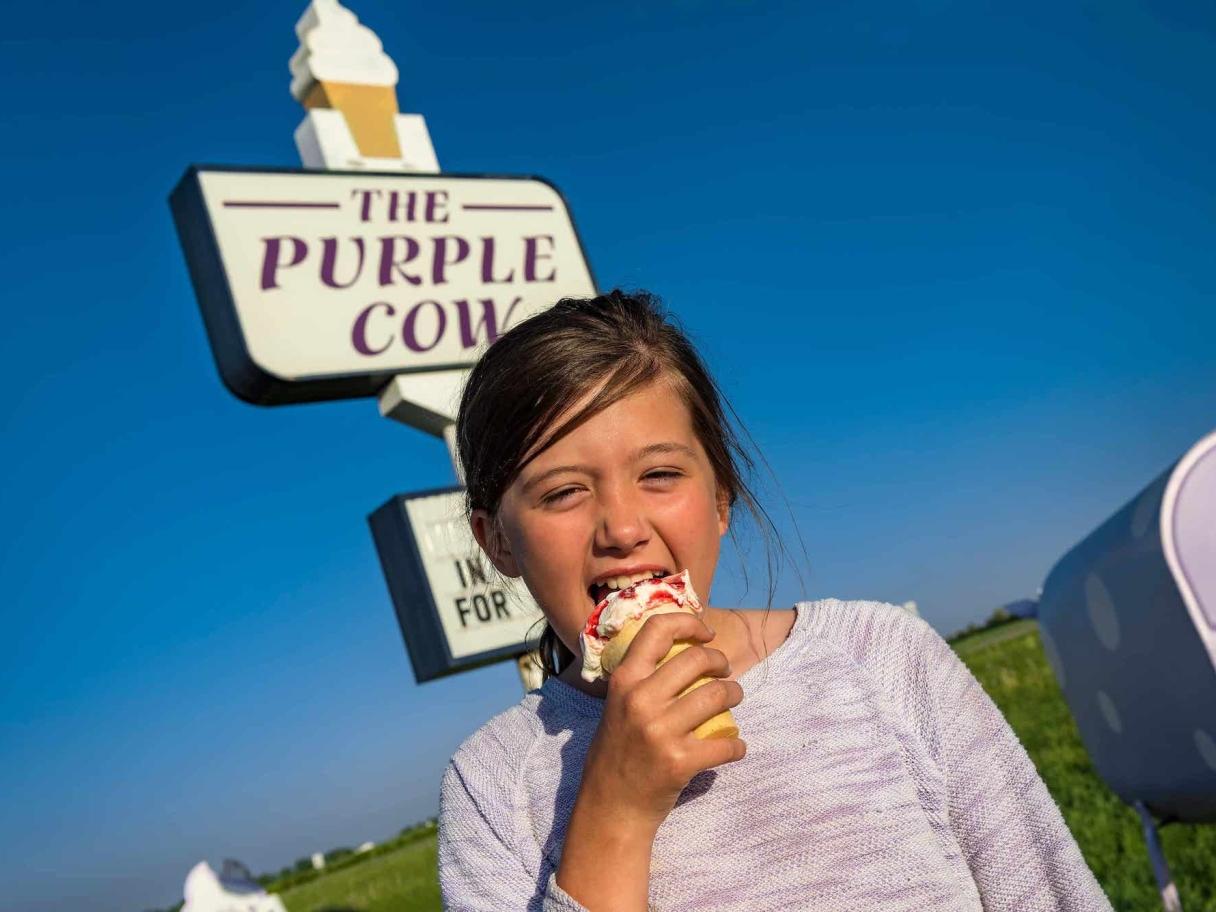 Webster
At first view, you might not suspect that Webster is home to one of the craziest collections of museums in the state. One visit to the Museum of Wildlife, Science and Industry (760 US-12) will turn seeing into believing. This collection of 23 buildings — known as "Webster's own little Smithsonian" — features the South Dakota Fishing Museum, a real farmhouse, and collections of classic automobiles, boats, horse equipment, fire engines, vintage clothing, and several old-time business buildings as well a shoe-shaped structure full of – you guessed it – shoes. If you're feeling hungry, go back in time with a classic meal and a frosty mug of root beer at A&W Restaurant (10 E US-12).
Fun Fact: One of these buildings is home to the world's largest publicly displayed hairball. Inquire as you see fit.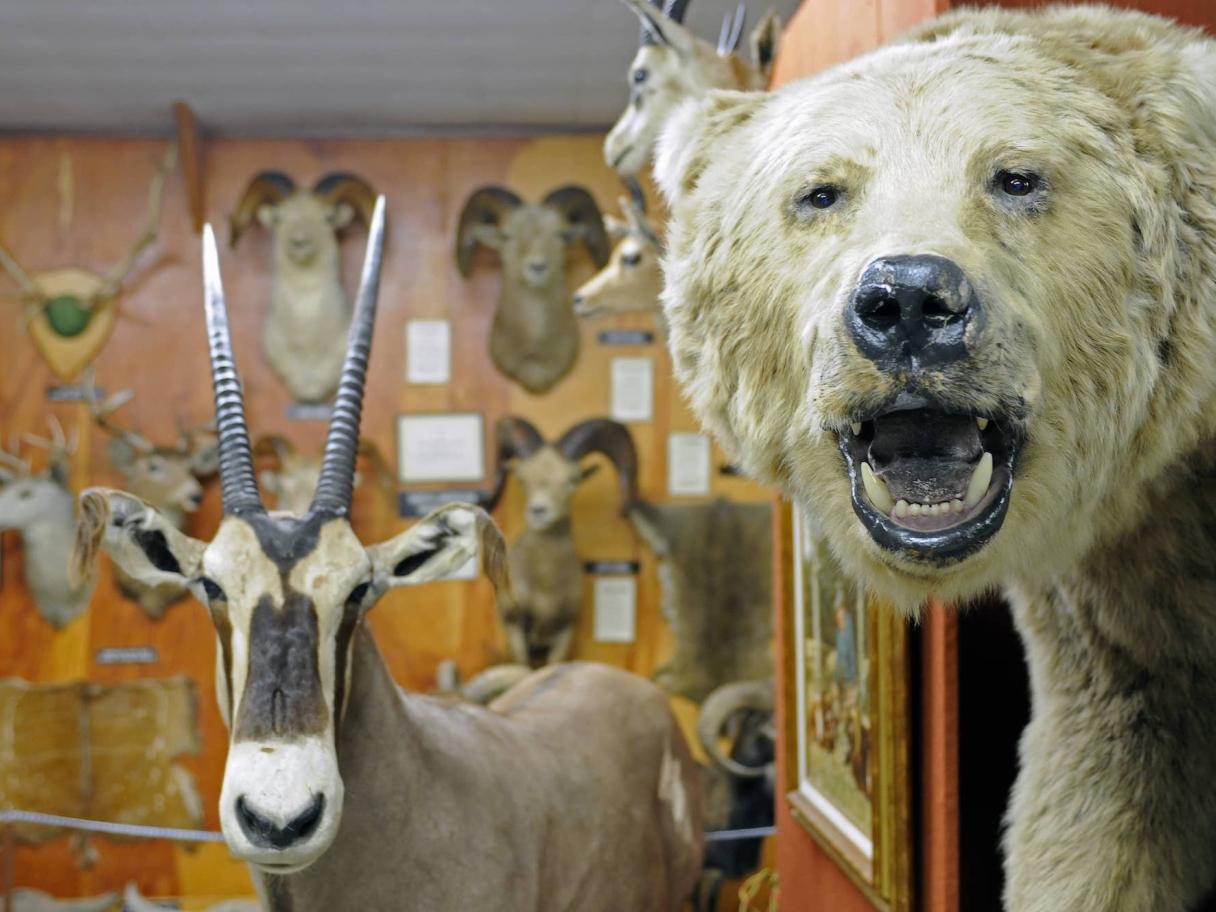 Roslyn
Give yourself a little detour from the trail by heading north on Highway 25 from Webster to Roslyn, home of the International Vinegar Museum (502 Main St.) Taste a wide variety of vinegar and learn why the delicious liquid has been enjoyed since 3000 B.C. For exact hours or to schedule an appointment, call 605-486-0075 or contact the museum online.
Fun fact: Pull into Roslyn on the third Saturday each June for the annual Vinegar Festival featuring a parade, cooking demonstrations, the Vinegar Queen contest, and the chance to get your picture taken with a giant pickle!
Granary Rural Cultural Center
Take Highway 20 west, head north on Highway 37, and go west on Highway 13 to find the most hidden of artistic gems in South Dakota: the Granary Rural Cultural Center (40161 128th St., Groton). Located on open farmland, this cultural oasis features two art galleries, an outdoor sculpture walk, and a peaceful campus perfect for a picnic or just relaxing on the open plains. Check the website for specific events to make the most of your visit.
Fun fact: One of the sculptures on display at the Granary is by John Lopez, a famous South Dakota sculptor you'll learn more about in the Lemmon section of this article.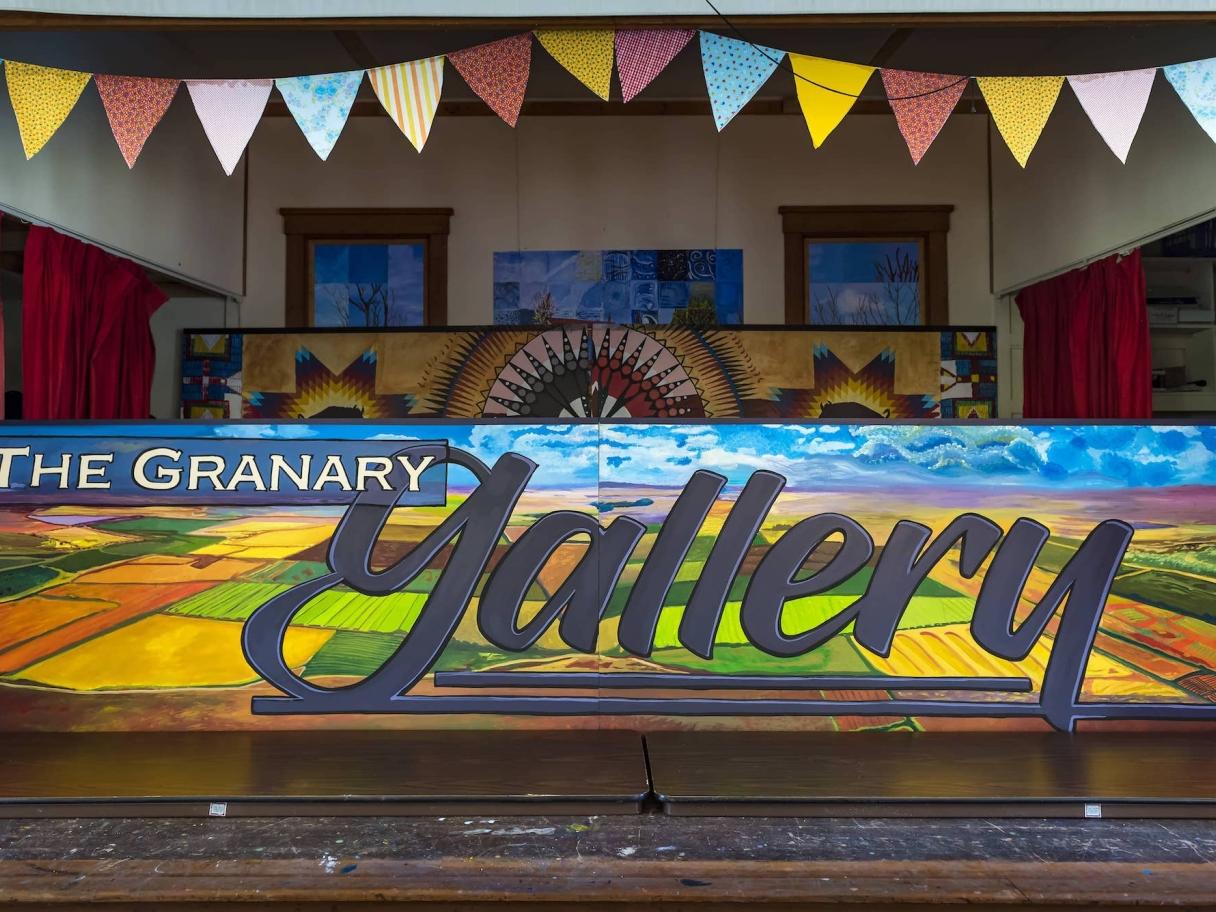 Aberdeen
Making your way back to Highway 12 and heading west will take you to Aberdeen, the third-largest city in South Dakota. This means fun for all ages. Follow the yellow brick road (literally) to Storybook Land & the Land of Oz in Wylie Park (2300 24th Ave. NW) to ride the miniature train, roller coaster, carousel, and balloon rides. Celebrate all things Wizard of Oz, including a simulated tornado experience in Dorothy's House. Surprisingly, the fun doesn't end there. Wylie Park offers camping, picnicking, playground areas, sand volleyball, softball, horseshoe courts, miles of trails, a swimming beach, miniature golf, go-karts, bike rentals and more.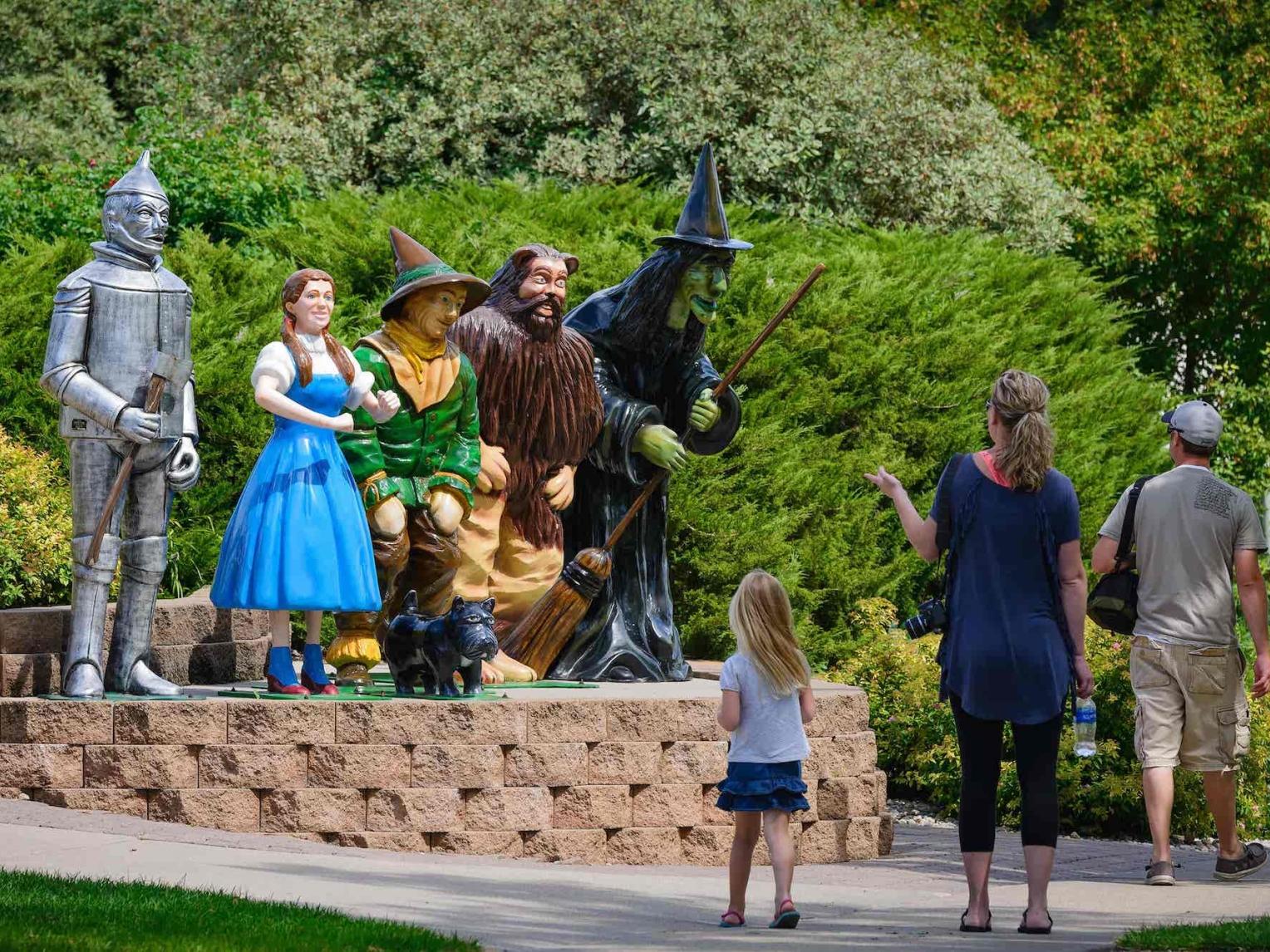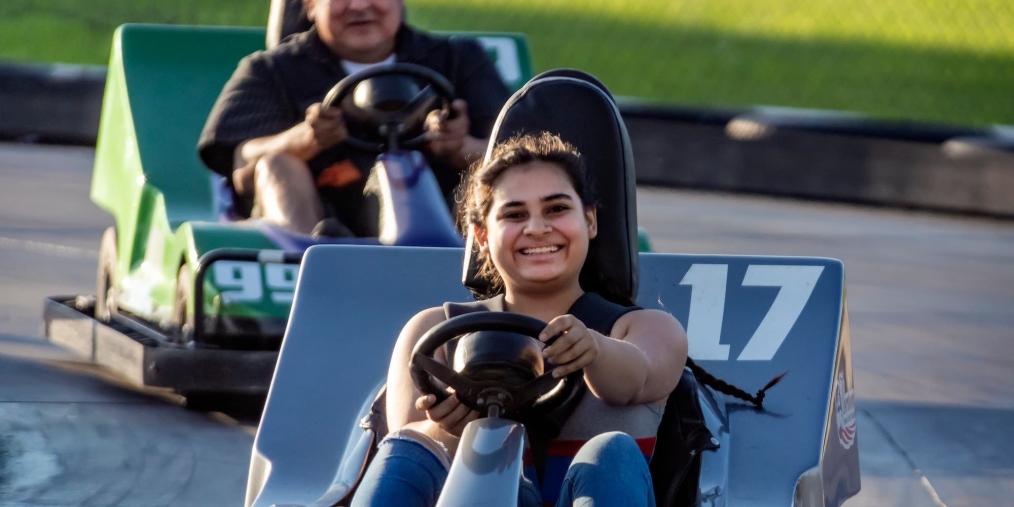 And that's just one spot! Aberdeen is also home to the free Dacotah Prairie Museum (21 S Main St.) and its multiple floors of rotating and engaging art & history exhibits. A summer visit almost demands a trip to the Aberdeen Aquatic Center (1029 S. Dakota St.) where waterslides, a lazy river and more help you properly enjoy a sunny South Dakota day. And if you're craving more wildlife, head north to Sand Lake National Wildlife Refuge (39650 Sand Lake Drive, Columbia) for the chance to see bald eagles, waterfowl, and other birds as well as unique prairie plants. When the day is done, enjoy a meal at one of Aberdeen's best restaurants and grab a pint at the One-Legged Pheasant Brewery (721 S Main St.). Don't forget to grab dessert at the classic Twist Cone (503 N 3rd St.).
Fun fact: The area's glacial lakes make a perfect home for the Aberdeen Water Addicts. This team performs a choreographed water ski show throughout the summer at Dahmen Lake just south of Aberdeen.
Mina
Continuing west along the Yellowstone Trail takes you to the small town of Mina, home of Mina Lake Recreation Area (402 Park Ave.). Stretch your legs on the hiking trail or enjoy boating, fishing and swimming in one of the first man-made lakes in northeastern South Dakota.
Ipswich
If you're loving your Yellowstone Trail trip, why not stop in the town where the idea was born? The Memorial Arch (5th Ave. and 8th St.) is made from stones collected from each U.S. state and across the world, including calcite crystals from the Badlands that came from Yellowstone Trail conceiver J.W. Parmley's own collection. You can also tour the J.W. Parmley Historical Home and Museum (115 Main St.) to see the interesting home of Parmley, of which someone once wrote: "(H)e looks at life from a wide standpoint, recognizes the opportunities for national and world progress and attacks everything with a contagious enthusiasm."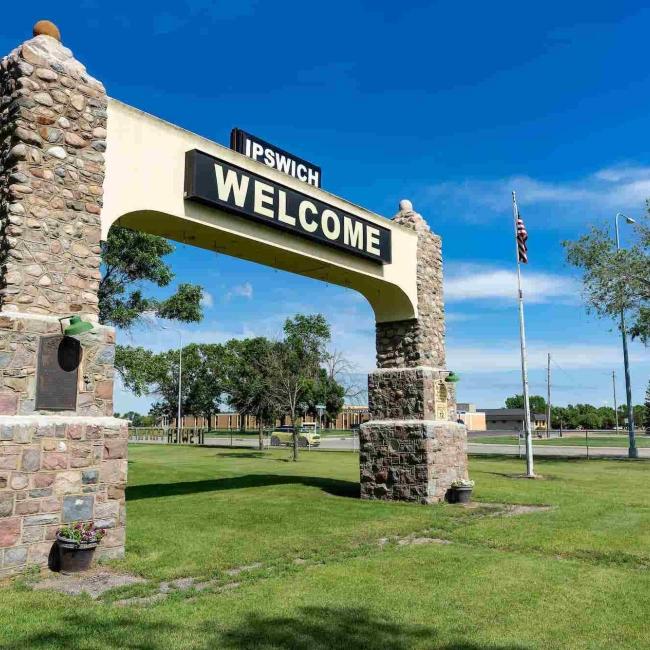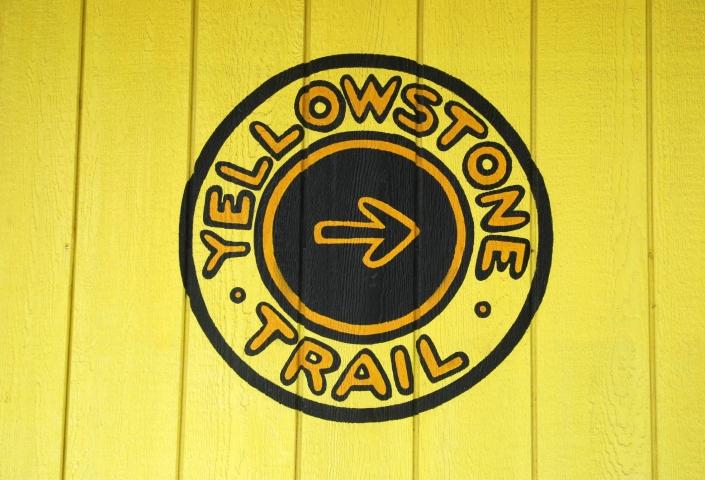 Mobridge
Continue along the Yellowstone Trail to Mobridge. Gaze out over the mighty Missouri River as you take in monuments to Sakakawea and Sitting Bull (Highway 1806) where some believe to be the location of Sitting Bull's final resting place. (The story of Sitting Bull's remains is an adventure in itself. For more on that, click here.) In Mobridge, see the famous Oscar Howe's Mobridge Murals (212 N Main St.), try your luck at the Grand River Casino & Resort (2 US-12), and experience some of the legendary fishing on Lake Oahe. You can also see some unique Native American items at the Klein Museum (1820 W Grand Crossing) and finish your day with a movie May through September at the Pheasant Drive-In (1600 20th St. W).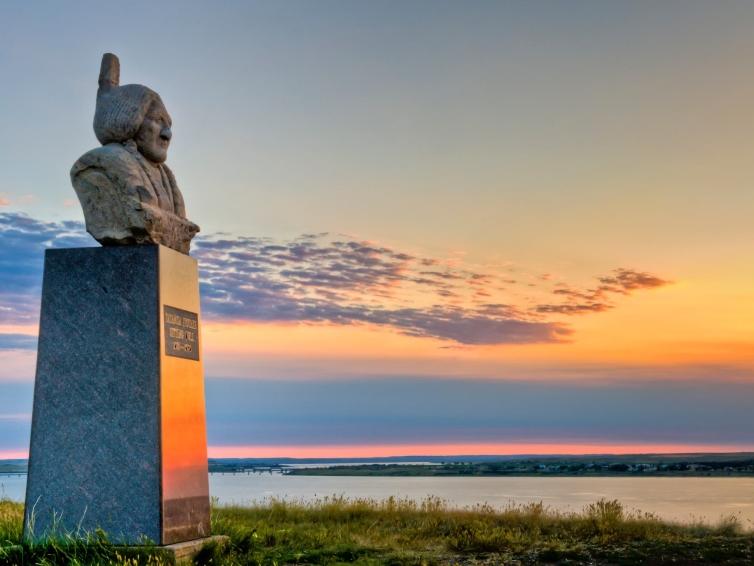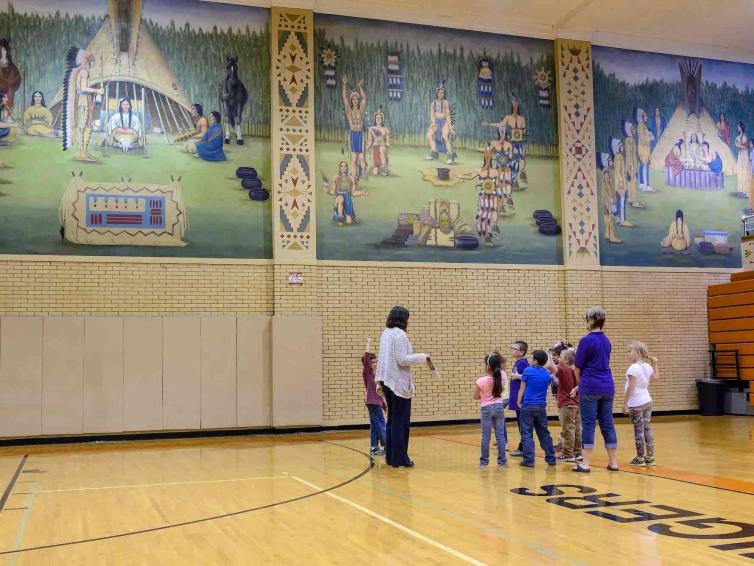 Lemmon
100 miles west of Mobridge is Lemmon, your final stop along Highway 12. This small town packs in a lot of art, including works by local celebrity John Lopez. (For a full breakdown of Lopez's work across the state, click here.)  You can see some of Lopez's work — as well as where he creates his art — at his studio and adjacent Boss Cowman Square (304 Main St.) in downtown Lemmon.
Lopez has received international attention for both his detailed brass likenesses of governors & presidents as well as his scrap metal sculptures depicting cowboys, wildlife and sometimes unique combinations of both, like the cowboy riding a triceratops that can be found in front of the Grand River Museum (114 10th St.). The museum itself contains a variety of fossils as well as Lopez's tribute to Hugh Glass. Glass' name became legendary after he was attacked by a bear and left for dead before he crawled 200 miles to Fort Kiowa. The story went on to inspire the acclaimed film The Revenant. What makes the story (and the area) especially interesting is that the incident happened just outside of Lemmon at Shadehill State Recreation Area (19150 Summerville Road, Shadehill), where you can see a monument to Glass and enjoy plenty of land- and water-based recreational activities.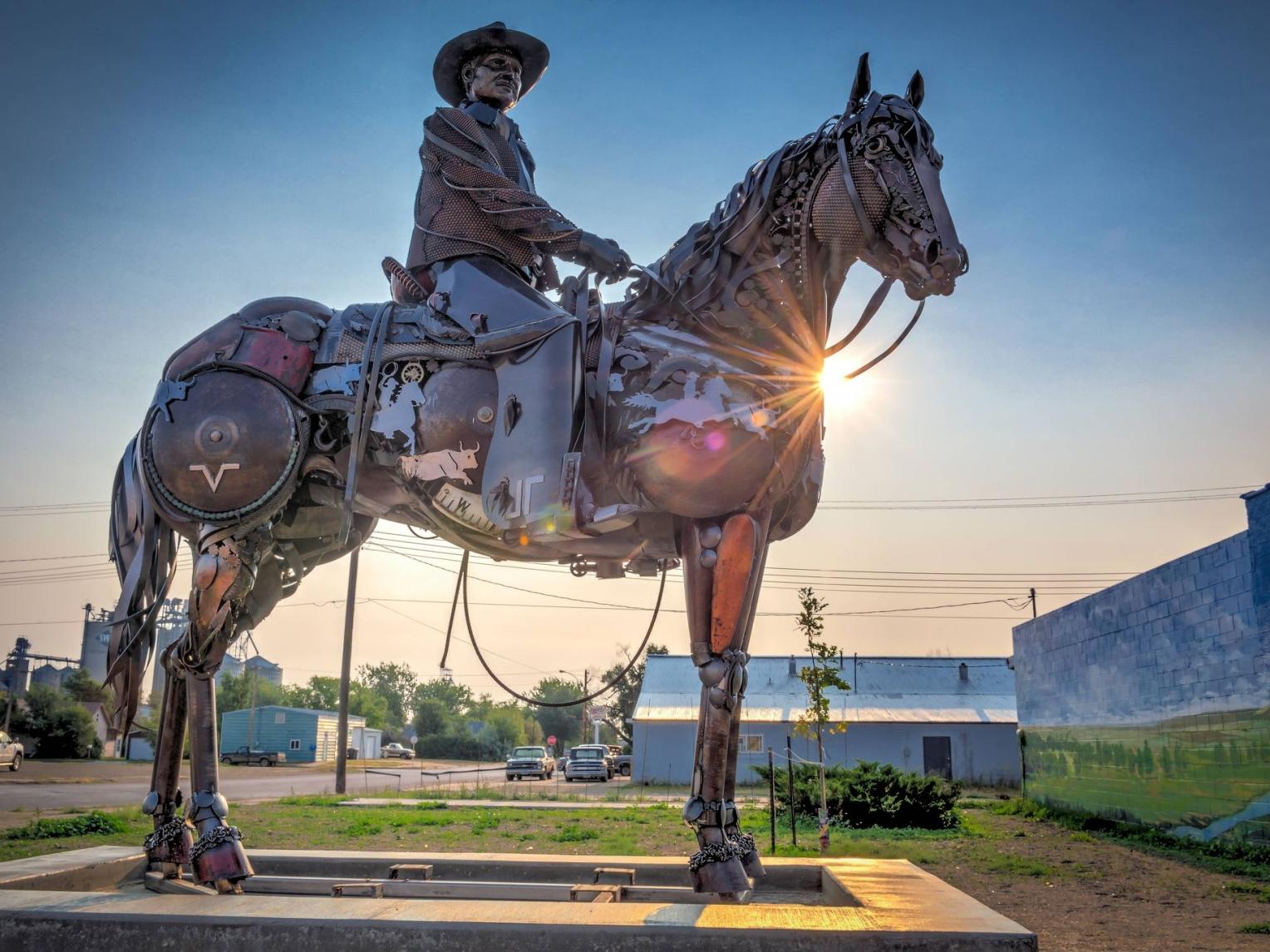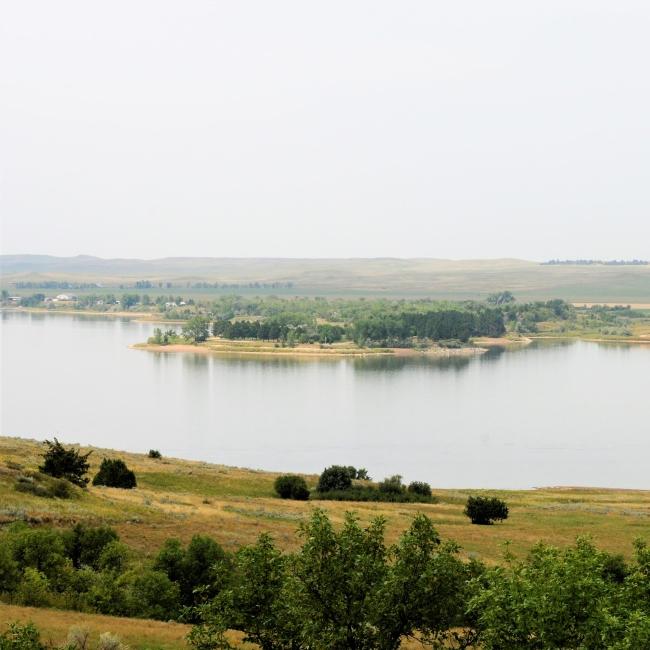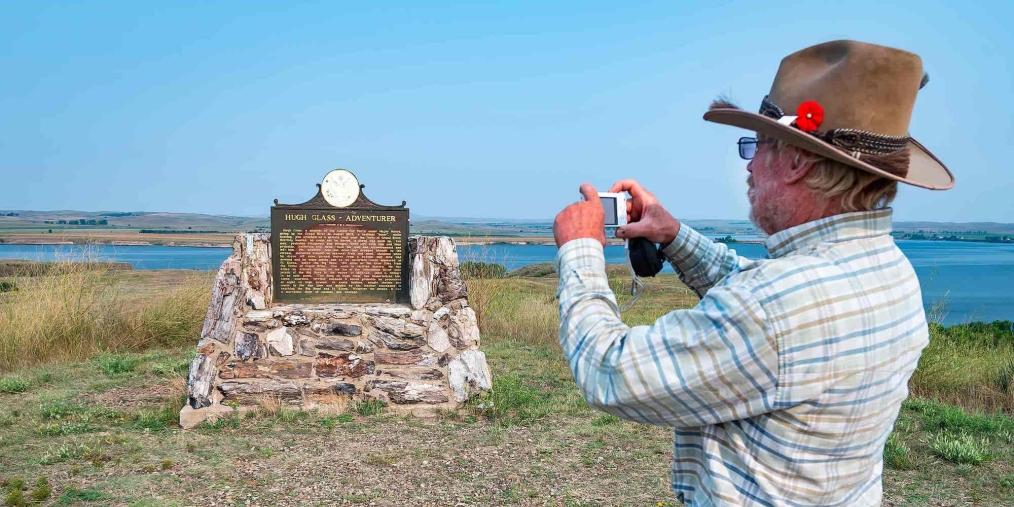 Lemmon is also home to the Petrified Wood Park & Museum (500 Main Ave.), a full city block of petrified wood that includes 20-foot-tall towers and petrified dinosaur & mammoth bones. It makes for a very enjoyable and unique stroll.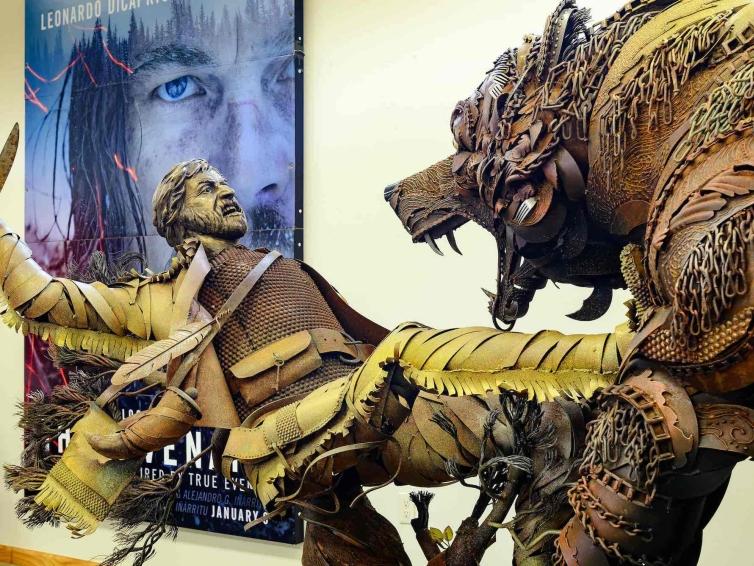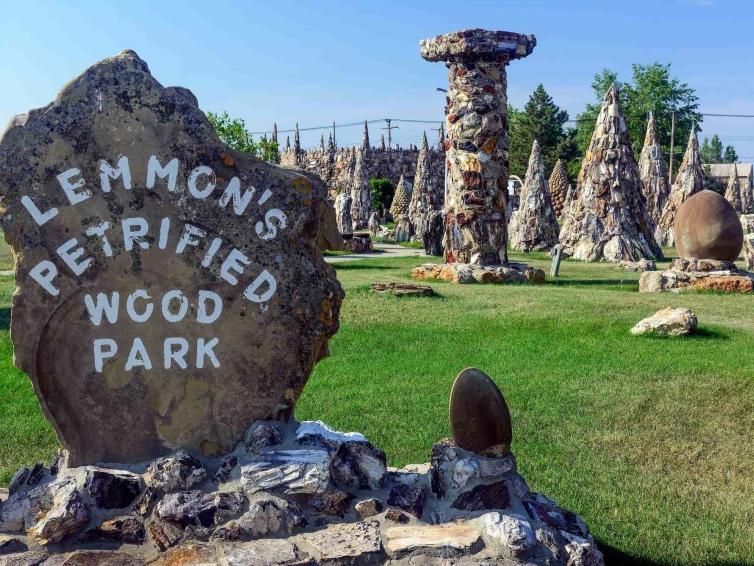 Onward!
Where one path ends, another begins. Continue your journey by traveling Highway 73 south and Highway 34 west to one of the most beautiful areas in the country: the Black Hills of South Dakota.
More South Dakota Road Trip Adventures