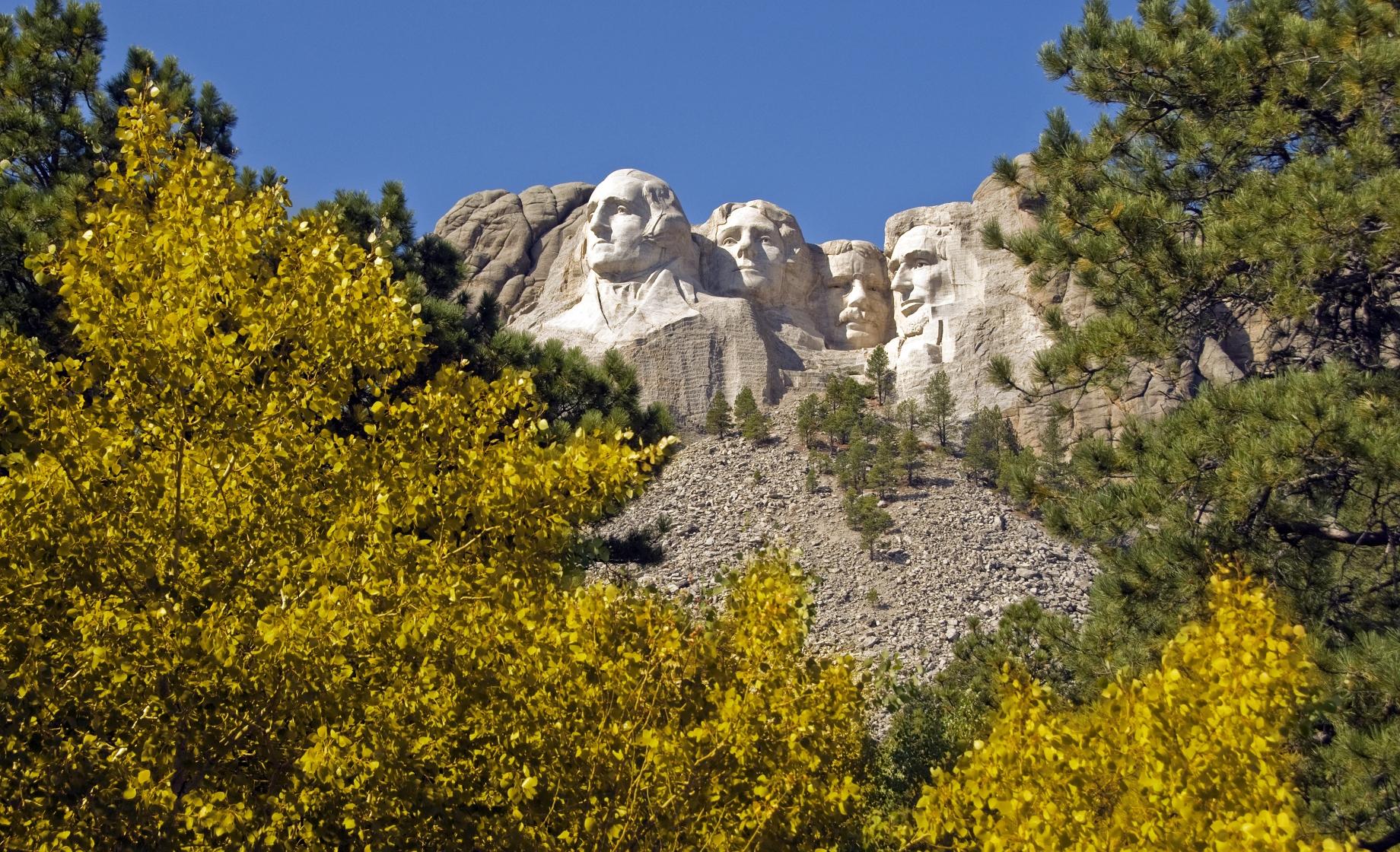 Explore with Budget Travel's Kaeli Conforti as she basks in gorgeous rolling prairies, twisting mountain roads, and iconic American monuments in this spectacular corner of South Dakota.
Get ready to visit historical monuments like Mount Rushmore and Crazy Horse Memorial, see the Old West come to life in historic Deadwood, and experience plenty of brag-worthy encounters with nature-where else can you say you were caught in a traffic jam because a herd of wild buffalo decided to cross in front of your car? Your phone's GPS may get spotty in this gorgeous wilderness, so break out the old road map, grab your friends and family—or take on the adventure solo like I did—and whatever you do, don't forget your camera.
Rapid City → Wall & Badlands National Park (55 miles)
From Rapid City Regional Airport, it's about an hour drive to Wall, a funky little town that's home to Wall Drug, an area institution since 1931 where you'll find everything from souvenir shops to a giant animated T-Rex, and plenty of space for the kids to unwind after a long day on the road. Stop by the Western Art Gallery Restaurant for their famous homemade donuts, bison burgers, and five-cent coffee. The best part: admission is free, as is the ice water—a marketing tool that has brought in visitors since the 1930s.
As you leave Wall, stay on Highway 240 and head south into Badlands National Park along the Badlands Loop Scenic Byway, driving west to east through some of the most amazing prairie landscapes and impressive canyons in the country. Keep an eye out for bison, pronghorn, deer, eagles, prairie dogs, and hawks as you drive and be prepared to pull over every time there's a sign that says, "Scenic overlook." Trust me.
The park is never too crowded and you can spend hours just admiring the views around you in relative peace and quiet. Stick around for the evening program, usually around 9 p.m., where kids can meet Smokey the Bear, stargaze, and learn about how the park was formed. Park entrance fees are valid for seven days: $30 per vehicle, $25 for motorcycles, $15 for hikers and bicyclists, or $55 for an annual pass. Stay at Frontier Cabins, located just off I-90 on the way into Badlands National Park.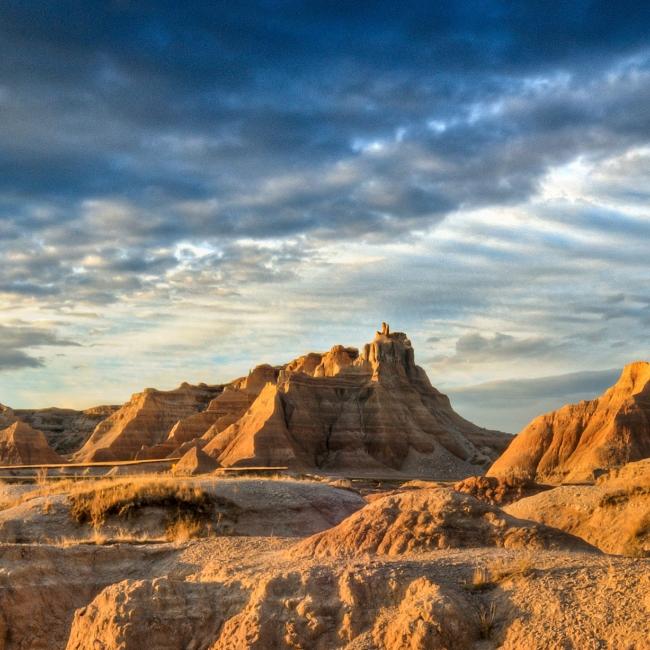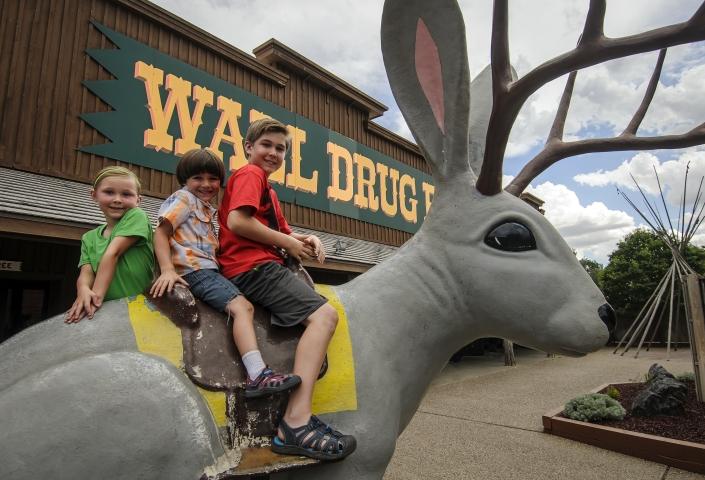 Wall Drug, Wall
Wall & Badlands National Park → BEAR BUTTE PARK & DEADWOOD (88 miles)
Cruise down I-90, turn off at Highway 79, and drive through Sturgis on the way to Bear Butte State Park. While a popular hiking spot for travelers, the site is still considered to be sacred to Native Americans—as the ranger in the Visitor Center explained it to me, hiking up Bear Butte is kind of like going to church, so remember to be respectful.
It's only about a 30-minute drive heading the opposite way on Highway 79 from here to Deadwood, but you might as well be driving 200 years back in time to the Old West. Visit during the summer to see the Days of '76 PRCA Rodeo—you can still go to the Days of '76 Museum year-round to see exhibits about Deadwood's first settlers (admission is $8.00 for adults, $3.00 for children ages 7-13, while children ages five and under get in free).
Stroll around town—a dead ringer for any western town you've ever seen in the movies—and take the Alkali Ike Tour around historic Deadwood and up to Mt. Moriah Cemetery to see the gravestones of Wild Bill Hickok and Calamity Jane-real, legendary characters who once called Deadwood home ($14 for adults, $5 for ages 6-16, $12 for seniors). Catch a free reenactment of an Old West shootout in front of the Franklin Hotel (several times a day, just follow the crowd!) and witness the shooting of Wild Bill Hickok inside Saloon #10 daily at 1 p.m., 3 p.m., 5 p.m., and 7 p.m. Their website proudly states, "Bring the kids!" Stay at the Springhill Suites by Marriott, located on Main Street about a 15-minute walk from the historic downtown area.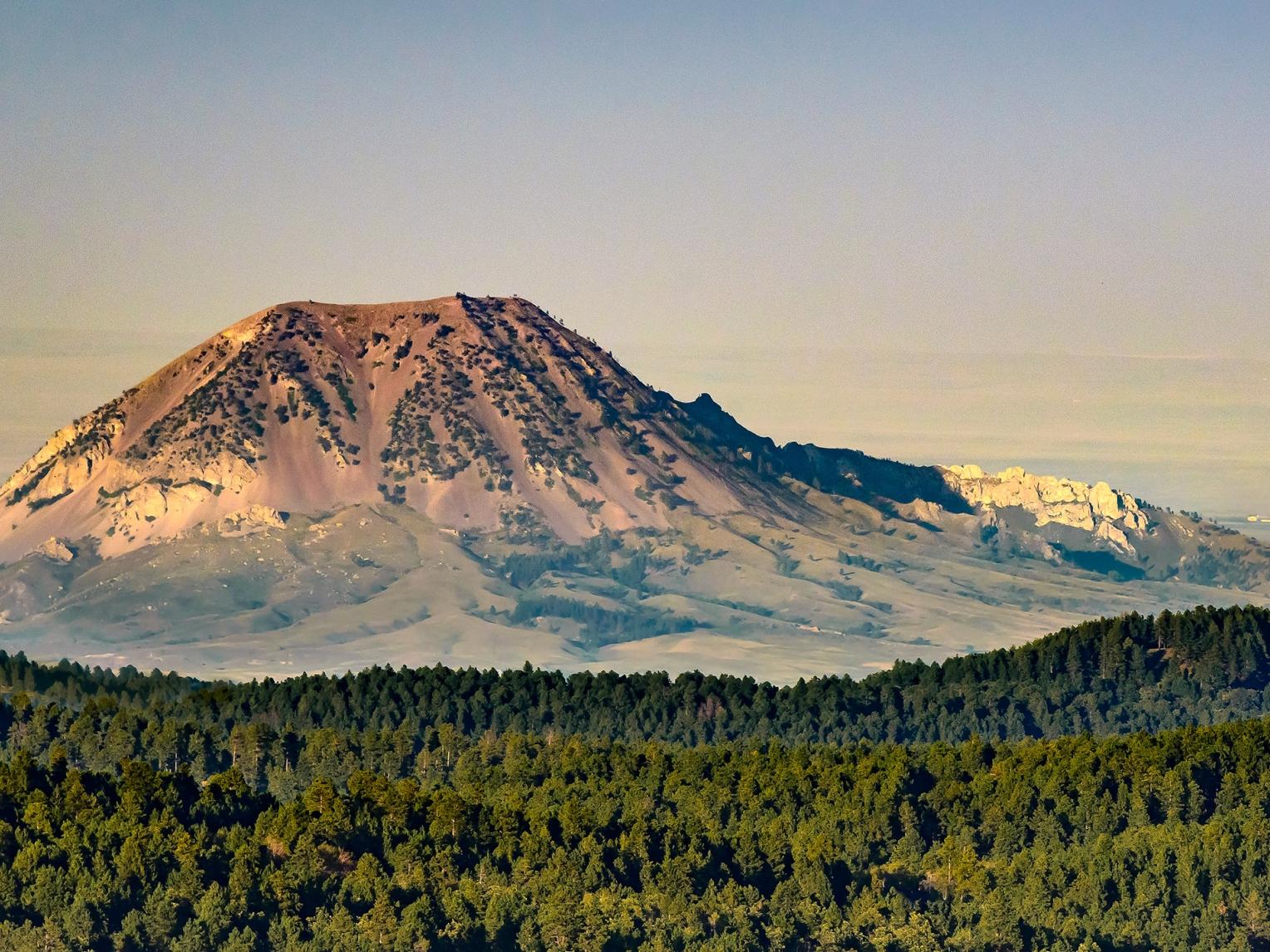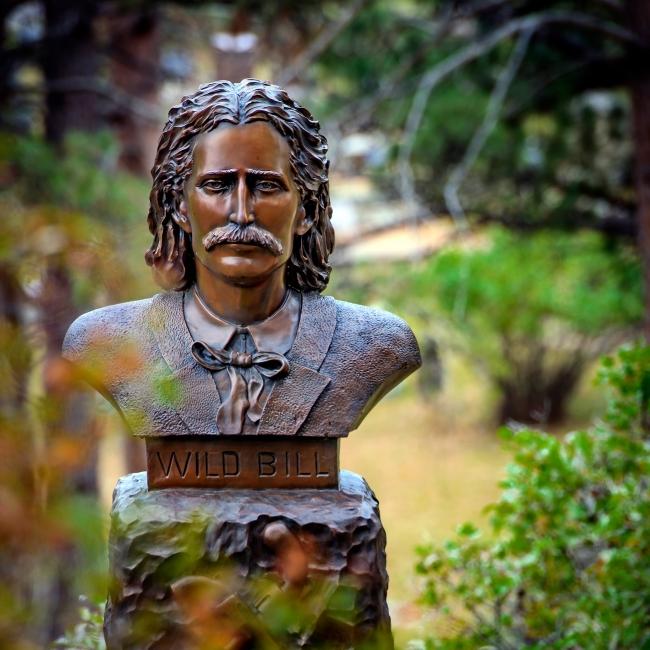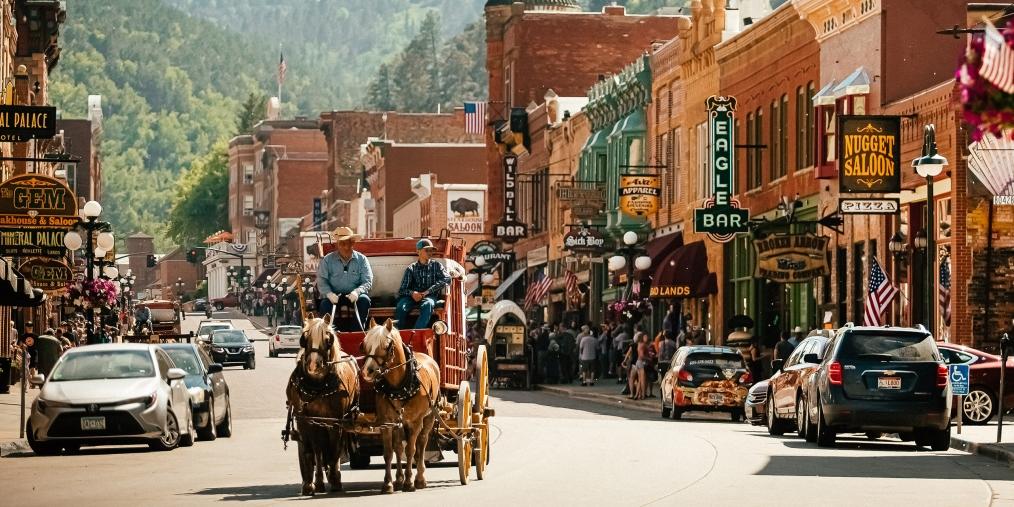 Deadwood → Mount Rushmore National Memorial & CUSTER STATE PARK (49 miles)
Take a scenic ride down Highway 385, then Highway 16, and follow the signs to Mount Rushmore National Memorial, one of America's most iconic attractions featuring the larger-than-life faces of Presidents Washington, Jefferson, Roosevelt, and Lincoln carved into the side of the mountain. Take a walk on the boardwalk trails that lead up to the base of the mountain for a better view, and stop by Carver's Café for lunch and the chance to try out Thomas Jefferson's original ice cream recipe! (Admission to the park is free, but you must pay $10 to park your vehicle).
Drive along gorgeous rolling prairies, twisting mountain roads, and past iconic American monuments like Mount Rushmore in this spectacular corner of South Dakota.
Drive along Iron Mountain Road, or Alt. 16, a winding two-lane road that will take you through one-lane tunnels (honk first!) and past beautiful mountain vistas. As you get closer to the park, get your cameras ready-buffalo roam in and around Custer State Park and will often decide to randomly cross in front of your car. Resist the temptation and only take photos from inside your vehicle—these animals are majestic but strong and big enough to cause some major damage.
Pay $20 for a vehicle to enter Custer State Park and stay in the middle of all the action at the State Game Lodge, the former Summer White House for President Calvin Coolidge in 1927. While you're there, sign up for a Buffalo Safari Jeep Tour to get up close to the park's resident buffalo, prairie dogs, and other wildlife on a bumpy, off-road adventure through the native wilderness.
End the day with a chuck wagon cookout in the wild, where cowboys sing as you feast on your choice of sirloin steak or hamburger, beans, cornbread, potato salad, coleslaw, watermelon, and fresh lemonade.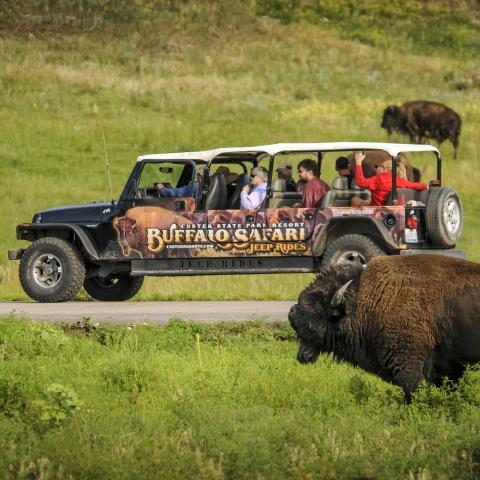 CUSTER STATE PARK → CRAZY HORSE MEMORIAL, HILL CITY AND RAPID CITY (15 miles)
Drive along Needles Highway (Highway 87) to Crazy Horse Memorial. Started in 1948 as a way to pay homage to the legendary Lakota leader and our nation's Native American heritage, Crazy Horse Memorial is funded by admissions and donations rather than the U.S. government—the upside being, it will never close if there is another National Parks shutdown, the downside being the stone carving is still a work in progress. Tour the Indian Museum of North America and the Native American Educational and Cultural Center while you're there, and stop by the restaurant for the best Tatanka Stew in the area—people at Mount Rushmore and Custer State Park the day before kept telling me to try it!
Visit the Black Hills Institute of Geological Research in Hill City on your way back towards Rapid City on Highway 385/16—it's 20 minutes up the road and kids will love seeing enormous dinosaur skeletons and a room full of shiny gemstones. From here, it's a half-hour drive on Highway 16 into Rapid City, home to a vibrant downtown with concerts and outdoor festivals year-round, and have your picture taken with life-size bronze statues of your favorite former Presidents that line the streets of the historic district. Stay at The Rushmore Hotel, a stylish and eco-friendly stay centered amongst the statues, restaurants and night life.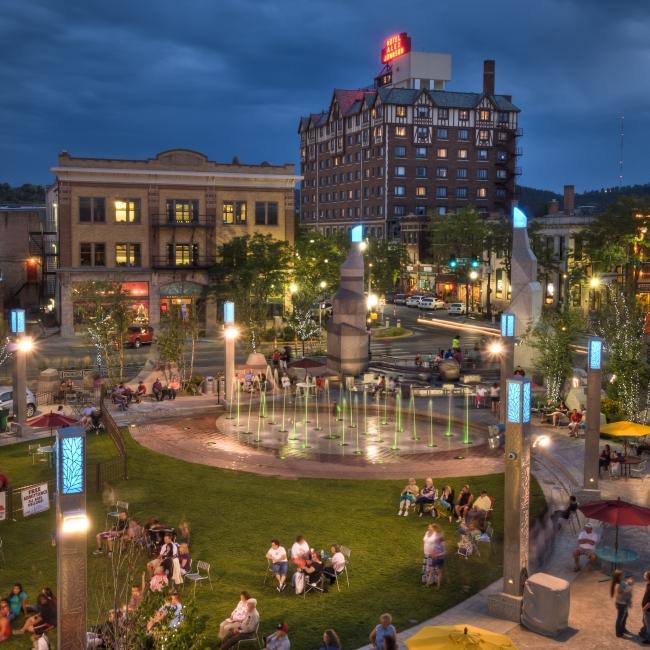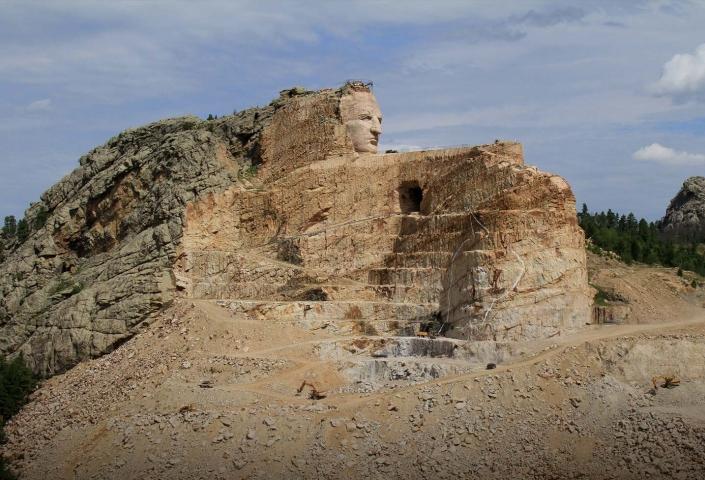 Crazy Horse Memorial
THE BLACK HILLS TOOK MORE THAN 75 MILLION YEARS TO BECOME WHAT THEY ARE. WHEN YOU'RE READY, SEE WHAT GREAT PLACES ARE WAITING.