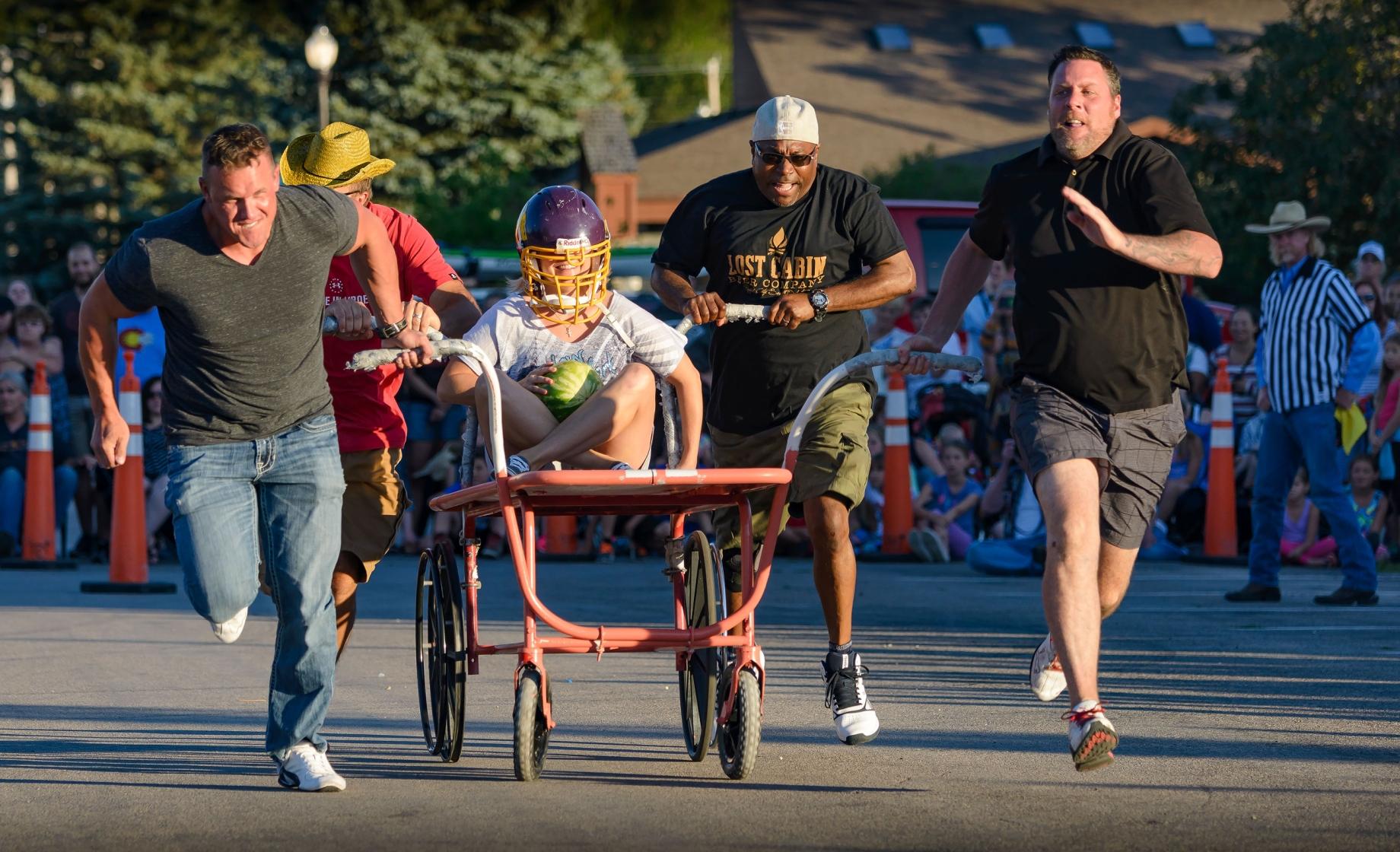 Those seeking a true South Dakota experience need look no further than this rundown of SoDak's oddest yearly events. Race it, eat it or drink it, we'll try anything once!
Even the least-experienced travelers have seen their fair share of corn dogs and Ferris wheels. But potato wrestling? Ah, now that's something you'll be able to tell your grandchildren about. Check out this list of the weirdest events in South Dakota to learn how racing can sometimes include outhouses & turkeys and why pumpkins are best enjoyed when airborne.
International Vinegar Festival (Roslyn)
Hidden in the tiny town of Roslyn is the International Vinegar Museum, the headquarters for the annual International Vinegar Festival. Vinegar tasting might sound weird, but it's actually delicious, fascinating and very available at this festival. Also, does a social media account truly exist if it doesn't feature a picture of you with a walking pickle?
Potato Days (Clark)
The small town of Clark throws a party for their favorite starch every year that includes awards for "Best Potato Dish" and "Best Decorated Potato," but it's the mashed potato wrestling that makes this celebration truly unique. Yep, visitors of all ages can sign up to wrestle in a "ring"—a square of hay bales covered in a tarp—full of mashed potatoes. You can also get your picture taken with Mr. and Mrs. Potato Head, but we recommend you let the fire department clean you off after your match first.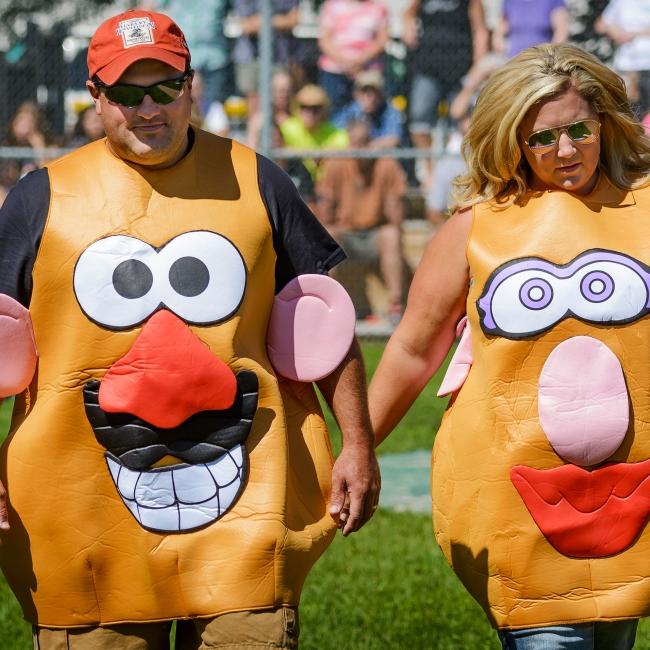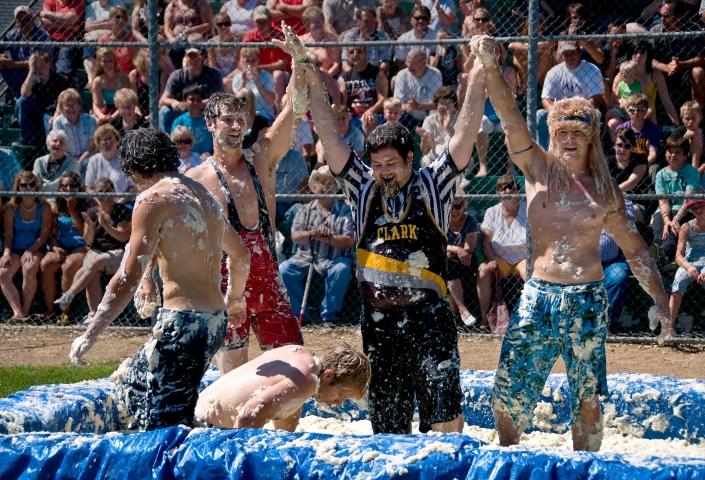 Nemo 500 (Nemo)
Foot races, car races …eh, it's all been done before. But outhouse racing? That's a delightful oddity that belongs to Nemo, SD. This tiny town warms up each winter with a chili cook-off and, more importantly, a race of specially built outhouses (unused, of course). Three age divisions pushing outhouses on skis or wheels for glory and charity?  That's Nemo's (and our) idea of fun.
Toilet Bowl Races (Centerville)
It was a staple of the town's celebration, but the tradition faded away until Centerville wisely resurrected it. Now it's part of the annual Tornado Days celebration and a unique fundraiser for Wildlife Habitat and More (WHAM).
Wife-Carrying Contest (Frederick)
It's a tradition that began in Finland, but Frederick may be the only place in South Dakota where the contest is alive and well. It's pretty simple: competitors carry their wives through an obstacle course. The winner receives their wife's weight in beer. Some contests just sell themselves.
Bed Races (Custer)
Yes, South Dakota enjoys some weird kinds of competition, and bed racing at the annual Gold Discovery Days celebration is no exception. A team pushes loose definitions of bed frames down the street for top honors, and it's not uncommon for team members to dress in outlandish costumes aerodynamic and otherwise.
Ranch Rodeo, Testicle Festival, and Dance (Lemmon)
Listen, we understand. The idea of eating a bull's testicles sounds abhorrent to some. Those people probably haven't tried them deep-fried in a beer batter recipe that's so good that the chef refuses to divulge it. Expand your palate in the most Midwestern of ways and enjoy some rodeo action as well as a community dance.
Turkey Races (Huron)
Two-person human teams don turkey outfits and help race actual turkeys in downtown Huron for a chance to win a $1,000 "nest egg." Turkey legs and "fowl balls" (don't ask, but feel free to guess based on the previous entry) are available for snacking, but the truly hungry can enter the turkey pot pie eating contest.
Lawnmower Races (Pukwana and surrounding communities)
Lawnmower racing isn't just a novelty in South Dakota. It's an institution. The Crazy Racers hold scheduled races from April to October every year, and it's nearly impossible to be bored watching competitive lawnmowers circle a track in pursuit of the checkered flag.
Lutefisk Feed (Summit)
Norwegian heritage is strong in South Dakota, so the average resident knows about lutefisk. Their reactions, however, probably vary. It is, after all, whitefish soaked in a solution of cold water and lye. However, when prepared correctly, it's an absolutely delicious flavor experience. In additional to unlimited helpings of lutefisk, the event also features lefse—a soft flatbread that's amazing with butter and sugar—as well as ham, mashed potatoes and gravy, corn, and bread. Life is about experience, folks. Come to Summit and check a couple of traditional Norwegian delicacies off of your "Must Try" list.
The Great Downtown Pumpkin Festival (Rapid City)
Pumpkins signal the arrival of fall in South Dakota. Pumpkins flying through the air after being launched from a catapult, however, are a sign that The Great Downtown Pumpkin Festival has returned to Rapid City. In addition to pumpkin chuckin', the festival also features a giant pumpkin weigh-off, pub crawl, pony rides and a play area for children. All are safely outside the range of falling pumpkins.
Demolition Derby (various locations)
There's something oddly satisfying about hearing the crunch of a car as it impacts—on purpose—with another vehicle. Life hasn't truly been lived until you've seen a demolition derby in South Dakota. They're often part of local fairs or fundraisers and occasionally include combines—giant machines designed for harvesting crops—that add a lumbering and entertaining presence to an already genius concept. Check out our events page to learn where you can experience a demolition derby and other great weird events in South Dakota this year.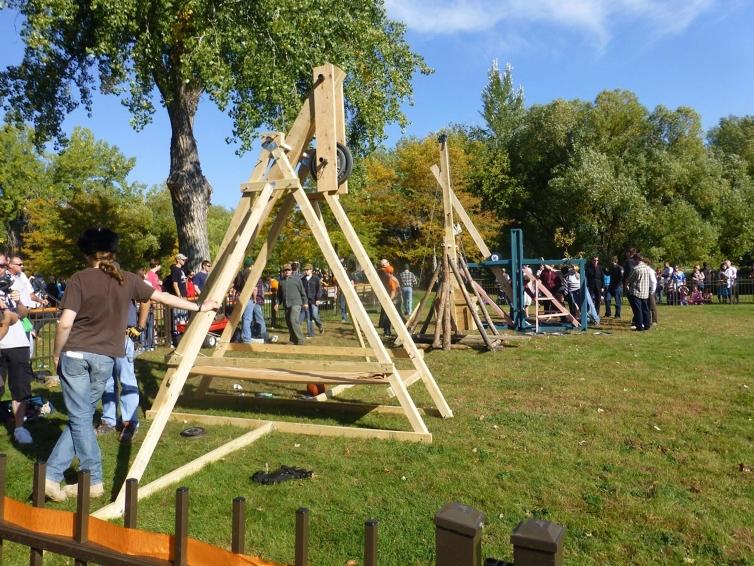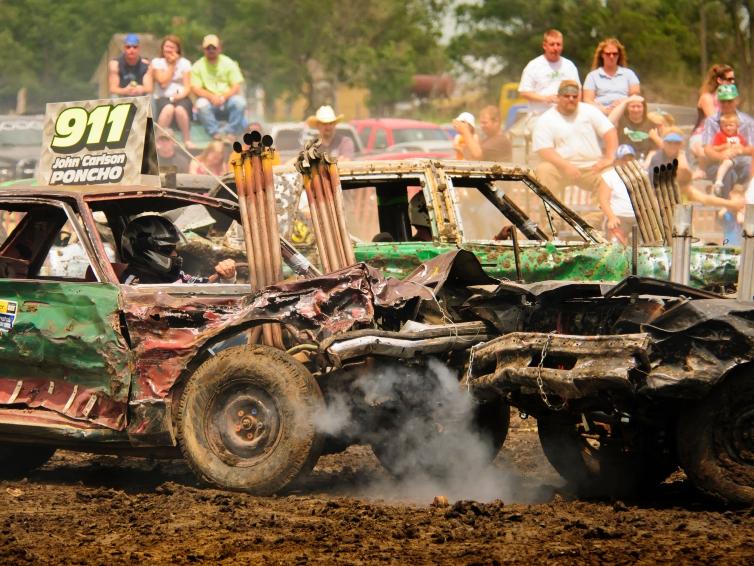 Get Weird in South Dakota