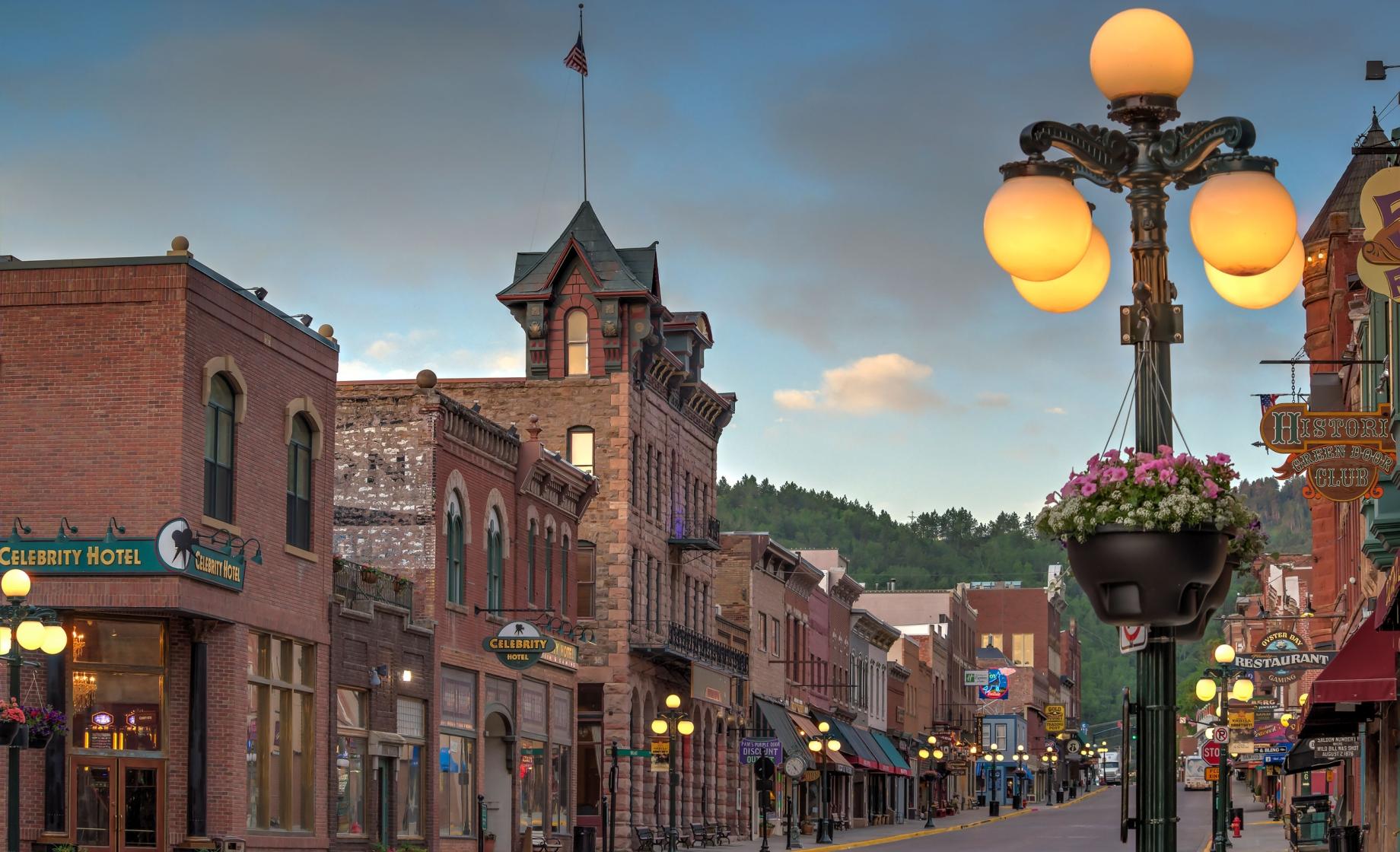 Feel the history, shed some stress, and win your fortune in the town built around adventure.
No rules. No regrets. That's been Deadwood's motto since the town first came to be as a result of the Gold Rush in the late 1800s. With a rich history and ample entertainment, culinary and lodging options, Deadwood is the place to cut loose and experience equal parts history and fun. Smell the pines, roll the dice and explore what was once the wildest part of the Wild West.
DAY 1: HISTORY WITHOUT THE FLYING BULLETS
History is everywhere in Deadwood. Make sure you catch as much as you can by starting off with a stop at Deadwood's brand new visitor center at the intersection of Main Street and Highway 14A. In addition to having answers to all your Deadwood questions, the stunning center is also home to a full-sized prospector's campsite, an interactive map, and a trolley center. Load up on info and get ready for some fun! You can also learn about tour options, ranging from narrated motorized tours to ghost tours like those available at the Historic Fairmont Hotel aka Oyster Bay Bar & Casino or the Bullock Hotel, where the ghost of Seth Bullock himself is believed to wander the halls, playfully rearrange furniture and occasionally help a lost child find its room. Seriously.
Once you depart the visitor center, it won't take long to find the first of many amazing historical sites in Deadwood. Before it was called the Old West Trading Post, the building was Saloon #10 aka the place where Wild Bill Hickok was shot while holding what is now known as the "Dead Man's Hand." A sign clearly marks the entrance to the location, but make sure you go inside and see the very place where Hickok was shot down (and, according to some, still haunts the room).  Just down the road is what's now known as Saloon #10, a "living museum" that doubles as a bar and casino. Walk the sawdust-covered floor and take a seat for the re-enactment of Wild Bill's assassination held daily at 1, 3, 5, and 7 p.m. See that chair above the door? That's the one that Wild Bill was shot in. As for the two-headed calf, well…you can ask the staff about that one yourself.
Nowhere do entertainment and history mix better than in downtown Deadwood. Channel your inner Wild West spirit at one of the town's many legal gambling establishments, including the Buffalo Bodega (which features one of the world's largest slot machines) or the Celebrity Hotel & Casino, where the walls are covered with Hollywood memorabilia. If you're looking for a more family-friendly experience, hit up the Deadwood Mini-Golf & Arcade. No Deadwood guest should leave town without witnessing one of the free live shootout re-enactments on Main Street. From May 26 through September 22, you can see a Main Street Shootout three times a day (except on Sundays or during the Sturgis Rally in August.)
Exploration leads to hunger. Fortunately, Deadwood has plenty of places to refill your inner fuel tank. The family-owned Mind Blown Studio is where visitors can enjoy some tasty food while watching hot glass being creatively shaped into all sorts of pretty pieces. Glassblowing classes for all experience levels are also available once you've finished your meal. (You don't want to get cheese in your glass, right? Right.)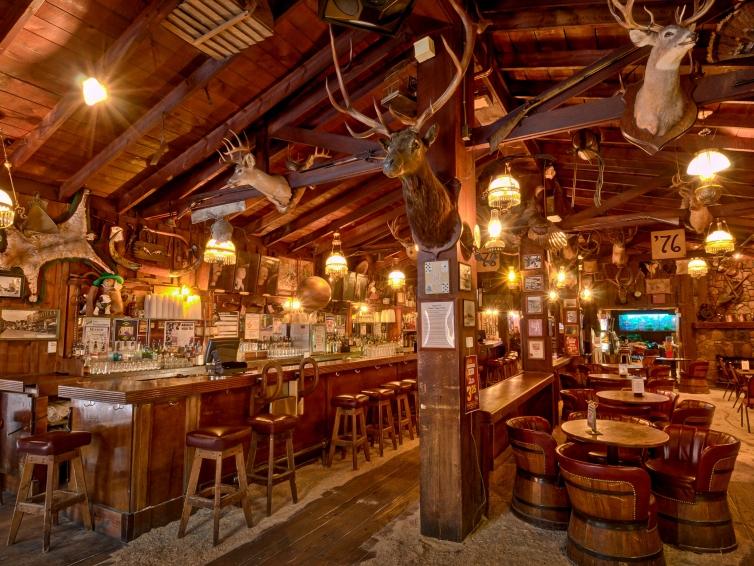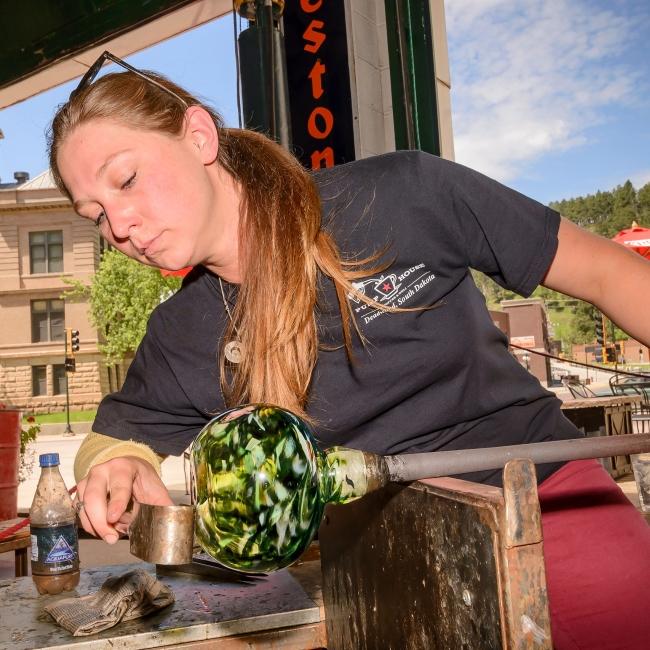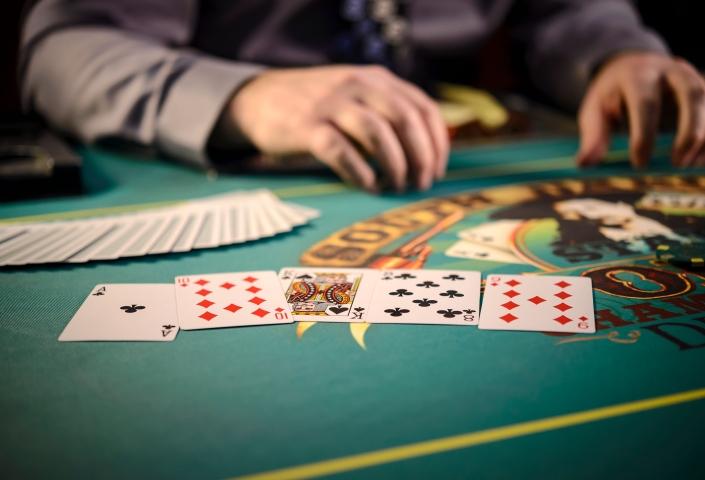 Silverado Franklin Historic Hotel & Gaming Complex
More history awaits you within walking distance from the studio/restaurant. Close by is the Adams Museum, created by W. E. Adams himself and home of Potato Creek Johnny's 7.346 troy ounce gold nugget, a rare marine reptile called a plesiosaur, and loads of other historical artifacts connected to the history of Deadwood.
Nearby is The Historic Adams House. Built in 1892, the Black Hills' oldest museum is a mansion that looks exactly like it did (down to the cookies in the cookie jar) when the second Mrs. Adams turned the key and walked away in 1934 after her husband's death. On the northern end of town sits the Days of '76 Museum, which features firearms, American Indian artifacts, and an impressive collection of carriages (including one in which you can get a great vacation picture taken).
Enjoy a delicious evening meal at one of Deadwood's many restaurants. Visitors walk away particularly satisfied from the Deadwood Social Club (located above the Saloon #10) and Legends Steakhouse below the Silverado Franklin Historic Hotel, but there's something for every taste in this town. After a satisfying meal, nightlife excitement awaits! Take in some live tunes at Saloon #10 or the Deadwood Tobacco Company (the only place in town where cigar smoking is both allowed and encouraged). From Big & Rich to Cheech & Chong, the biggest acts coming to Deadwood usually play the Deadwood Mountain Grand. No matter what your pleasure, there's a trolley that's almost always available to get you where you want to be.
As for accommodations, Deadwood has plenty of options, ranging from a basic place to hang your hat to hotels where the history is just as important as the service. Area campgrounds have tent sites, RV hook-ups and cabin options. Guests at the Silverado Franklin Historic Hotel & Gaming Complex can sleep where celebrities from Babe Ruth to John Wayne have spent the night. The Bullock Hotel is Deadwood's first and one of its most popular hotels. The Deadwood Mountain Grand Hotel is Deadwood's newest, complete with event center where big-name comedy and musical acts of every genre perform throughout the year.  The Lodge at Deadwood is consistently named one of the best in the area because of its hotel, restaurants, kid-friendly pool area, and card dealers. The town's history may be wild, but accommodations are precisely as calm or exciting as you'd like them to be.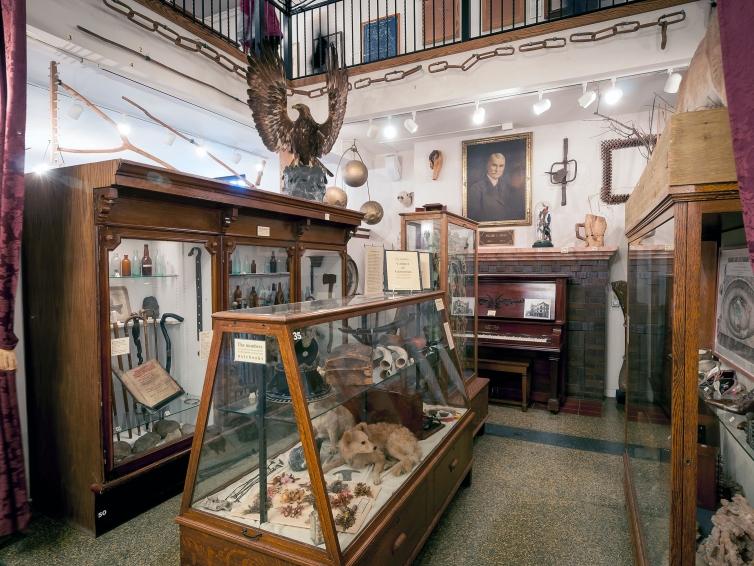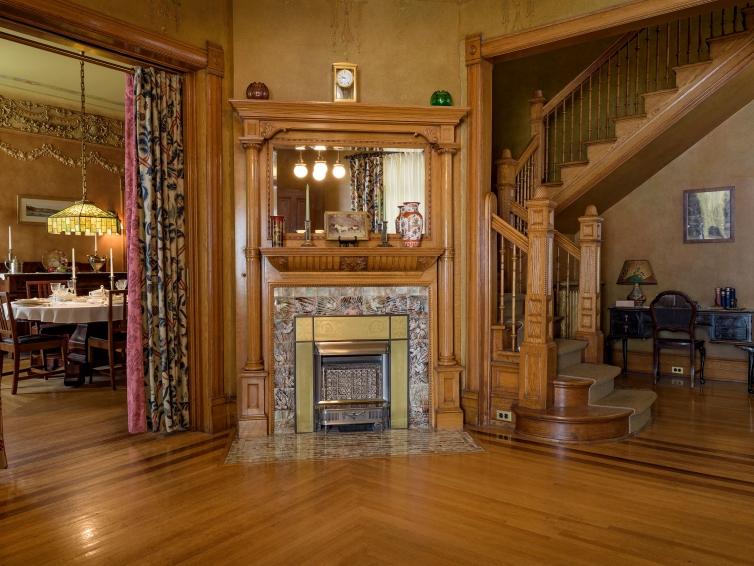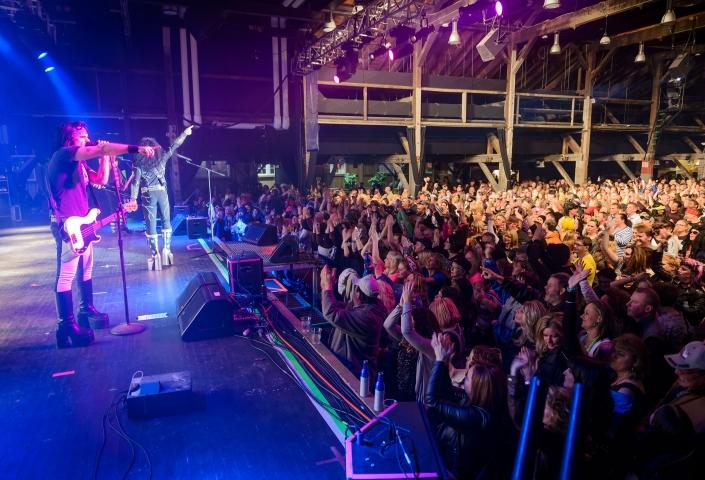 The Deadwood Mountain Grand Hotel
DAY 2: MUSIC, MASSAGES & GHOSTS
Another day of fun awaits! Breakfast options are plentiful, from the
Lee Street Station Café
(ask the server for a joke…if you dare) to the Frosted Flake-encrusted French toast at Legends Steakhouse. Afterwards, hit up what you missed yesterday or just take in the town by wandering Deadwood's Main Street.
Start your adventure off by discovering some beautiful tributes to and from some of the town's most legendary residents. Seth Bullock was Deadwood's first sheriff, a man that brought law and order to the hell-raising camp. He never killed a man. He didn't need to since he could, as his grandson later said, "outstare a mad cobra or a rogue elephant." As his career continued, Bullock built Deadwood's first hotel and left quite a legacy. Visitors can become acquainted with famous sheriff/businessman/legend by visiting the Mt. Roosevelt Memorial aka "The Friendship Tower". Only 2.5 miles from downtown Deadwood, the tower was built to honor the memory of Bullock's friendship with President Teddy Roosevelt. Educational plates will give you a history of the strong platonic connection between the two men that began when Bullock mistook Roosevelt for a criminal the lawman was hunting. From then on, the two were best friends. Roosevelt once referred to Bullock as "a true Westerner, the finest type of frontiersman." After Roosevelt's death, Bullock had the tower constructed as a monument to their friendship. Visitors can take a short hike to the tower before ascending a few stairs to experience a stunning panoramic view of the Black Hills. Picnic and restroom facilities are available along the way.
Take a short drive across town for a more intensive history lesson at Mount Moriah Cemetery. Here you'll find the grave of Wild Bill Hickok beside Calamity Jane's (who declared before her death that Hickok was the only man she ever loved) as well as Potato Creek Johnny, a man known for finding the largest piece of gold in the Black Hills. (His fiddle-playing skills and general hygiene? Well, they were legendary for a different reason.) The cemetery is also home to sections of the town's Jewish and Chinese populations, respectively. A short hike up will take you to the final resting place of Bullock. Why the distance? Bullock wanted to make sure his grave had a view of Mount Roosevelt across the gulch.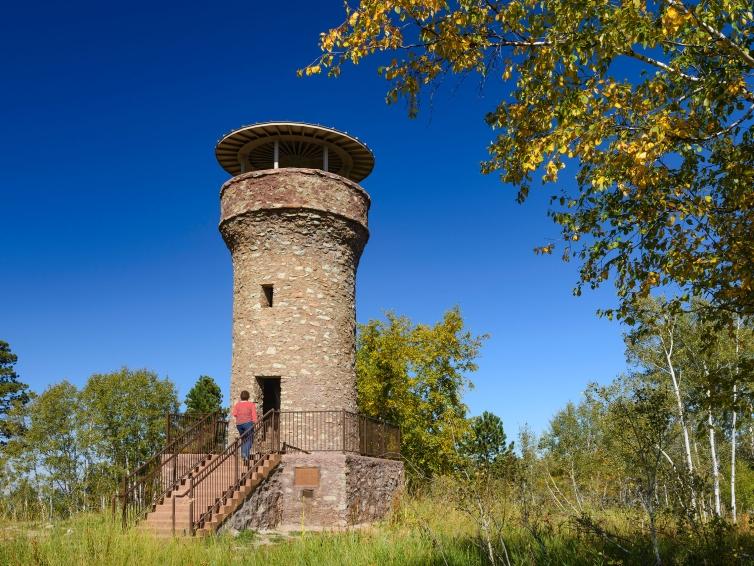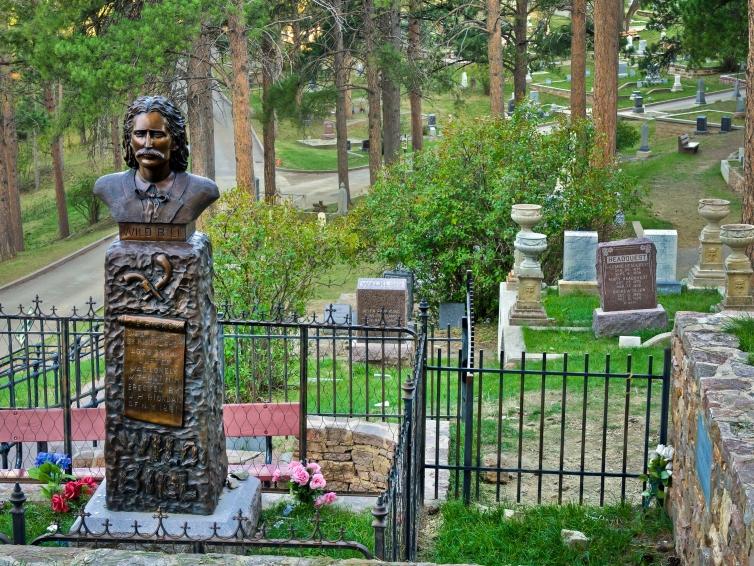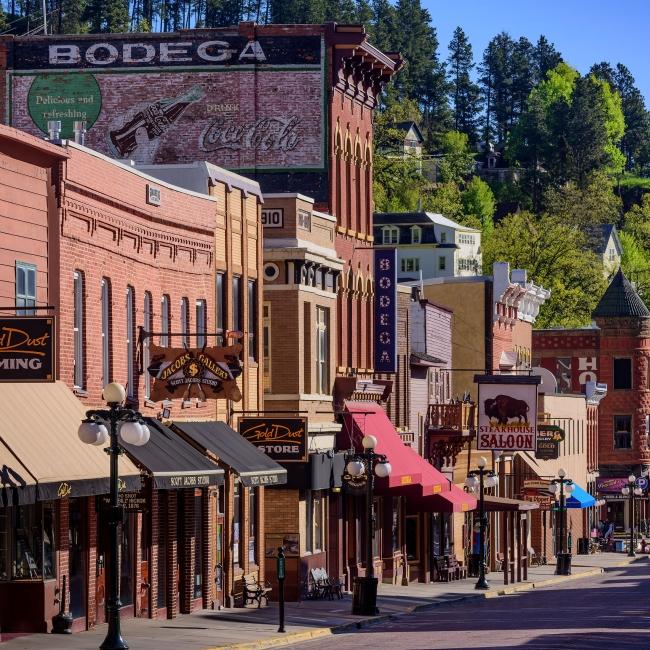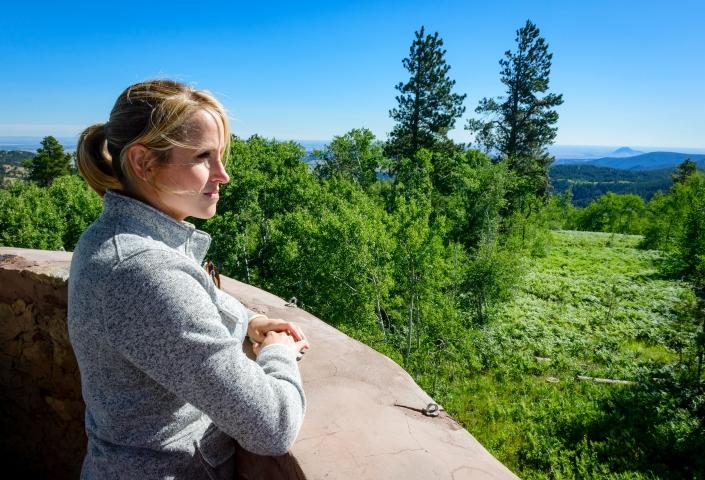 Mt. Roosevelt Memorial
Wandering should provide you with plenty of lunch inspiration, but make sure you spoil yourself afterwards (or before – after all, the town's motto is "No Rules, No Regrets") with some legendary, nationally recognized truffles at Chubby Chipmunk. Quench your thirst with some beer or wine from Naked Winery/Sick & Twisted Brewing Co. or a taste of something harder at Deadwood Distilling Company.
Unsurprisingly, Deadwood does parties really, really well. If you're planning ahead, consider hitting up one of the town's annual musical festivals, like Wild Bill Days in June, Kool Deadwood Nites in August (featuring a Main Street full of classic cars), the Wild West Songwriters Festival, or the Deadwood Jam Outdoor Music Festival in September. The town also knows how to do holiday blowouts, which is why the place turns green with celebration on St. Patrick's Day weekend. Experience the best party north of the Bayou in March during Deadwood's Mardi Gras weekend. If you're tired of lackluster Halloween celebrations, come hit the town during Deadweird, an event that's earned its name thanks to elaborate costumes and the annual Monster Ball.
Too often, people make vacations more stressful than they need to be. Sometimes, their families "help." No problem. Deadwood has you covered with spa options that can melt away any stress you may be trying to ditch. Check out Akela Spa of Deadwood or The Grand Spa & Salon at Deadwood Mountain Grand for a massage, manicure or anything else that will make the trip an especially relaxing one.
That's the beauty of Deadwood. Everything is there for the taking. Follow your nose to find a meal. Let your ears take you where music and letting loose go hand in hand. Follow the shouts of victory to see where you might win your fortune. Let this guide and the new visitor center's resources show you why Deadwood has been successfully entertaining guests since 1876. No rules. No regrets. Nothing but fun awaits you in Historic Deadwood.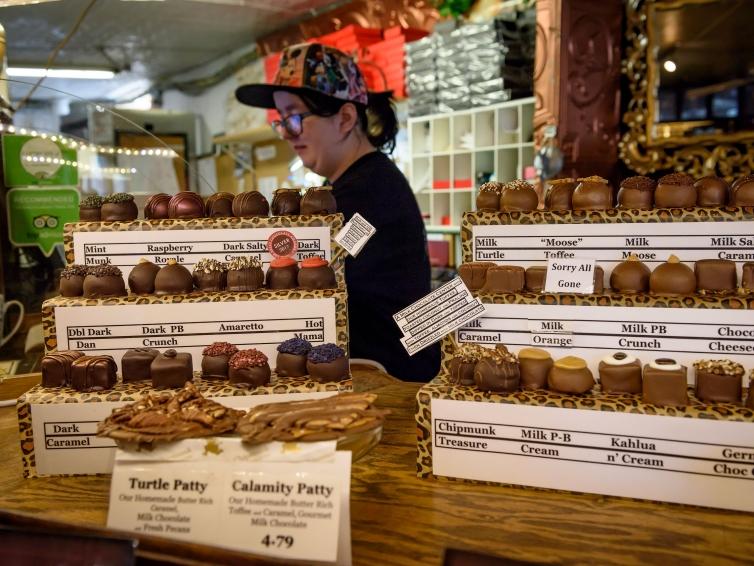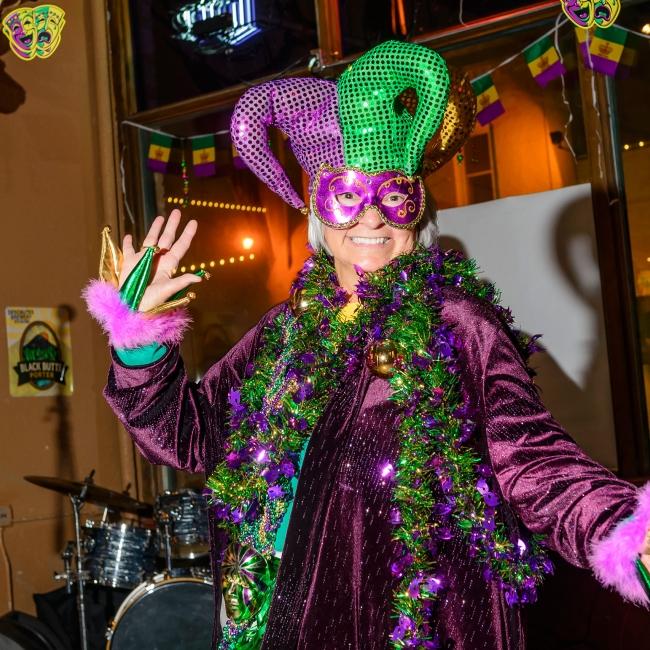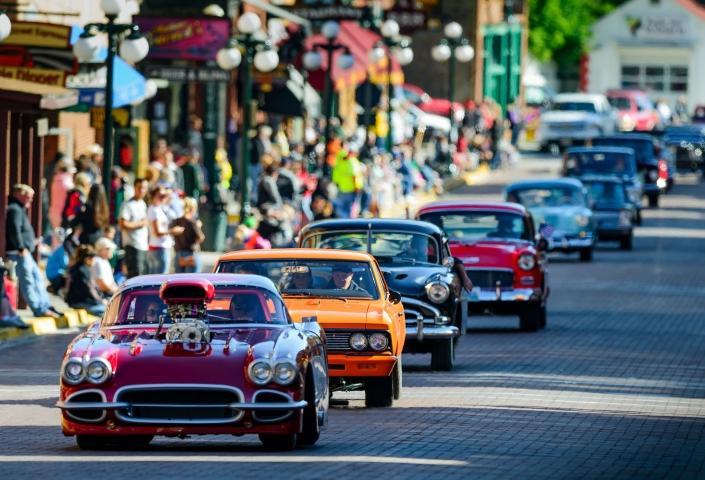 Kool Deadwood Nites