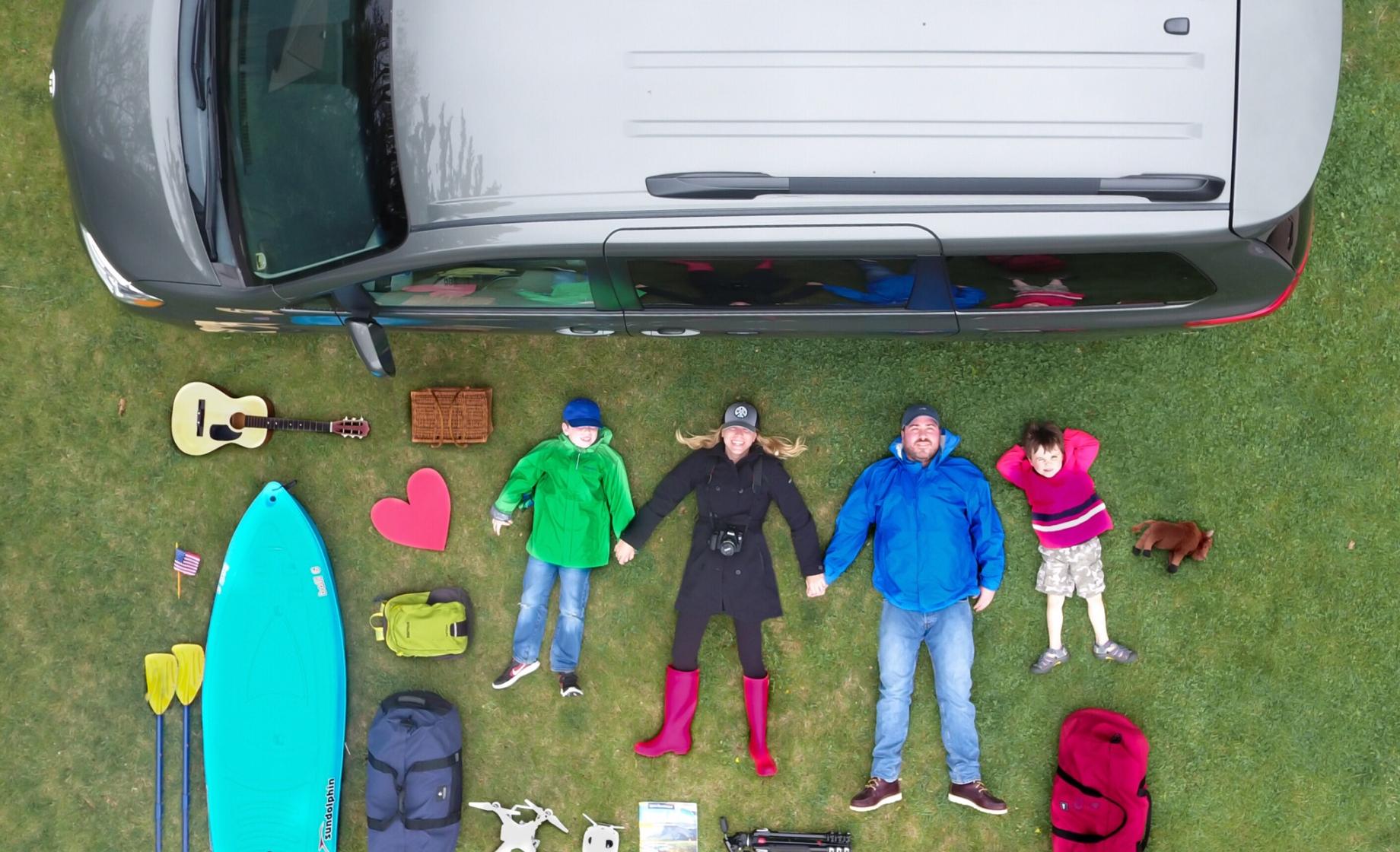 Minneapolis lifestyle photographer Jill Emmer and her family embark on a trek across South Dakota. What they find — and capture — is adventure and beauty for all ages.
We live in Minneapolis, Minnesota, and we have taken vacations in the Black Hills twice before. Each time we have been there – once for about eight days, another for a long weekend – we've always finished our trip feeling like we could've stayed longer. However, the activities we did on this trip were completely different from what we have done other times and they were equally amazing! In fact, this was truly the trip of a lifetime.
Day 1
We have two young boys – Arlo, 4, and Cy, 8 – so, even though Google Maps said it was a seven-hour drive from Minneapolis to the Badlands, we knew that it would take us longer than that. However, it was very smooth sailing and didn't take us too much longer than seven hours. Soon after we crossed the South Dakota border, we saw those wide-open spaces that my eyes were craving: big, rolling hills with bright green grass and puffy, floating clouds. The scenic routes here were flat and smooth, making for easy travel.
Shortly before reaching Badlands National Park, we began to see changes in the landscape. In small patches, the rolling green grass abruptly stopped and cliffs and jetties took its place. It was a very prehistoric feeling. We saw hints of a desert climate mixed in with the grasses of the plains – teeny cacti, cracked earth, lots of sand, dry dirt and prairie dogs everywhere! And this is what amazes me most: we can leave our house, drive only seven hours and end up in this magical place that is SO unlike anything where we live!
We reached Badlands National Park just in time for a surreal pink sunset and checked into our cabin at Cedar Pass Lodge. For my family, it was a dream to be able to stay inside the park, and this cabin was the best – very modern, clean and well done. It had a main room with two queen beds, a fridge, microwave, TV, and table. It had a very nice bathroom as well. It also had a porch in the front and one in the back, so you could watch the sunset and sunrise without ever actually leaving your cabin!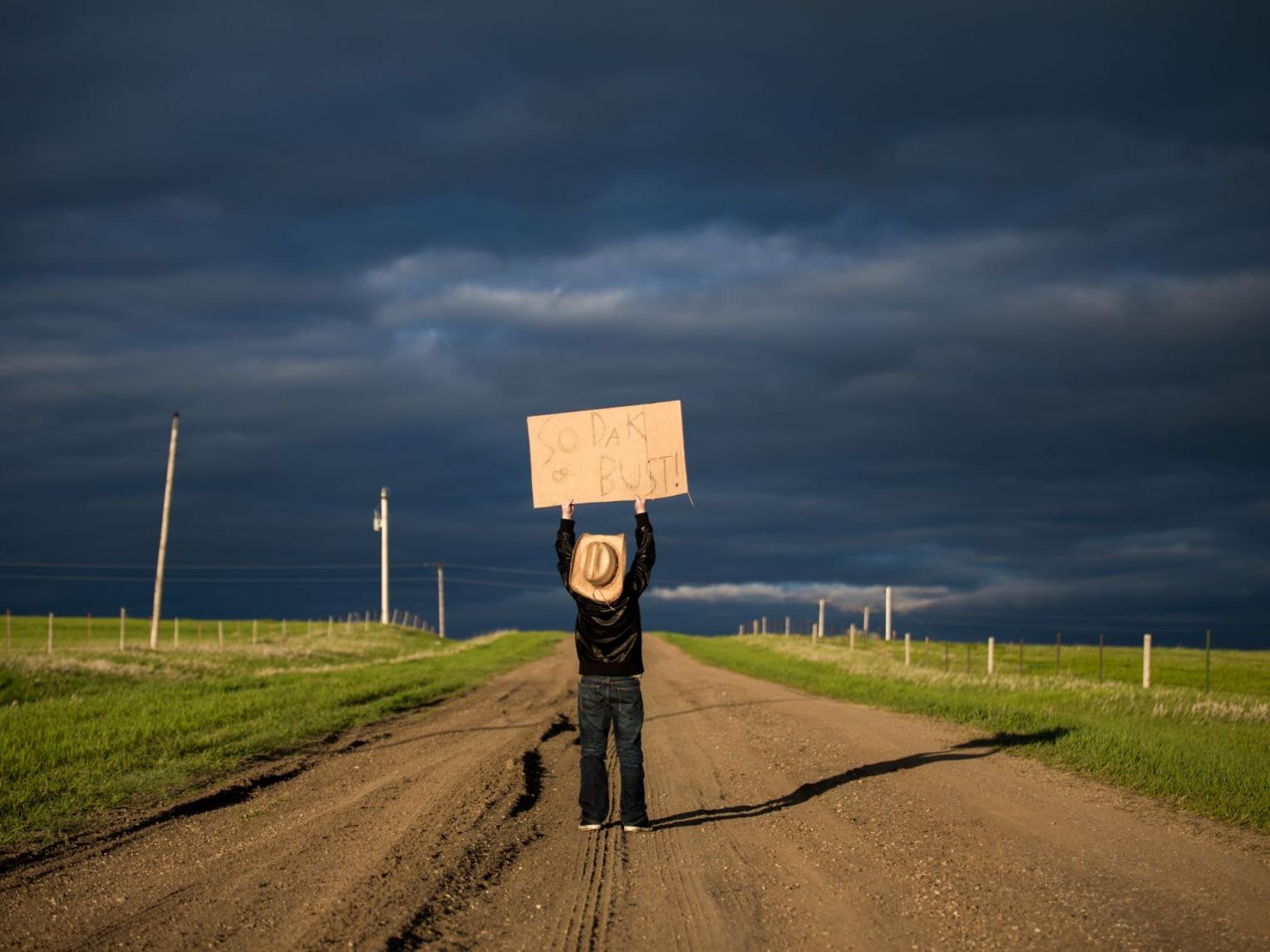 Day 2
As little boys always seem to do when they're on great adventures, they were up before the sun and begging to go outside. So, as the sky started to lighten and turn a lovely shade of pink, the boys quietly ran outside and began to explore. They tromped through an old creek bed and, almost immediately, Arlo found fossils that were clearly a set of teeth. Later, a park ranger told us it was from an "Oreodont," a hog-like creature with sharp teeth from millions of years ago.
After a morning of exploration and a nice breakfast, we packed up and explored the rest of the Badlands by car. There was a wonderful, winding road that took us through a large portion of the park. There were many places to stop and take photos, or go on a hike. We did some short hikes and made a lot of stops. We saw lots of bighorn sheep, deer and pronghorns. The drive slowly ascended until we were on top with a breathtaking view.
The gift shop near the Cedar Pass Lodge really was wonderful. It was a great place to stop for all types of souvenirs: stuffed animals and suckers for the boys, buffalo jerky for dad and a huge room filled with Native American pottery, jewelry, blankets and purses for mom.
After we left the Badlands, we headed to Wall Drug located on Interstate 90 just north of the Badlands. You knew you were approaching it about 250+ miles in advance because it was one of those roadside attractions with billboards all over the world. That, to me, is what made us feel like we were on a good old All-American road trip.
We'd been told by many to try the donuts at Wall Drug. It took us about 45 minutes to actually get the donuts because we were consumed with so many other sights. A chapel, a rock shop, fudge shop, tons of western wear – so much fun! After picking up the donuts, we went across the street to lunch at Badlands Saloon and Grille. The food was terrific… I mean, seriously good. To be honest, we were a bit surprised because it really looked like a saloon. They have a great chef. Even the salad dressings were homemade!
We made our way west to Custer State Park and checked into a cozy little cabin on Legion Lake. The trout were jumping and Cy ran to get his fishing pole within minutes of our arrival. It was an amazing treat to stay inside another park! We stayed for two nights and enjoyed many sunsets and sunrises right outside our door. We used this cabin for our base camp as we explored the area. We filled up on groceries in the town of Custer – a 10-minute drive. The grocery store was very well-stocked with fine cheeses, meats (lots of buffalo), ice cream and a large wine selection. Our cabin in Custer State Park had a kitchenette, so we usually made our breakfasts and a few lunches there.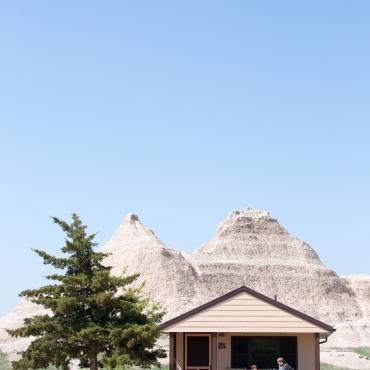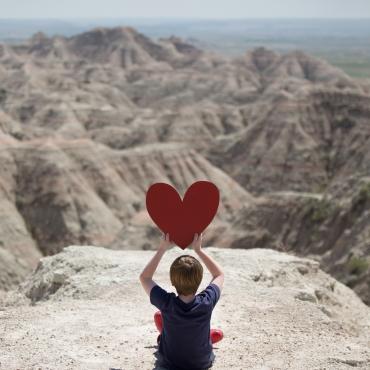 Day 3
While staying in Custer State Park, we went on several amazing adventures! The first morning was a bit chilly (snow in May!), so we drove up to Rapid City and visited Bear Country USA, a drive-through wildlife park. There were so many animals we've never seen this close up – arctic wolves, grey wolves, sheep and bears! It was an incredible experience.
We went back south to the town of Keystone for lunch and ate at the very charming Ruby House Restaurant. It had very high ceilings and was decorated in early 19th century memorabilia. I had an "Indian taco" and we tried some huckleberry ice cream that was out of this world!
Next we stopped at Mount Rushmore National Memorial. It wasn't our first time visiting the memorial, but it felt just as majestic. It really took our breath away. The restaurant area was filled with interesting information about the history of the site. It also offered a full menu, including vanilla ice cream made with Thomas Jefferson's original recipe! I learned we could've showed up to see the sunrise over Mount Rushmore. To see the morning sun directly shine on the faces sounded amazing! They also regularly have lighting ceremonies at dusk. Both of these options sounded so cool to the photographer in me, so they have definitely been added to my bucket list.
It was time to head down to Custer State Park's Blue Bell Stables, a real top-notch operation. They were wonderfully warm and accommodating. The trail ride was a highlight of our trip and a definite must-do! We admired the incredible scenery as the horses splashed right through fresh streams and walked through a beautiful pine forest with mountains in the backdrop. So much fresh air! We loved our guides, Alura and Addy. Arlo talked Addy's ear off for an hour straight. Afterwards, he declared that he wanted to be a cowboy when he grew up.
After the ride, we walked across the road to Blue Belle Lodge, where I had the most delicious encrusted walleye. It was a fabulous restaurant right in the park with a great selection of fine food and wine. There was even a wild buffalo grazing out back! 
To top off the day, we drove the 18-mile Wildlife Loop Road just as the sun was setting. We saw herds of buffalo, elk and pronghorns. The prairie dogs made us laugh – they were so silly and fun to watch! It really couldn't get much better than that! I wanted to photograph a silhouette of a buffalo at sunset and it was easy to do as we drove the park – another item crossed off my must-do list.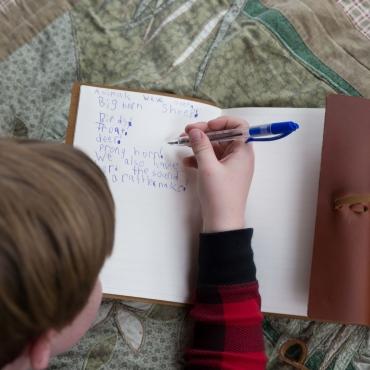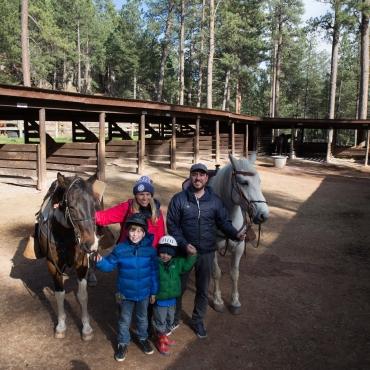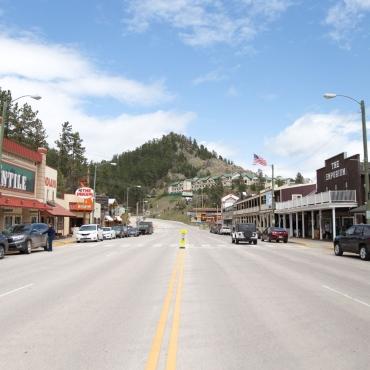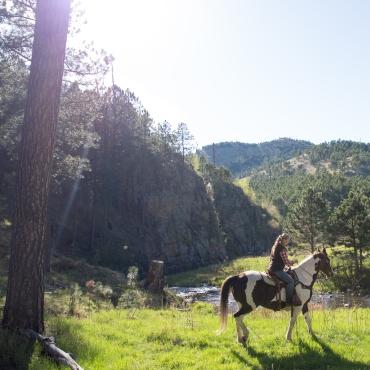 Day 4
On Saturday morning, the alarm went off at 4:30 am! It was time to visit Black Hills Balloons. As owners Damien and Keely prepared the balloon, a gentle sunrise was starting to take shape. The pair was warm and welcoming, and cracked enough jokes to make everyone comfortable. They were also very skilled pilots and instructors. In the summer, they fly almost every morning – weather permitting.
This was a very special experience for our family, something that we will always, always remember! It was thrilling, yet serene and peaceful. When we were slowly floating above the trees, it was very quiet and calm (unless you brought Arlo). It didn't make us feel afraid of heights like a fair ride might have because it was so slow and gradual that we felt at ease.
We found it fascinating that they couldn't totally control where the balloons ended up; the wind does that! So, they landed in empty fields or, sometimes, on private property.
Damien said that the majority of Black Hills residents were very welcoming! And sure enough, we found out firsthand when we landed in a very kind gentleman's yard. He came out and chatted with us. (Can you imagine looking out your window at 7 a.m. and seeing a huge balloon landing in your yard?!) The boys rolled around in the yard with the man's dogs as Damien and Keely packed up the balloon. 
Add this one to your "must-do" list as well. It was amazing! And if you are like me, you will have so many pictures that you can share and enjoy for years to come. It was a definite #HiFromSD experience!   
Afterwards, we stopped in Custer for a coffee and then headed back into Custer State Park. Herds of wild buffalo roamed the park. We took a Buffalo Jeep Safari to see the beautiful beasts and other wildlife. Even though we could've easily taken a driving tour through the park by ourselves, we loved having our guide, Matt, teach us about the history of the land and the ways of the buffalo. Matt works for the park system and was so friendly and outgoing. He made us feel like the park itself was equally friendly. We loved Custer State Park!
After a quick bowl of buffalo stew at the State Game Lodge, it was time to leave Custer and start heading east toward home. About halfway home, we stopped in the Chamberlain/Oacoma area of South Dakota. I'd heard of Chamberlain/Oacoma many times from my dad – an avid fisherman. Apparently, if you're planning to catch walleye or fish of any kind, Chamberlain is a sportsman's paradise. It is also known for its premiere hunting.
As soon as we pulled into the Cedar Shore Resort, we saw evidence of this. The parking lot was lined with Lunds, a well-known type of fishing boat, and the resort had its own marina with a bait shop, fuel and sundries right on the property. For a family with two little boys, this was the perfect stop! That night, we enjoyed dinner at the resort's restaurant. I had the walleye, of course, and it was mouthwatering. My husband and Cy wolfed down some epic-looking steaks. As we ate, we watched an idyllic scene out on the lawn – several laughing kids and a golden retriever jumping in the warm sunlight. After the delicious meal, the boys took a quick swim and we headed back to our cabin (which was more like a beautiful house) across the street. We had views of the stars and the Missouri River.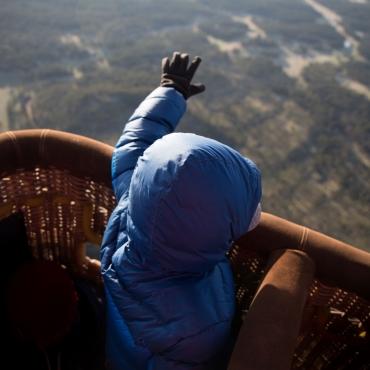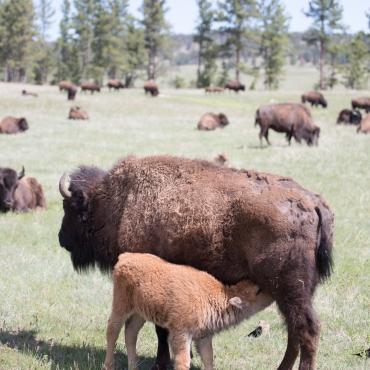 Day 5
The next morning, we met up with our guide, Raymond. He was the marina manager at Cedar Shore Resort and he stole a little piece of my heart that day. He was just so darn patient and kind with our boys. I wasn't surprised when he said that he and his wife have three girls who are all very successful. I loved hearing about his life in Chamberlain. We spent the day out on a pontoon, chatting and fishing the river. We pulled in some white bass and walleye!
Before this trip, Cy had listed fishing as the number one activity he wanted to do. It was great to see that dream come to life at such a wonderful place.
If you are ever looking for road trip stops between the Badlands/Custer and the Twin Cities, consider Cedar Shore Resort the perfect halfway spot to spend a day or two. Only a few miles from the interstate, it was an easy stop. You could easily spend a week there! Thanks so much Ron, Cory and Ray for the wonderful stay!
Even though the trip is over, we are still pinching ourselves that we took this ultimate road trip. It truly was a trip of a lifetime! Thank you so much, South Dakota. We are great big fans of your amazing state! We are already talking about the next time.
With Love,
The Emmers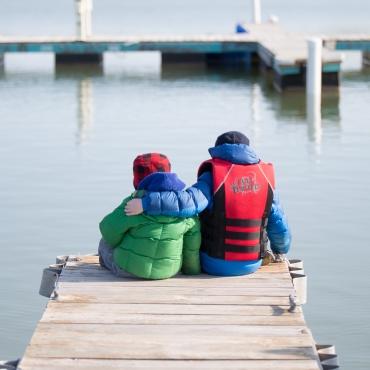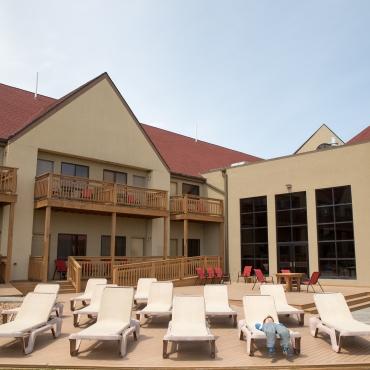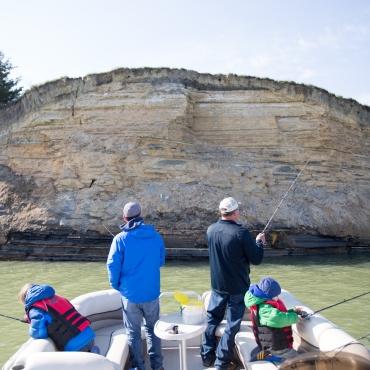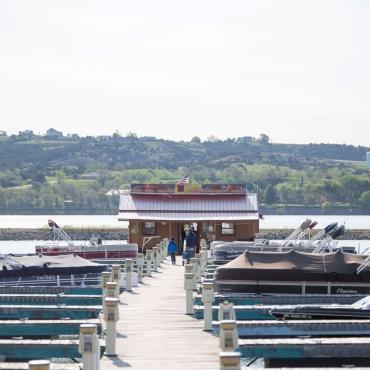 SEE WHAT FAMILY FUN IS WAITING IN SOUTH DAKOTA!