South Dakota and Wyoming's Black to Yellow Trail
Enjoy iconic sites and hidden gems as you follow the modern-day Black to Yellow Trail across South Dakota to Yellowstone National Park.
The original "Black to Yellow Trail" was established a century ago as a better way to explore South Dakota along the way to Yellowstone National Park. Today, the route has been modernized to showcase some of the best SoDak sights along Interstate 90 while still landing you at Yellowstone. Ready for a truly amazing road trip? We'll start you on the eastern border of South Dakota and take you to some of the state's great places on your way to Yellowstone National Park. Don't forget to order your Vacation Guide before hitting the road to discover even more South Dakota adventures.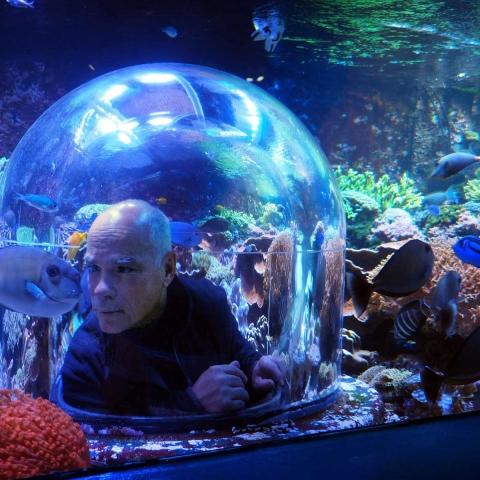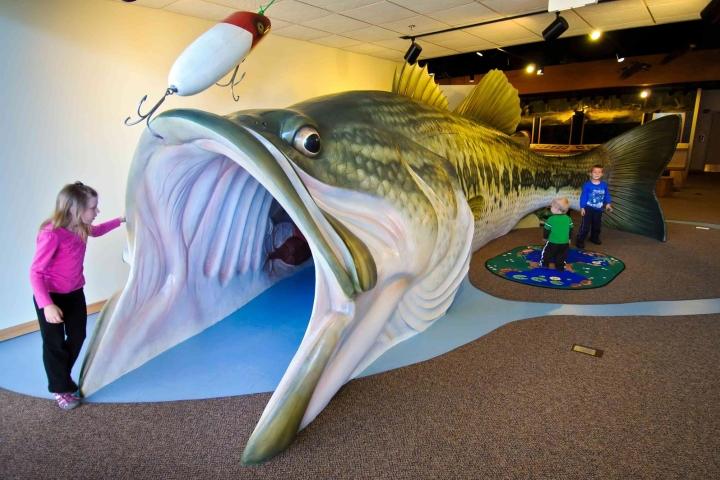 Border → to Sioux Falls
Whether you're coming from Minneapolis, Wisconsin, Milwaukee, Chicago, Grand Rapids or somewhere else, welcome to South Dakota! Your options begin almost immediately.
Take exit 406 for a breath of fresh air and a blast of unique scenery at Palisades State Park (25495 485th Ave., Garretson), where pink quartzite formations line Split Rock Creek. Hop back on the interstate to reach Sioux Falls (exits 399 and 396b), your destination for the day. South Dakota's largest city offers almost infinite options for fun, from the natural beauty and rushing water of Falls Park (131 E Falls Park Drive) to a lively downtown area and a plethora of unique entertainment options. Families love the Great Plains Zoo (805 S Kiwanis Ave.), the Butterfly House & Aquarium (4320 S Oxbow Ave.), and the free activities at The Outdoor Campus (4500 S Oxbow Ave.).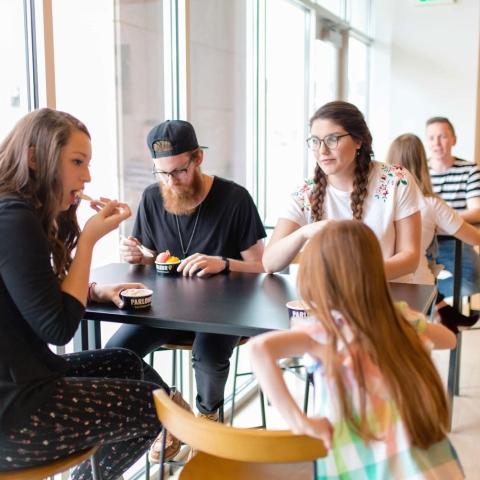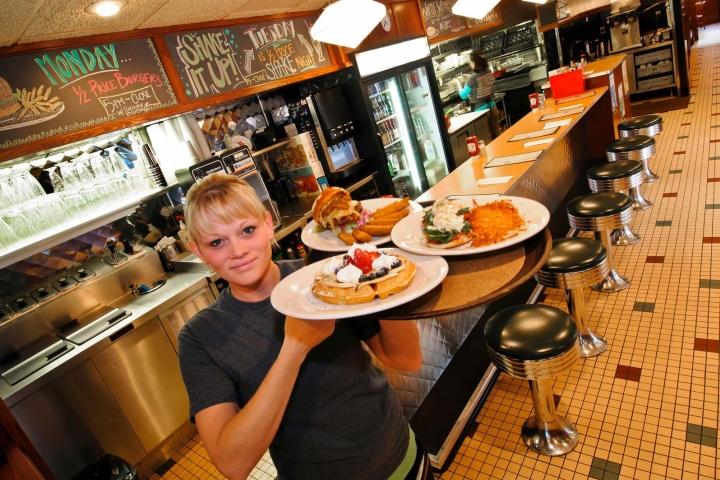 Road trips and exploration can stir up quite a hunger. You have plenty of options to solve that growling problem. If you're hitting Falls Park, enjoy a meal at the Falls Overlook Café (825 North Weber Ave.), a restored hydroelectric plant along the banks of the Sioux River. You don't have to be a vegetarian to enjoy the award-winning Mediterranean cuisine at Sanaa's 8th Street Gourmet (401 E 8th St.), but there are plenty of options for herbivores and carnivores alike.
The Phillips Avenue Diner (121 S. Phillips Ave.) serves breakfast, lunch and dinner that keep patrons coming back for more. If you're looking for ethnic taste sensations, check out Sushi Masa (423 S Phillips Ave.), the legendary tacos and salsa at Los Paisanos (802 E 10th St.) or the tastes of India at Shahi Palace (2527 S Shirley Ave.) or Kathmandu Indian Cuisine (5310 Arrowhead Parkway).
For dessert, you can't go wrong with macarons from CH Patisserie (309 S. Phillips Ave.) or ice cream at Parlour Ice Cream House (340 S. Main). Given that they're on opposite sides of the same block and both operated by an award-winning pastry chef, you have full permission to treat yourself to both.
Being the state's biggest city means there are plenty of overnight options ranging from hotels and motels to bed & breakfasts and a variety of campgrounds. For a list of options, check out this page.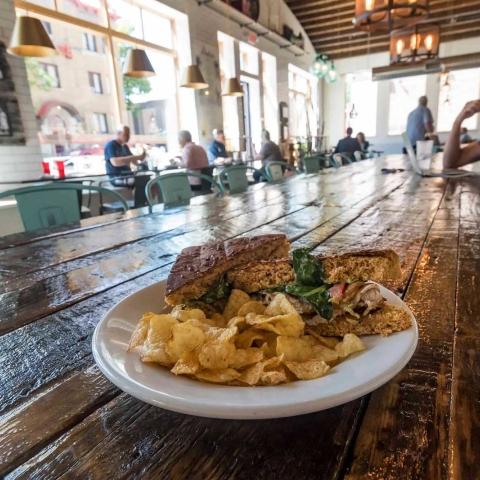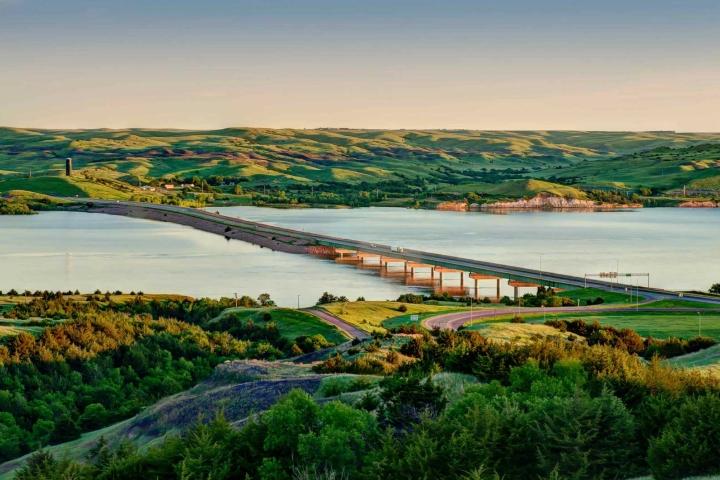 Sioux Falls → Badlands
It's time to explore South Dakota! Start your day with some coffee and breakfast from Josiah's Coffeehouse & Café (104 W 12th St.) or the All Day Café (2101 W 41st St) before heading west to explore the rest of the state.
For a more in-depth breakdown, check out this page for some of the unique sights you can experience between Sioux Falls and Mitchell. Otherwise, it's only an hour into your journey before you have the opportunity to see the World's Only Corn Palace (604 N Main Street) in Mitchell. Check out the annually updated exterior designs made completely from a variety of corn and native grasses, but don't forget to get your picture taken with Cornelius, a six-foot-tall ear of corn.
Continue on for another hour until you can take exit 264 for the Lewis and Clark Interpretive Center, where you can take in a view of the mighty Missouri River and the majestic Dignity: of Earth & Sky statue, a 50-foot-tall statue of a Native American woman sculpted to honor the Lakota and Dakota cultures.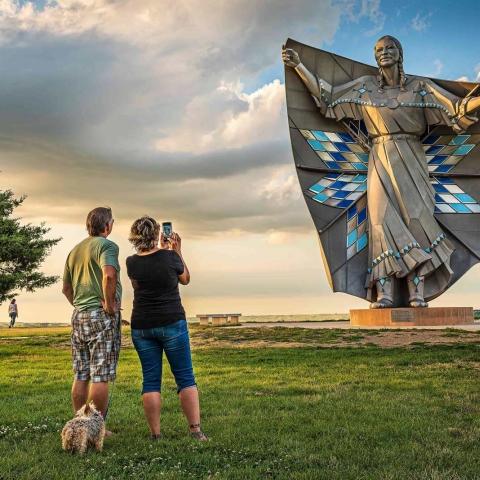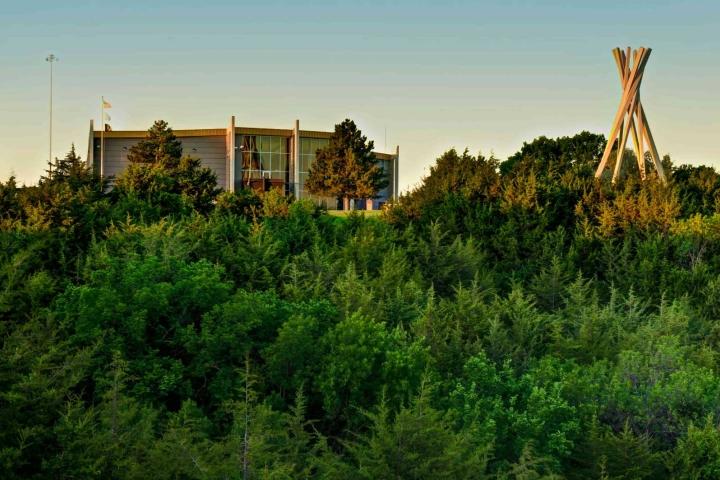 Continue on until your Badlands entry options appear! The Badlands Loop Scenic Byway is the easiest and most popular way to explore the park. You can hop on the east end of the loop at exit 131 or the west end at Wall (exit 110). Either way, prepare to bask in the lunar-like landscape of the Badlands! As you cruise among breathtaking rock formations and native grasslands, be prepared to spot bighorn sheep, pronghorn antelope, mule deer, prairie dogs and other wildlife. (Buffalo can most often be found along the Sage Creek Rim Road, a gravel spur off the western end of the loop.)
The park's 16 designated scenic overlooks offer plenty of scenic views, and there are plenty of places to pull over and explore. Some of the park's most popular trails include the Door and Window Trails, but there are plenty of on-foot options.  
Whether it's before or after your Badlands cruise, make sure to refresh at Wall Drug (510 Main St.), a 76,000-square-foot wonderland of free attractions that includes a Western art museum, a giant jackalope, and so much more. Grab a donut or two while you're there. Trust us.
You can overnight in one of Wall's hotels, motels, or campgrounds, but you can also spend a night under the stars in the Badlands. Please see this page for specific rules and suggestions.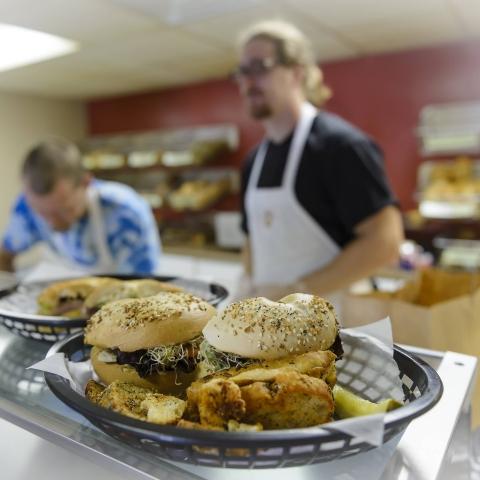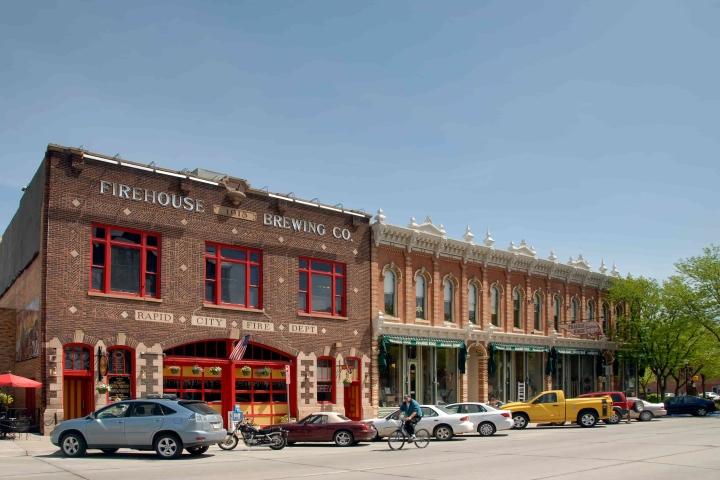 Badlands → Mount Rushmore
Prepare for a very pretty day.
It takes less than an hour to get from Wall to Rapid City, a place where culture and nature have balanced nicely for quite some time. Take your picture with your favorite presidential statue while exploring the downtown area, which also features Main Street Square (526 Main St.), a city-endorsed collection of ever-evolving graffiti known as Art Alley (Main St./St. Joseph St.), and plenty of entertainment, art and culinary options. Grab yourself some food from Black Hills Bagels (913 Mount Rushmore Road), Tally's Silver Spoon (530 6th St.), or Firehouse Brewing Co. (610 Main St.) before heading west into the beautiful Black Hills.
Take Mount Rushmore Road out of town and prepare for a LOT of fun vacation options. Stop at Reptile Gardens (8955 South Highway 16) to see giant tortoises, a giant crocodile named Maniac, a variety of birds, and the world's largest collection of reptiles.
Want to drive through a wildlife park for a rare view of more than 20 species of North American mammals? Pull into Bear Country USA (13820 South Highway 16). Continue on Highway 16 until you can go south on Highway 16A, a road that will take you Keystone. Find some fun on the 800-foot zipline, 2,000-foot Alpine Slide, or Aerial Adventure Park at Rushmore Tramway Adventures (203 Cemetery Road). Walk through the saloon doors of Ruby House (124 Winter St.) for a bite to eat before heading west on Iron Mountain Road – an truly spectacular part of the Peter Norbeck National Scenic Byway featuring several wooden "pigtail" bridges – before hitting the destination of the day: Mount Rushmore National Memorial.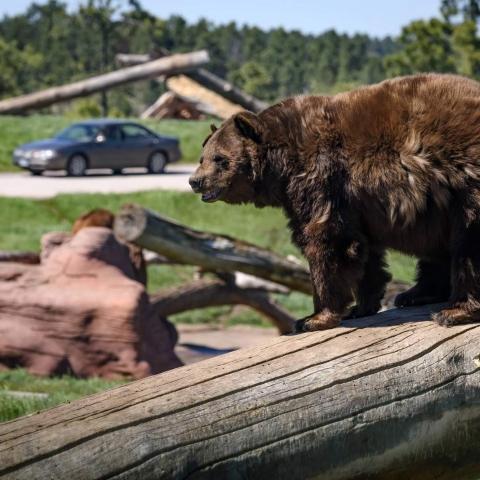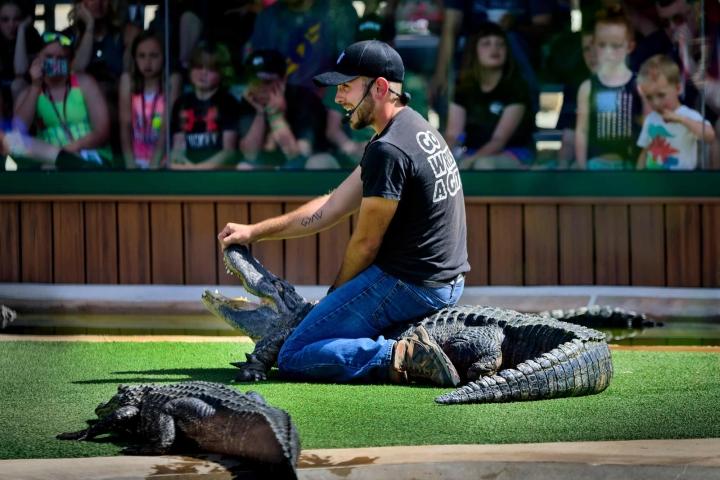 America's Shrine of Democracy features the 60-foot faces of George Washington, Thomas Jefferson, Teddy Roosevelt, and Abraham Lincoln. It's an iconic landmark that makes for a powerful visiting experience anytime of the year.
Take in the view from a multitude of angles while exploring the Presidential Trail, enjoy an educational walk with a park ranger, and learn more about sculptor Gutzon Borglum's vision in the on-site Sculptor's Studio. Each evening from May through September, a nightly lighting ceremony adds a patriotic flair to the legendary monument. Don't forget to enjoy some ice cream at the Carver's Café! It's made from Thomas Jefferson's own recipe, the first written recipe for ice cream in the United States.
So many overnight options exist, from accommodations in Keystone, Hill City, or the historic Wild West town of Deadwood. You can even make your morning easier by finding accommodations in the town of Spearfish or getting an early view of the canyon by staying at Spearfish Canyon Lodge (10619 Roughlock Road, Lead). No matter where you rest your head, you'll be refreshed for tomorrow's trip to Spearfish Canyon.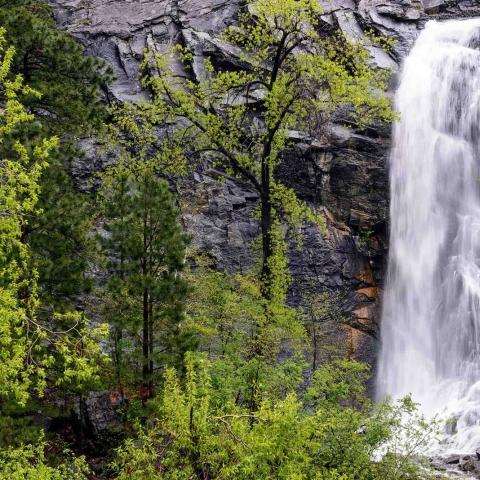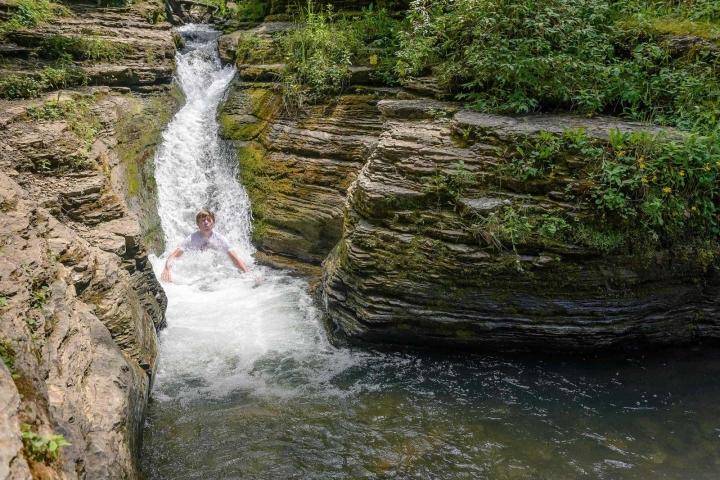 Rushmore → Spearfish Canyon
Ah, another beautiful day in South Dakota.
Wherever you spent last night, head to Spearfish Canyon and prepare for another magnificent drive. The Spearfish Canyon State and National Forest Service Byway (US Highway 14A) is a 19-mile stretch of beauty that takes you along a mountain stream through a canyon of towering limestone cliffs. Be prepared to pull over for a closer look at Bridal Veil Falls, Roughlock Falls State Nature Area, and Little Spearfish Falls. Beautiful anytime of year, the drive exudes a particular charm during the autumn as the leaves explode with color.
Spearfish Canyon is especially fun to explore on foot. Spearfish Falls drops into a lush forested area that can be reached by a short hiking trail. From Spearfish Canyon Lodge, a smooth walking trail or the graveled Forest Service Road 222 lead to Roughlock Falls. Viewing areas above and below the falls give you several options to take in the beauty. Devil's Bathtub Trail was once a secret, but it eventually became impossible to keep under wraps. After parking at Cleopatra Place, follow the bridge to a trail where you'll be happy to get wet shoes as you cross the stream several times before ending up at the natural tub or one of the other pools of water.
At Roughlock Falls State Nature Area, hikers can spend part of the afternoon either climbing down the one-mile trail or, after parking at the top of the falls, strolling down to various viewing points. The Rimrock Trail (Trail #79) is a combination of two loop trails, making it a pretty day hike that changes approximately 700 feet in elevation. You can access the trail from several spots, including the Little Spearfish Trail Trailhead, the Lower Loop Trailhead or the Dances with Wolves film site.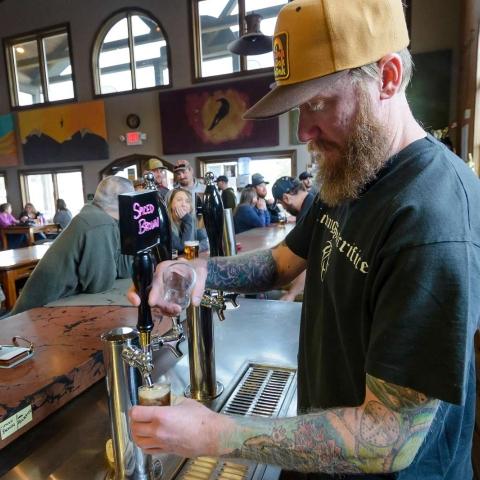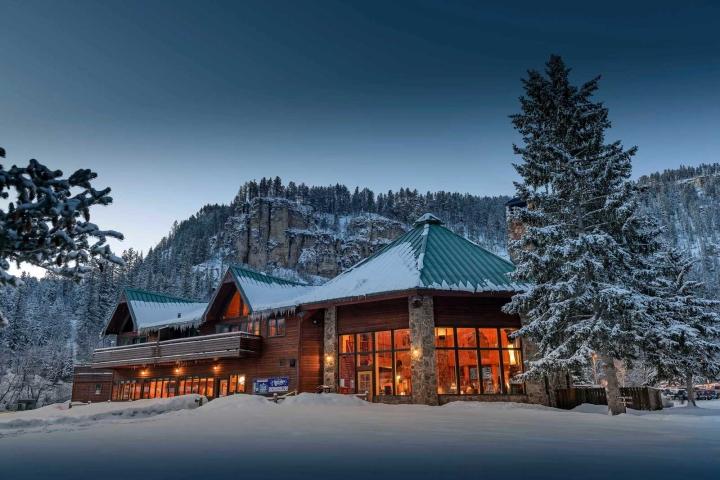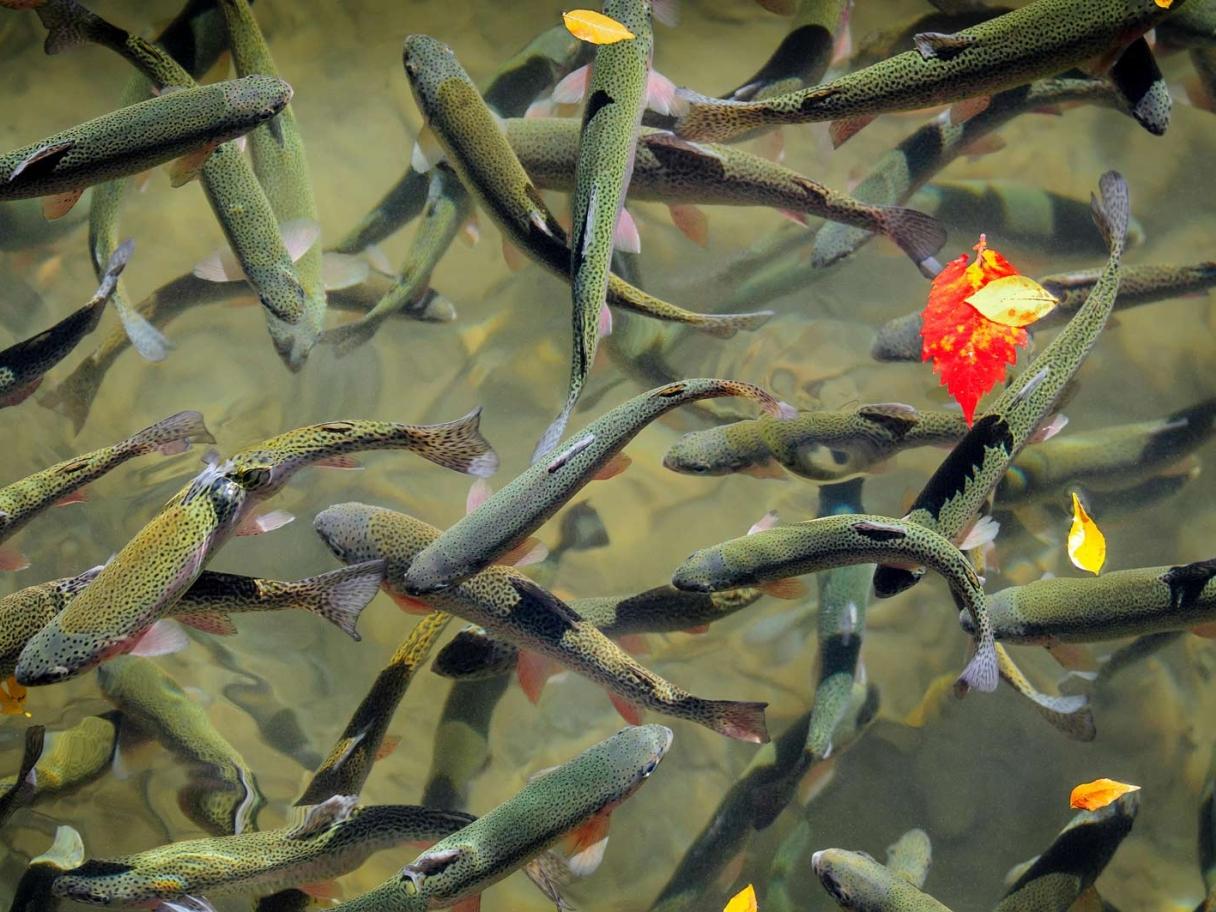 Spearfish Canyon → Yellowstone National Park
Before leaving South Dakota, check off a bucket list item and see The Center of the Nation Monument in Belle Fourche before heading west on Highway 34. Say goodbye to South Dakota (Don't be sad — you can always come back!) as the road turns into Highway 24 and takes you to Devils Tower (149 State Highway 110), a stump-shaped granite formation that stretches 1,267 feet to the sky.
Spend a night at the historic Sheridan Inn — Buffalo Bill Cody was an early investor known to audition new members of his touring show from the inn's front porch — before continuing on to the Bighorn National Forest. After that, you're just four hours away from your ultimate destination: Yellowstone National Park. 
There's nothing quite like exploration to enrich a life. We hope this modern-day Black to Yellow Trail itinerary will help you make the most of a road trip that's bound to result in pleasant memories that will last a lifetime.
Start Planning Your Next Trip to South Dakota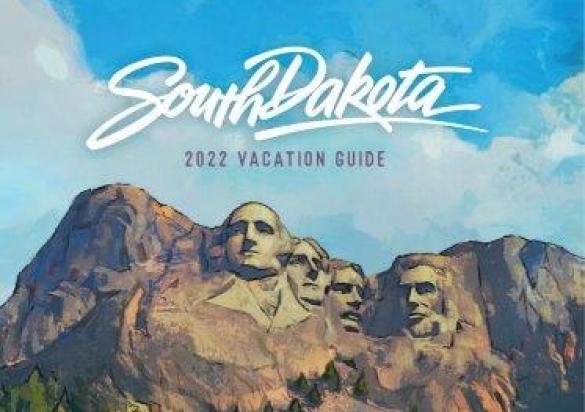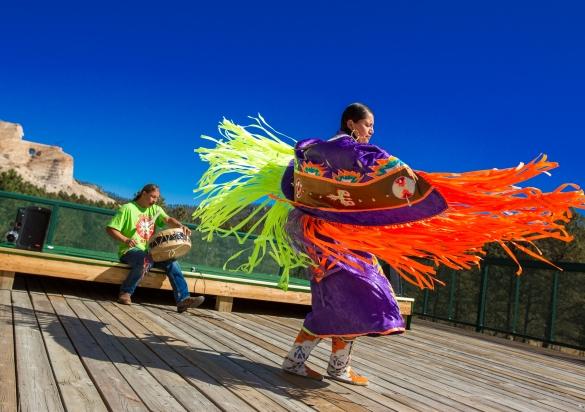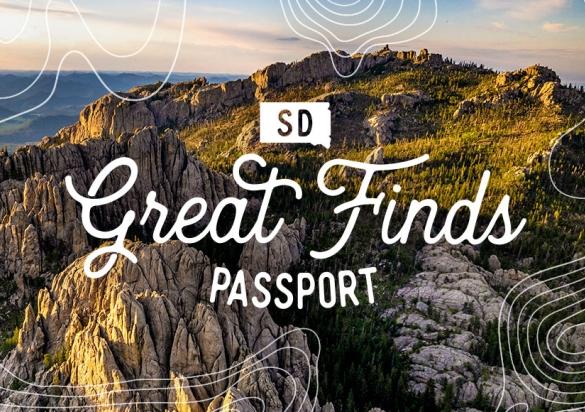 More South Dakota Road Trip Adventures