If you're looking for some fun outdoor adventure, then South Dakota may be just the spot for you to explore. Yes, you can visit Mount Rushmore, and the Badlands are a sight to behold, but there's a world of adventure just waiting to be had in addition to these well-known destinations. For instance, scuba diving in a massive reservoir or exploring two of the largest caves in the world.
Here are 15 excellent "don't miss adventures" in South Dakota:
1. Ride the Mickelson Trail from Deadwood to Edgemont
The 109-mile George S. Mickelson Trail, which was once a railroad bed, meanders through South Dakota's Black Hills National Forest. Today, cyclists, runners, snowshoers and, in some areas, snowmobilers all share the trail. The surface is mostly packed gravel and the trail itself is relatively flat for most of the way, which makes it a great spot for families and people of all abilities. Side note – you get major South Dakota bragging rights if you bike the entire trail in one day.
2. Paddle the Mighty Mo'
Make like Lewis and Clark and paddle your way down the Missouri River – the longest river in the United States. The Missouri River divides the state into two regions, affectionately known as 'west river' and 'east river.' There's a lot of fun to be had on a river adventure and you'll find a nice mix of free-flowing current and reservoirs you can paddle through. Great for day trips and camping, you can stay on the river all day or stop for a hike, go fishing or just enjoy a historic journey as you paddle near the lands of five Native American tribes.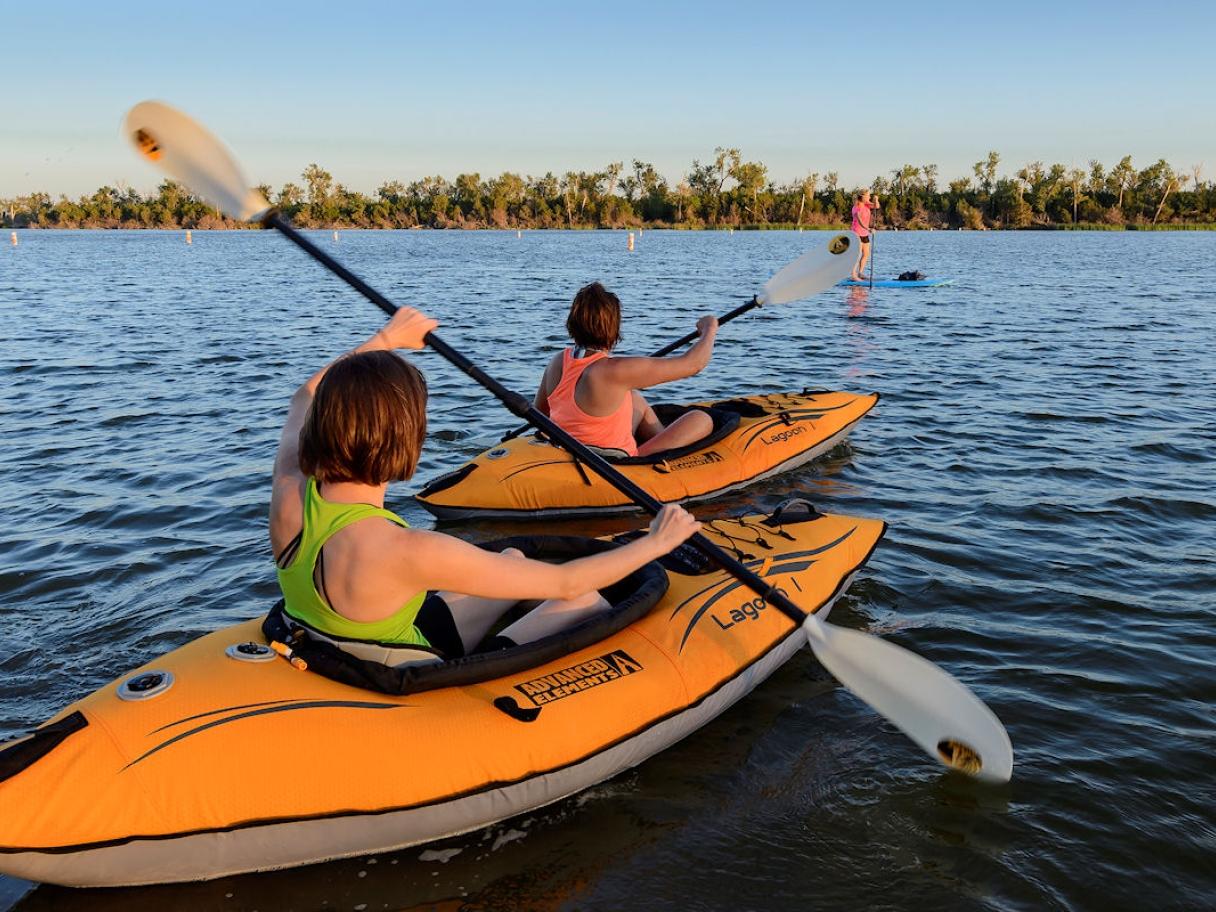 3. Hike Black Elk Peak
At 7,242 feet, Black Elk Peak (formerly known as Harney Peak) is the highest point east of the Rockies in the United States. Nestled in the Black Hills National Forest, this peak boasts 100-mile views from its summit – be sure to check out the unforgettable views from the old stone fire tower. There are a variety of trails that will bring you to the top, most in the range of 6-8 miles round trip.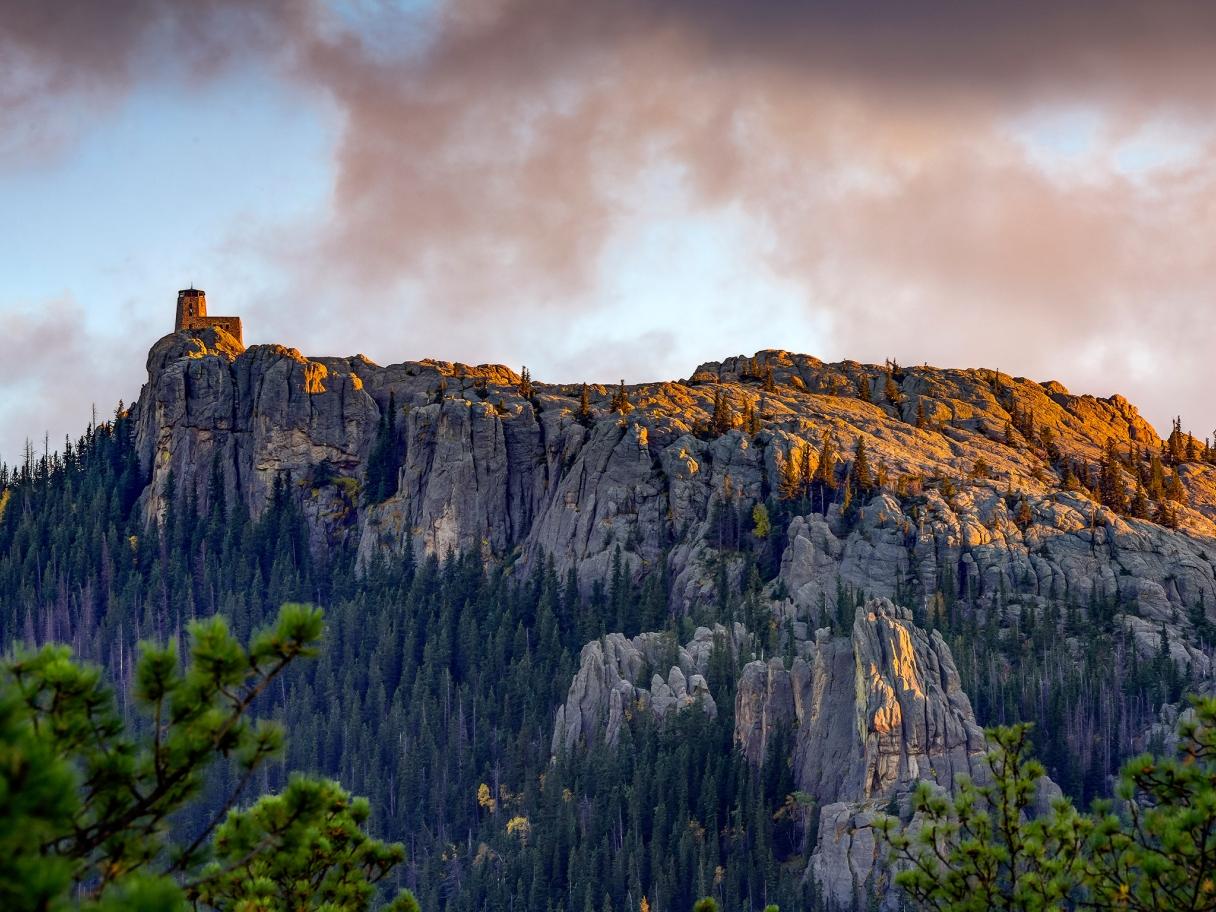 4. Scuba Dive in a Landlocked State
This one may sound a little crazy, but just because South Dakota is in the middle of the country doesn't mean there isn't an aquatic adventure or two to be found. In fact, Pactola Reservoir and Sheridan Lake near Rapid City and Lake Oahe near Pierre draw countless of divers every year. You can get up close and personal with the state's freshwater creatures like turtles, frogs and a variety of fish, or even check out the remnants of a town that was flooded and now sits beneath Pactola's surface. Don't stress if don't have gear. Plenty of nearby shops rent equipment and host guided tours.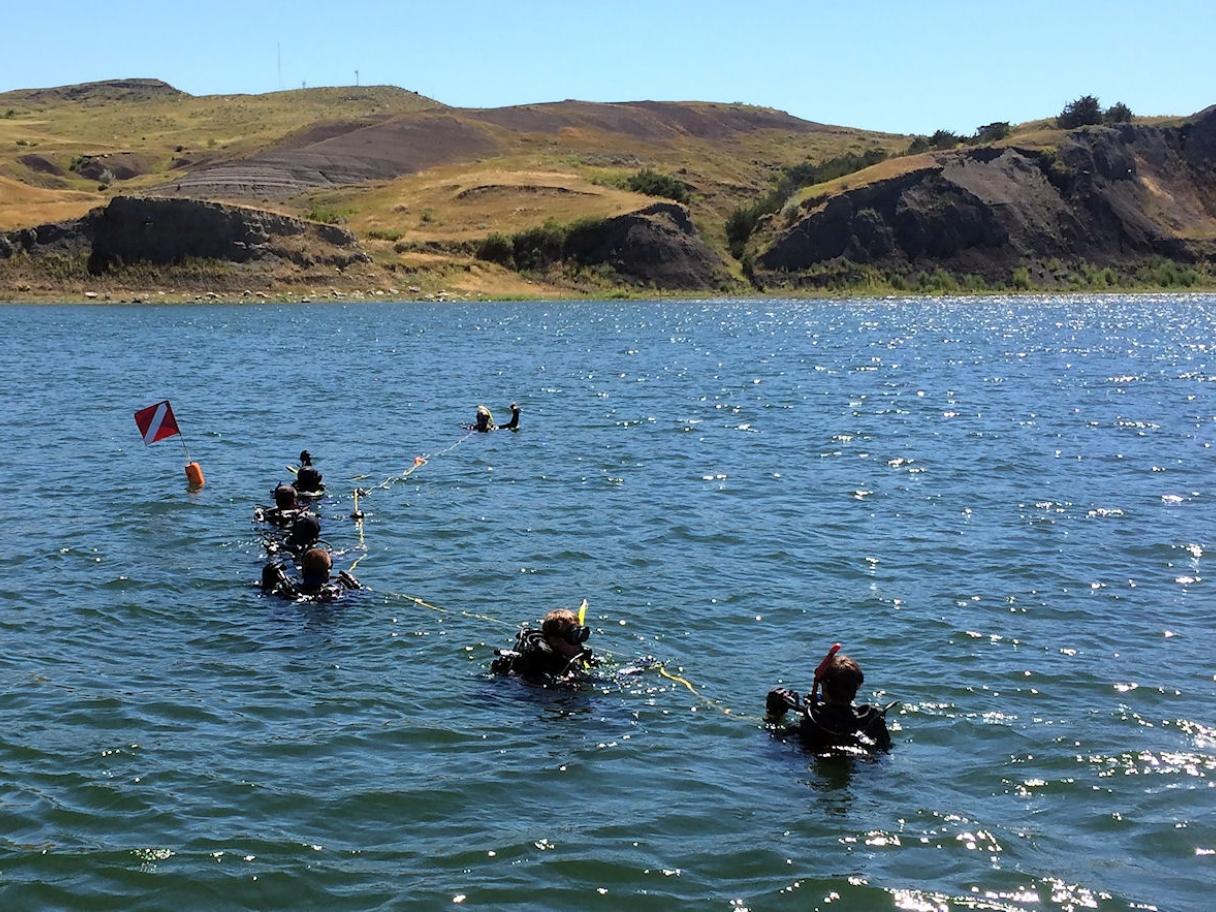 5. Stargaze in the Badlands
Watch the Milky Way rise over Badlands National Park's otherworldly landscape for a truly out-of-this-world experience. Each July, the National Park Service hosts the Badlands Astronomy Festival, where you can gaze at the night sky through high powered telescopes and learn about our galaxy from professional astronomers. During the summer months, Friday through Monday nights, there is a summer Night Sky Program offered at the Cedar Pass Campground Amphitheater as well.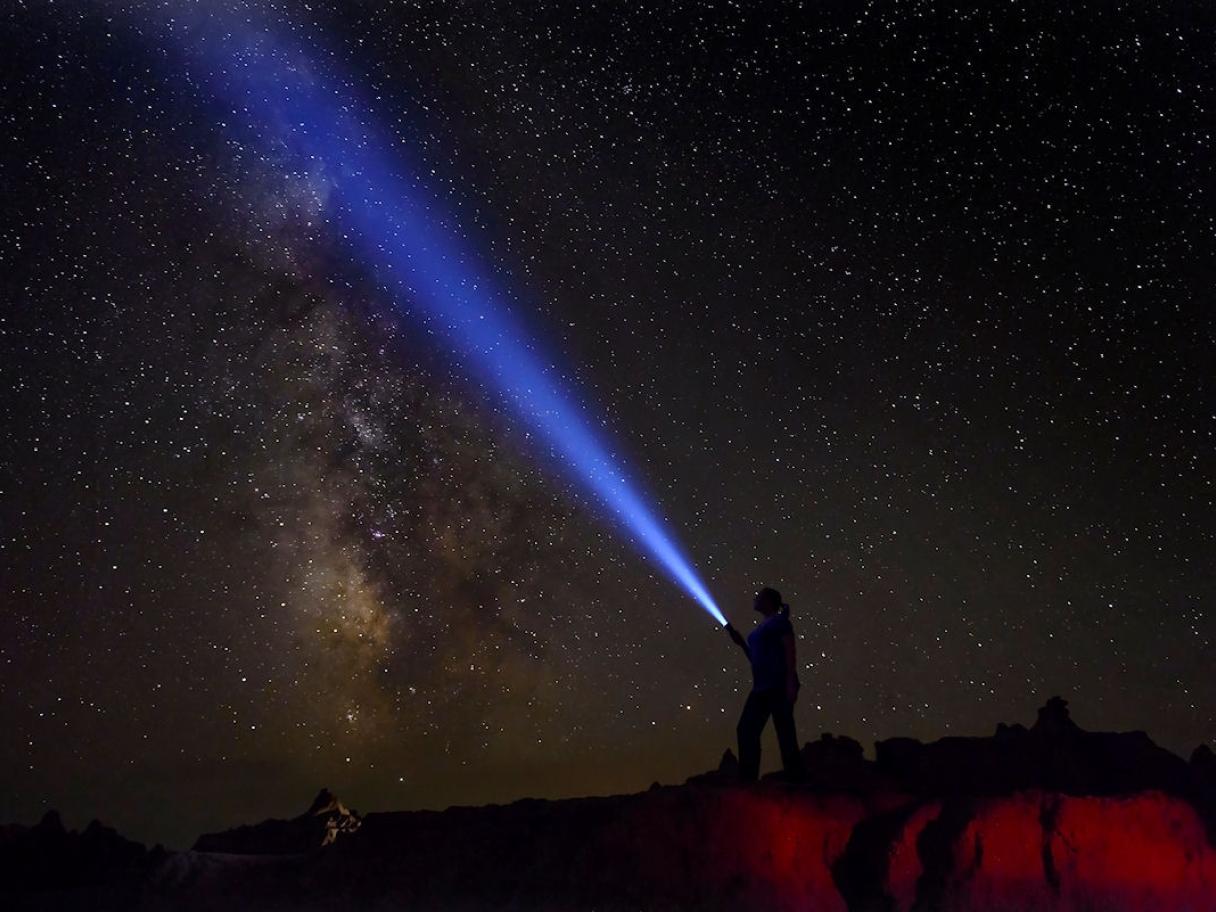 6. Ride the Dakota Five-O
The Dakota Five-O is a nationally-known mountain bike race held in Spearfish, a town in the northern Black Hills. The popular race sells out fast and with aid stations like the Bacon Station, plus free food and beer offered at the end, it's no surprise why this race is so popular. Oh, and the almost 50 miles of single track aren't bad either. If you can't make it on race day, you can download the race course to experience the trails for yourself. 
7. Caving at Wind Cave National Park and Jewel Cave National Monument
Wind Cave National Park near Hot Springs and Jewel Cave National Monument near Custer in the Black Hills are two of the longest caves in the world at 140 miles and 180 miles (and counting), respectively. Get yourself underground and take a guided rock tour. Each cave offers unique formations, including boxwork at Wind Cave and the beautiful crystals in Jewel Cave. If you are truly daring (and not claustrophobic) opt for the challenging Wild Caving Tours that give an adventurous and real caving experience.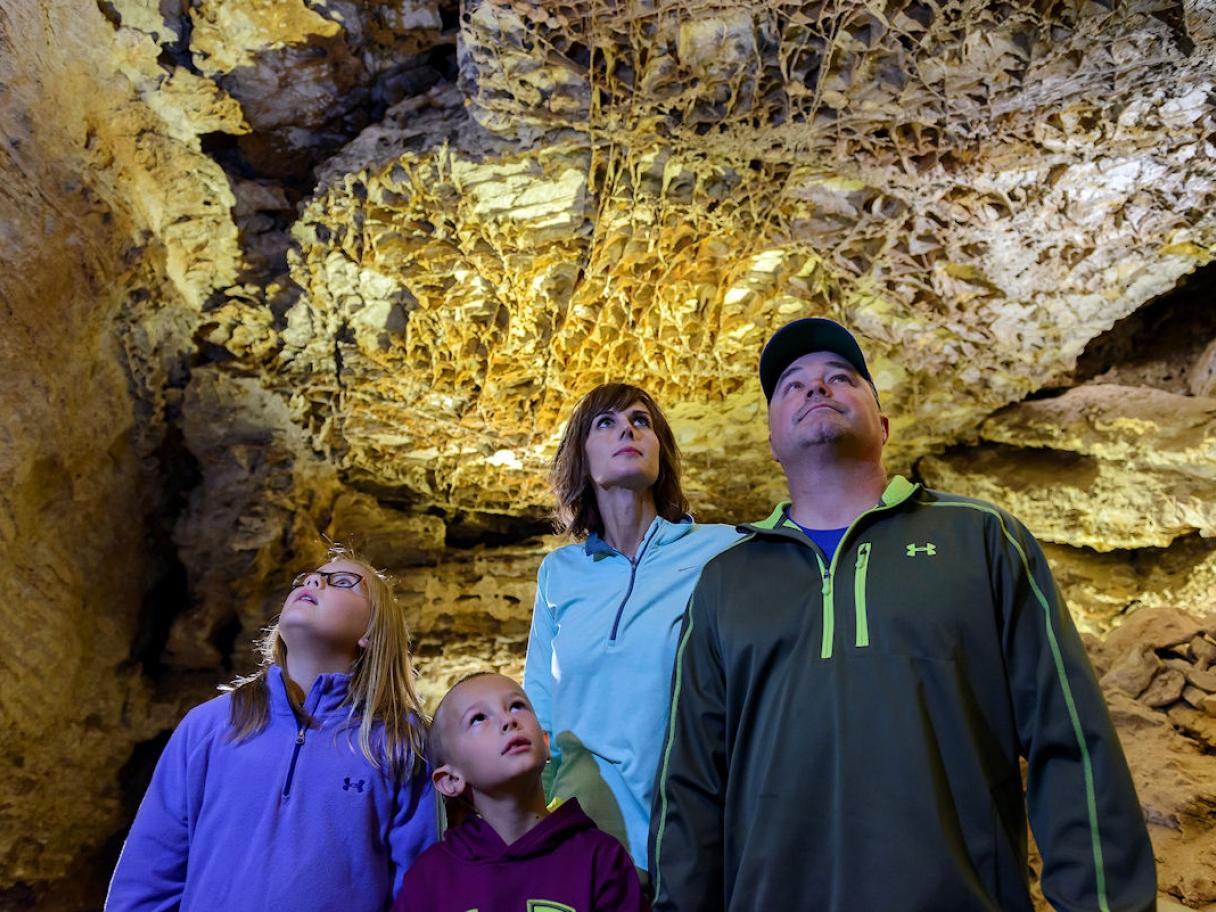 8. Agate Hunting at Buffalo Gap National Grassland
South Dakota's state gemstone is the Fairburn Agate. These banded, multicolored stones can be found in the areas surrounding Badlands National Park. In Buffalo Gap National Grassland, you can find designated agate beds. While you are searching for the Fairburn Agate you are guaranteed to come across some other really cool rocks. Grab a collecting bag and get to rock hunting.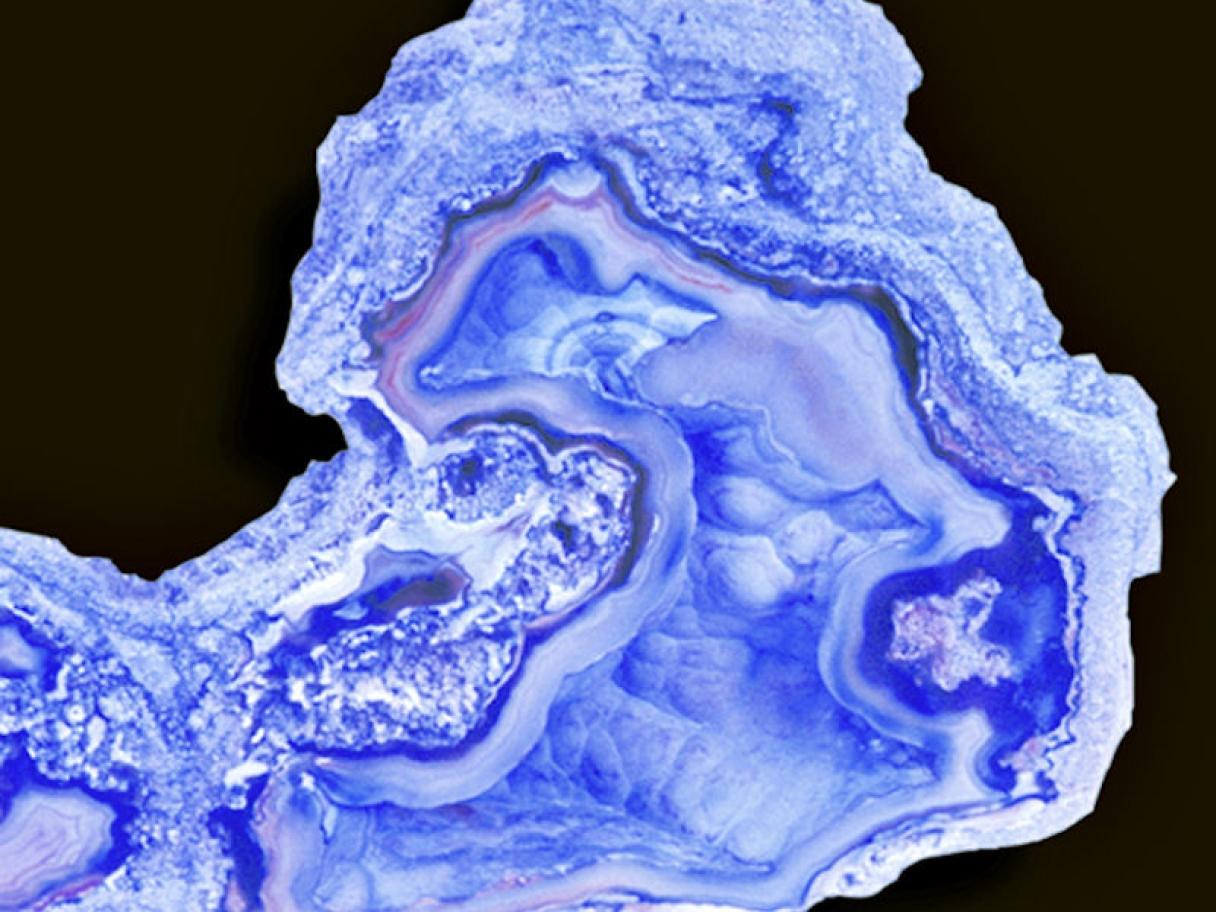 9. Climb with the Presidents
If you've ever wondered what's on the backside of Mount Rushmore, it looks nothing like the postcards you see in gas stations across the Black Hills. In fact, it features some of the best sport and trad climbing in the region. And, with names like Emancipation Rock Formation and Garfield Goes To Washington, you're bound to want to hum a few bars of the national anthem as you ascend these routes.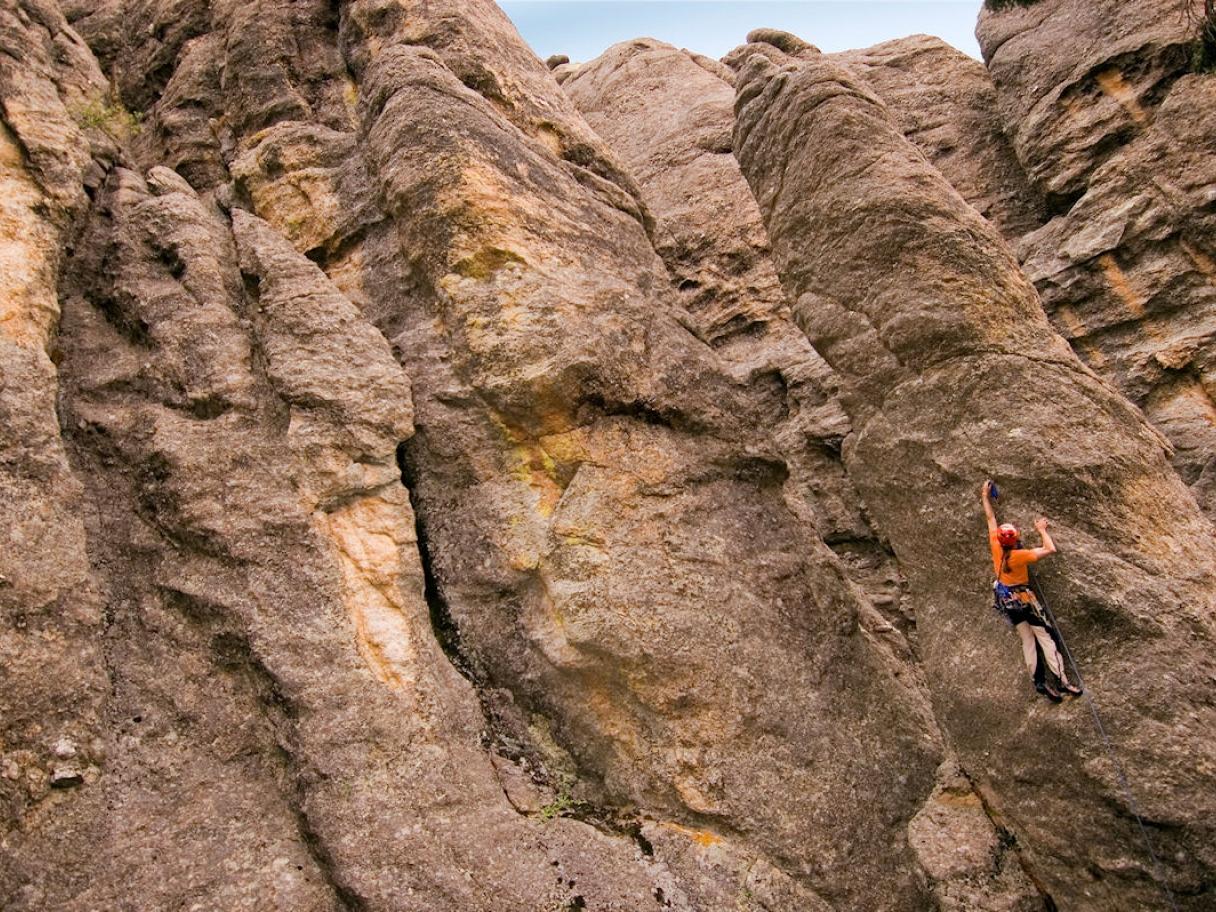 10. Reel in Walleye on the Ice
South Dakota has countless lakes and rivers to keep you occupied during winter months. See how your skills match up to other anglers in one of the area's many ice fishing classics. The Mobridge Ice Fishing Tournament, held on Lake Oahe near the South Dakota/North Dakota border, is the largest two-person ice fishing event in the Midwest – and, trust us, that's saying something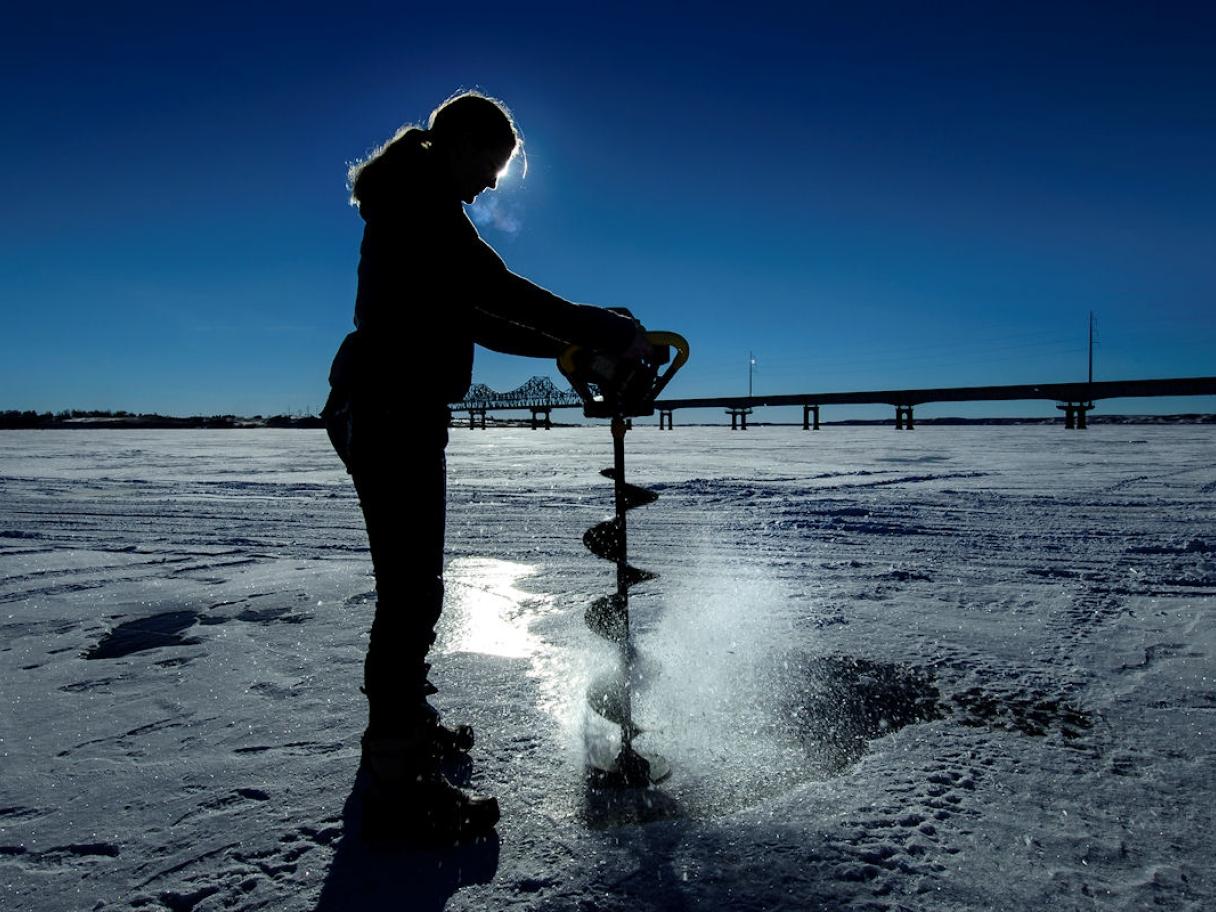 11. Snowmobiling Through the State
If ice fishing isn't your thing there are plenty of other winter activities around the state to calm cabin fever. With more than 1,500 miles of groomed snowmobile trails in the state, South Dakota is one of the premier snowmobiling destinations in the country.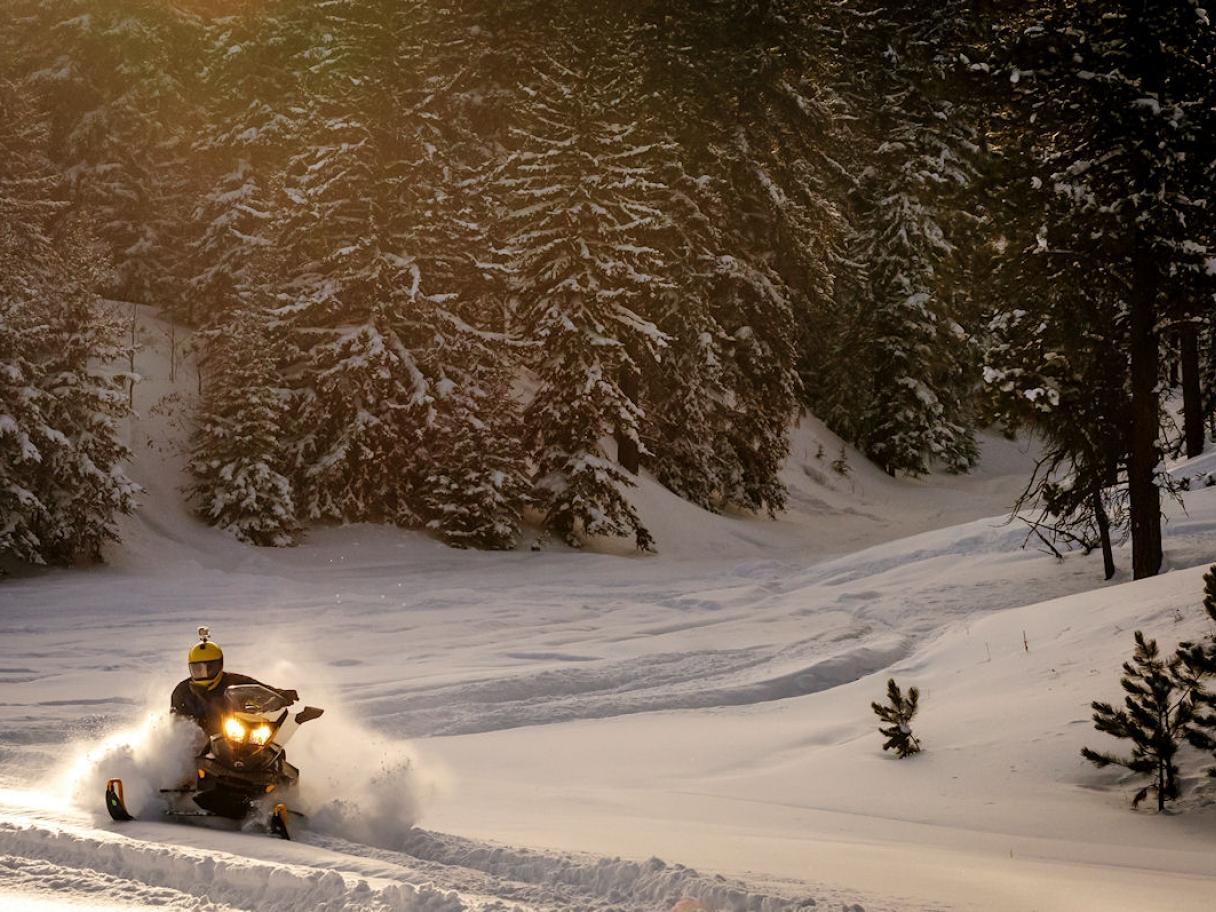 12. Fly Fish in Spearfish Canyon
Spearfish Canyon, an area of limestone cliffs carved by water erosion, is home to Spearfish Creek. The area boasts spectacular landscapes and equally impressive fishing. Rainbow, brown and brook trout abound here. This creek can be fished year-round, but make sure you get a license before casting out. You can also hire a guide service for an inside scoop on the best spots. Alone or with a guide, the Black Hills atmosphere, scenery and fish will make for a perfect day.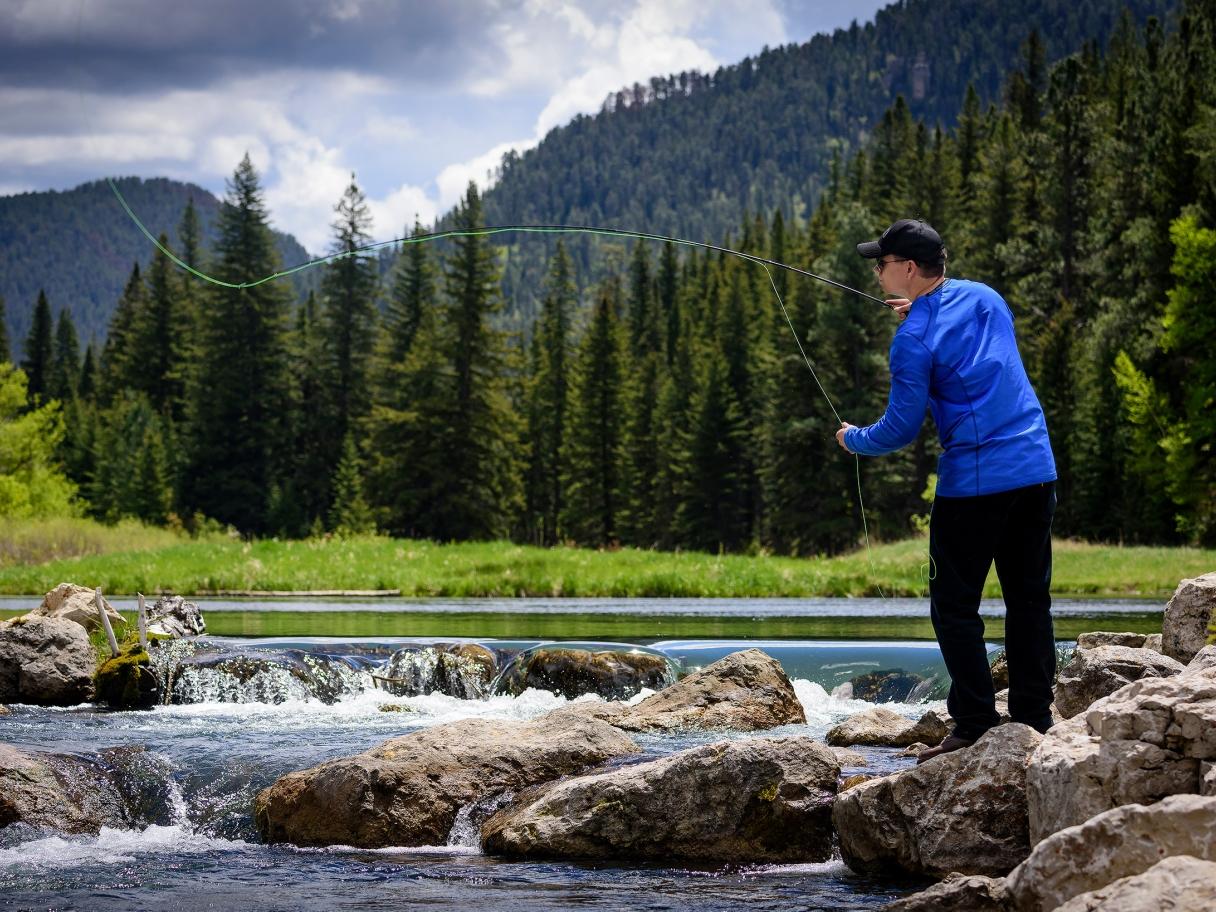 13. Thread the Needle and Climb the Spires
Ask any climber, and they've likely heard of South Dakota's granite spires. The impossibly thin spires have climbs for all skill levels. Even pros will find challenging routes here. The Needles Eye area in Custer State Park is home to its namesake Needle's Eye Spire, an impressive rock formation, as well as a handful of other spires. One of the classic climbs on Needle's Eye spire is the challenging Threading the Needle, a 5.8+/5.9 chimney/stemming route. If that's not up your alley there are plenty of less intimidating choices in the area.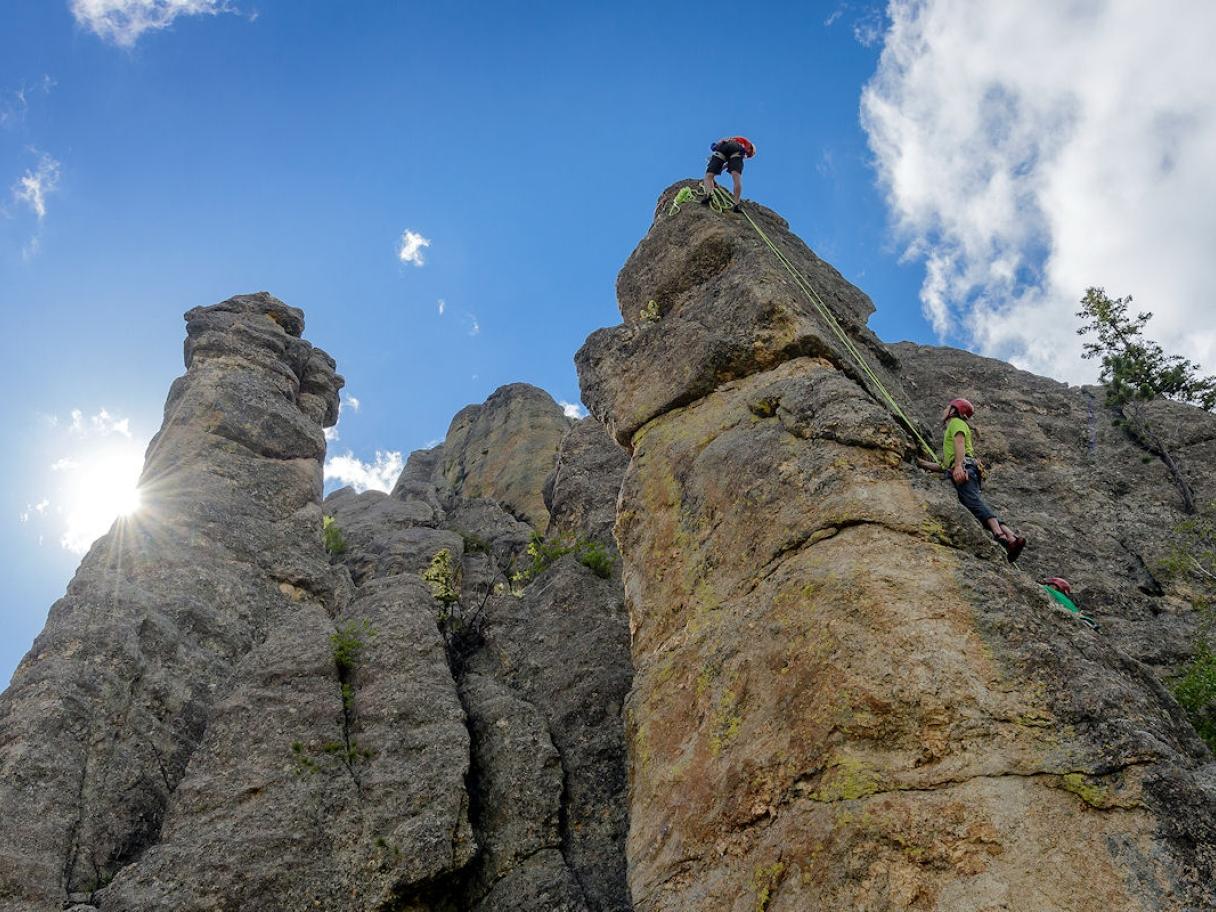 14. Climb in Palisades State Park
The western side of the state isn't the only side with rocks to climb. Palisades State Park in eastern South Dakota has ideal crack climbing on its quartz bluffs. Sitting right along the water, the crag is only about 50 feet high, but offers trad climbers some great routes, both cracks and face climbs, to play around on.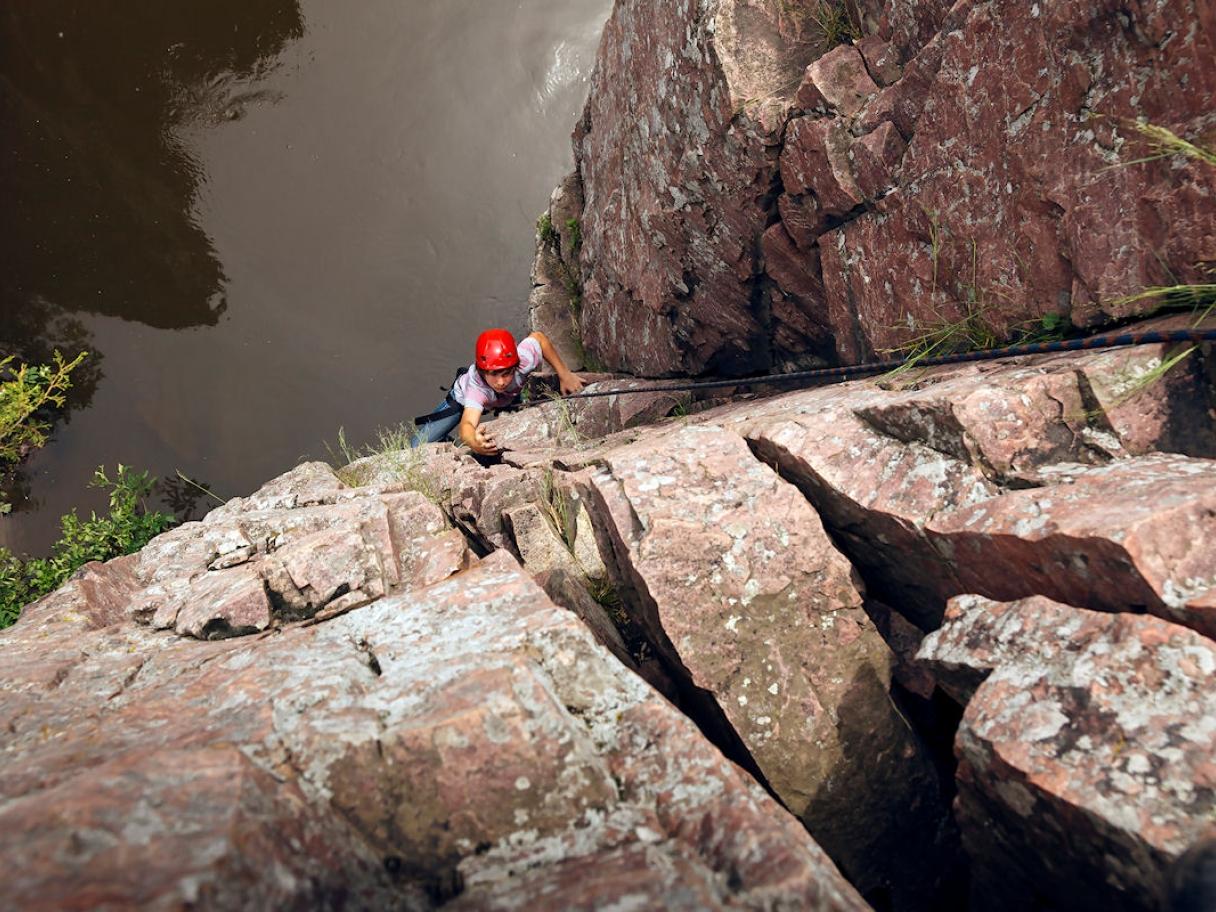 15. Run one of the Easiest 100-Milers in the Country
Easy and 100-miler probably don't belong in the same sentence, but the Leanhorse 100 is known as one of the easier ultramarathons in the country. This race takes place every August on the Mickelson Trail. The trail's gentle inclines and declines make this a gentler ultra-run than most. If 100 miles along a flat course is still daunting, you can try your hand at the – less daunting although still quite demanding – 50-miler race, or their 18- or 30-mile options.