In southeastern South Dakota, Palisades State Park is becoming well-known to local climbers for its Sioux quartzite formations. Thanks to its location along Split Rock Creek, the area was once home to a flourmill powered by a water wheel on the creek. There are four hiking trails in the park that take you along the cliffs and formations. The climbing options here range from easy scrambling to 5.12 roofs.
A truly unique place, the park's an impressive gorge smack dab in the middle of the prairie. Split Rock Creek has carved the gorge through a band of Sioux quartzite, making cliffs on each side and great climbing right off the water. Part of what makes it great is that it's the only crag in the area, but also because there are a variety of routes for any level climber. While there isn't a ton of friction on the rock, you will find crimps, slopers, and crack systems to test the skills of beginners on top rope and seasoned trad climbers alike.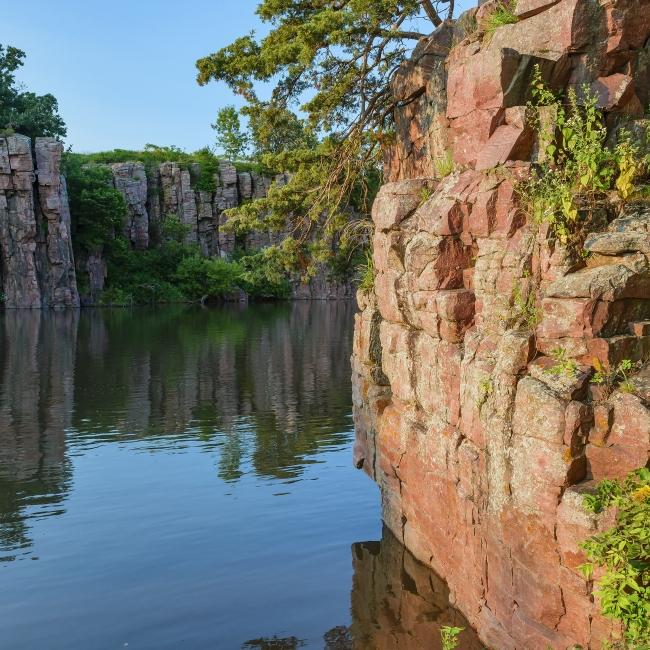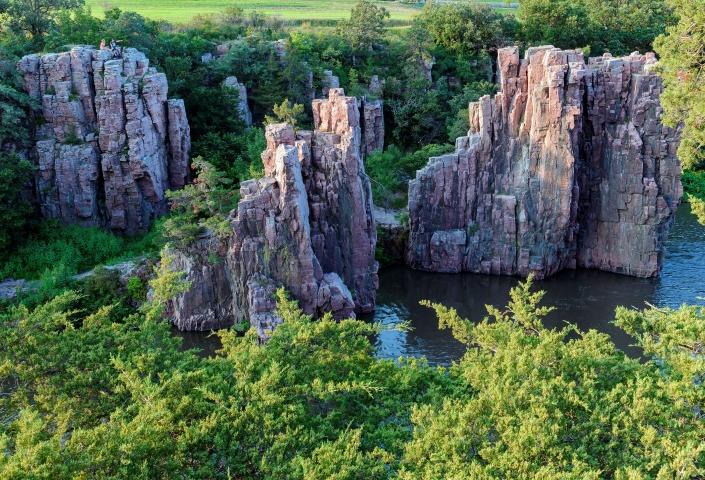 Voted on by climbers, MountainProject.com reports the best routes as: Slandeross (5.12), Debuant Farmers (5.12), King Olof (5.10), Glimmer (5.10+), Never Say Never (5.10), and Henry Aaron (5.7), and the best boulder problems are Contrivance (V5), Necessary Contrivance (V4), I Seam Stumped (V3), Lithium CT (V2), and Head Hunters (V2).
Most of the bouldering and climbing is more beginner level, but there are some 5.12's at the Palisades. The rock has crimps and slopers, and has a ton of crack systems. It's rarely crowded, so it's a great place to climb with a friend or two in peace. It's also a great place to go with a crew since there is something for pretty much everyone.
Palisades State Park is located at 25495 485th Avenue in Garretson, South Dakota. Drilling, bolting, and chipping are prohibited. For a complete list of the rules and regulations around climbing at Palisades, read this brochure before you go.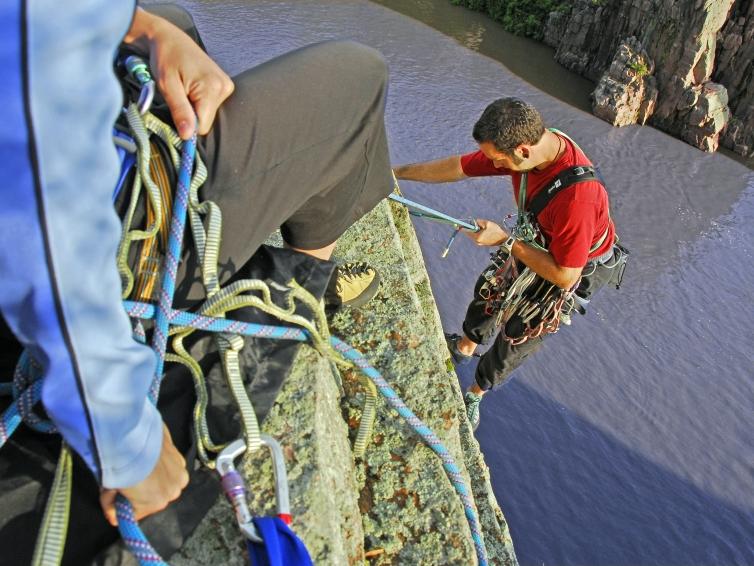 Tips
Difficulty: 3/5 stars
Palisades State Park has a variety of routes and boulder problems from beginner to advanced (5.4-5.12).
Time To Complete: 4.0 hours
With more than 90 routes, there is enough to do here to keep you busy for a half day or a full day.
Seasonality: Spring, Summer, Fall
It can get muggy and buggy in the summer because it's next to a river.
Fees/Permits: Yes
The daily fee is $4 per person or $6 per vehicle. An annual pass is $30 for the first vehicle, $15 for the second.