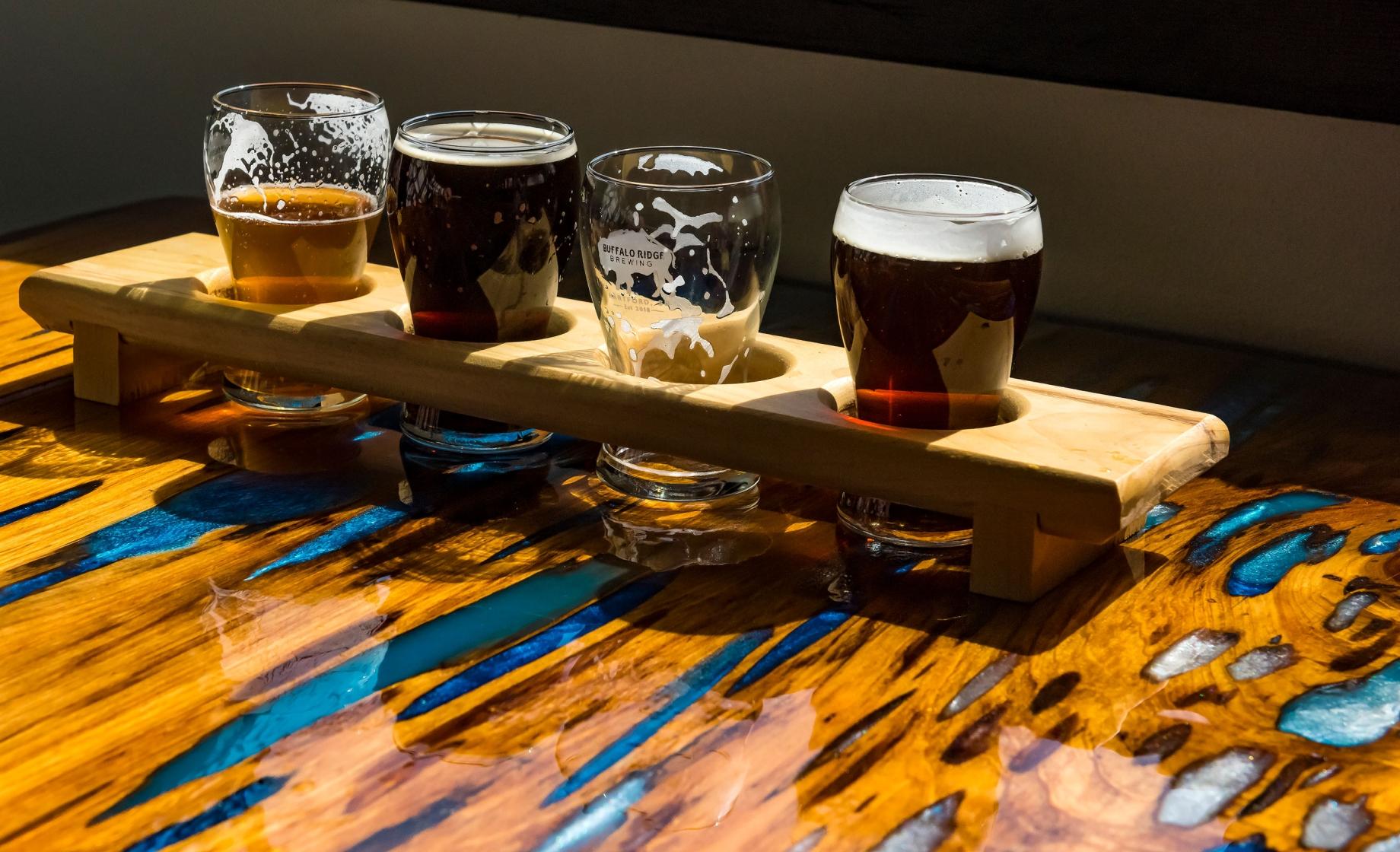 With succulent beef, field-fresh corn and other mouth-watering delicacies, it's easy to forget that South Dakota is also home to a burgeoning craft brewery scene. Don't let that mistake go unremedied. Check out one of the state's many delicious breweries and treat yourself to a pint of South Dakota goodness! Here are some of our favorite spots to grab a cold one...
EASTERN SOUTH DAKOTA
The east version of Prairie Berry Winery and Miner Brewing Company features drinks and delectables from both locations. But while the western locations sit on top of a hill near Hill City, it can be easy to miss the downtown Sioux Falls version. Being in a historical building severely limits signage options, but don't let the outside fool you. Inside Prairie Berry East Bank, you'll find succulent delights that pair well with the South Dakota-made wine and beer. Even the pickiest of palettes will be pleased. Build yourself an Epicurean board before sitting down with a savory glass of wine or delicious brew and deciding which salad or sandwich will fill you up just right.
The guys from WoodGrain were using old barn wood to make furniture for the brewery when the name came to them. Now, they're thriving in downtown Sioux Falls with an ever-changing rotation of deliciousness. Named by RateBeer as South Dakota's Best New Brewer in 2016, WoodGrain Brewing Co. also works with local food trucks every weekend to make sure you have some grub to go with your beer. You're also welcome to bring in your own food or have something delivered.
If you travel up north (or "nort'," as area residents sometimes pronounce it), make sure you spoil yourself with a trip to Watertown Brewing Company. The beer is top-notch and the delicious food specials change every week, making repeat visits a must. Warning: their charcuterie boards come on real planks of wood and are designed to make sure you don't drink on an empty stomach. Did we mention they make delicious crackers out of their spent grain from the mashing process? YUM!
At a time when the brewery scene was just becoming alive again in Sioux Falls, Fernson was one of the first on the scene. Since then, they've grown into two locations with a reputation for putting out some of the best beer in the area. Check out the original taproom and brewery at 1400 E. Robur Drive or the newest addition to the Fernson family, Fernson Downtown (332 S Phillips Ave.). Located on Phillips Avenue, the latest location features 12 beers on tap and quality, shareable food options. Because both places are family-friendly (although minors must be accompanied by someone over 21), both spots are perfect for conversation and relaxation.
Since Brookings is named after Judge Wilmot Wood Brookings, it makes sense that the brewery would be named after the man's wooden legs. The bar is managed by one of the state's few certified cicerones (a term for those with proven beer knowledge), so you know that what you're drinking was made by the best. Come for the beer, stay for the conversation and cracker crust pizza.
Other breweries on the eastern side of South Dakota
Obscure Brewing Company officially opened in July 2019, but the brewery has been a dream of co-owner Don Choate since he bought a homebrew kit with wedding money more than 20 years ago. Located in eastern Sioux Falls, Obscure features 18 taps that have something for everyone.
South Dakota's second-oldest brewery is Dempsey's Brewery, Pub and Restaurant in Watertown. Visit and you'll experience delectable brews, award-winning pizza and a possible performance from Bill Dempsey III, owner and Official Bag Piper of South Dakota. 
Dempsey's reputation for serving amazing beer and food unsurprisingly led to the creation of a second location. Danger von Dempsey's Pizza & Brewhäus in Aberdeen features an open-kitchen concept that serves pie after pie of that award-winning pizza. Beer, of course, is also available. 
Gandy Dancer Brew Works in Sioux Falls sits inside Monks House of Ale Repute (South Dakota's original craft beer bar). It was named South Dakota's Top Brewer by RateBeer in 2016.
Established in 2013, Remedy Brewing Company in Sioux Falls was the dream of a couple of of buddies. They moved their operation from a garage to a fully operational brewery and taproom in 2017.
Covert Artisan Ales used to only open their doors for limited releases and, boy, did the beer sell out fast. But starting in July 2019, some added space will have the brewery open on most weekends. With quality as high as demand, don't be surprised if expansions continue.
Farm-to-table is a common and delicious concept in South Dakota. Near Valley Springs, east of Sioux Falls, a fourth-generation farmer is concentrating on farm-to-glass. At A Homestead Brew, you can roam fields of hops before tasting the final product.
WESTERN SOUTH DAKOTA
You can find their beer in stores all across the state, but there's nothing quite like the experience of sitting down in the rustic taproom of one of South Dakota's premier breweries. Since 2007, Crow Peak has consistently been a must-do for beer lovers in and out of state. Have a fresh glass of one of the favorites or check out one of the small-batch beers available only in the tap room. Ratebeer named their Pile-O-Dirt Porter as the Top Beer in the state in 2016. Beer lovers across the state (and beyond) do not disagree.
Right beside the region's winningest winery is Miner Brewing Company, a beautiful wooden oasis with a delicious, ever-changing beer menu and live music series. Order some food at the bar and they'll bring it over from the neighboring Prairie Berry Winery kitchen. Order a flight of beer and prepare for a celebration of flavor.
The state's oldest operating brewery serves delicious beer and food in the city's original firehouse. On the right days, you can hit the patio for a drink in the sun during the day and live music at night. If the weather isn't cooperating, there's plenty of room inside and lots of Rapid City history and beer to experience.
Other breweries on the western side of South Dakota
In the heart of what was once mining country sits Dakota Shivers Brewing, a perfect escape from the busy world. Being located in Lead – a town of less than 4,000 people – means a slower pace of life and absolutely delicious beer.
The almost-immediate popularity of Hay Camp Brewing Company's beer meant the entire business had to relocate to a bigger space in Rapid City in 2017. There may be more seats, but the beer is still small-batch and just as delicious as ever.
One look at The Knuckle Brewing Company's outside stage and massive seating areas and you'll know there's something special going on. That's because a) the town of Sturgis is taken over annually by bikers of all shapes and sizes every August and b) the place makes some tasty beer.
Lost Cabin Beer Company owners Jesse and Tom admit that they're obsessed with the Black Hills. That passion comes through in beers like Dakota Common, an easy drinking lager made with South Dakota hops, and Lord Grizzly Scotch Ale.
Located just a stone's throw from Miner Brewing in Hill City sits Sick-N-Twisted Brewing Co. These beers may have naughty names, but they're oh-so-nice to taste.
People have sworn for centuries that the water of Hot Springs is magical. It's that same water that brewer Barry Black swears makes the microbrews served at Woolly's Grill and Cellar special. Sit down for a pint or grab a growler to find out for yourself.
At the corner of Highway 79 and Highway 18, just four miles east of Hot Springs, you'll find a casual brewery and steakhouse where taste sensations abound. Stop in to the Highway 79 Brewing Company for a pint of their latest creation and pair it with vittles that range from the traditional (chicken fried steak) to the unique (fried  deviled eggs).
After 13 years in the Wyoming brewing industry, Nathan Venner returned to his native South Dakota with one goal: make great beer. That's exactly what he's doing at Spearfish Brewing Company. In addition to award-winning brews, patrons can also enjoy both in-house sparkling water and kombucha on tap plus nosh from a rotating food menu.
Dakota Shivers Brewing