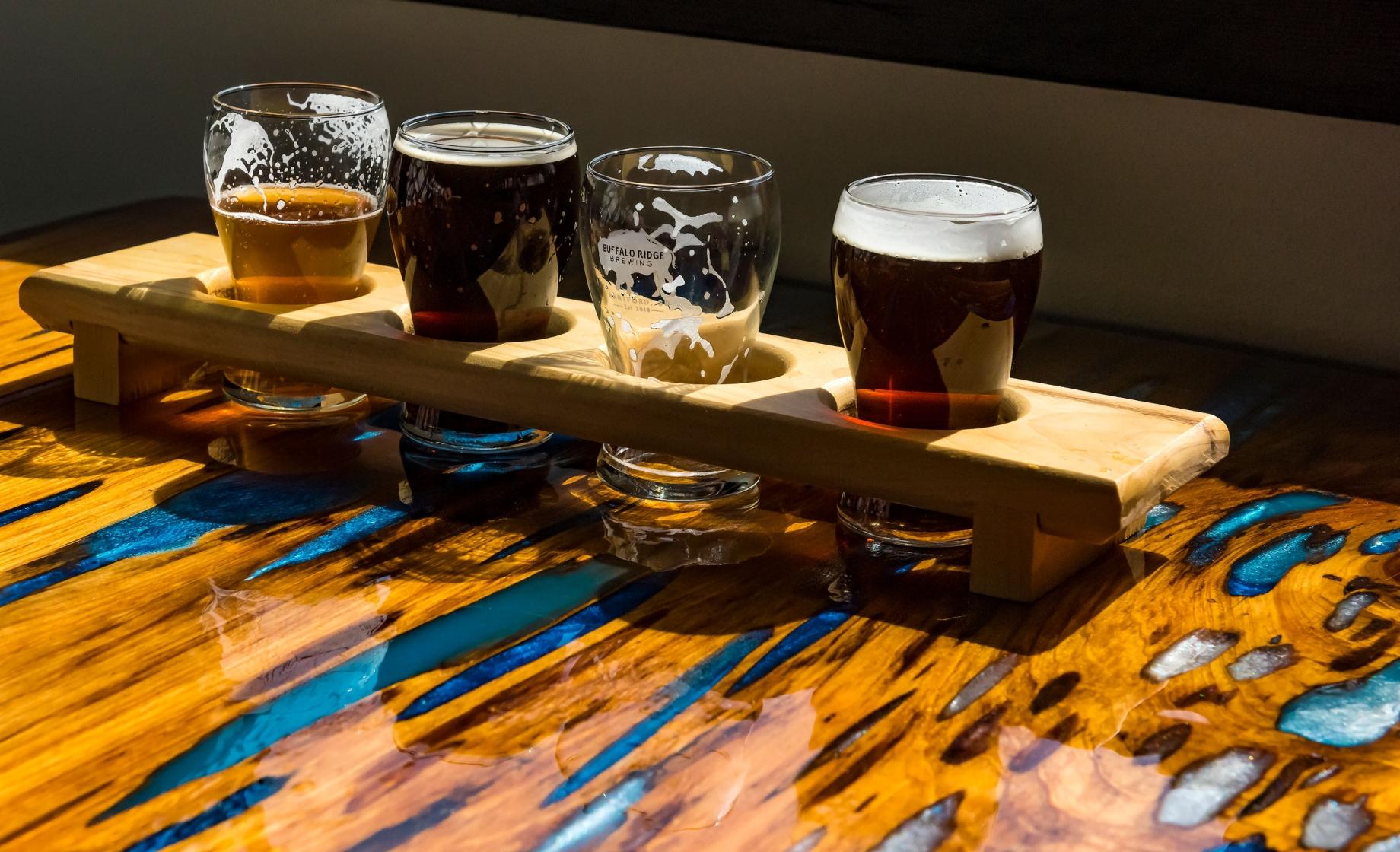 With succulent beef, field-fresh corn and other mouth-watering delicacies, it's easy to forget that South Dakota is also home to a burgeoning craft brewery scene. Don't let that mistake go unremedied. Check out one of the state's many delicious breweries and treat yourself to a pint of South Dakota goodness! Here are some of our favorite spots to grab a cold one...
EASTERN SOUTH DAKOTA
Miner Brewing Company & Prairie Berry Winery Taproom (Sioux Falls)
The Sioux Falls version of Prairie Berry Winery and Miner Brewing Company features wine and beer from both locations. But while the western locations sit on top of a hill near Hill City, the Sioux Falls location is on the south side of the Western Mall just off 41st St.  Inside, you'll be able to taste the same delicious award-winning wines and tasty variety of beers that were once only available in the western part of the state. Pull up a chair, sit down with a glass or a flight, and feel free to bring in some food of your choice from neighboring businesses. At this taproom, it's all about comfort. Cheers!
WoodGrain Brewing Company (Sioux Falls)
The guys from WoodGrain were using old barn wood to make furniture for the brewery when the name came to them. Now, they're thriving in downtown Sioux Falls with an ever-changing rotation of deliciousness. Named by RateBeer as South Dakota's Best New Brewer in 2016, WoodGrain Brewing Co. also works with local food trucks every weekend to make sure you have some grub to go with your beer. You're also welcome to bring in your own food or have something delivered.
Watertown Brewing Co. (Watertown)
If you travel up north (or "nort'," as area residents sometimes pronounce it), make sure you spoil yourself with a trip to Watertown Brewing Company. The beer is top-notch and the delicious food specials change every week, making repeat visits a must. Warning: their charcuterie boards come on real planks of wood and are designed to make sure you don't drink on an empty stomach. Did we mention they make delicious crackers out of their spent grain from the mashing process? YUM!
Fernson Brewing Company (Sioux Falls)
At a time when the brewery scene was just becoming alive again in Sioux Falls, Fernson was one of the first on the scene. Since then, they've grown into two locations with a reputation for putting out some of the best beer in the area. Check out the original taproom and brewery at 1400 E. Robur Drive or the newest addition to the Fernson family, Fernson Downtown (332 S Phillips Ave.). Located on Phillips Avenue, the latest location features 12 beers on tap and quality, shareable food options. Because both places are family-friendly (although minors must be accompanied by someone over 21), both spots are perfect for conversation and relaxation.
 Wooden Legs Brewing Co. (Brookings)
Since Brookings is named after Judge Wilmot Wood Brookings, it makes sense that the brewery would be named after the man's wooden legs. The bar is managed by one of the state's few certified cicerones (a term for those with proven beer knowledge), so you know that what you're drinking was made by the best. Come for the beer, stay for the conversation and cracker crust pizza.
Other breweries on the eastern side of South Dakota
Obscure Brewing Company officially opened in July 2019, but the brewery has been a dream of co-owner Don Choate since he bought a homebrew kit with wedding money more than 20 years ago. Located in eastern Sioux Falls, Obscure features 18 taps that have something for everyone.
South Dakota's second-oldest brewery is Dempsey's Brewery, Pub and Restaurant in Watertown. Visit and you'll experience delectable brews, award-winning pizza and a possible performance from Bill Dempsey III, owner and Official Bag Piper of South Dakota. 
Lupulin Brewing Company is the first Minnesota-based brewery to expand into South Dakota. When it comes to beer, we're all related, right? That's why visitors to the Sioux Falls location can expect tasty beer, friendly service, and a dog-friendly atmosphere perfect for a quick taste or a full session.
Dempsey's reputation for serving amazing beer and food unsurprisingly led to the creation of a second location. Danger von Dempsey's Pizza & Brewhäus in Aberdeen features an open-kitchen concept that serves pie after pie of that award-winning pizza. Beer, of course, is also available. 
Established in 2013, Remedy Brewing Company in Sioux Falls was the dream of a couple of of buddies. They moved their operation from a garage to a fully operational brewery and taproom in 2017.
For a rare small-town brewery experience, drop in for a crowler or growler at Armour Brewing Company in Armour. Take Exit 310 south off of Interstate 90 for 30 miles to find a town of 670 people and one brewery happy to celebrate all things beer.
Identity is everything to brewers at Eponymous Brewing Company. That's why they incorporate local grains, fruits, hops, and more whenever possible to produce authentic--and delicious--beer in Brookings.
Covert Artisan Ales used to only open their doors for limited releases and, boy, did the beer sell out fast. But starting in July 2019, some added space will have the brewery open on most weekends. With quality as high as demand, don't be surprised if expansions continue.
When a brewery opens in a town the size of Hartford (pop. 3,200), it becomes a meeting place for the entire community. When you walk into Buffalo Ridge Brewing, don't be surprised to see announcements for book clubs, yoga classes, and more. However, stay focused. There are a whopping 18 different beers to consider plus some tasty snacks that can easily lead you to lose track of time in all the best ways.
Farm-to-table is a common and delicious concept in South Dakota. Near Valley Springs, east of Sioux Falls, a fourth-generation farmer is concentrating on farm-to-glass. At A Homestead Brew, you can roam fields of hops before tasting the final product.
For more than 14 years, Ben's Brewing Co. in Yankton has been welcoming thirsty souls with beer brewed on-site as well as rotating guest taps. Upstairs, The Copper Room provides a speakeasy atmosphere, offering two relaxing rooms in which to imbibe in downtown Yankton.
Ready to give your palate the ol' CTRL-ALT-DEL? (For you non-computer folk, that means "restart.") Check out the selection at Backspace Brewing Co., Yankton's newest brewery. Their motto is "Delete boring beer," which is why you'll find nothing but unique & tasty takes on traditional beer styles.
Serving yummy craft beer every day in Aberdeen, the One-Legged Pheasant Brewery is a welcoming place where the smiles are always real and the beer is always cold.
Severance Brewing Co. doesn't just serve creative beer up the street from the Levitt Shell in Sioux Falls. They also have a "Pints for People" program that allows patrons to buy a beer for, well, anyone. It's simple. 1) Pre-pay for a pint. 2) Write down on the sticker who it's for—a first responder, someone that shares your birthday, anyone nicknamed "Big Pete," etc.  3) Put the sticker on the column inside the brewery. Boom. You just paid it it forward in the best way—with a beer.
WESTERN SOUTH DAKOTA
Crow Peak Brewing Co. (Spearfish)
You can find their beer in stores all across the state, but there's nothing quite like the experience of sitting down in the rustic taproom of one of South Dakota's premier breweries. Since 2007, Crow Peak has consistently been a must-do for beer lovers in and out of state. Have a fresh glass of one of the favorites or check out one of the small-batch beers available only in the tap room. Ratebeer named their Pile-O-Dirt Porter as the Top Beer in the state in 2016. Beer lovers across the state (and beyond) do not disagree.
Miner Brewing Company (Hill City)
Right beside the region's winningest winery is Miner Brewing Company, a beautiful wooden oasis with a delicious, ever-changing beer menu and live music series. Order some food at the bar and they'll bring it over from the neighboring Prairie Berry Winery kitchen. Order a flight of beer and prepare for a celebration of flavor. Oh, did we mention the igloos? They appear every winter, allowing you to enjoy cold beer in a warm igloo while taking in the beauty of a South Dakota winter.
Firehouse Brewing Company (Rapid City)
The state's oldest operating brewery serves delicious beer and food in the city's original firehouse. On the right days, you can hit the patio for a drink in the sun during the day and live music at night. If the weather isn't cooperating, there's plenty of room inside and lots of Rapid City history & beer to experience.
Other breweries on the western side of South Dakota...
In the heart of what was once mining country sits Dakota Shivers Brewing, a perfect escape from the busy world. Being located in Lead – a town of less than 4,000 people – means a slower pace of life and absolutely delicious beer.
The almost-immediate popularity of Hay Camp Brewing Company's beer meant the entire business had to relocate to a bigger space in Rapid City in 2017. There may be more seats, but the beer is still small-batch and just as delicious as ever.
One look at The Knuckle Brewing Company's outside stage and massive seating areas and you'll know there's something special going on. That's because a) the town of Sturgis is taken over annually by bikers of all shapes and sizes every August and b) the place makes some tasty beer.
Lost Cabin Beer Company owners Jesse and Tom admit that they're obsessed with the Black Hills. That passion comes through in beers like Dakota Common, an easy drinking lager made with South Dakota hops, and Lord Grizzly Scotch Ale. Lost Cabin is one of the top-rated breweries in the state. There's only one delicious way to test that theory.
Deadwood's history as a Wild West community certainly came with liquid encouragement, but only now has a brewery opened in this historic town. At Jacobs Brewhouse, you can not only get a fresh pint — there's also food that earns consistently rave reviews as well as groceries and an atmosphere that will ensure your time is comfortable.
Located just a stone's throw from Miner Brewing in Hill City sits Sick-N-Twisted Brewing Co. These beers may have naughty names, but they're oh-so-nice to taste.
On the south side of Rapid City, check out the latest creations at Cohort Craft Brewery. In addition to tasty takes on classic styles, Cohort makes and serves their own mead, a gluten-free beverage made from Three Queens Honey produced just 20 miles away in New Underwood.
People have sworn for centuries that the water of Hot Springs is magical. It's that same water that brewer Barry Black swears makes the microbrews served at Woolly's Grill and Cellar special. Sit down for a pint or grab a growler to find out for yourself.
After 13 years in the Wyoming brewing industry, Nathan Venner returned to his native South Dakota with one goal: make great beer. That's exactly what he's doing at Spearfish Brewing Company. In addition to award-winning brews, patrons can also enjoy both in-house sparkling water and kombucha on tap plus nosh from a rotating food menu.
Zymurcracy [ZĪˌmər-krə-sē], noun: A community of individuals dedicated to the principles and art of fermentation science. Now that you know how to pronounce it, it's time order up a pint at Zymurcracy Beer Co. in southern Rapid City. The veteran-owned beer company is based on fermentation and connection. Those things are easy, thanks to superior beer and a comfortable tap room.
Not many places in the world are as surrounded by beauty as Custer, so it should be no surprise that Mt. Rushmore Brewing Company offers hand-crafted seasonal ales, porters, and stouts that taste just as great as the surrounding scenery looks. 
The descendants of generations of loggers, the brewers at Sawyer Brewing Co. honor the hard work of their ancestors by making sure every beer served is just right. One of the latest breweries to open up in the beautiful Black Hills community of Spearfish, this is the ideal place to kick back and enjoy a pint of something perfect.
Known to regulars as "The Point," Dakota Point Brewing in Rapid City uses an all-grain process to brew beers created by the staff themselves. Stop in for the latest creation. Get to The Point!
No one knows exactly how much brewing experience leads to mastery, but 30 years has to be a pretty good guess. Taste the results of decades of experience at Last Mile Brewery in Rapid City. 
Dakota Shivers Brewing
Start Planning Your Next Trip to South Dakota