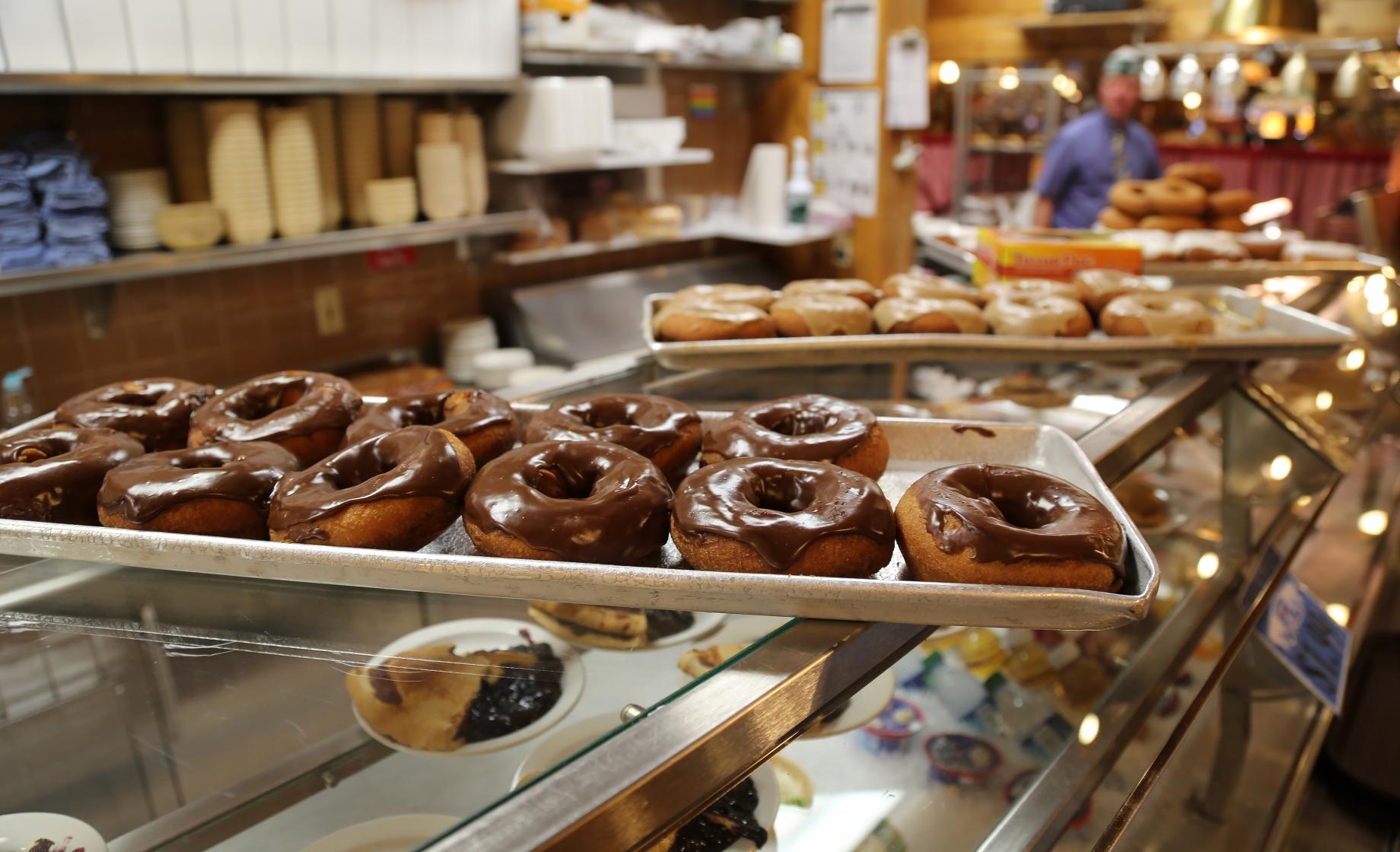 A little bit like Mayberry, U.S.A.
THERE'S A CLASSIC Andy Griffith Show episode where a stranger arrives in Mayberry and greets residents by their first names even though they have no clue who he is. He knows everyone's family history and day-to-day business.
All of which spooks the locals to the point that they insist Sheriff Andy do something — preferably run the stranger out of town. Turns out, though, the stranger is harmless. He always dreamed of calling a small town his home, so he adopts Mayberry and subscribes to its newspaper from afar. After learning all he can from the paper, he shows up to walk the streets and say hello face to face.
I mention the episode because I am to Wall what that stranger was to Mayberry. I've never lived in Wall, but I've thought about it and I read the Pennington County Courant. I recognize lots of faces when I drop by on cross-state journeys. I'm the guy who orders one of those big Wall Drug donuts and washes it down with half a dozen cups of nickel coffee early mornings at the store. I'm the semi-regular who likes the Mexican fare at the Cactus Cafe and prime rib at the Red Rock Restaurant. Golden Badlands autumns are my favorite time of year in Wall, and you may spot me strolling the streets enjoying spectacular prairie sunsets or cheering for the Eagles out at the football field. Christmas season starts for me the day in December when I pull up to the drugstore and erase the chill with one of those nickel coffees as I admire the season-themed Western art (if you're not from North America and wonder what the heck donuts, nickel coffee and art have to do with a drugstore, just hold on a minute).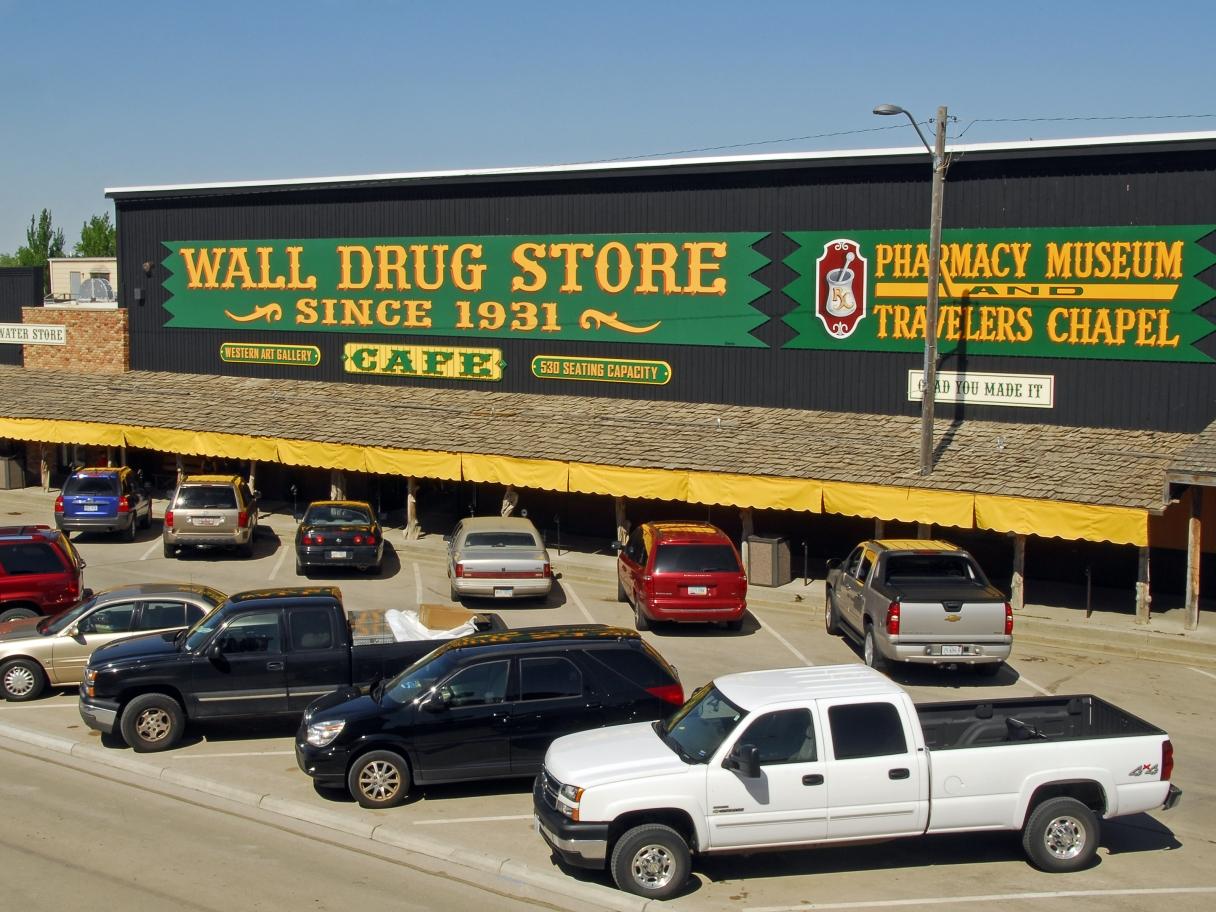 THE MAIN DIFFERENCE between myself and the Mayberry stranger is that no one has called the sheriff on me. But Wall is much more accustomed to out-of-towners than Mayberry. About 820 people call Wall home, and on a typical summer day they will be outnumbered by visitors 15 to 1. Whatever else travelers may do in Wall, most think of the town as a jumping off point, a place to contemplate strategies for fully enjoying the Black Hills, an hour west, or Minuteman Missile National Historic Site or Badlands National Park, each minutes away. The Badlands — that starkly beautiful region of hardpan buttes, pinnacles and ridiculously balanced boulders — is divided north and south by a nine-mile series of rugged ridges. This "wall" is a genuine barrier, one the Lakota and other native people reckoned with in their travels, as did open range cowboys as they moved herds. The wall inspired the name when the town sprang to life in 1907, the year the Chicago and North Western railroad finished tracks from the Missouri River to the Black Hills. Homesteaders from all parts of the world rode trains into the Wall vicinity and within 25 years the town claimed a population of 300. Then came the hard natural blows of the 1930s: desperate drought, blinding dust storms, hordes of grasshoppers the size of a man's thumb. The Dust Bowl drove a few of Wall's neighboring communities into oblivion but, in a strange way, it breathed life into Wall. So desperate were ranching conditions that the federal government declared some land sub-marginal — not able to support agriculture — and started buying acres. Eventually the government owned over 240,000 acres and that was the beginning of Badlands National Park. Pull up a chair with almost-retired ranchers drinking coffee at the Cactus, though, and they'll emphasize that agriculture never went away. There's good grazing in the area, winter and spring wheat, and even row crops thanks to new drought resistant seeds. The National Grasslands Visitor Center on Main Street does a great job showing how the Great Plains bounced back from the Dust Bowl.
IF THE CREATION OF THE NATIONAL PARK and conservation stemming from the Dust Bowl made possible Wall's key natural resources, the 1930s also saw the genesis of the town's most valuable man-made asset. In 1931 Ted and Dorothy Hustead, a young couple just two-and-a-half years out of the University of Nebraska, arrived looking for three things: good schools, a Catholic church, and a drug store for sale. Hustead was a pharmacist and the local drug store sold only over-the-counter medicines, not prescriptions. The town doctor, G.W. Mills, told Ted that Wall needed a pharmacist and predicted he could do well. Mills was right, but certainly he couldn't have imagined the now-classic American success story about to unfold.
In a moment of inspiration during the hot summer of 1936, Dorothy suggested the drug store might supplement its revenue by pulling travelers off Highway 16, the dusty east-west route across South Dakota in those years before Interstate 90. The bait Dorothy proposed to lure travelers? Free ice water as advertised on roadside signs the Husteads erected. In the days prior to air-conditioned cars the ice water offer had lots of takers, and the Husteads also provided friendly conversation, ice cream and Badlands and Black Hills souvenirs. Eventually there would be mechanized cowboy musicians, full meals, a bookstore emphasizing American Indian and western history, western wear, a travelers' chapel, historical photos, 300 original paintings including works by Harvey Dunn and N.C. Wyeth and even a snarling mechanized Tyrannosaurus rex. Yes, there's still free ice water, too.
"A while back we made a widely published list as one of the country's top roadside attractions," says Ted H. Hustead, Ted and Dorothy's grandson. "Then just a week or so later we made another list as one of America's biggest tourist traps. I always say whatever the list, good or bad, it doesn't matter as long as we're on it."
The contemporary Ted and his brother, Rick, run the drug store as a partnership. Ted credits his grandfather for "building the infrastructure for everything that was to come, not only at the drug store, but for the community. Wall didn't even have running water when he arrived."
Bill Hustead, Ted and Rick's dad and a pharmacist like his own father, was the second generation to run the store and, Ted reflects, "he was the dreamer, Mr. Romantic, who wanted to build up a distinctive business we'd all be proud of. And he built solidly. People who look at Wall Drug photos might think it's mostly facades, but the storefronts in our mall and other features are two-by-four and two-by-two construction. Real lumber, real brick, real marble table tops, and decorated with real paintings."
Ted and Rick, unlike their late grandfather and father, aren't pharmacists. Denny Womeldorf has held that position at Wall Drug the past couple decades. Rick has a counseling degree. Ted studied at Harvard Business School in the era when many of his classmates were focused on the dot.com entrepreneurial trend that began in the 1990s. Still, some of those classmates knew of storied Wall Drug, and they appreciated the perspective Ted brought from small town South Dakota. He returned with ideas for his own business and an appreciation for his dad's business instincts. "Maybe he used different terminology than you'd hear in a business school, but he knew the concepts," Ted says.
Harvard also exposed Ted to a chilling reality: third generation business owners typically don't do well and, in fact, often run the enterprise into the ground. It's a rags-to-riches-to-rags phenomenon recognized in all of the world's business cultures.
"But it won't happen here," Ted promises. "When you grow up within a business that's already well-developed, you might have big blinders on. So you have to take another hard look and decide what your business really is. We've decided Wall Drug is show business, that the store is a stage, and that our job is to make sure the show goes on."
The brothers spend plenty of time on this stage, tending cash registers, greeting customers and staff, or grabbing window wash and a cloth to wipe away smudges. They are beating that third generation curse, having enjoyed good numbers despite $4 gas and a recession.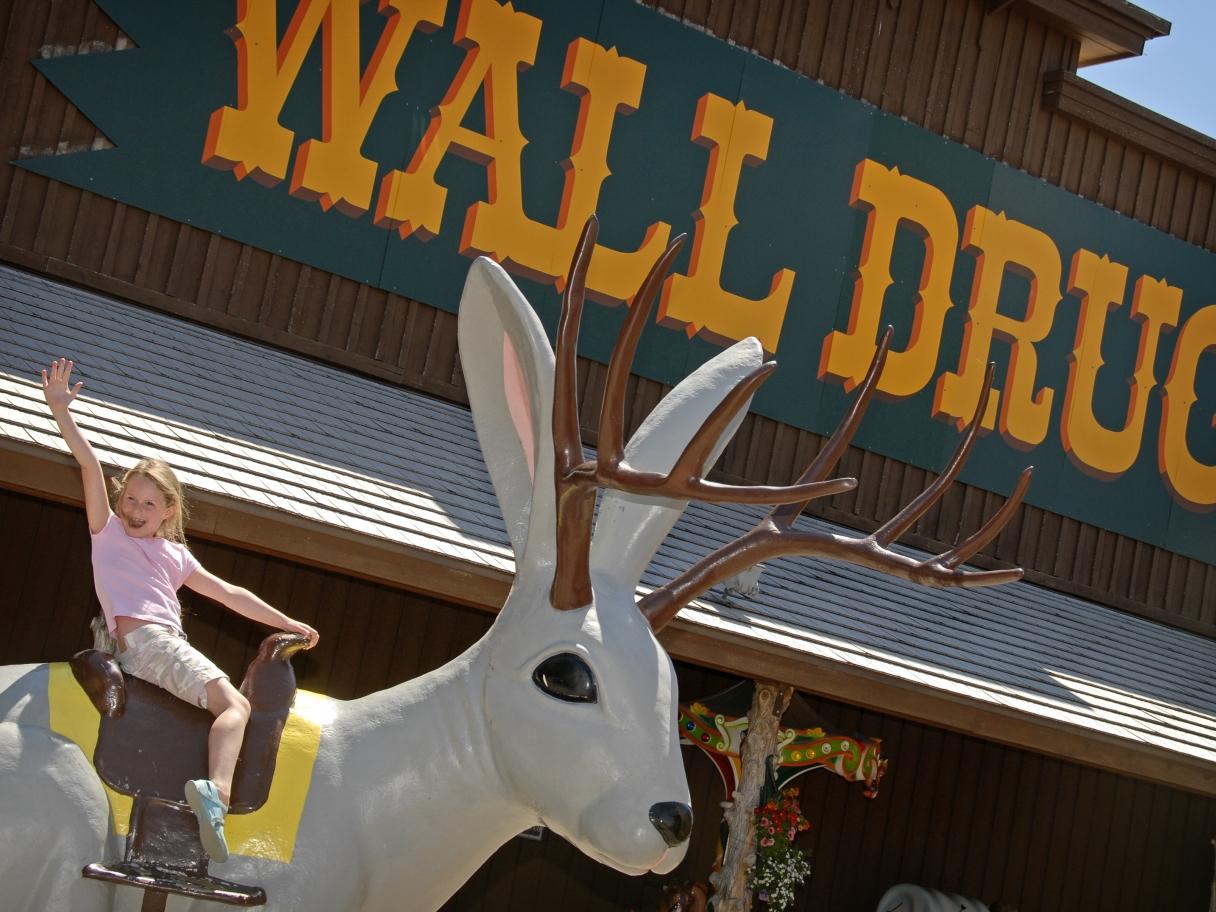 THAT'S OBVIOUSLY GOOD NEWS to Mayor Dave Hahn. Thanks to tourism, he notes, "We have the same sales tax revenue in this town of 800 people as some towns with 5,000 people."
Originally from northeastern South Dakota, Hahn arrived in Wall in 1971 as school superintendent (serving a district, he observes, about the size of Rhode Island). Liking the town and its moderate climate, compared to the opposite corner of the state, Hahn decided to chart his own course for remaining long-term. He bought a hardware store and later a service station and in short order became involved in local government. He's served as mayor for 27 years.
"It seemed like every time I decided I wanted to get out of the job, another project would come up where I thought I could be of benefit," he explains. Hahn believes the community must invest in amenities that will attract visitors and new residents. Not that he expects a population boom, but for a small town Wall claims big employers. The amenities help major employers attract the best staff. Along with the Rhode Island-sized school district, these employers include the drug store, West River Electric Association, and Golden West Telephone and Telecommunications. Golden West ranks high nationally in its service reach. "We stretch across southern South Dakota, 24,533 square miles," observes Jody Bielmaier, member services manager. Then she uses the same technique Mayor Hahn and others here use to drive home rural South Dakota's vast geography, adding: "About the size of West Virginia."
Wall's new public school, a striking geothermal-heated building that opened in fall 2005, is an amenity for families considering a move here. Originally the school was designed without a gym but residents decided their kids shouldn't have to play in the old facility, far off campus. So community members raised nearly a million dollars for a gym with a beautiful hardwood floor. The old gym became a large, well-equipped fitness center that's school property and serves students and the community. The city puts some funding into its operation and no one pays a membership or daily use fee. That's a huge surprise to visitors and Wall Drug seasonal employees and others who drop by for the first time. They're happy recipients of a valuable community amenity.
Development of the new gym, says Dick Johnson, exemplifies community spirit. Johnson moved here in 1998, works as manager of finance for West River Electric, and serves as president of the chamber of commerce's economic development committee.
"In Wall," Johnson says, "there's a tradition of individuals and businesses pooling their money to put into projects that benefit the entire community. A lot of that happens through the First Western Greater Wall Foundation, which has had a huge impact."
It certainly has. Formed in 1988, the Foundation has channeled dollars toward scholarships for graduating high school seniors, local health services, the golf course, swimming pool, Neighborhood Housing, 4-H activities, rodeo booster club, and volunteer ambulance services — to name just a few recipients.  
Rarely can small towns boast of national parks in their backyards. Rarer still are those that have enjoyed the likes of Ted and Dorothy Hustead. "But," thinks Johnson, "a lot of places would be different if people had a vision of what their town could be, and were willing to put money back into their community."
He's right. Along with its other assets, there's confidence and pride in Wall that even a stranger passing through senses immediately.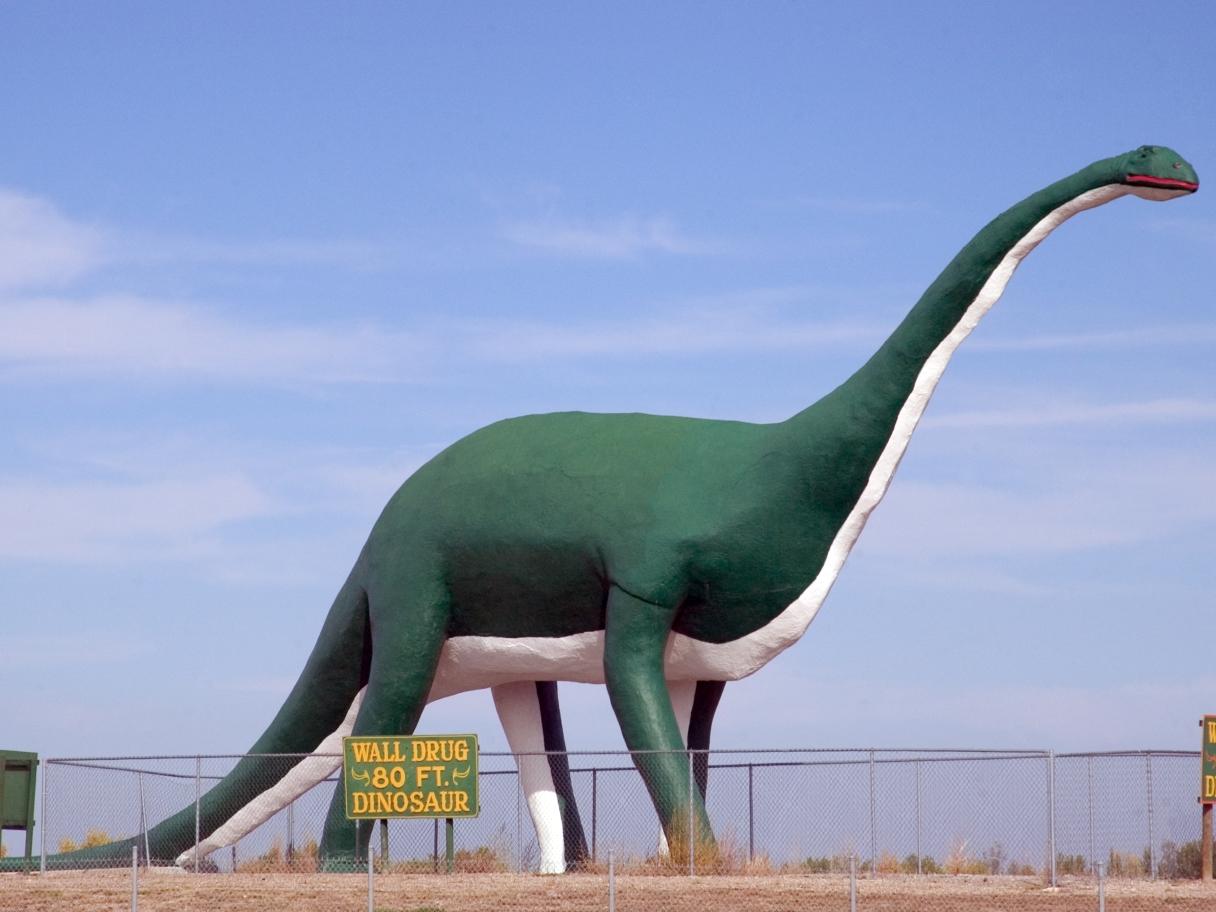 ---
Copyright © 2009, South Dakota Magazine