Stacy rides a 2016 Heritage Softail Classic, and is the founder of and lead writer at Two Wheels to Wild, a motorcycle and lifestyle blog. She owns a Minneapolis-based public relations firm and is a writer for the Sturgis Motorcycle Rally. 
Thomas "Arlo" Ventre has been riding motorcycles since 10 years old – mopeds, dirt bikes, motocross. You name it, he rode it.
When he was 18 years old he started riding a friend's 1969 Harley Davidson Sportster Chopper for a small rental fee – $20. Arlo loved it so much, he offered to buy it, but his buddy wouldn't part with it. "You don't want a chopper," his friend said, "You want a panhead." So in October 1984, Arlo got himself a 1962 panhead.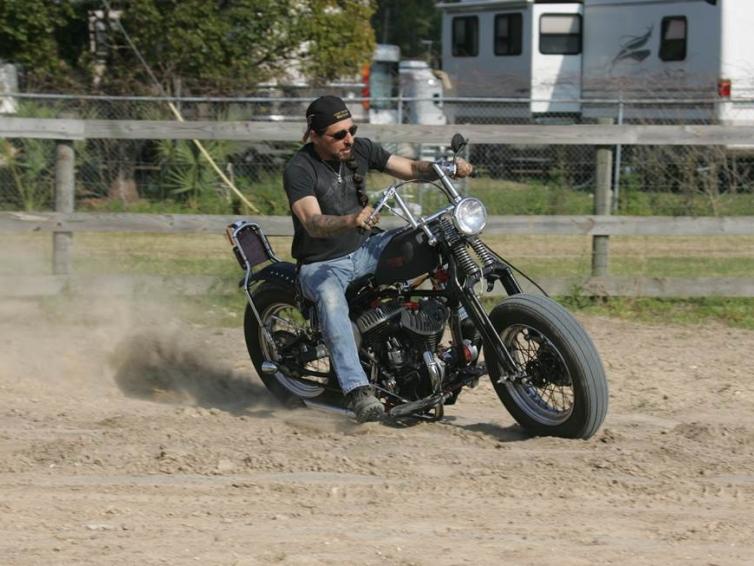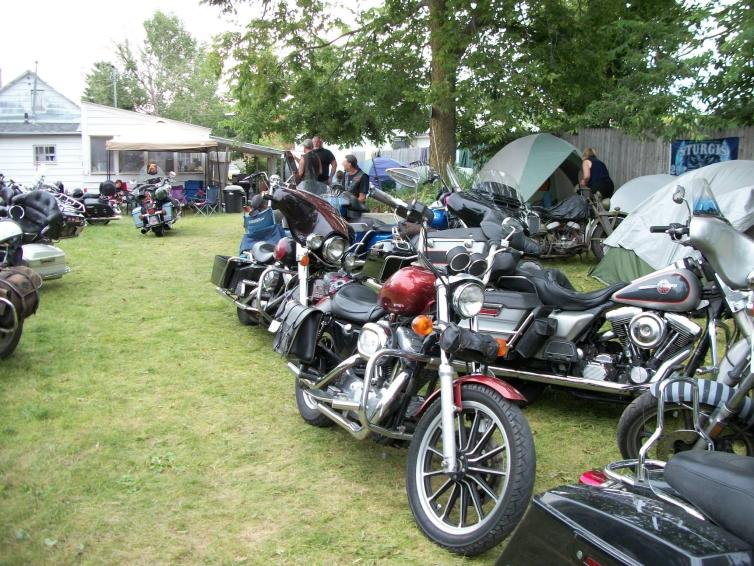 That next August, he rode it to the Sturgis Motorcycle Rally from Florida via Texas, New Mexico, Colorado, Wyoming.  And that was that.
He fell hard and in love with the Sturgis Motorcycle Rally for many reasons: the people of South Dakota, the Black Hills, and everything that the Rally offered and represented.
STURGIS FOLKS
"The people of Sturgis, they are so generous. So welcoming," says Arlo.
It's not a mentality you see every day, the generosity and friendliness. Arlo thinks it from the nature of living in the Black Hills year round: "You gotta be tough to live in the Black Hills of South Dakota. In the winter, it's like living on top of a glacier."
Arlo, a resident of Florida, loved the area so much that in 2006 he bought a house in Sturgis, which has become the meeting place of many friends and Sturgis "Rally family."
And he has no shortage of help keeping his house up during the winter months when he's not there, and receives loads of help when he returns for summer: "When I come back to Sturgis in the summer, I have people offering me furniture, help for keeping up the house, all kinds of stuff.  Sturgis is an amazing, small town. And it's all because of the people."
RALLY FAMILY
For Arlo, returning to Sturgis every year is effectively a "family reunion." His now 14 year-old boy has been coming since he was three years old, and with his wife Nancy, they have developed life-long friendships with people that come together every year in this incredibly special place.
"Sturgis Bike Rally is now a family affair. These friends I've met over the years -- they are effectively my family."
Among these good friends is the Hultman family: Neil Hultman, one of the original Jackpine Gypsies and Rick Hultman, his son, who has been a rally-goer since he was a child.  "Neil has been a critical part of making the rally what it is today with the involvement of the Jackpine Gypsies Motorcycle Club and its mission of racing motorcycles."  
Mike Scoggin, of Tucson, Arizona, is another long-time friend of Arlo's, and has been coming to Sturgis every year since 1979. Mike celebrated his 21st birthday with the same group of people as he celebrated his 57th birthday with last year. 
Mike camps in Arlo and Nancy's back yard, lovingly referred to as "Squaburbia," among a sea of tents and bikes.
"We meet up with the same group of people, year after year. It's the same routine every year," says Mike.
But one year it wasn't the same, and Mike met someone new. Her name was Jill. And they got married. 
The Rally Family had grown yet again.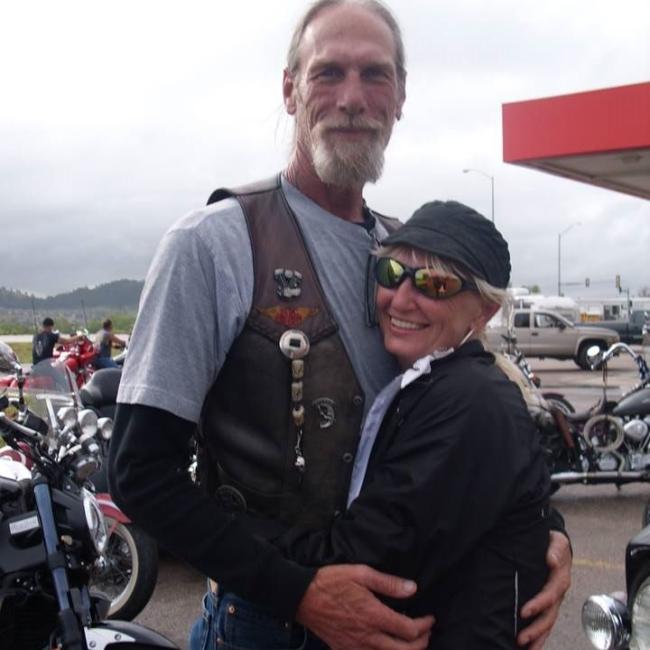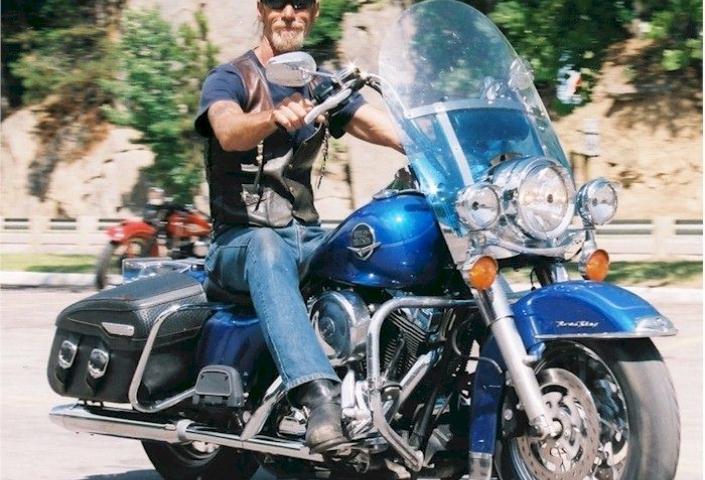 THE RIDES
For Arlo, the beauty of the riding the Black Hills is unmatched. "You can come to Sturgis Motorcycle Rally and travel 300 miles in any direction. Most beautiful country you've ever seen. Hulett (WY). Devils Tower (WY). Hot Springs. Spearfish. Badlands. The Caves. And then you return to Sturgis for the night life."
For the Sturgis Motorcycle Rally newcomer, Arlo offers this advice:
"The big campgrounds offer a lot of entertainment and amenities, which can be a lot of fun. In addition, I really encourage people to experience other things as well. Get out and see the sights, the mountains and explore. You will meet great people on the road in the most inconspicuous places. Travel the Hills and meet the people. That's how you do the Rally."
THE RACES
Arlo reminds that the history of the Sturgis Motorcycle Rally – what he calls "the true Rally assets" – are the races. "The races. These are so important to preserve for the Rally. It's what the Rally was founded on," he says.
People traveled from everywhere to compete in the races. Arlo notes, "Gathering with friends and partying – that was secondary."
Today, the races are many and uphold the tradition of how the Rally first began. The races include dirt track and hill climb, Pro Flat Track, hooligan, and vintage motorcycles as well.  For 2017, the races include:
Thursday, August 3-Saturday, August 5 – the Pappy Hoel Speed Classic (All-Star, Pro-AM, sanctioned by the AMA-Ohio and hosted by the Sturgis Motorcycle Museum)
Friday, August 4 – Sturgis ½ mile
Saturday, August 5 – Vintage Races ½ mile
Sunday, August 6 – The Sturgis Buffalo Chip TT (sanctioned by AMA PRO)
Monday, August 7 – The Spirit of Sturgis Vintage Race (in conjunction with Museum event and sanctioned by the AMA-Ohio)
Tuesday, August 8 – Black Hills Half-Mile (Rapid City, sanctioned by AMA PRO)
Wednesday, August 9 – Hooligan Races at the Buffalo Chip
Thursday, August 10 – Antique Motorcycle Races
Friday, August 11-Saturday, August 12 – Buffalo Chip AMA Supermoto Races
Whenever you come, however you come, whomever you come with, and whatever you come on, the Sturgis Motorcycle Rally has something for everyone.
And when you do come, look for Arlo, Nancy, Mike and Jill. They'll be happy to welcome you to the Rally Family.