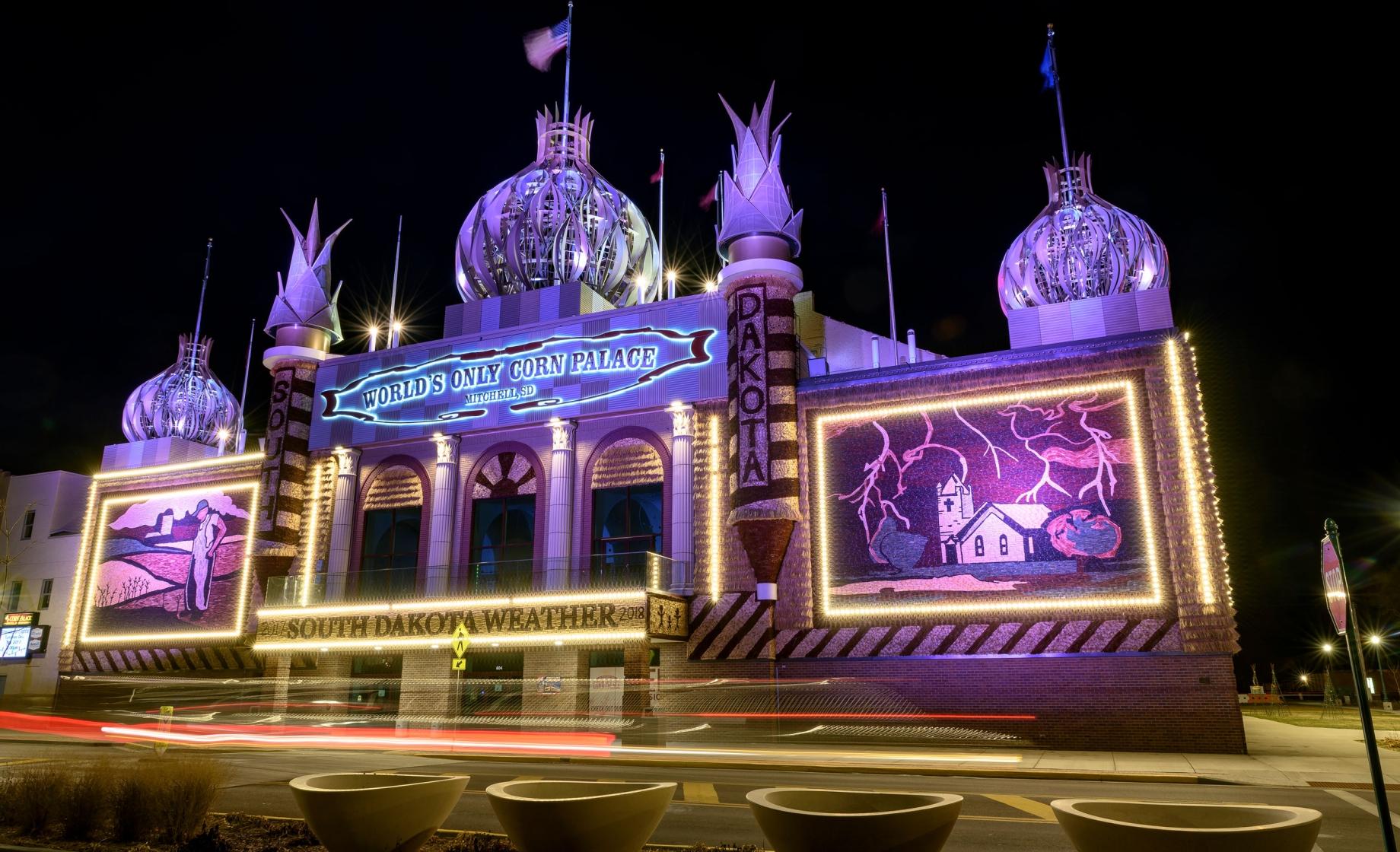 O Mitchell of the Palace grand,
Shall I relate thy story?
Who in mere words can fitly tell
Thy greatness or thy glory?
- The opening of a poem published on
an 1893 Corn Belt Exposition souvenir
This one-of-a-kind building has been "a-maize-ing" visitors for almost 100 years. It is a sight to behold, each wall covered in intricate designs made up of natural grasses and 13 different colors & shades of corn. During the day, visitors are drawn to the folk-art wonder, taking pictures and crossing the street to snap a selfie with a six-foot-tall ear of corn named Cornelius. At night, three color-changing domes and a variety of lights shine in the evening sky, often over the lively sounds of a basketball game or concert erupting from the interior. It all makes up a one-of-a-kind attraction that brings more than 500,000 visitors to Mitchell a year—the World's Only Corn Palace.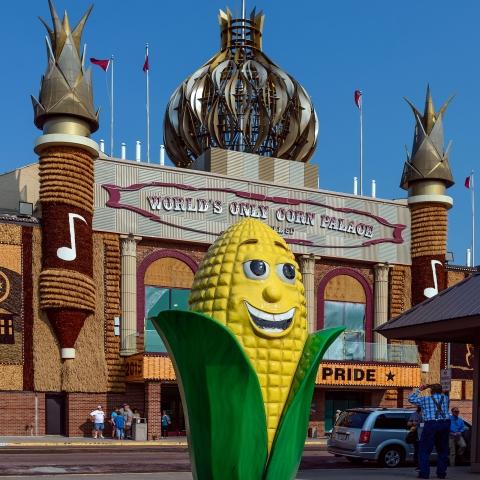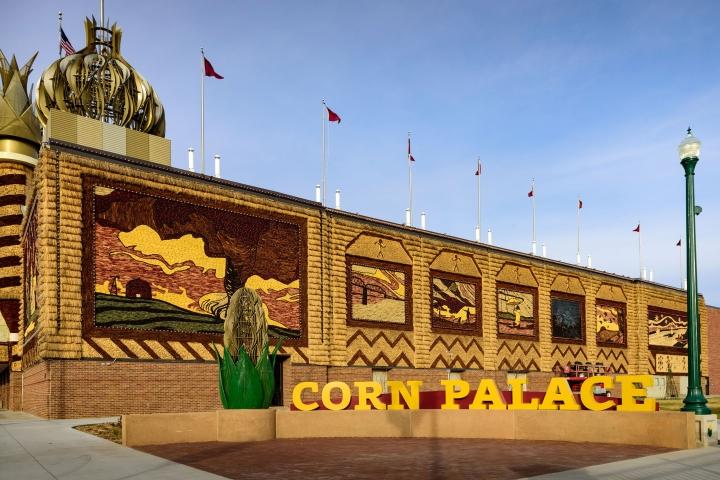 It all started the late 1800s. Mitchell leaders had one thing on their minds: growth. The town had been platted—planned, mapped, and organized—and was enjoying rapid development thanks to its role as a railroad division point for more than a decade. But it wanted more. A population of 3,000 wasn't bad, but community leaders wanted to show that their town was the perfect spot to resettle and maybe open a business. What they needed was a gimmick, something that would grab headlines and spread the word that Mitchell was the place to be. Maybe a harvest festival would do the trick. 
The idea wasn't exactly new—the nearby town of Plankinton had thrown a festival complete with a grain-decorated hall a few years earlier while Sioux City, Iowa, had been constructing castle-like palaces of corn annually from 1887 to 1891—but community leaders thought it was a good one, especially the "corn palace" part. So they hired the man who'd decorated the Sioux City Palace. In 1892, the public was invited to celebrate the agricultural prosperity of the area by visiting a temporary palace whose exterior was decorated using native grasses and grains.
The plan worked. After a couple of iterations, the now-permanent World's Only Corn Palace has stood tall in Mitchell (pop. 15,603) since 1921. Get anywhere near "The Palace City" and you'll see billboards full of corny puns that inspire visitors to pull off Interstate 90 at Exits 332 & 330 and check a box on their bucket lists.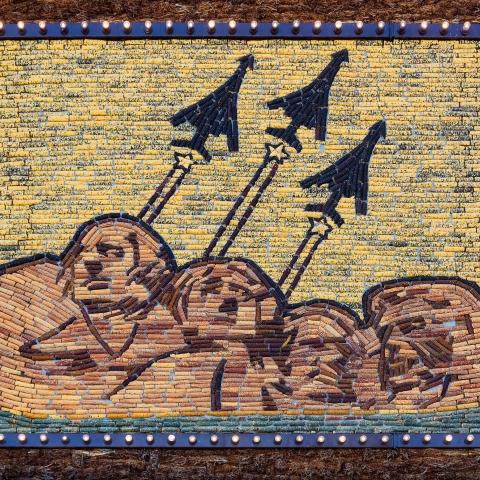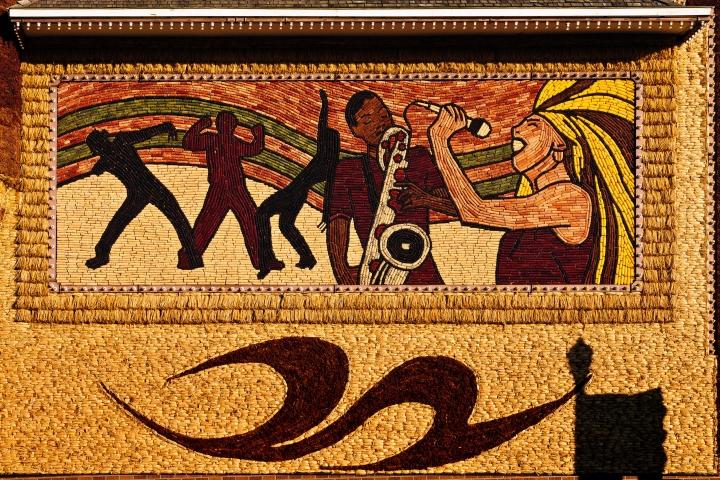 Those looking to experience the Corn Palace should make sure to take full advantage of visitor options. Get your picture taken outside the palace (and with Cornelius, of course) and be sure to see the second-floor art gallery. Open during the summer, the balcony offers a unique view of the building's corn art. Public tours are given from Memorial Day to August and can be arranged by calling 866-273-CORN or emailing [email protected]. To see what's happening right now outside the Corn Palace, click here to view the city's "Corn Cam". 
Those with a keen architectural eye will notice the Corn Palace is a Moorish Revival-style structure, but anyone can bask in the huge pieces of corn art that adorn most of the palace's exterior. Almost every year, the murals are stripped down in August and created by October 1st, a process that many visitors find fascinating to watch. The theme of the murals change with every iteration, making it easy for fans to return each year for a new experience. Past themes have included "Salute to Rodeo," "Mother Goose Rhymes," and "Everyday Heroes," but "Rock of Ages"—complete with corn-art visages of Elvis Presley and Willie Nelson—proved to be particularly popular in 2016. 
Music is a big part of the Corn Palace. The celebration that began as The Corn Palace Exposition is now the Corn Palace Festival, a five-day celebration thrown each August that transforms several blocks of Main Street into one big party! Carnival rides loom tall above downtown businesses. Revelers enjoy carnival games and street vendors—including some selling corn, of course—before taking in one (or more) of the nightly concerts held at the Corn Palace. From John Philip Sousa, Roy Rogers, and The Three Stooges to Willie Nelson, Pat Benatar, and "Weird Al" Yankovic, hundreds of legendary entertainers have taken the Corn Palace stage.
The Corn Palace Festival is the biggest celebration of the year, but all kinds of events keep people coming back to "The House That Corn Built". Basketball is big in the Corn Palace—USA Today named the Corn Palace one of the top ten places in America for high school basketball. It's true that there's no better or more unique place to take in a high school or college basketball game.  The inside of the Corn Palace is also home to graduation ceremonies, theater productions, banquets, and even the local prom. Looking for a place to hold the ultimate event? The Corn Palace is available for rental for anything from a circus to a polka festival.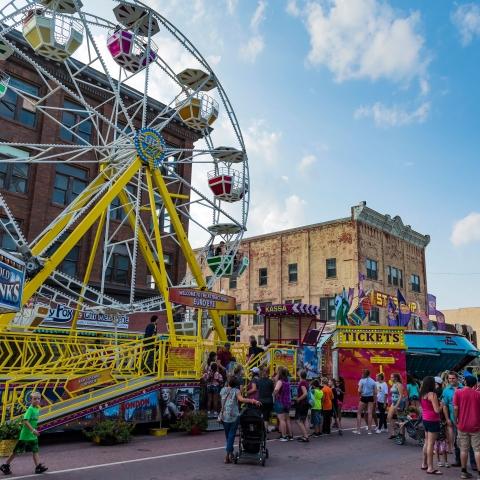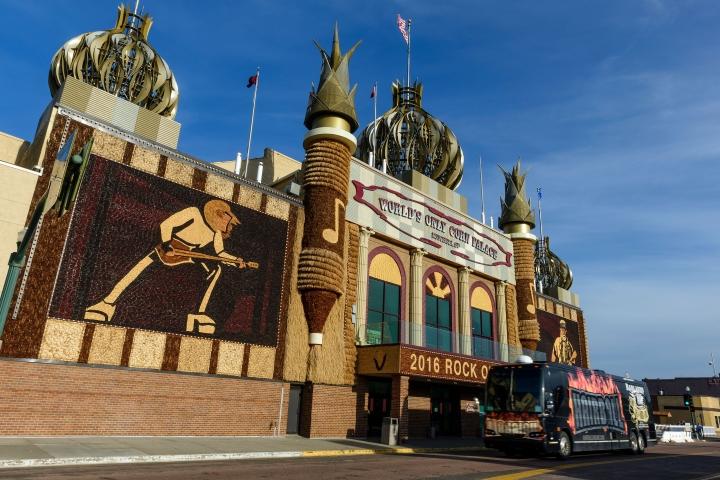 Since that first combination of local corn & grasses was used to create fine rural art, the Corn Palace has hosted plenty of famous visitors. Sculptor Gutzon Borglum revealed his plans for Mount Rushmore during a 1925 celebration in Mitchell. Before they became president, William Howard Taft, Herbert Hoover, and Barack Obama all made appearances at the Corn Palace. 
And even though it's known as one of the top landmarks in the Midwest, the Corn Palace continues to find "firsts." In April 2019, the "ear-chitectural" marvel played host to a match between the Brazil Arena Soccer National Team and the USA Soccer National Team. The match-up was only the third event of its kind to be held in North America, and it marked the first time a soccer match was held at the Corn Palace. (It was named "The Corn Palace Cup," of course.) 
From its early days as an agricultural brag to its current position as one of the most unique places in the country, the World's Only Corn Palace has been attracting new and returning visitors for more than a century. One look is all it will take to understand why the Corn Palace has remained one of the most "ear-esistible" places in South Dakota.