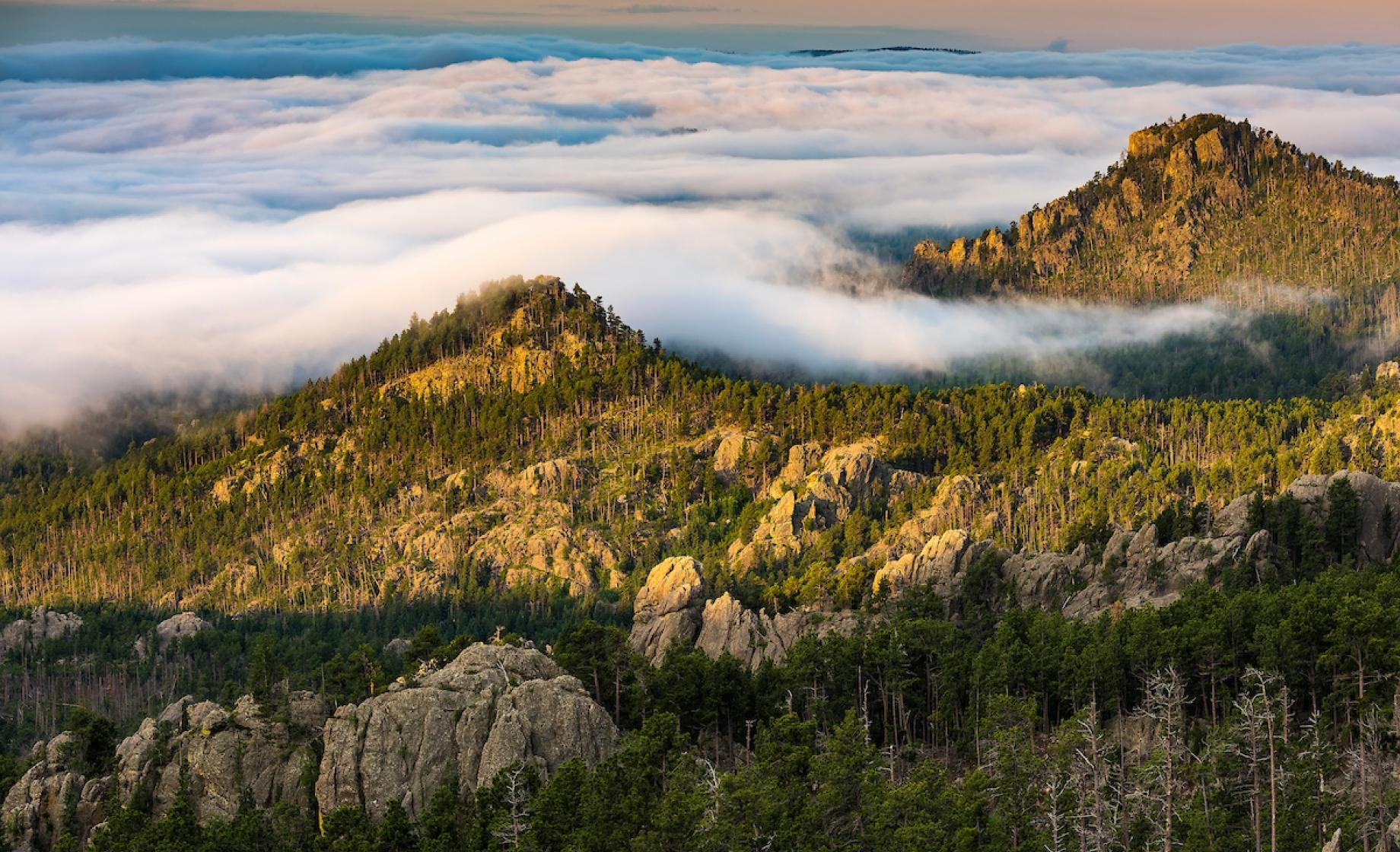 Rapid City has a convenient airport to start your Black Hills journey. Arrive in the City of Presidents, named for the life-size bronze sculptures of US presidents that can be found throughout the city's downtown streets.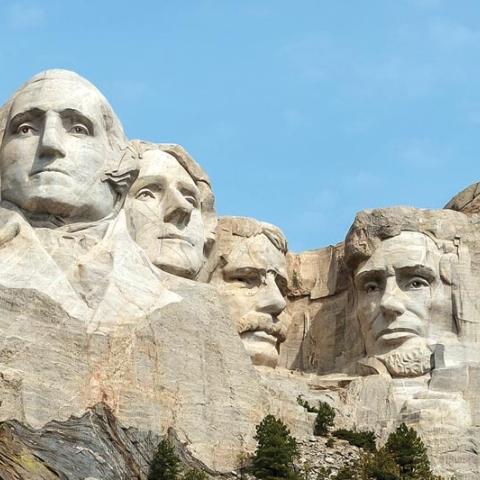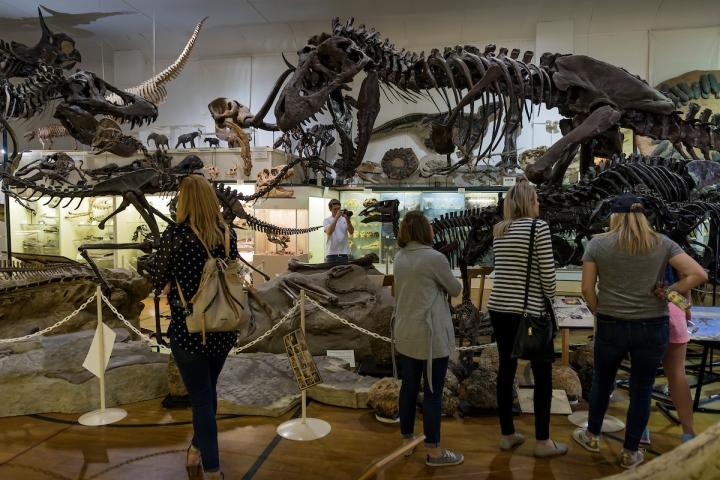 Must-See Stops:
The Journey Museum & Learning Center 
The Journey Museum & Learning Center in Rapid City brings together five major prehistoric and historic collections to tell the complete story of the western Great Plains. 
Mount Rushmore Black Hills Gold Factory 
Take a fascinating free tour through our Black Hills Gold jewelry factory to watch and learn how this jewelry is made by skilled artisans.
Museum of Geology 
This paleontology exhibit features original fossils found in South Dakota as well as mineral exhibits from around the world.
 
Continue one hour east on Interstate 90 to Wall or another 15 miles east to Interior. Interior is a great entrance to both Badlands National Park Loop and the Minuteman Missile National Historic Site.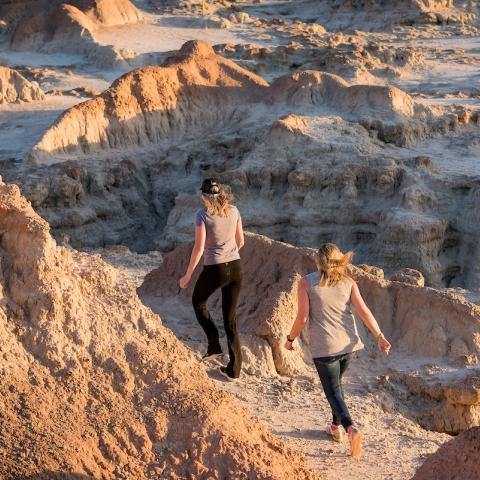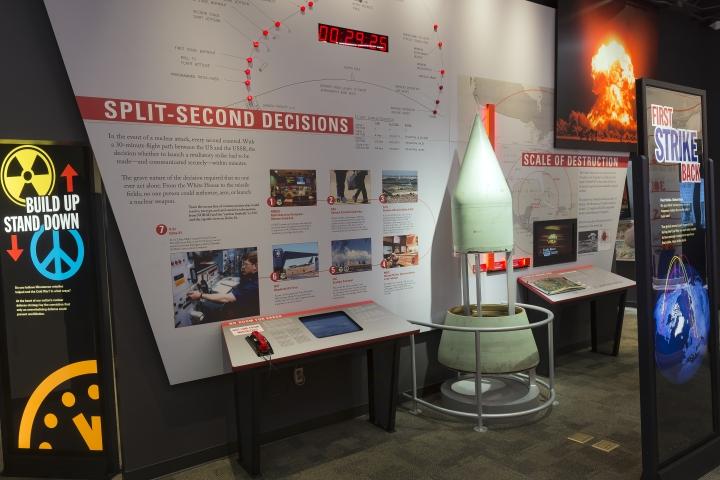 Must-See Stops:
Wall Drug
Since 1931, Wall Drug has evolved into a 76,000-square-foot wonderland of free attractions, including the Western Art Gallery Restaurant that seats 520. 
Badlands National Park 
244,000 acres (97,600 ha) of a striking landscape boast a maze of buttes, canyons, pinnacles and spires. Make sure to travel the Badlands Loop Scenic Byway and stop into the Ben Reifel Visitor Center. 
Minuteman Missile National Historic Site 
The Minuteman Missile National Historic Site consists of three sites along a 15-mile stretch of Interstate 90. The visitor center and the Delta-09 missile silo are open, and tours of the Delta-01 Launch Control Facility are offered daily. 
 
Heading into the Northern Hills on Interstate 90. Take Exits 30 and 32 to find the famous motorcycle town of Sturgis and its 7,000 residents.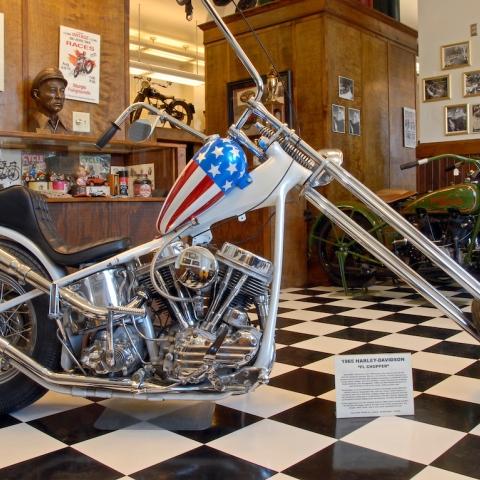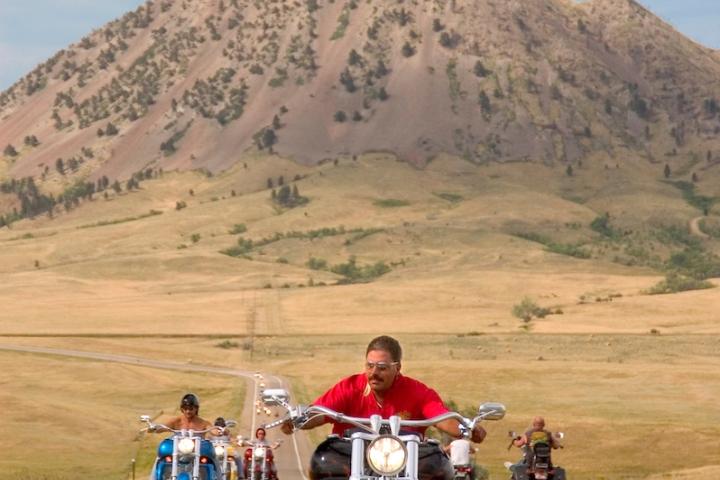 Must-See Stops:
Sturgis Motorcycle Museum & Hall of Fame
On display are a huge selection of American and metric bikes along with a wide variety of exhibits, photographs, memorabilia and Sturgis Motorcycle Rally history. 
Bear Butte State Park 
This geological formation is one of several intrusions of igneous rock in the Black Hills that formed millions of years ago. The butte is sacred to many Native American tribes who come here to hold religious ceremonies. The park offers hiking, camping, fishing and boating opportunities.
 
This beautiful mountain town offers easy access to the adventures and beauty of the Northern Black Hills.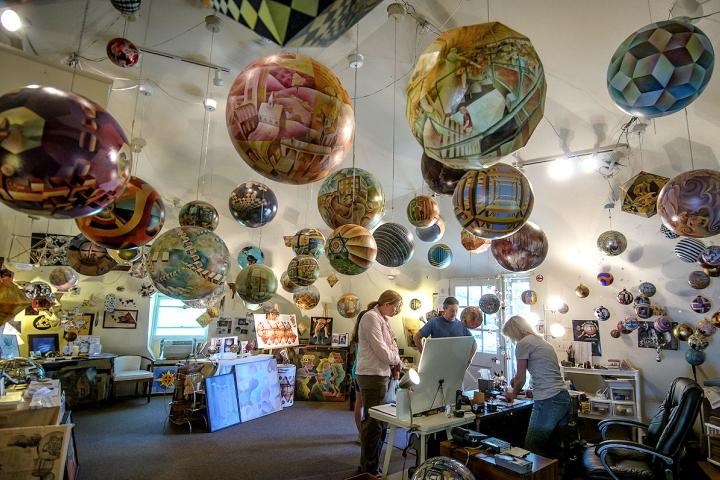 Must-See Stops:
Spearfish Canyon Scenic Byway
Built on top of an ancient railbed, the highway affords visitors views of towering limestone cliffs and pine trees. This drive features several hiking spots and scenic overlooks.
Roughlock Falls Nature Area 
Roughlock Falls is spectacular to view and photograph. Designated walking paths and hiking trails provide great opportunities to explore the area. 
Termesphere Gallery 
Dick Termes, an internationally known local artist, paints on spheres hang from ceiling motors that slowly rotate the artistic wonders. Termes's creations are known worldwide for their unique six-point perspective system.
 
Historic Deadwood is a town known for its rough-and-tumble past. Gamblers and gunslingers like Wild Bill Hickok and Calamity Jane became legends on the tough and dusty streets that are now family-friendly and ideal for exploration.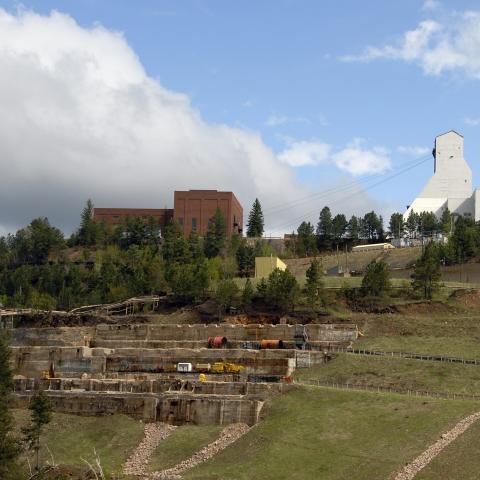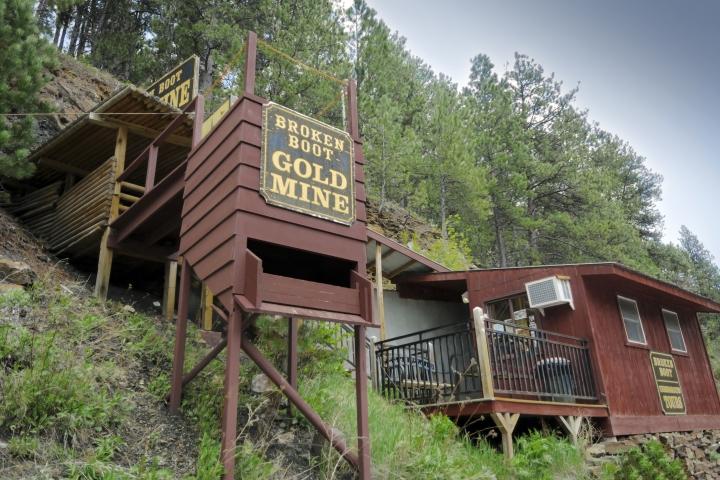 Must-See Stops:
Days of '76 Museum
Home to an amazing collection of Native American and Old West artifacts, this museum includes over 50 authentic horse-drawn vehicles including the original "Deadwood Stage." It features many items from early days in Deadwood as well as the area's proud rodeo history. 
Sanford Lab Homestake Visitor Center 
The Sanford Lab Homestake Visitor Center is a modern and dramatic facility providing public outreach for the Sanford Underground Research Laboratory as well as interpretation of the history and cultural context of the city of Lead, the Homestake Gold Mine, and the new underground lab.
Broken Boot Gold Mine
Take an underground tour of an authentic gold mine where miners once pursued gold ore veins with black powder and candlelight. Visitors can also pan for real gold!
 
If you are looking for scenic beauty, a bit of culture and fascinating history, make sure to stroll the streets of Hill City, the second-oldest town in the Black Hills.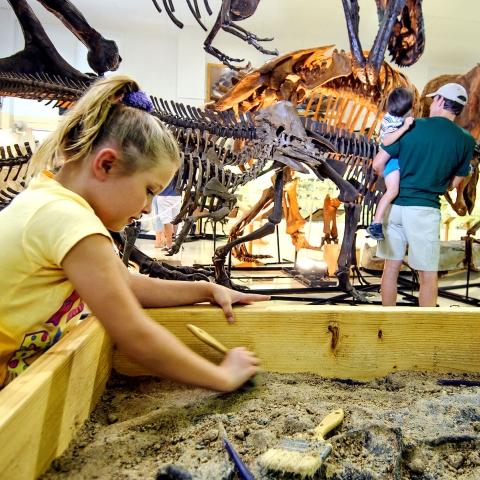 Must-See Stops:
1880 Train
See the Black Hills of South Dakota from the windows of a vintage steam train. This historic experience is narrated and fun for railroad enthusiasts of all ages!
Museum at Black Hills Institute
The Museum at Black Hills Institute in Hill City is home to the 65-million-year-old "Stan," one of the two most complete Tyrannosaurus rex fossils ever found. See "Stan" along with an extensive collection of invertebrate, mammal and fish fossils.
Teddy Bear Museum 
Teddy Bear Town is both a museum and a store. With 9,000 different bears, this attraction holds the Guinness World Record for the world's largest collection of teddy bears. 
 
Continuing into the Southern Hills will bring you to Custer, a beautiful small city surrounded by large granite outcroppings and ponderosa pine trees.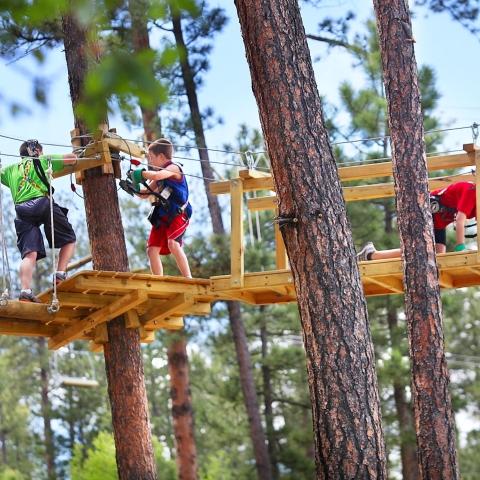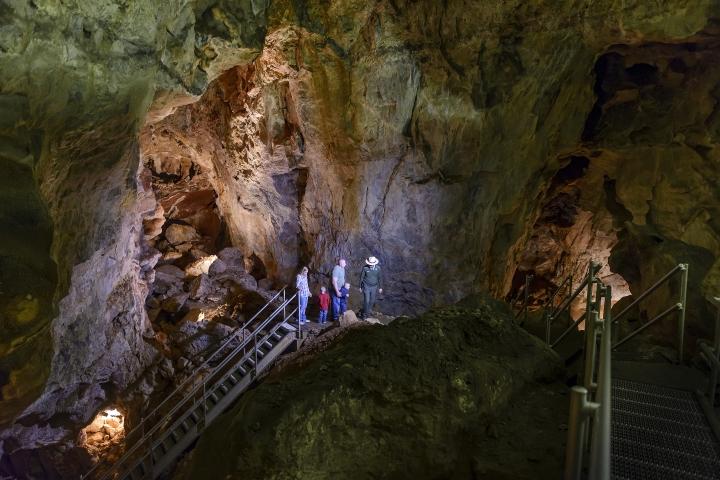 Must-See Stops:
Custer State Park 
Few truly wild places remain in this country. Custer State Park is one of them. Located in the Black Hills of South Dakota, the park is home to a variety of wildlife and magnificent scenery spanning 71,000 acres. 
Black Hills Aerial Adventures 
Black Hills Aerial Adventures offers flightseeing tours over the breathtaking Black Hills and Badlands. 
Jewel Cave National Monument 
Named for the crystals that line its walls, Jewel Cave National Monument is the third-longest cave in the world! 
 
Only minutes from Mount Rushmore National Memorial, Keystone features souvenir boutiques and small, charming cafes.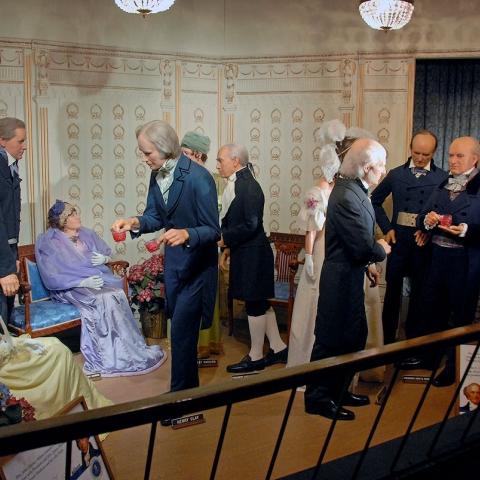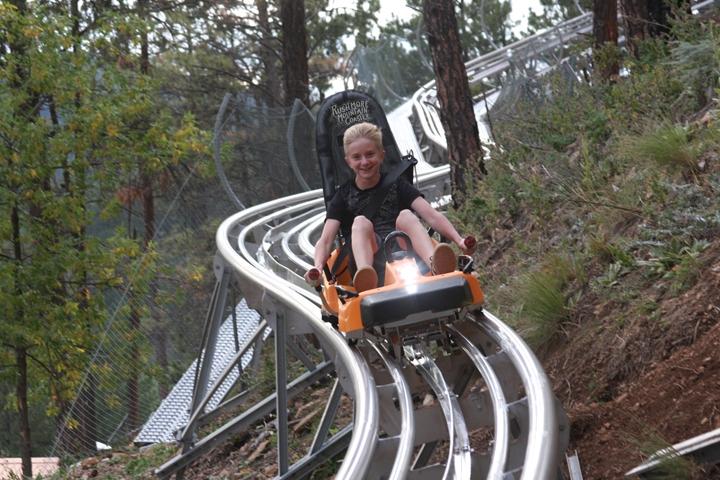 Must-See Stops:
Mount Rushmore National Memorial
Known as America's Shrine of Democracy, Mount Rushmore National Memorial features the 60-foot faces of four great American presidents who represent the birth, growth, development and preservation of this country. 
National Presidential Wax Museum
Featuring the works of world-famous wax artist Katherine Stubergh, the museum displays more than 100 life-sized wax sculptures of some of the most iconic figures in American history.  
Rush Mountain Adventure Park & Rushmore Cave
Cruise down a mountain on the new Rushmore Mountain Coaster, ride the Soaring Eagle Zipline Ride for an amazing thrill, shoot bandits at the Gunslinger 7-D Interactive Ride, and experience the stalactite-filled caverns on a scenic tour through Rushmore Cave.
 
The city of Hot Springs was founded as a frontier health spa to capitalize on springs of warm mineral water rising in Fall River Canyon.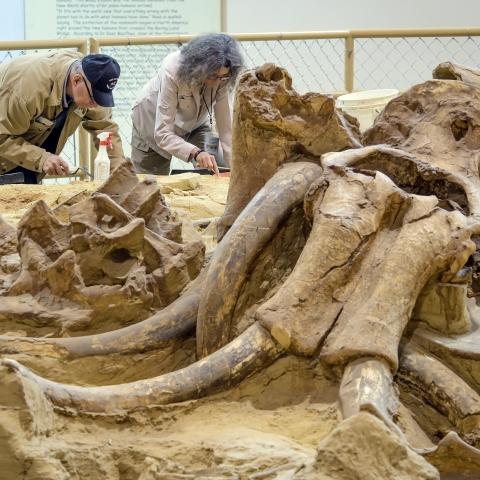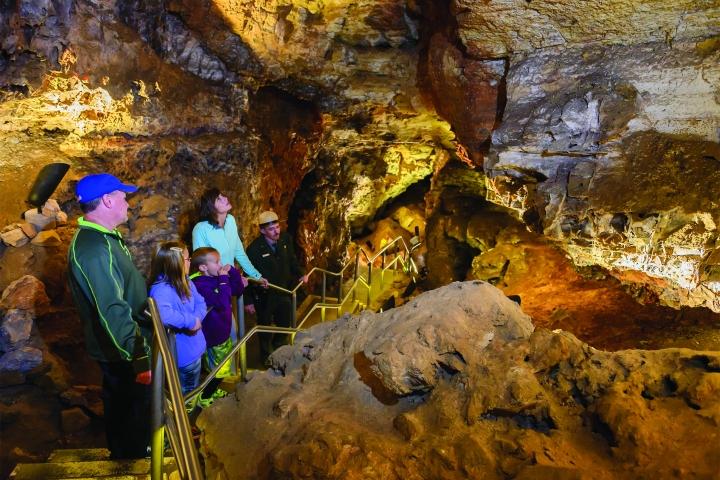 Must-See Stops:
Mammoth Site 
This active paleontological dig site boasts the largest concentration of mammoth remains in the world! 
Wind Cave National Park
The first cave to be designated a national park, Wind Cave features the world's largest concentration of rare boxwork formations along with a 28,295-acre wildlife sanctuary on the surface.