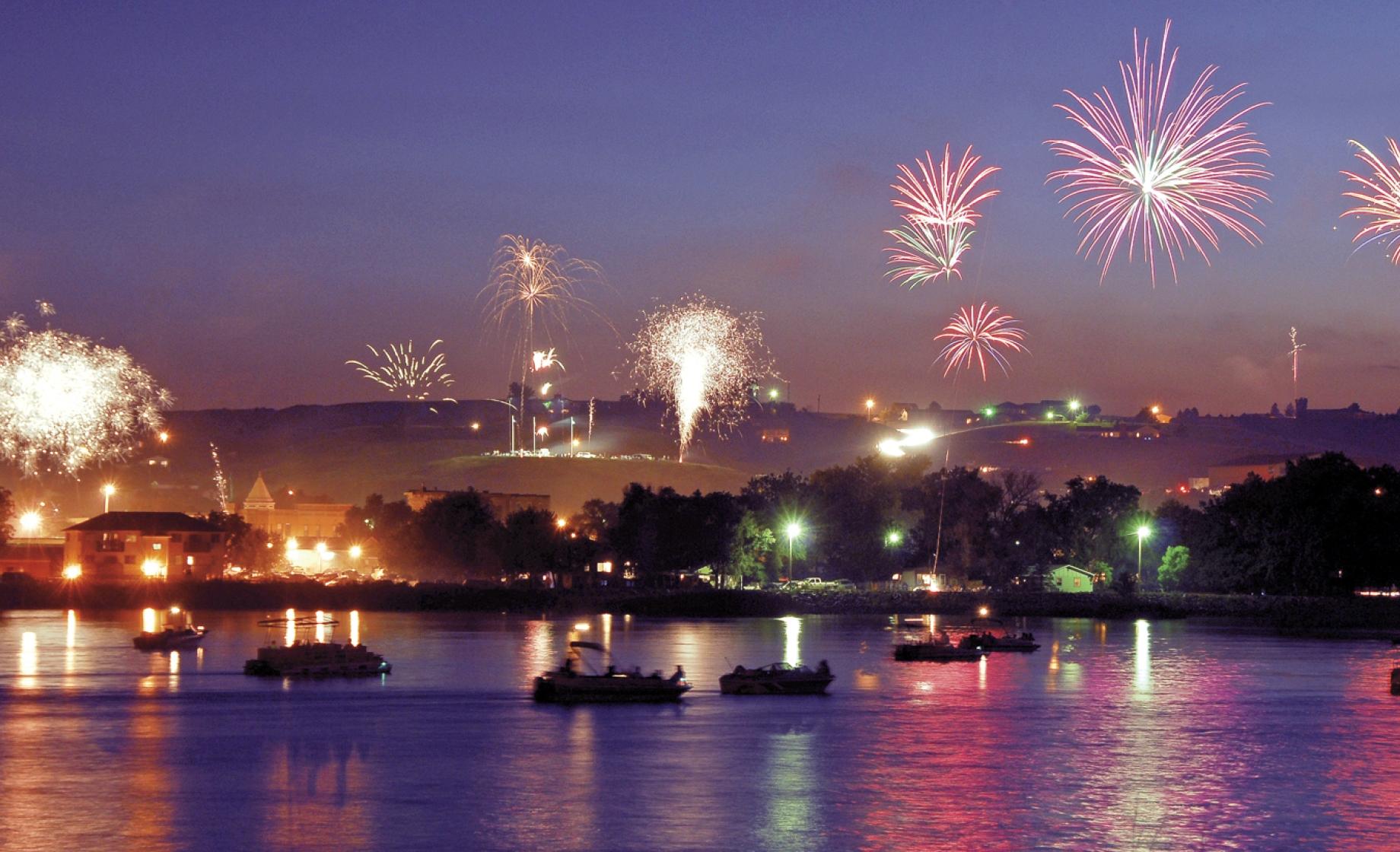 Co-existing with cowboys, suburbanites and the rest...
This article was originally written in 2014. Some information has been updated for accuracy.
SOUTH DAKOTA TOWNS are typically homogenous. We have farm towns, reservation towns, ranch towns, tourism towns and gambling towns. 
Lead was a mining town and now it's a science center. Pierre is a government town. Even today, gamblers run the town of Deadwood. Sioux Falls, our largest city, was heavily populated with meat-packers for generations, but now bankers and credit card processors outnumber Morrell workers three-to-one.
Spend a day in Fort Pierre, however, and you'll have a hard time pigeon-holing the place. The growing city of 2,500 hasn't lost its Old West atmosphere, but other cultures are emerging. We categorized four distinct groups in a day spent there — suburbanites, cowboys, historians and entrepreneurs. 
The question on some residents' minds is whether the diversities are competing or complementary.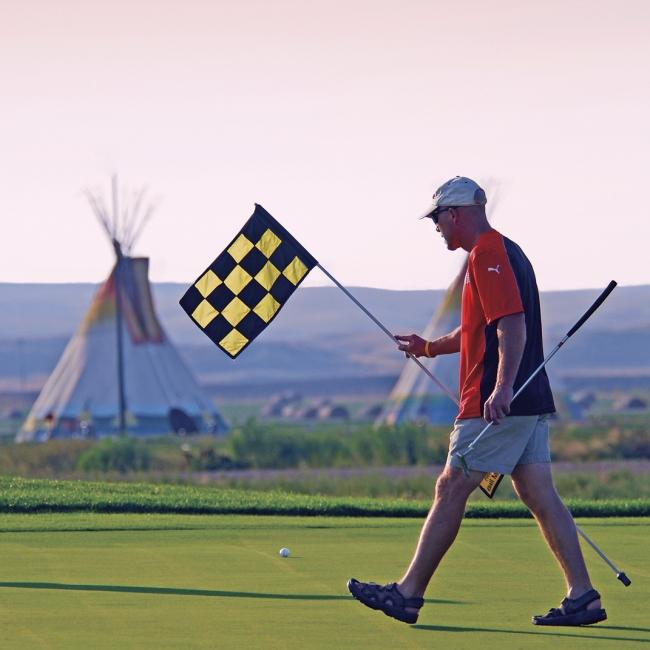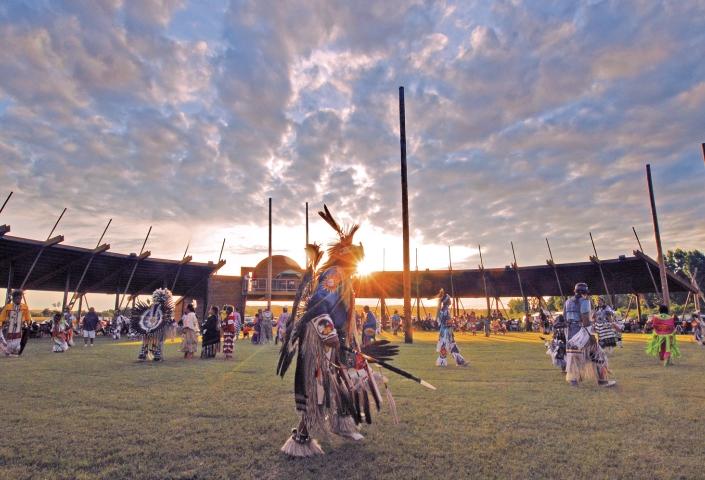 Fort Pierre is becoming central South Dakota's playground. The city by two rivers attracts boaters, golfers, pow wows, rodeos and countless other indoor and outdoor activities and events.
THE SUBURBANITES
PIERRE MAY BE THE only city in South Dakota without many suburbs, so a few decades ago somebody had the good idea of building some curvy streets across the river in Fort Pierre and giving them fancy names like Port Charlotte Avenue, Beach Drive and Cove Court. 
South Dakotans who had never sold a cow or owned a boat — and could not easily trace their relationship to Casey Tibbs — were soon adding "Fort" to their mailing address. They would call friends in distant places and say, "We've moved. We're not in Pierre anymore. We're now in Fort Pierre." Their friends probably laughed silently. "Wow, John and Susan are adventurous. They moved from Pierre to Fort Pierre." But in reality, it's the difference between New York and L.A. — between Rome and Paris — between Sioux Falls and Sioux City. 
Fort Pierre's suburbs boomed in the last 10 years as home sites were created around canals that connect to the Missouri. Some lots sold for over $200,000. Former Governor Mike Rounds, who left office in January of 2011, and his wife, Jean, built a house in one of the subdivisions. 
A newer commercial development called Teton Island gave the town a more modern look. Restaurants, hotels, shops and offices are sprouting on land that was thick with river brush not long ago. At the time, Mayor Sam Tidball says Fort Pierre was expanding faster than the Sioux Falls metropolitan area on a per capita basis. The next big project was a 120-slip marina with recreation shops and other amenities. Boats are already so commonplace on the river below the Oahe Dam that Corps of Engineers staffers blow a warning siren before they open the spillgates, which can cause a speed-up of the river current and a quick rise. 
Some longtime Fort Pierre citizens worry that the suburbanites will want to change the town. Might they decide that people should no longer park cars on the street and boat trailers on the lawn? Will they object to fireworks being shot in July, or to the Friday cattle sales that congest the city with bawling calves and diesel trucks? Will they want more city ordinances and fewer trailer homes? 
For now, even the new suburbanites hate the thought. "We hope the people who are coming in won't want to make this into a Sioux Falls or a Rapid City," said Gary Grittner, a nuclear scientist who retired to a Fort Pierre subdivision in 2003. "When I left Minnesota in 1970, Minnesota was still part of the West," he explained over coffee and a heaping breakfast plate at the Chuckwagon Cafe on Main Street. "When I retired, I found that Minnesota was now part of the East so we started looking around and when we found Fort Pierre we felt like we were back in the West where we felt comfortable." 
Mayor Tidball, a retired school administrator and a suburbanite, said there was little need for Grittner and others to worry. "We are too well grounded in the West River philosophy of making people welcome and not getting into their business to let that happen," he said. 
We tried to interview other Fort Pierre suburbanites but most of them were working across the river in Pierre. However, we noticed that many have boat trailers parked in front of their houses. That answered the question of whether they want to change the town.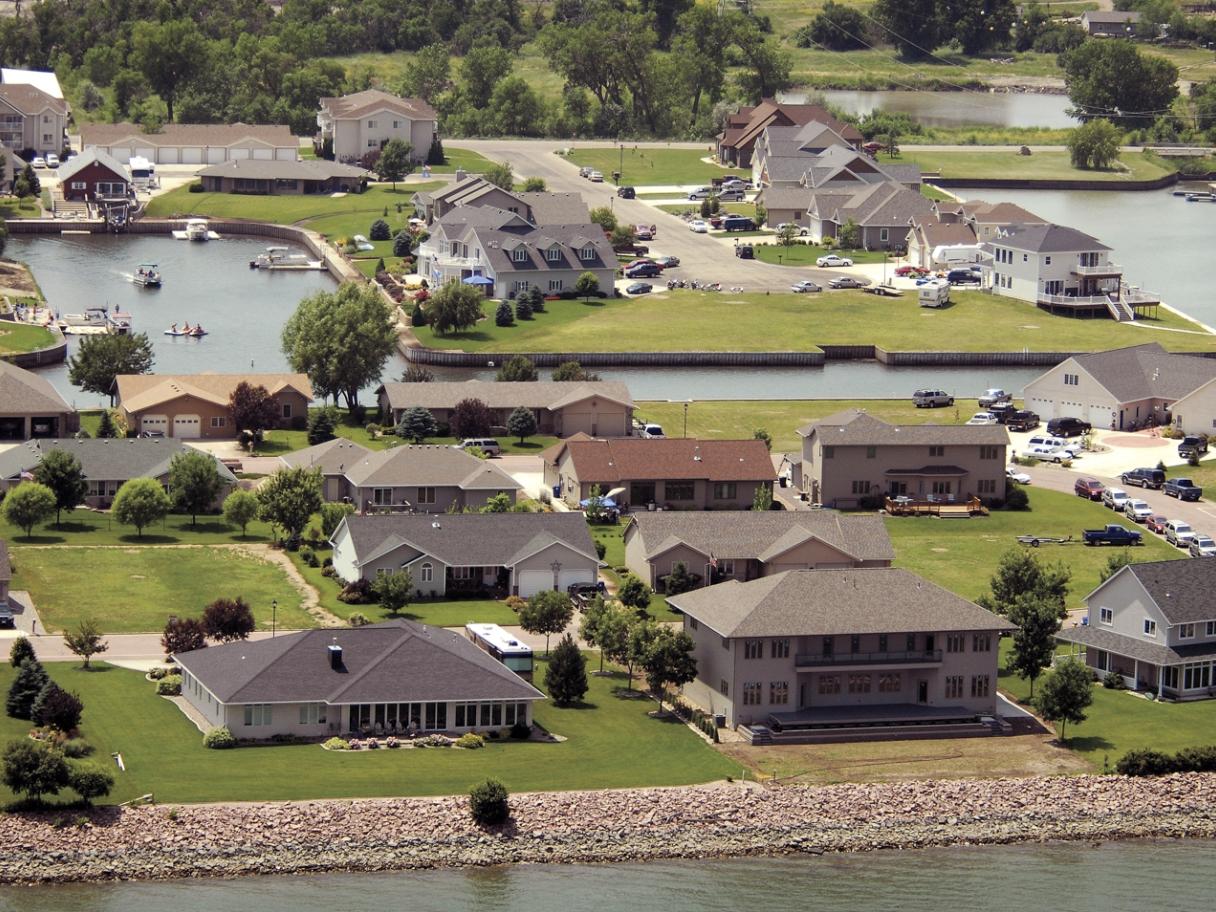 FORT PIERRE'S WILD & WOOLY PAST
1743
The Verendrye brothers bury a lead plate atop a hill that now overlooks Fort Pierre.
1804
Lewis and Clark survive a hostile encounter with the Teton Sioux at the confluence of the Missouri and Bad rivers. Flags and a memorial mark the site in Fischer's Lilly Park.
1832
The American Fur Company officially organizes the community of Fort Pierre.
1855
Fort Pierre is established as a military post to serve as a transportation and supply hub for travelers heading west to the Black Hills.
1876
After gold is discovered in the Black Hills, men flock west along the Fort Pierre to Deadwood Trail. Originally used by Indians and fur traders, the trail became a busy roadway full of travelers and freight companies shipping supplies west.
1883
Fort Pierre rancher Frederick Dupree recognizes that the wild buffalo are nearly extinct, so he captures five calves.
1898
After Fred Dupree dies, Scotty Philip buys the buffalo and moves them to his ranch near Fort Pierre. Most of North America's buffalo can be traced to Philip's herd.
1907
East meets West with the construction of the Chicago & Northwestern Railroad bridge. The bridge was essential to moving materials over the Missouri to complete 170 miles of track between Pierre and Rapid City.
1913
Three teenagers find the Verendrye plate on the hill where it was buried. The artifact is now a prized exhibit at the Cultural Heritage Center across the river in Pierre.
1947
Fort Pierre Livestock Auction barn is constructed. Friday cattle sales draw buyers and sellers from hundreds of miles in all directions.
1949
Fort Pierre native Casey Tibbs, 19, becomes the youngest saddle bronc champ in U.S. history. The flamboyant cowboy eventually wins nine championships and reigns as the nation's top rodeo star.
1962
President John F. Kennedy dedicates Oahe Dam four miles north of Fort Pierre. A fishing and recreation industry soon develops.
1989
Kevin Costner's movie "Dances With Wolves" is filmed at Roy Houck's buffalo ranch near Fort Pierre.
1998
Fort Pierre's first canals are dug, leading to upscale housing developments that contrast greatly with old neighborhoods.
2009
The Casey Tibbs Rodeo Center and Mattie Goff Newcombe Conference Center opens after 20 years of planning, fundraising and construction.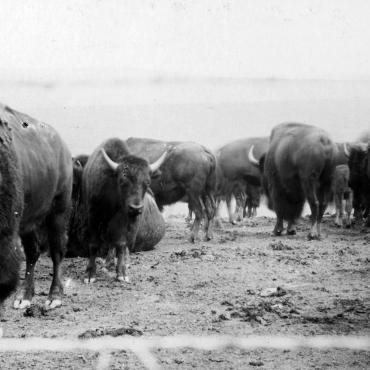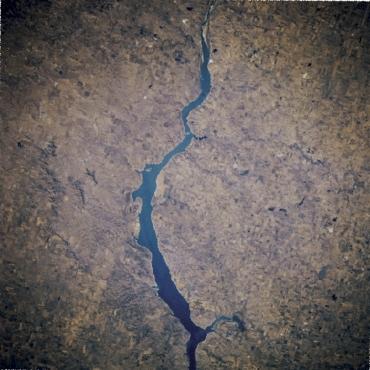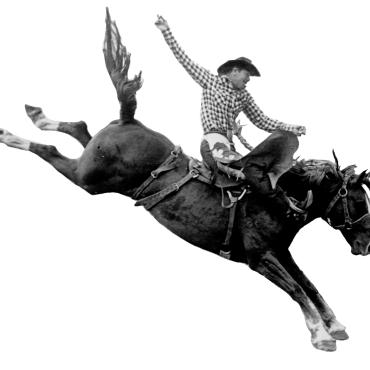 HISTORIANS
EVERY CITY HAS a few historians, but this may be Fort Pierre's dominant subgroup. Nearly everybody here loves history. They know who's buried in Cedar Hill Cemetery (bullwhackers, muleskinners, miners and bandits) and where to find Calamity Jane's bullet holes (in David Dahl's Diamond D saddle shop on Deadwood Avenue). 
There's little question that the city has great history. The proof is stored in the Verendrye Museum, an old American Legion Hall on Deadwood Avenue where kids once played basketball. Grittner and two friends — Darby Nutter and John Duffy — gave us a tour on a cold day and apologized for the lack of heat. 
The Verendrye Museum Association has recently staged several long West River trail rides to raise money for museum improvements. And a new photo book by Greg Latza on the Fort Pierre to Fort Bennett ride promises to raise even more cash. But there's something about being able to see your breath when you tour the Verendrye, because the whole idea is to preserve the history of tough frontier people who faced unimaginable hardships while settling Stanley County. 
On exhibit is a big, gnarled wood oxbow hand-carved by freighter Zack Sutley, a pioneer who still has descendants here. There's also a single sod brick — a perfectly square piece of dirt — that exists as a powerful statement of how hard it must have been to build a house when there was no lumberyard with plywood and 2x4s.
"A lot of the old ranchers' saddles and chaps are here," said Nutter, a truck equipment salesman. "When I hear that a family is selling the family's old-time stuff, I'll ask if they wouldn't like to put dad's gear in here with his friends'. This is a shrine to the old cowboys who built this country." 
A new rodeo museum also opened in Fort Pierre in 2013. The dream came as South Dakota's all-time great rodeo star Casey Tibbs, a Fort Pierre native, was on his deathbed in 1989. He agreed to return many of his mementoes to his hometown for display, but he wanted the museum to be more than just about him. Nobody around here would disagree with Casey, whether he's alive or dead, so the museum tells the story of ranching and rodeo throughout South Dakota — with historical exhibits on Indian rodeos, stock contractors, royalty, clowns and trick riders. 
But history is everywhere in Fort Pierre. The old Stockmen's Bank has been remodeled on Main Street and now houses a farm commodities business. The town's 1890 Jail is preserved along Highway 83. Monuments mark the spot where Lewis & Clark met the Teton Sioux, and where the Verendrye brothers buried a lead plate in 1743 that established France's claim on the Great Plains. 
"Fort Pierre is where East meets West," explained John Duffy, a local lawyer who helps to maintain the Verendrye museum and who is also renovating an old rooming house run by his grandparents. "Pierre is where they wear seed caps," says Duffy. "Fort Pierre is where they wear cowboy hats. Fort Pierre is where they wear Wranglers, while Pierre is bib overalls. That old comparison may be outdated but it still has some truth to it."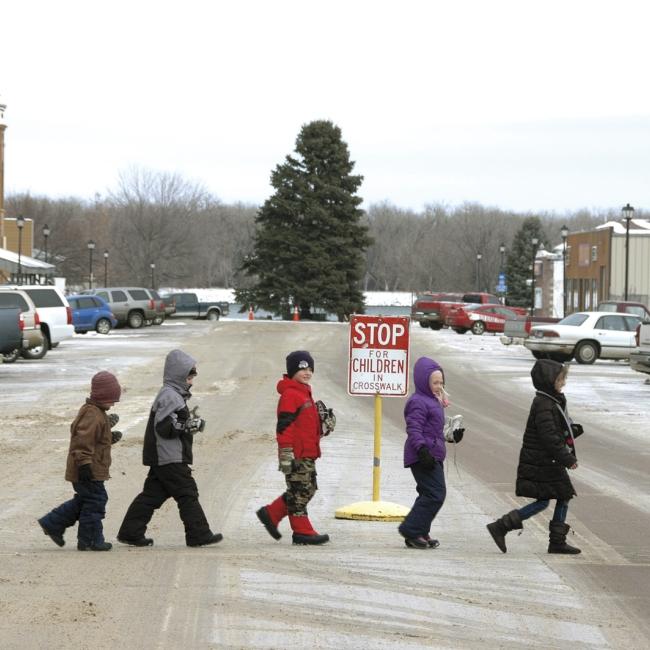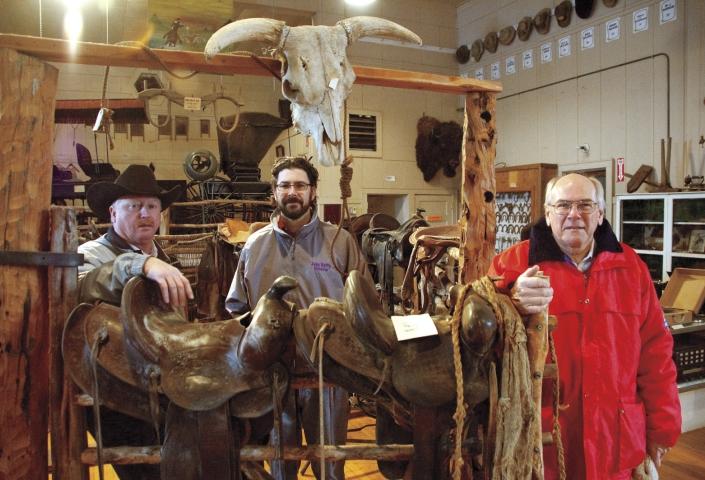 The Verendrye Museum is considered a shrine to the pioneer cowboys, says Darby Nutter (left). Preserving Old West memorabilia is a labor of love for him and others, including John Duffy (center) and Gary Grittner.
COWBOYS
JOHNNY SMITH WAS wearing a cap, not a hat, when we met him at the Fort Pierre Livestock Auction Barn but nobody questions his cowboy credentials. He has been the voice of the Fort Pierre Rodeo for more than 35 years and he's endeared himself to West River ranchers as regional director of the R-Calf movement that has been challenging the business practices of the nation's big meat-packing companies. 
Smith is a partner and field man at the auction barn, and as much a fixture at the place as the rows of square wood and steel corrals and the cattle they hold. "I came here when I was four years old and it was a cow town then," he said. "It is still a good cow town." 
He says Fort Pierre's suburbs do seem like a bedroom community for Pierre workers. "Our main street is disappearing and a lot of things have moved over to the Pierre side," he said. "But we have a saying that people always come together to help and that's a cowboy tradition that we need to preserve. And I tell you what, Fort Pierre is humble. Everybody helps everybody. If someone is in trouble, Fort Pierre always rises to the occasion."
Modern cowboy life is well illustrated on the auction barn's bulletin board, where we found advertisements and posters for coyote hunts, buffalo head-chutes, bulls, horses and stock dogs. There's also this sign: "Don't Steal: The Government Doesn't Like Competitors." 
Fort Pierre Livestock may be the unofficial capitol of cowboy country on the Upper Missouri, but the rest of the town is also welcoming. The town has a saddle shop, gun store, veterinary supply and two of West River's best known watering holes, the Hopscotch, a rough-and-ready bar that could be the set for a 1960s rural Texas movie, and the legendary Chateau Steakhouse and Lounge where cowboy hats and big belt buckles are the norm, but tourists, fishermen and suburbanites are all likely to gather for a $10 steak. 
Ed Duffy, whose dad was once the town's only cop, came back from World War II and started a bar in 1946. "In those days Pierre didn't have any drinking establishments, so Fort Pierre was the watering hole for the cowboys and everybody else. We've always welcomed the cowboys, and of course the sale barn also brings them to town."
He said a fair share of his customers are men and women who make their living raising calves on the grasslands of western South Dakota. "They are good people," he said. "There's nobody any better."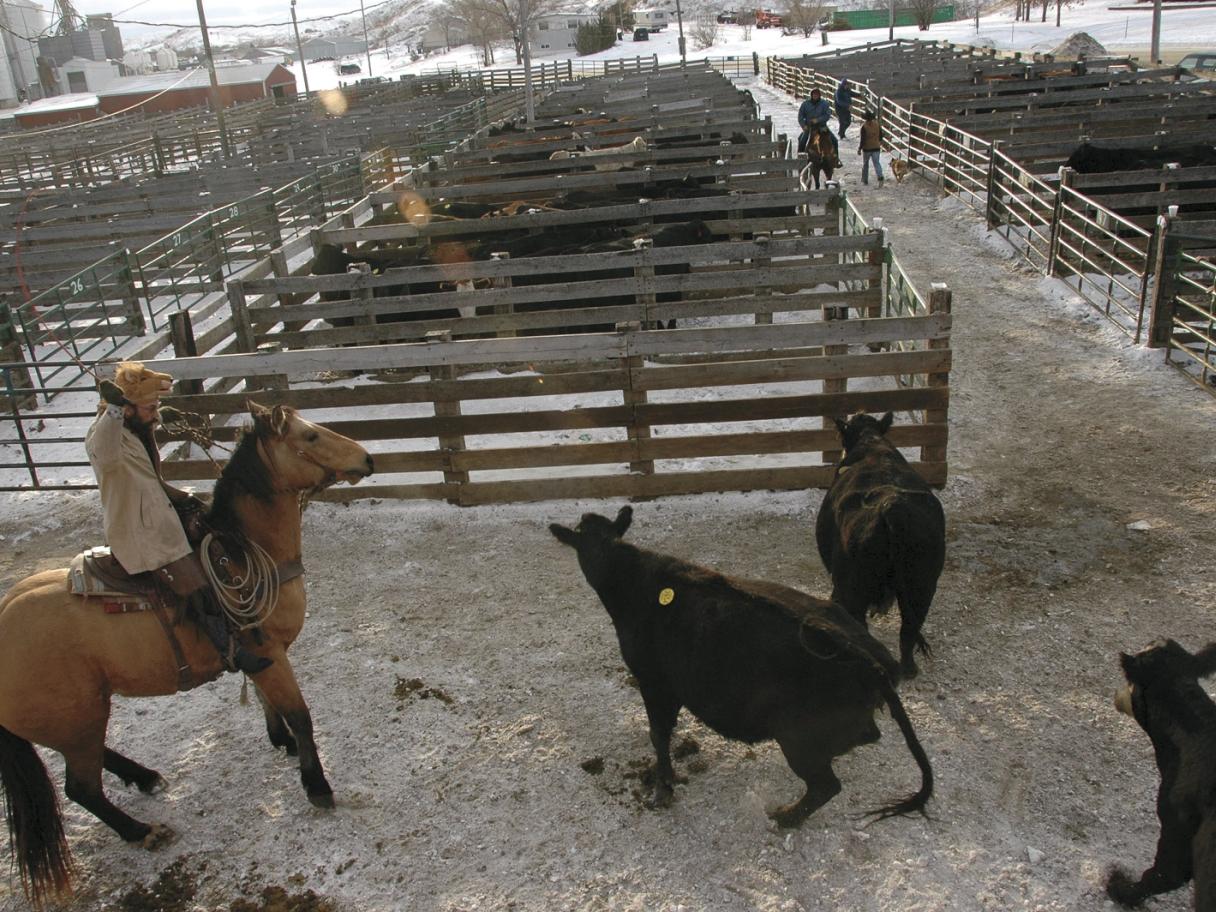 THE ENTREPRENEURS
WE EXPECTED TO FIND statehouse bureaucrats, retirees and cowboys in Fort Pierre. The surprise was the number of entrepreneurs in the river town. Some people call it a bedroom town for Pierre, but that may be a misnomer. 
"Stand by the bridge at 7:50 on a weekday morning," said Mayor Tidball, "and you'll be surprised to see traffic going both ways in almost equal numbers." 
Several dozen people work at the sales barn on its busiest weekends in the fall and winter. "We'll have cattle-sorters, auctioneers, pen-back people, clerks and office girls," said Smith. 
Five or six women work in the barn's restaurant, which has gained a reputation for home cooking and good beef. "We get to serve the best people in the world," said Cheryl Schaefers, who ran the restaurant for years. However, ranchers are a unique clientele. "They'll eat fish but they won't eat pork and chicken," she says. 
Obviously, the favorite is beef. A roast beef combo — a sandwich and real mashed potatoes smothered in rich brown gravy made from the meat juice — sold for just $5.50 while a roast beef dinner is $7. "The secret is to cook the beef low and slow," she says.
Like many entrepreneurs, Schaefers came upon the opportunity in Fort Pierre by necessity. Her family's dairy barn near Polo burned to the ground in 1992 so she started a cafe at Orient to help pay the bills. Then she heard about the chance to run the cafe at the sale barn. She does more business in a day at Fort Pierre than she does in a month at Orient. 
Necessity also prompted Milt Morris to start a company that has become the largest private employer in Pierre and Fort Pierre. Morris intended to farm when he came home from a stint in Vietnam in 1970. But his father sold the farm while he was away. He noticed that river irrigation was becoming popular with some farmers, and he heard that a university professor in Lincoln, Neb., was one of the most knowledgeable people in the fledgling industry, so he drove there to visit with him. 
The professor told him that the university had courses, and he could get a degree in four years. Morris said he didn't have enough time to enroll in courses, but he talked the professor out of some books on the subject and he went home to start his own business. Today, Morris Inc., employs 200 people and all five of the Morris children are involved. The company has never stopped looking for new opportunities. "We're in the construction business," said Morris' son, Mark. "We do everything but the building." That leaves earthwork, concrete, asphalt, sand and gravel and the engineering needed for such jobs.
The Morris family also operates a shop that manufactures air and water jigs, conveyors and screens for the construction industry. They even repair pumps and rewind electric motors for area farms and small businesses. And they create granite signs, gravestones and countertops from local granite.
"We stay busy," grinned Milt Morris. "It hasn't always been easy. We just go in whatever direction life takes us."
Fort Pierre's other entrepreneurial citizens are smaller in size but they each contribute to the town's personality. Cumulatively they add great diversity as well as a range of jobs. Mix that with the historians, the suburbanites along the canals and the cowboys and you have a blended town like no other in all the West.
FORT PIERRE: THE PLAYGROUND
"FORT PIERRE HAS BECOME central South Dakota's playground," said attorney John Duffy. "I don't want to say that nothing fun ever happens in Pierre, but it's hard to compete with everything we have here." 
The town has the Stanley County fairgrounds, a youth center, a hockey rink and gymnasium. Horse races, rodeos, bucking matches, circuses, concerts and numerous other events are held there. A 120-slip marina is in the planning stages. 
Fort Pierre's nightspots enjoy a reputation for being the scene of late-night political high jinks and compromises during Pierre's annual legislative sessions. Since Fort Pierre operates on Mountain Time, it was once a tradition for some lawmakers and staffers to cross the river at 1 a.m. to continue their revelry. Mountain Time is still observed in the city after midnight, but earlier in the day townspeople generally set their watches to Central Time to stay in step with Pierre. 
The Chateau, Hopscotch and Silver Spur are legendary watering holes. However a new gathering spot has opened. The Casey Tibbs Rodeo Center includes the Mattie Goff Newcombe Conference Center, a hilltop meeting facility that offers an expansive view of the Missouri River and the capital city of Pierre. Several very tame legislative functions were held there in 2010. 
Tibbs is still regarded as one of the top rodeo stars of all-time. Much of his memorabilia is on exhibit at the center, along with exhibits from South Dakota's 17 other national champs as well as other rodeo characters. 
Mattie Goff Newcombe was a famous trick rider in the 1920s. She perfected the Back Drag, a dangerous stunt in which she placed her feet in loops on either side of the saddle and then bent over backwards until her hands dragged on the ground. 
She and her husband, Maynard, ranched for many years along the Cheyenne River. After she died in 2005 at age 98, a bequeath from her estate made it possible for the Tibbs museum to finally become reality after 20 years of planning. 
"Casey's the reason it got started," said Dayle Tibbs Angyal, Casey's niece and a longtime board member, "and Mattie's the reason it got finished." 
For information on the rodeo museum, call 494-1094. To learn more about Fort Pierre's other attractions, contact the Pierre/Fort Pierre Chamber of Commerce at 224-7361.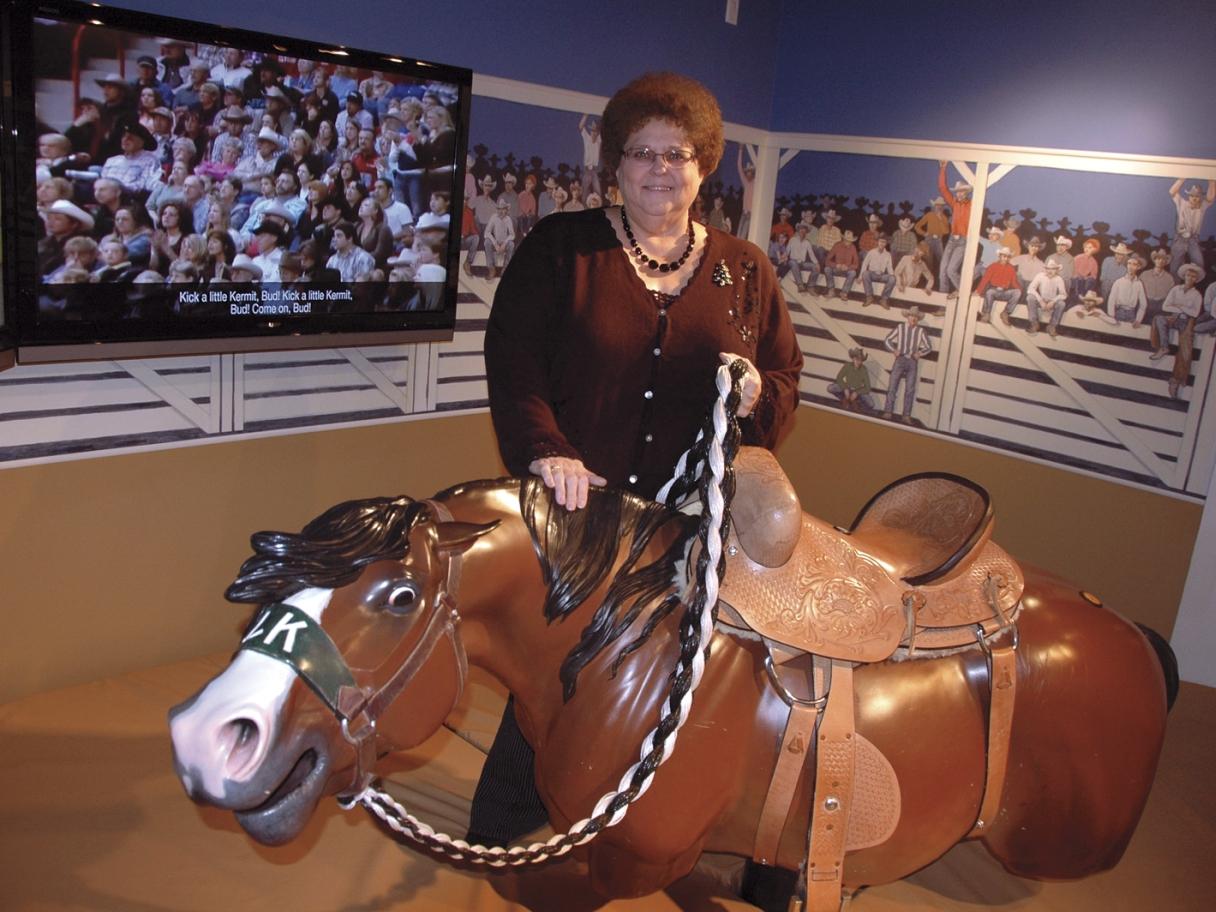 ---
Copyright © 2014, South Dakota Magazine