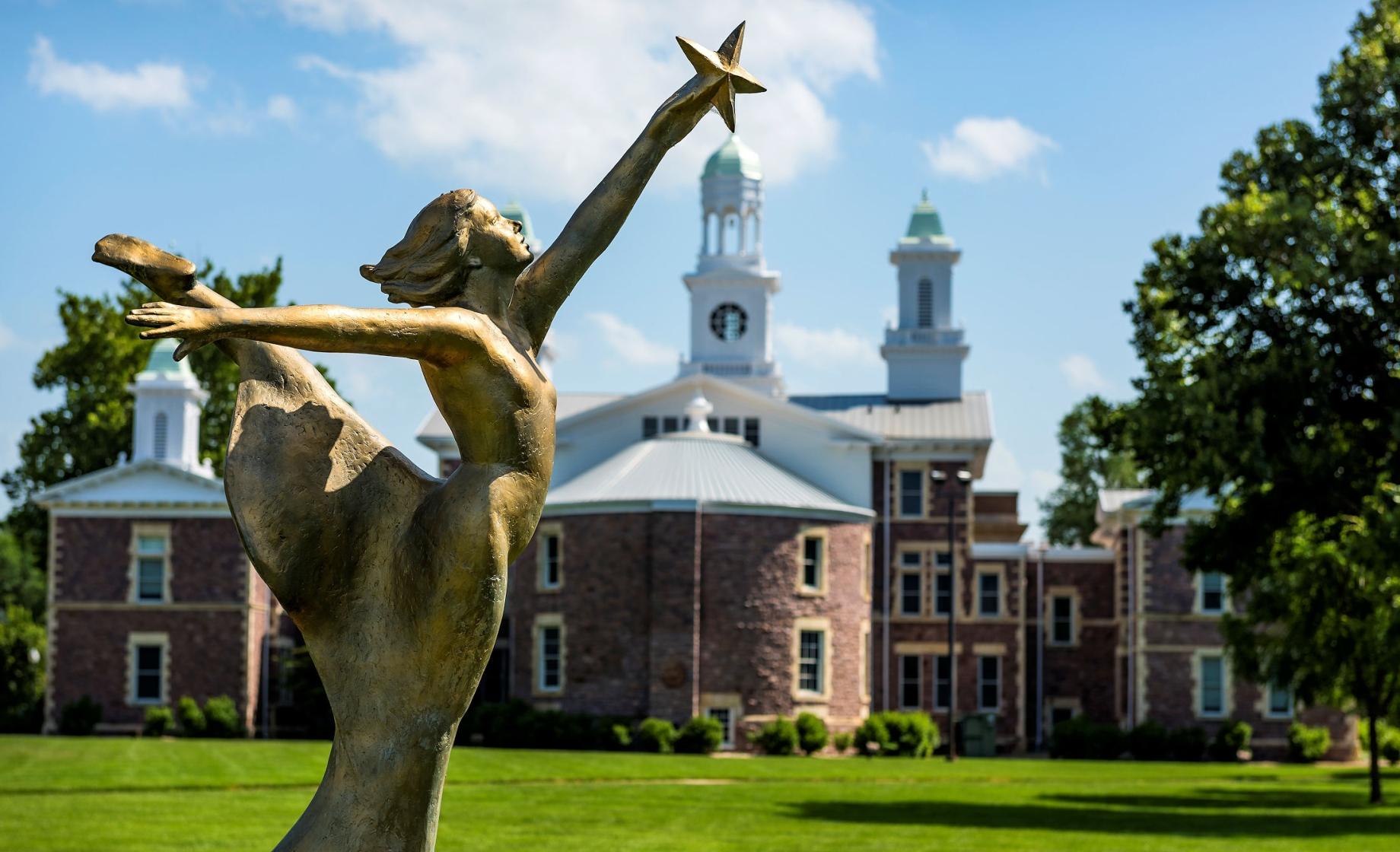 South Dakota's public university system features six unique campuses with something for everyone, including nationally-ranked academic programs backed by strong community and donor support.
The main campus of Black Hills State University, located in the beautiful Black Hills of South Dakota, is minutes from exciting opportunities to hike, kayak, bike, ski, and snowboard. BHSU is ranked one of the 20 Best Colleges for Outdoor Adventurers by CollegeChoice.
website:  BHSU.edu
location:  Spearfish
fall 2019 enrollment:  3,858
Madison Cyber Labs at Dakota State University is the only one of its kind in the Midwest. Its work in cyber research, cyber development, and economic opportunity attracts students, faculty, and elite partnerships driving high-tech innovation throughout the region and the nation.
website:  DSU.edu
location:  Madison
fall 2019 enrollment:  3,268
The entire region supports Northern State University and Wolves' athletics. NSU has led the nation in Division II basketball attendance for more than a decade. Northern routinely draws bigger crowds to its sporting events than many other schools much larger.
website:  Northern.edu
location:  Aberdeen
fall 2019 enrollment:  3,427
South Dakota School of Mines & Technology is the #1 Engineering University in the Country for Return on Investment, according to College Factual. With 96% of SD Mines' graduates placed in jobs within their career field or accepted to graduate school, an average starting salary of $66,516, along with an affordable cost of attendance, it's no surprise.
website:  SDSMT.edu
location:  Rapid City
fall 2019 enrollment:  2,529
Five South Dakota State University graduate programs are among the nation's best in a survey of more than 2,000 programs by U.S. News & World Report. SDSU's ranked graduate programs are in nursing, pharmacy, nursing practice, rehabilitation counseling, and biological sciences. 
website:  SDState.edu
location:  Brookings
fall 2019 enrollment:  11,518
The Sanford School of Medicine at the University of South Dakota earned the Spencer Foreman Award for Outstanding Community Service, widely considered the top honor a school of medicine can receive from the Association of Medical Colleges. USD's medical school is consistently ranked in the top 10 of medical schools across the country for the practice of rural medicine. 
website:  USD.edu
location:  Vermillion
fall 2019 enrollment:  9,920
These institutions are governed by the South Dakota Board of Regents.
---
South Dakota is home to four technical colleges. The technical college system had a 98% graduate placement rate in 2018, with nearly 83% of those graduates placed in their field in South Dakota.
Lake Area Technical College in Watertown was named the Best Two-Year College in America by the Aspen Institute in 2017. 
Over the past five years, technical colleges in South Dakota have experienced outstanding success among first-year students, with an average retention rate of 78% from year one to year two. 
As 5G technology moves across the upper Midwest, Southeast Technical College in Sioux Falls is training hundreds of tower technicians prepared to fill high-demand, high-paying positions. 
Lake Area Technical College and Mitchell Technical College have partnered with industry leaders to create cutting-edge Precision Agriculture Technology programs. Degrees earned through both programs articulate to the Precision Agriculture program at the state's land-grant institution, South Dakota State University. 
South Dakota's technical colleges offer Practical and Registered Nursing programs in rural communities in South Dakota, providing online access to high-quality health sciences education throughout the state.  
The Build Dakota Scholarship Fund is a partnership between local entrepreneur T. Denny Sanford and the State of South Dakota to offer full-ride scholarships to one of the state's technical colleges. More than 1,000 individuals have already participated in the program as Build Dakota scholars, with more than 400 students currently enrolled and more than 600 graduates working full-time with industry partners in South Dakota. 
The Board of Regents and the Board of Technical Education have crafted a General Education Articulation Agreement, meaning that all general education courses taken at a public post-secondary institution in South Dakota will transfer to any other public post-secondary institution in the state. 
SOUTH DAKOTA TECHNICAL COLLEGES
Founded in 1965 as the first technical school in South Dakota, Lake Area Technical College now has 31 programs (12 online E-Degrees), 2,600+ enrolled students, and a living record of success.
website:  LakeAreaTech.edu
location:  Watertown
Mitchell Technical College's nearly 1,200 career and technical education students learn and perform in settings that mirror real-world workplaces. When done, students not only understand the complicated processes of their chosen field, but have the knowledge, savvy and hands-on experience to solve problems in your their career.
website:  MitchellTech.edu
location:  Mitchell
Located in Sioux Falls, Southeast Technical College offers more than 70 associate degree, diploma and certificates. Southeast Tech is one of South Dakota's most affordable post-secondary institutions and turns out one of the largest higher education graduating classes in the state.
website:  SoutheastTech.edu
location:  Sioux Falls
Western Dakota Technical College opened in 1968 and is the only technical institute that serves the western South Dakota region. Our programs represent some of the fastest-growing fields and industries. That's why we offer them.
website:  WDT.edu
location:  Rapid City
South Dakota's technical colleges are governed jointly by the South Dakota Board of Technical Education (part of the South Dakota Department of Education) and the local school boards of the districts in which they are located.
---
In addition to public universities and technical colleges, there are also a number of private and tribal colleges in South Dakota. Each offers unique and personalized educational opportunities for full and part-time students.
Founded in 1860, Augustana University is a selective, comprehensive university affiliated with the Lutheran Church. Augie offers more than 100 majors, minors and pre-professional programs for undergraduates, along with graduate degree and continuing education programs.
website:Augie.edu
location: Sioux Falls
enrollment: 2,100
Dakota Wesleyan University is rooted in its four values: lifelong learning, leadership development, faith exploration and genuine service to others. These values are deeply embedded in our United Methodist tradition and provide guidance and support to DWU graduates.
website:DWU.edu
location: Mitchell 
enrollment: 873
Based in Yankton, Mount Marty University is a small, Catholic liberal arts university in southeastern South Dakota. Mount Marty believes that the Benedictine values of community, hospitality, lifelong learning, awareness of God, and service are fundamental to the daily lives of students, faculty, and staff.
website:MountMarty.edu
location: Yankton 
enrollment: 1,000+
National American University is an accredited university that offers the flexibility and convenience students want from an online education, including a range of relevant technical and professional programs.
website:National.edu
location: Rapid City
enrollment: 218
Oglala Lakota College is chartered by the Oglala Sioux Tribe. Its mission is to provide educational opportunities that enhance Lakota life. These opportunities include community services, certificates, GED, associate, bachelor, and graduate degrees. Oglala Lakota offers Baccalaureate degrees and several Master degrees in Lakota Leadership and Education.
website:OLC.edu
location: Kyle
enrollment: 1,400+
Founded in 1951, Presentation College has a professions focus in undergraduate programs including Health and Natural Sciences, Nursing, and Social & Behavioral Sciences.
website:Presentation.edu
location: Aberdeen 
enrollment: 584
Sinte Gleska University strives to build a healthy tribal nation and sustain cultural identity by developing critical-minded lifelong learners who promote dialogue and analysis, value diversity and provide leadership.
website: SinteGleska.edu
location: Mission
enrollment: approximately 1,000
The mission of the Sisseton Wahpeton College is to provide higher education, research, vocational and technical education and continuing education to the members of the Sisseton Wahpeton Oyate of the Lake Traverse Reservation and others within the historical lands of the Sisseton Wahpeton Oyate.
website: SWCollege.edu
location: Sisseton
enrollment: 250
Founded in 1883, the University of Sioux Falls, is a Christian, Liberal Arts University affiliated with the American Baptist Churches, U.S.A. USF is an independent, not-for-profit institution offering more than 40 undergraduate majors as well as graduate degrees and online programs. 
website:USiouxFalls.edu
location: Sioux Falls
enrollment: 1,675