Immerse yourself in the natural beauty of South Dakota with 360-degree views in the state's best vacation rentals. Each region has extraordinary options to fulfill whatever you can imagine for the perfect getaway.
WEST REGION: BLACK HILLS & BADLANDS
Cabins ranging from rustic to upscale can accommodate family reunions, group trips or even a couples getaway in the western Black Hills & Badlands region. During your cabin stay, enjoy the convenience of a fully stocked kitchen for family dinners. There's nothing like a good cup of coffee while watching wildlife from your screened porch.
During the day, travel just minutes away to Mount Rushmore and Crazy Horse Memorial, go panning for gold, or consider one of the many cave tours. (Hanging around the cabin isn't a bad option either.) Enjoy the cabin's surrounding amenities by taking a hike, catching a bite or napping in a hammock. Be sure to complete your day at the cabin by getting lost in South Dakota's starry skies. Find your perfect relaxation headquarters at Black Hills Vacations.
For the traveler looking for something out of the ordinary, consider a tipi in the Black Hills area. Sleep beneath the stars and roast marshmallows on firepits for a little different spin on night life. Daytime canyon views and outdoor showers are also part of this nature-lover's package.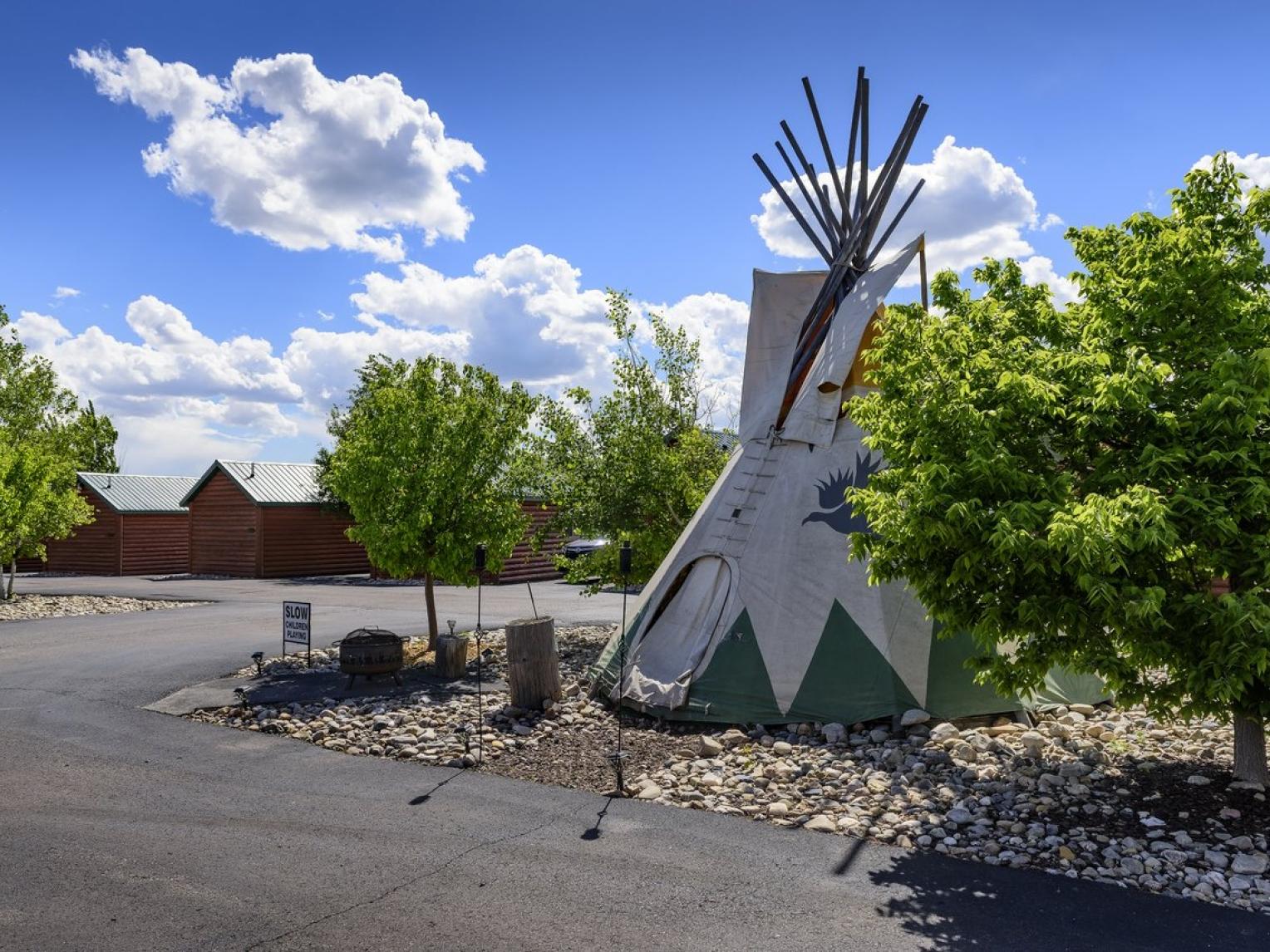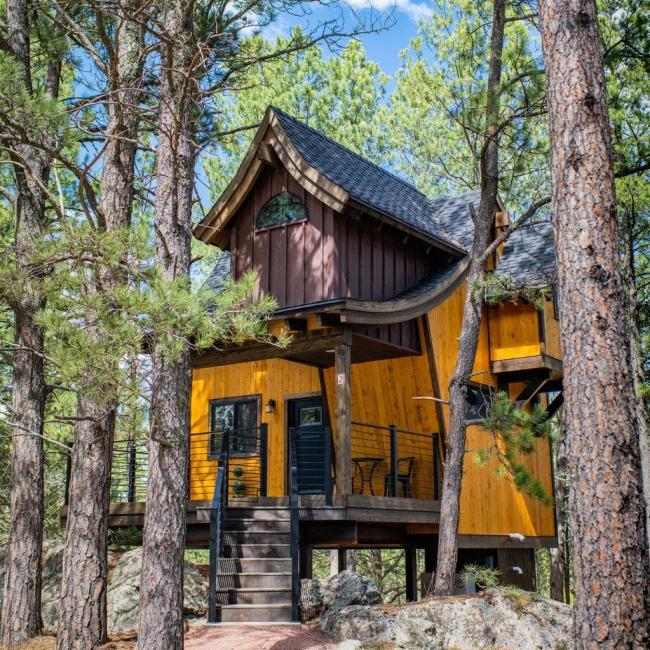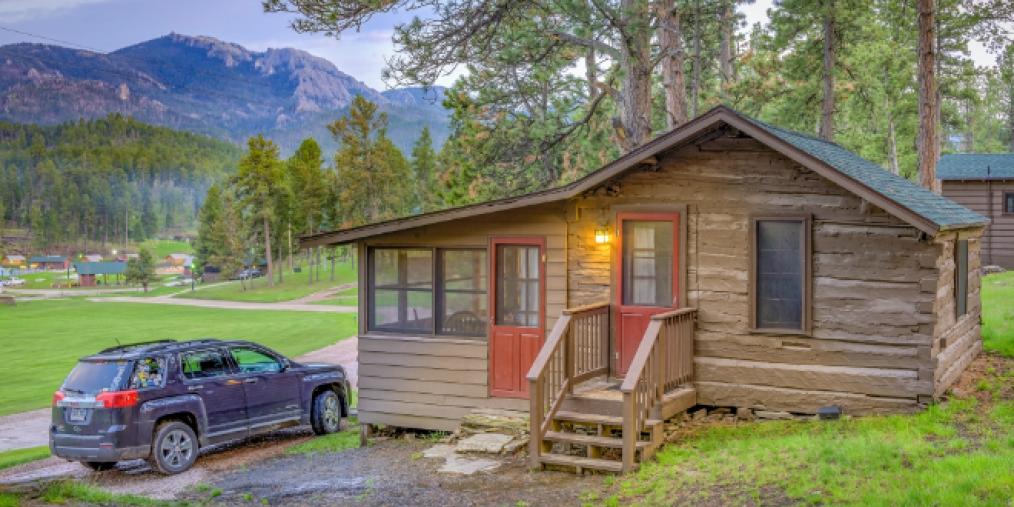 Searching for an elevated experience? Try a treehouse! Guests can have the best of both worlds in a rental just minutes away from Historic Deadwood — a luxurious country home or treehouse perched above the forest floor. The treehouse has two double beds and even has a fireplace. For an off-the-grid accommodation, visitors may choose a treehouse yurt for a no-frills, no-electricity, no-running water adventure packed with stunning views and total nature immersion.
Travelers in search of luxury and modern amenities can look just outside the Black Hills National Forest in Rapid City where completely renovated historic homes or cottages await your arrival. 
NORTHEAST REGION: GLACIAL LAKES & PRAIRIES
Finding just the right spot to rest your head after a day of fishing or pheasant hunting isn't a problem in the Glacial Lakes & Prairies region. Vacation rentals are close to town but still offer great hunting experiences. Lakefront homes with private kitchens are situated within miles of public pheasant hunting reserves.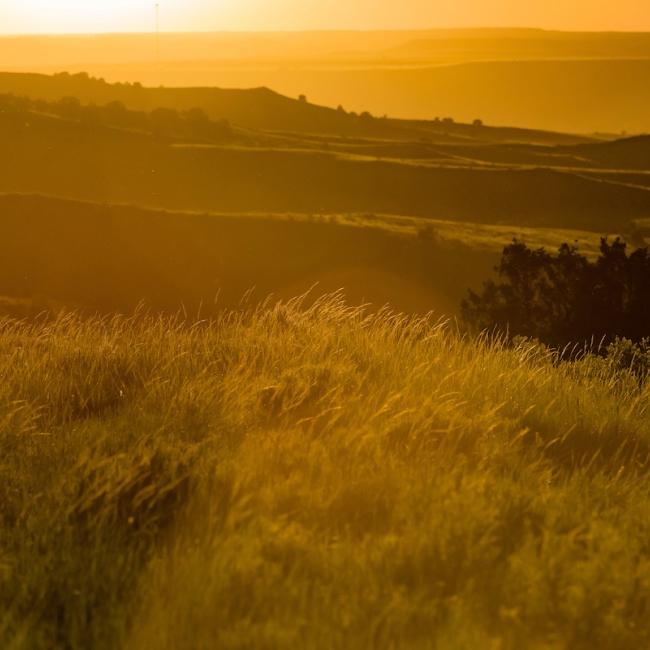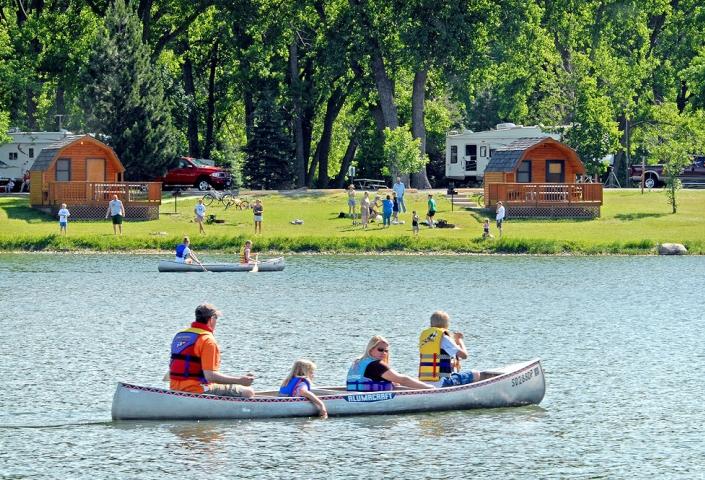 Lake Kampeska cabins
With Lake Kampeska, Pelican Lake and more, fishing options range from summer angling to winter ice fishing in this region. Some rentals are conveniently equipped with cleaning stations. Hunters can also experience guided pheasant hunts followed by lodge life complete with top-shelf food & beverage and stunning views.
SOUTHEAST REGION
Whether you are searching for summer water activities, the tranquility of a breathtaking sunset, or winter fun, the Southeast region of South Dakota has a space for you. Properties along the Missouri River provide recreation and relaxation all in one rental. Swimming, fishing, kayaking and campfires — they're all available, and most are only minutes from the city.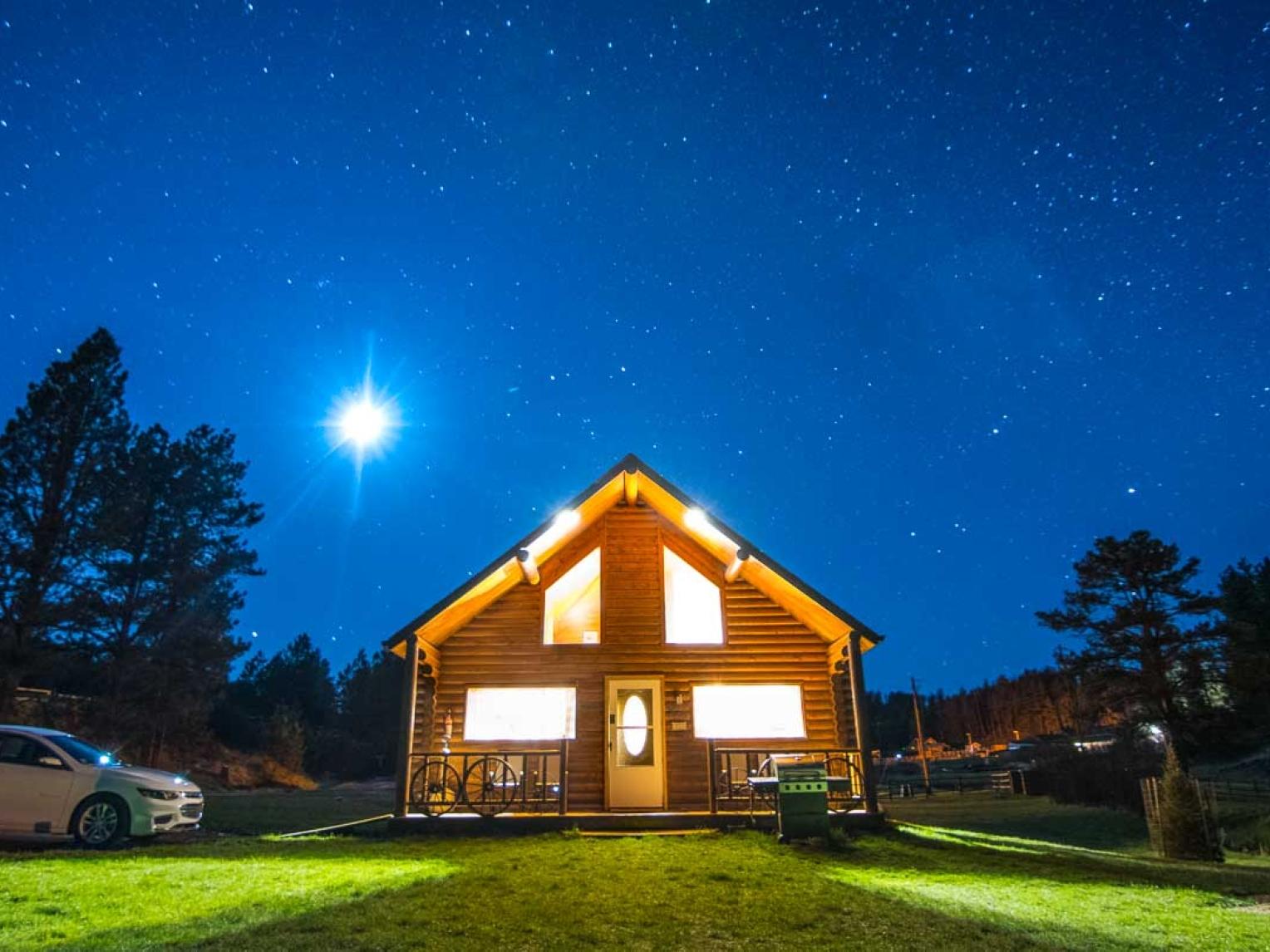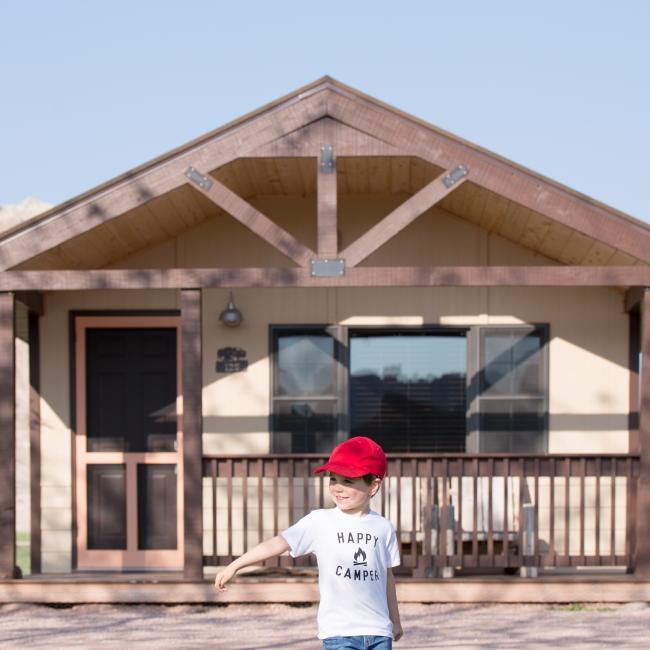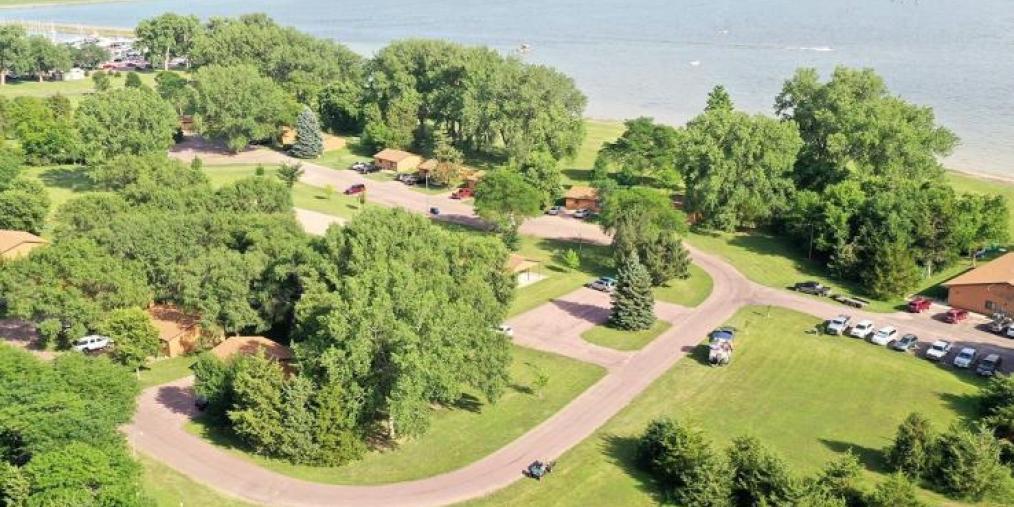 If being secluded high atop the forest bed is more your thing, consider a treehouse for your vacation rental in southeast South Dakota. Nestled within a nature retreat filled with wildlife, this type of rental is for those in search of serenity, stunning sunrises and summer fireflies.
Lakefront vacation rentals are also an option here. During the summer, enjoy paddleboarding, kayaking or relaxing in a hammock. In winter, the lake becomes your own private skating rink. Spend the day at a nearby ski resort snow-tubing, skiing, snowboarding or cross-country skiing.
CENTRAL REGION: MISSOURI RIVER
The shores of the Missouri River are always a popular destination. Sunsets and panoramic views surround your stay in the Great Lakes/Missouri River region. Enjoy public access to a boat launch & hunting land near your authentic, lakeside log cabin just 35 miles northwest of Pierre, the state capital. Bring the pets along with the family for a rental-home escape with relaxing views of the Missouri River, golfing and more just minutes from restaurants and grocery stores.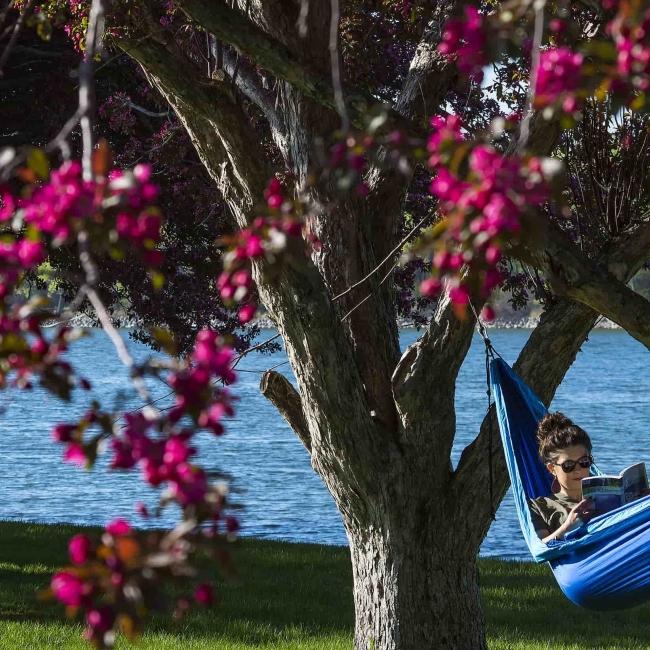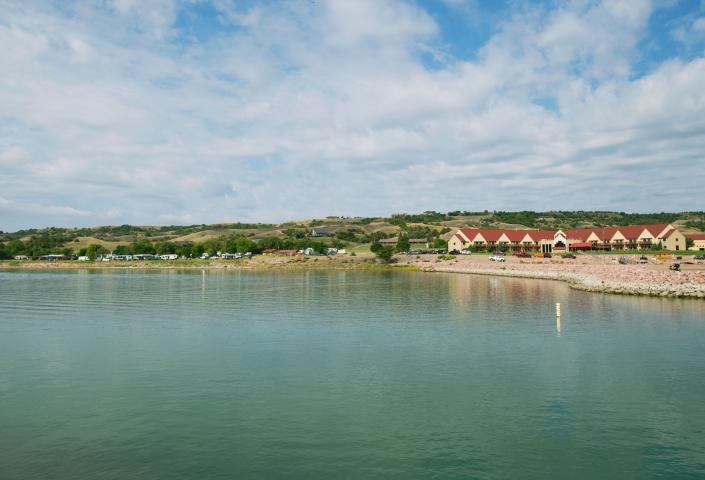 Arrowwood Resort Cedar Shore, Oacoma
There's even a place for history buffs to find their niche near the State Capitol. The Pierre historical district has options for travelers seeking the cozy feeling of home with afternoon tea service and private accommodations for rent.
DISCOVER MORE AMAZING PLACES TO STAY IN SOUTH DAKOTA