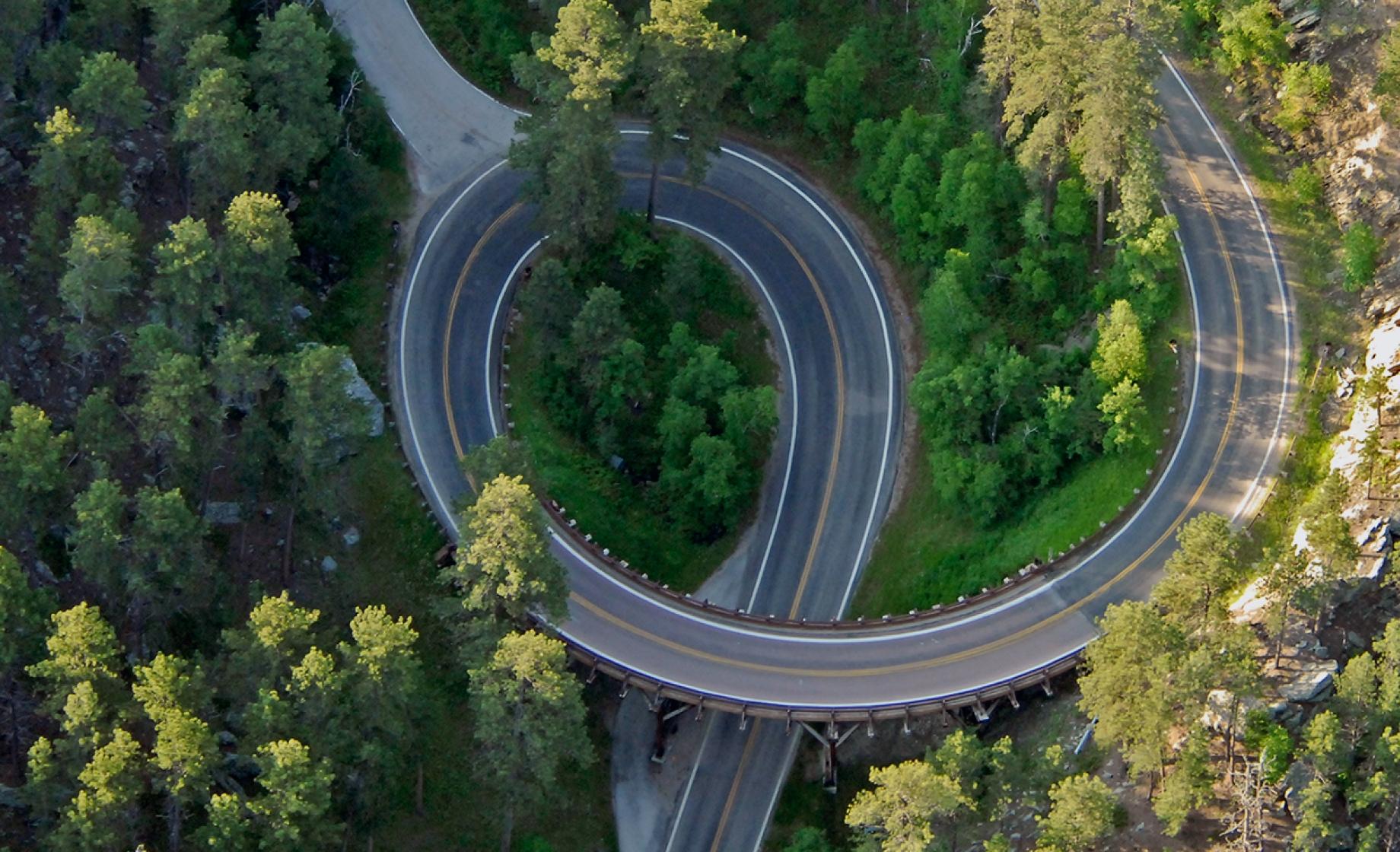 Navigating your way around scenic state highways, back roads and Interstates through SoDak.
Wide-open prairies and winding roads. Uninterrupted sky views and towering, iconic monuments. Soft, green hills and one-of-a-kind rock formations. These are only some of the sights that can be experienced from the roads of South Dakota. The state's variety of landscapes show why South Dakota prides itself as the home of "Great Faces, Great Places." Whether you're in the driver's seat or pedaling your bicycle, scenic routes like the Peter Norbeck National Scenic Byway and the Native American State and National Scenic Byway are but two ways to absorb the magnificent beauty of South Dakota. Check out the adventures of other travelers and keep reading for the best ways to make the most of your visit.
Begin planning your road trip with the basics. Two interstate highways cut across South Dakota. Interstate 90 runs east-west through the state with access to Sioux Falls, Mitchell, Rapid City and Spearfish. Interstate 29 runs north-south through the eastern part of the state from the North Dakota border through Watertown, Brookings, Sioux Falls and North Sioux City. These interstates can help you make good time, but you can expand upon your experience by exploring alternate routes and scenic byways whenever possible. Request a state highway map, guides or brochures by completing the form on the Request Free Vacation Guide page. View and/or download our detailed state map (GIF) and check out a full, interactive state map on Google.
Road Conditions
Get current road conditions, including closures and construction, from the South Dakota Department of Transportation (DOT). While in South Dakota, dial 511 from any phone to receive up-to-date, location-specific road restrictions, conditions and weather information for any interstate, U.S. and state highway in South Dakota as well as several adjoining states. You can also call 866-MYSD511 (866-697-3511) from outside of South Dakota.
South Dakota 511 is a website dedicated to providing current South Dakota-specific information about interstate and highway conditions, closures and construction. A downloadable app is also available at SD511.org.
WELCOME Centers and Rest Areas
You'll find five welcome centers and 12 rest areas along Interstates 90 and 29. The Interstate Welcome Centers are staffed from mid-May through September (October for the Chamberlain center) and offer brochures and maps as well as in-person travel information. The rest areas offer minimal services including restrooms and emergency phones. Both the welcome centers and the rest areas include dump stations for RVs and campers. The South Dakota Department of Transportation (DOT) offers an even more detailed location map that includes ports of entry.
Now that you know the basics, it's time for the fun. Spend some time exploring our website and plan your South Dakota adventure today!