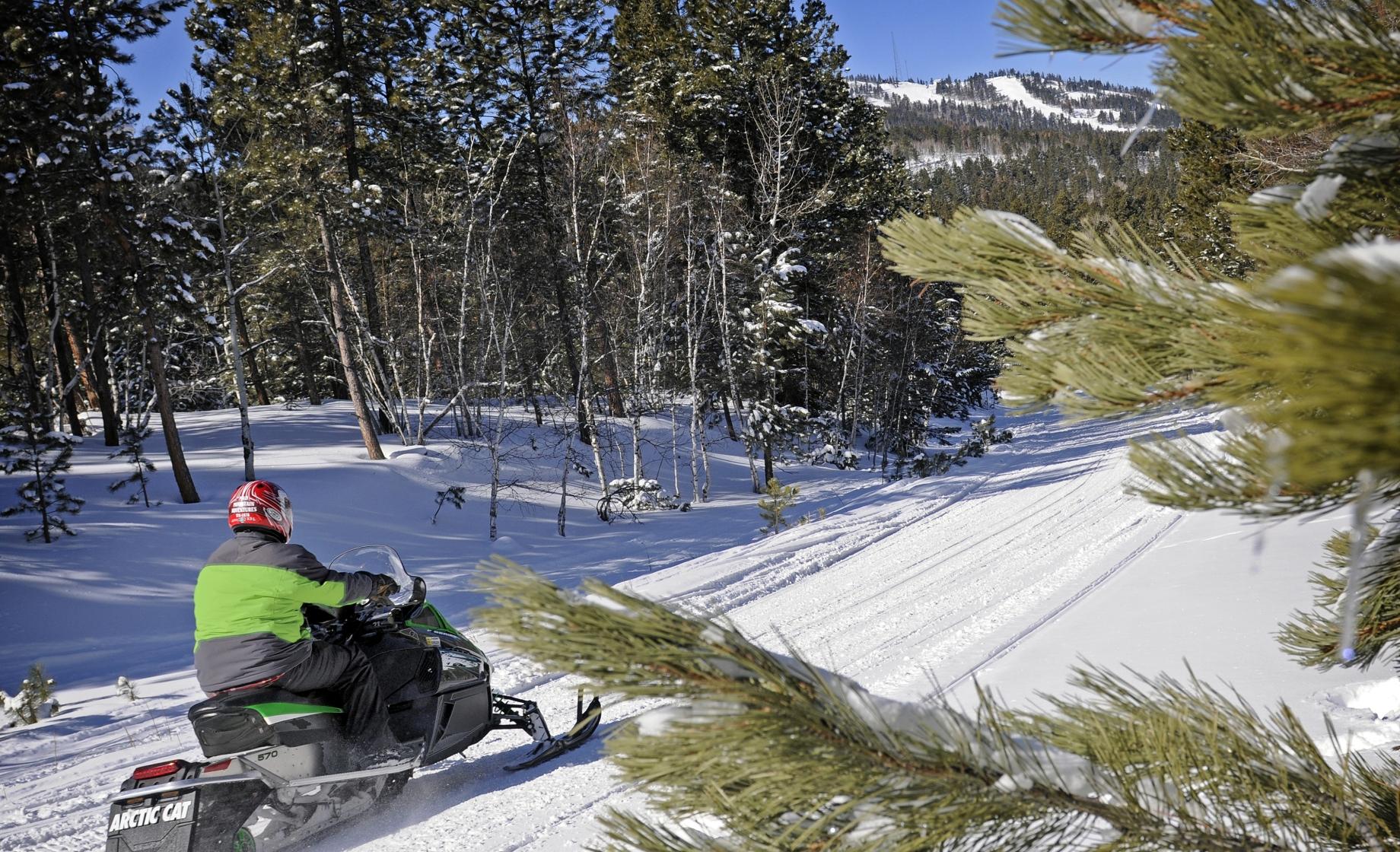 Get outside in the Black Hills where winter isn't endured, it's celebrated! On average, more than 150 inches of fresh, white snow falls on the area annually, which makes it a great place for outdoor winter lovers. The communities of the Hills have plenty of year-round attractions, lodging and restaurants to warm those long winter nights. See the grand monuments, forested hillsides and rolling plains of western South Dakota by trying these outdoor activities as you drive north to south. 
SPEARFISH
Snowmobiling
Just south of Spearfish, climb aboard a horse-powered sleigh and go dashing over 350 miles of marked, mapped and groomed snowmobile trails. Most of the 1.2-million-acre Black Hills National Forest permits snowmobiling, but the enhanced trail system gives the Black Hills a national prominence. At 6,000 feet, trails develop a five-foot snow pack each winter, carrying you through snowy pine forests and deep into canyons that lead to summit lookouts or untracked meadows and play areas with top-notch powder-floating. With warming shelters, gas stops, local service and expert guides, the snowmobiling support in South Dakota is hard to match. Try Spearfish Canyon Lodge's comfortable amenities and services located at Trailhead #4. Open seven days a week, the Lodge's winter sports center can outfit you with single- and double-seat rentals for the weekend or any weekday. Snowmobile trail permits are also available for sale at the front desk. Depending upon conditions, the state's trails remain open December 15-March 31. 
Snowshoeing
If snowmobiling just isn't your speed, try snowshoeing before leaving Spearfish Canyon. Any trail covered with snow is prime for snowshoeing, but within a 10-mile radius of Spearfish you can access the Spearfish Canyon, Big Hill and Crow Peak recreational areas. This timeless method of snow travel is a great way to discover winter forest views that you can't see any other way. Snowshoes are available to borrow free of charge from South Dakota State Parks for a day or a weekend. Those who are new to the activity should master flat land first and then try small hills before gradually progressing to more challenging terrain.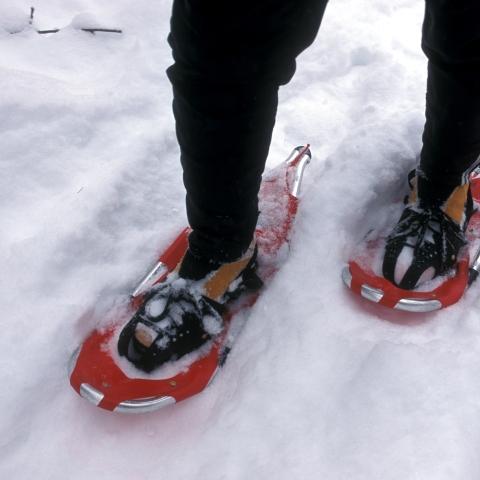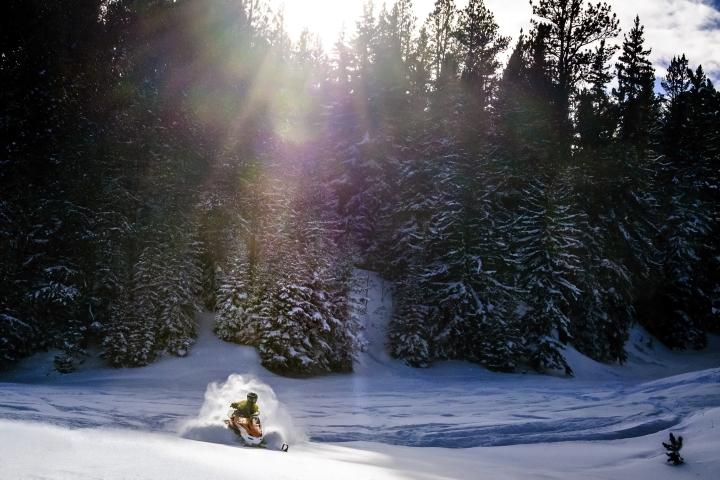 LEAD AND DEADWOOD
Downhill Skiing & Snowboarding
For great skiing and snowboarding, head south five miles from the historic cities of Lead and Deadwood on U.S. Highway 85 and then west on S.D. Highway 473 to Terry Peak Ski Area. Home to the most powder accumulation in the Black Hills (more than 150 inches annually), the sizable Terrain Park includes a half-pipe plus a variety of jumps and rail features with challenges for every novice and expert. Of course, the skiers in your family are welcome, too. The summit of Terry Peak stands at 7,100 feet and boasts the highest lift service between the Rockies and the Alps. Three high-speed detachable quad chairlifts, one fixed-grip triple, and the snow carpet offer a smooth ride up the slope. At the Stewart Lodge, big and bright windows wrap the entire building front, allowing a wide and comfortable view of Stewart Slope. The more nostalgic Nevada Gulch Lodge features the famous Dark Horse Saloon, where relaxing includes kicking off your boots and enjoying Bloody Marys and hearty pub grub. Children (ages 5 and under) with a guardian ski free. Stay at the Terry Peak Chalets ski-in/ski-out unit, where chair lifts and the magic carpet pass right by the deck.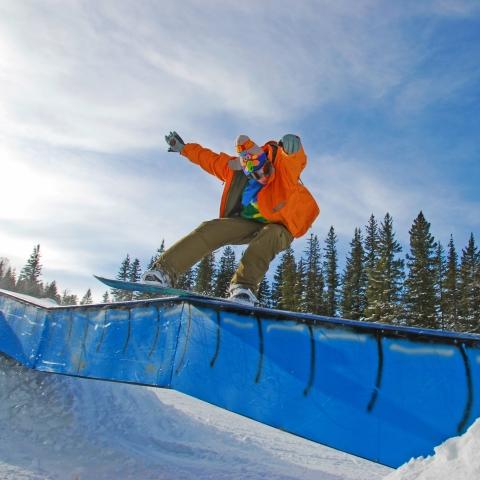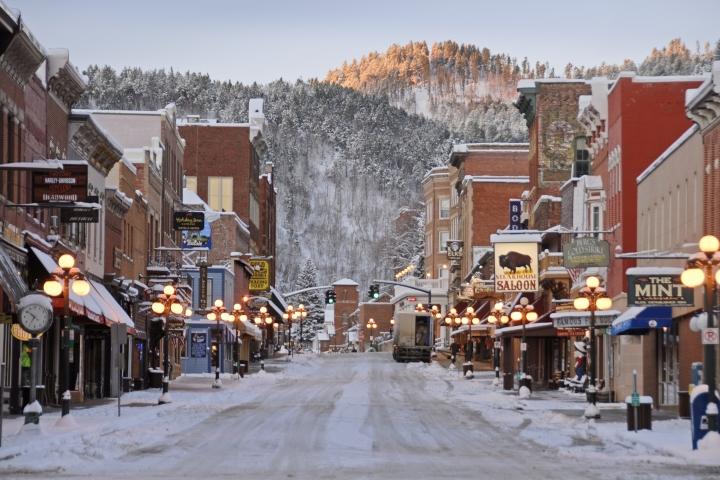 CHEYENNE CROSSING
Cross-Country Skiing
Drive just 10 miles south on U.S. Highway 85 from Lead past Cheyenne Crossing for excellent cross-country skiing. In the mid-1980s, local skiing enthusiasts developed the Eagle Cliff Trails in the Black Hills National Forest for cross-country skiing and the sport's popularity in the area grew rapidly. With 21 intertwining loop and dead-end trails, the system offers classic and skate skiing. Trails range from short, rugged and remote, to longer, looping trails with a range of difficulty. Local clubs groom many loops regularly. The opportunity to combine trails and create a unique experience is only one of the highlights of this system. (Snowshoe enthusiasts are asked not to use the groomed ski trails since snowshoeing damages the tracks that the ski clubs work hard to establish.) Another option is the 109-mile George S. Mickelson Trail, which meanders through spruce and ponderosa pine forests. This trail has 15 trailheads, each with its own parking lot.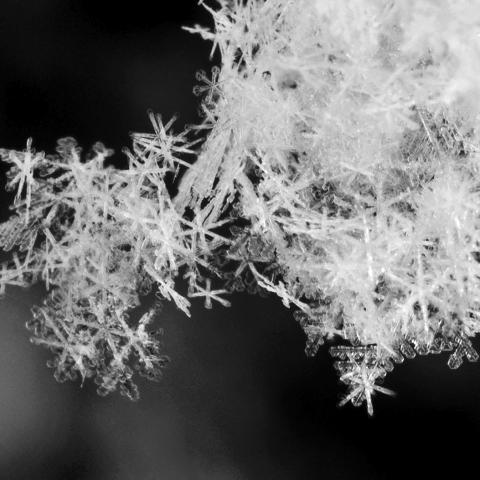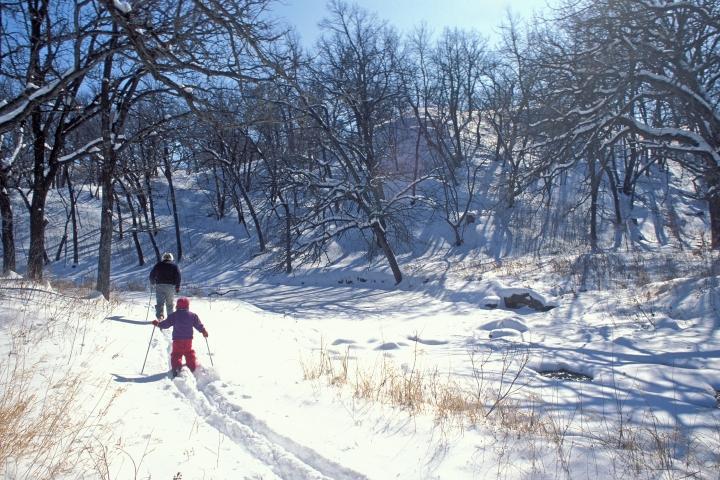 NEAR CUSTER
Black Elk Peak Hike
After a few days of snowmobiling and skiing down mountains, try climbing up one. Take U.S. Highway 385/16 south from Deadwood to Black Elk Peak (formerly known as Harney Peak). At 7,242 feet, it's the highest point in the Black Hills. During winter, the 3.5-mile trail to the top offers breathtaking views and solitude. That's because only 3,000 hikers on average brave the trail between November and March. Despite the cold and the 1,100-foot gain in elevation, it's worth the climb to be virtually alone and gaze out over so much untamed landscape. Go even further by spending the night in the wilds of Custer State Park, just 19 miles south on S.D. Highway 87. Creekside Lodge, Blue Bell Lodge and specialty cabins rent rooms year-round, and there's always the chance to see buffalo right outside your door and find wildlife tracks in the snow.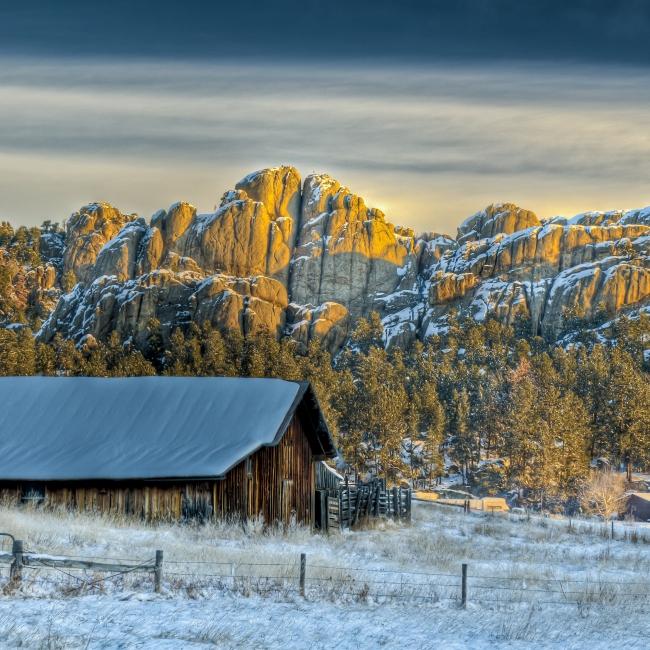 Find Inspiration From What Others Discovered in this Winter Wonderland