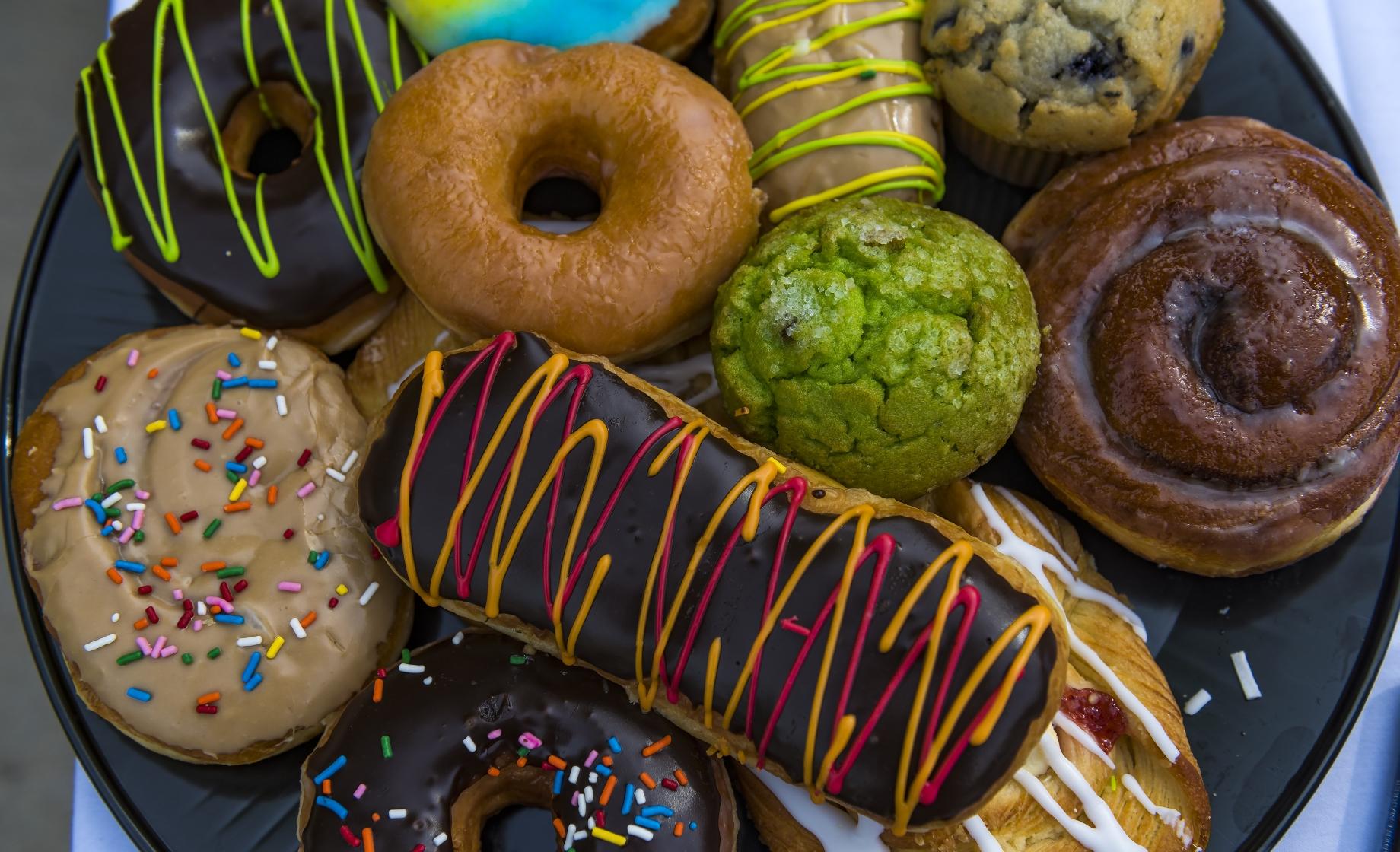 Is there anything greater than a perfect piece of pastry? Hungry stomachs and sweet tooths would say no. If you agree, enjoy this deliciously researched list of the best places to grab a donut in South Dakota. We won't judge you for trying to hit all 8. In fact, we encourage it.
The Donut Shop – Pierre
The homemade buttercream whipped up every morning at The Donut Shop is enough to make this shop legendary, but it's only one reason why people line up every morning. Hidden behind a row of trees is the home of handcrafted treasures, ranging from traditional glazed donuts to specialties like donut holes and full-sized donut cakes, both of which are filled with that buttercream that area residents savor and past customers crave.
MUST-TRY: Anything with the buttercream. It. Is. Amazing.
Location: 1120 N. Euclid Avenue in Pierre
Open Tuesday through Saturday from 6 a.m. until they run out of donuts (which happens all the time)
Flyboy Donuts – Sioux Falls
Searching the biggest city in South Dakota will offer plenty of bakery options, but it's hard to resist the variety and succulence of Flyboy Donuts. Named by the fighter pilot who started it all, Flyboy's donuts, turnovers, fritters, caramel rolls, and more are all there for the eating. You want a cereal-topped long john? No problem. Need a giant donut? Done. Heck, you can even buy some letter donuts and spell your name. Food Network believes that Flyboy serves the best donuts in South Dakota. We understand why. Bonus: As long as you do it by midnight the night before, you can order online for in-town delivery or pickup at one of the two Sioux Falls locations. There's also a Flyboys Donut Truck that groups & businesses can request so, really, there's no excuse for being hungry in Sioux Falls ever again. (If you're not in Sioux Falls, no worries. Flyboy makes deliveries to certain shops in Brookings, Mitchell, and Vermillion.) 
MUST-TRY: Sharing the super-sized Texas Donut is fine, but not at all required. Treat yourself.
Location #1: 5005 S. Western Avenue, Suite 190 in Sioux Falls
Open Monday through Saturday from 6 a.m. to 2 p.m. and Sunday from 7 a.m. to 2 p.m.
Location #2: 3600 East 10th Street in Sioux Falls
Open Monday through Saturday from 6 a.m. to 4 p.m. and Sunday from 7 a.m. to 4 p.m.
Jerry's Cakes & Donuts – Rapid City
For 30 years, Jerry's Cakes & Donuts has been the place to pull up a chair & shoot the breeze between delicious bites of a sour cream cake donut. With a wide selection of heavenly pastries and a rack full of personalized coffee mugs for the regulars, it's hard not to be comfortable at Jerry's. It's the flavor, though, that led Saveur magazine to name the bakery one of the 12 best in the country.  Older folks come for coffee every day. Young folks eat like young folks can. Former U.S. Senator and Secretary of State Hilary Clinton once stopped by for a snack as did Super Bowl champion (and SoDak native) Adam Vinatieri. Rick Harrison from Pawn Stars was a big fan of the maple bacon long john.  No matter who you are, you enter hungry and leave satisfied. It's the circle of life, just like a donut.
MUST-TRY: Harrison was not wrong about sweet and savory maple bacon long john, which features a full strip of bacon.
Location: 109 E. Omaha Street in Rapid City
Open Monday through Friday from 5 a.m. to 4 p.m. and Saturday & Sunday from 5 a.m. to noon.
Filler's Bakery – Mobridge
Everything from the pastries to the buns & bread are made fresh from scratch at this northern South Dakota bakery. They even serve kuchen, a cake-like German pastry made with sweet dough and a filling of custard, fruit, or nuts. It's a distinctly South Dakota delight that many swear never tastes better than at Filler's Bakery.
MUST-TRY: There's no reason not to have a donut and a slice of kuchen. Call it the "Filler's Compromise" and enjoy.
Location: 921 E Grand Crossing in Mobridge
Open Tuesday through Friday from 6:30 a.m. to 3 p.m. and Saturday from 6:30 a.m. to noon
Royal Bake Shop – Centerville
Any dedicated donut connoisseur is willing to set an alarm to get the finest and freshest. Perhaps nowhere in South Dakota is that more true than in eastern South Dakota. The Royal Bake Shop in Centerville (pop. 900) has never been short of customers in its 20+ years of operation, often selling completely out of inventory before many people have started their workday. There are plenty of reasons for the dedication, but the main one is the trademarked Zebra donut. These marbled chocolate-and-vanilla-dough donuts are fried, glazed, and hand-dipped in chocolate, attracting loyal customers from the area including Sioux Falls, South Dakota's largest city.
MUST-TRY: It's gotta be the Zebra. There's a reason why they trademarked that baby.
Location: 516 Broadway Street in Centerville
Open Tuesday through Saturday from 5 a.m. until 2 p.m. (but usually earlier since inventory rarely lasts past 11 a.m.)
Micro Doughnuts — Brookings
Why eat one normal-sized donut when you could eat a whole bunch of little ones? At Micro Doughnuts, your donuts are made to order (a dozen minis only takes 90 second to make!) and covered in your choice of glazes & toppings. Don't forget to try those fresh cinnamon rolls and other regular-sized baked goods. Really, just don't forget to try everything. After all, most are little, so you're totally allowed to eat more than usual. 
MUST-TRY: Don't be afraid to get crazy with your topping combinations. They're happy to get as weird as you'd like.
Location: 1304 6th Street in Brookings
Open Tuesday through Saturday from 6 a.m. to 2 p.m. 
 
Wall Drug Store – Wall
Calling Wall Drug a bakery is like calling a car a hubcap-holder. The legendary tourist mecca is a mall, a playground, a museum, a restaurant, and so much more, but anyone that's had one bite of a Wall Drug donut knows where to begin their visit. The fried treats come plain or with chocolate, vanilla, or maple frosting, and there's something about the circular wonders that is absolutely magical. Do they go great with Wall Drug's famous 5-cent coffee? You bet.
MUST-TRY: Your frosting decision is up to you, but this author is all about the chocolate.
Location: 510 Main Street in Wall
The main store is open every day from 7 a.m. to 6 p.m., but the café closes at 5:30 p.m.
Daylight Donuts – Mitchell & Sioux Falls
In 1954, Tommy and Lucille Day started selling their donut flour mixes out of their trunk to local shops in Tulsa, Oklahoma. The couple added "Light" to the end of their name to describe the texture and flavor. It was clearly a smart move. More than 50 years later, South Dakota's two Daylight Donuts locations (Mitchell & Sioux Falls) are considered the dependable homes of deliciousness. Whether you're looking for cake donuts with a variety of toppings, fruit-tastic fritters, or the glazed donut that started it all, you're going to have a hard time exercising restraint once you walk through the doors. Don't worry about that. Treat yourself. It's what Tommy & Lucille—and your hunger—would want. 
MUST-TRY: Starting with a classic glazed will give you the full flavor of a mix that launched the Daylight Donuts empire.
Mitchell location: 900 N Main Street
Open Monday through Saturday from 5 a.m. to noon
Sioux Falls location: 333 S Minnesota Ave.
Open Monday through Friday from 5:30 a.m. to 3 p.m. and Saturday from 6 a.m. to 12:30 p.m. 
Start Planning Your Next Trip to South Dakota