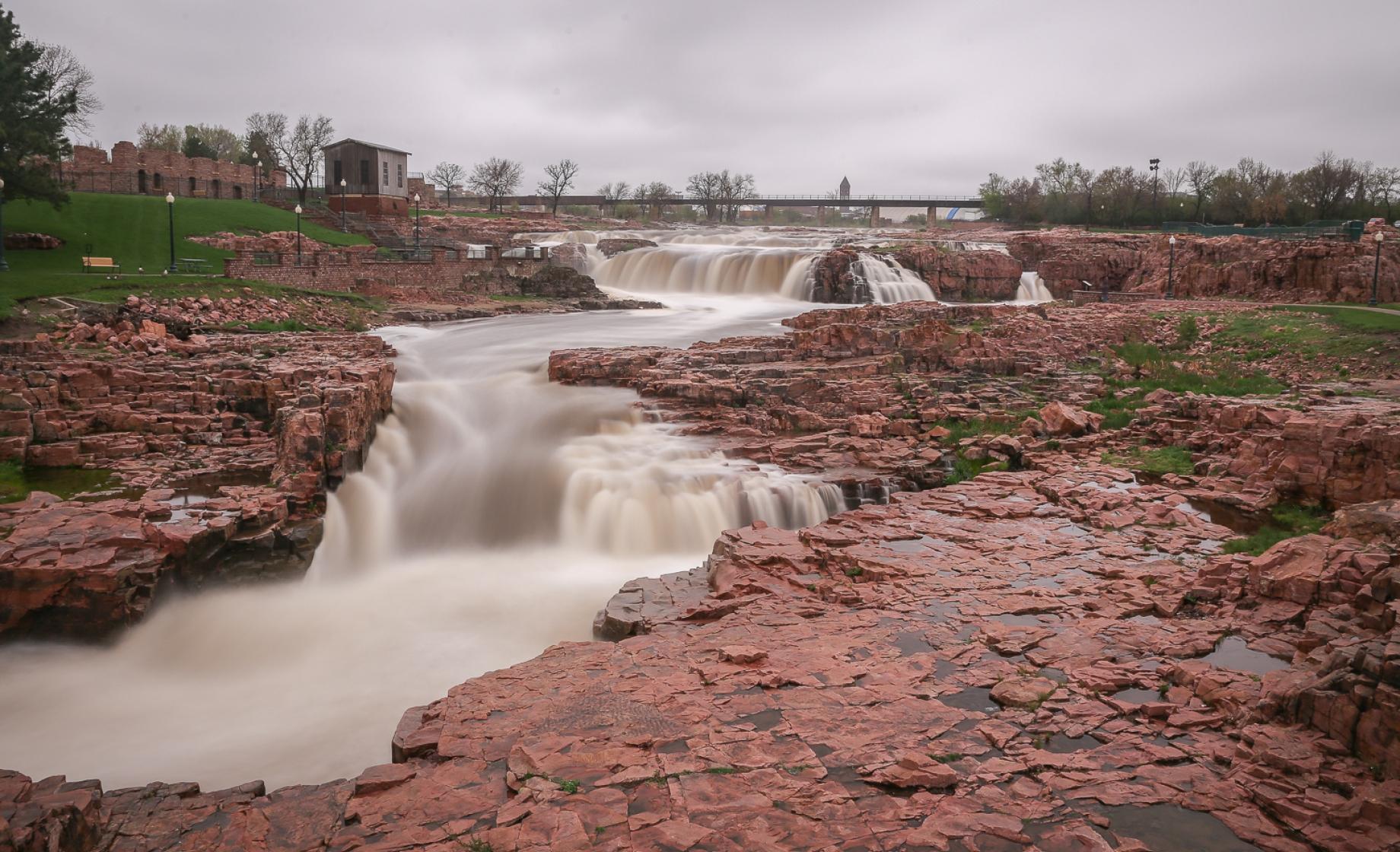 Over the course of four days, journalist Kristin Luna and her husband taste and sip their way through Sioux Falls and the surrounding area, the Midwest's unexpected foodie destination.
Scott and I fell in love with the Great Plains on an epic, cross-country road trip in 2011, when we camped our way through 13 states over the course of two months. But due to time constraints, we never made it east of Rapid City — so, needless to say, we were more than a little excited for four full days of exploring South Dakota's booming southeastern corridor this time around.
Day 1
Upon arriving in Sioux Falls midday on a Tuesday, we wasted no time. We were hungry, and we heard there was a lot to eat in the cultural capital of South Dakota. Luckily, it didn't even take us 10 minutes to get downtown from the airport; we went straight to our hotel — the 136-room Hilton Garden Inn Sioux Falls Downtown overlooking the river.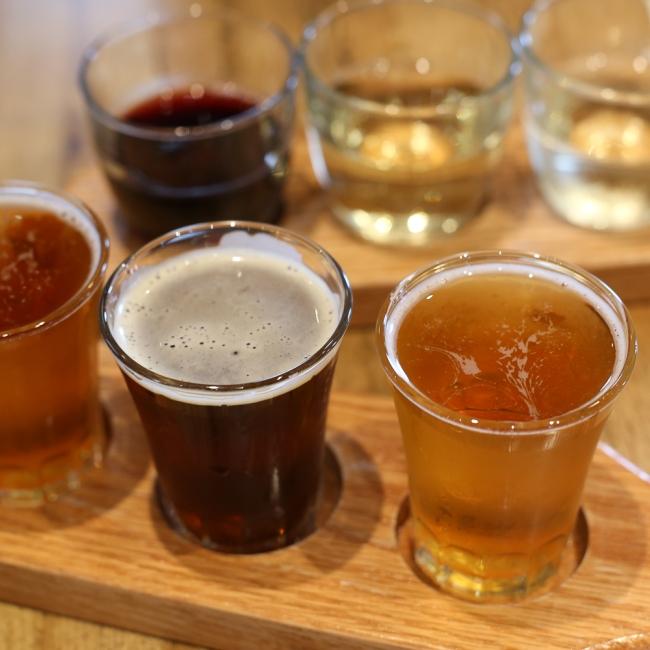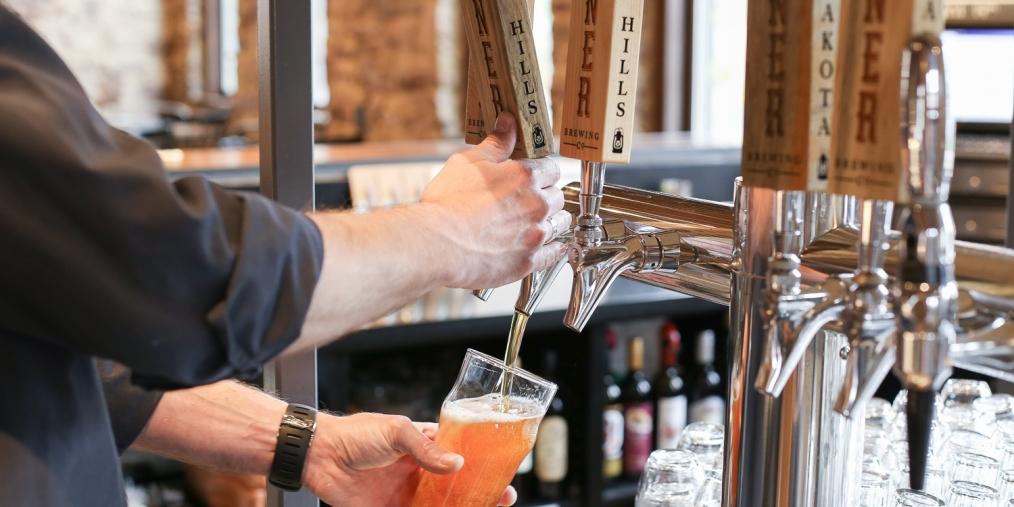 Day 2
It was raining when we woke up on Wednesday, so we ditched our plan to rent bikes and ride the Downtown River Greenway and headed over to the Washington Pavilion instead. But first, a brief breakfast stop at Josiah's Coffeehouse & Café, where we discovered frothy hot chocolate and the most delicious homemade Pop-Tarts my taste buds have ever experienced.
Awake and alert, we stopped at the Washington Pavilion, a performance arts venue, a kids' discovery center, a science and tribal art museum, a theater and a piece of living history, all rolled into one. The Mary W. Sommervold Hall features regular shows — from touring Broadway musicals to pop concerts to performances by the local symphony — and the Pavilion even has its own state-of-the-art CineDome that shows regular blockbuster movies like the most recent Star Wars installment. This multi-level wonderland proved to be the perfect answer to a rainy day. We marveled at Northern Plains tribal art in the museum, we oohed and ahhed over the Visual Arts Center exhibitions, and we embraced our inner children by stepping inside a tornado simulator in the interactive Kirby Science Discovery Center.
After we begrudgingly left this fun zone, it was still brisk outside, and being Southerners, we hadn't packed accordingly. So, we found ourselves inside the Great Outdoor Store, a locally owned purveyor of athletic apparel, outdoor gear and much, much more, to buy warmer duds. Shop associates Meghan and Lucy-George helped outfit us for the rest of our stay and gave us the inside scoop on where we should go in their town. This would prove to be the norm throughout the duration of our visit: everywhere we went, the locals were so friendly and eager to point us in the right direction. At times, I felt like I was back at home, what with all their Southern (Dakota) hospitality.
Upon the girls' recommendation, we headed a couple streets over for an early lunch of quinoa salad and soup at M.B. Haskett, a deli wildly popular with the locals. The weather meant our itinerary for the remainder of the day included food, food and more food. (We were fine with this development.)
When we were done dining, we crossed the street to CH Patisserie to meet Chris Hanmer, pastry chef extraordinaire and winner of season 2 of Top Chef: Just Desserts. This is where the fun really began. After years working for Ritz-Carlton in California, Chris carved out a niche in the pastry world with his consulting and pastry design business; once he walked away with the top prize on Top Chef, he and his wife decided to return to her hometown and open a patisserie as well. The result is a multi-colored confectionery dream world, with every color of macaroon under the rainbow — including a number of specialty flavors like Birthday Cake and Fruity Pebbles — in addition to bonbons, truffles, other gourmet candies and petit gateaus. We tried a little of everything but found ourselves blown away in particular by the Chocolate Peanut Crunch and the decadent carrot cake with cream cheese, vanilla bean and caramel glaze.
After so much sweet, we needed a little bitter — or at the very least, something hoppy — to balance things out, so we went to the Fernson Downtown for a taste of their Farmhouse Ale, Porter and IPA. Co-owners and brewers Derek Fernholz and Blake Thompson are considered innovators in the local beer scene; they're the first brewery to get local distribution since the Prohibition Era and, just a year after launching, they'd already opened this downtown spot on Phillips Avenue.
You'd think after all this food and drink we wouldn't have room for any more, but we persevered. Plus, we had an early reservation at Parker's Bistro, which is known as the finest dining experience in town and exceeded every expectation. Owner Stacy Newcomb-Weiland has been very heavily involved in the revitalization of Downtown Sioux Falls with her work on the Board of Historic Preservation. And, years before downtown was booming, she pioneered the local restaurant scene by taking a dilapidated space housing a former monument company on Main Street and transforming it into one of the best fine dining experiences in Sioux Falls. Parker's Bistro debuted in 2009 and, while the menu is ever-changing with the seasons, the cheese-and-potato pierogies are not to be missed. Bison meatloaf, the fish of the day (on that given day, black cod) and crème brulé rounded out our extraordinary feast. Parker's Bistro is highly acclaimed for its cocktail program as well, so we sipped our way through the specialty drinks list, too (in the name of research, of course).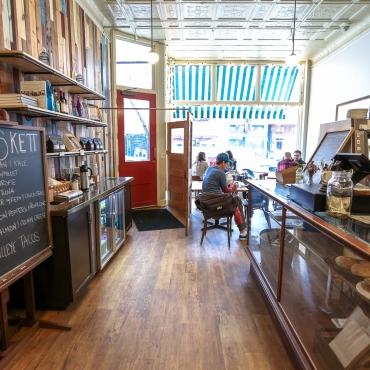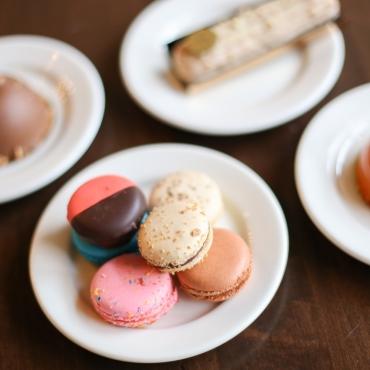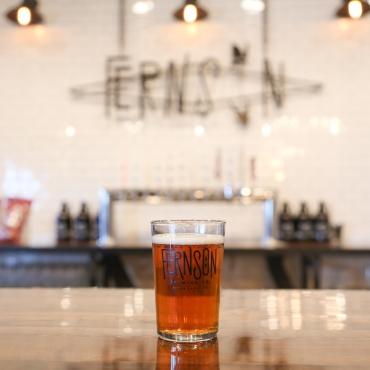 Day 3
The next day began with breakfast at Queen City Bakery, where we fueled up on coffee and more pastries. Sioux Falls knows how to do many things right, and baked goods are at the very top of that list. The rain abated a bit in the morning, just long enough for us to steal away to the 123-acre Falls Park and see just how Sioux Falls got its name. After a long spring heavy on precipitation, the falls were absolutely gushing, and I'm eager to go back and see them on a sunny day.
Our lunch plans included an embarrassment of riches at Sanaa's 8th Street Gourmet, a restaurant I would no doubt dine at daily if I were a local. Born to a pair of farmers in Syria, Sanaa Abourezk moved to the States more than 30 years ago for college, worked for an embassy, met (and married) a South Dakota man and eventually relocated to Sioux Falls where she opened her eponymous restaurant. Today, it is one of the hottest lunch spots in town. Her cuisine is a healthy twist on Mediterranean, North African and Middle Eastern foods, all made with the freshest of ingredients; nothing on the menu is fried, and the bulk of it is gluten-free with plenty of options for vegans and vegetarians. The common thread? Everything is delicious. Sanaa made sure we didn't leave hungry and brought out a spread of fatayers, dips like hummus and green olive tapenade, pita bread, tahini, baklava and more.
That night, after a quick rest at our hotel, we walked down the street in East Bank for thin-crust pizza with toppings like Brussels sprouts and mashed potatoes and still more craft brews at Monks Ale House, which has upward of 40 beers on tap and another 150 available in bottles.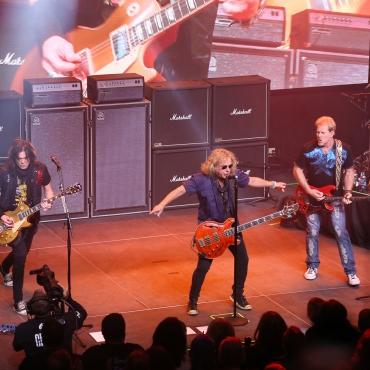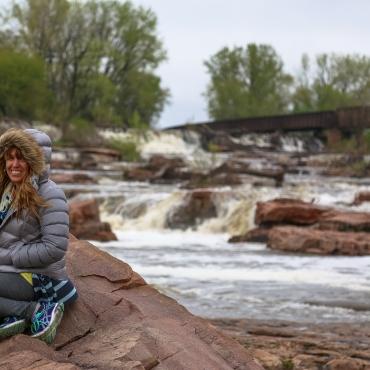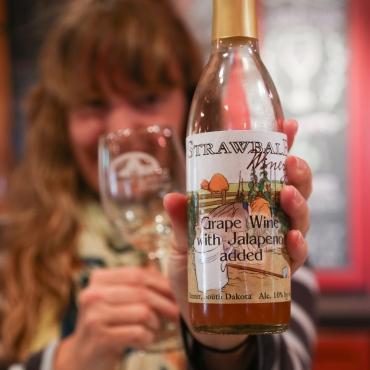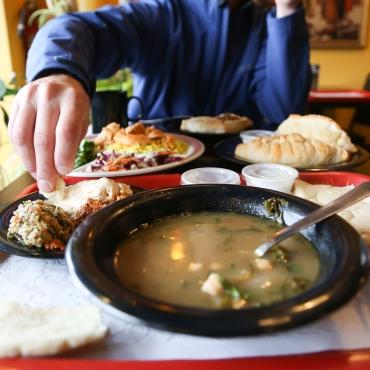 Day 4
Our final day in town began with a quick stop at Breadico bakery for a bite, then we hopped uptown to meet Wes Eisenhauer, lifestyle photographer, frontman for the band Soulcrate Music and one-half of the duo behind The Breaks Coffee Roasting Co., a boutique roastery that supplies beans for M.B. Haskett. He gave us insight on the local creative community and confirmed what we already had come to realize about the entrepreneurial scene: Sioux Falls is just getting started.
We could have chatted with Wes all day, but we had a bit of a drive to make. We were en route to Vermillion, just an hour south and home to the University of South Dakota and one very cool museum. As residents of Music City, we couldn't very well come to the eastern part of South Dakota and not pay a visit to the National Music Museum. With a collection of 15,000 of some of the rarest instruments in the world, it's not just for musicians, but for history buffs and lovers of legendary craftsmanship, like Stradivari or Amati to name but a few on display. In a funny twist of luck, the museum has more rare Italian violins than the whole country of Italy! (Please note the museum is currently closed for renovation until 2021.)
Vermillion's Main Street is peppered with a bevy of cute shops and restaurants; the crowds at Café Brule indicated this was the best place in town for lunch, and an hour later, we agreed (but not before stocking up on Cakes by Monica treats for the drive back). On our return to Sioux Falls, we detoured to see the famed bluffs then drove to the border so I could set foot in Iowa (my 50th state!) before promptly heading back into South Dakota territory. Did you know there's a spot at the far southeastern corner, designated by the Tri-State Marker, where you can stand in three states — South Dakota, Iowa and Minnesota — at once?
Our final afternoon, the sun began to peek through the clouds. We took the opportunity to wander down the main commercial drag, South Phillips Avenue, to take a look inside the iconic State Theatre. The president of the board gave us a backstage tour of the old 1926 Art Déco architectural gem (after a quarter century closed, it will eventually reopen following an extensive renovation). There were so many cute indie boutiques in Downtown Sioux Falls that I could have spent my entire paycheck there. There was kids' clothing and wooden toys at Child's Play Toys, and I had to tear myself away from Mint + Basil (formerly Lot 2029) before I did too much damage on my credit card (although I did walk away with a dress).
I was dragging by this point in the day, so a java pick-me-up was necessary. A few locals had directed us to Coffea via social media, so we dropped in for lavender lattes — just enough caffeine to get us through our final stop of the day. We're both beer lovers and, beyond Fernson, we hadn't had time to check out the other four breweries in town, so our final night was spent sipping our way through the menu at WoodGrain Brewing Co. right downtown where conveniently we could order dinner from Agua Fresh next door without having to leave our bar stools. It was the ideal setup for a chill evening before an early morning flight.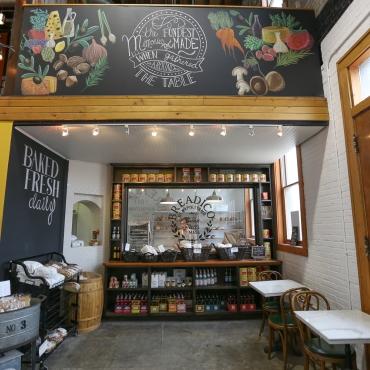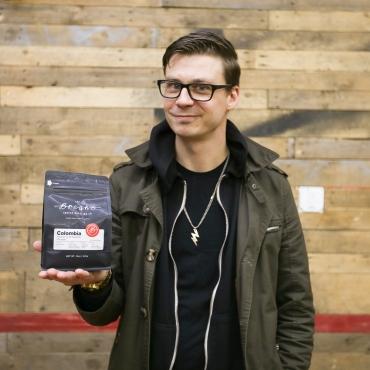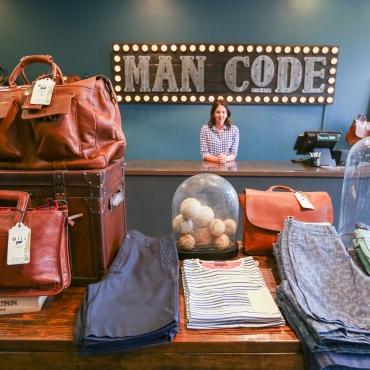 Day 5
On Saturday, we woke up to sunny skies (finally!) but the looming dread that our perfect vacation was coming to an end (*tear*). As we drove to the airport, we saw city employees performing a labor of love setting up a new outdoor exhibition — more than 50 pieces of art comprising the SculptureWalk — replacing sculptures in a rotating exhibit previously shown downtown.
Moments later, we were at the airport and four hours after that, we were back in Nashville, our bellies still full of all the wonderful things we ate and drank, our phones brimming with new friends' contacts, our camera cards overflowing with visual memories. We both fell in love with Sioux Falls and can't wait to come back soon for an even more in-depth exploration — but first I have to lose those five pounds I brought back as a souvenir of my time there. (It was all so very worth it.)
Kristin Luna is a Nashville-based journalist and newfound South Dakota addict. She and her husband chronicle their delicious adventures around the world on her blog Camels & Chocolate.
---
Learn more about South Dakota's brewery scene in our Good Times, Great Beers guide.
Find restaurants, cafés, breweries, wineries, distilleries and more in the Eat & Drink section.