Near Wall, South Dakota, is a national park that constantly exceeds visitors' expectations — Badlands National Park.
The dramatic landscape, carved out by water and wind erosion for millions years, is home to tons of wildlife, from bison to bighorn sheep and black-footed ferrets. It's also a hotbed of fossils and rocks for paleontologists and geologists.
Backpacking and camping in this rugged terrain is the best way to get up close and personal with the otherworldly landscape. With roughly 244,000 acres to wander, you will find something new with this changing landscape every visit.
The Badlands are an increasingly popular tourist destination. However, backpacking through, you can't help but feel in awe of the desolate and untouched wilderness. Somewhat isolated, it's one of those places where you can truly feel like you have room to breathe. 
What to Expect on Castle Trail
For your backpacking and backcountry excursion, start at the west end of Castle Trail located on the Badlands Loop State Scenic Byway that runs through the park. Castle Trail is aptly named, as the pinnacles in the area resemble enormous sand castles. Start in the afternoon, so that you will be able to setup your campsite and take in a famous Badlands sunset.
The trail is a fairly easy out-and-back and, at just about 10 miles roundtrip, it's enough to get out and away from people and still see everything else that the Badlands have to offer.
Backcountry camping is permitted anywhere, as long as your site is at least a half of a mile from any trail or road, and you aren't visible from trails or roadways. During the spring, summer and fall, you can witness the galactic center of the Milky Way arching over the southern skies because of the decreased light pollution in the area. The next day, explore the other shorter trails that are at the east end of Castle Trail and then make your way back to the western trailhead.
Why Castle Trail?
Castle Trail is perfect if you like unusual landscapes, moderate distance and difficulty, and are up for backcountry camping on prairies instead of your typical mountain backcountry experience. If you plan to make it an overnight experience, make sure you can carry more than enough water to get you through hot days, as there are no water sources safe for filtering in the park. If you don't like extreme temperature shifts, which are common in arid climates, you will probably other find day hikes much more enjoyable.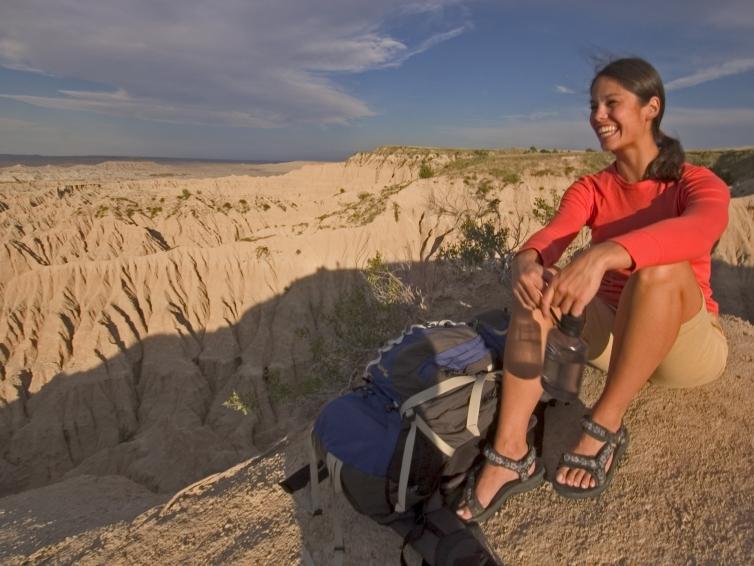 Castle Trail Information
Castle Trail is located off of Badlands Loop Road (SD 240), which is accessible from Interstate 90 from Exit 110 or Exit 131. There are ample parking spaces at either the east or west trailheads. The park entry fees, which vary by vehicle type, are the only fees assessed, but be sure to sign in on a trail register at the trailhead or the Ben Reifel Visitor Center. Pets are only allowed in parking areas, so don't bring your furry friend on your hike. Open fires are not permitted, so be sure to bring your camp stove.
Tips
Difficulty: 2/5
Castle Trail is fairly easy, and at a moderate distance of 10 miles out-and-back, the distance is great for a quick trip. The weather in the area causes a majority of the challenges, so be on the lookout for quickly changing weather, and err on the side of bringing too much water because in the summer, it is a desert-like.
Time To Complete: 18.0 hours
Distance: 10.0 miles
Castle Trail is a 10-mile out-and-back with options and spur trails at the east end to lengthen your hike. Take Medicine Root Trail to turn the hike into a bit of a loop.
Seasonality: Spring, Fall
Winter and summer are the worst seasons to backpack in the Badlands. Winters in Badlands National Park are cold and windy with snow likely throughout most of the season. Summers are very hot, with temperatures often near 100 degrees. In the afternoons and evenings, large thunderstorms that are accompanied by lightning and hail are frequent. Be careful during or after rainfalls, as the formations are very loose, and can become unsafe to hike on.
Fees/Permits: Yes
There is a park entry fee of $30, which is good for 7 days per vehicle, but no fee for backcountry camping permits. Backcountry permits are not required, but there are registers at the Medicine/Castle Trail Loop, Saddle Pass Trailhead, Conata Picnic Area, Sage Creek Basin Overlook, and the Sage Creek Campground.
Dog Friendly: No