It is no secret that South Dakota, a state replete with varied, classic climbing opportunities, has something to offer thrill-seekers of all ages and skill sets. However, the jury is still out on determining which climbing hotspot deserves to be designated best in the state. As it stands, the Sylvan Lake area (west), Spearfish Canyon (west) and Palisades State Park (east) remain neck-in-neck. Each place is awesome for its own unique reasons and any local will offer a different opinion about which is better. Take a look at what we've got here and decide for yourself. And, if in the end you still can't decide, you'll just have to pack your bags and scope them out firsthand. Shucks.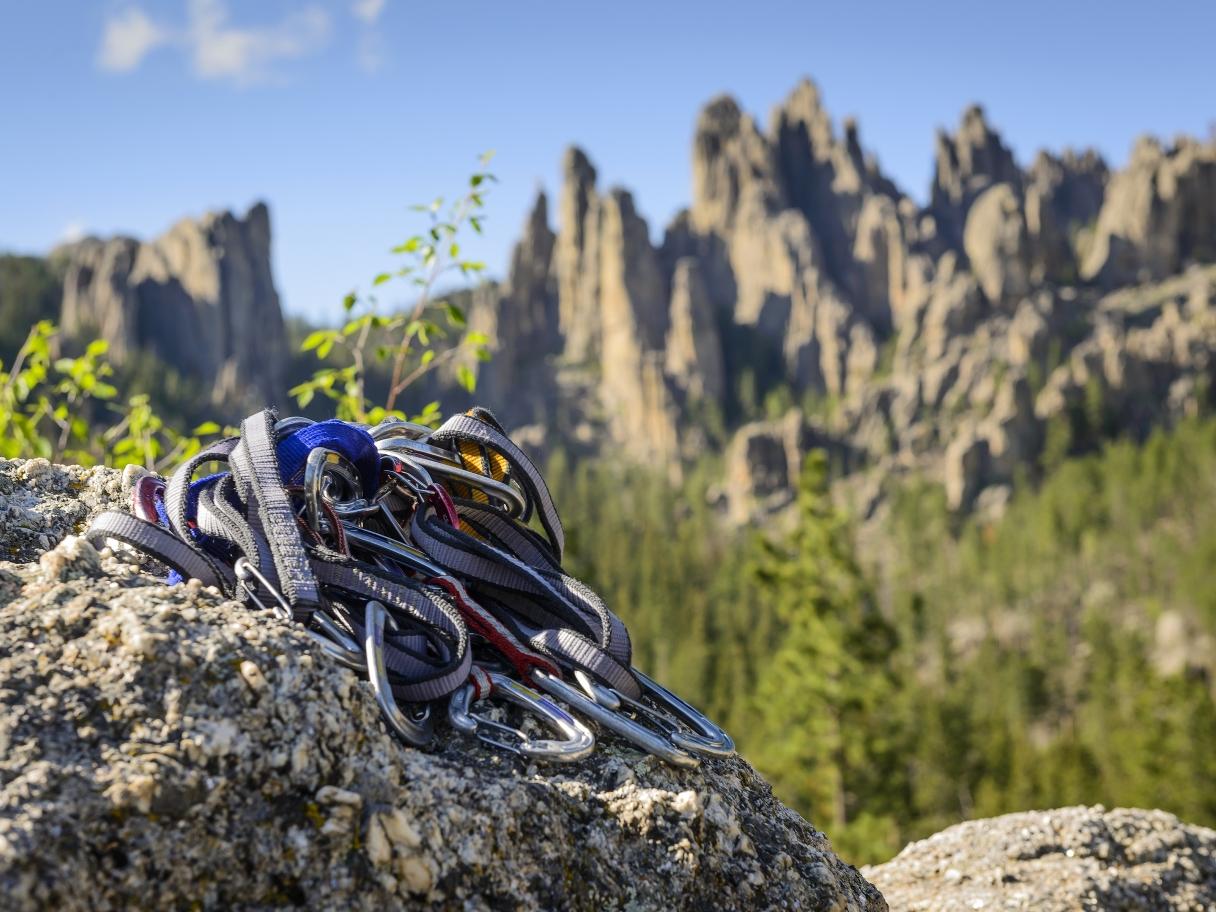 Sylvan Lake Area
Nestled in Custer State Park at an elevation of 6,000 feet you'll find Sylvan Lake, hands down one of the most gorgeous places in South Dakota. It also makes for a great base for your rock climbing adventures in the area. Summer's hospitable weather and fall's brilliant mosaic of blazing red, orange and yellow leaves create an unbeatable setting for a serene climb. If you're a climber with a penchant for bouldering, the Needles and the area around Sylvan Lake is the spot for you – it's one of the places that made John Gill, the father of bouldering, famous. If you're daring enough, you can try his Thimble problem, "a 30-foot problem that became legendary in the history of world climbing." The Sylvan Lake area primarily features a mix of sport and trad climbing, with the majority of routes in the 5.6–5.10 range as well as a smattering of harder lines. The majority of climbers here are single pitch.
If you want to go for a swim or relax in high style after a bouldering or climbing session, Sylvan Lake has a resort on premises and a gorgeous lake perfect for cooling off. These unique features make the area a great place for family vacations, too. However, the opposite is also true – if you're looking for a more secluded experience, you might consider other options.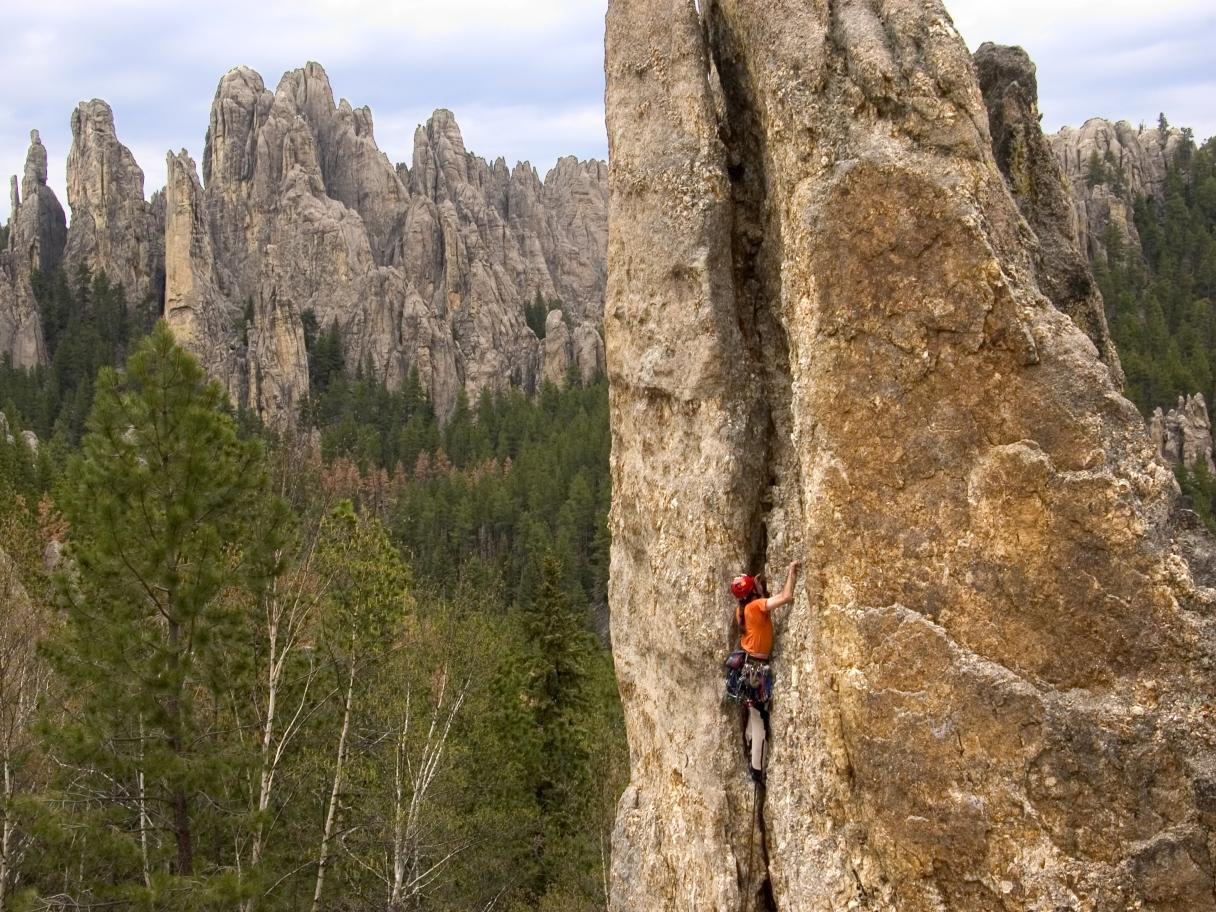 Spearfish Canyon
Spearfish Canyon boasts some of the most beautiful limestone rocks in the country, which attract climbers from around the world because of the excellent pockets and overhangs that distinguish them. Despite the chilly winters that South Dakota is known for, Spearfish Canyon offers excellent climbing practically all year long. Icicle-laden waterfalls and ice-covered rock faces offer an exhilarating experience for ice climbers. Fall is also an excellent time to visit to see brightly colored foliage in full force.
Another benefit to Spearfish Canyon is its location. It's a short drive to many popular South Dakota attractions as well as Devils Tower National Monument, America's first national monument that rests just across the state line in Wyoming.
As for the climbing itself, there are over 600 established sport routes and less than a dozen trad routes – so bolts are the way to go. Intermediate and expert climbers will have all the challenges they can handle thanks to the area's wealth of climbs in the 5.10–5.12 range.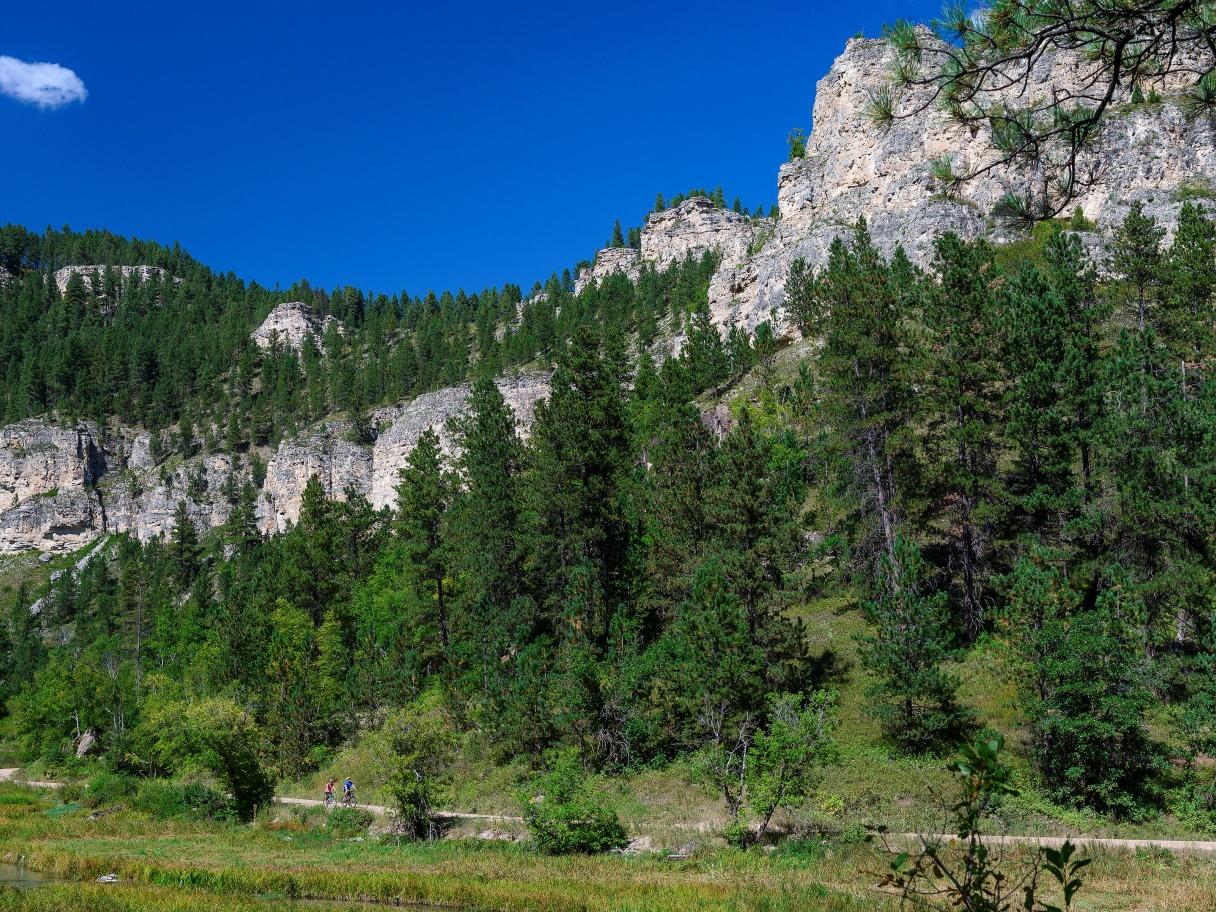 Palisades State Park
This go-to spot for climbers aiming to improve their scaling and rappelling techniques features rock formations of pink Sioux Quartzite, which only exist in a couple of Midwestern states. Palisades offers a good mix of both face and crack climbs, however bolting isn't allowed in the quartzite formations, so a little bit of extra planning is required. Because of other considerations like this and the popularity of rock climbing in the park, South Dakota's park service published this quick and easy guide that lays out all the basics you'll need to know before climbing in Palisades.
Palisades is an excellent location for new climbers, casual climbers or trad enthusiasts. Over 100 routes are intended to be top-roped and there are close to 90 trad lines in the mix. Unlike most crags, the climbs here trend towards the lower grades, 5.6–5.9, so it's a great place to really dial in your skills and technique without pushing it too hard.
Also, because it's a state park, it offers a variety of other outdoor activities like well-maintained camping space, cabins, shower facilities and playground sets. If you want to make a weekend (or a week) out of a rock climbing trip, this is the place to do it.
Lastly, if you're looking for a truly local climbing experience, Palisades is a good choice. The park is just a short drive from Sioux Falls and the proximity to one of the state's largest cities also makes it a great choice if you want to rock climb during the day and enjoy the amenities of city life in the evening.