Find travel inspiration from Tariq, the "Corn Kid" and South Dakota's official Corn-bassador
We couldn't agree more. Once a viral video made Tariq the "Corn Kid," interest in corn seems to have shot up like the plant itself. That's why we invited Tariq to become South Dakota's first "Corn-bassador" and tour some of our favorite corn-related places in South Dakota. If you're all ears, enjoy these kernels of fun across the state.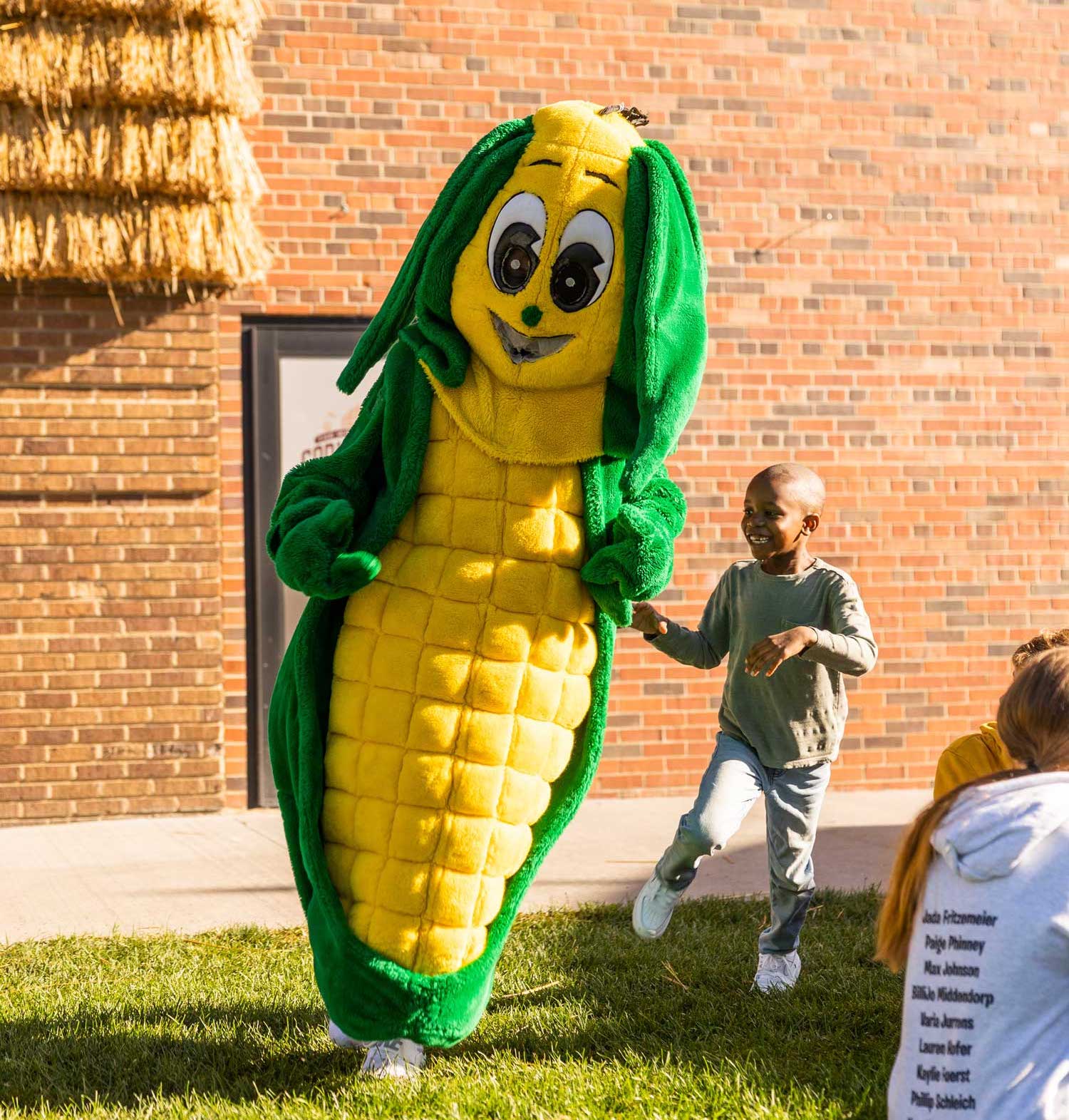 The World's Only Corn Palace
Mitchell, sd
There's no better embassy for our official Corn-bassador than The World's Only Corn Palace. Exterior walls are covered in intricate new designs made up of natural grasses and, of course, 13 different colors & shades of corn. Snap a selfie with Cornelius, a six-foot-tall ear of corn, before seeing three color-changing domes light up the night sky. Catch events from sporting events to concerts inside, confident that you have the Corn-bassador's full approval for fun.
Farm Life Creamery
Ethan, SD
Corn is great, but so is fresh chocolate milk, cheese, and ice cream. Farm Life Creamery is known for making small-batch deliciousness. Plus, there's a tractor tire playground and 18-hole mini golf course. It's a place where fun is as hard to resist as buttery corn itself.
You know who also loves corn? Turkeys, and you can see them at Farm Life Creamery. Our beloved Corn Kid tried to have a conversation with them about it. We just aren't sure if they were paying attention.
Children's Museum of south dakota
Brookings, sd
For kids, there's not a much better place to have a "corn-tastic day" than the Children's Museum of South Dakota in Brookings. Sure, the only corn you find might be in the visitor-favorite Market Fresh Grocery, where kids delight in playing the role of customer and employee. But imagination thrives throughout the campus. From outdoor prairie play options to indoor imagination factories, there are almost as many activities here as there are kernels on a cob. Wonder if kids will love the dinosaurs outside the museum? 'Ears' the proof from America's Corn Kid.
Ingalls Homestead, De Smet
There's more than a kernel of fun on the land that inspired author Laura Ingalls Wilder. Take a covered wagon ride, drive a pony cart, and make your own corn cob doll in this inspiring prairie that's fun for all ages … but especially the little ones.
Good Roots Farm & Gardens, Brookings
Explore the beauty of nature while learning about how delicious food – like corn, of course – makes it from the soil to your table. Bonus: every Sunday is wood-fired pizza night, adding a delicious element to an already enjoyable experience.
Sanderson Gardens, Aurora
Don't miss this hidden gem along Highway 14 in northwest South Dakota. Pick your own produce at this relaxing and welcoming farm where the motto is "New food at used prices!"
Washington Pavilion Kirby Science Discovery Center, Sioux Falls
This monument to edu-tainment features more than 100 interactive exhibits including "Grow It!", where kids can pretend-pick corn and other crops that make agriculture very, very fun!
Stockyards Ag Experience, Sioux Falls
Not far away is this engaging collection of exhibits designed to get kids excited about agriculture & nature. Interactive exhibits blur the lines between play and education. Don't miss the "Where Does Corn Go?" exhibit!
Heartland Country Corn Maze, Harrisburg
Corn can't be fun? Tariq and thousands of annual visitors disagree. Enjoy this established corn maze just south of Sioux Falls. You'll pop with corn-citement at this 11-acre maze carved out of towering corn stalks. Maps and hints are available. Put some extra "stalk" in your search for the hidden checkpoint to win a free treat from the Concession Barn! In the words of our Corn-bassador, "I can't imagine a more beautiful thing."