Day One
We arrived at Badlands National Park under a muted, gray sky. We peered through the rain-spattered windshield, clutching cups of black gas station coffee, grinning from ear to ear. For many, rain is the sure-fire sign of cancelled plans…of Netflix binges and pajama days and mugs of tea clasped between cold hands. But with the right attitude and the right jacket, rain simply means you get the world to yourself for a little while.
We wound our behemoth orange van through alien-like clay spires and hoodoos that – with the early morning's rain – had contributed to rushing mudslide rivers flowing alongside the road.
Even as avid desert dwellers, Badlands still took our breath away. On one side of the road you had towering formations that looked like giant unearthed ant hills…networks of underground tunnels and gullies and towers and ravines weaving and melding into one another. On the other side of the road, you had sloping mounds of clay – remnants of volcanic ash that, with time and exposure, had developed a multi-colored stripe effect as fluid and as pastel as a watercolor painting.
The pinks and yellows were exceptionally pronounced against the stormy sky and we stopped and stood by the roadside to stare as raindrops lightly tapped the hoods of our jackets.
After a little while, the Loop Road began to trend upward with miles-long views of grasslands out to either side of us. The road curved around for one final overlook of the maze we had just wound our way through. A lone RV drove past and gave a wave as we exited the park. Our dogs whined at the passenger window at the sight of dozens of bison off in the distance beneath holes of sunlight piercing the clouds.
We rolled into the town of Wall and made a stop for hot breakfast and coffee at the famous Wall Drug – a series of small shops rich with local history and known far and wide for their "Free Ice Water"…a sign that Dorothy, the owner's wife, had put up all the way back in the summer of 1936.
She figured that all those folks driving across the prairie needed nothing more than a cold beverage. And if they came in for a cold beverage, they might just buy something else.
And they did.
Wall Drug is now a famous stop for so many on road trips and family vacations. We stopped in for their famous donuts and wandered the little shops-within-shops…trying on cowboy boots and locally-made moccasins…reading maps of Native American land in the area and tracing our fingers over the frames of small, tattered hunting permits from the 1920s.
Once we'd had our fill of donuts and coffee and Badlands history, we hopped on the highway back west toward Custer State Park. We drove along the scenic Needles Highway, easing around sharp corners as bison wandered aimlessly through the trees off to our sides. I jumped out not once, but twice, to ensure our gigantic van would make it through the famous tunnels of rock that dot the highway.
As we climbed higher, the light rain turned to snow…our first of the season. We parked our van and hiked out onto the Cathedral Spires Trail #4A, leaving fresh boot and paw prints in the new snow. Upon return to the parking lot, several other vans and trucks had filled in the quiet lot. We were greeted by a group of local climbers who called out, "Are you here for the pumpkin festival?!" The look on our faces must have been a dead giveaway, as they immediately began to explain that each year before Halloween, climbers bring pumpkins up with them to the top of several spires with designated climbing routes on them. They carve them and leave little lights inside so that once back on the ground below, the skyline is lit up with jack-o-lanterns. It was a tradition we loved immediately, and promised we'd come back for next year.
We waved goodbye to the climbers, wishing a good weather window for them, and headed down through the town of Custer and over to the cabins at Blue Bell Lodge. Once checked in, we were drawn a map of how to find our cabin for the evening. In an open field, dotted with Ponderosa pines, sat tiny Snow White-like log cabins. We had to duck our heads beneath the low-hanging roof to open the thick wooden door. Our dogs ran in and jumped up onto the red-blanketed bed and we collapsed into the cozy warmth of our little one-roomed sanctuary.
With a mini-fridge and running water and a nice hot shower, it was the perfect combination of rustic getaway and luxurious escape. We tucked our pups into bed in our cabin and headed down the road to the town of Custer for dinner at a little pub called The Custer Wolf.
Turns out the Custer Wolf was a legendary animal outlaw who outsmarted farmers and bounty hunters in Custer, South Dakota for 9 years. He killed the equivalent of $300,000 worth of livestock in his time before he was finally captured.
Hearing the tales about him reminded us an awful lot of one of our own dogs, Dagwood, who we're now convinced is a long-lost relative of the infamous Custer Wolf.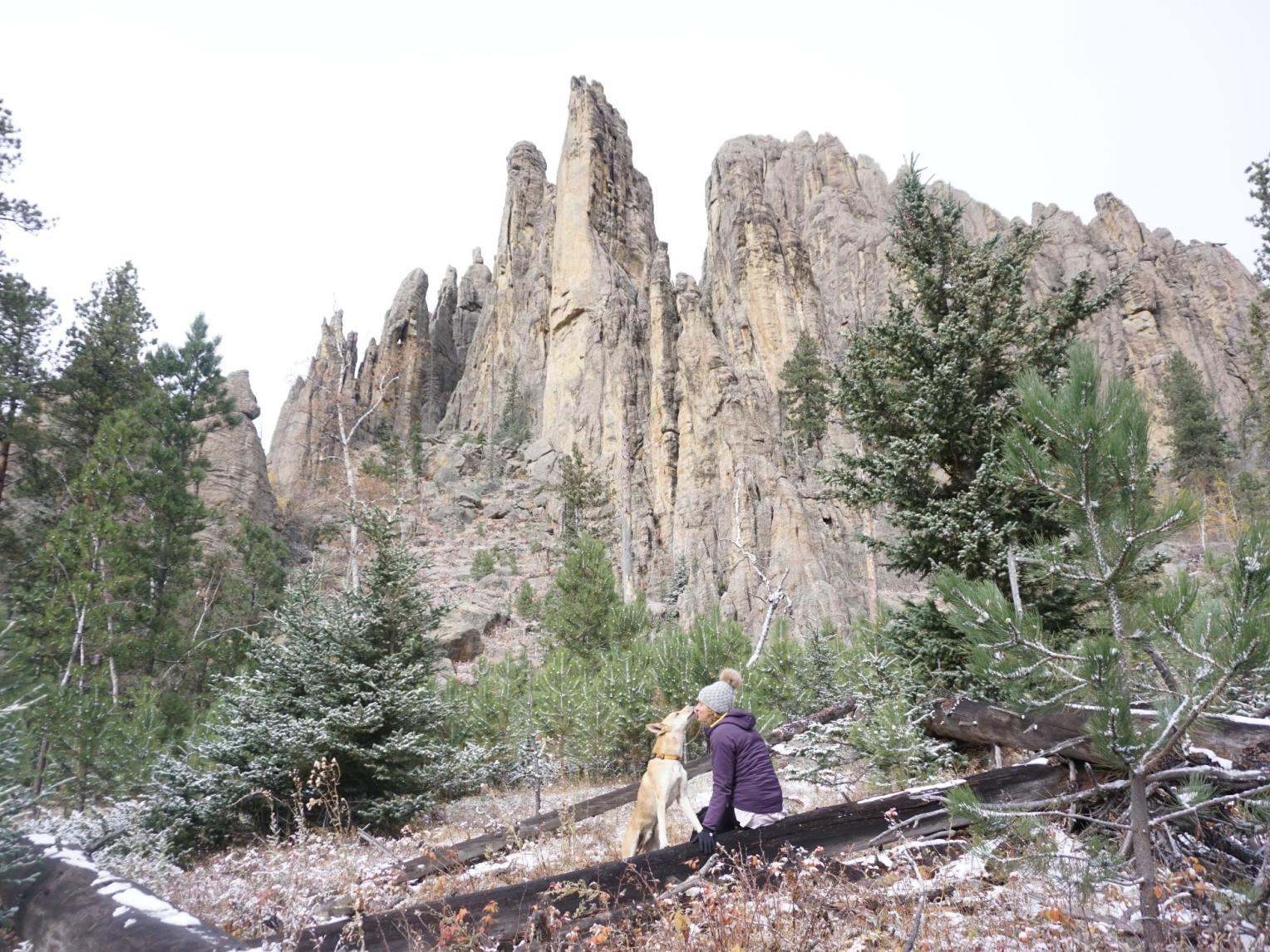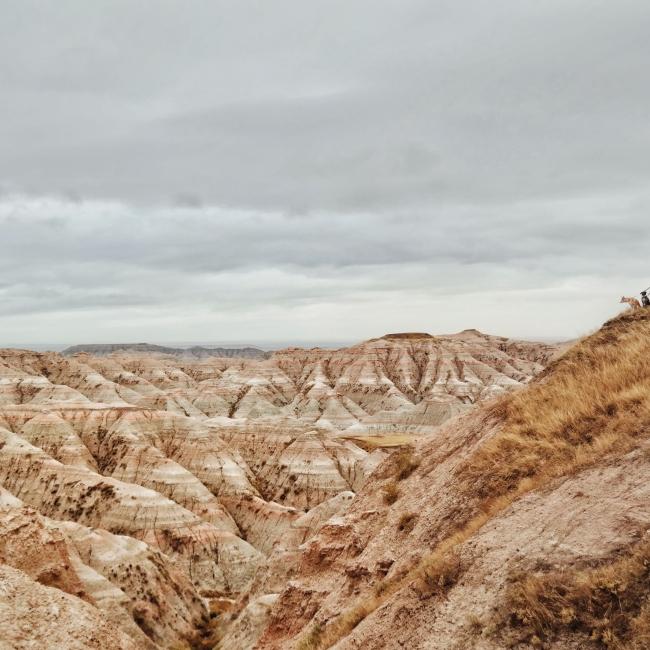 Day Two
On our second morning, we grabbed breakfast in Custer and headed north through the Black Hills National Forest toward the little town of Spearfish. We rolled along through thick forests, dotted with deep blue lakes and tiny hunting cabins. The Black Hills are classic wilderness. Wilderness as wilderness was intended. Quiet…self-sufficient…unassuming. We'd press the brakes occasionally for deer and prairie dogs and a glimpse of the famed Crazy Horse Memorial set back off the road to our right.
We arrived in Spearfish to a small coffee shop called Blackbird where we each ordered a slice of quiche and a warm coffee. We sat out on the patio in a sliver of sun with our dogs, watching the town come to life in late-morning. Next door to our breakfast nook was a biking and climbing shop, catering to the exceptional climbing and mountain biking opportunities up Spearfish Canyon just outside of town. One of the employees, Megan, took us on a mountain biking ride just on the outskirts of town, up through pine trees and up over cattle fences via small wooden bike bridges. The sun beamed down through orange and crimson leaves and lit up the dirt single-track we cruised along. Beneath us gleamed the town of Spearfish and the canyons and Black Hills beyond.
A small pedestrian tunnel under the highway brought us right back into downtown where we finished our ride with a cruise down Main Street. Bars and restaurants and shops dotted the street while crowds of college students bustled about under the warm October sunshine.
Back in town, we ran into a bit of van trouble and ended up needing to do some work right there smack in the center of Main Street. Within minutes, folks appeared out of nowhere…offering to drive us to Autozone…bringing out cardboard from their store for Keith to kneel on next to our front wheel…asking if we needed any help. It was the most tremendous outpouring of help we've received in our 15 months on the road.
Once we had resolved our front tire issues, we headed over to Crow Peak Brewing Company – a small brewery with a tasting bar and plenty of outdoor seating. We got a taster-tray of all the beers we were excited to try and found a spot outside in the sun as our dogs happily greeted the other dogs on the patio. The owner and his wife came out to say hello and shared some beers and stories with us. We sat down on that patio as two strangers from out of town, and by the time we stood to leave, our table had grown to include 6 local college students, the lovely lady who drove us to Autozone earlier, and the crafters of the very beers we held in our hands.
That night, we drove up Spearfish Canyon, peering out the window at the flowing water beside the road and up at the towering limestone walls and glistening sunset-lit tree lines. Tucked a few miles up-canyon, we stopped at The Latchstring Inn at Spearfish Lodge. The dining room was intimate and warm and we snagged ourselves a seat directly in front of the fireplace.
Our waitress recommended some locally-caught fish dishes and the crème brulee for dessert. By the time we rolled into our campsite down-canyon, we were warm and stuffed and happy.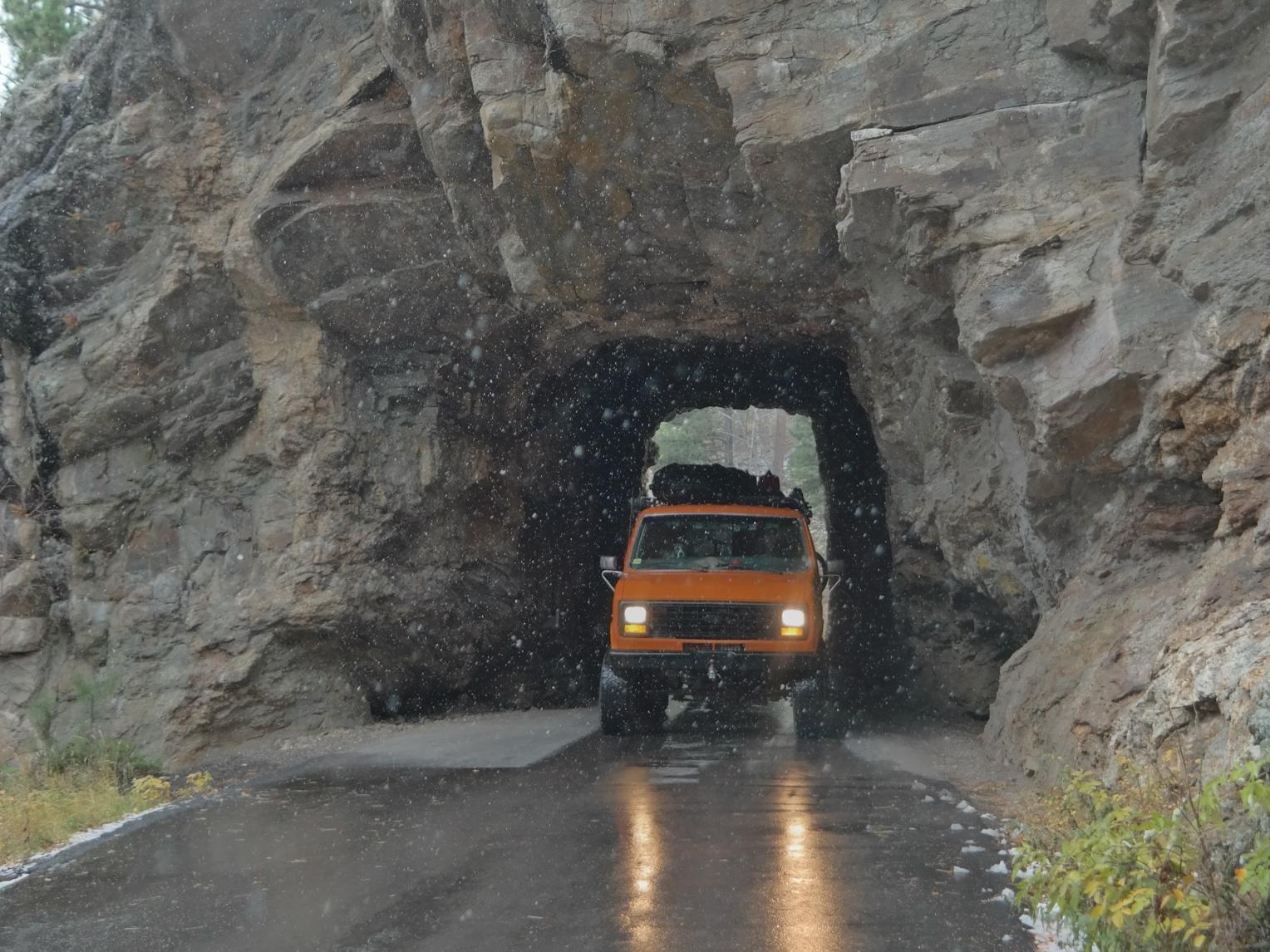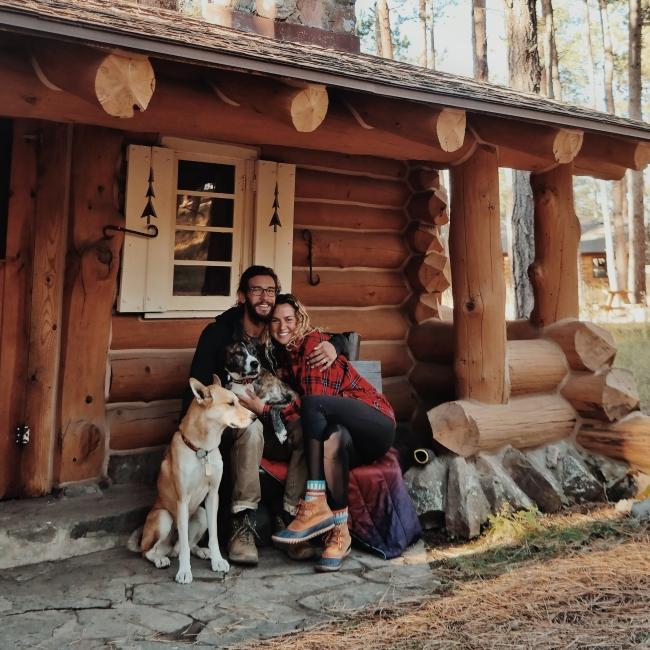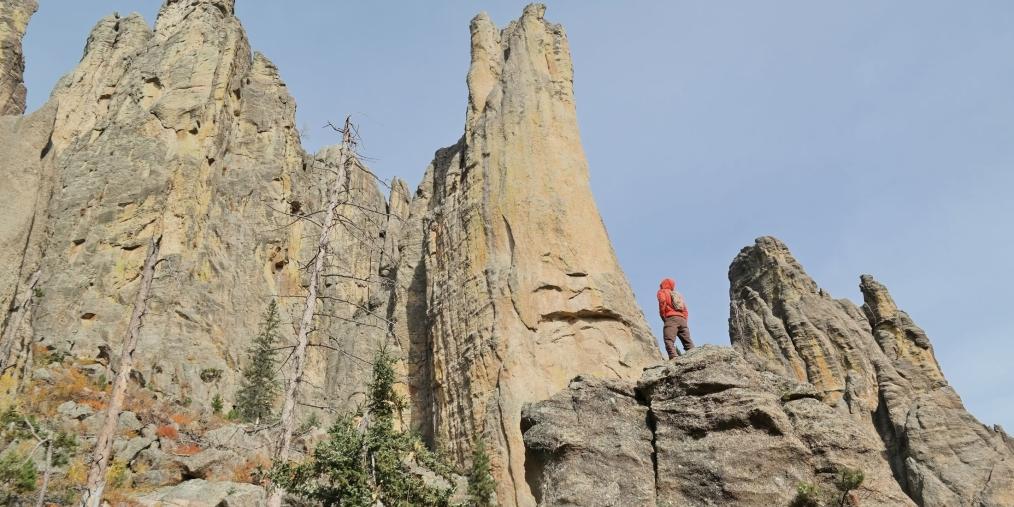 Day Three
On our final day in South Dakota, we woke slowly and watched the sun rise over the field across from Chris' Campground and RV Park. Three deer moved silently beyond the small wooden fence, making us aware that outside of them and us…there was no one else around. Our van sat tucked beneath glowing yellow and orange trees as the tail-end of camping season was nipping at our heels.
We grabbed breakfast from Green Bean Coffeehouse and packed our climbing gear into backpacks out on the street as bike-commuters threw big waves our way. We drove up into Spearfish Canyon with our newly purchased climbing guidebook and headed directly for Sunshine Wall – a popular and tremendously warm spot for later-season climbing.
Amazingly, some of the climbers we had met at the pumpkin festival in Custer State Park had found their way to Sunshine Wall that morning as well. Just a few days in South Dakota and we were already running into people we knew!
We passed over the border of South Dakota and into Wyoming that afternoon with heavy hearts. It is one of those places that, in its vastness, has still managed to feel small…to feel intimate and warm and comforting and kind. Across sprawling corn and sunflower fields and winding rivers and rolling hills are smatterings of tiny towns filled with rich history and people who are overjoyed to tell you about it.