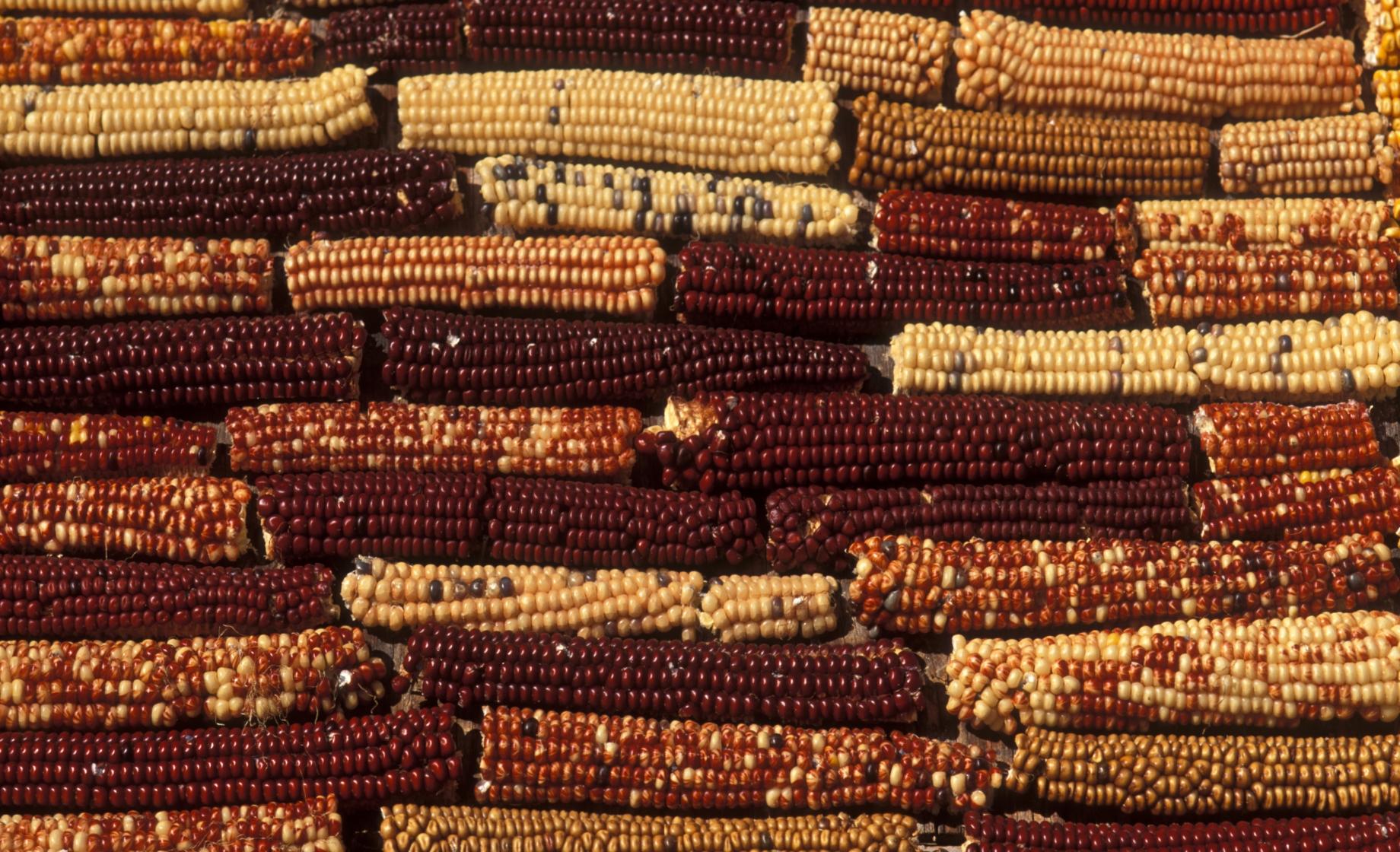 When it comes to classic roadside attractions, South Dakota boasts some of the best, including Wall Drug and the World's Only Corn Palace. Nostalgic, kitschy and even hokey at times, our roadside stops are one-of-a-kind experiences definitely worth a snapshot (or twelve) for those social media vacation posts.
Interstate 90
An east-to-west trip on Interstate 90 will bring you face to face with giant buffalo, dinosaurs and jackalope. Even the Interstate Information Centers along the way get into the act with oversized concrete teepees that are listed on the National Register of Historic Places.
Must-see stops:
Porter Sculpture Park, Exit 374 - The sight of an enormous bull's head rising out of the prairie beside Interstate 90 will make you want to pull off and check out Porter Sculpture Park. Quirky and fanciful metal creations from South Dakota sculptor Wayne Porter are scattered along a grassy walking path. The park is open late May through early September.
The World's Only Corn Palace, Exits 332 and 330 – For more than 120 years, this monument to agriculture has attracted travelers to downtown Mitchell. Almost every year, the murals on the sides of the Corn Palace are recovered with new artistic versions of large colored corn-by-number scenes. A spectacular renovation in 2015 added glowing onion-shaped domes to the top of this unique historic building. This free attraction is open year-round.
Al's Oasis, Exit 260 – The extra-large bison statue at Al's Oasis in Oacoma announces your arrival to western South Dakota and the west bank of the Missouri River. Buffalo burgers, homemade pie, five-cent coffee, and gifts & souvenirs are highlights at this restaurant/motel/shopping plaza.
Pioneer Auto Show, Exit 192 – A sprawling complex of buildings and outdoor exhibits in Murdo features hundreds of cars, motorcycles, trucks, tractors and antiques. This family-run business has been entertaining travelers since 1954 and is open year-round.
1880 Town, Exit 170 – Memories of vintage Western movies will flood back as you mosey onto the 1880 Town's main street. Located between Okaton and Belvidere on the north side of the Interstate, the town was built by hauling in actual historic buildings from the region. This Old West village includes the saloon, church, school, stables and train depot you would expect. Props and souvenirs from the South Dakota-filmed movie Dances With Wolves are displayed in the town's unique round barn. Don't miss the skeletal man walking his dinosaur statue in the field just east of the town. 1880 Town is open May through October.
Wall Drug Store, Exit 110 – After seeing the famous Wall Drug billboards for miles (and around the world), you can't miss the most popular roadside attraction in the country! Originally a small-town pharmacy that began offering free ice water to road-weary travelers in the 1930s, Wall Drug is now a city block-sized entertainment emporium with restaurants, souvenir shops, art galleries, western wear stores and a one-of-a-kind playground for the kids. A family photo on the giant jackalope, a free Wall Drug bumper sticker and, yes, free ice water are all musts on every South Dakota road trip. Wall Drug is open year-round.
Dinosaur Park, Exit 58 – Dominating the skyline from a ridgetop in the center of Rapid City, Dinosaur Park's prehistoric statues are great fun for kids to climb on and slide. Completed in 1938, the beasts are the highlight of a trip along Skyline Drive, which overlooks the city to the east and west. This free park is open May through October.
Storybook Island, Exit 58 – Whimsical nursery rhyme characters in statue form populate this fun park on Sheridan Lake Road in Rapid City. From late May through early September, kids can climb, slide and explore for free. Musical and theatrical performances are held throughout the summer, and some special events occur in the off-season.
Interstate 90
Also worth a stop
Mitchell, Exit 332 – A saddled jackrabbit statue at the Thunderbird Lodge just begs to be ridden while a large bull and buffalo statue watch traffic go by at the Corn Palace Motel.
Cactus Flat, Exit 131 - Just a mile south of Interstate 90 is the Ranch Store and its World's Largest Prairie Dog, along with a sizable population of real prairie dogs. Another 1.5 miles south is Prairie Homestead, an original sod house and farm where visitors can envision pioneering life on the frontier. Both the Ranch Store and Prairie Homestead are open late May through mid-September.
Wall, Exit 110 – The Wall Drug dinosaur—a full-sized concrete brachiosaurus—beckons drivers from a hillside overlooking Interstate 90.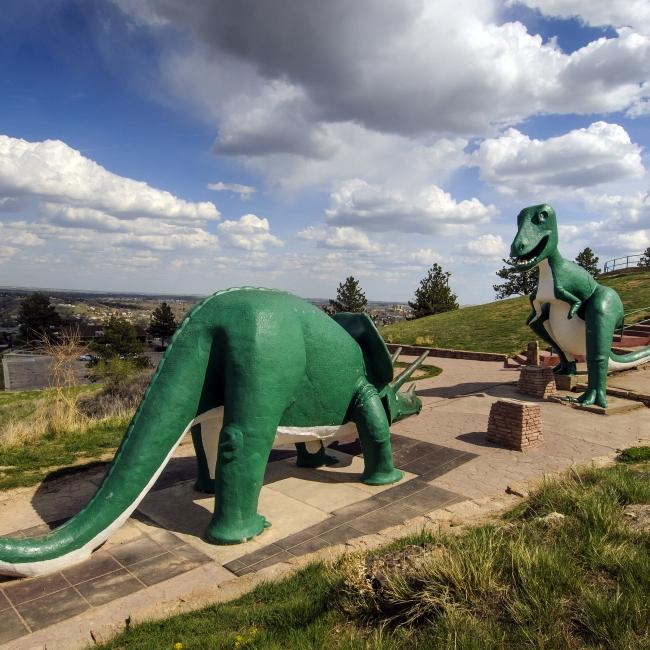 Wall
Black Hills area
Scattered throughout the Black Hills along with natural scenery, national & state parks and man-made wonders like Mount Rushmore National Memorial and Crazy Horse Memorial, family-friendly roadside attractions make any road trip memorable.
Must-see stops on the way to Mount Rushmore
Reptile Gardens – Located on Highway 16 just south of Rapid City, Reptile Gardens has been certified as the world's largest reptile collection by the Guinness Book of World Records. Beautiful flowers and landscaped grounds throughout this exotic wonderland make this a great stop for all members of the family. Reptile Gardens is open mid-March through November.
Bear Country USA – Just up the hill on Highway 16 from Reptile Gardens, this drive-through wildlife park showcases a wide variety of North American wildlife. Bears, elk, bighorn sheep, bison, wolves and mountain lions are just some of the animals on display. Visitors love the walk-through Babyland section. Bear Country is open April through November.
Cosmos Mystery Area – Gravity seems completely out of balance in a unique wooded spot where balls roll uphill, volunteers sit on walls, and people change heights on level ground. Found 17 miles south of Rapid City on Highway 16, Cosmos is open April through October.
Keystone – Nestled in a valley at the foot of Mount Rushmore, Keystone's numerous attraction, restaurant, shopping and lodging options make it an ideal destination for travelers. Don't miss the Big Thunder Gold Mine, National Presidential Wax Museum, and the Rushmore Borglum Historical Center and other unique spots.
Also worth a stop
Custer area – Ken's Minerals, open mid-April through October, is one of several rock and mineral shops you will find in the central and southern Black Hills. Appropriately four miles west of Custer is the Four Mile Old West Town, where amusing costumed characters roam around numerous antique-filled buildings. Four Mile Old West Town is open mid-May through early October.
Around the state
Faith – Western South Dakota found-item metal sculptor extraordinaire John Lopez created a signature showpiece for the town of Faith named "Heavy Metal Sue." The half-size T. rex honors the world's most complete skeleton of the real thing found near here in 1990. Faith is located in ranching country in northwestern South Dakota.
Huron – The World's Largest Pheasant resides atop a small building on the east edge of Huron along Highway 14. Wooden platforms have been built specifically to help you get the best picture of your traveling companions with the massive bird.
Aberdeen – Storybook Land is a delightful walk-through theme park featuring nursery rhyme character statues and houses. Visitors can also see characters and settings from The Wonderful Wizard of Oz in the park'sLand of Oz. A castle in the center of the park hosts events, and a train ride circles the area. Storybook Land is open mid-April through mid-October, with full services available late May through early September. Adjacent Wylie Park offers camping, swimming, bumper boats, mini-golf and go karts.
Milbank – A full-scale replica Holland windmill serves as a visitor center for this town in the northeastern corner of South Dakota.